Rolex Skydweller 326139 18k White Gold Black Dial Watch Review
The Rolex Skydweller is a unique watch that is perfect for the gentlemen who travel often. The ones that find themselves jet setting between time zones and needing to keep track. This luxury time piece not only has a dual time zone feature with easy reading at a glance. It also pairs unique technical design for innovative feature setting from the signature Rolex fluted bezel. Overall a fabulous watch for wear and comfort it is this week's feature for review.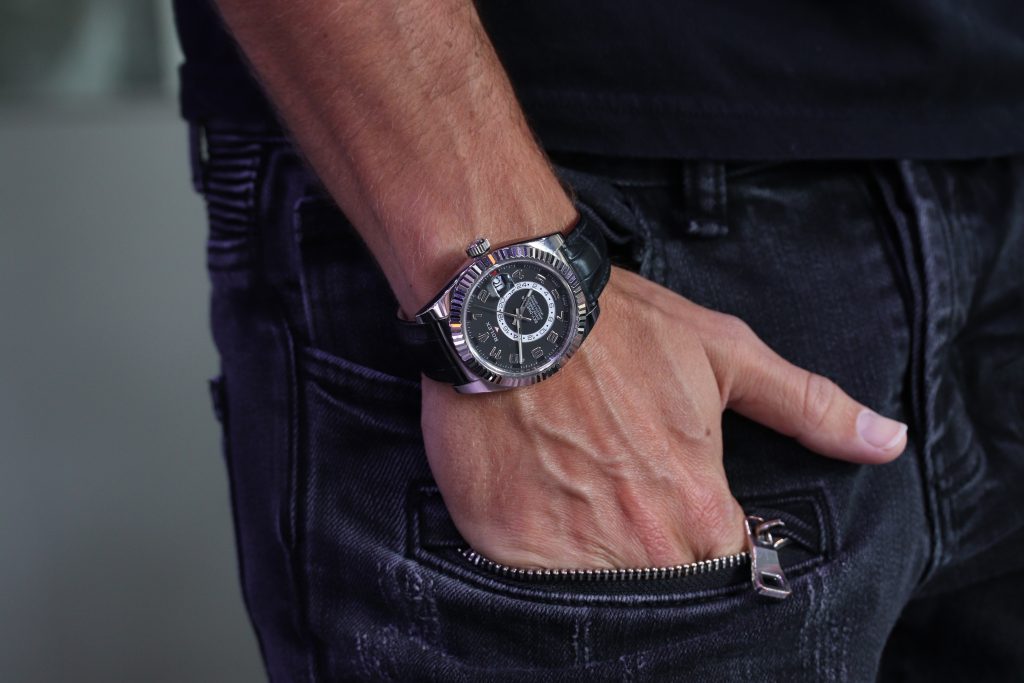 Known as the world traveler's watch the Rolex Skydweller is an impeccable and incredible luxury time piece. A Rolex known for its particular complications and ultimate design features. This watch is one that packs powerful time keeping abilities into a sleek and beautiful design. Using the classic Rolex Rolesor alloy for a durable and equally beautiful case this watch is one of particular aesthetic beauty. Matched with a gorgeous black leather strap it is a modern classic that is versatile as well. Easily paired with your go to travel looks this watch not only keeps you on the right time zones, yes that is right zones plural, it also seamlessly transitions. From day travel to midnight arrivals the Skydweller can take you from the landing strip to dinner in one swift movement. With gorgeous and unique details that accentuate its unique design this luxury time piece can soar on high.
Unmistakeably a Rolex signature watch it has visible design features such as the classic 18 carat white gold fluted bezel radiating away from the dial. As well a unique tow disc 9001 calibre movement within. It pairs the elegance of simplicity with the extreme complications that lie below the surface. Revolutionary simplicity it is a distinctive watch. It shows dual time zones on the face of the watch. As well as distinguishes between night and day from the reference time zone. All in one single glance. An innovative time piece with systems to set functions that are easier than ever before. It uses rotatable ring command bezel a Rolex unique feature. But more on that later on. Sophistication of the highest grade this watch is one of Rolex's finest examples of fine horlogerie engineering as well as refined and upgraded design. Let us take a deeper dive into the Skydweller.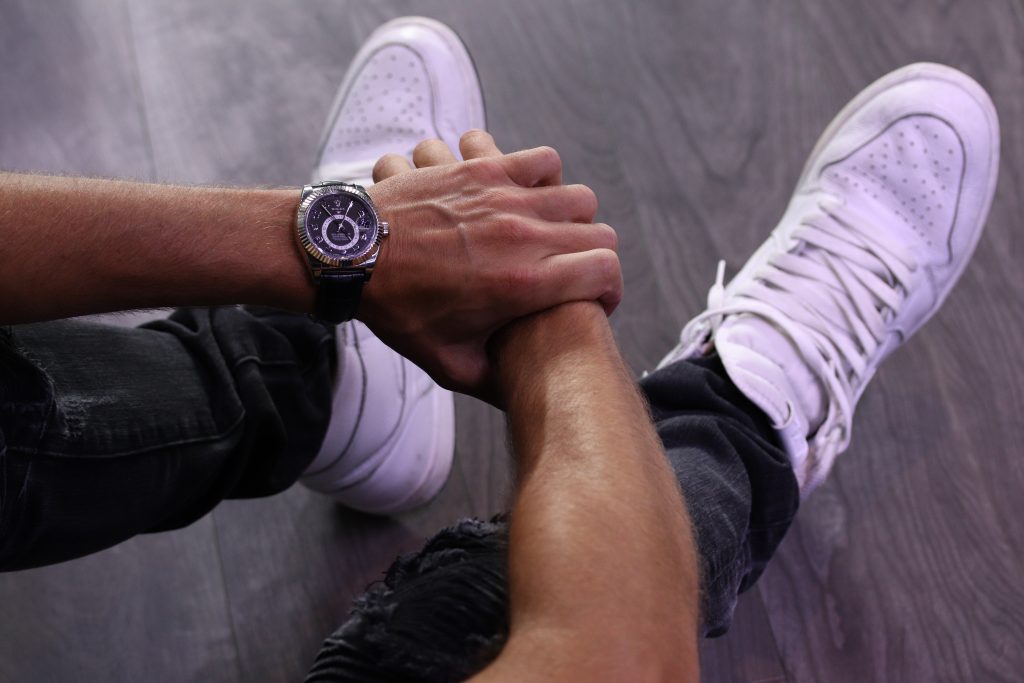 In our collection we have a Rolex 326139 skydweller with unique features. This one is not your standard issue blue dial. However it has the 18 carat white gold case fitted with a unique black alligator leather strap. Also black? The incredible dual time zone dial. This 326139 has an 18 carat white gold clasp.
It fits a 7 inch wrist. Also the black dial features 18 carat white gold Arabic numerals. This is also different from the classic skydweller with stick markers for the hours. Further this watch comes with a Diamonds by Raymond Lee presentation box. At 42 millimeters it is a robust size watch. Although on the larger side it fits comfortably and adjusts easily on the black alligator strap. Also the size is necessary for ease of reading on the single glance dial.
Rolex Skydweller intuitive interface – a single glance dial
On the dial we can see all of the powerful movements of this watch. A single glance dial it means that all of the information that this Skydweller offers is easy to read and instantaneous. Simple and clear from a single look at your watch the Skydweller dial tells you a lot. First as all watches you can get the local time. Also the reference time on the second time zone disc. As well as whether it is night or day there from the 24 hour reader. Further you have the date window and month reading. The month you get from the bright red upside down triangle at the centre of the dial.
Finally you also have the seconds hand and the gorgeous hand crafted Arabic numerals around the dial. All of this in one instance. This intuitive interface is all completely controlled via the crown and the fluted bezel. An innovative method and technique means that this watch is one of the easiest to manipulate while also being the most complex.

The intricate fluted bevel radiating away from the black dial catch and reflect light adding to this watch's beauty. Meanwhile the black dial itself makes this piece a perfect transition from day to night. As well as from the plane to your destination. Whether you are flying for business or pleasure the Skydweller is a classic yet robust and modern style watch. It pairs perfectly as the ideal luxury men's accessory regardless of your destination. A masterpiece made specifically for world travellers this is a unique Rolex watch for men. Let us take a deeper look at the incredible features packed into this iconic time piece.
The two disc dual time zone and date feature
For the impeccable display of this luxury watch to function you need some incredible craftsmanship. That includes not only in the forging of the watch and its fine pieces within. It also encompasses the features that make this Rolex one of the most complicated of all. Within the Skydweller Rolex case we find cutting edge engineering and watch making. The mechanism that allows for both time zones moves the hour hand independently in one hour increments. This can be done both forwards and backwards. So no matter what direction you cross time zones in you can easily and seamlessly adjust your Rolex 326139. It is based on a complex module that has no fewer than 60 components. These are state of the art watch making and advanced micro mechanics. But more on this calibre 9001 movement below. A distinctive technological masterpiece how the Rolex Skydweller works is simple complexity.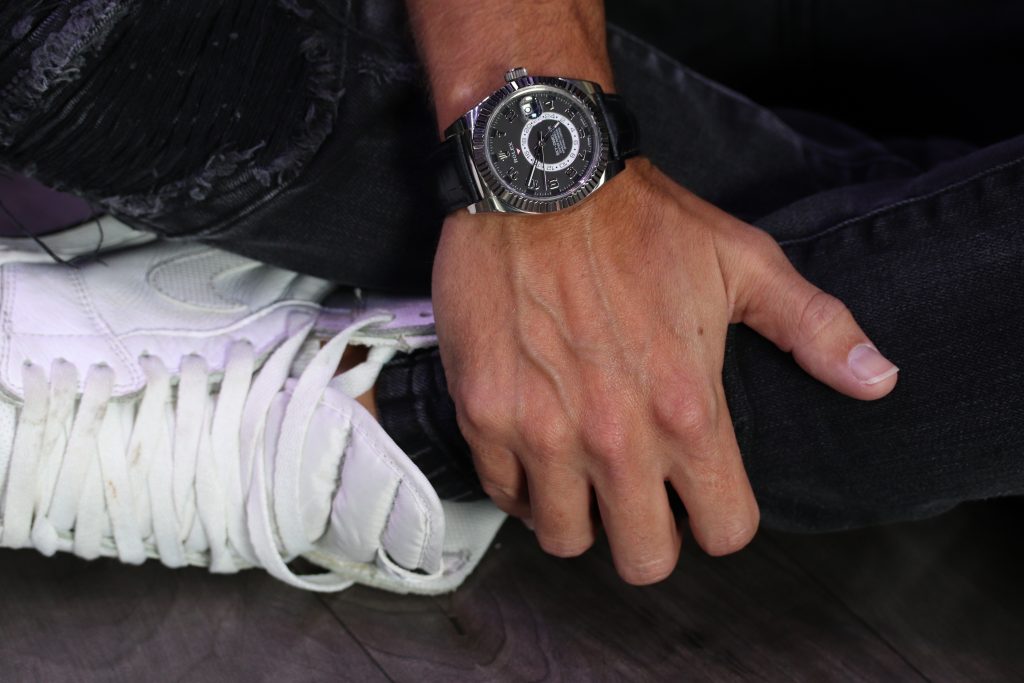 The date change on this watch is also linked to the local time (not the time on the second time zone disc). The change of dates occurs within only a few milliseconds at midnight each day. The date that shows on the date window at 3 o'clock beneath the cyclops augmentation glass is always the current date in your local time zone. This is the Skydweller's Saros annual calendar. It is a high efficiency mechanism of groundbreaking simplicity. To display the correct date of the year throughout the year it uses an ingenious system that Rolex has patented. It is the Saros replication of the irregular occurrence of 30 and 31 day months. In fact this incredible yet simple feature uses only four additional gear wheels.
The Calibre 9001 MOVEMENT
A truly unique movement the Skydweller has a self winding mechanism. Rolex developed and crafted this calibre 9001 movement entirely in house. With all of 7 patents protecting this unique time keeping tool it is one of the most complex movements ever. The Rolex craftsmen managed to pack some of their most complex movements and put them all together into this one. It is a seriously unique movement that is precise and reliable. It was originally introduced in 2012. Engineered for absolute simplicity of use there is a selector wheel on the outer edge of the calibre that ensures the movement and the bezel to set the functions operate perfectly. Like all of Rolex's perpetual movements it is a certified Swiss Chronometer. A high precision device it is extremely reliable. The architecture of this movement is standard for most of the Rolex Oyster watch movements as well.
White Rolesor Skydweller Case
The Skydweller model has a 42 millimeter Oyster case. It is a white Rolesor combination of the finest 18 carat white gold and Oyster steel from Rolex's very own foundry. The architecture of the watch within is a monobloc middle case. It has a screw down case with a winding crown that is used to set the dual time zones as discussed above. Further the bezel is a Rolex signature look. A fluted bezel that we will go into more detail below. The winding crown is a screw down twin lock double water proof system. So that you do not have to worry whether you are jet setting of diving down deep.
What is the Rolex Skydweller's water resistance? An incredible water proof depth of up to 100 meters or 330 feet. As with a majority of the Rolex watches it has a scratch resistant sapphire crystal. As well as the Rolex classic cyclops lens over the date window.
18 carat White Gold fluted bezel and black alligator leather strap with 18 carat White Gold buckle
The bezel on this incredible Skydweller is an 18 carat white gold fluted bezel. It is bi directional with rotatable Rolex Ring Command. The rotatable ring command interacts with the 9001 calibre movement so the settings can be adjusted easily. After unscrewing the crown and putting it into setting position you then turn the bezel all the way to the left. As far as it will go which is about the 8:30 position. You can then set the time while the second time zone disc and hour hand are synchronized. Then once the time is set you can change the local time by unscrewing the crown of the Skydweller and turning the dial in its other direction. More or less to the 9:30 position. Now the hour hand alone is moved. It can be set forwards and backwards in one hour increments.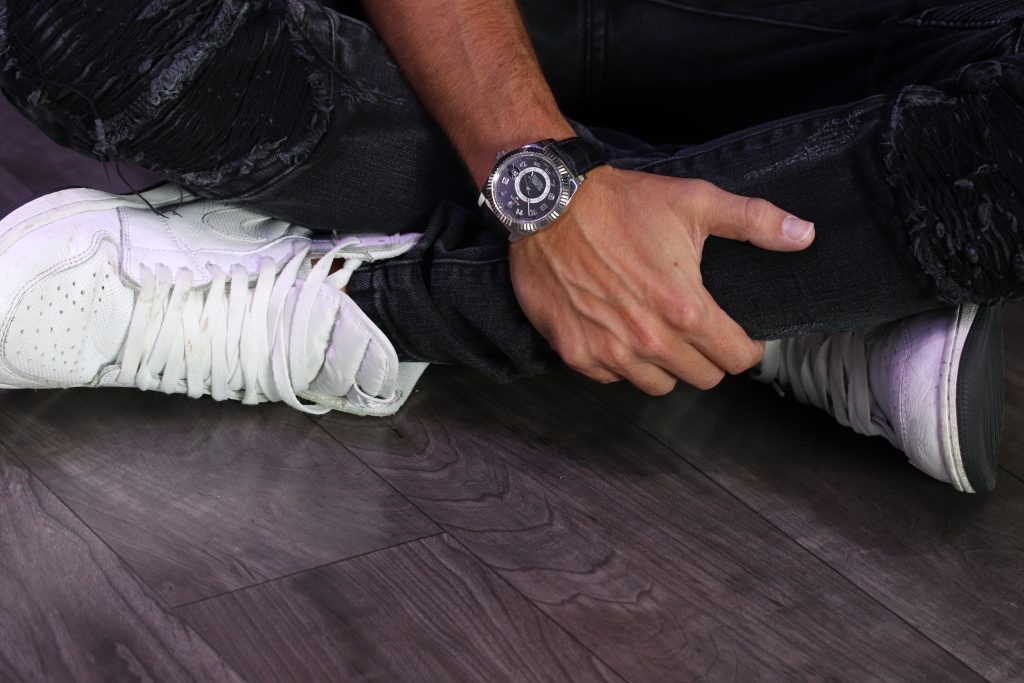 This also sets the date window to the appropriate direction as needed. Setting the month and date is also done with the bezel. First you turn the bezel to the first position. Then you turn the crown until the red indicator for the month is at the correct window. Certainly a complex yet easy to use watch it has everything that you could want from a sleek and clean design. There are no pushers or other tools for setting and moving the time. Rather the iconic fluted bezel first seen on the Rolex Date Just is all that you need.
Additionally the strap is incredible. A black alligator leather strap it has a matching 18 carat white gold buckle. A true classic and beautiful hand stitched bracelet it is perfect for long wear particularly during flights.
If you are searching for the perfect Rolex Skydweller for sale then you have found the one. This impeccable Rolex 326139 18 carat white gold black dial watch is in our store now. You can experience the skydweller in person. Just come by one of our conveniently located stores and speak with one of our luxury watch experts. They know the ins and outs of luxury watches like this Rolex Skydweller for sale. We have had out master craftsmen analyse and test this time piece using the industry latest in technology and techniques. 
Our family has been in the business of bringing fine luxury watches for sale in South Florida for the last thirty years. Bringing together time pieces from the finest brands in the world such as Rolex, Audemars Piguet, Patek Phillippe and many more. Our goal as always is to continue serving our refined clientele with the utmost quality and superior service.
Whether you are looking for a Rolex for sale or another fine men's watch for sale we are here to serve. We strive to continue bringing items of haute horlogerie to you for the next three decades to come as well. Our passion lies in the traditional and exquisite quality of these time pieces. Any that you want to explore or learn more about we are happy to guide you with. For gifts, milestones and celebrations a luxury time piece is a timeless choice that can continue to value and be passed on from one generation to the next.
Let us know if you are interested in where to buy rolex skydweller. We are happy to assist even if you are not currently in sunny South Florida. Our sales team is on the ready to help you find the perfect timepiece to add to your collection.
Contact information:
Hours: Monday-Friday 11am-7pm | Saturday 10am-5pm | Sunday 12pm-5pm
Phone:  (561) 623-8205
Email:  info@diamondsbyraymondlee.com