Simon G engagement ring feature
Choosing an engagement ring is a big first step. Simon G engagement rings are available in a variety of different styles. For each and every bride there is a different diamond cut, ring shape and color. Simon G is a luxury designer bridal jewelry brand. They craft unique pieces that sparkle and shine no matter how long you have been wearing it. Their artfully created pieces emblemize unique personalities and modern looks and taste. These visually stunning engagement rings are unlike traditional classic looks. They are modern and new while still always maintaining their traditional roots. A fine example of Simon G engagement rings are the sculpted bands. They are swooping and swirling giving an exquisite movement to the rings. Furthermore, Simon G master jewelers also experiment with mixing metals. Two tone rings featuring rose gold detailing is one of their signature looks as we will see  more of below.
Simon G jewelers has a reputation that speaks for itself. Exceptionally crafted jewelry pieces and premier offerings make Simon G a go to designer when it comes to treasured pieces such as engagement rings and wedding bands. Within their collections you can be sure to find that magical stone intricately set to perfection. The one that will set the course of your life to a destination of winding two new lives into one. Radiant representations of the love you share and of course of your commitment to one another. These engagement rings are particularly unique and lovely. We cover here some of their most modern looks including halo feature engagement rings, swooping and swirling crafted rings and modern diamond cuts. Stylish and timeless Simon G brings to life a fairy tale story. Taking inspiration from the classics to create exciting modern combinations. Come and see the true Simon G promises.
Simon G engagement rings, a story of tradition and innovation
The Simon G brand represents so much more than a simple jewelry company. It is a brand that is instilled with founding principles. These roots are the foundation of the brand that imbue absolutely everything they do and each item they craft. A traditional family lineage passing down knowledge and principles from one generation to the next the Simon family has three key principles that guide every decision they make. Whether that be design, fine material sourcing or the stories that they craft these three values are evident in every way. First, each piece Simon creates he does so as if he were crafting it for himself. Thus, the same love and pride goes into your piece as the one he would create for himself. Second, each piece must withstand the test of time. These are pieces for a life time and Simon knows they must be made to last.
Therefore, he crafts pieces that are durable, that can easily span generations and will last beyond your first love story for your family. It is why so many of his designs are unique and modern while sticking to the traditional classic roots. He not only concerns himself with the material physically lasting. Also, the design must be timeless and always current. Finally, with an old world pursuit and tradition Simon also remembers to keep a humble heart. The humble heart of a servant. One who is crafting singular items to represent the greatest bond and love between two people who are ready to intertwine their lives into one single existence. These are the three guiding principles at Simon G and they come through in every piece of the brand. They fuel his creative process and guide every design. Further, these award winning innovative designs are hand crafted and intricately created.
Halo feature diamond engagement rings
Halo features are a modern diamond touch to engagement rings. Wrapping all around the center stone surrounding the rings feature diamond they add shine. These features both add an incredible amount of glitter and glamour. Further, they spotlight the central stone. An amazing feat of technological advancement halo features can account for a large amount of accent diamonds. Furthermore, the halo itself can be made in a different type or color of metal to contrast with the band. Also, colorful gems or diamonds such as pink diamonds or even sapphires can be used for a truly colorful and unique halo ring feature. The halo is almost always at a slightly lower level than the center stone. This further adds to the center stone's spotlight. Round brilliant white accent diamonds are generally used to surround the entire geometric area of the center stone. It is a truly modern and romantic touch.
Classic and traditional engagement ring designs with a twist 
While some brides prefer a more traditional and simple clean look many modern day brides are looking for something more unique. They have fallen for the appeal of a more classic traditional ring. However, they want something to make it extra special. A detail or twist that brings that ring to the next level. Simon G engagement rings are modern and even though they are inspired in traditional designs there is always a twist. Here we will showcase a couple of the rings that truly bring a twist to an original engagement ring. They play with the possibilities of accent diamonds. Also, they feature mixed and two tone metals for an added contrast that is in the end absolutely stunning. If you are looking for rings that bring together traditional and the modern day designs you will find Simon G has the ideal shapes and colors for you right here.

First, is the overall most traditional diamond cut look and feel for an engagement ring. The round cut setting can hold a stone cut in the world's most famous diamond cut, the round cut. While this piece has a unique looping band the setting itself is a traditional round setting. This one comes with a standard cubic zirconia center stone but it can accommodate a variety of center diamond sizes. It has a lovely rose gold touch on either side of the center stone. Also, it features approximately .41 carats of accent white brilliant round diamonds and .06 carats of unique pink diamonds. These pink diamonds are set in the rose gold features for additional details. Meanwhile, many of the white diamonds are set into the halo feature that surrounds the center stone. As stated above this adds a lovely glimmer and shine truly showcasing the center diamond or stone.
 
Furthermore, the band itself is a very unique bow like look. On either side of the center stone there is an arching loop with a single rose gold and pink diamond touch. These are reminiscent of the eternity symbol and wrap all the way over the edge of your finger. It gives continuity and added shine to the ring. Also, as you can see above the central setting itself is raised up with an intricate swirling pattern. This means that this ring can perfectly adjust to being worn with other rings such as your wedding or anniversary band as seen above.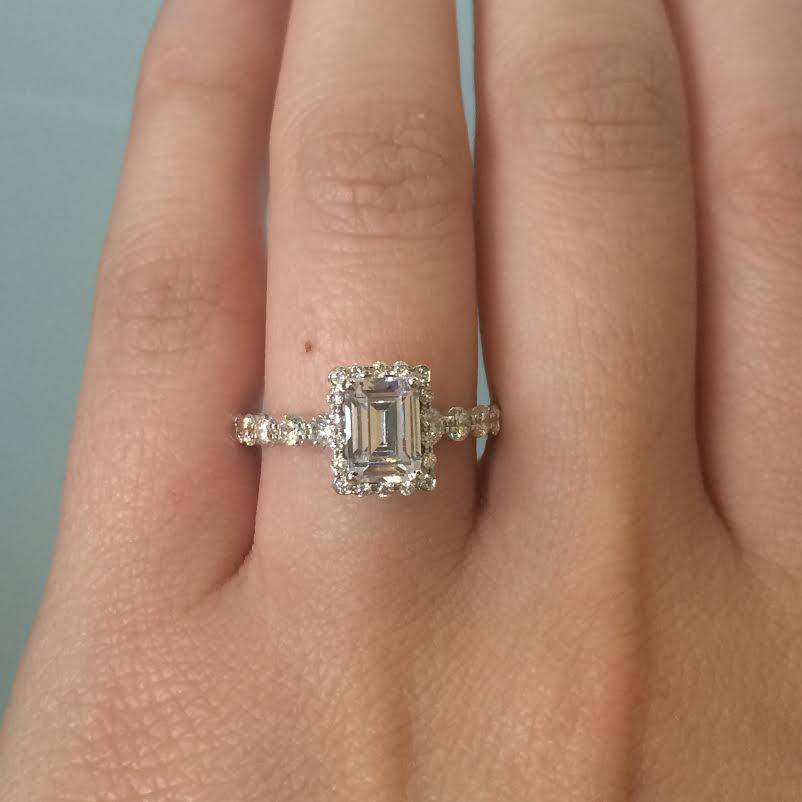 Second, is a more traditional design of ring. This one although it features a modern halo feature surrounding the center stone is a more classic style. The ring has a single solitaire stone in the center of the ring and is quite a delicate and romantic piece. However, it features a very modern diamond cut center stone. This particular ring has an emerald cut center diamond stone cut which is one of the most modern looks. Furthermore, it has accent diamonds all along the sides of the band stemming from the center stone. It is an elegant and beautifully designed ring with approximately 0.67 carats of accent diamonds. Also, it is available in Platinum, 18 carat Yellow Gold and Rose Gold by special Order Only. You can make bespoke changes to this ring to make it truly yours. It's a unique ring with an eternally flawless look and design.
Modern and unique engagement ring designs
Finally, the truly modern and unique engagement rings. These break the mold and Simon G is not afraid to introduce newly thought up designs and concepts. The engagement rings here in the modern and unique ring designs section are very innovative and continue the playful twists. Additionally to the twist of using mixed or two tone metals and features such as the diamond halo these also have interesting designs.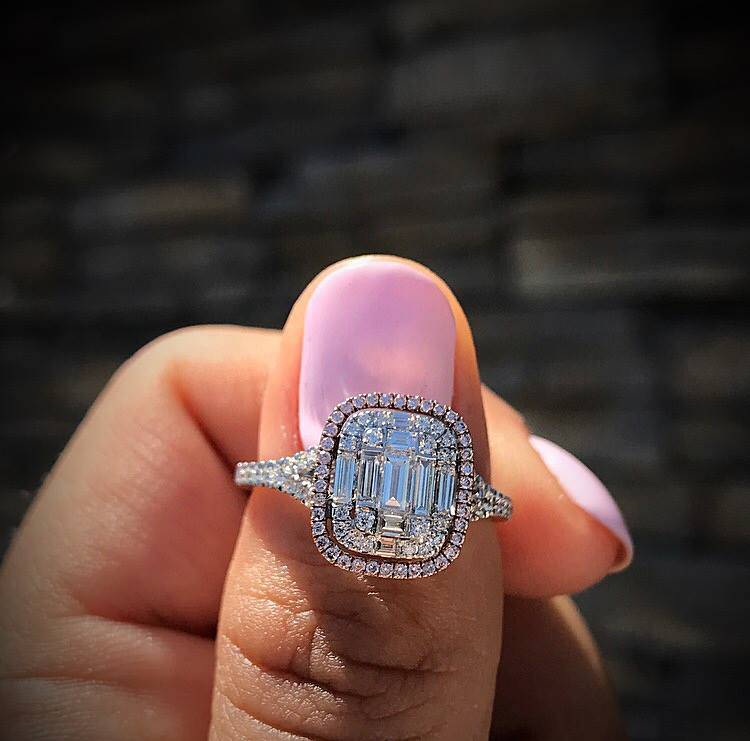 First, a truly singular engagement ring unlike most of the ones found today. This mosaic style engagement ring does not have one single diamond stone in the center. It has an artfully designed and masterfully set mosaic of diamonds within the halo feature. A gorgeous white gold ring with a tinted rose gold halo the contrast gives additional shine to the mosaic. Further, it has approximately 0.73 carats of white and pink diamonds all around the ring.
Originating in the USA this particular Simon G engagement ring is a very modern and innovative look. It strays from the traditional. Thus, rather than have a single solitaire diamond in the center is features several smaller baguette cut and round brilliant white diamonds set into a modernistic pattern. Also this engagement ring is available in 18 carat yellow, rose and white gold. So you can special order your dream combination ring.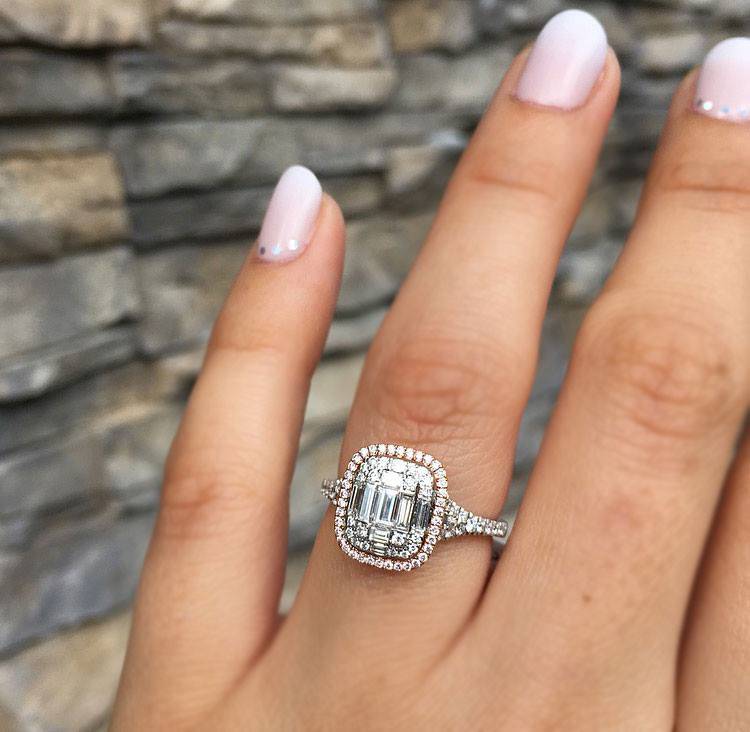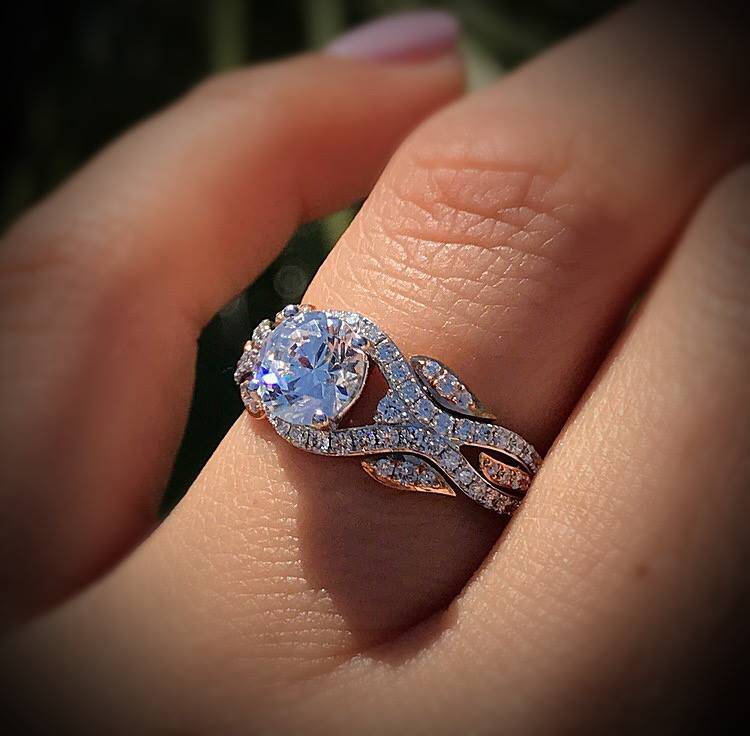 Next, is another intricate and modern Simon G engagement ring that features two tone 18 carat gold. While this one has a more traditional single diamond center stone it is still a very modern look as well. It has natural and organic swooping lines that curve around the ring. As it wraps around your finger the wave like features on the ring catch light at each angle. Also, the band has approximately .60 carats of accent diamonds that swirl around for additional shine and glamour. The center diamond itself has an adjustable setting that can accomodate any size diamond stone. So you can find the bright shining diamond of your choice for this unique ring. The band itself three rose gold details on either side of the center stone setting. As with the one above this one can also be specially ordered in 18 carat yellow, white or rose gold.
Diamonds by Raymond Lee, an engagement ring and wedding band South Florida destination
Diamonds by Raymond Lee is a family business. One we pride ourselves in carrying on the legacy. For the last three decades we have been serving the South Florida community helping couples make their dreams come true. We strive to offer superior service for all of our clients. Also every piece of jewelry and each diamond we add to our curated collection is only the finest quality. We ensure this by not only carrying only the most renowned and fine luxury jewelry bands. We rigorously test and inspect each piece that arrives at our stores. Our master jeweler uses fine jewelry instruments to make sure every diamond is the highest quality and is set to perfection. This gives us and ofcourse you peace of mind when it comes to buying a piece for a lifetime. We can be certain that your jewelry piece is made using the best industry practices.
Throughout the lifetime of your jewelry item, specially one like your wedding bands and engagement ring you will need to service them. We at Diamonds by Raymond Lee offer this service as well as others you may come to need. Such as bespoke gemstone and diamond additions, resizing, maintenance and in case of an accident repair. We are here to help you at every step of your journey whether that may be trying to find the diamond cut you prefer to looking for anniversary bands. Our customers celebrate their lives together and each milestone that they achieve. It brings us great joy to be a part of this journey. And that is why we choose to offer brides and grooms to be an ample selection of rings and jewelry. We would love to welcome you to one of our conveniently located stores. They have been designed with you in mind.