If you're looking to sell watches Boca Raton gives you major advantages unique to this sunny corner of South Florida. Here, you'll find a thriving community of luxury watch lovers, collectors and owners. And where there are watch enthusiasts, you'll find us eagerly buying, selling and trading those timepieces. South Florida locals have easy access to one of the most famous names in luxury pre-owned watches: Raymond Lee.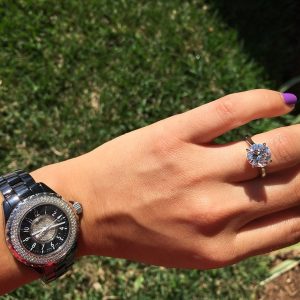 Raymond Lee Jewelers began more than thirty years ago as South Florida's premiere buyer and seller of luxury estate jewelry, diamonds, and watches. We founded our flagship West Boca Raton showroom with the intention to grow but not the slightest idea of how successful our family business would become. We're proud and honored to be South Florida's choice for buying and selling all their most precious valuables, especially their luxury watches. Our pre-owned luxury watch business continues to thrive, with nearly half of our enormous, luxury showroom dedicated to housing our impressive watch collection. The majority of these watches are purchased directly through private sales with our clients. Many are local (or at least part-time local) and stop by our showroom at any time to meet with our buyer and sell watches Boca Raton can't get enough of. However we do operate a highly secure, discreet, and expedited mail-in purchasing service, with the same excellent standards of cars and purchasing power.
After more than three decades in our famous West Boca Location, our empire expanded East. In East Boca Raton, we opened the doors to our state-of-the-art, beautiful showroom Diamonds by Raymond Lee. This particular location focuses on our hand selected and curated loose diamond inventory, our designer diamond jewelry, our private label creations, and – of course – the biggest names in designer engagement rings and wedding bands. It's the only place in South Florida where our clients can shop for every major engagement ring designer under one stunning roof. But it's also another convenient location for our longtime and first time clients to buy and sell the luxury pre-owned watches that made Raymond Lee a household name.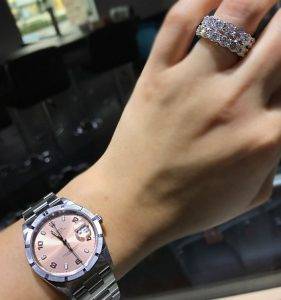 At both locations, you have access to our watch experts. We're passionate about luxury watches and treat our collection like it's our own – not only safekeeping for their future owners, but a point of pride for us. So when we have the opportunity to purchase a rare or exciting luxury timepiece, we seize it. Our experts know how to recognize these opportunities easily, and it's what affords us such a fantastic selection. That same selection, and the watch lovers who buy from it, are what enables our purchasing power. Because we're one of the biggest names in pre-owned luxury watches, our buyers can – and do – pay the most competitive prices for worthy watches. We recognize quality when we see it, respect the premium it commands, and are more than happy to pay the best and fairest prices for those watches.
When you want to sell watches Boca Raton has an extra cache. It's the land of the luxurious and our clients on both the buying and purchasing ends of the spectrum expect an elevated experience. This is where Raymond Lee Jewelers and Diamonds by Raymond Lee shine. Not only do we innately understand our clientele's wants and needs, we anticipate them. We know that every private sale is an important transaction, whether it's the watch collector's first or fifteenth. We aim to make it seamless and satisfying, and after thirty plus years of perfecting the art, we're proud of the reputation we've owned as premium pre-owned watch buyers.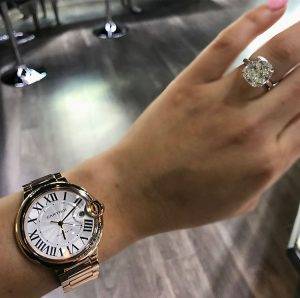 What Kind of Watches Do We Buy?
At Raymond Lee Jewelers and Diamonds by Raymond Lee, we buy the watches Boca Raton wants most. This means luxury timepieces always command a premium. For us, we're most aggressive about buying:
This is just a small selection, and we're always open to buying rare and exciting watches that might not be on this list. However when we purchase a watch, we're looking for re-sale value, both for us and for the eventual private owner of the watch.
Beyond brand name, the most important factor we consider? Authenticity! Our experts perfected this skill first, out of necessity. You don't grow to be one of the biggest and best pre-owned watch buyers in the world without learning how to spot fake watches fast.
Authenticity: The Raymond Lee Guarantee
Over the last thirty plus years, we've perfected the art of buying only authentic pre-owned watches. Our expert buyers have developed trained eyes for the smallest details that give away a replica watch, thanks to evaluating dozens of luxury watches every single day. Some of those are fake, and we've been very vocal about the importance of avoiding replica watches and preventing their entry into the secondary watch market. We despise fake watches! Most are easily identifiable, and unfortunately many times the watch sellers themselves don't have any idea that their watch is a fake. It's never fun to be the bearer of bad news like this, but we speak compassionately – even we've been burned by our fair share of "super fake" watches over the years, only to realize our mistake once our watchmakers open up the watch for restoration and service.
Often these watches are very difficult to spot, especially as the technology of counterfeiters catches up to that of the luxury watch manufacturers. So now, if we have any inkling of doubt – even just a suspicious gut feeling – we invite our watchmaker to the consultation. It's one of the many perks of having our own state-of-the-art watch workshop and expert watchmakers right on premises, and it lets us get down to the movement, which almost always betrays a counterfeit watch. When a fake is this good we often offer to buy it (though not for its re-sale price) and share with our blog readers the ways we noticed it was a fake.
But when we pay top dollar to those selling watches in Boca Raton, we do so with the understanding that we're buying an authentic luxury watch. And once we have our watchmakers inspect and restore it, we guarantee its authenticity to its buyer – with a 100% money back guarantee.
The Easy Way to Sell Watches Boca Raton
If you own an authentic luxury watch and you are looking to sell, what's the next step? If you sell to Raymond Lee Jewelers or Diamonds by Raymond Lee, it's simple. You can visit either of our showrooms at any time during our normal hours of operation. One of our expert buyers will be available to meet with you, if not immediately, then after you've enjoyed a fresh cup of coffee or craft beer. If you make an appointment ahead of time, you're guaranteed no wait time and immediate service from our experts.
You'll meet with our buyers, and present your watch plus any box or papers you might have. Typically, you'll receive an offer immediately – those instances where our watchmaker needs to open your watch are rare. If you accept our offer, we write you a check or pay cash immediately. If you'd like to shop around and compare quotes, we absolutely understand and our buyer will specify how long our offer will last.
If you aren't local, but still want the Raymond Lee watch selling experience, we're happy to offer a mail-in service. You can call or e-mail us to request a rough quote for your timepiece before sending it in, or use our mail-in form to send your watch to us and receive your offer immediately. As soon as one of our buyers opens your securely packaged watch, we'll contact you with an official offer. If you accept, we'll arrange payment immediately. If it's not quite what you're looking for, we securely package and ship your watch, fully insured, back to you USPS priority. Our service is prompt and highly secure.
Whatever your reasons for selling your luxury watch, we aim to make the experience unparalleled. We know that a treasured timepiece's sentimental value can be just as high as its monetary value, and it's why we operate our watch buying service with the utmost integrity. We invite you to call, e-mail, or stop by to learn more about our luxury watch purchasing business, and experience the Raymond Lee difference.