Rolex Oyster steel watches review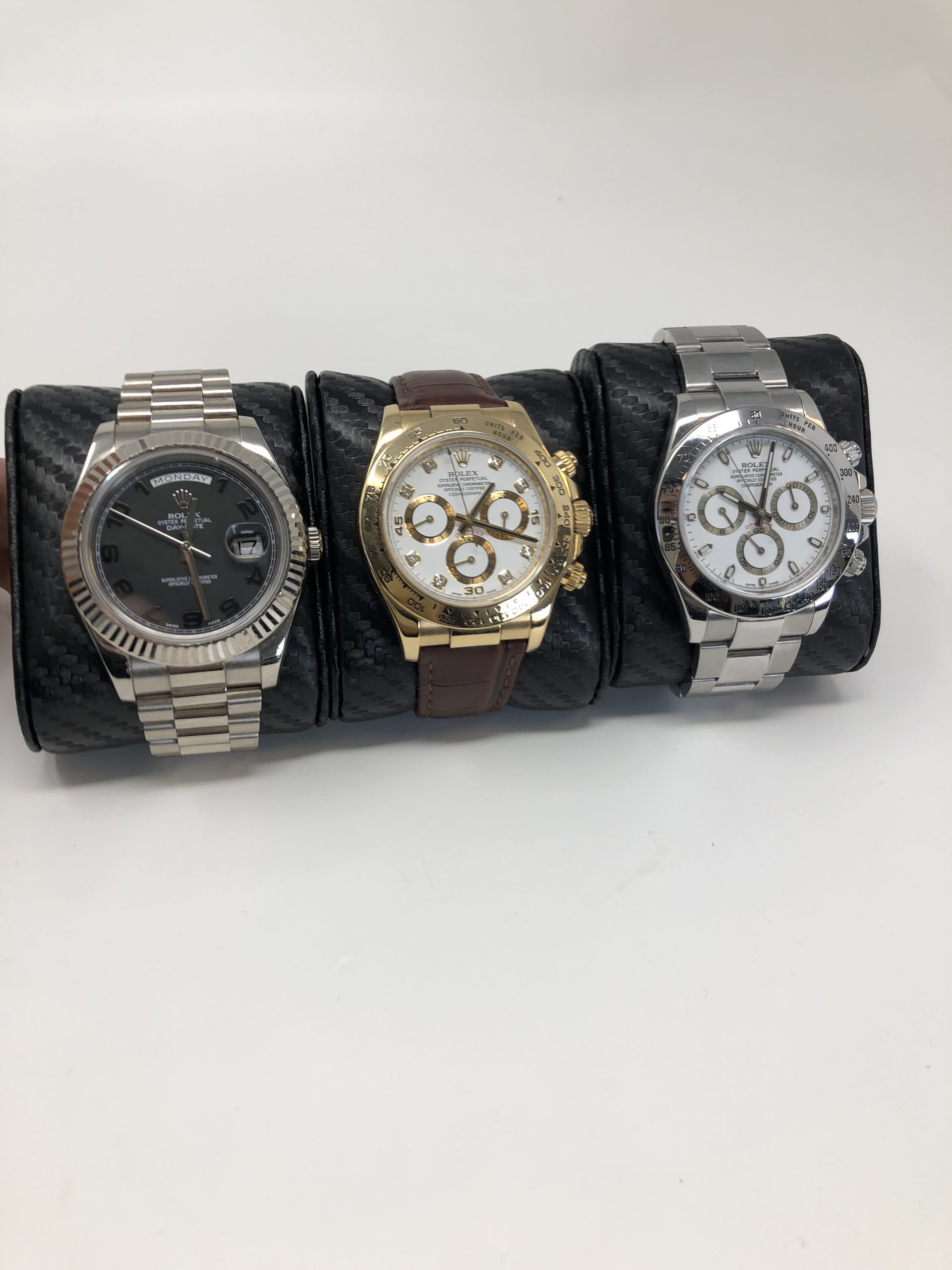 A Rolex is a timeless watch. Arguably the most iconic of all the luxury men's time pieces that there are. The regal crowned king of excellence when it comes to watches. Considered the benchmark for excellence the luxury watches come in a wide range of models. Each collection showcases the Rolex master craftsmen expertise and technique. This week our feature is on the Rolex Oyster Perpetual watch. This complication and signature metal come in a whole slew of Rolex collections. However this week we are featuring two frequently well loved collections. The Rolex Daytona series and teh Day Date collection. Featuring a particularly lovely black dial Rolex from the Day Date II collection. The Oyster steel alloy is one of the foremost features of these luxury watches. A patented alloy specific to the brand this precious metal walks the line between sport endurance and refined radiance. A Rolex brand staple.
Made for high performance the Oyster steel watches are equipped for the extremes. Highly durable and resistant it is a metal fit for a watch that is not a passing trend. A Rolex regardless of which collection or style is timeless. A luxury time piece for generations, it stands for the tradition and legacy of one of the world's greatest master craftsmen of haute horlogerie. To work perfectly and still maintain its beauty the oyster steel performs even in the harshest fo environments. Beyond the resistance of the metal it also has an inimitable shine when polished. Further setting apart the Rolex Oyster steel watches in aesthetics and endurance. The anticorrosion properties of the metal are like that of precious metals. Focused on always delivering the highest performance and resistance as well as every element as perfect as it can be the Oyster steel is more than just a material.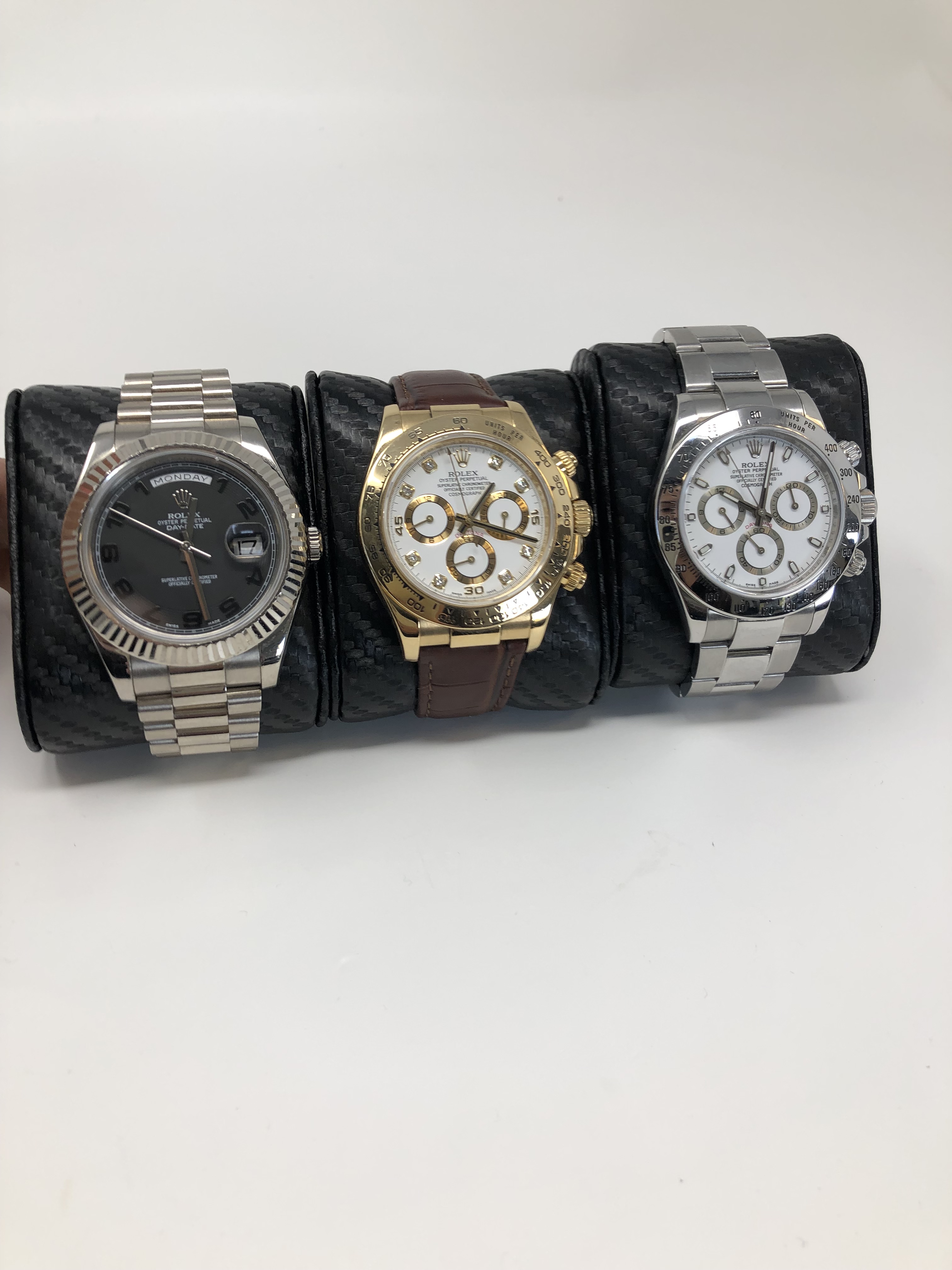 Rolex Daytona Collection
The first of the two collections of watches we are featuring here this week is the Rolex Daytona collection. These automotive inspired watch series from the eponymously named automobile race are the perfect match between speed and performance. Made to endure the extreme conditions of race car driving while also balancing precious seconds that can mean the win or loss of a race the Daytona watches are unique to say the least. There are a few reasons why these watches are made from the iconic Oyster steel. See they can be banged around a bit without running the risk of scratching. At least not as much as an 18 carat gold watch for example. Further the functionalities of these watches make them ideal for racing and high performance driving. They were in fact released and continue to be a prize for the winners of the Rolex 24 in Daytona, FL.
Introduced in 1963, these watches are designed to meet the tough requirements of professional race car drivers. As part of the Rolex Daytona 24 this collection had to be more than a fine time piece. It has to be a tool of the trade as well. Featuring a chronograph the power of these watches comes particularly from the use of a vertical, rather than a lateral, clutch. This is used to activate the chronograph. Also to make sure this function works well continuously it functions using two separate discs, one above the other, so that they work together using direct friction contact. A drivers watch for those  manning elite racing vehicles this powerfully precise watch is the ideal instrument for measuring the time elapsed and to calculate the average speeds. The Rolex Daytona watch collection permits the high performance drivers to accurately map out their strategies, and track their times.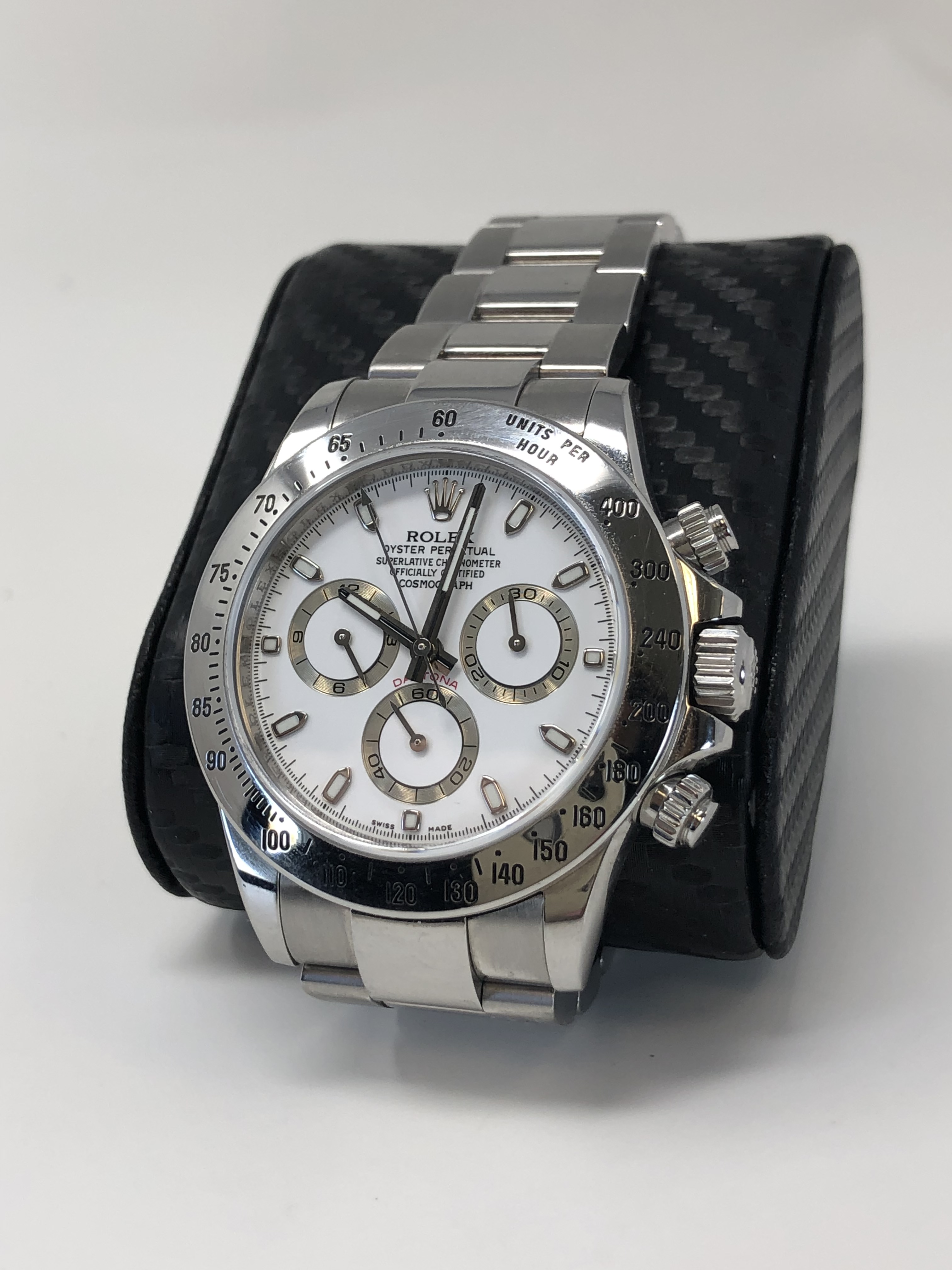 First is the Daytona Rolex 116520 stainless steel men's watch. A time piece with the classic three subdials and engraved tachymeter bezel it is a Daytona classic. This of course is an Oyster steel watch using Rolex's iconic alloy. The bracelet is an Oyster steel stainless steel bracelet in the traditional Rolex three link bracelet design. At 40 millimeters this watch is stainless steel Oyster watch has power packed in. Along with two pusher button functions flanking the winding dial with a crown protector thi watch keeps your race time down to the seconds without a doubt. As we said above the use of a vertical rather than a lateral clutch make this Daytona Rolex even easier to use.
Whether you are driving or keeping times at a track this watch is not only powerful but also beautiful. A monochromatic aesthetic in the glinting stainless steel easily reminds us of the flashing lights and glint of cars of an automotive race. Undeniably sportive this all steel look is a modern man's dream.
Another gorgeous Daytona watch this one features the Oyster clasp on a very different kind of bracelet. This one has a brown genuine crocodile band to give some more classic contrast along with the 18 carat yellow gold case to the sportive Daytona watch. With a white dial and the classic yellow gold metal this watch is a fantastic classic. However the pushers and three subdials bring the sportive touch to it. Further the diamond hour markers and yellow gold hour and minute hands bring it closer to the classic look. A 40 millimeter watch it is an ideal gentleman's watch. For someone who brings a touch of sportive to their all classic style.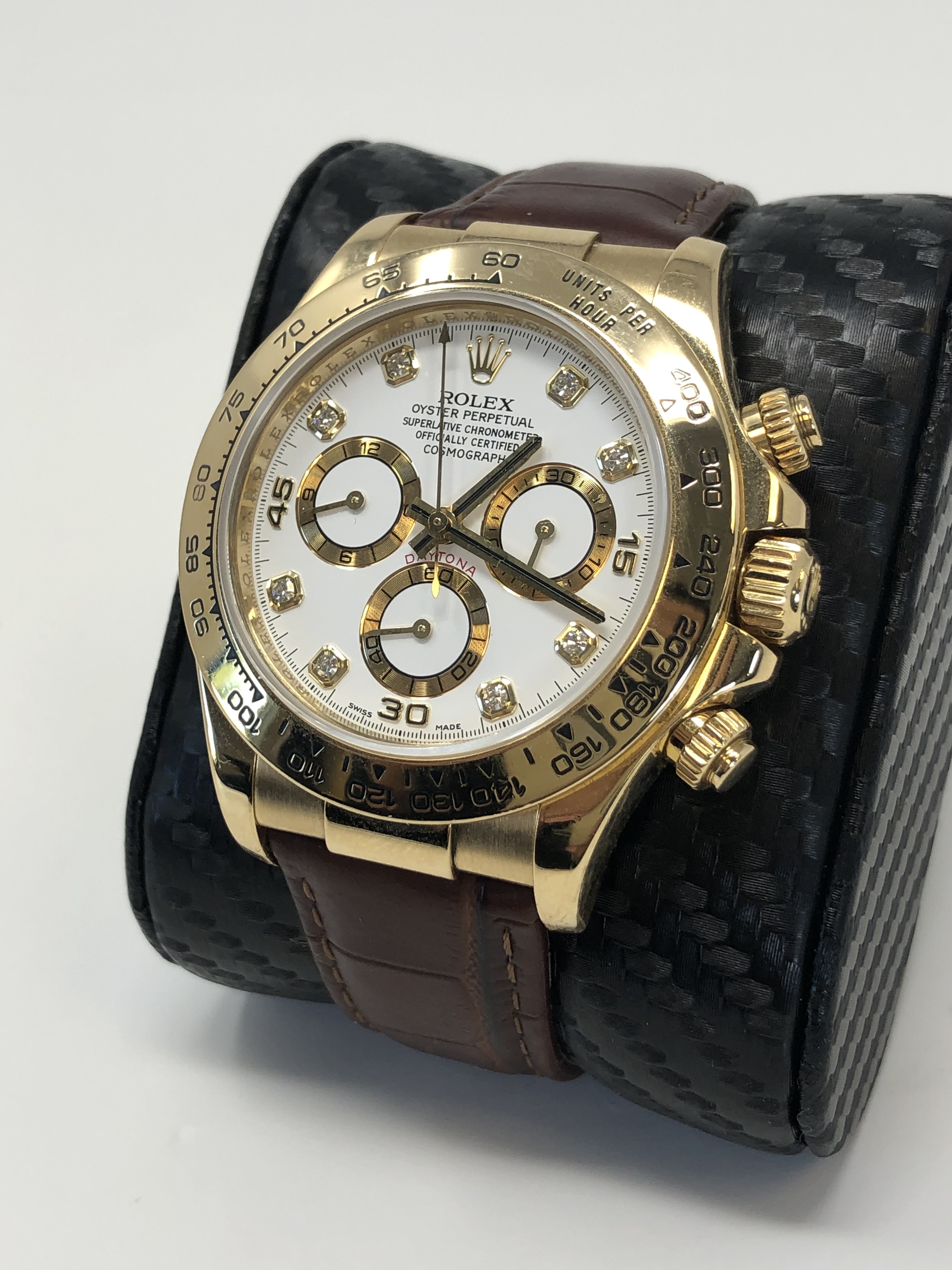 Rolex Oyster steel
The patented Rolex oyster steel alloy is made for durability. A mixture made from the finest metals used in technology and space exploration. When it comes to endurance the Oyster steel is no joke. Belonging to the 904L steel family the Oyster steel alloy has an exceptional sheen. Beyond being used for fine watches this level of steel is frequently found in use in the chemical, aerospace and high technology industries. Meticulously forged and made from only the finest of materials this alloy is a Rolex signature. Used for classic and modern watches alike the Oyster steel metal is finer than a traditional steel watch. Produced in their in house foundry it is another way that Rolex maintains its level of excellence and quality in materials. A highly durable metal the Oyster steel is really what defines a contemporary Rolex watch. A truly unique and inimitable brand in the industry.
Invented by Rolex in 1926 the Oyster steel case was a feat of engineering for the world. As the very first waterproof case the Oyster steel took men where none had been before, with a luxury wrist watch. With a patent system for screwing down the bezel, case back and winding crown against the middle case the Oyster steel case became impenetrable. Robust and absolutely waterproof this marked the beginning of the Oyster steel's walk into the world of extreme spaces. A blend of form and function the Oyster steel is a fine example of the Rolex commitment to continue pushing boundaries. Whether that is when it comes to innovative design or for the technological advancements of the brand. The Daytona watches above feature the Oyster steel and now we have a Day Date Collection piece. This one is an 18 carat white gold watch featuring an Oyster steel bracelet.
Rolex Day Date Collection
Legibility, aesthetics, prestige and design. The first waterproof and self winding chronometer wrist watch made a splash literally. In 1956 when it was first released into the wild the Day Date Rolex collection offered not only a modern calendar display but also instantaneous displays. Precise and reliable the Day Date watch established itself as a true status watch model. The ultimate prestigious collection this watch has intricate features. First the bezel, it comes in either fluted, smooth or gem set arrays but always with a polished shine of gold. Created for comfort and performance these watches have all the information you could need in a single glance. Available with bespoke day display features in a wide choice of languages this is a watch for the refined gentleman. The one looking for a classic, timeless watch that can take him directly from the office to a formal gala evening in stride.
A new generation movement equipped with calibre 3255 the latest iteration of the Day Date Rolex watch continues with the tradition of innovation. Imbued with the sense of pushing boundaries and developing their own materials and fine pieces the Day Date collection has a superlative level of performance. A demonstration of the Rolex technology the collection of watches are also easy to use. Spelling out the days of the week and highlighting the date this is a watch for ease. Guaranteed to a maximum depth of 100 meters or 300 feet this watch is hermetically screwed down to take you as far as you can go. Furthermore, with the cyclops scratch resistant sapphire crystal the augmentation lens above the date window helps with ease of readability. A demonstration of skill and power the iconic mechanical wrist watch is insensitive to magnetic fields and 10 times more resistant to to shocks.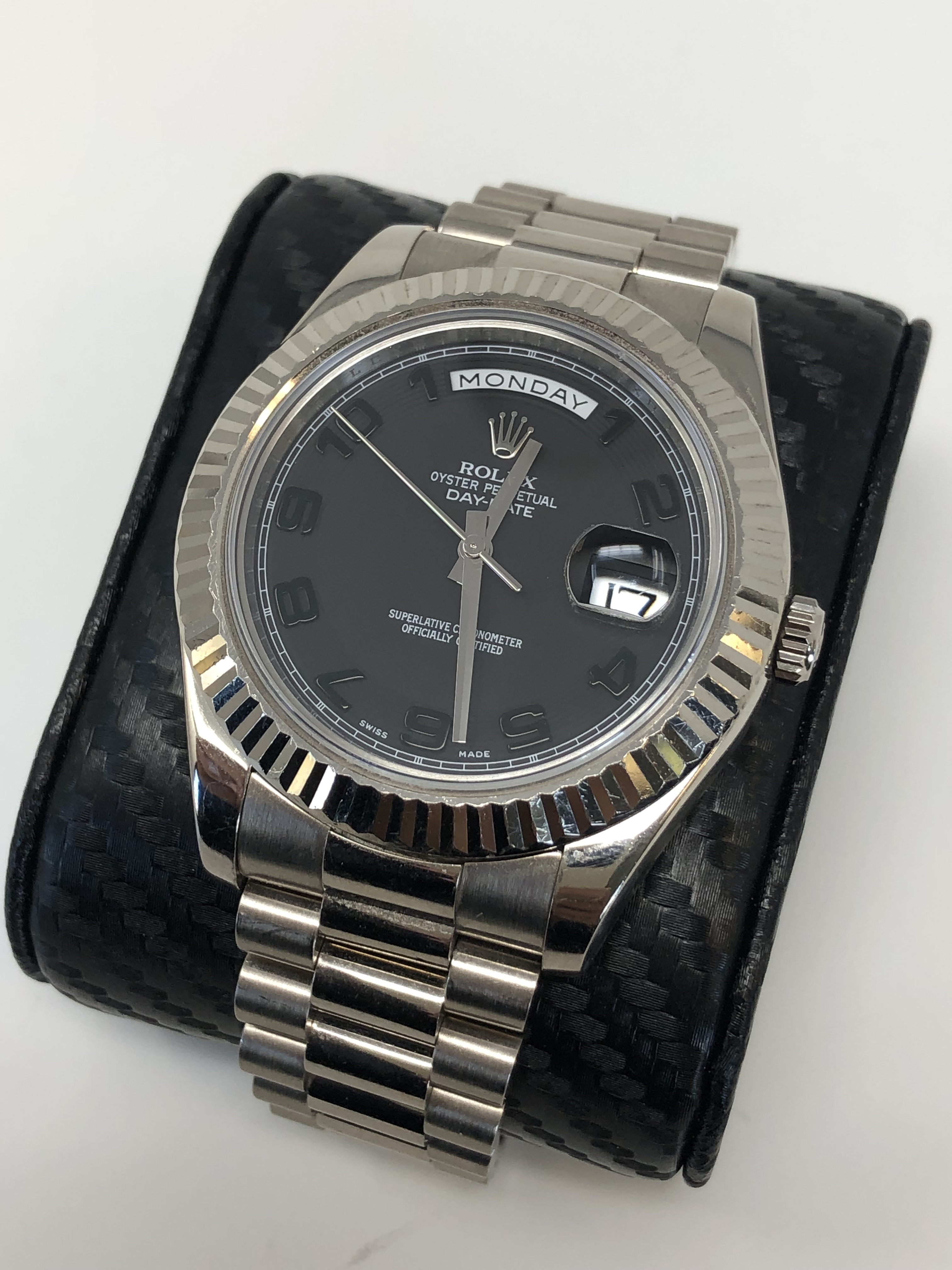 A modern watch in its own right this version of the Day Date iconic Rolex watch has a touch of modernity. The all black dial in a dark slate grey face with monochromatic black Arabic numbers makes this 1950's status symbol ready for the 2010s. The fluted bezel is a nice touch of texture and makes the white gold case shine even more polished. The concentric dial has silver hour and minute hands that contrast perfectly against the black dial face as well as match the monochromatic look of the watch. Although the case and bezel are an 18 carat white gold material the bracelet is Oyster steel. Arguably the part of a luxury watch most affected by wear the bracelet on this watch is Oyster steel for a reason. It is highly durable and much harder a metal than white gold. Hence why it resists scratches and tumbles better.
The automatic watch has a fold over clasp and the iconic three link bracelet. A 41 millimeter wrist watch it is sizable but rather comfortable to wear. The best way to select a Rolex watch is after all to experience it yourself. That is why we have this model and many others at our South Florida store. If you are interested in purchasing a Rolex Oyster steel bracelet watch like this one why not come try it on at our stores?
Where to buy a Rolex Oyster steel watch? Diamonds by Raymond Lee in South Florida
A family company we have been serving the South Florida community for the past three decades. With a strong commitment to our refined clientele we strive to continue serving our community for the next three decades and much more to come. Our goal is always to offer superior service. As well as provide the very best and fine quality pieces that the luxury time piece market has to offer. We carry brands known world over as the best. Our commitment to excellence and superior quality has made a mark in South Florida. From our philanthropic efforts to the community organising we have hosted such as Toys for Tots we are close to our community. Particularly because our clientele themselves is so involved in giving back. You can see on our social media and website the events we host each month to benefit the community and bring together fine watch enthusiasts.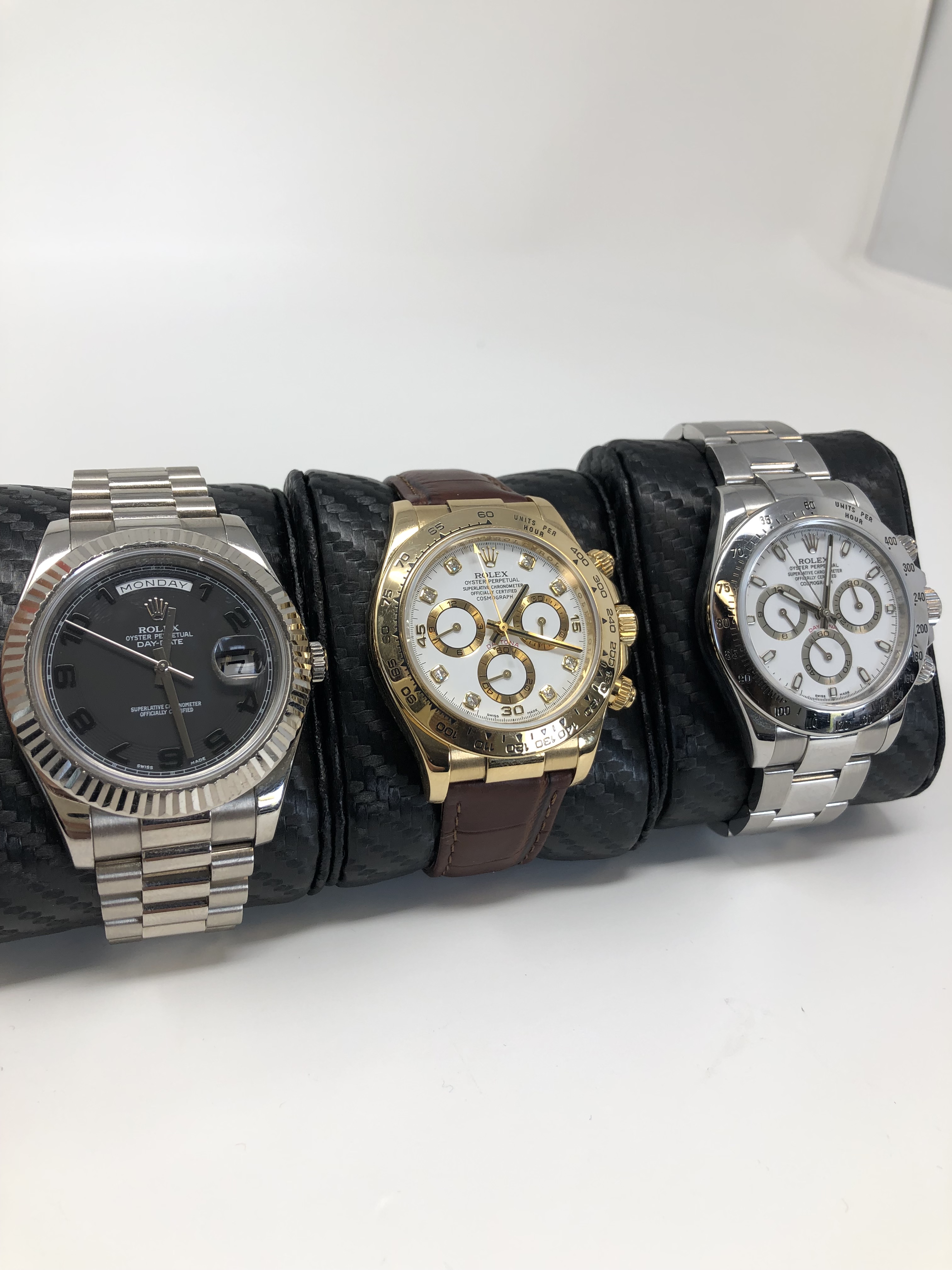 Our master jewelers and craftsmen can repair and maintain luxury time pieces of all brands and makes. Using the latest technology and finest materials they are ready to help you any day. Furthermore, our diamond experts can help you evaluate, or modify jewels on your timepieces. If you have any questions or concerns know you can come to us at any time. We want to welcome you to our any one of our stores. From our wide ranging collections we can help you find the perfect time piece. Whether it is for a special occassion or as an addition to your growing collection we are here to guide and assist you. Our jewelers have a passion for fine time pieces and know each and every movement. Overall, our tradition and commitment is what sets us apart. Our stores are conveniently located and also expertly designed for your comfort and ease.