Hands-On Vintage Rolex Root Beer Review "Nipple Dial" – GMT Master Ref. 16753
Presenting an in-depth Rolex Root Beer Review. Here we have a Rolex 16753 GMT Master "Root Beer" "Nipple Dial" watch in pristine condition, fit with a Horus Strap. Read below to learn everything you'd want to know about the vintage GMT Master Rolex watch, commonly referred to as the "Root Beer" Rolex.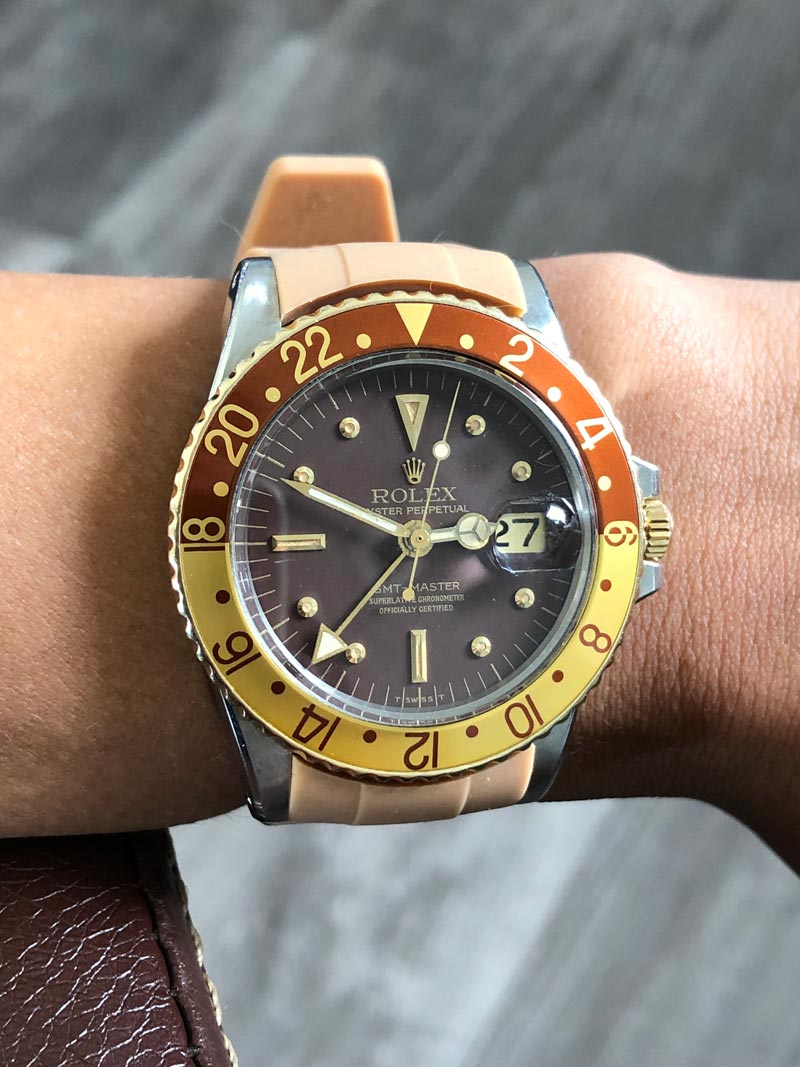 Rolex GMT Root Beer History
Rolex produced the GMT Master in 1954. It was the ultimate solution to a pilot's need for a watch that tracks time during travels through multiple time zones. As with all Rolex models, it was a particular niche to fill for a noteworthy and respectable profession.
The result, a sports watch with a 24 hour bezel capable of being set to the GMT hand, as to track times both locally and back at home concurrently.
Since its first release, the GMT Master has become an incredibly impressive and highly sought after collection with a plethora of references, each unique and many extremely valuable and collectible.
Before the release of the ref. 16573 (the feature of this article), the GMT Master aviation watch only came in stainless steel or yellow gold. It wasn't until Rolex developed the ref 16753, which was in the early 1960s, that the GMT Master came out with a steel and gold two tone variation. It was available with a black or brown dial.
As per usual, when it comes to nicknames for Rolex watches, it wasn't Rolex who coined it the "Root Beer", it was the Rolex community. The name is fitting, as the distinct brown and cream insert resembles the popular soda so very well.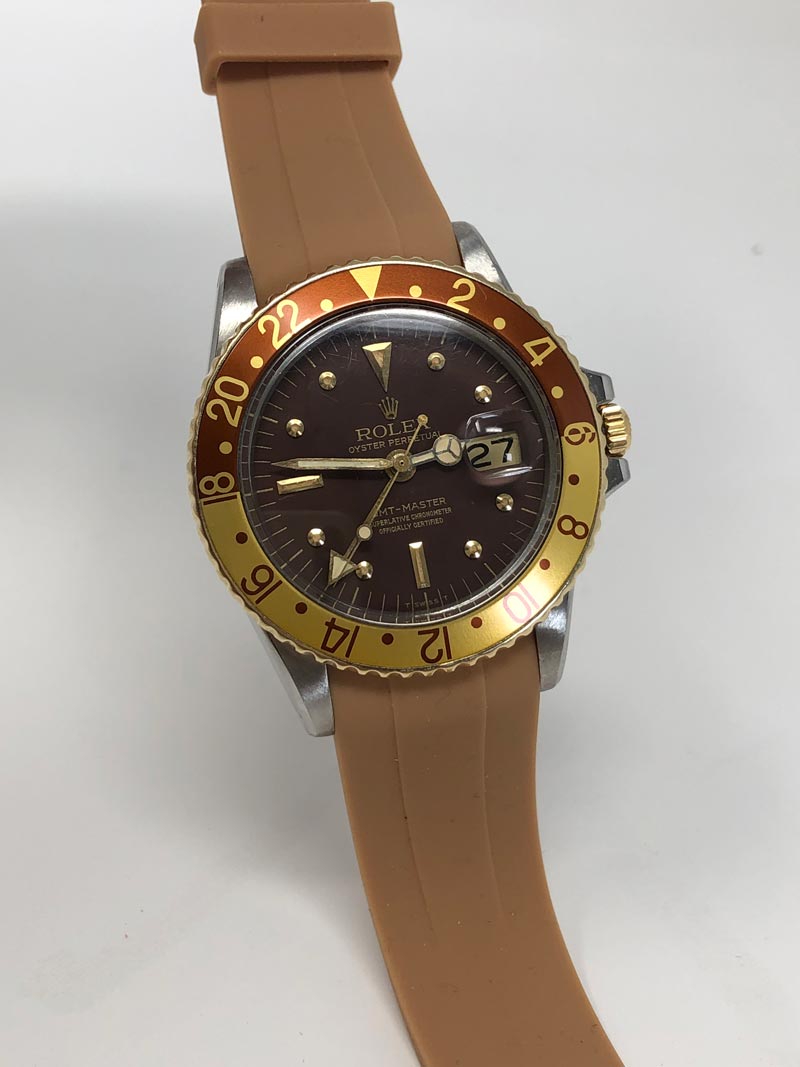 GMT Root Beer Two Tone BEZEL (ref. 16753)
The bezel is surely the first thing you will notice when you look at the Root Beer two toned GMT. The edges of the bezel are crafted from yellow gold and the bezel insert is monochrome brown and cream. Brown might be a strange color for something sporty, but Rolex pulled this off so incredibly well.
It's as delicious to the eyes as a root beer float is to the mouth.
The root beer insert completely dominates the details of this watch, giving it an ultra distinctive look that Rolex enthusiasts have loved since day 1.
Note: Not all Root Beer Rolex GMTs are two toned, as earlier versions where pure brown.
Thanks to the special dial hour markers, it also got the nickname "Nipple Dial".
Rolex GMT Master Root Beer BROWN NIPPLE DIAL
The dial (and bezel) of the Root Beer Rolex is what really catches one's eye. There were two dial variations made for the GMT Root Beer watch – black and brown – and we are featuring the brown (or better stated as Burgundy), which is noticeably and charmingly metallic in the right lighting.
What's more, we have the brown "nipple dial", which can only be found on select vintage Rolex GMT-Master and vintage Submariner watches.
A nipple dial in brown, and in good condition, is extremely hard to find. Thankfully, through decades of Rolex collecting and our ability for pristine curation and safeguarding, Raymond Lee Jewelers's vast collection of Rolex watches includes the Root Beer Rolex with the ever-coveted brown nipple dial.
How to tell if it's a nipple dial?
The quick and easy tell lies in the hour markers. Nipple dials will have slightly protruding hour markers made of precious metal that rise gently to a smaller middle circle filled with lume. It looks like a cinder cone volcano in shape, a disc cone, or better yet, a nipple.
These applied round indexes are always made in yellow gold and filled with lume for optimal visibility in low light conditions. Fit alongside the nipple hour markers are the well-known baton markers at the 6 and 9 o'clock, the inverted triangle at the 12 o'clock, and the date window at the 3 o'clock.
Non-nipple dials will have hour markers that are flat and fill almost the entire index. So, it's immediately recognizable because of this unique design of the indices.
Rolex no longer makes the nipple dials, so you will only find it on certain vintage Rolex models in gold or in two-tone gold and steel.
Now, the nipple dial indicates a time when Rolex's image shifted more from being a utilitarian watch to being a luxurious sports watch worn to represent status (not that its actual functions and durability became less of a tool watch, just what the brand represent became far more than that).
Vintage nipple dials are extremely sought after by Rolex collectors, thus it is far more valuable.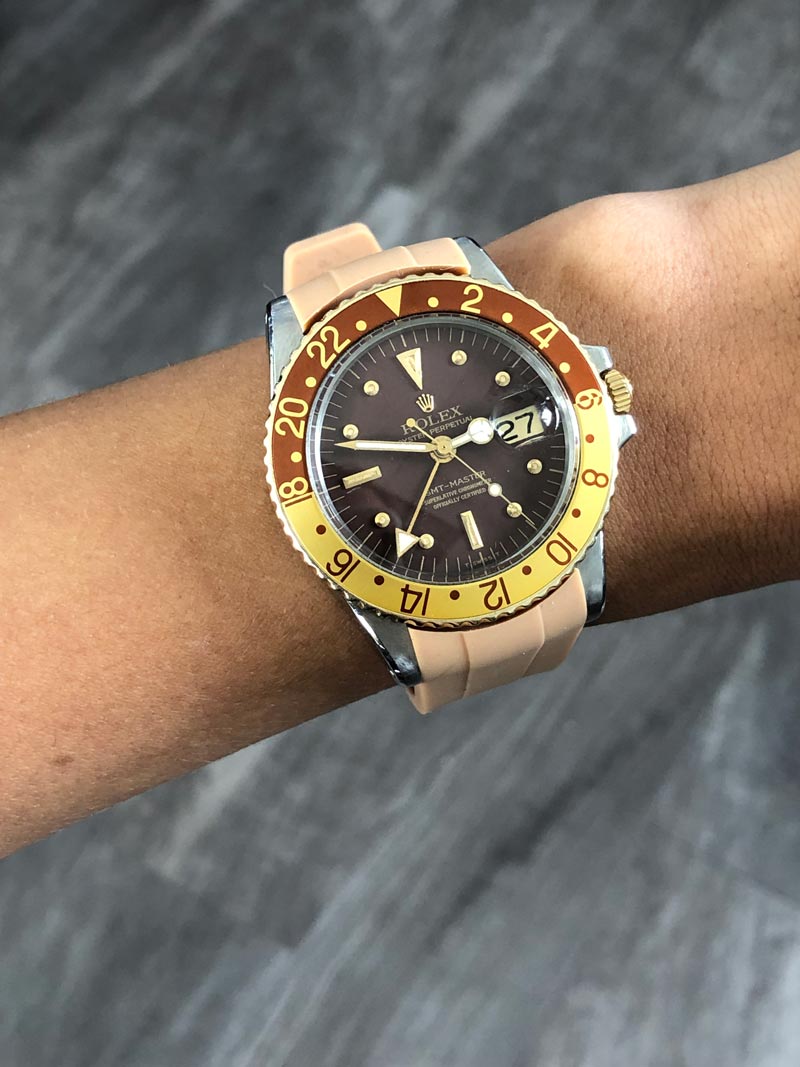 As time went on, the Rolex GMT Master reference 16753 got more nicknames.
It was nicknamed the "eye of the tiger" thanks to its similar appearance to the semi-precious gemstone of the same name.
It was also named the "Clint Eastwood", which we find utterly intriguing as we are big fans of the iconic actor and the Iconic GMT Master 16753.
Rolex GMT Clint Eastwood
The Rolex 16753 is also known as the "Clint Eastwood". If you search it on Google, "Rolex Clint Eastwood", you will see the Root Beer GMT Master pop up because this is apparently his favorite watch and this has become publicly known for quite some time.
He wore it on and off movie sets. You can spot Clint Eastwood ricking the "Clint Eastwood" in a number of movies, such as his 1982 film Firefox. He wears the Root Beer Rolex in many films spanning an eleven year period (Tightrope, In the Line of Fire), so we can only assume this was in fact his own watch and he personally loved it. Who could blame him – a classic watch for a classy man…
Fast forward to 2018, and we now have the "new Root Beer", which is the GMT Master II ref 126711.
Rolex GMT Master II – The New ROOT BEER Rolex
Recently, at Baselworld 2018, Rolex came out with the GMT-Master II reference 126711 CHNR, with a price of $14,050. This is the watch that people are calling the "new Root Beer". As usual, there is some controversy among collectors. Many don't think ref 126711 deserves the nickname Root Beer. Either way, we doubt that Rolex is losing any sleep over it. We are sure they are going to sell superbly well.
Rolex 16753 GMT Root Beer ON THE WRIST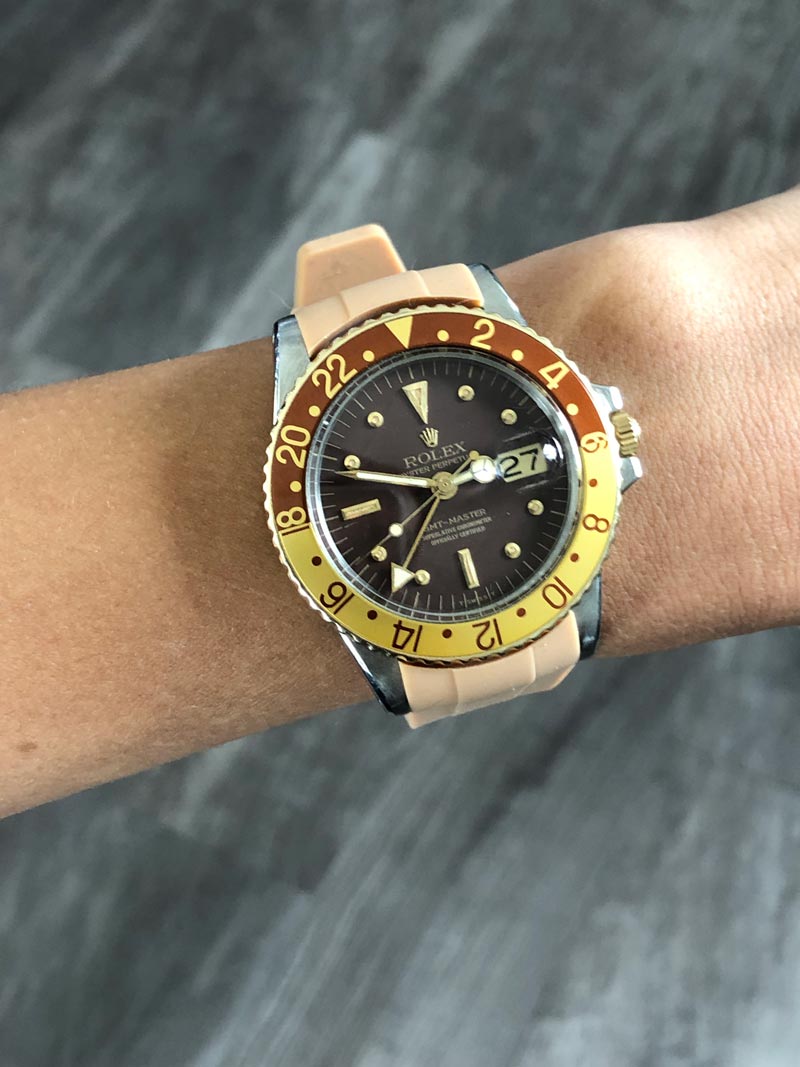 The timepiece is a 40mm pre-super case fit, so it's a true 40 in how it fits. It's quite slim even in spite of its tall crystal covering the dial, totaling 12.8mm. So with this watch, you'll have no trouble slipping it under a dress cuff.
Not the true measurement of the watch is 47.6mm, lug to lug. Thus, this watch can be worn nicely on a wrist even as small as 13cm in circumference. As you can see in the pics featured in this post, a woman is wearing our Root Beer Rolex.
The watch has a formal ambiance to it and it pairs amazingly well with leather goods.
With the rubber strap, this watch is suitable for any casual occasion and if you have a leather strap or the Jubilee bracelet to switch it up with, you can take don this in the boardroom or on a night out.
If you like a sporty vintage look that stands out from the rest, the Root Beer Rolex GMT is a surefire way to satisfy a unique desire. Rare, sophisticated and distinct are three words that describe this GMT Master on the wrist.
Rolex 16753 GMT Master Root Beer CASE
This watch is the famous waterproof Oyster case, which has up to 100 meters (or 330 feet). The case continues the two tone appeal with its stainless steel case and yellow gold crown. And, if you fit it with the original Jubilee bracelet 62523 (available at our store), which has yellow gold center links and stainless steel outer links, you will finish the complete, luxurious, two tone demeanor.
This Rolex 16753 is topped off with an acrylic crystal and a cyclops eye for magnification of the date window.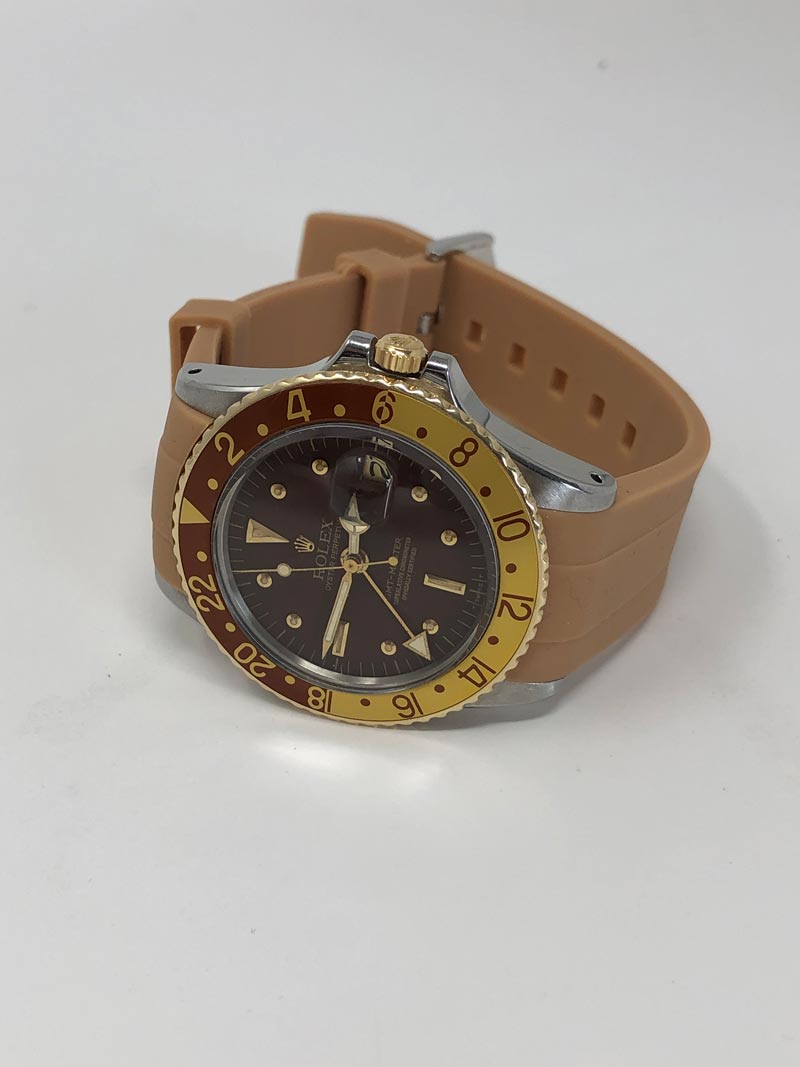 Rolex GMT 16753 Root Beer MOVEMENT
The Rolex GMT Root Beer 16573 has a beautiful Caliber 3075 movement behind its caseback. It also has the quick set feature that was introduced when Rolex released reference 16750.
As with all Rolex watches, the Caliber 3075 is an in-house movement created by Rolex, therefore it is extremely accurate and reliable. It has a Superlative Chronometer certification which means it has a +2/-2 seconds per day, at most, full stop.
Rolex watches might not be the most complicated, but they are surely hard to beat in terms of accuracy. Thus, the movement on this watch is all the "tool" you could ask for in a watch.
Rolex GMT Root Beer RUBBER STRAP by Horus Watch Straps
Rolex 16753 comes with the Jubilee bracelet 62523, however, we've fit this Root Beer Rolex with a tan Horus Watch Strap.
This Horus Tan Rubber Strap has a design specific to the GMT Master. The strap comes with a stainless steel brush finished pin buckle, so both the color of the rubber and the buckle match the watch impeccably well. Each strap comes with two stainless steel spring bars which allow it to fit perfectly.
About Horus Watch Straps
"Horus Watch Straps, Inc. was founded in 2014 and since inception has revitalized the watch strap accessory industry. With unsurpassed taste for impeccable ergonomic design, Horus Straps has developed the most comfortable and aesthetic watch straps on the market. Our straps are designed to perfectly compliment Swiss manufactured watches such as Audemars Piguet, Panerai, Rolex, Breitling, Tag Heuer, Bell & Ross and more. Through our authorized retailers, our watch straps are available in over fifty cities on five continents. Horus Straps is a brand loved equally by celebrities, clients and staff – we view the customer experience as paramount and pride ourselves on consistent engagement with our audience. Our mission is to inspire challenging the norm, pushing past boundaries and standing out from the rest."
Raymond Lee Jewelers is a certified reseller of Horus Straps. We only represent companies of which we truly believe in their mission and their quality, so we guarantee Horus Watch Straps is top notch. We'd never put anything less on a Rolex. The quality of a Horus Strap is super innovative, with dust resistance and other diver features, and the comfort is sublime.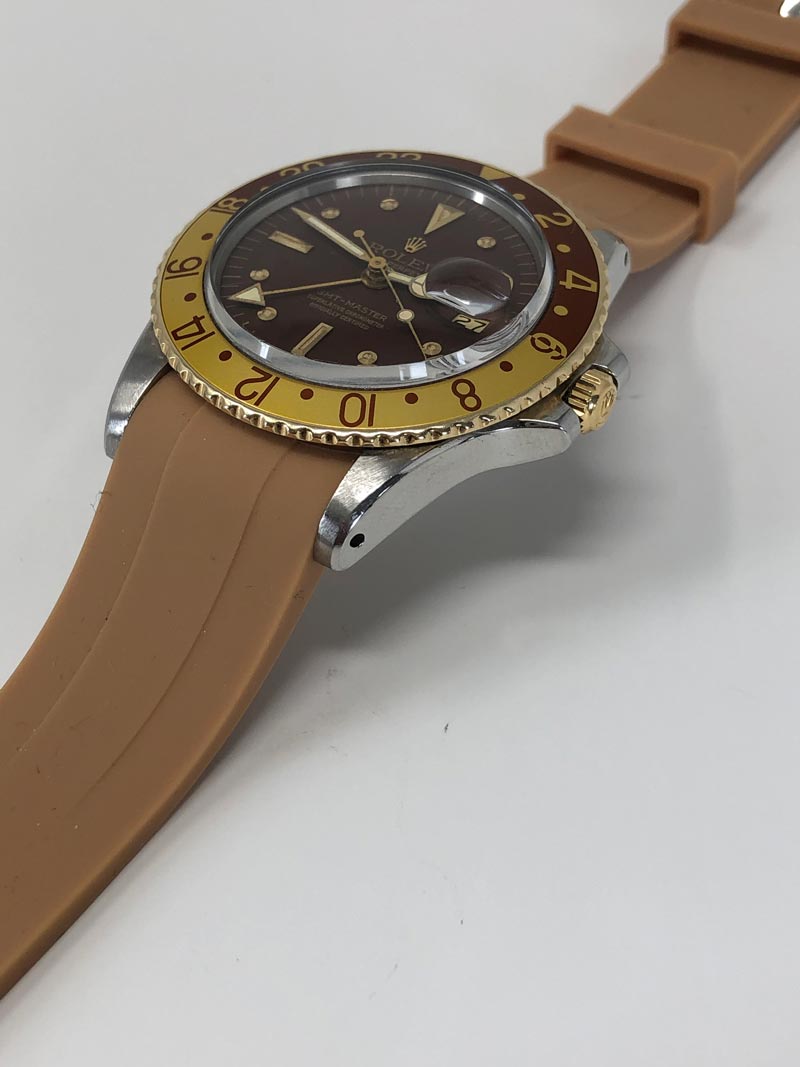 Rolex "Root Beer" GMT Master Price
This specific model here is quite rare due to the "Nipple Dial" and the condition it is in.
Rolex 1675 GMT Root Beer Orange Camo Rubber Strap Stainless Steel Vintage Watch
It comes with a Raymond Lee Jewelers exquisite presentation box and all the necessary paperwork.
Raymond Lee Jewelers in Boca Raton
Raymond Lee Jewelers is Boca Raton's most recommended sales and service centers for watches, diamonds, and high-end jewelry. Our business is family-run and operated. We have over 30 years of experience selling fine certified luxury watches and in that time we have built an unparalleled reputation for fair, quality dealings in South Florida. Furthermore, we have one the largest collections of Rolex watches in all of South Florida. So, for Rolex collectors, our store is like a Willy Wonka candy shop for kids.
Our goal is to meet the needs of our customers at our Boca Raton retail store and online, and to provide our community with the best possible experience.  We combine value, quality, and cost with the remarkable ability to meet and understand the needs of the people we serve.
If you live in Boca Raton, please feel free to drop by our showroom anytime! You can see our Rolex Root Beer watch and many other vintage Rolex watches up close and personal.
Diamond By Raymond Lee's Showroom in Boca Raton, Florida:
2801 N Federal Hwy, Boca Raton, FL 33431
Our hours of operation are:
Monday-Friday – 11 am to 7 pm
Saturday – 10 am to 5 pm
Sunday – 12 pm to 5 pm
Feel free to contact us if you have any questions.
What are your thoughts on the Rolex Root Beer GMT Master? We would love to hear your thoughts in the comment section below. Also, let us know if you want to read about other Rolex watches, vintage or not. We may just be able to accommodate that with more hands-on Rolex watch reviews.