Nobody sets trends like celebrities do, and when it comes to engagement rings, this is especially true. Women all over the world look to famous actresses, singers, princesses and queens to find inspiration for their very own engagement rings. So, we are here to present to you 5 celebrity style engagement rings made to give you that superstar look.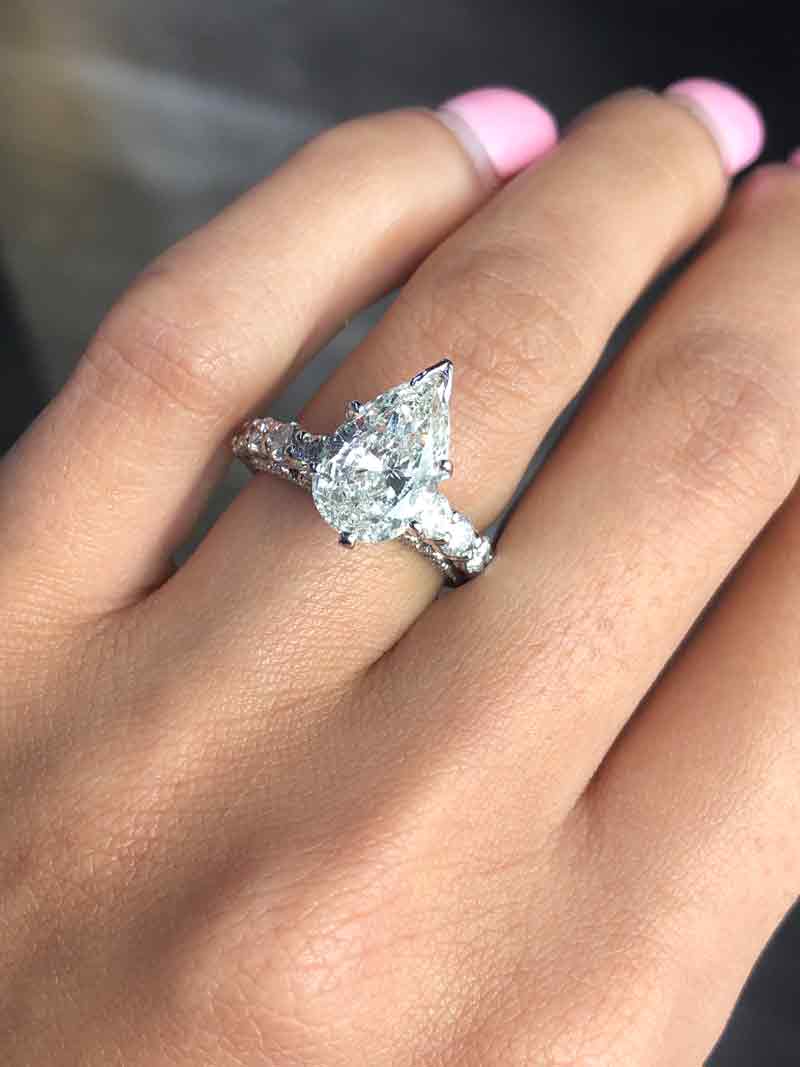 Celebrity engagement rings are stunning, meaningful and unique. From Jennifer Lopez's 16-carat emerald diamond engagement ring to Ariana Grande's three-carat pear-shaped Greg Yuna diamond engagement ring to Kate Middleton's extremely rare 18-carat oval sapphire centerpiece with 14 diamonds surrounding it, there is so much celebrity ring inspiration to take from.
It's clear that when you have the money, bigger is better, but it's not all about size, celebrities love to be different, and this shows more than ever in their choice for engagement rings.
It's always been like this among the elites. At a time in history when diamonds became widespread, royalty would choose to differentiate themselves by using precious gemstones as a centerpiece instead of diamonds.
Nowadays, there are more designers and better technology and innovations for cutting diamonds and gemstones than ever. All of this makes it possible for us to relish in the most unique and stunning celebrity engagement rings this planet has ever seen.
In this article, we have chosen 5 of the most stunning celebrity engagement rings and matched them with similar rings that we offer at Diamonds by Raymond Lee. We want to give you the chance to get the look of the celebrities at an affordable price.
5 Celebrity Engagement Ring Trends & Celebrity Style Engagement Rings
Here are the most popular trends among celebrity engagement rings and 5 engagement rings that look exquisitely alike.
Oval-shaped Diamonds
Oval diamond engagement rings, with their elongated shape, ooze with sophistication and elegance.
Although oval shape diamonds have existed for centuries, they have only been around in the modern brilliant cut form since 1957.
The modern oval brilliant cut diamond has vintage appeal with contemporary shine. In fact, it is one of the most brilliant and sparkly diamonds of them all. A popular oval design these days are an oval diamond claw set on a fine diamond set band.
Celebrities such as Blake Lively, Katie Holmes, and Hailey Baldwin all have stunning oval diamond engagement rings. Celebrities and fashion forward women appreciate the shape because it is more rare in the market than round and princess cut diamonds (the two most popular cuts), but equally as brilliant.
Oval diamonds represent uniqueness and a zest for life.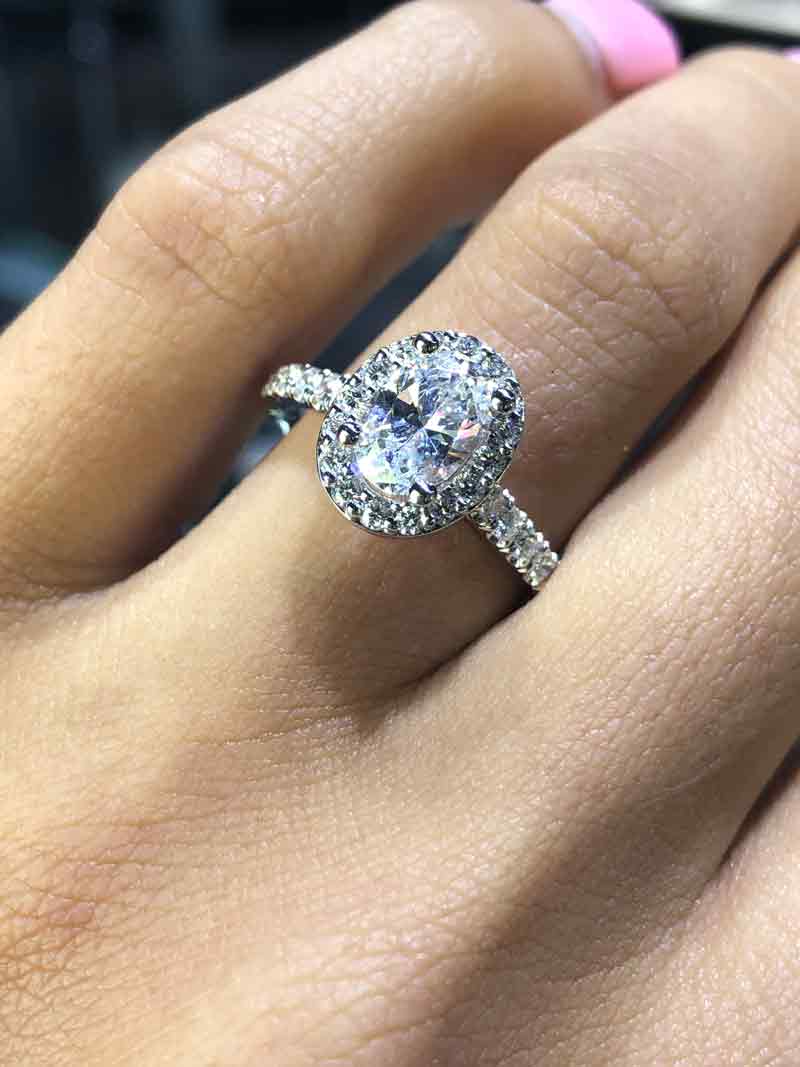 Hailey Baldwin and Justin Bieber got engaged in the summer of 2018, and as you'd expect, they captivated the world with the news, especially when everyone saw Hailey's engagement ring. She was seen wearing a jaw-dropping massive (6 to 10 carat) oval shape diamond set on an 18k gold band, which was supposedly custom designed by Bieber via Solow & Co. and cost about $250k, plus some.
If you love Hailey's ring, check out the ring featured in the above pictures. It looks absolutely stunning and full, and this one is less than 1% the price of hers.
Pear-shaped Diamonds
The pear shape diamond has been in existence since the 1400s. That's a long, long time for the history of diamonds.
Beyond the vintage appeal, there are more reasons that celebrities love pear rings. Firstly, it's not super popular among most brides, so, of course, celebrities love that. What's more? The pear shape diamond has the ability to be surprising and unique, time and time again. How? It's because of its versatility. The pear shape is a special stone. It is a hybrid of the round brilliant cut diamond and the marquise diamond, and with that, it offers itself compatible to a variety of settings – halo, prong, tension, and more. Also, no two pear shaped diamonds are cut the same. So, every pear shape diamond is one of a kind.
Many celebrities are sporting a pear shaped diamond engagement rings. You have Katherine Heigl with her halo pear diamond on a pave diamond band, Anna Kournikova and her three stone diamond engagement ring that has a pink pear diamond centerpiece with two white trillion cut diamonds on its sides, Cardi B with her 8-carat tear drop engagement ring, Paris Hilton and her twenty carat pear shaped engagement ring by jeweler Michael Greene, and more.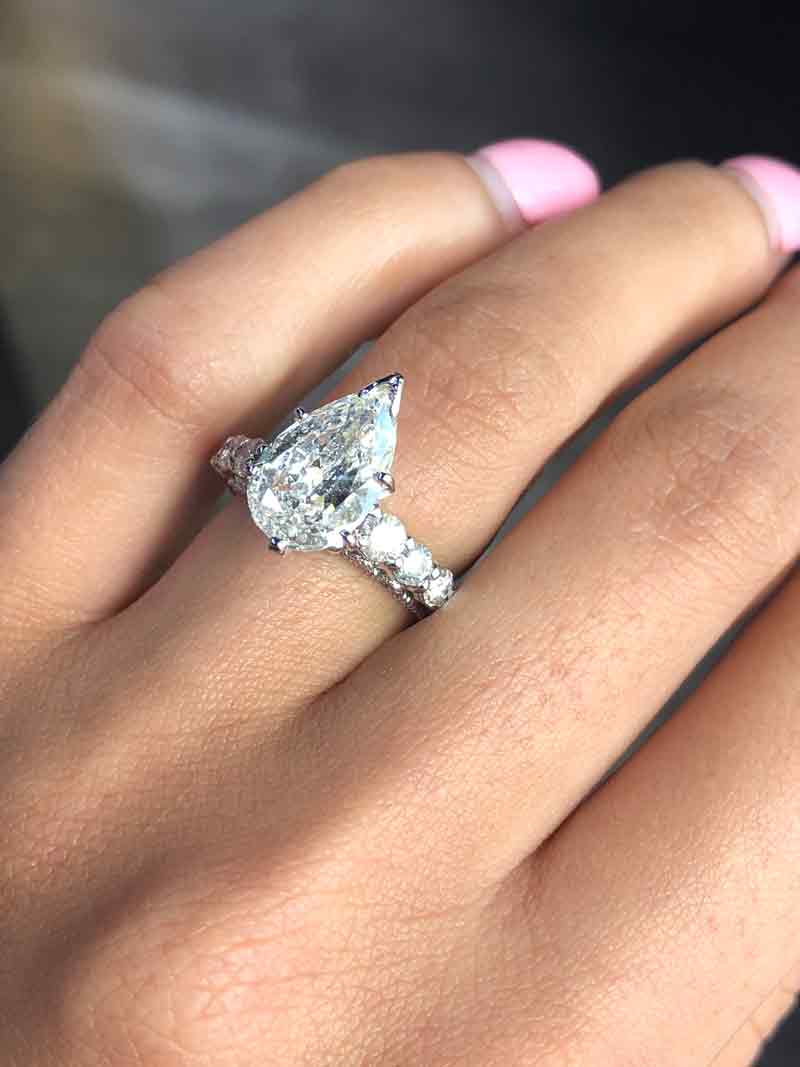 If you follow celebrity engagement rings at all, you've definitely been witness to Ariana Grande's gorgeous three-carat pear-shaped diamond from jeweler Greg Yuna, which costs around $100,000. Sadly, the wedding was called off, so who knows what the fate of the ring is. Will it reflect daylight anytime soon? We can only wait and hopefully find out.
If you love the ring Pete Davidson gave to Grande, you will love the ring in the pictures above. It's a 2.89 carat I color I1 clarity pear shape diamond on a 14k diamond set band. Although it's not "cheap", it's 10% the cost ($10k) for almost 100% the look.
Emerald Cut Diamonds
Emerald cut engagement rings are unique and popular, even among celebrities. This fancy cut diamond is probably the most recent engagement ring trend among celebrities.
It seems elongated shapes are the thing to have, and this rectangular one is built for brilliance.
The distinct shape and cut, with its angular lines, captures clarity and catches light in a dramatically elegant way. Furthermore, the rectangular shape allows the diamond to flow the length of the finger rather than the width, thus women can go insane with the amount of carats, if they can afford it.
A prime example of going crazy with the emerald diamond is Jennifer Lopez's extremely eye-catching emerald ring cut, which was given to her by Alex Rodriguez.
Other A-listers with the emerald cut are Jennifer Lawrence, Beyonce, Mariah Carey, and Amal Clooney.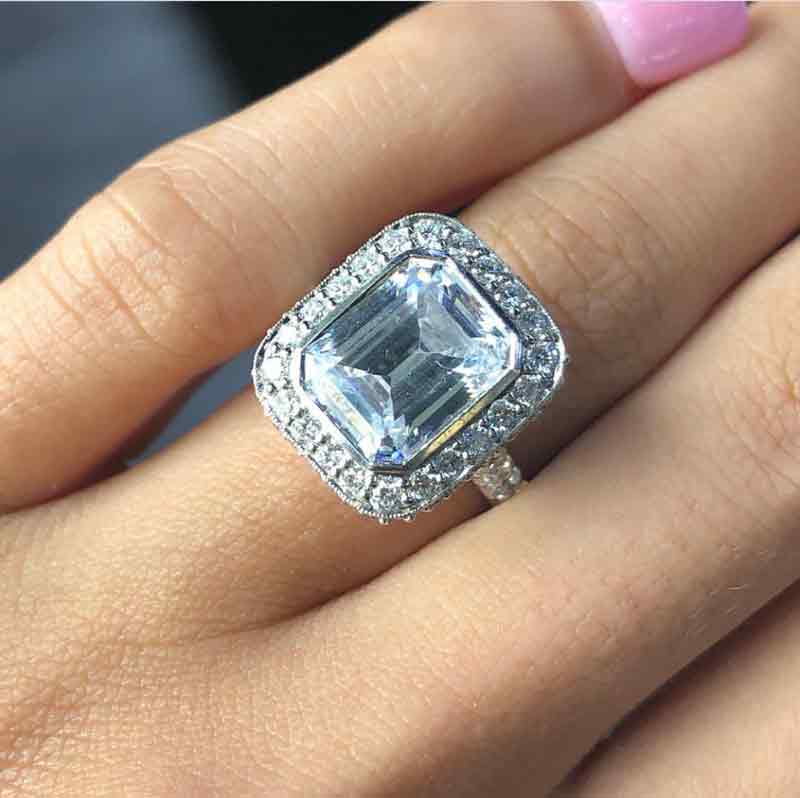 This is the ultimate couple that everyone was waiting to see tie the knot – J.Lo and A-Rod – two names that compliment each other as much as their looks. This past March, 2019, on a romantic beachside, the retired elite baseball player got down on one knee, presenting the superstar singer and actress with an out of this world sparkly 15-to-20-carat, emerald-cut diamond that we have come to find out cost around $1 million, at least. 'Jennifer Lopez Engagement Ring' is the number one trending celebrity engagement ring, and for good reason.
Want a J-Lo style engagement ring? We have you covered. Check out the engagement ring above to satisfy your heart's desire. This emerald shape diamond engagement ring starts at 3 carats and up, depending on your request. It has a halo of round brilliant diamonds and a diamond set band to blind anyone who sets eyes on it. The cost of this J-Lo-esque emerald engagement ring is $13,600+.
Gemstones
Diamonds have been the go-to choice for engagement for a long time. Many people think diamonds are the rarest stone on the planet. That's actually not true. There are many gemstones that are far rarer than diamonds.
The Gem-quality corundum is rarer than diamonds, with the exception of blue diamonds. Gem-quality corundum consists of a small percentage of all corundum on Earth. The most common of these uncommon gem-quality corundums is the blue sapphire. There are other colors of sapphire that are more rare than the blues. Rare is a good thing in the eyes of most people, especially celebs.
Having a gemstone engagement ring will surely set you apart. Moreover, if you love diamonds too, diamonds pair beautifully with other precious gemstones, so you can get the best of both worlds.
As we mentioned in the beginning of the article, many royalties from the past and present choose precious gems like ruby, emerald, and more commonly, sapphire, for their engagement rings as it is different than the norm. They are different themselves after all.
You have Princess Eugenie of York with her padparadscha sapphire surrounded by diamonds.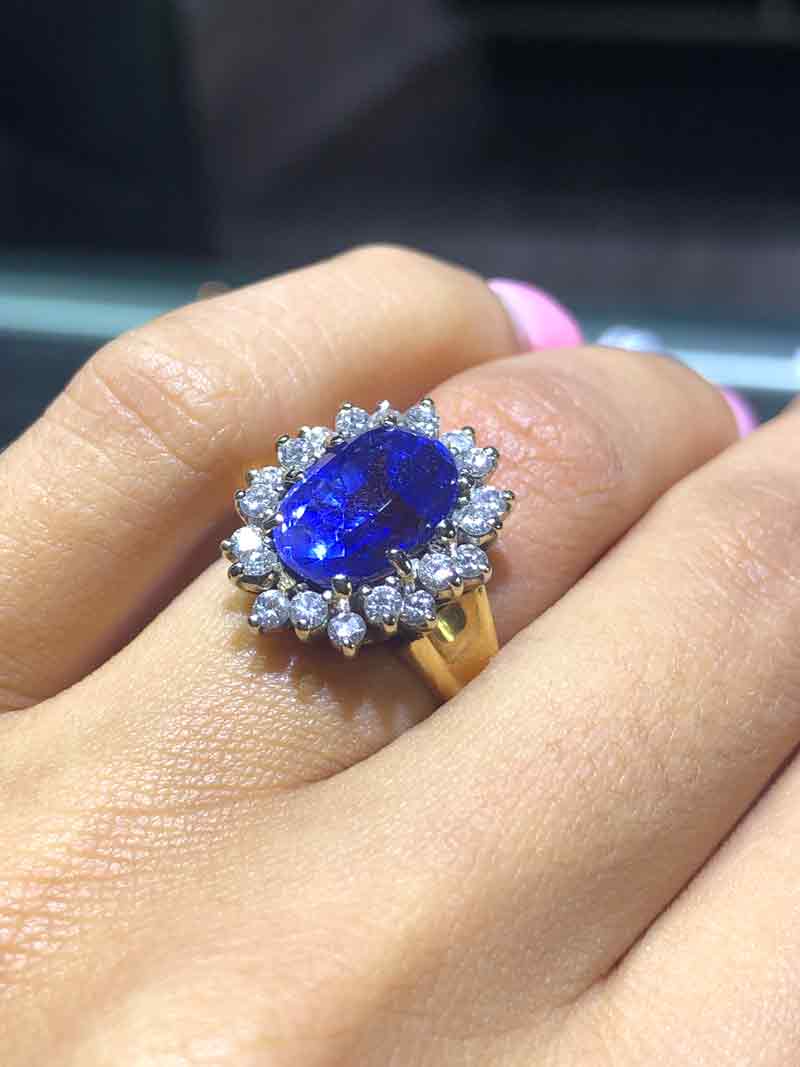 Another perfect example of royalty and their love for gemstone engagement rings is Kate Middleton 12-carat oval blue Ceylon sapphire set in 18-karat white gold, which was given to her, as it was once Princess Diana's. Now it's the most famous heirloom engagement ring on the planet.
Get the look with our Kate Middleton-style Sapphire Engagement Ring. This vintage inspired engagement ring is so similar that anyone who loves and wants Kate's ring can't pass this up. This 6 carat untreated sapphire and diamond engagement ring wears a price tag of $44,995, though.
3 Stones Rings
The three-stone ring is another super popular style in the world of engagement rings.
A three stone engagement ring has three stones, typically with the centerstone being the biggest. People consider the three stone ring as a trilogy ring, with three special meanings behind it. Some think of it as a symbol for the past, present, and future of a relationship. Others associate it with a religious context, or commitment, trust and respect, or significant events in one's life. In any case, the three stone ring makes a good story for something (or three-things, we should say)
Moreover, it offers an opportunity to be different. Many three-stone rings have a round brilliant diamond with either two baguette stones or two round brilliant diamonds on either side. However, you can do three-stone rings in so many ways, such as a mix of gemstones and diamonds.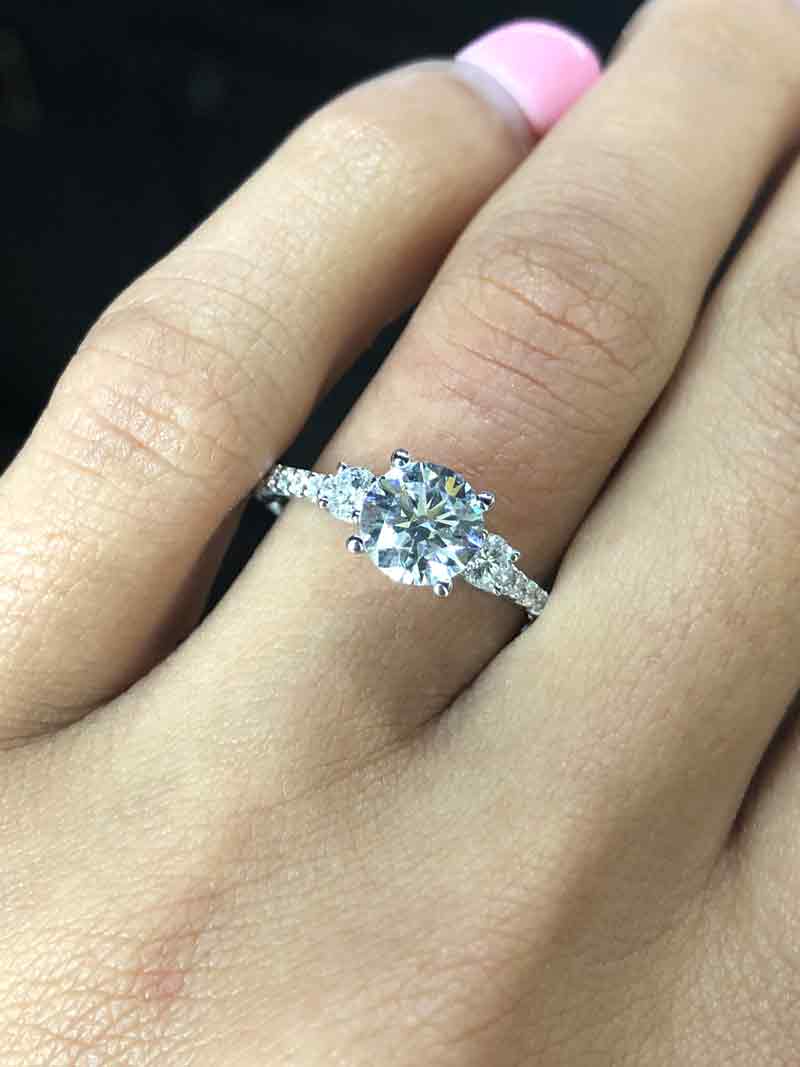 Three-stone engagement rings became even more popular after Prince Harry proposed to Meghan Markle with a three stone diamond engagement ring in 2011. Meghan Markle's engagement ring has three round brilliant diamonds set on a classic yellow gold band. The centerstone originates from Botswana, a place that Markle and Prince Harry have vacationed to.
We are matching Markle's engagement ring with the above engagement ring. Dazzling Diamonds bless this Gabriel & Co. 3 Stones Round Brilliant Diamond Engagement Ring. Its beautifully handcrafted diamonds form a trifecta underneath your center stone, creating the trilogy ring that has become so popular thanks to Meghan Markle.
Another Celebrity Engagement Ring Trend – Antique and Vintage Engagement Rings
Apart from the beauty of an antique engagement ring, it has the ability to transport you, in a sense, to a different place and time. Purchasing a vintage engagement ring is thrilling and exciting for many people because it has history and there many things to know and learn about it. Who was it made by? Who was it made for? When was it made? Why was it made? Is there a story behind it? You can imagine the person before you who wore it and cherished this ring. Were they someone significant?
Maybe this ring was never worn before, but it was created a long time ago by a famous designer. This is very intriguing for many women, so the appeal of a vintage engagement ring makes so much sense. Furthermore, many modern rings take inspiration from vintage rings, as the classic jewelry eras produced some of the greatest designs ever. Why not get an actual authentic ring from that era instead of a modern one that is only vintage-inspired? Well, for most, that simply comes down to budget. Celebrity superstars certainly don't have that issue.
Note: The most coveted classic jewelry eras are the Victorian, Art Nouveau, and Art Deco periods. So if you can afford something from the past, be sure to look to these eras for the most romantic and elaborate rings.
Where to buy celebrity-inspired engagement rings? 
If you love any of the rings in this article, please don't hesitate to contact us (Diamonds by Raymond Lee). Furthermore, if you have a celebrity engagement ring in mind that wasn't featured here, shoot us an email and we will see if we can find a match in our extensive selection of stunning engagement rings.
Custom Celebrity Style Engagement Rings
Diamonds by Raymond Lee can make any custom ring that you dream of. So, if you are interested in making something from scratch, just give us a call or email us and we will get back to you promptly to explain the process.
About Diamonds by Raymond Lee
Diamonds by Raymond Lee has been serving Boca Raton and South Florida's insatiable need for diamonds for over 30 years. Our team of diamond advisers is dedicated to assisting you in selecting the perfect engagement ring.
Our vision has always been to forge a unique, professional, and intimate vibe. We offer a shopping experience that works for all generations. We especially know what the modern jewelry buyer wants; and we keep traditions that never fade intact, such as sensibility, artistry, and craftsmanship. Furthermore, our prices are super competitive and the quality we provide is unparalleled for the price you pay.
There's a reason why Diamonds by Raymond Lee has been noted as South Florida's best diamond engagement ring retailer since 2016.
If you live in Boca Raton, please feel free to drop by our showroom anytime!
Diamond By Raymond Lee's Showroom in Boca Raton, Florida:
2801 N Federal Hwy, Boca Raton, FL 33431
Our hours of operation are:
Monday-Friday – 11 am to 7 pm
Saturday – 10 am to 5 pm
Sunday – 12 pm to 5 pm
Contact us today if you have any questions.