A unique ring is the kind of stunning statement jewellery that ladies look for when it comes to making an entrance – everywhere you go. Whether that is a life time jewellery piece that you wear every day like engagement rings or wedding rings or even promise rings. Rings of all kinds are excellent ways to add some of your unique personality into your choice of jewels. At Diamonds by Raymond Lee we specialise in fine jewelry that is unique. We carry a wide range of options each from stunning brands that are well known for their commitment to excellence. So if you are looking for a truly unique ring to wear to your next gala, cocktail party, event or just because come visit us.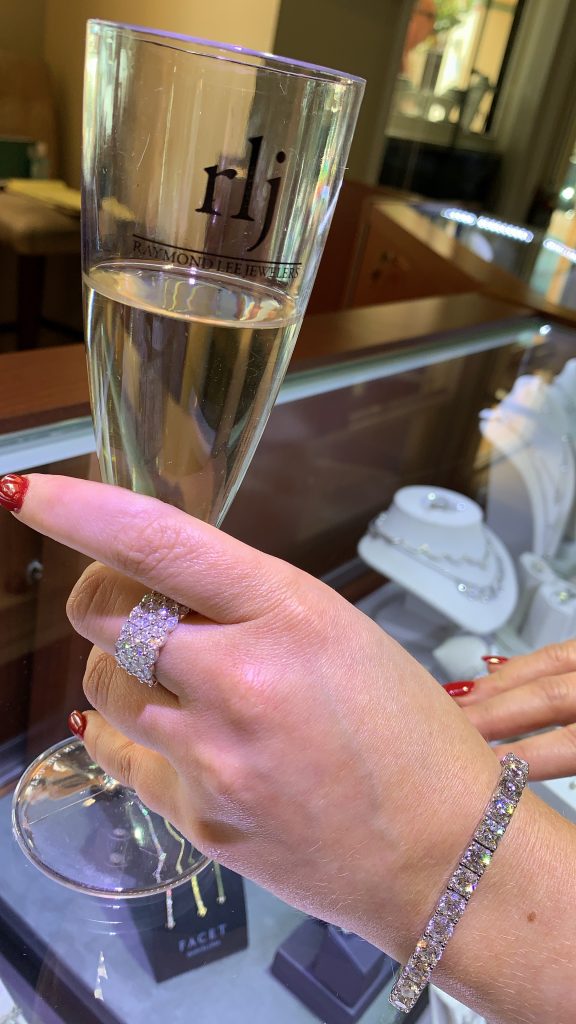 From the bluest blues of topaz and aquamarine to the brightest white of dazzling diamonds to dark emerald greens the precious gem rings in our collection are unlike any you have seen before. A true mark of South Florida color here is unlike anywhere else in the world. Maybe it is the sun and the way it shines on this little patch of paradise. Perhaps it is the colorful birds flying over head or the glint of the super cars speeding by. Whatever it is around here it is colorful. So that splash of joyous hues should definitely feature in your own jewellery collection too.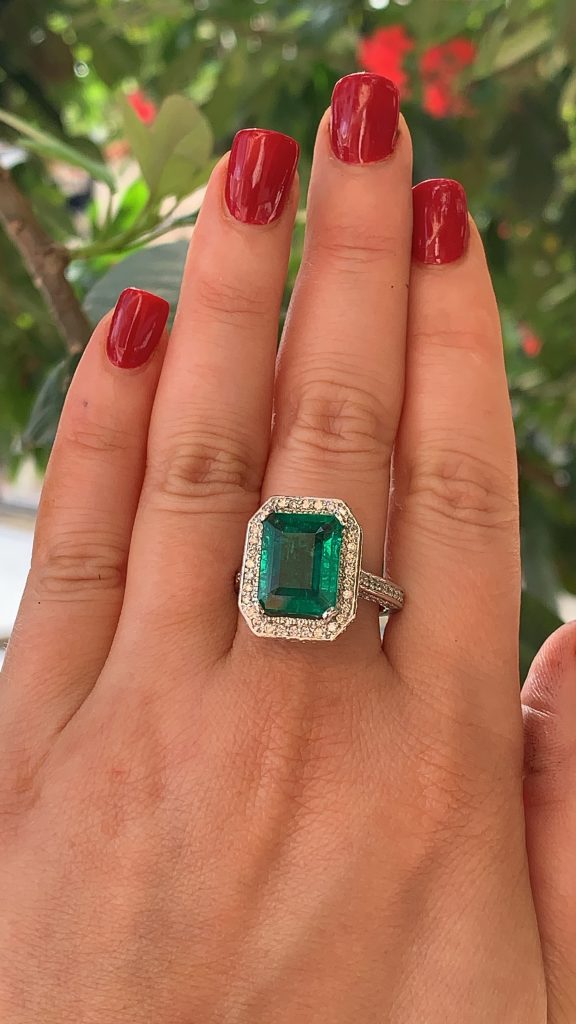 Let us take a look at some unique rings and bands for special events or special presence wherever you go. As well as some of the stunning engagement and wedding rings that are sure to dazzle. 
Unique rings
True statement pieces, unlike any other are the hand candy women turn to for a spot of excitement. Whether that is with interesting patterns, design styles, or gem stones there is a unique ring for everyone. Cocktail rings in particular tend to be the most exciting and colorful types of jewellery in general. However what kind of jewellery you go for depends for your very own personal style. A feature that we tend to see very often on these unique rings is the diamond halo feature. This type of diamond detail feature surrounds a central stone adding to the size and pattern of the ring.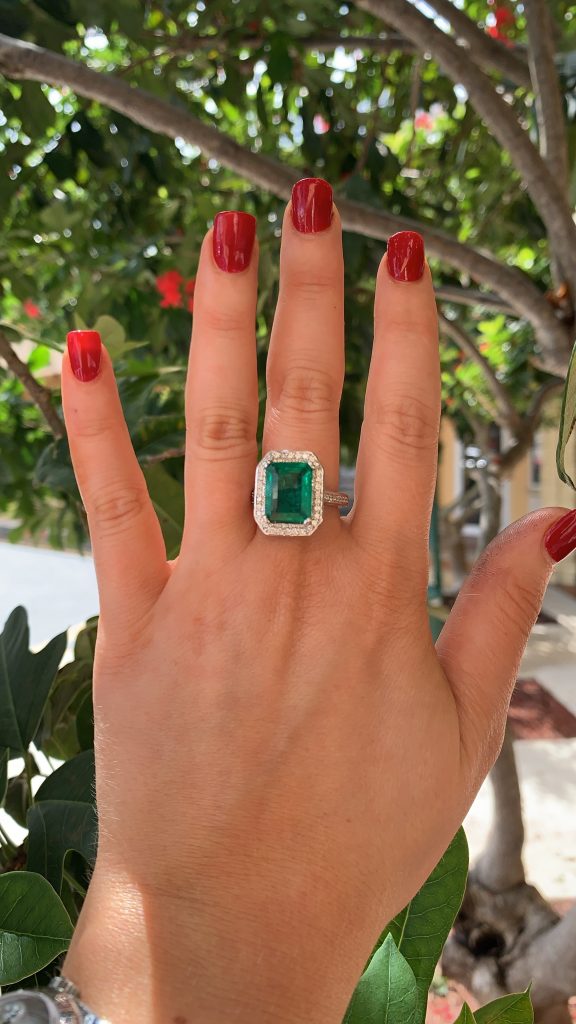 Particulalry for colorful gems the white diamond halo rings bring out the color of the rings as well. Even for large stone rings a diamond halo adds an added aspect of radiance. Beyond the halo rings there are also the stacked or patterned style rings. Some with elongated designs that go the length of your fingers. These as well as bodice rings give a dazzling look.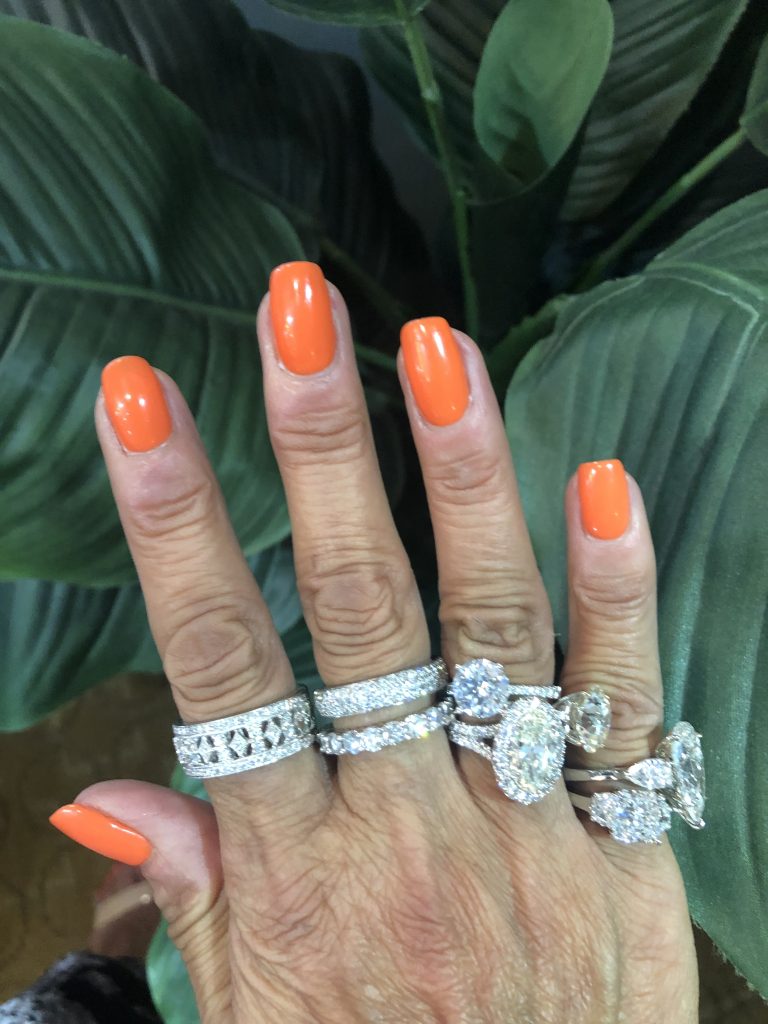 Diamond halos
These are a unique feature of rings that add additional small diamonds placed the surrounding length of the stones of a ring. The diamond halo feature can be on a solitaire ring. With colorful gems or a white diamond. Then there are of course diamond halos added to bands. 
Topaz cocktail ring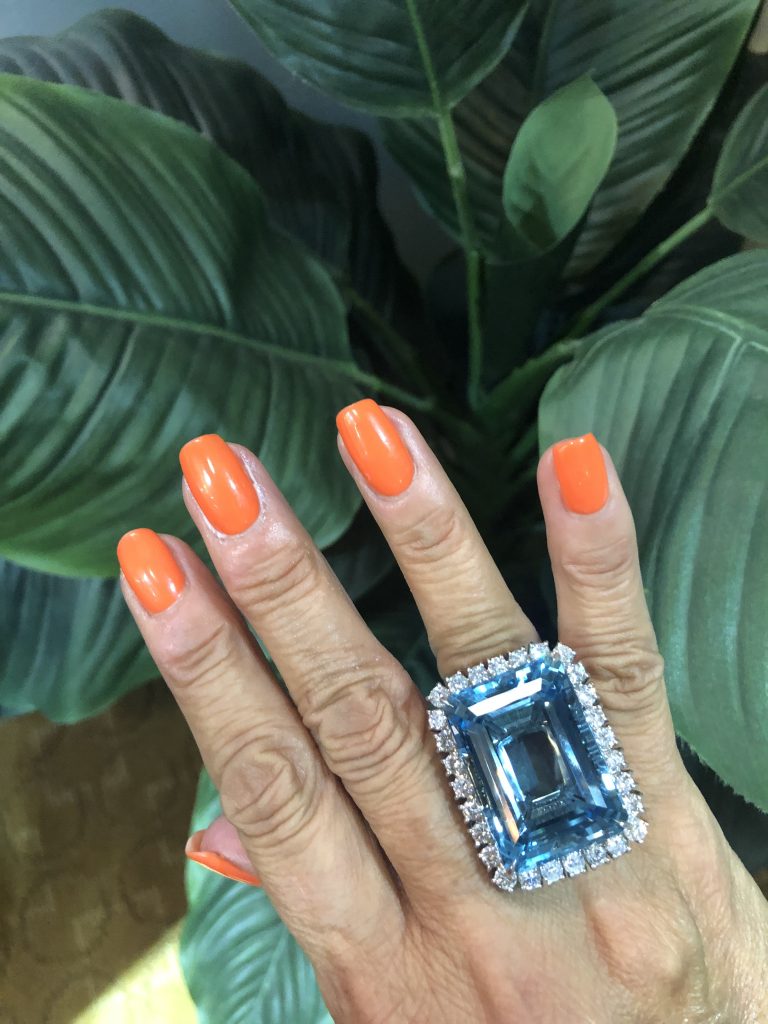 18K WHITE GOLD 1CTW DIAMOND BLUE TOPAZ HALO
This is an incredible light, light blue massive emerald cut ring. A halo ring it features stunning diamonds all around the edge of the main central stone. Almost like a swimming pool you can dive in head first this ring has an incredible level of clarity and color. As well as the rings unique setting.
Emerald halo ring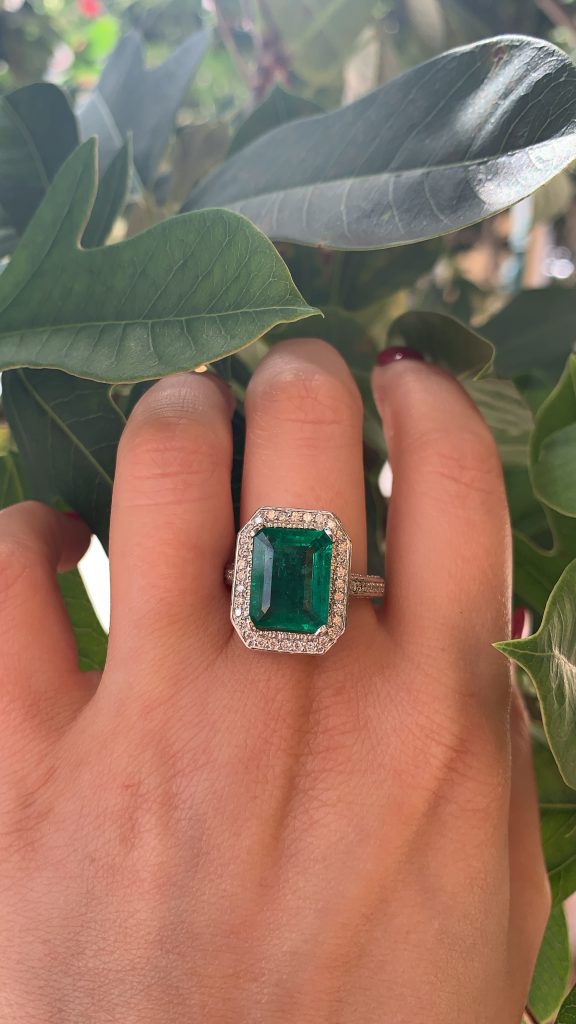 EMERALD AND DIAMOND HALO STYLE ring
A similar stunning white diamond halo ring with a colorful gemstone centre this emerald green ring is smaller but just as stunning. As far as emerald cut diamond rings go these are not the only precious gemstones that you can use. However the cut prioritizes the clarity of the stone. Which is ideal for a colorful gem.
Ruby and white diamond band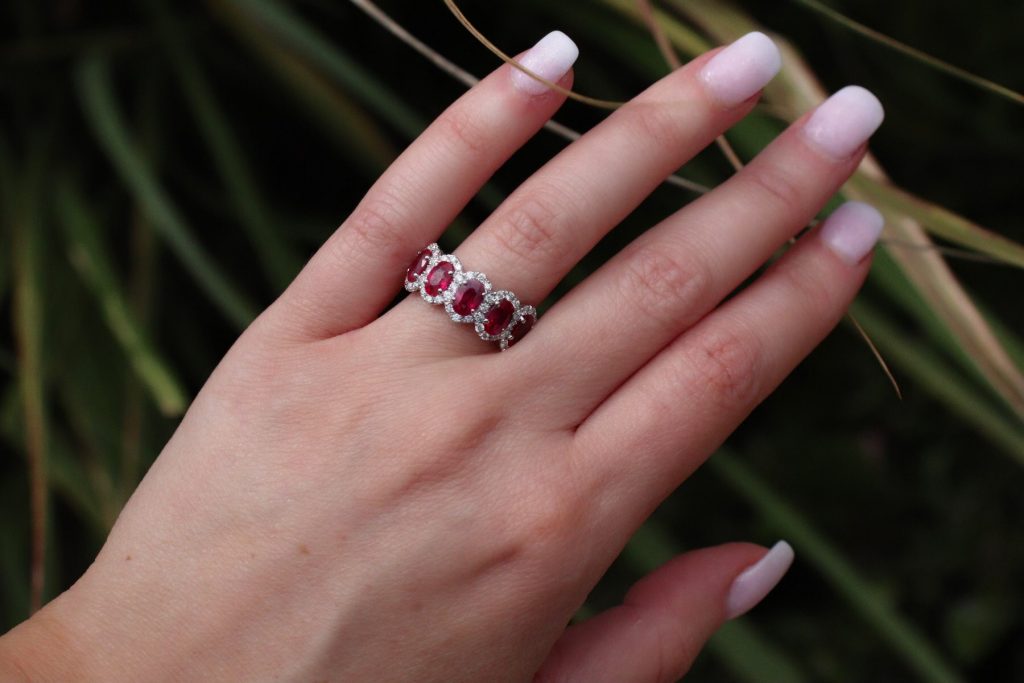 Featuring five large oval cut ruby stones surrounded by white diamond halos this wedding band is set in 18 carat white gold. It features approximately 2.90 carats of rubies nad approximately 0.53 carats of round cut white diamonds in the halos. These diamonds are G/H in color and VS in clarity. The large ring is a semi band that while it does not go fully all the way around your finger it does have a substantial and regal design that goes from one end of your finger around to the other side. It is a stunning colorful band and the diamond halos accent the rubies beautifully.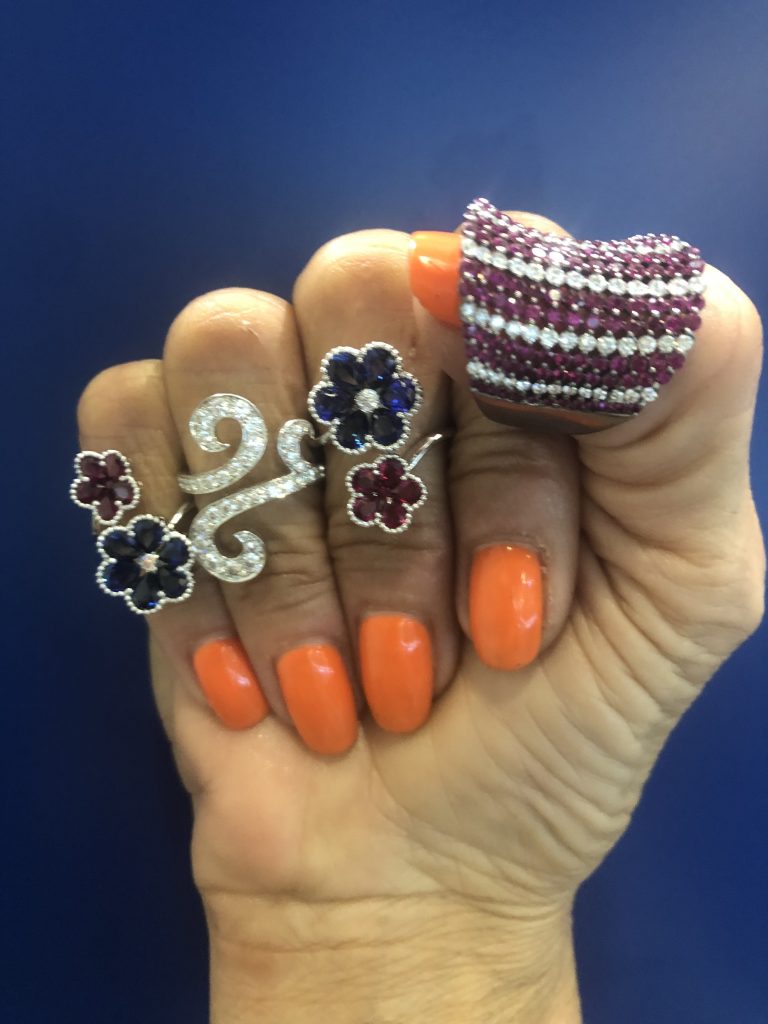 Further from the more traditional and classic style look of the ring above we also have this very modern cocktail ring. The ruby ring is also set in 18 carat white gold but features a striped bodice design. It has approximatley 1.60 carats of round cut diamonds alongside approximately 1.2 carats of round cut rubies. The diamonds are G/H in color and SI in clarity. A modern look this ring has two rows of rubies separated by a single row of white diamonds. They are placed alongside one another for a lovely patterned look. The bodice design of the ring makes it an ideal elongated style on your hand. A different take on the stacked look this is a stunning ring.
Natural forms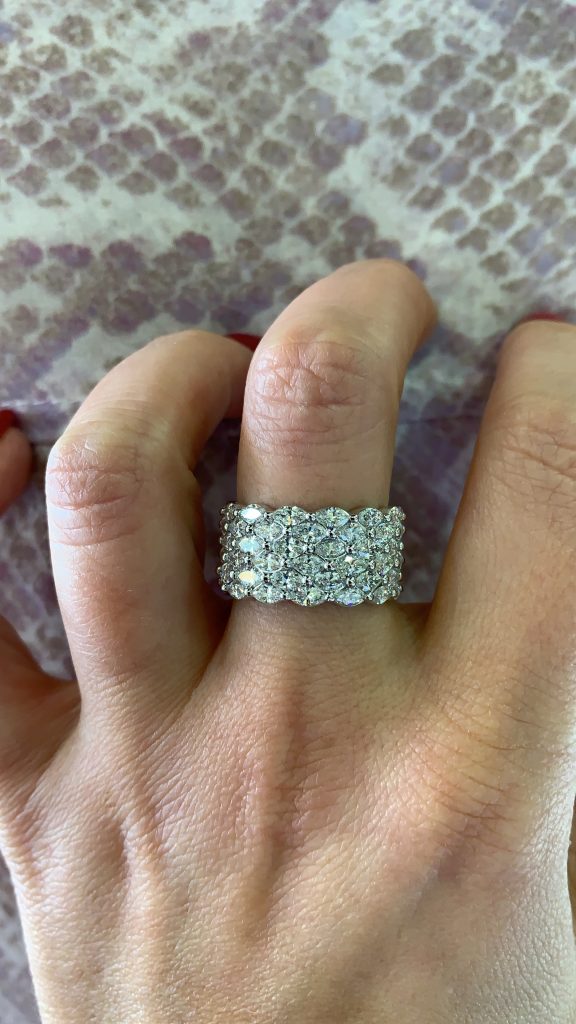 Snake rings
Another style of unique rings are the ones that imitate nature. These are edgy designs and can be anything from flowers and butterflies to some truly unique shapes. We know the iconic Cartier jaguar but how about the Paolo Piovan snakes? With their winding and whirling bodies snakes are actually more prevalent in fine jewelry than you might think. They make for incredibly stunning jewelry pieces that wrap around. Generally they feature colorful stones and diamonds to form stunning patterns both that you have seen on snakes or are completely new designs too. 
Black and white diamond
A combination unlike any other when you pair black and white you get one of the most iconic stripes contrast. Particularly exquisite are the unique black diamonds set all along one half of this ring.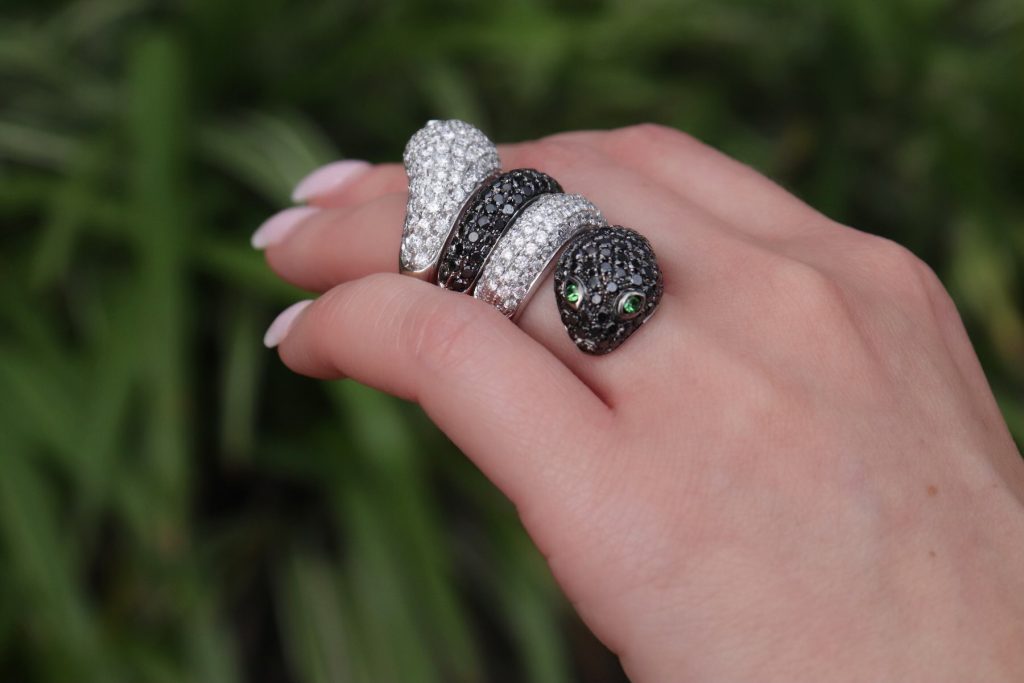 First let us have a look at a double stunner. This 18 carat white gold ring features two snakes and two colors. The unique diamond ring has black diamonds as well as white diamonds forming the bodies of two different snakes as they wrap and wind themselves around your finger. The ring features approximately 3.33 carats of round brilliant white and black diamonds. The white diamonds are G/H in color and VS in clarity. Further this highly detailed ring also has unique details. The snake's eyes are emerald stone set into their heads. There are approximately 0.10 carats of round shape emeralds. Quite a long ring it measures 0.96″ x 1.93″ x 0.86″.
Then we have a true designer stunner a Paolo Piovan design. This is also a snake design ring in 18 carat white gold. It features approximately 3.5 carats of diamonds all along the snake's body. It has an elongated unique look that goes back beyond your finger on to your hand and curls its way up to your finger tip. It is a diamond pave snake with a one of a kind design. The diamonds here are F/G in color and VS in clarity.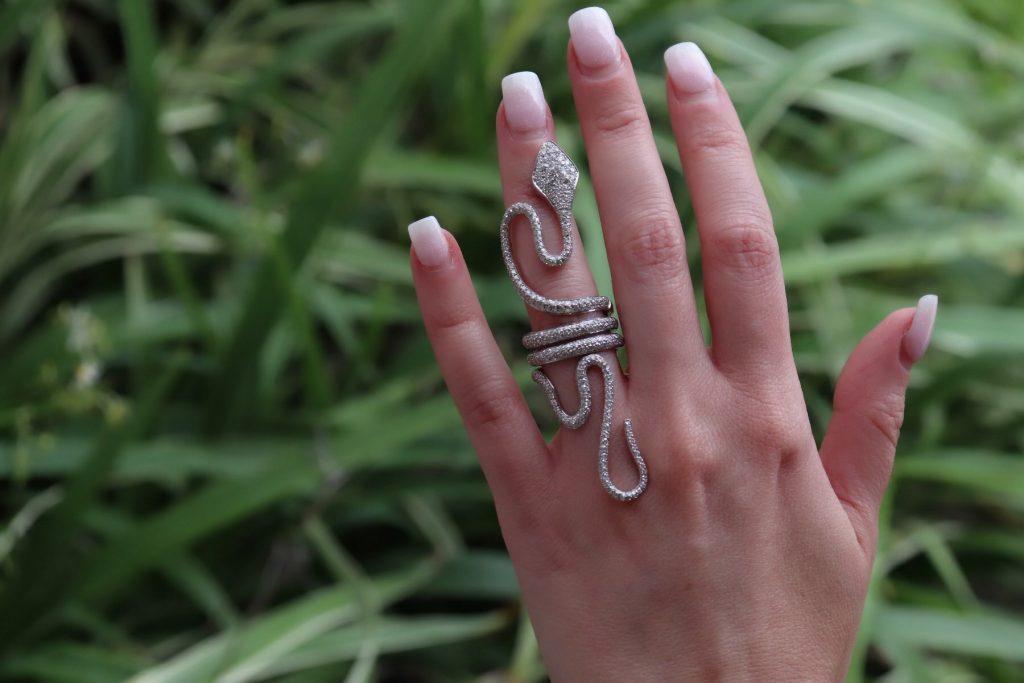 Flower rings
One of the most unique natural shaped jewellery pieces are rings in floral shapes. These come in quite a wide variety of different designs. However the general style is swirling, blooming and generally quite colorful featuring precious gems like emeralds, rubies and sapphires. Many of the times these rings are also not just your traditional round ring. They feature different designs like half way rings and double ended pieces. These sit almost as if between your fingers rather than at the centre of a ring.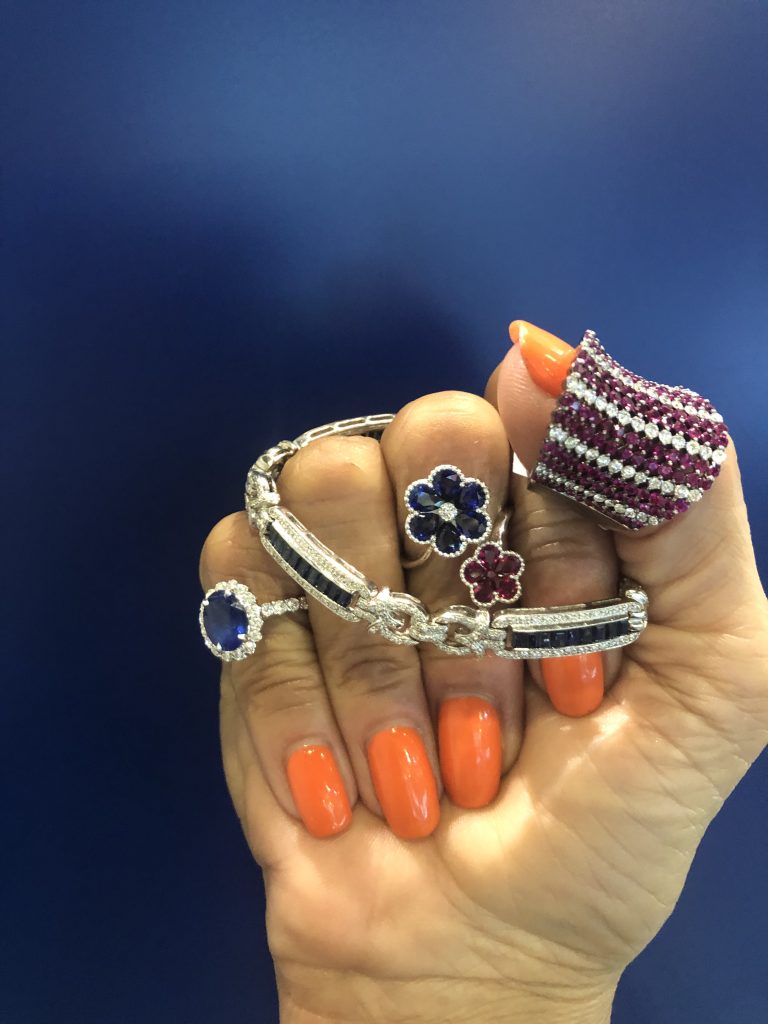 For example this 18 carat white gold ring features multi stone double flowers. This ring features approximately 0.07 carats of round cut diamonds. These are G/H in color and SI in clarity. The gemstones are approximately 2.2 carats of pear shaped sapphire stones. As well as approximately 1 carat of pear shaped ruby stones. The ring overall weighs a substantial 4.8 grams. The flowers as you can see are quite traditional style blooms. However the placement of them are more skew. The flower blooms themselves sit at different heights between your fingers. Like any good colorful hand party it is a perfect ring to pair with other natural swirling style rings. As well as colorful gem rings that can accent the sapphires and rubies.
Engagement rings and wedding rings
If you are just at a promise ring, moving up to getting ready for an engagement or are already planning to celebrate your wedding there are stunning designs at Diamonds by Raymond Lee that you just have to see. Large carat diamonds in a wide variety of different styles glitter and glimmer everywhere. Bands with unique intricately cut designs, halo settings, three stone looks and even your classic eternity bands. Everything is possible with a creative design and a penchant for unique styles. Whether you want to stack them high or wear them single.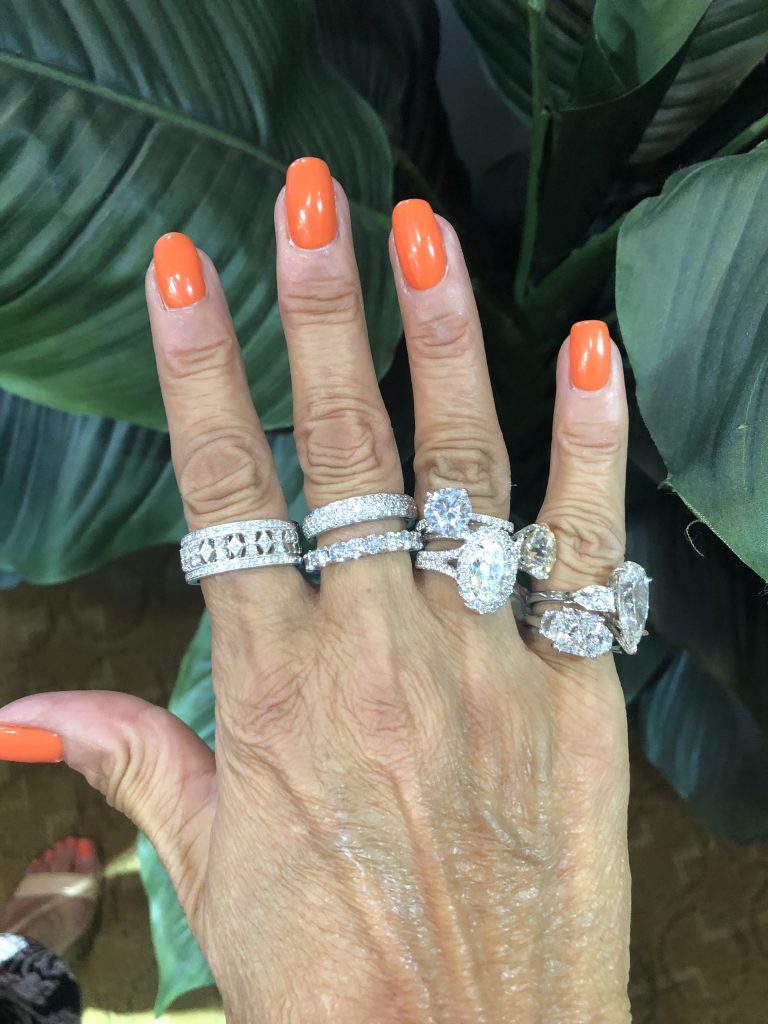 Another one of the prized fine jewellery collections that we have here at our Diamonds by Raymond lee showrooms are engagement, promise, and wedding rings. With a huge collection of some of the very best brands in the world all of our stock are fine pieces designed for timeless looks in romantic and modern styles. There is nothing quite like trying a new piece of jewelry on for yourself before making your choice. Which is why we have expertly designed showrooms for your comfort. While you have a look through all of our different offerings you can take in the options of jewellery and designs.
Our collection of fine jewellery include brands like
Oficina Bernardi
And many more
Come share a glass of prosecco with us while you look through our extensive diamond collection. There are stacks, solitaires, bands, eternity, halos and so much more at our stores. Whether you know what type of ring design and style you are looking for or are just searching for the next great thing come check us out and a diamond expert will be happy to help you.
Diamonds by Raymond Lee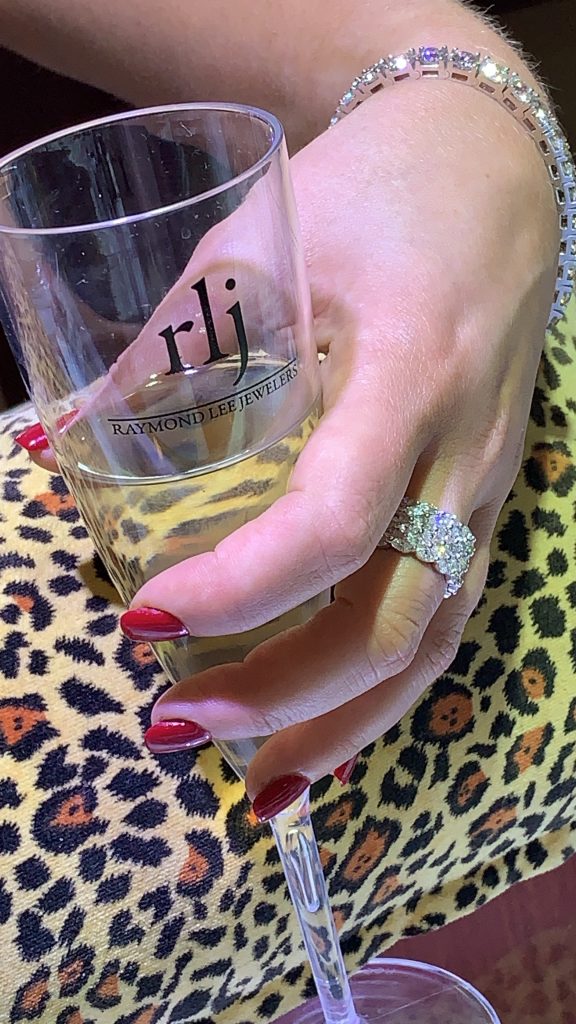 Our commitment is to superior service and the absolute finest quality you can find. All of our jewellery pieces and fine accessories are tested and analyzed when they first come into our showrooms. Our diamond experts and fine jewellery craftsmen make sure that the quality of the pieces is tip top. Meeting our standards of excellence for fine precious materials. Beyond the precious materials including the fine metals of gold and others it is also crucial we check the stones. All of the gems and diamonds are graded and checked at our showrooms as well.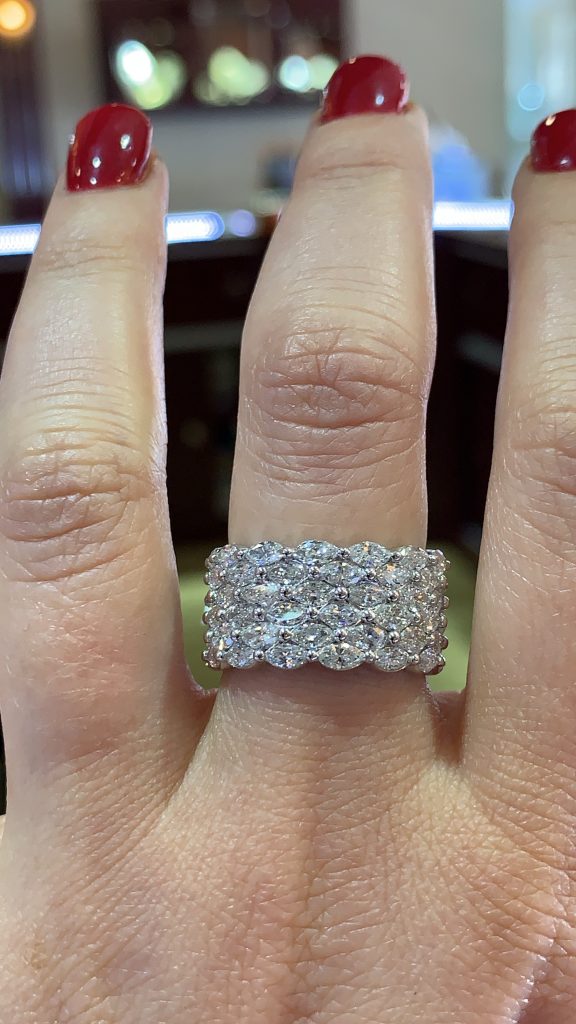 As diamond experts we not only deal with diamonds and stones set into fine jewellery. We also work with loose diamonds and stones. These can be purchased to be set into a piece of jewellery that is purchased. Or it can be used to replace a stone in a piece of jewellery that you already own. We offer these services in house at our workshop located inside our showroom. There is no limit to what we can do. From creating bespoke jewelry pieces, fixing or replacing stones in pieces or crafting something new out of somehting old. We are here to make your heart's desires come true. 
If you are keen to drop by and visit us come on by. Our staff is ready to welcome you and share some of our very favorite jewelry pieces. Enjoy a cool drink and have a look through all of our jewellery pieces collection.
East Boca Location: 2801 N Federal Hwy, Boca Raton, FL 33431
Hours: Monday-Friday 11am-7pm | Saturday 10am-5pm | Sunday 12pm-5pm
Phone: (561) 623-8205
West Boca Location: 22191 Powerline Road #12b, Boca Raton, FL 33433
Hours: Monday-Friday 10am-6pm | Saturday 10am-5pm | Sunday Closed
Phone: (561) 750-7808 Email: in**@di******************.com