Pearls Pearls Pearls!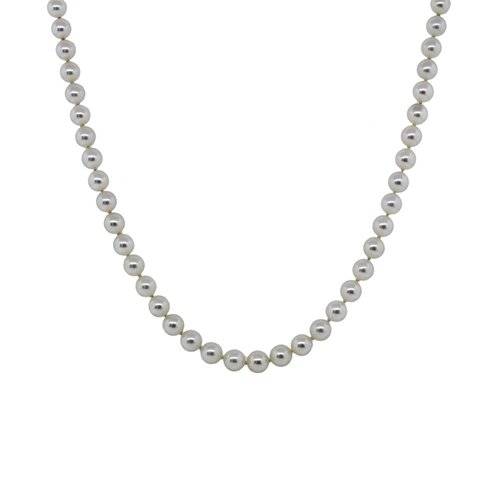 You go ahead and sing that to the tune of Girls Girls Girls. We won't tell. But we will show! Show off our favorite pearls, that is. June's birthstone is the classic, demure and enduring pearl. Created by life itself and fetched from the depths of the ocean, it's no wonder pearls have been a treasured and special gem for thousands of years. There's a good reason why pearls are a staple in every jewelry wardrobe. They're so versatile and classic that you can wear them in nearly any situation at literally every age. A baby girl wearing her first pearl earrings looks just as refined as her grandmother wearing the same thing. And while we firmly believe every woman needs a basic strand of pearls in her arsenal, the pearl comes in a variety of colors, jewelry styles, and – our favorite – sizes. Check out some of our favorite pearl jewelry.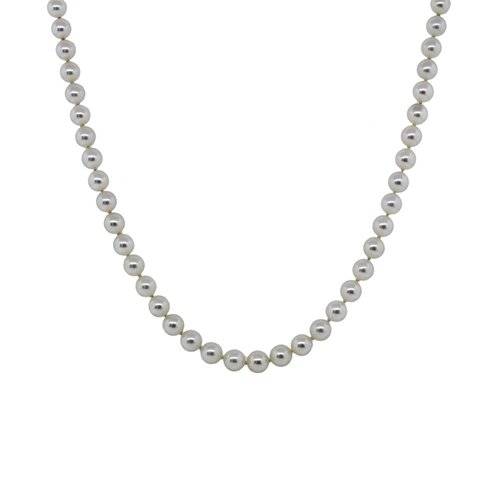 First up, the aforementioned classic strand of pearls. You can never go wrong with the impeccable Mikimoto, and this Akoya strand features 18 inches of Mikimoto Akoya 6.5-7mm AAA Quality Pearls with a platinum clasp.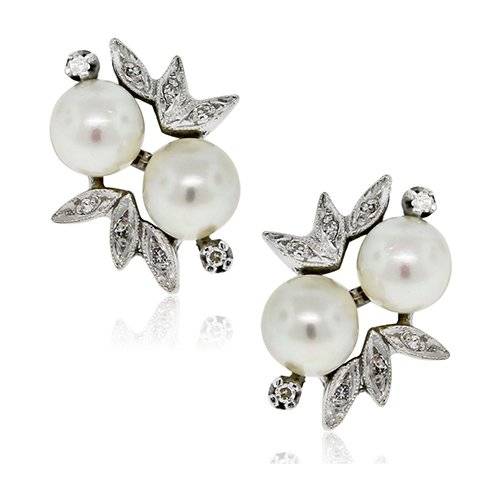 We're just smitten with these double pearl earrings. A take on the single stud, these vintage pearl and diamond earrings have a feminine floral touch thanks to 14kt white gold set with .07 carats of accent diamonds.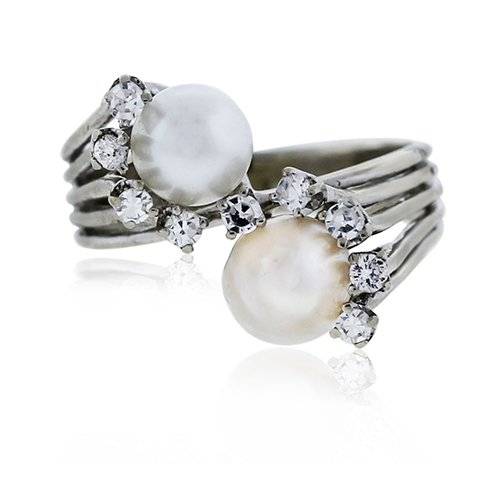 Wouldn't they look divine with this pearl and diamond bypass ring? Two freshwater pearls balance each other out, one in pure white and the other with a warm golden glow. They're joined by 14kt white gold and a perfect s-curve of diamonds weighing .20ctw.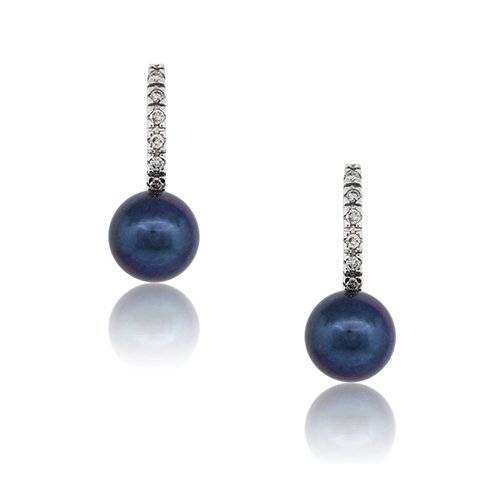 These gorgeous unique pearl drop earrings show off blue freshwater pearls that are about 8.13mm each. They dangle from .12ctw of diamonds set in white gold, and are a perfect example of pearls that defy your expectations.
This vintage pearl and diamond ring is stunning! The bright white 7.55mm pearl is surrounded by a deco-revival style sunburst of diamonds, both baguette and round. The diamonds add .60ctw of sparkle to the 14kt white gold ring.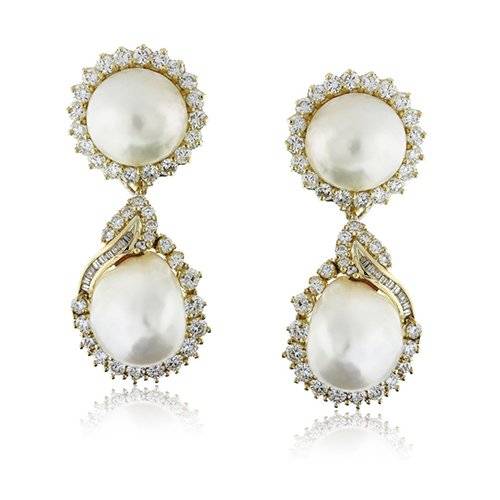 Finally, the piece de resistance – how jaw dropping are these massive South Sea pearl and diamond earrings? We can just picture them at a glamorous 50's black tie event, although we'd be happy to wear them to our next formal event! They're actually pearl buttons with huge 14+mm main stones. The dangle pearls can be added as an enhancer (and why wouldn't you add them) and add 16.55mm(Height) x 14.12mm(Width) x 11.38(Depth) of pearl to your ears. That's before we even discuss the 3.80ctw of round brilliant and baguette diamonds! They're excellent quality, all G/H in color and VS in clarity. All the gems are wrapped in bright yellow 18kt gold, and these gorgeous shoulder dusters make a statement at 2 inches long. Pearl Perfection.