Panerai Luminor GMT Automatic Review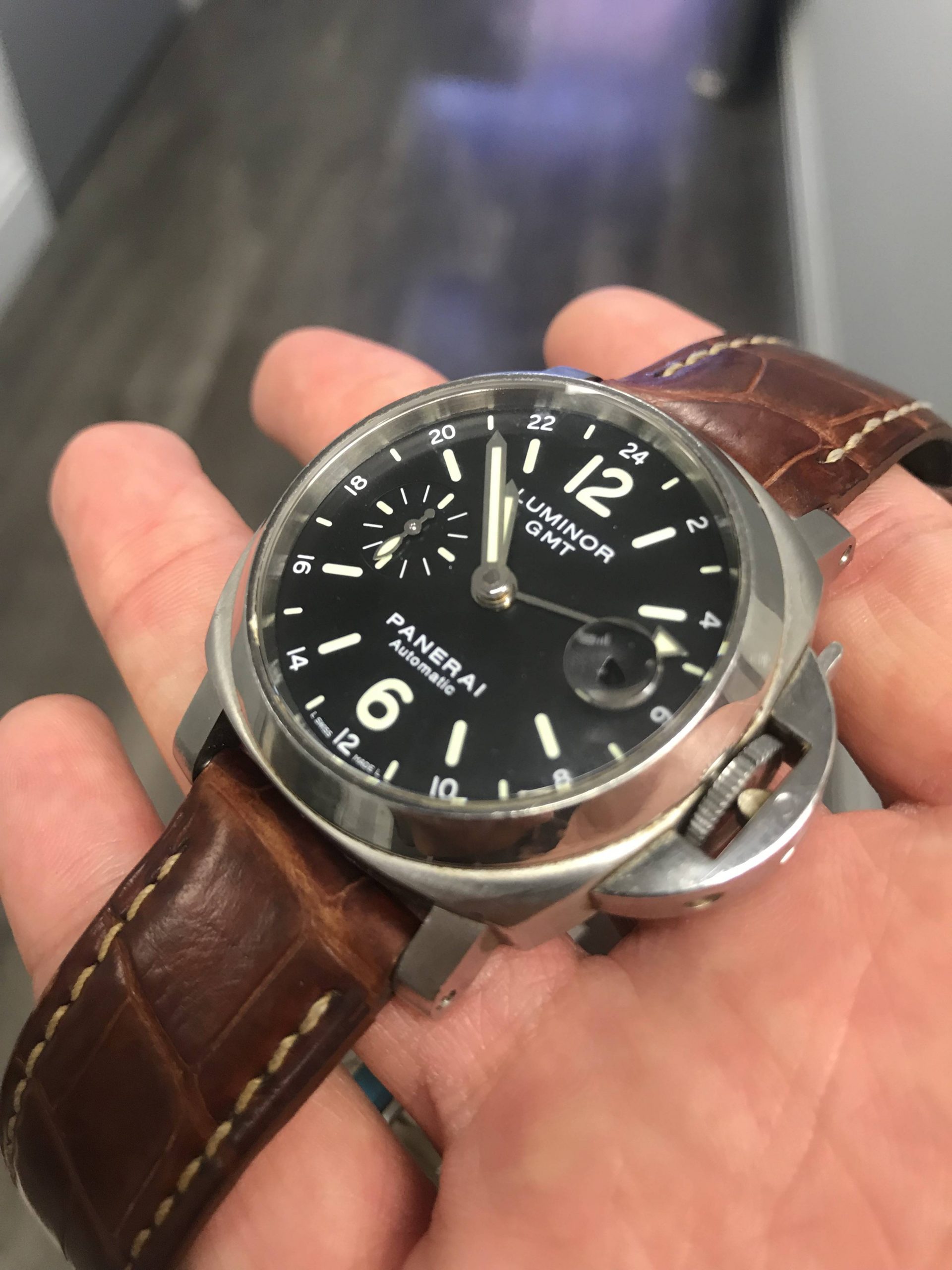 Today we're talking about one watch, in particular, the Panerai Luminor GMT Automatic. But before we dive into the specifics of this watch, we wanted to give you a little bit of history about the luxury watch brand known today as Officine Panerai.

Officine Panerai is one of the oldest and most popular watch brands that we have here at Raymond Lee Jewelers. It's an older brand with a long history of military utilization that dates all the way back to the 1940's. And it's the military association that caught the imagination of so many watch collectors and enthusiasts today. Even though Panerai watches were not actually available to the public until the year 1993. 
Giovanni Panerai, the creator of the Panerai brand, opened his shop on Ponte alle Grazie in Florence during the late 1860's. The shop served as both a watch shop and workshop. But it was also the city's first watchmaking school which is where the brand Officine Panerai begins actually begins.
The first prototype Panerai created was the model that is now known as "Radiomir". It was initially designed for the frogman commandos of the First Submarine Group Command of the Royal Italian Navy. The history behind is really astonishing. 
Today's Radiomir is still able to maintain many of the initial prototype's features such as a large, cushion-shaped steel case (47mm), luminescent numerals and indices, wire lugs welded to the case, and the water-resistant stock strap. And according to the Navy's historical archives, only ten prototypes were produced in 1936. Which was well before the start of the commercial era.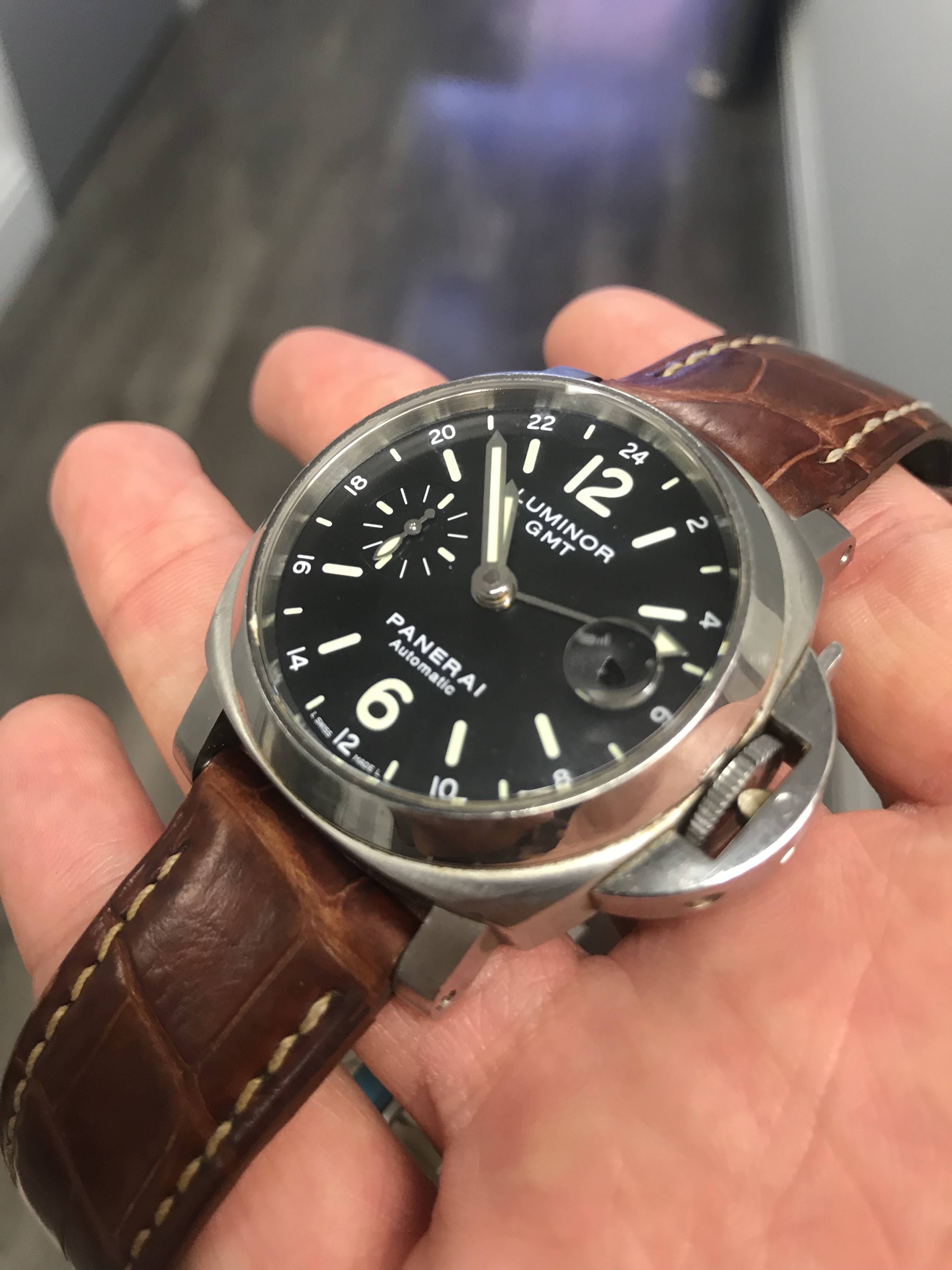 Now that we've talked a little bit about the history behind Officine Panerai. The watch we're talking about today is the Panerai Luminor GMT Automatic. This is one of the newest watches that we've had the pleasure of bringing into our store and so we really wanted to share it with you.
One of the most appreciated features about this watch is the GMT setting on it. When you use this setting on the Panerai Luminor Automatic it allows you to keep the GMT time set to your home time zone. So if you're a frequent traveler or when you're in a new time zone, all you have to do is just give it a quick 10-second adjustment to the main hour hand, and you're on local time again.
Another great thing about this watch is the stock straps it has. Stock straps are generally something that we generally don't give much attention to but they can be super important. And that is the case with this Panerai Luminor GMT automatic. So it's worth bringing to your attention. These stock straps, as represented by the initial Panerai prototype are waterproof, durable, and comfortable.
When you have a watch, a luxury one at that, that commands a high price tag such as the Panerai Luminor GMT Automatic does, you really want to be sure that it's going to be versatile across a variety of situations. You want to make sure that it has the features you're looking for in a watch. And you want to know that it isn't easily damaged and worth the money you're spending on it.
Sure there are many watches on the market that can do these things but they likely don't have the technical chops that the Panerai Luminor GMT Automatic has. Nor will it have that immediately-identifiable Officine Panerai designed DNA that all of their watches have. It's all about the brand they have built, the models the produce, and what they bring to the table.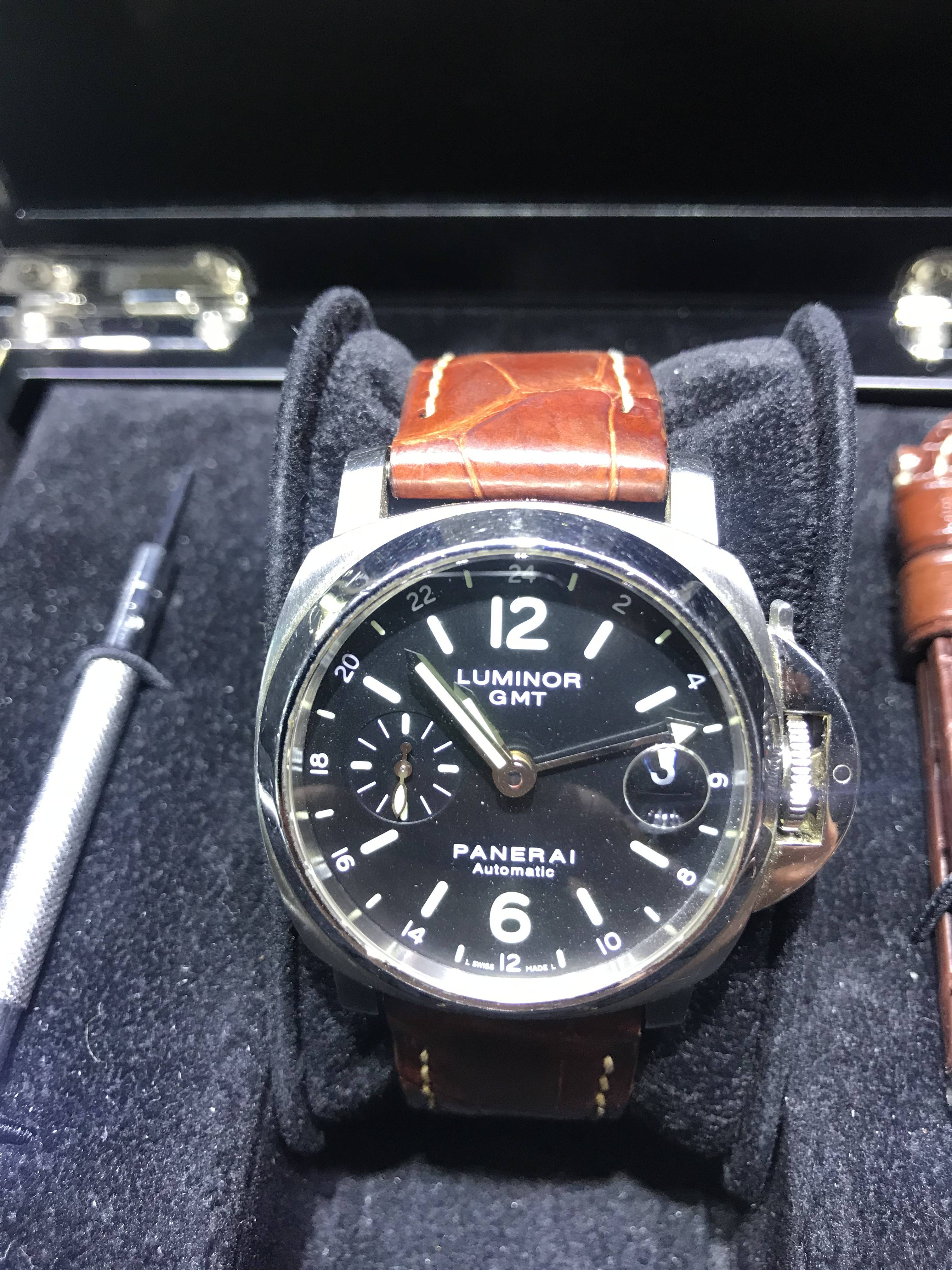 Interested in this Panerai Luminor? contact us today about purchasing it. For commonly asked questions, please visit our FAQ page. During regular business hours, we can be reached by phone, email, or live chat. For after hour inquiries, please fill out our contact form and we will get back to you next business day. We are located at 2801 N Federal Hwy, Boca Raton, FL 33431.
Looking for a different model? Check out more Panerai watches here. And if you're looking for further information Chat online, or even email one of our expert customer service advisers at in**@di******************.com.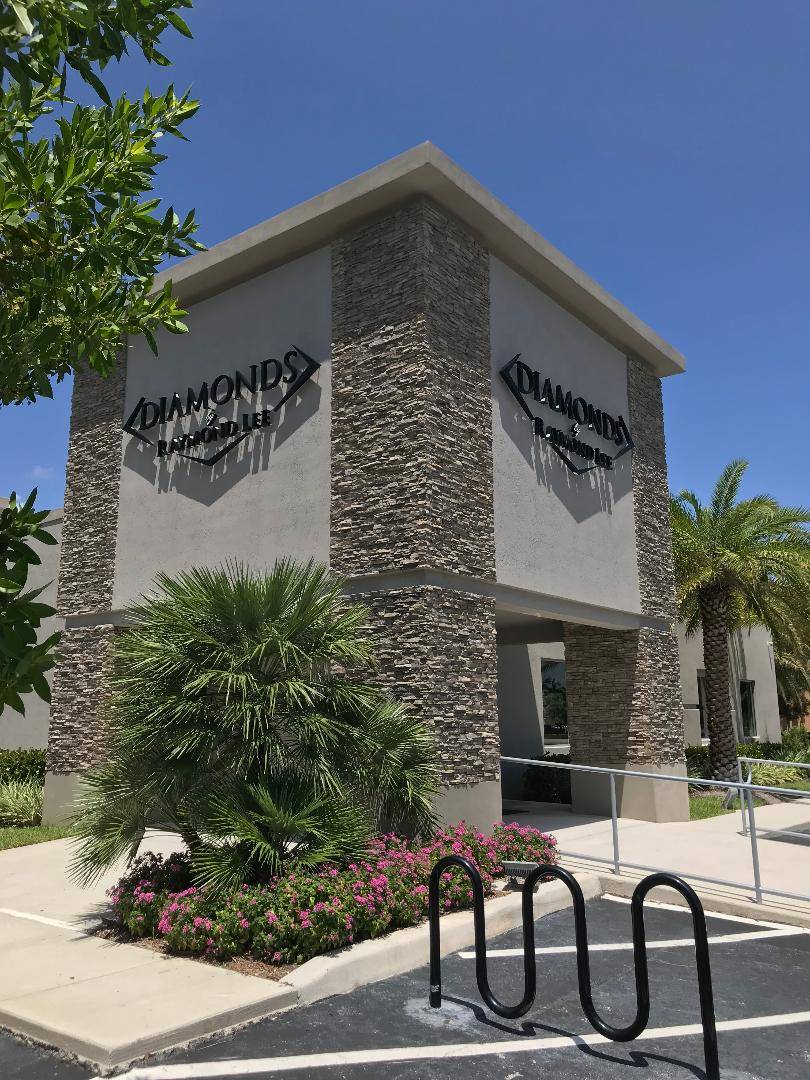 When you add everything together such as the history behind this luxury brand and the astonishing functions of such a beautiful high-quality watch this Panerai is one hell of a watch. And did we mention the rarity of it? A rare vintage watch like this one won't sit on the shelf for very long. 
Interested in or looking for a different watch? Check out our review on the Rolex 1500 Texano vintage watch here.