Rolex 5100 Texano Vintage Watch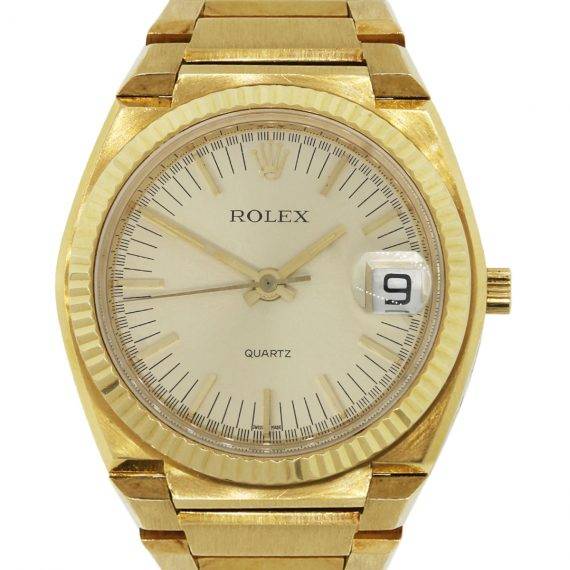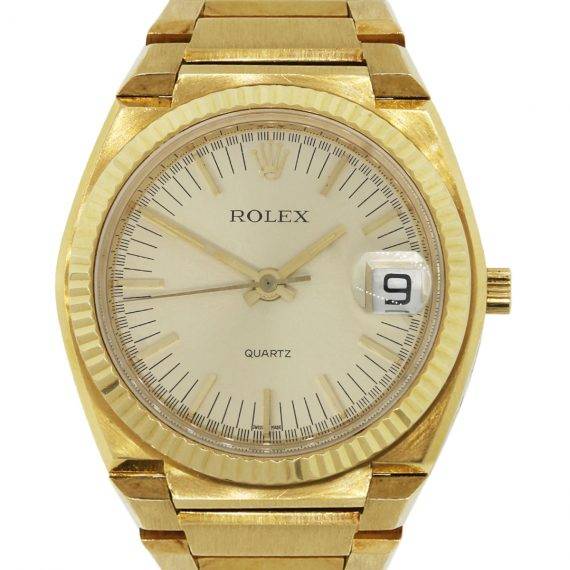 Cost: $24,995.00
Make: Rolex
MPN: 5100
Model: Texano
Case Diameter: 39mm
Case Material: 18k Yellow Gold
Movement: Quartz
Clasp: Crown Clasp
Dial: Champagne Stick Dial with Gold Hour Markers and Hands
Size: Fits up to 7.5' Wist
Condition: This watch is in an excellent condition
The watch we're talking about today is the Rolex 1500 Texano No. 989/1000. Having only made 750 yellow gold watches in this model number, this is one of the rarest Quartz Rolex watches on the market. The Rolex version of this quartz wristwatch is the most massive out of all the Beta 21 watches. It's known in reference as the 5100 and to collectors, it's known as "The Texan".
This watch is unlike any other Rolex on the market. It features a tonneau shaped case surmounted by a round bezel & dial. The angle of the tonneau section was very rare for Rolex to do to their watches which is one of the reasons this watch is so unique. Most Rolex watches have been made using organic curves that were blended into one another. The Texan 1500, as you can see has a flatter surface. And, unlike previous Rolex models, it features a three-link bracelet that is permanently attached to the case.
The Rolex 5100 was the first Rolex to be fitted with a synthetic sapphire crystal. This ultimately replaced the long-used acrylic fitted covering which was vulnerable to easily obtain scratches. This new watch movement also premiered a hacking function plus a quick set date feature. The two innovatively designed functions brought a new level of convenience to the public that was unseen at the time.  
In a little over two years, Rolex produced just 1,000 of these quartz watches while only producing 750 of them in yellow gold, like the one we have for sale. The rest of them were made in white gold. Each one of these watches was tagged with a number from 001 to 1,000 to help define the rarity of them. The one you see here in the pictures is number 989 out of 1000.

Gerald Genta
One of the most legendary watchmakers of his time, Gerald Genta, worked with a number of timepiece companies to create some of the most iconic movements. What most people don't know about Genta was that some of his most notable work was done for Rolex. When he created the Texan 5100, Genta had no idea that it would later become one of the most successful watches in the history of watches.
Rolex 5100 Texano No. 989/1000 18k Yellow Gold Vintage Watch
In order for us to discuss this watch adequately, we decided it was best to go back over 40 years ago where the watch was first born. This was you'll be able to how amazing the watch and the company Rolex truly is. And a little history lesson never hurt anyone. Rolex is one of the most reputable watch manufactures in the world, with good reason as you're about to see. 
In 1962 Rolex along with several other Swiss watch manufacturer formed what was called the Centre Electronique Horloger. The sole purpose of this group was to develop a quartz movement. They wanted to use quartz in their wristwatches. So when the movement began the numerous companies competed to build quartz watches to sell for practical use. Their first prototype was produced in 1966 and by 1969 there was a second edition. 
Rolex Quartz watches like this Texano Yellow Gold Vintage Watch operates by counting the swinging motion of tiny quartz crystals that vibrate up to to a million times per second. The crystals are able to vibrate because of the piezoelectric principle. The principle the of the piezoelectric law allows electric current to pass through the airwaves of the crystals causing them to vibrate. 
When the quartz crystals vibrate it causes a swinging like motion in the electric current that can be detected and measured by a tiny computer. This computer then counts the oscillations. But one thing to note about quartz watches is that they take a battery. Most Rolex's don't take a battery, but these ones do.
The very first quartz timepieces were the size of a small room. By the time the 1950s rolled around, they had shrunk to the size of American two-door refrigerator. Then in 1963, the world was mesmerized when Seiko produced the world's first portable quartz timepiece. A.K.A the QC-951.
Shop more quartz watches here.
Datejust
Rolex rarely releases a brand new model as a collection. Instead, they like to maintain strong pillars of previous productions and work to improve and expand upon them. This is part of the "Rolex Way," otherwise known as the clever marketing term they came up with to refer to the culture of the company. They work to do what they feel is best for their audience. 
The reason we mention this is because it's completely relevant to the Texano 5100. The watch features a quick set date feature which is quality of the Datejust model series. And in reality there are dozens and dozens of Datejust watches out there with there being variants from previous models incorporated into newer models. 
The Rolex Datejust is one of the brand's most popular collections to date. It includes watches made for both men and women along with a variety of styles, sizes, colors, materials, and movements. This is a Rolex design that has been perpetuating since the 50's that the company modified the model to its current form. With the distinctive hands, design, and bracelet.
So for over 60 plus years people around the world have become familiar with the basic core look of a Rolex Datejust. This is another reason the Rolex 5100 is such a popular watch. Since it includes the date set distinction, collectors are more likely and willing to add a watch like this to their collection.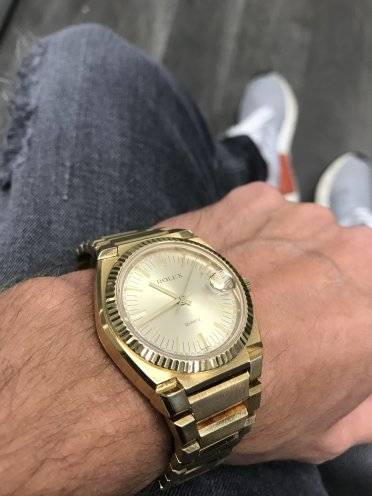 Rolex 5100 Texano No. 989/1000 18k Yellow Gold Vintage Watch
A Vintage Classic
Since this model watch was produced in a severely limited quantity, it would only be a matter of time before collectors would deem it a classic. And as with most rare valuables, finding one for sale isn't always easy. Especially one like this that was such a huge historical success. 
Displaying a hefty size along with an oversized frame fit perfectly to its individual model, the Rolex Texano 5100 is one of the most revolutionary watches to every hit the market. Looking at it from an aesthetic viewpoint the Rolex 5100 is a stylish triumph that features a clean modern design. It utilizes an integrated case, setting, and bracelet handcrafted entirely from 18k gold. And it was the first model to hold a synthetic sapphire crystal. 
The focus of this watch was and is its exclusivity. With such amazing qualities and a limited amount of production, this watch is a precious possession. One thing that's so great about this watch is that it can be a very versatile wristwatch. Though it has a very formal appearance, the Rolex 5100 can also be worn alongside a dress or casual type of style. It's one of the purest watches a man can have. 
By that, we mean that the Rolex 5100 Texan is the ultimate undeniable watch for a man. A not only is it an undeniable watch, it's an undeniably incredible piece of jewelry. What makes this wristwatch rare, aside from the fact that very few of them were manufactured, is that there are so few pieces of men's jewelry out there which are conservative and also have mainstream appeal.
Appearance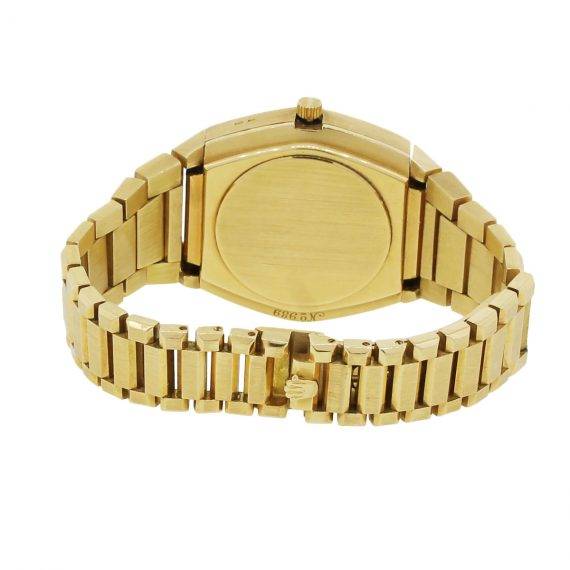 It also helps that this watch is really comfortable. At 39 mm wide, the watch sits with a relatively low profile on the wrist. Though the watch does wear a bit on the larger side given the widely spaced lugs.  Though the watch does wear a bit on the larger side given the widely spaced lugs. That just means if you're unsure how the watch is going to fit on you, it would best if you come into the store and try in on before making a purchase. (Which we really recommend you do anyway. It really helps us to assist you in picking out the perfect piece of jewelry).
We know that not all men will want to wear jewelry or even their watches all of the time. When they do, however, the Rolex 5100 Texan is a perfect choice. It's nothing short of a timeless blend of the horological and ornamental arts of Rolex watches. It functions dually as a lifestyle and success indicator while exceeding the reputation of a mere timepiece.
Overview
To recap, this Rolex Quartz watch is one of the most unique and rare watches on the market today. It's in an excellent condition as you can see here in the pictures. And it's just waiting for its new owner. Fitted with synthetic sapphire quartz crystals and an acrylic fitted covering to prevent scratches – the handcrafted watched is definitely proven to be money well spent. The quick set feature on the quartz watch allows you to see and set the date providing you with the utmost convenience in a watch. Rolex put a lot of time, energy, and affection into this movement and the results were nothing short of phenomenal. 
Out of the 1000 watches that were made in this collection, this is one of the few watches that is currently up for grabs. So not only is this an opportunity to purchase a very valuable collector's items, it's an opportunity to add to your personal jewelry collection. When people see you with this watch on your wrist, they will be impressed. Moreover, as a historically successfully men's jewelry wristwatch, the Rolex Texan only exists in a small class of quartz products. This helps us explain why the watch is otherwise difficult to define and find in a local retailer. Everything about this watch is antique.
How To Buy This Watch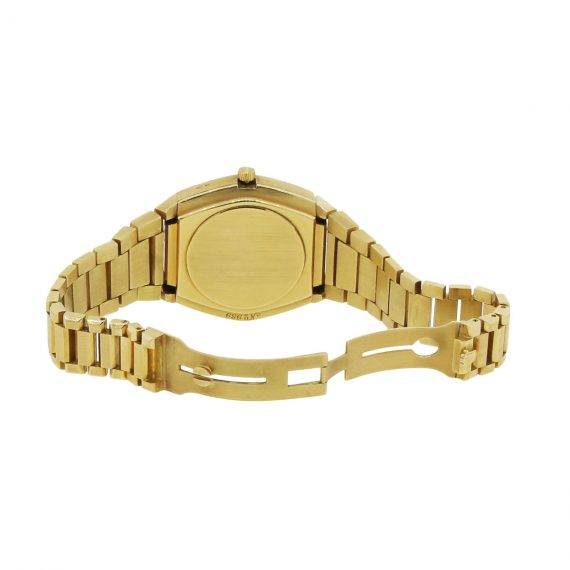 When you add everything together, including the quartz movement, the astonishing hacking function and quick set features, the beautifully handcrafted band and setting, the scratch resistant cover, and the 18k yellow gold, this is one hell of a watch. And did we mention the rarity of it? A rare vintage watch like this one won't sit on the shelf for very long. 
Here at Diamonds by Raymond Lee, our Rolex watches tend to go pretty fast. So if you're interested in this Rolex 5100 Texan, we recommend getting in touch with us as soon as possible. You can do this by contacting us or stopping in during regular business hours.
Interested in this Quartz Rolex? Purchase it here. For commonly asked questions, please visit our FAQ page. During our regular business hours, we can be reached by phone, email, or live chat. For after hour inquiries, please fill out our contact form and we will get back to you next business day. We are located at 2801 N Federal Hwy, Boca Raton, FL 33431.
Looking for a different model? Check out these Rolex wristwatches. And if you're looking for further information Chat online, or even email one of our expert customer service advisers at in**@di******************.com.

Areas We Serve
We are located in southern Florida in the city of Boca Raton. We proudly serve Boca Raton and the surrounding following areas: Palm Beach, Fort Lauderdale, Miami, Broward, and Miami-Dade. Stop by and talk to one of our experts about finding the perfect Rolex watch for you today.