Clara WIlliams Company Palm Beach Jewelry Store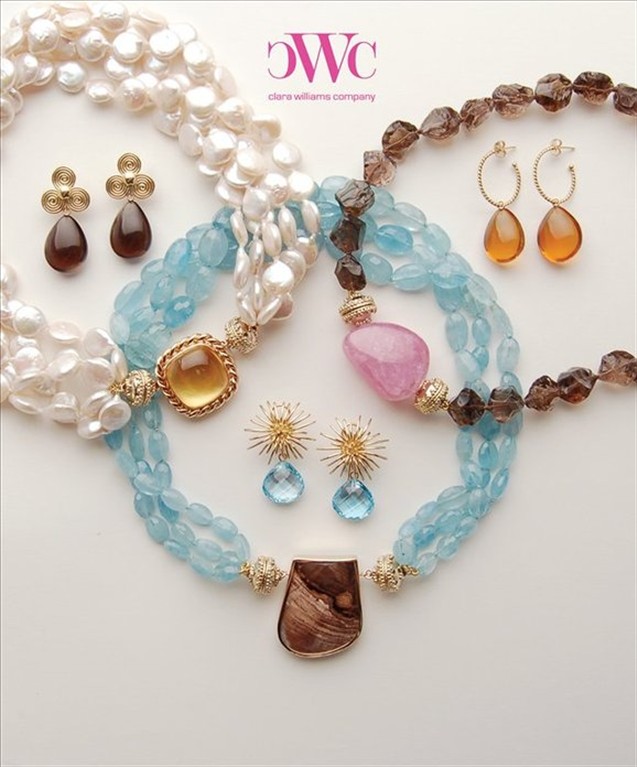 The spotlight is definitely on Clara Williams and her unique and exquisite jewelry. In 2001 Clara William gave birth to her baby; The Clara Williams Company. Since that time her company has always stood out from the competition. Her very first pieces of jewelry were anything but simple. The pieces are timeless.
Clara has an impressive background in technology, which only motivates her to pursue her love for the fashionable world of jewelry. The Clara Williams Company is sought after by top retailers, boutiques, private vendors and trade show managers.
It's no wonder, that everyone wants a piece of Clara; her jewelry pieces are absolutely gorgeous. She knows how to utilize her artistry skills and technology knows how to get what she wants. Her pieces are featured in media coverage, ranging from top magazines, television and newspaper.
No two pieces of jewelry are the same; Clara makes sure of this. The demand for her elegant line of jewelry is forever increasing, since she has expanded her viewing audience.
They are designed to wear alone, or with a stylish outfit. The signature style is designed with a magnetic closing clasp, while the necklace virtually snaps in place. Clara's love for technology drives her to create pieces that are fascinating to say the least.
Clara's collection is made up of several principal pieces. Her jewelry makes a bold and profound statement to all women. Be unique, be bold, be subtle and most importantly be you.
It's not too late to start your own Clara Williams collection. You can start your collection with a pair of earrings and a matching necklace. Some of Clara's jewelry is interchangeable and they are perfect for every event. Her most exotic jewelry pieces have patents still pending.
Clara's jewelry collection can be worn to black tie events, parties, social gatherings, and fancy outings. The Palm Beach Jewelry Store is filled with other exotic pieces of jewelry that is sure to turn a few heads. Clara's trunk show contains a lot of jewelry pieces. This show was held in December of 2012 around the holiday season.
Her centerpiece designs and drop style earrings are exclusively designed with magnetic clasps. If you have your own jewelry you can have it restrung, and have a magnetic clasp attached at the end. Clara Williams' jewelry is fun, and affordable. Her jewelry collection is constantly growing with new, exciting pieces.
Even Clara Williams' earrings are worth looking at twice. They are designed with the shepherd's hook, so you can wear them alone or create your own design. The earrings have clips or posts that are collapsible and ready to wear. No one does jewelry like Clara.
When you put technology, art and fashion together, what do you get? You get a rare and exciting collection of Clara Williams' jewelry. You choose the style, you choose the color and you choose the design. It is never too late to start owning your own Clara Williams collection. The spotlight is on you and Clara Williams Company.