11 Nature Inspired and Floral Diamond & Gemstone Cocktail Rings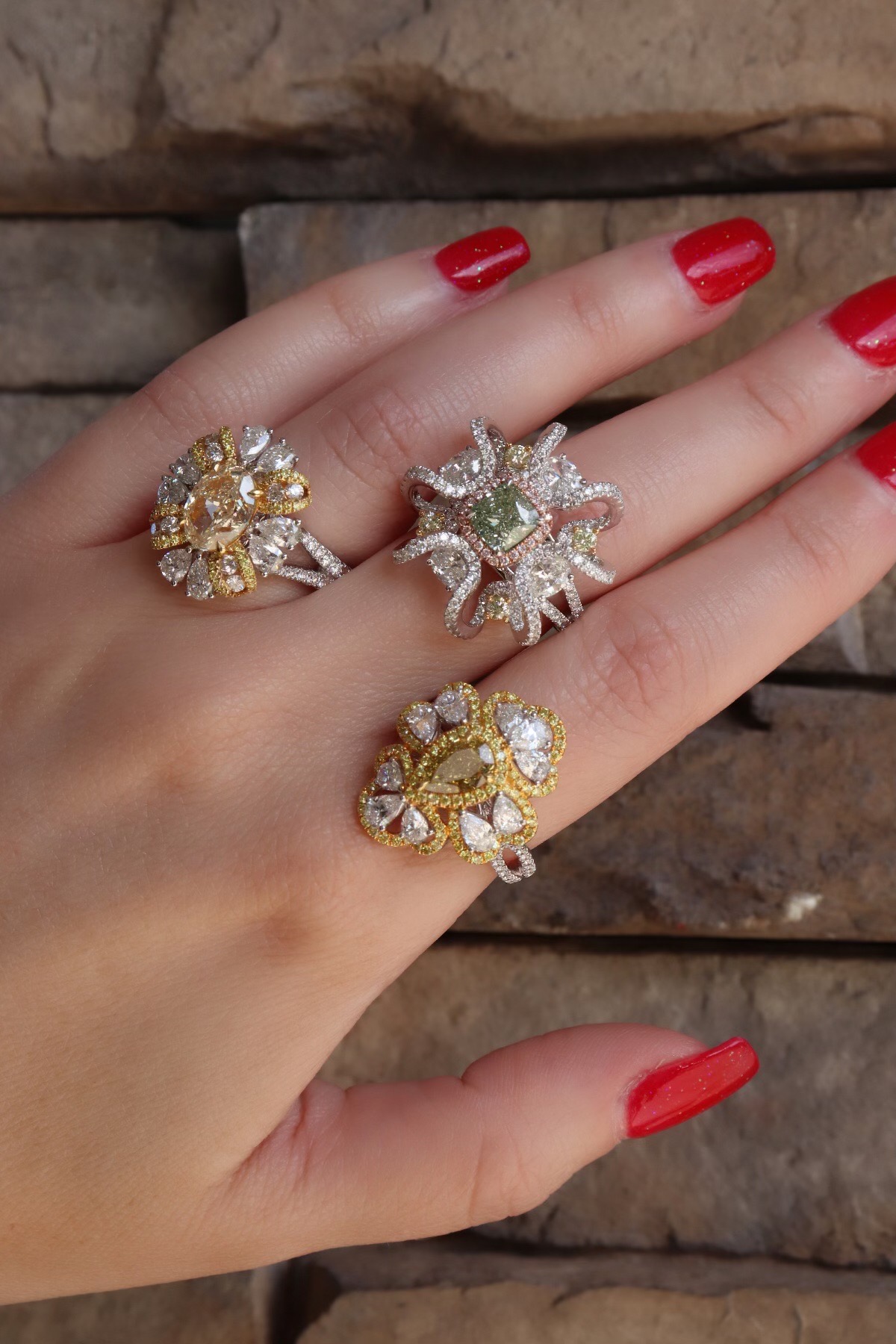 If you love the outdoors, one of the best ways to symbolize that is with a fine diamond and gemstone, nature inspired ring. Stunning floral and nature inspired cocktail rings made from precious metals, gemstones, and diamonds create positive energy in one's day-to-day life. They are a reminder of things we love, which allows us to remain calm and peaceful in such a fast-paced, stressful modern world. What's more, it's not just the wearer who benefits, others around you will feel these organic, positive and playful vibes as you sparkle and shine around them.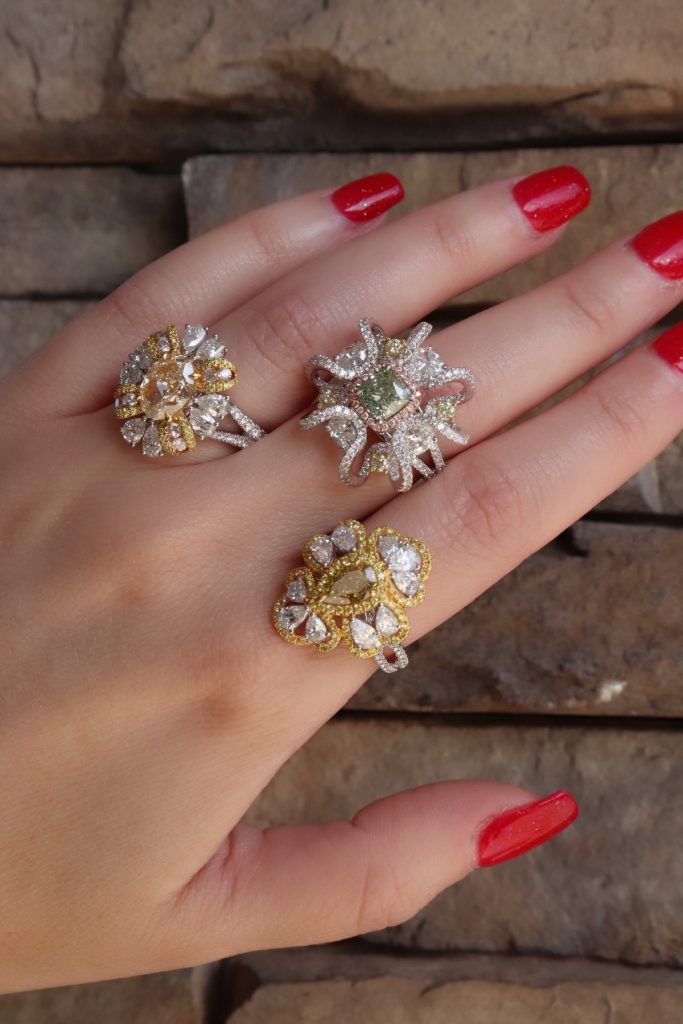 Nothing in life is as refreshing as getting out into nature, so why not bring that sense of peace right to your hand, capturing it for everyday pleasure.
And, the good news is, there are so many styles of nature inspired rings to choose from, there's space for everyone to enjoy "nature".
What are Nature Inspired Rings?
Nature-inspired rings are exactly as they sound, they are rings with whimsical motifs that resemble and evoke the natural beauty of the earth. They are inspired by all the natural beauty that surrounds us, such as flowers, animals, insects, and other plant life.
Many nature inspired rings utilize multiple shapes and colors, clusters of stones, and the rings are charmingly asymmetrical, unlike many modern geometric designs with perfect symmetry.
Rings for nature lovers use curving lines, delicate shapes, feminine colors and real-world inspiration to bring it life.
Nature-inspired rings represent more than just stunning jewelry creations, they represent everything around us.
There are nature-inspired engagement rings and nature-inspired cocktail rings. Typically, nature inspired cocktail rings are larger, more extravagant, and more colorful.
Now, don't let the name impede you. Cocktail rings don't need to be worn only during cocktail hours. They can be worn as everyday statement pieces. So you can represent something meaningful or something you simply love…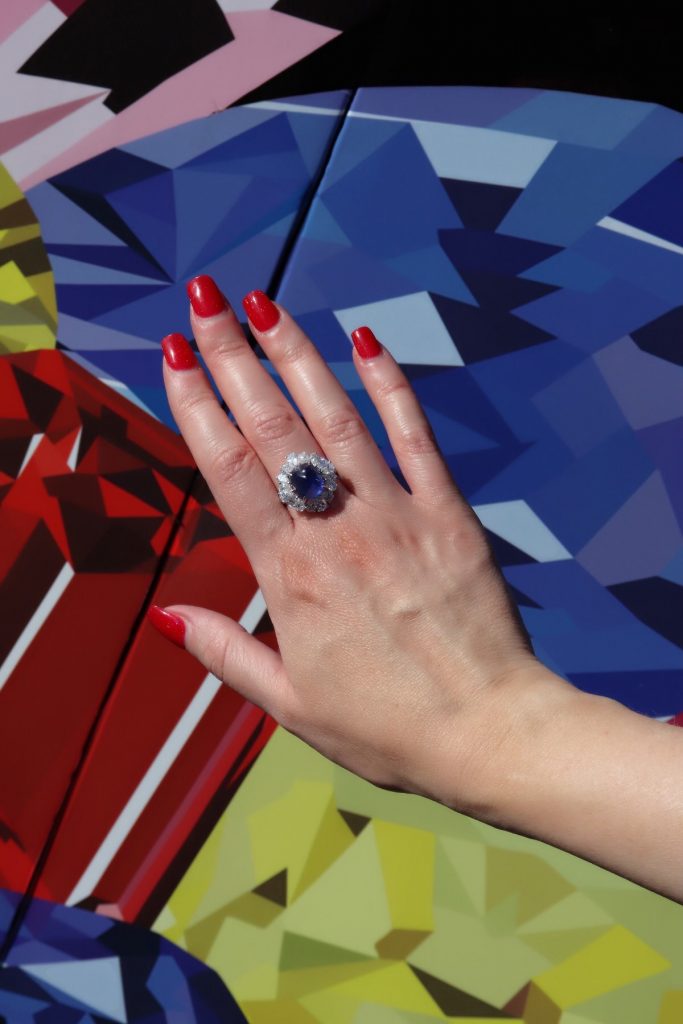 Today, we are looking at non-engagement nature-inspired rings. These are simply rings for nature lovers.
However, these aren't any old nature inspired rings, these are extremely high-end, diamond and precious gemstone rings made for affluent elegant women who appreciate the allure of outdoors and everything "earth", and who love powerful statement pieces.
The most common and popular kind of nature-inspired rings are floral style rings.
Floral diamond rings are inspired by various flowers that we all know and love. Like roses, lilies, sunflowers, and orchids.
A flower design can hold many meanings. For example, a rose denotes love and passion, while a daisy signifies innocence.
Women choose floral diamond & gemstone rings that they are innately drawn to or ones that reflect their personality…That's the beauty of it, it is a very personal piece of jewelry that shows creativity and individuality…
Overall, nature inspired rings have a very vintage feel to them. And it makes sense considering people have been drawing inspiration from nature to create fine, high-end luxury rings for centuries.
History: Nature Inspired Rings Through The Eras
Nature has been a source of inspiration for jewelry for centuries, if not millenniums. It's no surprise, as our planet naturally creates some of the most breathtaking beauty imaginable. No one is more creative than Mother Nature, so why not pull inspiration from what's readily available and already perfect.
So, let's have a look at the history of nature inspired rings from the most popular eras of fine jewelry.
Georgian Era
Beginning with the Georgian Era, which ran from 1714 all the way until 1835 – Georgian era jewelry is extremely distinguishable, as they often used various shapes and sizes of stones on a single piece. They also used grand designs, with large jewels and colorful gems.
Although nature inspired rings weren't the only kind of rings they created, they were one of the most common of the time. Many Georgian rings were gracefully shaped using skillful metalworking, transforming precious materials into rings of birds, flowers, acorns, and even wheat stalks.
The Georgian area was a time of romance, and the rings surely reflect that.
Victorian Era
The Victorian era, which is named after Queen Victoria of England, spanned from 1835 to 1900.
The Victorian era is undoubtedly the most influential era of antique and estate jewelry, and many vintage and nature style rings are inspired from this era.
Victorian era jewelry is separated into three distinct times – Early, Mid and Late Victorian periods.
The first period is considered the Romantic period. The rings were full of traditions and natural motifs. Gold, silver and colored gems were the materials of choice.
The second period was a time of mourning, as Queen Victoria's husband, Prince Albert, had passed away. Queen Victoria's devastation was mirrored in her jewelry, and thus what became popular with the people.
The rings were somber and dark and dramatic. Black onyx, jet, amethyst, garnet and golds were most commonly utilized.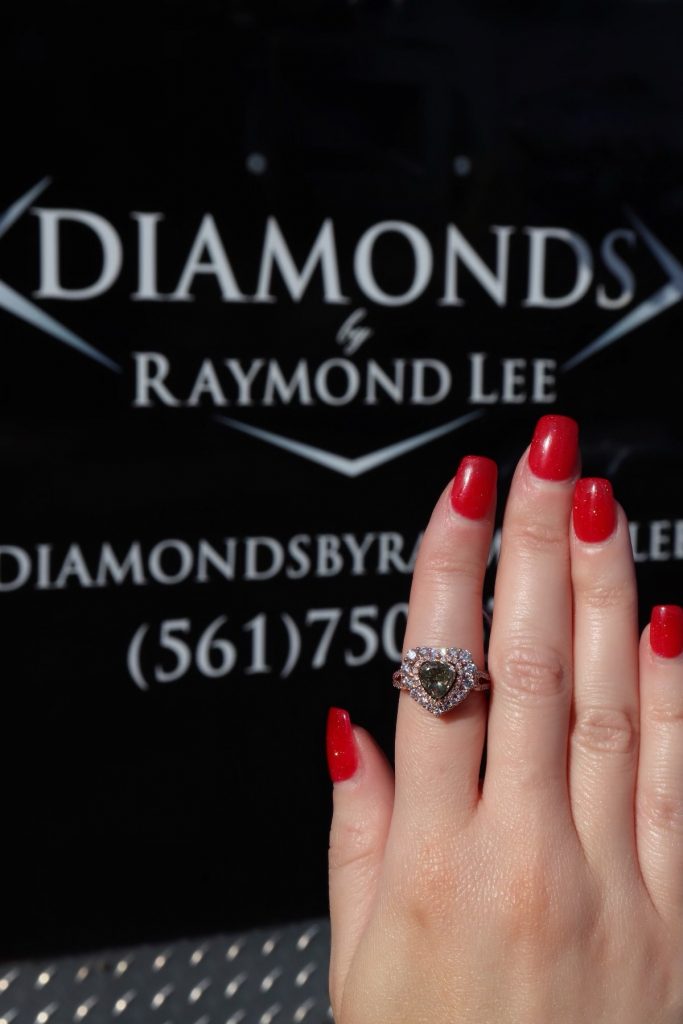 The third period saw the use of more complex and feminine designs, returning to nature for inspiration. Floral diamond and gemstone rings and celestial motifs were immensely popular. Jewelers used decadent gemstones like sapphire, ruby, and diamonds.
Nowadays, jewelers often look to the Late Victorian era for inspiration when creating exquisite nature inspired rings.
Edwardian Era
The Edwardian era was a time of refinement. Rings become more detailed, intricate and ornate.
During this time, flower themes were highly desirable. This was due to Queen Alexandra's love and appreciation for flowers.
Patterns and styles took shape in ribbons, stars, the moon, flowers, garlands, leaves, shamrocks and hearts.
The Edwardian era is known for using multicolored gold and platinum. Mixed metal rings were very popular.
Art Nouveau Era
1890 to 1915 was the era of Art Nouveau.
Rings were characterized by symmetry, circular swirls, loops and feminine designs.
During the Art Nouveau era, nature was the most prominent theme. However, instead of focusing on the abstract, asymmetrical beauty of nature, it honed on the symmetrical aspects of life.
Desirable motifs were that of insects, plants, and flowers.
Art Deco
The Art Deco era was from 1915 to 1935. This marked a big change in jewelry.
The rings were daring, heavily eclectic, and geometric patterns and lines were used in the form of natural themes and shapes.
Flower shape rings with colorful gemstones and diamonds were the "go-to".
Retro Era
The Retro era went from mid-1930s to early 1950s.
These rings use geometry and movement to create sensuous designs. Various shapes were paired together to create wonderfully unique and lively fine diamond and gemstone rings for nature lovers.
In terms of nature designs, Retro era rings included flowers, birds and stars.
During this era, many different metals and stones were utilized, which is why Retro era rings came in so many distinct styles.
Intricate designs
Considering all of the above, you can see why there are so many different styles and creations of nature inspired rings on the market.
Moreover, the possibilities for creating one-of-a-kind nature inspired jewelry are limitless.
And while some designs are extremely intricate, many can be wonderfully minimalist.
The uniqueness is only limited to the creativity of the jeweler.
Most commonly, motifs take form in well-known and special/meaningful flowers, insects, and animals, like roses, butterflies, snakes, doves, and pumas. Ornate pieces will even include more nuance elements like vines, leaves, and eyes…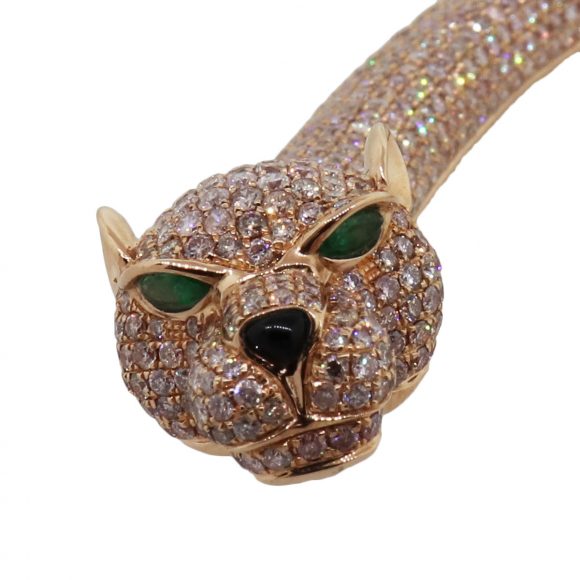 Any pattern and shape is possible when handcrafting rings with masterful skill.
Additionally, you have the option of diamonds and/or gemstones, and numerous diamond and gemstone shapes, cuts and colors. And various precious metals as well.
Diamond Shapes & Colors for Nature Inspired Rings
First off, most nature inspired cocktail rings involve complex metalworking. Jewelers design an outline of the thing they are trying to create by forging and shaping metal.
So to fill these outlines with diamonds and gemstones, you need to use multiple shapes.
This is why a lot of nature-inspired rings use multiple shapes of stones on one ring.
Round and pear-shaped diamonds and gemstones are often used together because they can be set in a way that easily brings the intended idea to life.
It's also normal to see cluster settings as that is the best way to fill these convoluted outlines. Moreover, cluster settings don't have to use the same exact diamond shape and size for all the stones. Like halo or pave settings do.
That said, halo settings are also great for nature inspired rings. Halo settings within a ring can create a dramatic effect, as you can make strong contrasts, which nature is full of, of course.
For example, a blue sapphire centerstone with a yellow diamond halo, and a white diamond cluster setting around all that create a flower. And with the different colors, it helps make that vision more realistic, as many flowers and insects have powerful juxtapositions of colors like that too.
On the whole, any diamond or gemstone shape and color is on the table.
Precious Metals for High-end Nature inspired Cocktail Rings
As for the metals used in fine, high-end diamond and gemstone rings created for nature lovers, you will find rose gold, yellow gold, white gold and platinum. Only the most precious metals can be used for a truly luxurious nature-inspired heirloom piece, which is exactly what we procure and sell at Diamonds by Raymond Lee.
As mentioned previously, mixing metals is a very commend trend for rings that resemble living things. The use of various metal colors allows the jewelry maker to create contrast, just as it can with diamond and gemstone colors.
You will see all of these design aspects now as we go into detail on a few examples of nature inspired cocktail rings available at Diamonds by Raymond Lee.
Blue Sapphire and White Diamond Floral Cocktail Ring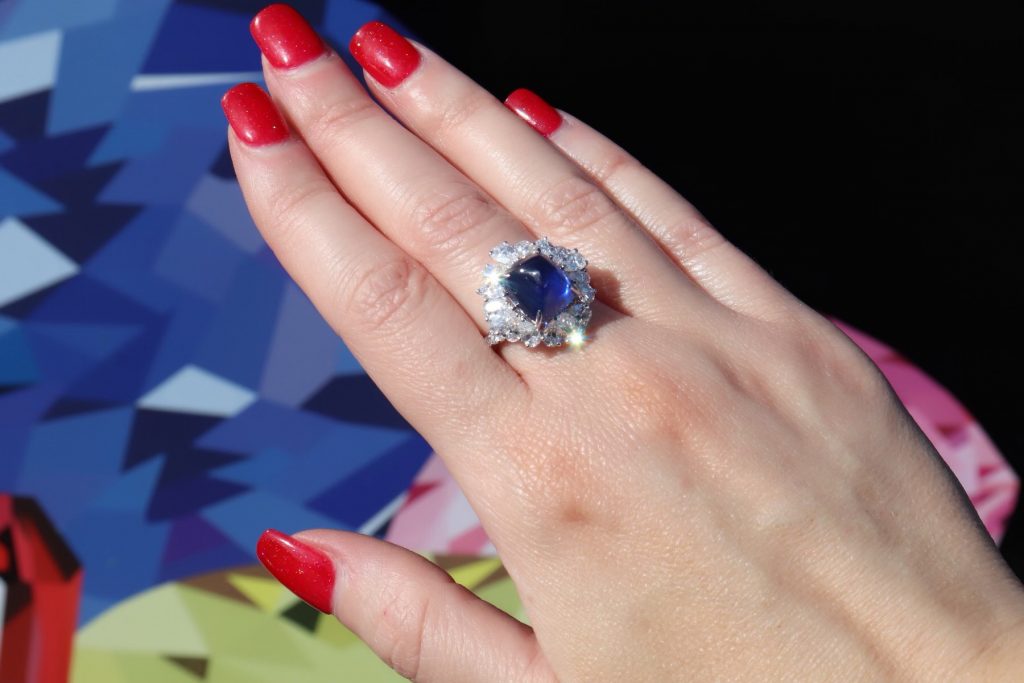 A true model of vintage floral engagement rings, this cocktail ring undoubtedly pays respect to the Victorian era.
It has a large blue sapphire centerpiece with a cluster setting of pear diamonds surrounding it. This ring perfectly conveys its floral design.
A floral cocktail ring like this will surely complement any woman's beauty while taking her sparkle up to eleven.
White and Yellow Diamond Butterfly Motif Ring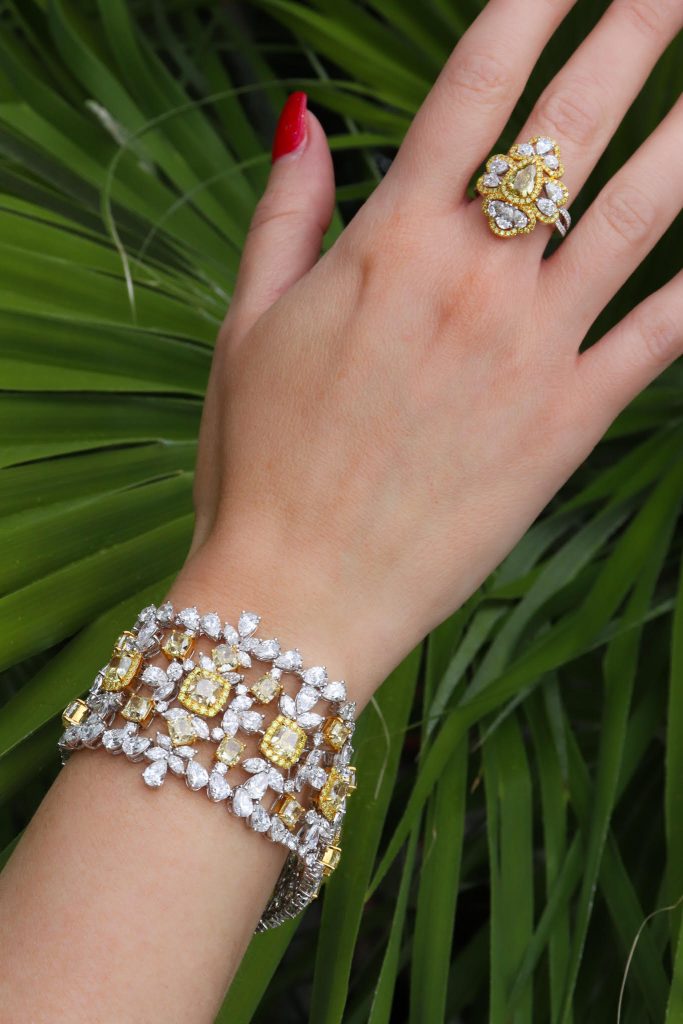 This is another cocktail ring that is staying true to classic, historical designs, yet this one clearly has the beauty of a modern ring thanks to the use of advanced metal working and state-of-the-art brilliant diamond cuts.
The swooping double shank band has pave white diamonds. And sitting on top you have the outline of the entire butterfly, which is made up of pave round brilliant fancy yellow diamonds.
The yellow really makes the entire piece stand out above the band and it allows the "parts of the body" to pop.
At the center (the body), you have a brilliant fancy yellow pear diamond with a halo of round brilliant diamonds.
At the centerpieces direct sides, you have two white pear shaped diamonds. They are set at an angle to create the depiction of wings.
And at the top and bottom, you have three pear shaped diamonds, of different sizes, set in a way that casually, and beautifully, echoes the look of a head and a tail.
It's an absolutely stunning piece and a must-have for any butterfly lover with spending power.
Emerald and White Diamond Flower Cocktail Ring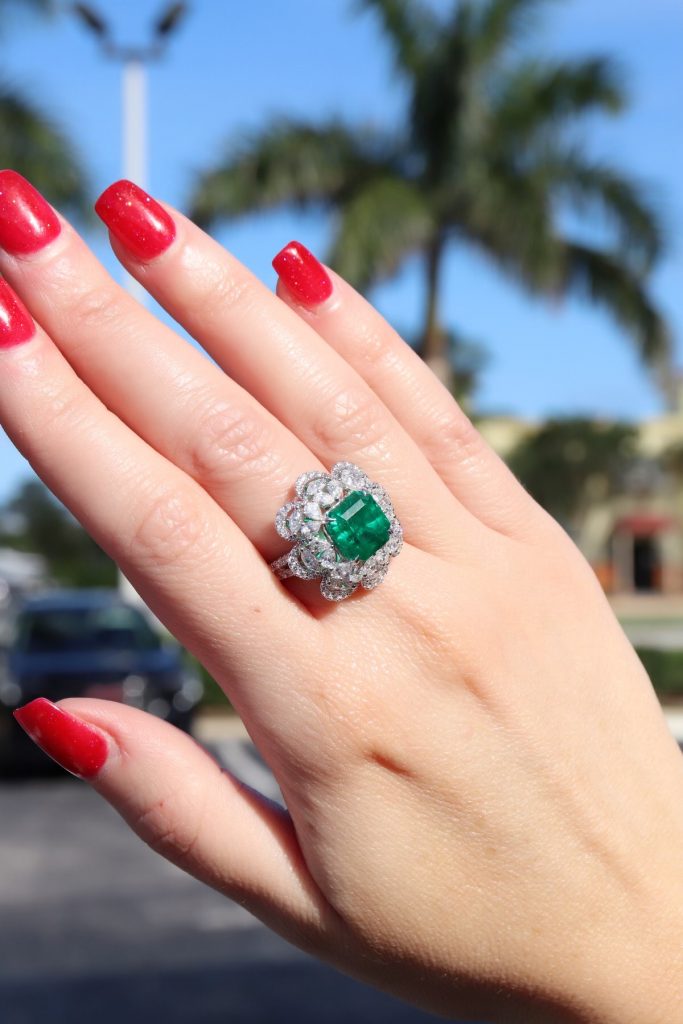 Here we have an elaborate design. If you look closely, there is so much going on with this ring.
The centerpiece features a large emerald. Then, the first layer of "pedals" is formed from small pear shaped diamonds. The next layer of pedals, which is lower than the first layer as to create depth, uses small horizontally-set oval diamonds.
At the bottom, you have the base metal structure with pave diamonds which completes the last layer of the flower's pedals.
It's all very smartly done. Even the prominently protruding prong settings for the pear and oval diamonds gives the ring more realness, allowing the ring to bud into existence.
Want to Buy Nature Inspired Cocktail Rings and Jewelry?
All of these pieces are private label, one-of-a-kind creations. If you are interested in purchasing them, you can contact us for pricing and availability.
Here are some other cool nature inspired rings that we sell at Diamonds by Raymond Lee and Raymond Lee Jewelers. This should give you an idea of how truly endless the options are: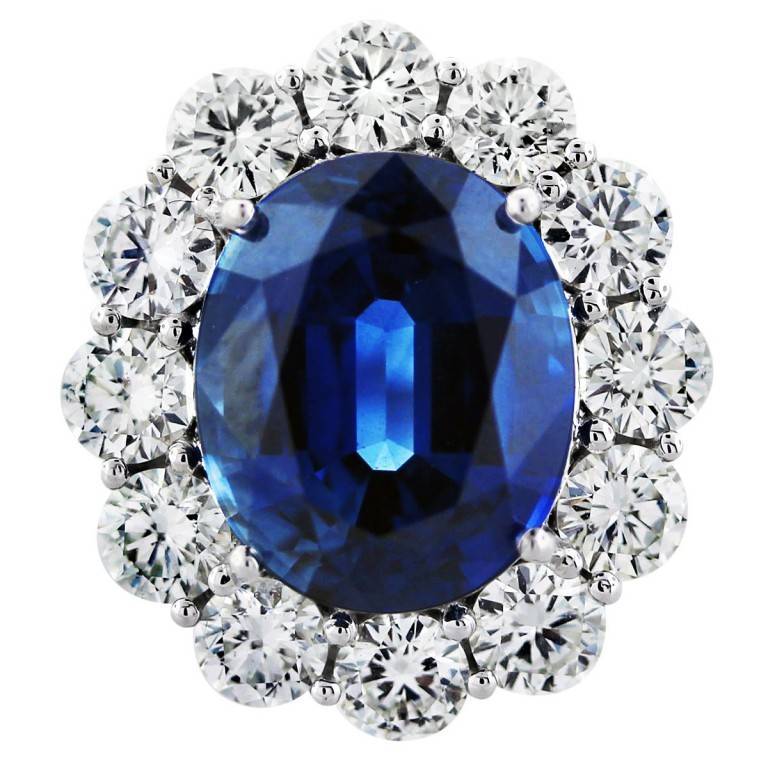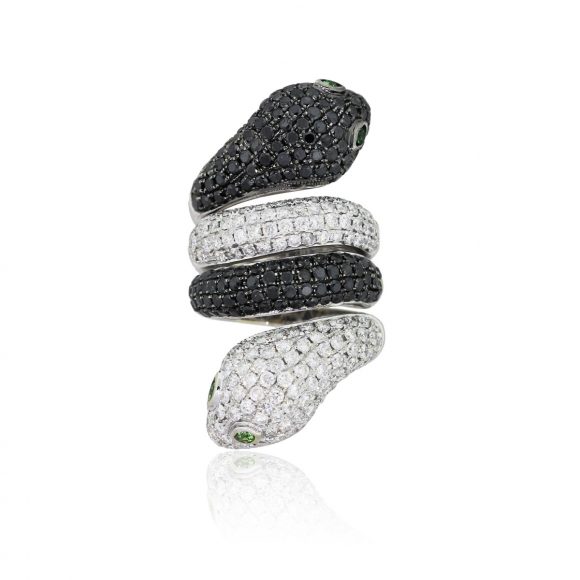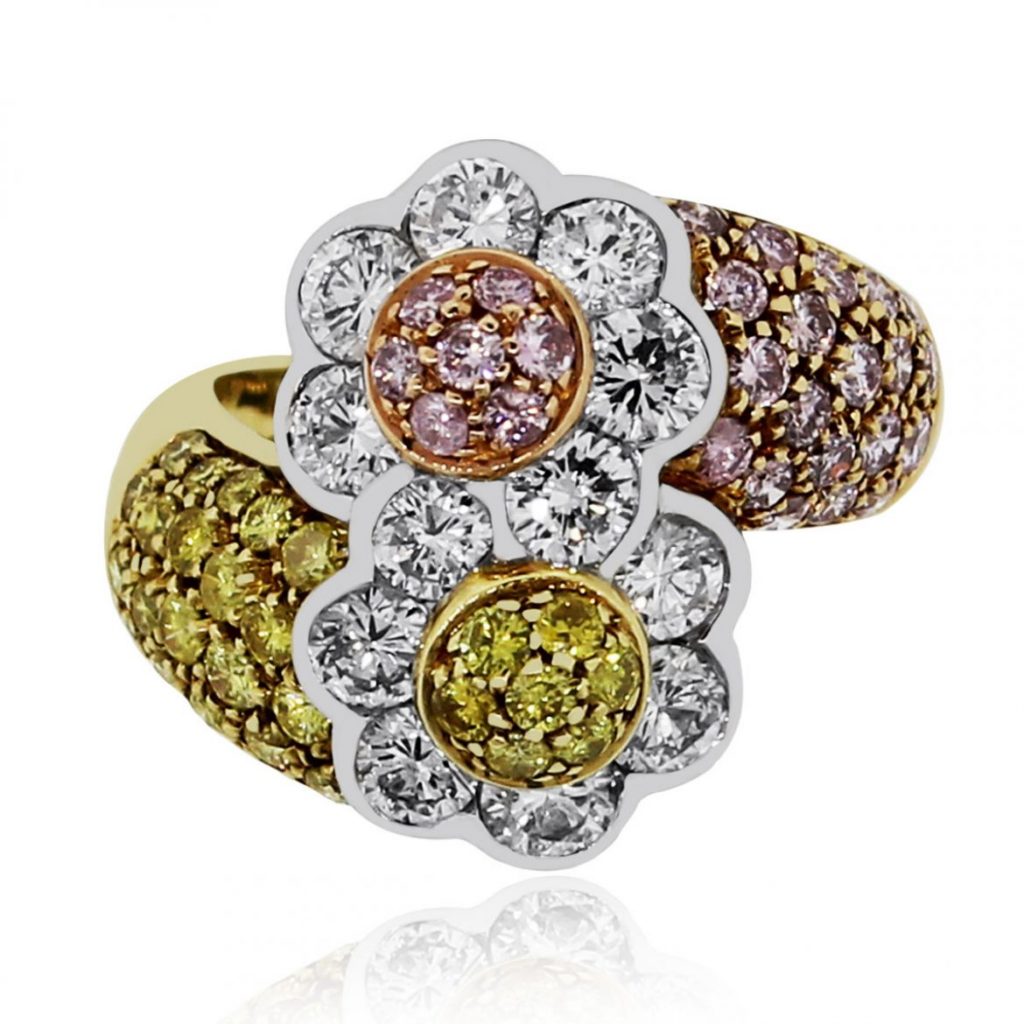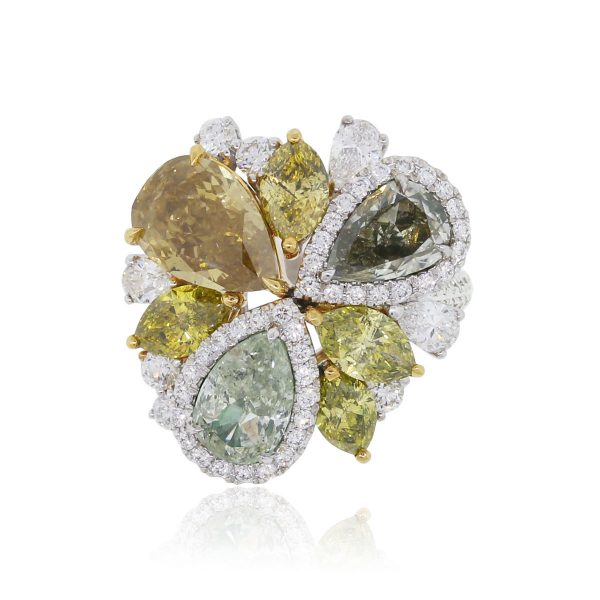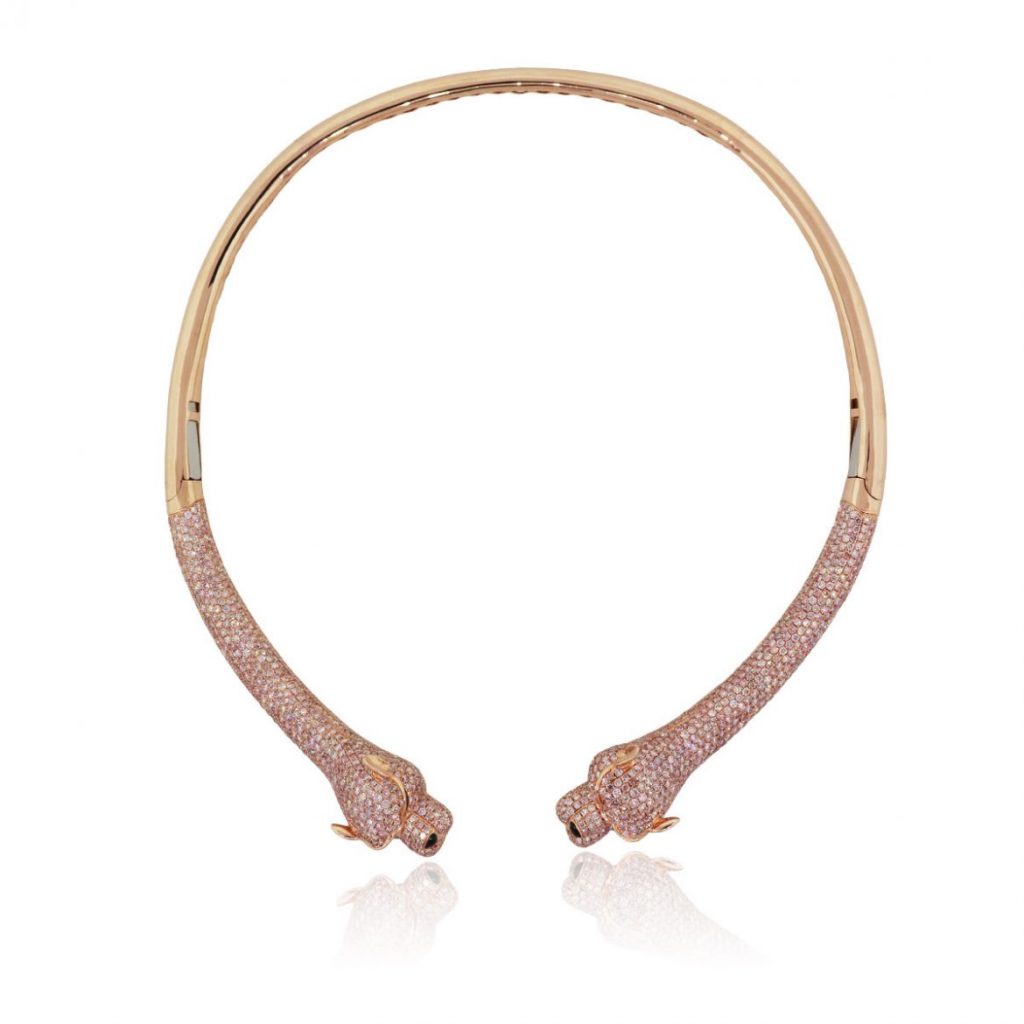 See more diamond and gemstone nature-inspired cocktail rings.
Create a custom nature inspired ring or piece of jewelry?
So, if you have a vision that you want to bring to reality, we can custom make a nature-inspired ring from you. The process is fun and you have control every step of the way as our master jeweler crafts your nature-inspired ring to perfection.
Contact us to create your very own custom nature inspired ring