Unique and Limited Edition Luxury Watches for Men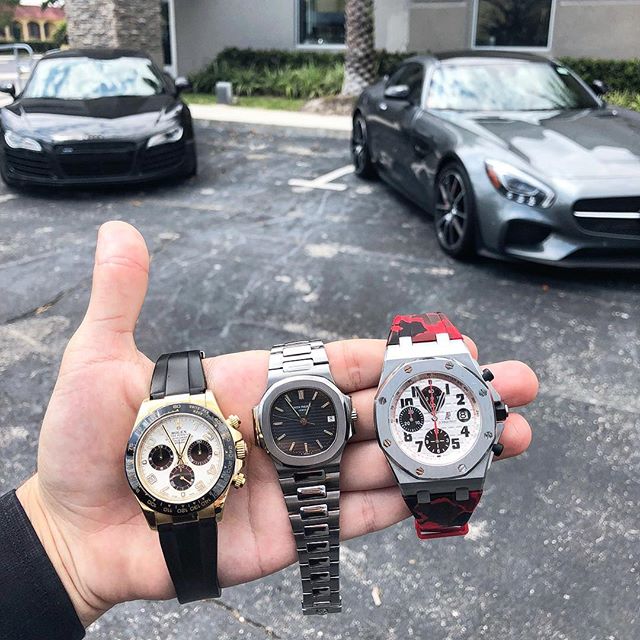 When men are choosing their accessories a watch is the very first item. It is consistently a masculine symbol. Watches are fine luxury accessories that can set the tone for a personal style. Each watch carries with it its own message. However, from all the luxury watches in the world, there are a few that stand out. These are the ones that not only reflect a strong personality but are unique amongst all others. They are the unique and limited edition luxury watches for men. Crafted to be unlike most other watches and generally packing powerful functionality that is unrivaled, these watches are a symbol. They are symbolic of a man's personal journey in style and fashion. Also, they are a testament to the brand's creativity and design abilities. Artisan watchmakers use the highest quality materials and expertise to bring these unique creations to life.
They are the epitome of fine watch making. We at Raymond Lee Jewelers hand pick the unique limited edition luxury watches for men in our collection. Further, there is nothing better than a limited edition luxury watch. It enhances the value of the timepiece. These are items that were made in small batches and a majority are no longer being released. We have taken the time to curate our selection and ensure that we do carry fine unique pieces for a fine and unique gentleman. Particularly for those with extensive collections, a limited edition watch is a must. There are luxury watch brands for every preference of course. From Chopard to Breitling each brand has their own exclusive pieces. Here we brought together some of the most unique limited edition luxury watches for men. Let us take a look at some of the offerings from our curated collection.
Limited Edition Watches
The rarest of the luxury watches for men are the limited edition pieces. These are the ones that are made in limited quantities and generally stretch the limits of a brand and designs usual style. Also, these limited edition luxury watches for men are a great investment. While they are usually part of a gent's personal collection and not for storing value they do rise in price. Over time as the items of a limited production are purchased, collectors and other watch enthusiasts will begin seeking out these unique pieces. The limited edition pieces have an added quality of specialty, uniqueness and of course rarity. They are the timepieces that catch the most attention whether for their design or singular qualities. Here we have few of the truly rare and unique timepieces available in South Florida from your trusted jewellers at Raymond Lee Jewelers.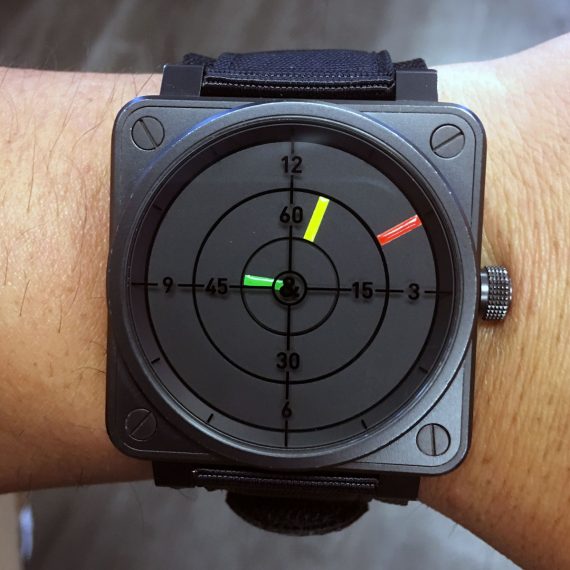 First an incredible monochromatic Bell & Ross Radar limited edition watch. This all black square case with matching dial, bezel, and strap is modern and futuristic. The case is a PVD material with four feature screws, also in black. Also, black the strap is made of neo canvas and has a steel buckle with a black PVD finish. Further, this watch comes with an additional aftermarket orange strap and tools. The dial is a truly unique three disc form with red, yellow and green hands. This is a sportive and minimalistic watch. For the edgy and sporty gentleman, this is the ideal gift.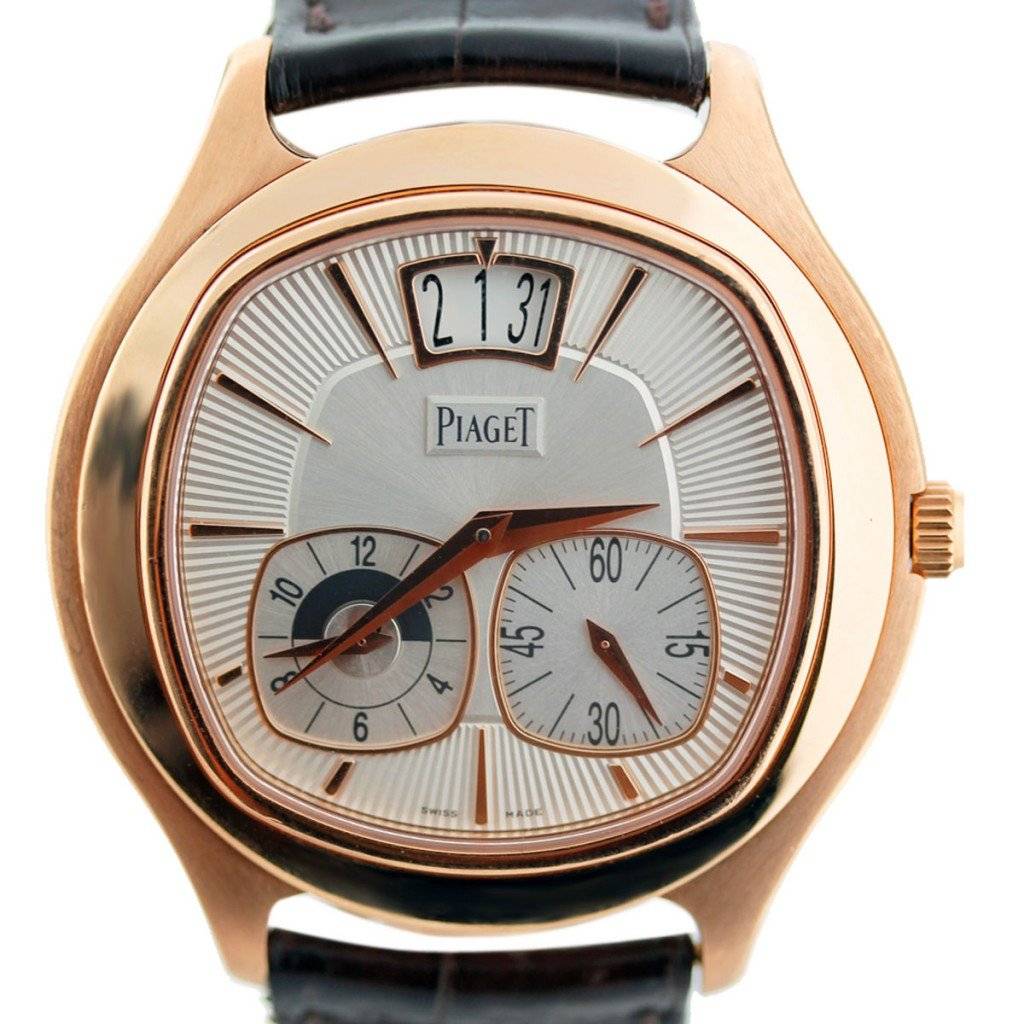 Also, this limited edition Piaget rose gold Emperador features a skeleton back. It has a truly iconic cushion shape. The rose gold case in this cushion shape gives a visual difference to the rounded outer edge. This one features two sub dials at the bottom edge of the dial and a date window at the 12 o'clock hour mark. Also, the dial has a gorgeous textured design at the outer edge accentuating the rose gold time markers shooting towards the center. The center of the dial is a brushed flat surface following the cushion shape of the casing. It is accompanied by a luxurious brown leather strap and rose gold clasp matching the casing as well.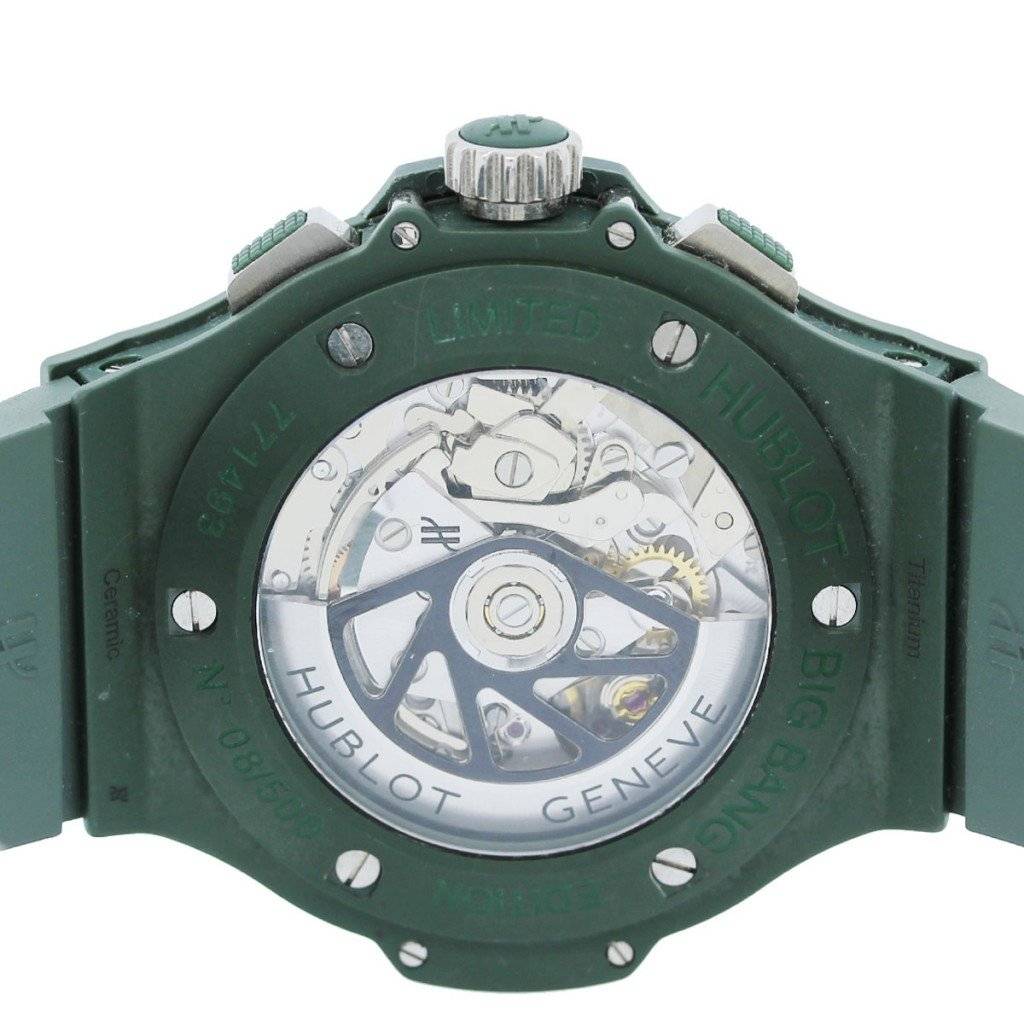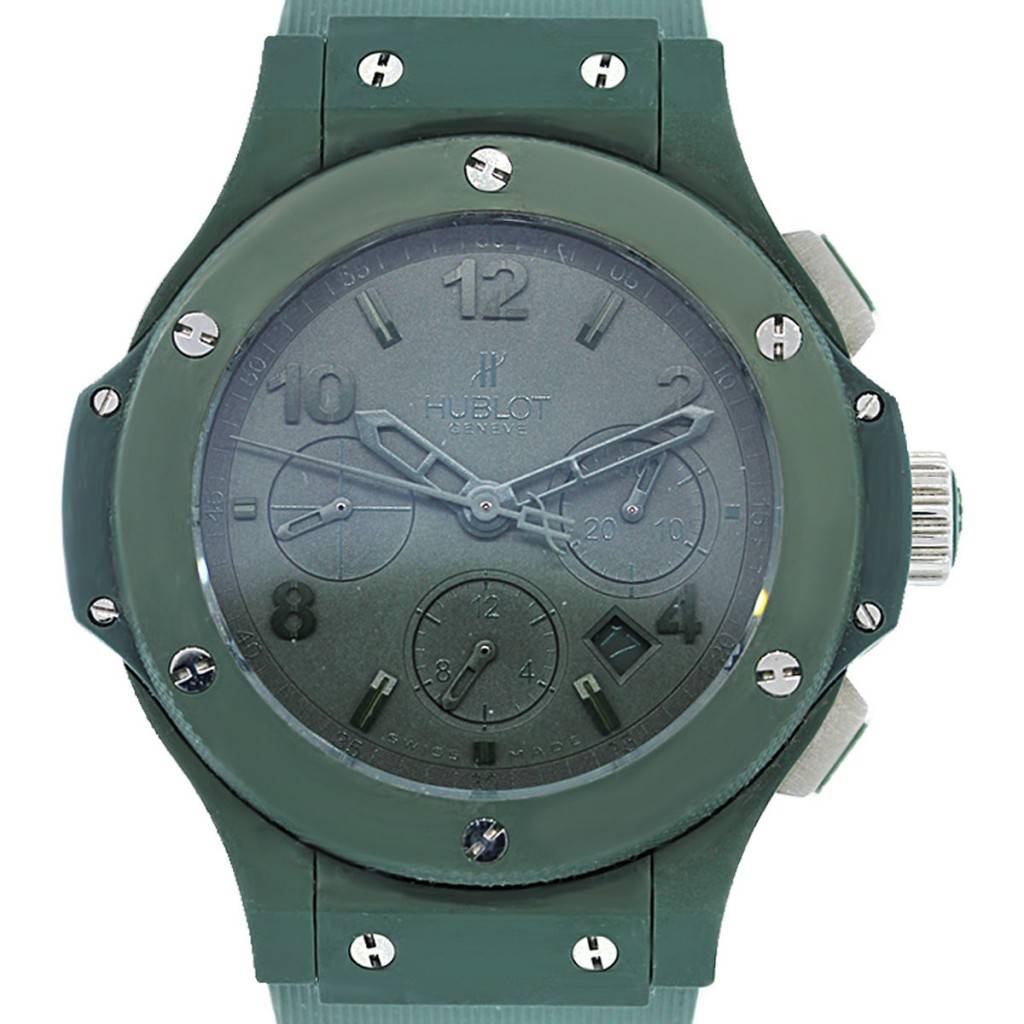 Next, is a Hublot limited edition Big Bang all green watch. This incredible timepiece is a monochromatic forest green including the band, bezel, casing and even the dial. Speaking of the dial this one features three green sub dials and a date window between 4 and 5 o'clock. Also, the time markers, hands and date window are all green. The casing is made of PVD and titanium while the bracelet is made of rubber. This unique limited edition watch is one of only 500 made in the whole world. It has 14 decorative titanium screws on the bezel and casing.
Also, there are decorative screws on the skeleton back. The skeleton back clearly showcases the automatic movements and the Hublot Geneve logo. This incredible Swiss made watch is a rare and unique version from a brand that has been the official watchmaker for Formula 1 and official timekeeper of the FIFA World Cup. It is sportive power and precision with inimitable design.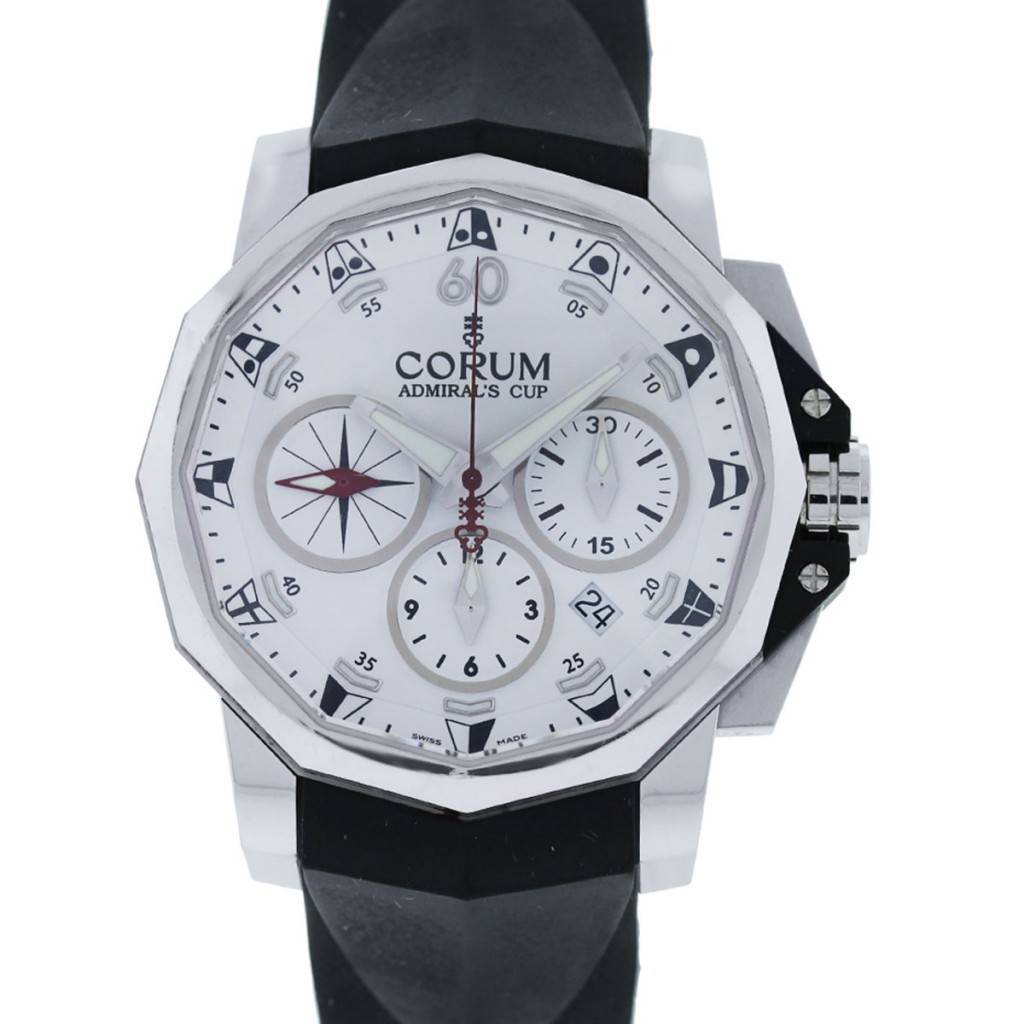 Another incredible limited edition watch is this Corum Admiral's cup chronograph watch. It has a white dial with three sub dials and a date window between the four and five o'clock hour markers. Also, it features a truly unique smooth Dodecagon (twelve side) bezel. At each of the twelve corners sits a black and white hour marker. The strap is black rubber and there is a black rubber detail by the pin. It also features two stainless steel screws by the pin. This lovely limited edition timepiece comes with the Corum box and papers as well. The sharp edges and geometric design of this watch are like no other.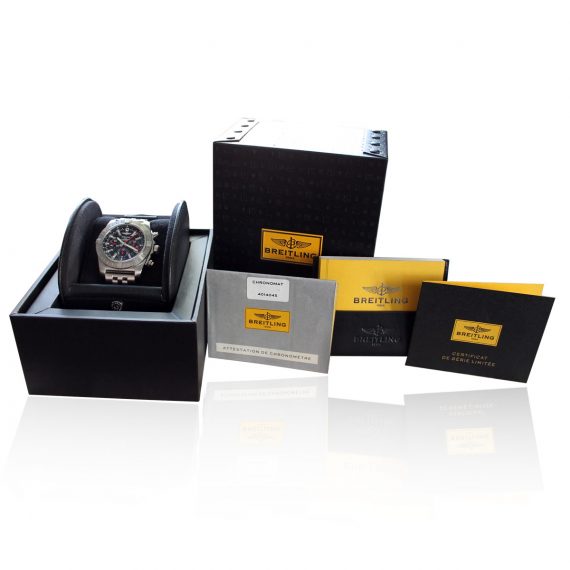 Finally, a timepiece from a brand that symbolizes precision and power in flight. Breitling watches for men are luxury accessories that have been around since 1884. The GMT collection is a power packed tool with features unlike any other. This one is a chronomat limited edition making it even more exclusive and rare. It has the traditional Breitling bi-directional rotating stainless steel bezel and matching stainless steel bracelet. The black dial contrasts strongly with the luminescent hour markers and hands. Further, the dial features three sub dials with red hands and a subsidiary second hand.
This incredible timepiece is an icon of a world renowned brand. For the gentleman who looks for more than the staple product from companies like Breitling. Those who expect more from design, functionality and quality. This is the luxury accessory of men the likes of David de Rothschild, Adam Driver and Brad Pitt. A Breitling watch has a strong masculine design and unparalleled performance.
Unique Timepieces
Sometimes a limited edition luxury watch for men is not exclusively unique enough. For some gentleman there is still a need for pieces that are jewels, that they have never seen before on the wrist of another. These are the personalized and hard to find watches. The ones crafted with intense care and molded for a true standing statement. We have found some of these pieces, and we have included them in our collection. Including the bright and flashy as much as the classic and traditional style. Here are two of these types of watches. The ones that elevate the time piece to a unique personally intriguing item.

First is a truly unique and singular piece of jewelry for men. This 18k yellow gold limited edition watch features an image of Nelson Mandela on the dial along with his famous phrase "Freedom in our time". The gold dial has a matching case, bezel, and bracelet. The yellow gold bracelet is an intricate chain link further enhancing this watch's jewelry status. It is a gorgeous timepiece with an icon of freedom and human rights right on the dial. This is the type of watch that is not only a true piece of jewelry it is also unique in the greatest way possible. For collectors collections and, or for the man who wants a reminder of what matters each time he looks to his wrist, it is undoubtedly a singular watch offering.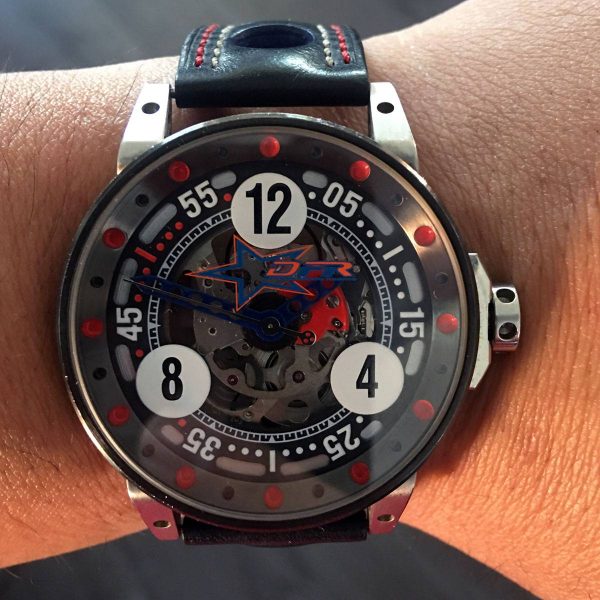 Next, is a De Francesco Racing sports watch on a luxury leather strap band. This incredible watch has several incredible features. First, the dial is a clear skeleton dial showing the machinations and movements of the watch. Further, the dial features the De Francesco Racing logo and three unique hour markers in white spheres at 12, eight and four. There are red time markers surrounding the dial. The case is stainless steel and the strap is a black and blue leather with red and white stitching closing with a stainless steel tang buckle. The case has accent drill holes giving this timepiece an overall industrial look. Finally,  Bernards Richards Manufacturers produced this timepiece.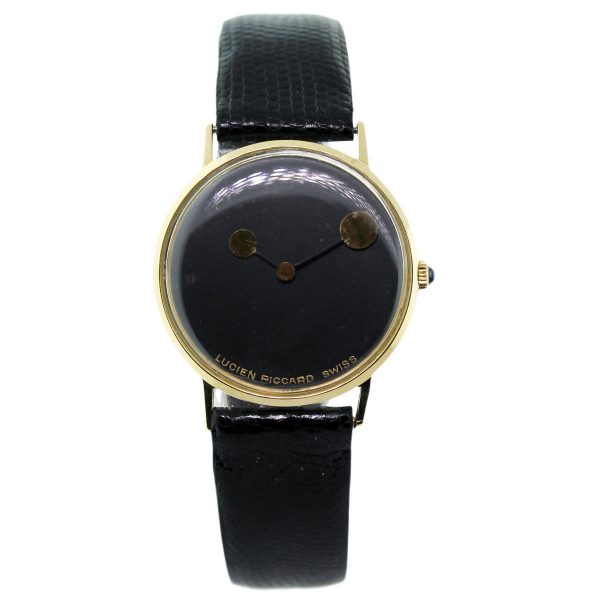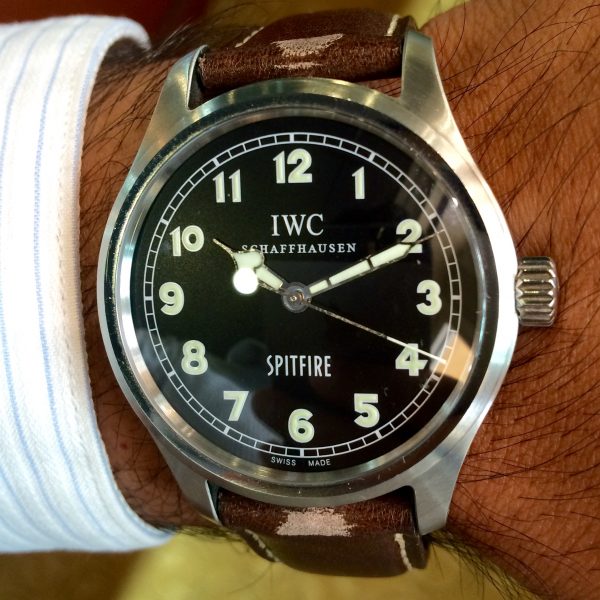 Finally a gorgeous IWC Mark XV designer Spitfire timepiece. This is a stainless steel limited edition watch with a black dial and luminescent numbers, hour and minute hands. The stylized numbers and rounded casing are very unique. They are reminiscent of the peak of racing days. Also, this watch comes with a classic brown leather strap and a buckle clasp. Refined and classic this watch is one of the few of its kind in the world. While it is not a vintage watch it absolutely has a vintage feel to it, while being equipped with all of the advanced features of a modern watch.
Final Thoughts
In the end, any luxury timepiece is a treasured possession. However, the unique limited edition luxury watches for men truly set themselves apart. They are limited in availability, incredibly intricate and uniquely different from all the other designs and collections. It is the kind of timepiece that is a true find. For those who enjoy a search and take pride in their finds limited edition watches are perfect. They embody all of the best of luxury accessories. Each one has an impeccable design. In almost every instance they are packed with the latest and greatest technological capabilities. Overall they are the apex of luxury watches. A meeting of power, design, and rarity. There is nothing like discovering a timepiece that is truly like you, unique to all others.
We work tirelessly to discover and acquire these types of watches. The types of watches that are singularly designed, incredibly crafted and of course always luxurious. Our aim is to include all types of styles for our eclectic customers whose tastes and preferences we aim to serve. For the past three decades, our family has been serving the South Florida community. We are committed to providing superior service and excellent quality offerings. Our curated collection is inclusive of designs, brands, and styles for every individual. We hope to continue serving all of our community for the next three decades as well. Bringing you the latest, the greatest and the most unique in luxury items including timepieces, jewelry, and diamonds. We welcome you to visit any one of our conveniently located and impressively manicured stores. Also, keep an eye out for the series of events we host throughout the year.