Today we are featuring the Hublot Spirit of Big Bang Moonphase King Gold White Pavé 42mm watch. This is a hands-on Hublot Spirit of Big Bang Moonphase review. In our opinion, this is one of the most innovative watches to come out in recent years, and we are big fans.
The Moonphase King Gold White Pavé watch has an intriguing, icy design to go along with a remarkably sophisticated movement. The brand's exclusive "King" gold alloy set with pave diamonds complements the rest of the tonneau-shaped case, which is white ceramic and the white rubber strap. Not only that, but the combination goes incredibly well with the skeletonized dial which features a combination of the same colors. The watch is visually stunning and as a timepiece, it is technically refined. Big thanks to Hublot for creating another masterpiece.
In this Hublot Spirit of Big Bang Moonphase Review, we are going to discuss in detail, and give you our personal hands-on experience of, the watch in every aspect of the following:
The Case
The Movement (and Complications)
The Skeletonized Dial
The Strap
and…how it feels and looks on the wrist.
Before we get started on reviewing the Moonphase White Pave watch, let us give you some background on the collection for which it was bred, the Spirit of Big Bang.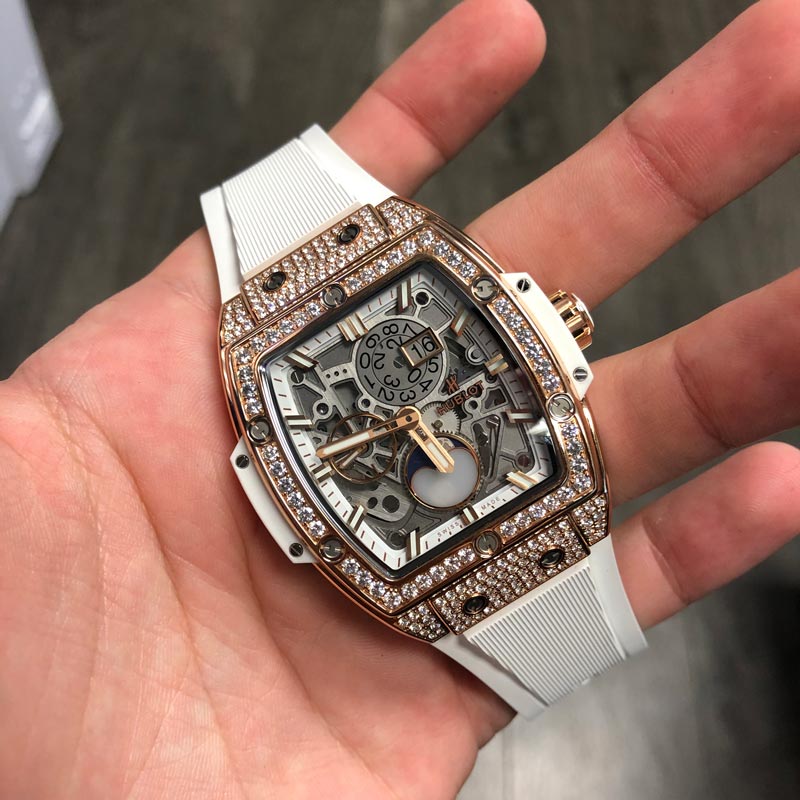 Spirit of Big Bang
If you are familiar with Hublot, then you know all about the Big Bang. It's their big, octagonal sports watch that people think of when they hear the name "Hublot". Hublot Big Bang watches is the brands most popular and iconic model.
That being said, Hublot is an innovative company that won't go down as being mostly known for only model of watches, and they've clearly demonstrated this with their unique and utterly appealing Spirit of Big Bang collection.
Spirit of Big Bang isn't a new collection, as it was first introduced back in 2014, and 5 years in the modern day is pretty much "old news"…but not when it comes to collectible watches. People are still talking about the Spirit of Big Bang and it's more coveted than ever. That's why we are putting out this review, because people keep asking about it.
So, moving on. With the evolution of the Big Bang came the Spirit of Big Bang. A collection of watches that possesses the wonderful essence of the Big Bang, but in a completely brand new form.
One of the biggest change was the octagonal shape to a tonneau shape. The tonneau shape cases was a style that Hublot had previously only saved for its special-edition Masterpiece models.
According to Hublot's US regional director Vincent Vuillaume, the Spirit of Big Bang collection is now the brand's fourth pillar in their portfolio.
4 Pillars of the Hublot Collections:
Big Bang
King Power
Classic Fusion
Spirit of Big Bang
Within Spirit of Big Bang, their our different case sizes. The collection's newest models are the 42mm Moonphase watches.
The Spirit of Big Bang Moonphase collection has four case variations: Moonphase King Gold White Pavé, Moonphase Titanium, Moonphase King Gold, and Moonphase Titanium White Diamonds.
Striking Similarity To Richard Mille
Back in 2011, CEO of Hublot Jean-Claude Biver was at an event and he made a statement that basically said he had accepted a request to create a watch that was inspired by Richard Mille.
Both Richard Mille and Hublot have mutual respect for each other, but their products come at two completely different price points. Although both are expensive, Richard Mille is much more so. In any case, the inspiration was well accepted by Richard Mille and there was no controversy over the matter. The accepted request resulted in the creation of the Hublot Masterpiece, which went on to be the predecessor of the Hublot Spirit of Big Bang Moonphase watch.
What we love about this is that people who love Richard Mille designs can now get their hands on a strikingly similar design for a much less expensive price. It's not cheap by any means, but it is still a fraction of the price of a Richard Mille. Around 30% of the price to be more exact, depending on which Spirit of Big Bang you choose to buy. The quality and design of the Hublot Spirit of Big Bang is essentially just as good as a Richard Mille, so for those who are looking for a more economical choice, this is the perfect option.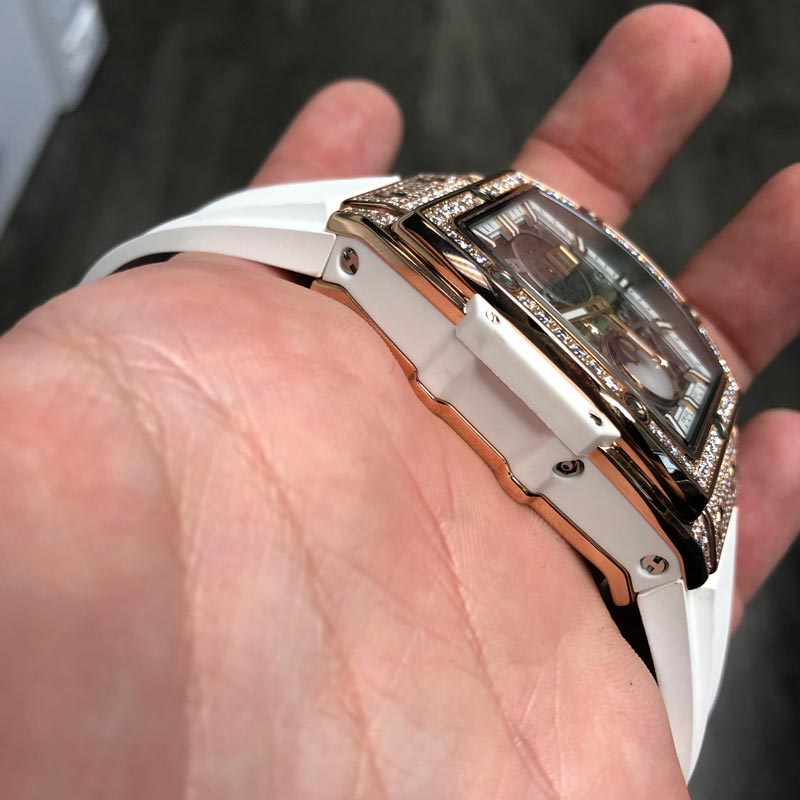 Hublot Spirit of Big Bang Moonphase King Gold White Pavé REVIEW
Now, let's discuss one of our favorite variations, the King Gold White Pavé version…
The King Gold White Pavé 42mm Tonneau-shaped CASE
When the original Hublot Spirit of Big Bang collection was released, they only had 45mm cases. 45mm is a BIG watch, especially when it is tonneau-shaped. The 45mm watches are too big for most wrists.
This particular series, Hublot Spirit of Big Bang MOONPHASE, comes in a more wearable 42mm case size.
The King Gold White Pavé watch featured here has a polished 18K King Gold set with 156 diamonds totally .89 carats. The case is also water resistant down to 100 meters.
King gold is Hublot's proprietary gold alloy. It is essentially red gold. The allow contains a bit of platinum to ensure the color remains true throughout its lifetime.
The 42mm case is measured as the width, but the length is in fact 51mm. This is a large case so it fits substantially on the wrist. Hublot is one of the best when it comes to casework, the design is impeccable and goes perfect with the rest of the watch.
We personally love the Tonneau case. We have a few Richard Mille watches and we can honestly say this is up to par by RM standards. A bit of a fun fact, the Tonneau shape is named after barrels that it resembles.
If you are looking for an uncommon but highly intriguing look, the tonneau shape is the way to go. They offer a lot more wrist presence than the common watch shape of round.
We do notice that the Spirit of Big Bang is not entirely its own. If you look at the design, you can clearly see the presence of Big Bang with the H shaped screws, tightly-pressed case construction that uses state of the art materials and cut away components.
Nevertheless, when you combine this classic look that works so well for Big Bang with the Spirit of Big Bang's elongated tonneau shape, it creates a brand new watch. The curvy lines offer a softer more sophisticated look as well in our opinion.
The HUB1770 MOVEMENT
You would think this watch is probably powered with one of Hublot's Unico movements, however, it isn't. Spirit of Big Bang Moonphase watches does not utilize in-house movements made by Hublot. Rather, they use a base Swiss ETA that's been modified for visual purposes and then given an added module for its complications and time.
The movement can be viewed through the sapphire crystal exhibition windows which is at the rear of the case. Hublot calls this movement their HUB1770 automatic. The movement functions at 4Hz and has a hefty power reserve of 50 hours, so you can take it off for the weekend without dealing with setting the time again on Monday.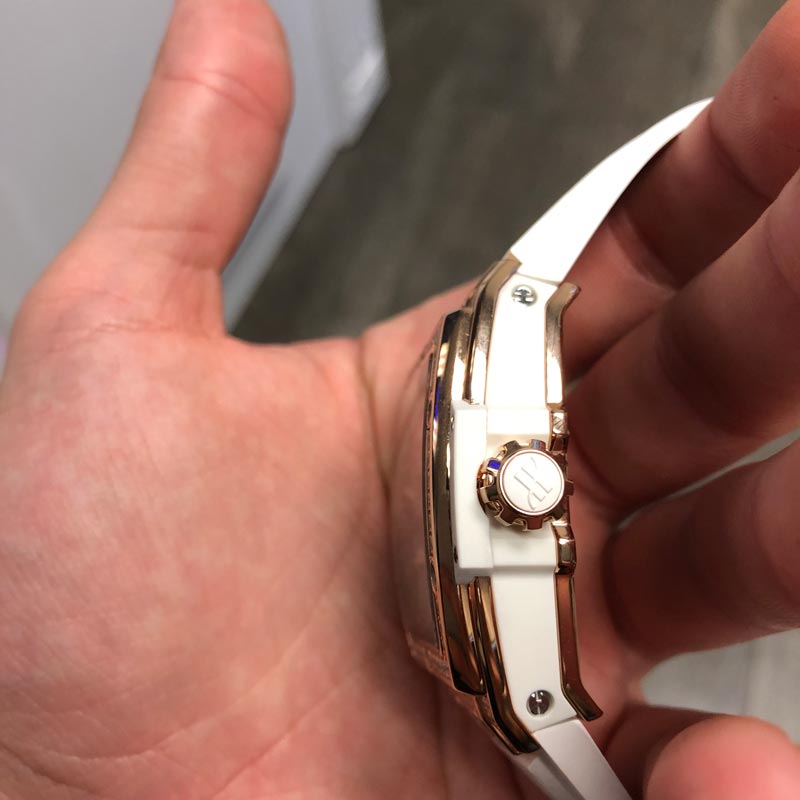 Complications
There are three complications on the Spirit of Big Bang Moonphase. There's the time with a subsidiary second dial and a subsidiary second hand. Then there's a moonphase indicator, as the name implies, that is exhibited in an aperture on the skeletonized dial.
You might think, given the name, that this is the only Hublot watch with a moonphase indicator, but you would be wrong. So, they must have decided to base a whole collection around it for a reason – there's a demand. Strange as the demand may be, it looks really cool…that's for sure. Plus, it fits the whole "Big Bang" space kind of theme.
Why is the moonphase important?
Beyond knowing the current phase of the moon as you'd see it in the sky at night, this is just a way for Hublot to flex their horological muscles. Most complications are as such, so it's definitely not a showy off thing…at least not by standards of the watch industry. It's just cool. And who would deny that's not a stunning aesthetic.
The Skeletonized Sapphire DIAL
The dial is sapphire, which is essentially a skeletonized look at the module over the movement. Beyond the sapphire, it's well organized, and it has a combination of truly functional elements and eye-catching decorative features, all of which complement the all-around theme. The Spirit of Big Bang Moonphase's skeletonized dial is done just as well as other Hublot timepieces, if not better.
The dial lends itself to better legibility by using brushed Big Bang-esque white filled King gold hands. The contrast really works. The King gold and white look fantastic together. Almost as if this watch was born, not made.
Just as the world around us, which was created by The Big Bang, the dial is asymmetrical in design. That being said, it's very well balanced.
The moonphase indicator exhibition window is located over the 6 o'clock, and even the moonphase is skeletonized. The other two complications are set at the 9 and between the 12 and 1. They do a good job at making the "day" more legible by making the numbers only upright when it's in the date window. Plus it is a very nice design touch as a whole.
The outer dial has the scale and indices for hours and minute, which use the same white on King gold aesthetic.
Overall, even with this industrial look, the indices are quite visible at night thanks to the use of a liberal amount of lume on the wide gold plated hands.
There are a lot of layers to this look, just like Hublot as a company. It's becoming more and more clear as time goes on. They are one of the greats after all.
The Spirit of Big Bang Strap
The King Gold White Pavé model comes with a thick white rubber strap with structured lines. When looking at it, the texture of the strap is a nice touch for such a detailed face and diamond pave case.
Besides the looks, the strap has perfect functionality as well. The thickness balances the large Hublot case very well, so you don't get a top heavy feel. Plus the tapering of the strap blends beautifully with the ergonomics of the case, which makes it not only cohesive in appearance but comfortable to wear too.
Hublot Spirit of Big Bang King Gold White Pavé ON THE WRIST
For us, the best thing about the Hublot Spirit of Big Bang Moonphase King Gold White Pavé watch is the wearing experience. The 42mm wide case sits high and wide. For as substantial as it feels on the wrist, it is really comfortable to wear and after a day of wearing it without taking it off, I found no issues at all in regards to comfort…or anything else for that matter.
The iced out case, skeletonized dial and white on gold contrast make for visually distinctive wear. You'll be sure to catch eyes when wearing this one. It's like driving around in a supercar…it costs almost as much as one too.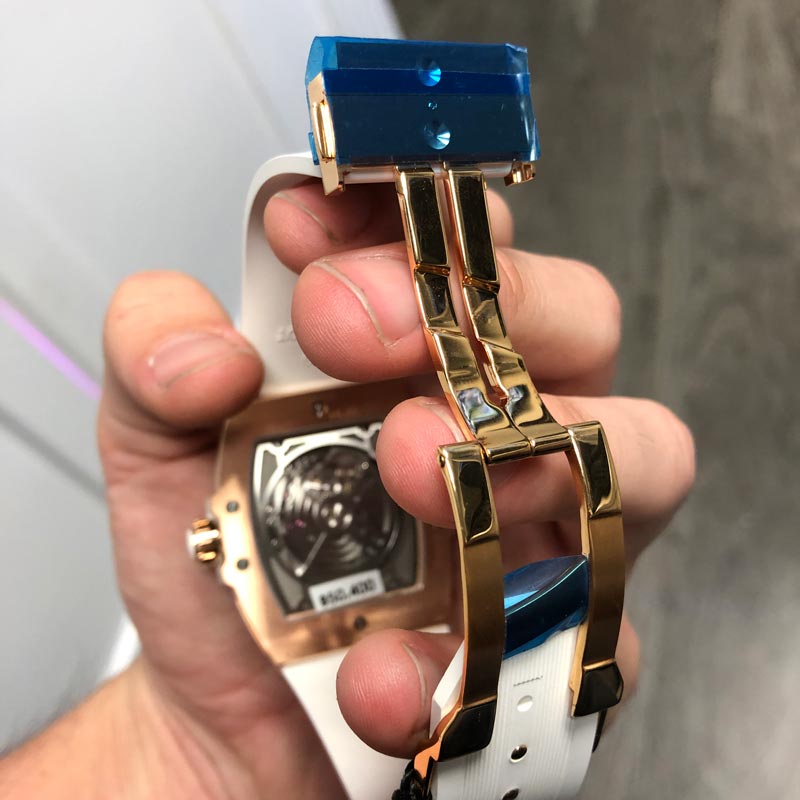 Hublot Spirit of Big Bang King Gold White Pavé PRICE
This particular model is the most expensive as it uses both diamonds and their proprietary King Gold. It's suggested retail price is $50,400.
If you are interested in purchasing this watch, please contact us for special pricing. Learn more about us below.
Raymond Lee Jewelers in Boca Raton
Raymond Lee Jewelers is Boca Raton's best sales and service centers for watches, diamonds, and high-end jewelry. Our business is family owned and operated. We have over 30 years of experience selling fine certified luxury watches and in that time we have built an unparalleled reputation for fair, quality dealings in South Florida. Our collection includes some of the most iconic watches from brands like Rolex, Audemars Piguet, Patek Philippe, Hublot and more.
Our goal is to meet the needs of our customers at our Boca Raton retail store and online, and to provide our community with the best possible experience. We combine value, quality, and cost with the remarkable ability to meet and understand the needs of the people we serve.
If you live in Boca Raton, please feel free to drop by our showroom anytime! You can see our Hublot Spirit of Big Bang Moonphase King Gold White Pavé watch and many other classic watches in person anytime we are open.
Diamond By Raymond Lee's Showroom in Boca Raton, Florida:
2801 N Federal Hwy, Boca Raton, FL 33431
Our hours of operation are:
Monday-Friday – 11 am to 7 pm
Saturday – 10 am to 5 pm
Sunday – 12 pm to 5 pm
Feel free to contact us if you have any questions.
What are your thoughts on the Hublot Spirit of Big Bang Moonphase King Gold White Pavé? What is your favorite Hublot watch? We would love to hear your thoughts in the comment section below.