Introducing the Hublot Big Bang Ferrari Beverly Hills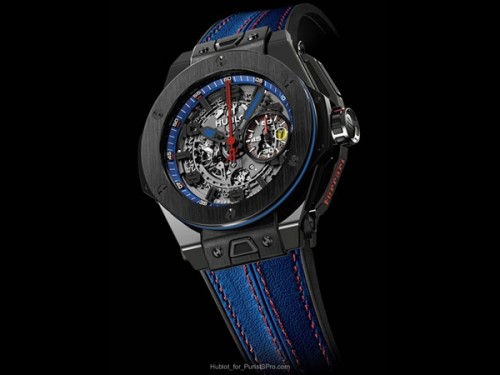 Available exclusively at the Hublot Boutique Beverly Hills, CA, the Big Bang Ferrari watch was created specifically for select Ferrari owners by Swiss watchmaker Hublot. Both brands produce exclusive "machines" and embody the same values. Hublot, like Ferrari, prides itself on customer service, contemporary design, and exploring new materials and technology. Moreover, those wearing Hublot watches drive some of the fastest, sportiest, and technologically-driven cars, which makes this match perfect.
The Big Bang Ferrari watches take many of their appeal from Ferrari vehicles themselves. The minute counter resembles the Ferrari dashboard. The column wheel design is inspired by the alloy wheel rims of the Ferrari. Further, the lower push button has the Ferrari logo engraved on it. Even the face of the watch at nine bears Ferrari's signature horse.
To further appeal to Ferrari drivers, the powerful engine of the famous racing car is imitated in the watch's mechanisms. Coupled with references and emblems Ferrari drivers are accustomed to, the Hublot series is poised to do extremely well with this particular group.
Since Hublot's exclusive location is in Beverly Hills, a concentrated area of Ferrari drivers, watches like the Big Bang Ferrari Titanium 45mm have sold and will continue to sell extremely well. Additionally, loyal Ferrari drivers and Hublot watch wearers are expected to embrace this new line of watches at this particular location.
This also isn't the first time Hublot has targeted certain groups as the watchmaker is planning on honoring the victors of the 2013 NBA Finals with their own line of watches.
The Hublot Big Bang Ferrari watches are spectacular in appearance and even more brilliant in the way they function. These are not temporary accessories – they are lifetime displays of pure genius.