That being said, we love nothing more than comparing and contrasting our designer engagement rings. Isolating what makes one spectacular and the other jaw-dropping. Checking out the details that make them so different from one another, and seeing if any patterns or trends emerge from looking at a designer's collection as a whole.
So today, we want to highlight some of the differences between two of the designer engagement ring brands at Diamonds by Raymond Lee. We don't prefer one to the other – it's an impossible choice – but we do love both, and we do know what makes them so unique.
We've said before – and we'll say again – that we don't play favorites. We honestly couldn't if we tried. We can't walk by our own showcases without falling in love with several rings, so to choose just one…or even just one designer…defies the laws of logic. So between Henri Daussi and A. Jaffe? We can't decide who's best.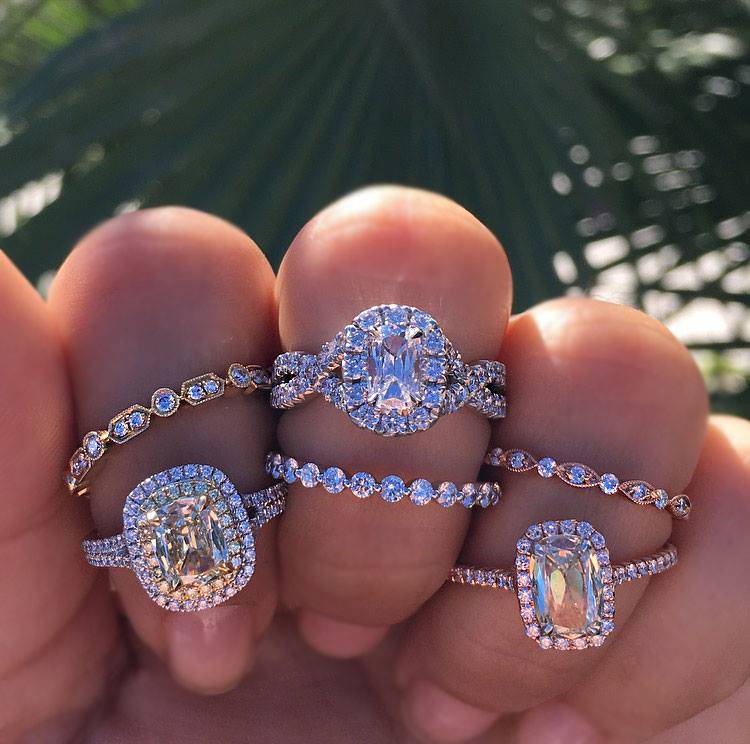 Luckily we don't have to! In a continuation of last week's face-off between Simon G. and Gabriel, we're contrasting our two beautiful designers Henri Daussi and A. Jaffe today! Let's explore what makes them different, and the gorgeous qualities each line of engagement rings has in common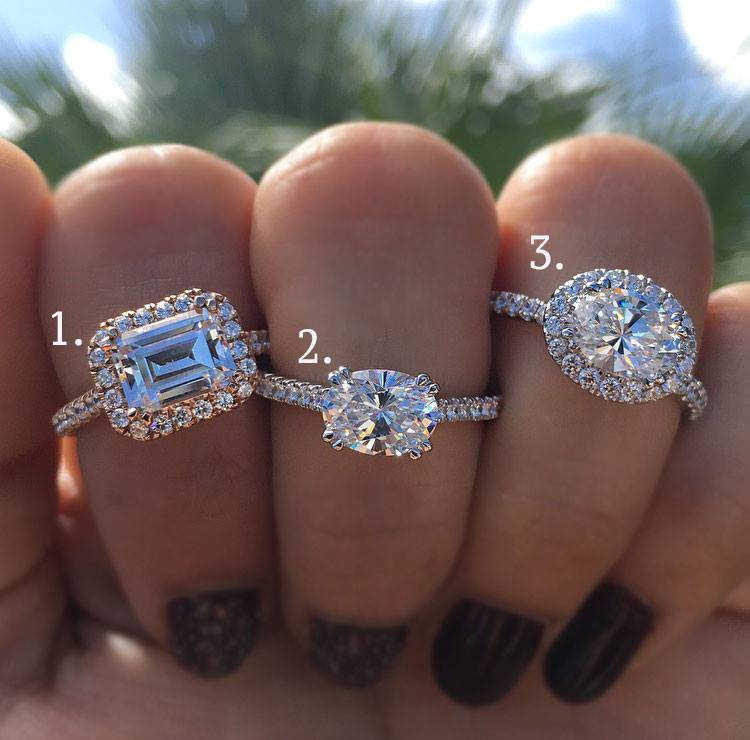 Are designed and handcrafted in New York City.
Their identity as NYC-born creations is deeply embedded in their design.
Each collection is inspired, in part, by New York. Whether it's the Deco-details of the Empire State Building or the sleek timelessness of NY style.
The settings make an impression with their stately power – not an in-your-face impact, but just a quite confidence and self assurance that "Yep. I'm downright gorgeous."
The modern designs reflect the brand's history. A uniquely American story of a 26-year old Abraham Jaffe who launched his jewelry company and along with it the most famous diamond district in the world.
The signature squared shank on every A. Jaffe ring must be smooth and perfectly symmetrical, with its widened base and soft corners preventing the ring from moving.
Allergic to nickel? These rings are guaranteed to be nickel free. In fact, the alloy is superior in other ways too. It must be created with 40% more palladium than the industry standard to ensure it's not only hypoallergenic, but that it will remain bright white longer than other metals that need rhodium more frequently.
Every setting is burnished, for metal that's less porous, denser, and heavier – and, of course, less susceptible to chemical wear and tear.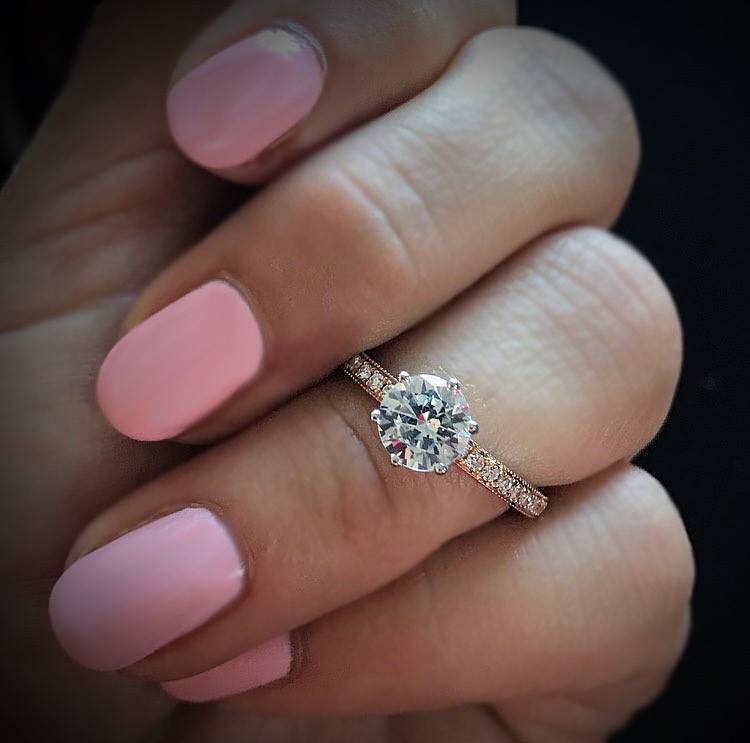 On the other hand, Henri Daussi engagement rings…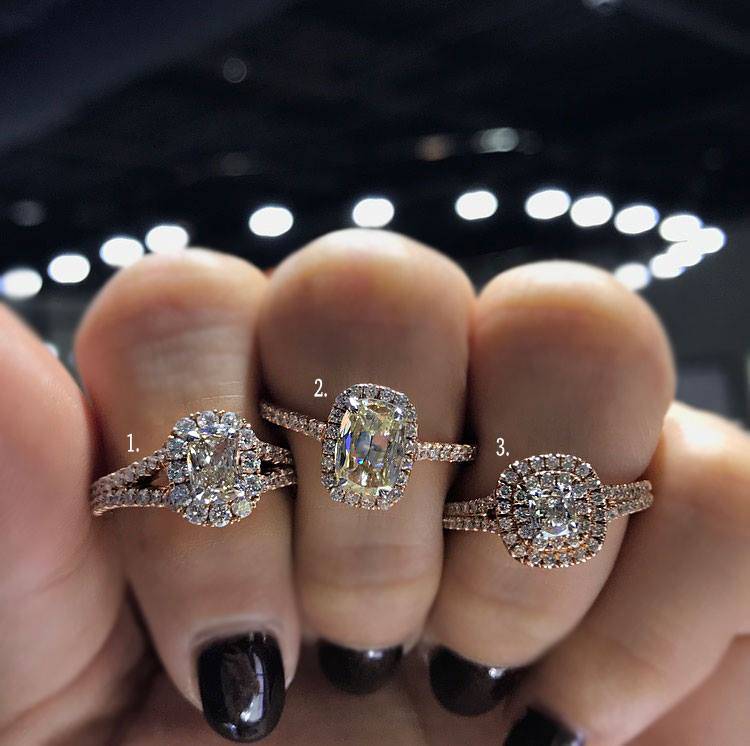 Hail from a storied family line of skilled diamond cutters. Henri Daussi Loots founded what would become "Henri Daussi" over 60 years ago in Antwerp.
It was originally a diamond cutting business, so it's not surprising that Henri Daussi engagement rings are all about the center stone. And one shape in particular.
No one does cushion cut engagement rings like Henri Daussi. They're famous for their cushion cut skills and their own proprietary "Daussi Cushion."
They are cut to appear between 10% and 30% larger than the typical cushion cut, thanks to elongated portions, proprietary facet patterns, and a larger table.
Daussi rings have the most beautiful, delicate details, and every setting has a texture all its own.
Especially the sculpted and unique diamond wedding bands, they all have this really indescribable depth to them. They add that same layered look to any ring stack.
Daussi is our go-to for diamonds with unusual proportions. We love the way they set a very square or very elongated cushion cut diamond, for example.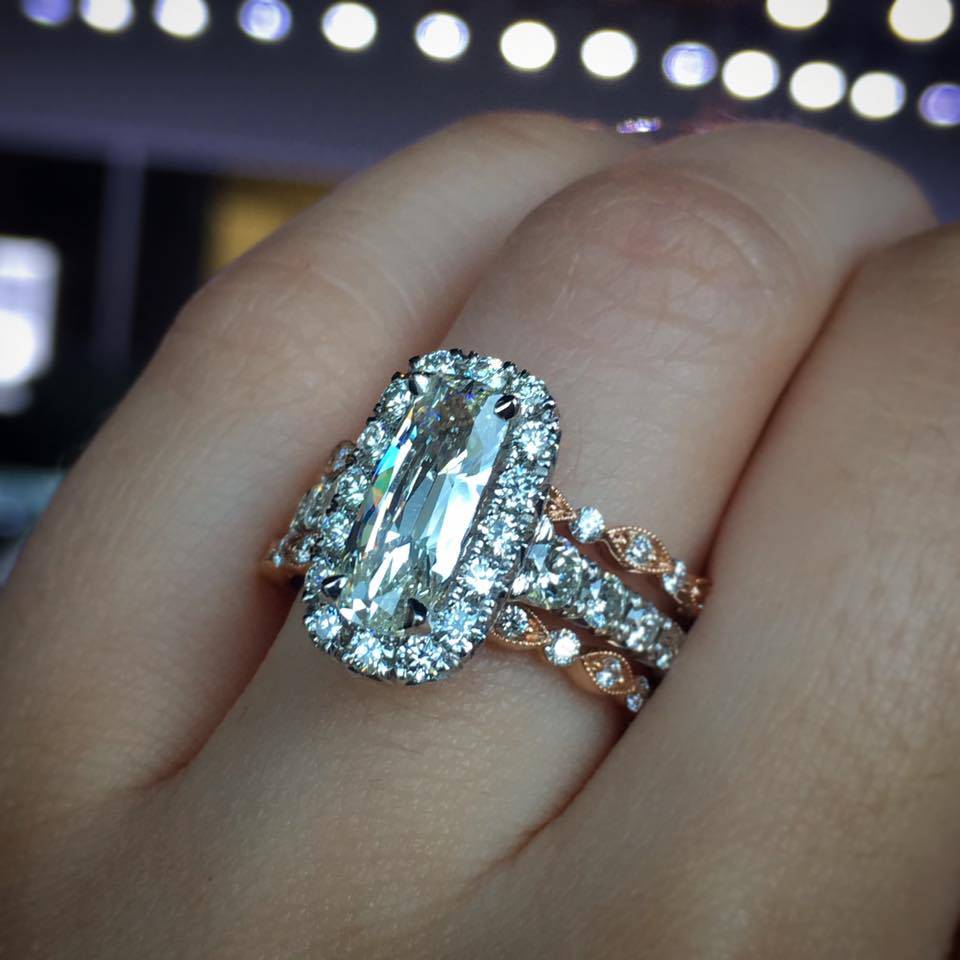 Both designers create rings that work with virtually every budget. A. Jaffe's commitment to high quality white gold and unfussy (but exceptionally well made) rings make them affordable. Daussi's creative setting style make diamonds under one carat look huge. We love both of these brands for our couples-on-a-budget, and we're happy to work with you to create the right ring for your tastes and your budget.