Henri Daussi engagement rings are among our favorites. Seriously, who could say no to their striking design, expert craftsmanship and, of course, those amazing DIAMONDS? How do we love Henri Daussi? Let us count the ways:
Every ring is created specifically for the center diamond.
Whether that's your diamond or one you purchase from Henri (or us) the ring will be a perfect fit.
Want a Daussi diamond? You're getting something even more special. Their trademark Daussi Cushion cut makes cushion cut diamonds appear way bigger thanks to a 30% larger table. And their expertise doesn't stop there. The company was founded as a diamond cutter first, so their round brilliant Daussi diamonds are just as spectacular.
But if you want a traditional cushion cut they're just fine with that too.
You won't see any other rings like these. Even in popular halo styles, they still stand out in a crowd.
Henri has history on their side. Henri Daussi Loots founded the company in Antwerp over 60 years ago and stacked the deck with the best diamond cutters he could find: his family members.
They're still all about family. The Loots still own and operate Henri Daussi.
Every diamond is hand-set to ensure heirloom quality.
Those diamonds are all guaranteed to be conflict-free. They're sourced directly from the mine and cut on-site at HD HQ.
Let's get fancy – Henri Daussi sets some of our FAVORITE fancy colored diamonds. And you can bet we're ready to show some of them off today.
We had to stop ourselves at just a top ten so we still have time to show off our favorite Henri Daussi engagement rings. Ready? Let's go.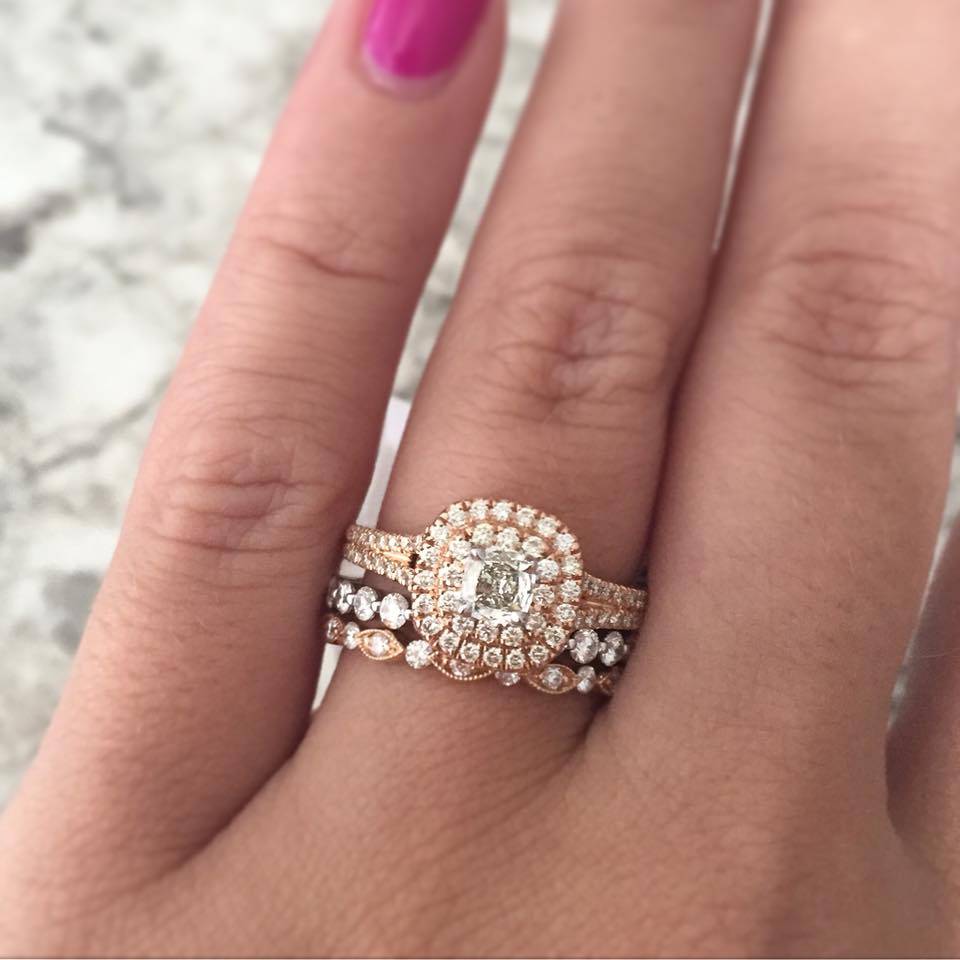 This rose gold and white diamond double halo engagement ring is a stunning example of Henri Daussi's settings that maximize any size diamond. This ring issize-largeincluding the center stone! We paired it with two of their gorgeous and unique wedding rings – a string of diamonds and an antique inspired rose gold ring to match the engagement ring.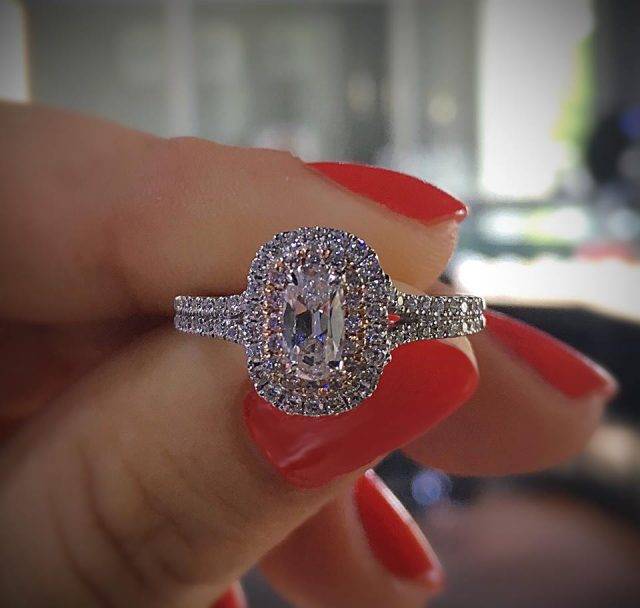 Here we have another double halo, this time with two tone diamonds in white gold. The split shank is gently tapered and the inner diamonds are beautiful fancy pink round brilliants. This ring is under $5000!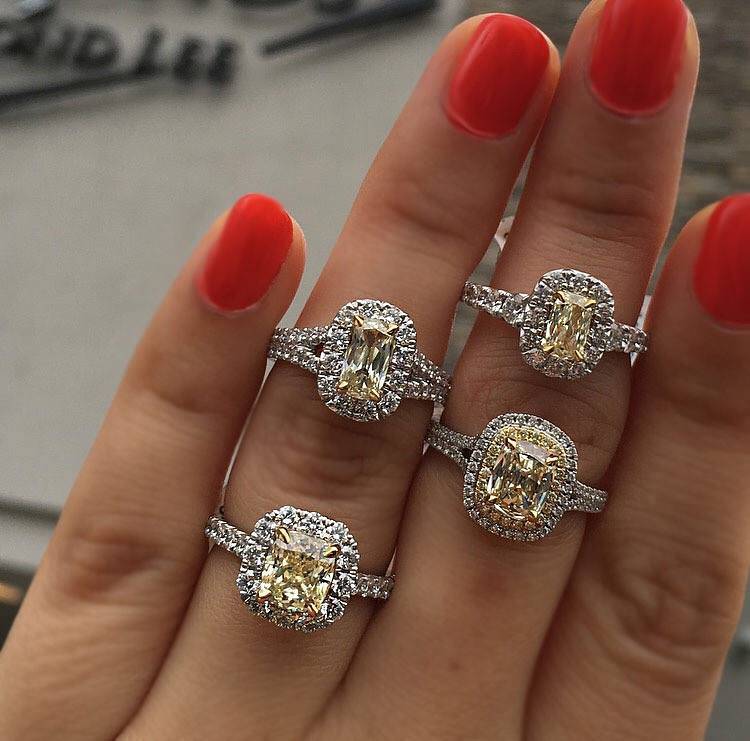 This shot perfectly encapsulates our obsession with fancy yellow engagement rings by Henri Daussi. How gorgeous are these rings? Each one perfectly designed to show off those stunning center diamonds.
Another group shot – this time we're showing off how great Henri makes diamonds large and small alike. The engagement ring on the left features a 3.01 carat G, VS2 cushion cut (enormous). The ring on the right features a half carat diamond in the center, but thanks to a large double halo, has the exact same footprint on your ring finger! The bands are fun too, we love the sculpted diamond ring on the left (it's the white gold version of the ring in the first picture!) and the multi-stone ring on the right.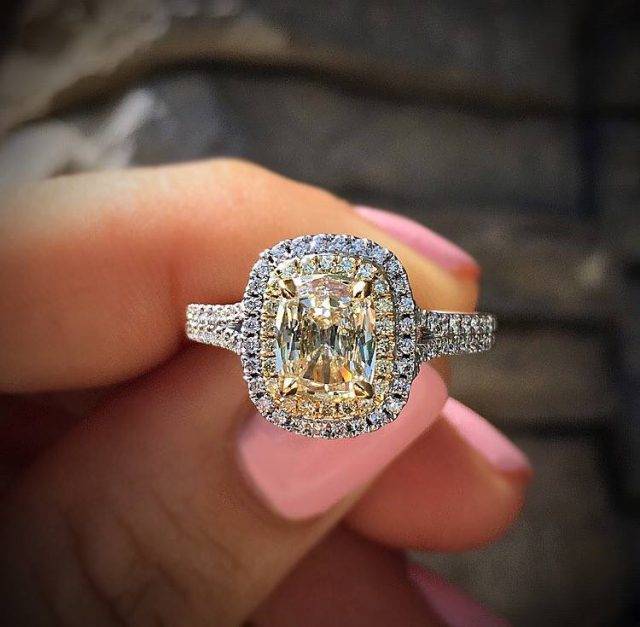 This diamond is ready for its close up, with a halo of fancy yellows that enhance its own color. The main diamond is a 0.91ct cushion cut diamond, L color, SI1 clarity. Thanks to .14ctw of fancy yellow diamonds in the inner halo, it passes for light fancy yellow at a fraction of the cost.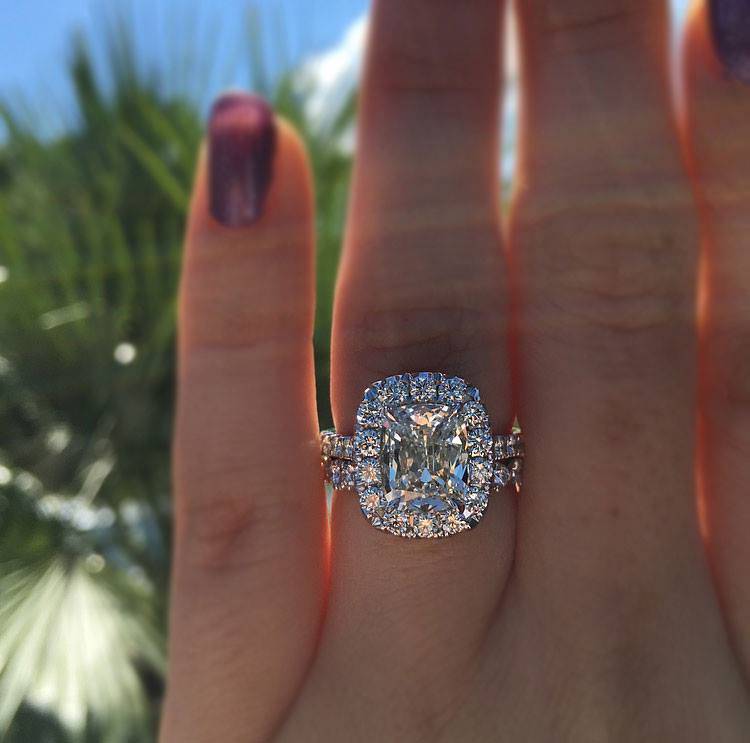 This 2.06ct cushion cut is stunning in a simple elongated halo made of white gold. And an additional 1.13ctw of round brilliant diamonds.