You don't have to trade in your entire wedding set when you get the itch to upgrade! Whether you love your current setting or the stone has sentimental value (for obvious reasons) upgrading your engagement ring and wedding band doesn't necessitate saying goodbye to the rock you love. Let's say you adore your hard-to-find oval shaped yellow diamond with perfect specs. Or you couldn't imagine parting with the antique rose cut diamond that once belonged to your husband's great grandmother. Or your budget definitely is telling you you have a little wiggle room, but not the bippity-boppity-boo-turn-my-1-carat-into-a-5.02 kind. The only problem really, is your outdated yellow gold setting. Of course you can purchase a beautiful new semi-mount – it's one of our favorite ways to update an engagement ring in a way that's good for the planet and great for your wallet. But an even more budget friendly option is sticking with the setting you already have, and dipping it!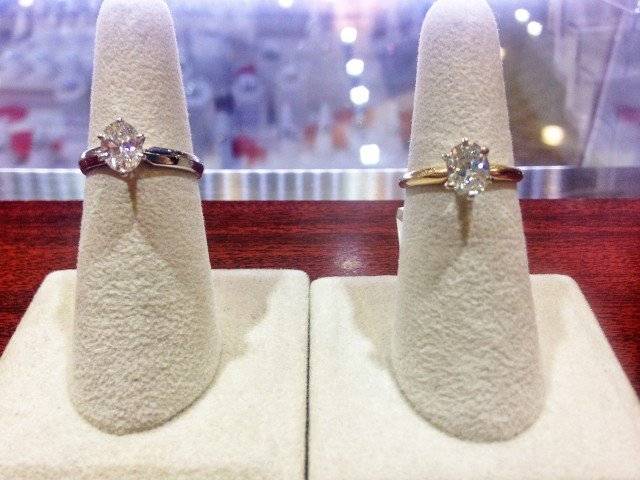 "Dipping" your yellow gold jewelry, or rhodium plating it, is a simple and inexpensive process that will completely transform your engagement ring. When we rhodium plate a yellow gold piece, we first polish it, then we electroplate it (or "dip it") with liquid rhodium. Rhodium is a member of the platinum group on the periodic table, but is even rarer and much more expensive – it is its own metal. Its unique properties make it bright white, extremely shiny, and resistant to oxidization even when heated. Because it's so durable, pieces coated with it (even silver) are very resistant to corrosion.
While rhodium is more expensive than platinum, the process of electroplating your piece with rhodium in a layer only 1 micron thick is realtively inexpensive. We offer rhodium plating on rings for anywhere between $75 for thin bands to $150 for chunky, wide shanks (mo' metal, mo' money) Compare this to the cost of a brand new mounting and you have a ring that looks brand spanking new for a fraction! Best of all, the process is fast (we've been known to do it while you wait as long as our bench jewelers aren't terribly busy). You won't be without your treasured rings for as long as it would take to re-mount your diamond into a new setting.
Related articles