Something classic and stunning, such as a flawless emerald-cut diamond ring, is a great choice for an engagement ring. While it can be difficult to choose an engagement ring, there are some ways that we can make it easier and we are here to help. This is a guide that we feel will help break down some of the things you will really need to keep in mind when making this important selection. If everything goes well, you will only have to do this one time. So if possible, it should be as painless, if not enjoyable. Our wedding is the happiest time of our lives and finding the right ring is all part of the process.
But it is a daunting decision, especially if you are looking for a ring without the person who will be wearing it with you. We have created this guide to help break down some of the things you will want to consider when choosing a ring. Then, we discuss why we feel that classic styles are the best choice for engagement rings. Finally, we will take a look at one specific kind of engagement ring, the cut of the stones, and the different features.
The Experts Are Here to Help
At Raymond Lee Jewelers, we know that our clients want more than just run-of-the-mill jewelry. Our clients want the best selection of the finest and rarest pieces that are available. This is our passion as well and we take this mission seriously. We have a staff of highly experienced buyers that have a lot of connections. This allows us to seek out the rarest and highest-quality pieces from around the world. We then bring those pieces into our stores and provide them to you. The emerald-cut diamond engagement ring we feature here is a great example of the level of quality we expect in any piece that we offer.
Additionally, we also offer custom jewelry design services. Say you have something very specific in mind but we don't have anything that fits the bill. You can work closely with our skilled jewelers who use the latest in computer technology to turn your dreams into a reality. We work with our clients every step of the way to ensure that what we make is exactly what they are looking for. Finally, we also offer comprehensive repair services. Whether you need something basic, like resizing a ring, or you have more extensive repair needs, we are here to help. 
How to Choose the Right Engagement Ring
Choosing the perfect engagement ring doesn't have to be ridiculously hard. We would like it to be enjoyable for you, but at the very least, it shouldn't be scary. Over the years, we have helped people from all walks of life find the perfect ring for their big day. This allows us to know a lot of the things that you might not. One of the first things you will want to do is to set a budget. This seems basic, but it is really quite important. The last thing you want to do is get your heart set on something, only to find that it is out of your price range. Next, think about the types of jewelry the person already wears. Do they have a certain type of gold they prefer? What about a particular cut of gemstone? These answers will help guide your choice.
The case for classics is one that we will make below. Next, you will need to consider the person's lifestyle. Is your bride-to-be active? Does she use her hands a lot in her daily activities? If so, you will want to keep this in mind when choosing a ring for her. You don't want to pick something overly large or ornate that will get in the way of her daily activities. If she is active, something fairly simple is the best way to go. The emerald-cut diamond ring with an eternity band that we feature here is a good example of something that is elegant and stylish, but that won't get in the way of most activities.
The Case for the Classics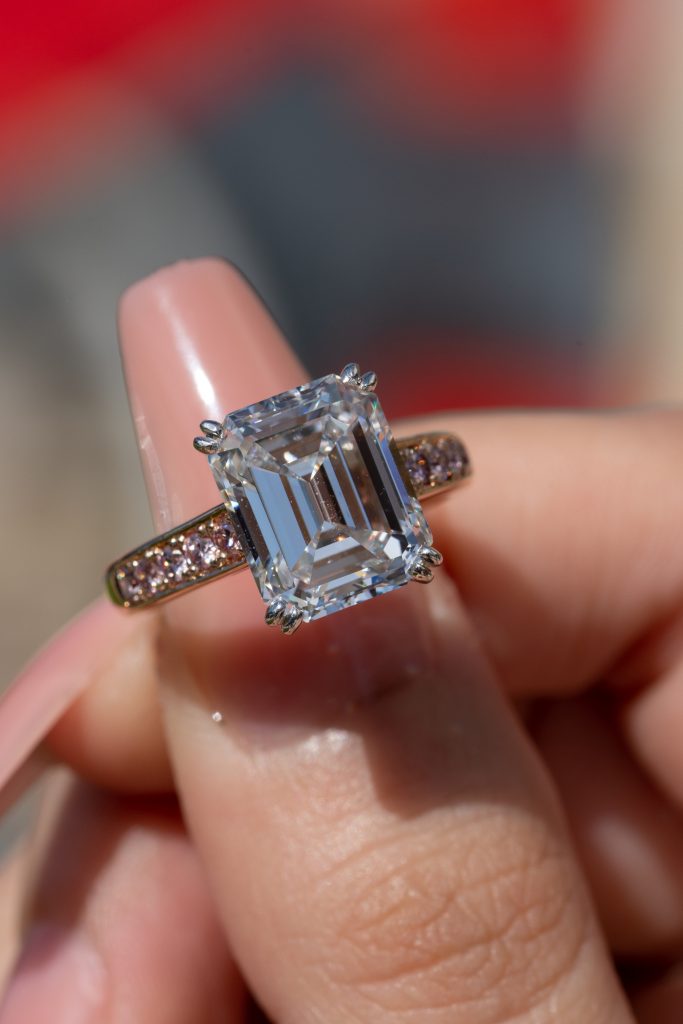 It can be really tempting to choose something huge, ornate, and even trendy when you are looking at engagement rings. This is especially true if the person you are shopping for is a style maven. However, in the case of engagement rings, we feel that this is a big mistake. Think about it – trends come and go. Trends can actually come and go really quickly. Engagement rings are meant to be worn every day for the rest of the person's life. The last thing you want is for their ring to fall out of fashion in a short period of time. That leaves you in a bad position. You can either continue to wear a ring that is past its prime, or you can shell out the big bucks to buy something new.
Classics are, well, they are classic. And as such, they are able to stand the test of time. Just think about the little black dress. This is a style that, no matter what is currently the rage, will always look good. It is classic. There are also accessories that fit this bill. These are cuts and styles that look good with pretty much anything and never go out of style. The emerald-cut diamond ring with an eternity band that we feature here is a great example. It is actually a blending of two different classic styles. This gives it something a little bit extra and makes it unique, while still timeless.
Solitaire-style Rings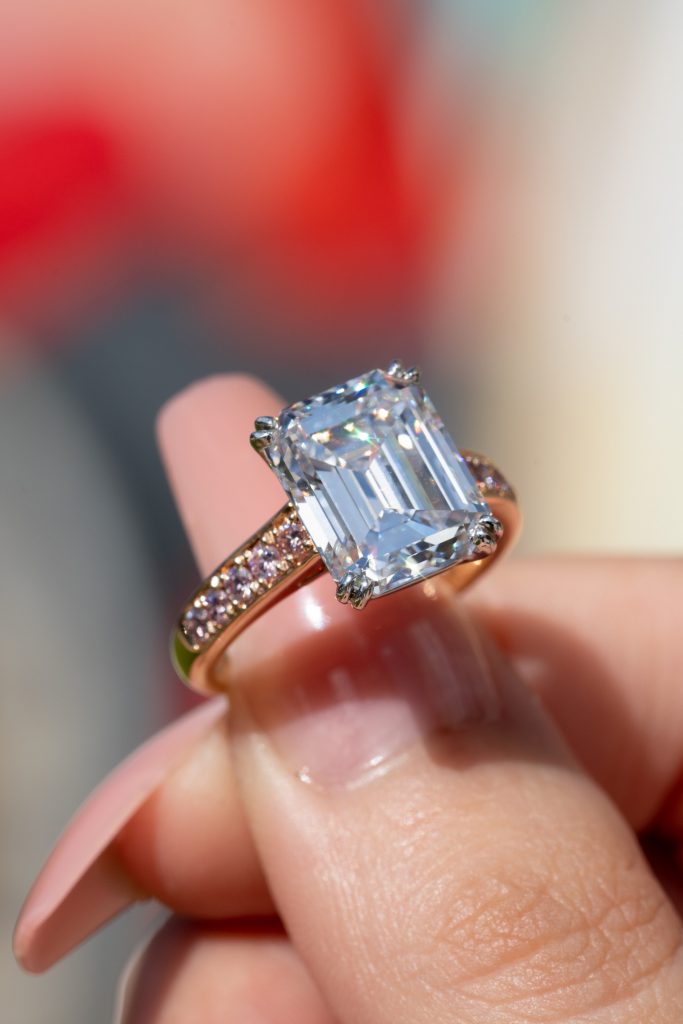 The main focal point of this ring is the center emerald-cut diamond. This is a truly flawless stone that shows off the clarity and quality that only a high-grade diamond can. It is a beautiful stone that would make a stunning ring in its own right. The solitaire style is one of those classic and timeless styles that just always look great. As the name implies, this is a ring that consists of a main center stone. This style looks great with gems large or small, so it is a great style even for those who are on a more modest budget. A ring that features one high-quality stone is a great way to have something that is simple, elegant, and timeless. 
This kind of ring looks great in all sorts of different styles. It pairs well with modern styles, vintage styles, and classic styles. And, this is a ring that will look great with other accessories as well. Since it features high-grade yellow gold, our best advice is to stick to yellow gold for all your accessories. This emerald-cut diamond ring boasts a huge, flawless diamond, but also has the addition of an eternity band to give it something a bit more special. 
Emerald-Cut Diamonds
There are tons of different diamond cuts, but there aren't many that are as timeless and classic as the emerald cut. Here, we have a large, flawless diamond in this cut. This is a cut where the clarity and quality of the stone are on display. And, with that in mind, you will want to prioritize quality over size here. Any flaws or imperfections in the stone will be readily apparent in this cut, so it makes sense to choose a smaller, but higher-quality stone, over something a bit larger.
This cut looks wonderful with a range of different looks. It pairs well with vintage styles, classic styles, and even modern or more contemporary styles. This cut goes back a long time. It takes its name from a cut that was used on emeralds back in the 1500s. Since emeralds are brittle and often break, gem cutters would cut stepped facets into the stone to stabilize it. The cut was so popular that it is also seen in other gemstones as well, such as diamonds.
This rectangular stone allows you to see into the depths of the stone and is a great way to show off the fire of a high-quality diamond. People like the clean lines and stunning shape that emerald-cut diamonds provide and they really are a timeless cut. Another thing people love about the emerald-cut stone is that it tends to look larger than its carat weight.
Because of the elongated sides and the depth seen in this stone, it takes on an appearance as if it is larger than it actually is. This is definitely not a downside.
Eternity Bands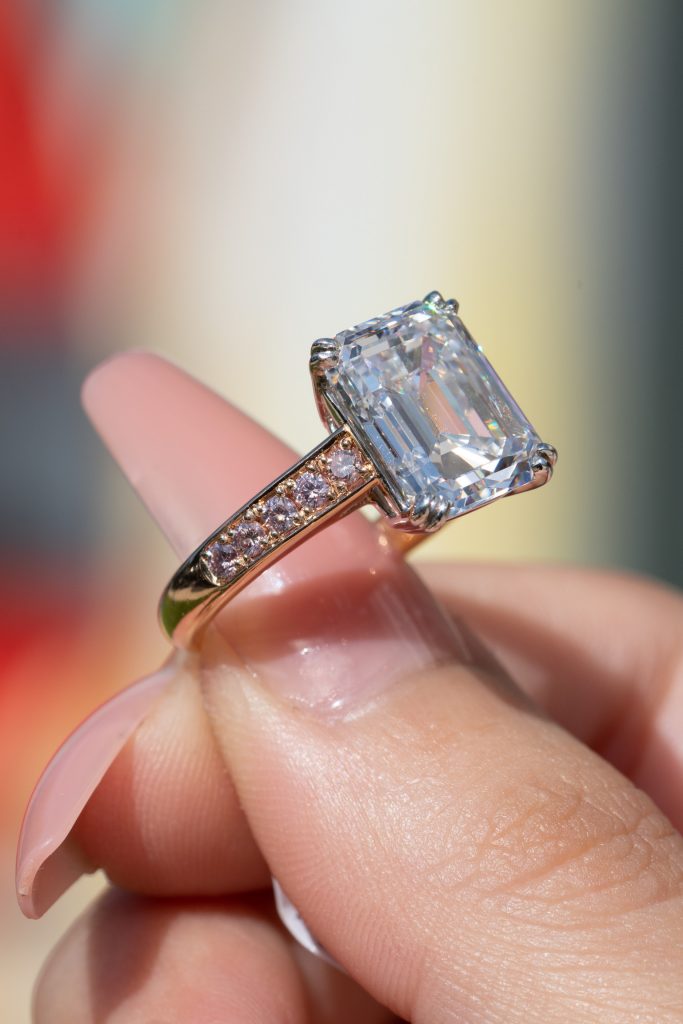 The eternity band is another classic and timeless style. You will often see this type of band as a wedding band, but you can also find it as part of an engagement ring. The emerald-cut diamond ring we feature here boasts an eternity band. Not only is it a beautiful addition to an already stunning ring, but it also adds meaning to the piece as well. The style symbolizes two lives joining as one for eternity, which is great symbolism for a happy marriage. What it entails is a row of small gemstones (in this case, diamonds) that are inset into the metal band. This adds some sparkle to the ring and gives it even more elegance than it already has.
There are three main types of eternity bands: full eternity bands, half eternity bands, and two-thirds eternity bands. This simply refers to how far around the band the gemstones extend. Here, we have a half-eternity band meaning that the diamonds extend about halfway around the band. While full eternity bands are beautiful, some people find them uncomfortable. In these cases, the other types of eternity bands may be preferable. 
Yellow Gold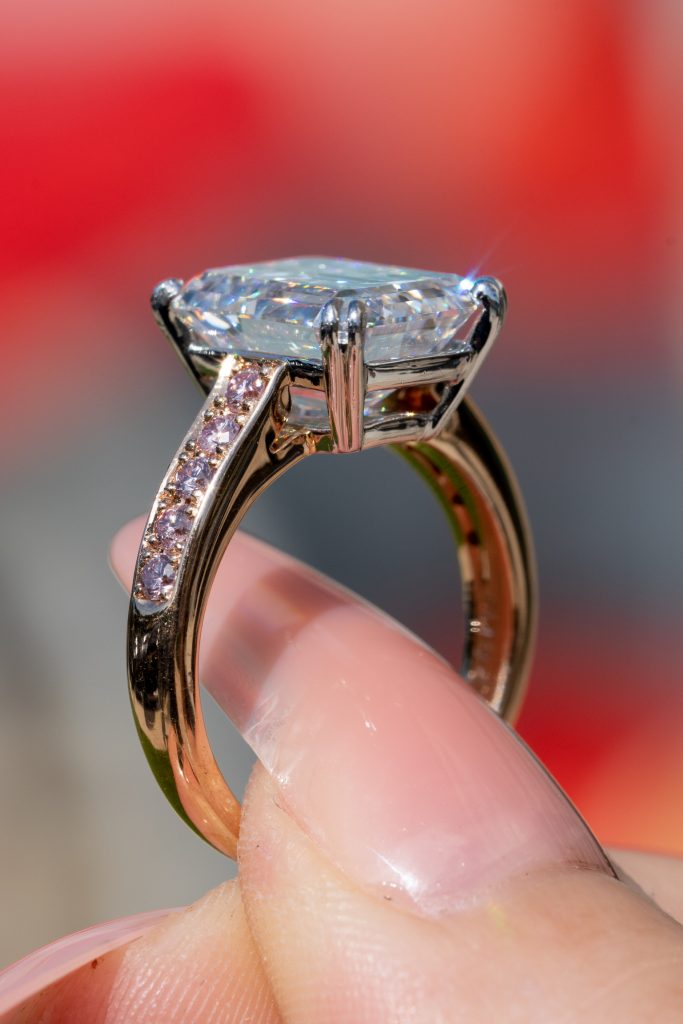 When we think about gold jewelry, chances are we are thinking about yellow gold. This is the classic type of gold that most of us are familiar with. It has a lovely yellow, buttery hue. This is the perfect type of gold if you are looking for classic and timeless pieces. It really is hard to go wrong with this most coveted material. Yellow gold has a sheen and a shine that cannot be mistaken. Humans have used yellow gold to adorn themselves and show off their wealth and power since time immemorial. This precious metal makes for stunning jewelry and it pairs incredibly well with the emerald-cut diamond that features in the engagement ring we are looking at here.
One thing that a lot of people don't know about gold is that, when it comes to jewelry, pure gold is not used. This is because pure gold is actually far too soft to make jewelry out of. It won't keep its shape for very long if you use it in its pure form. So pure gold is blended with other materials, such as silver, to add strength to the metal and make it suitable for use in jewelry. The different carat grades of gold refer to the percentage of pure gold that features in the metal blend.
In Closing
Choosing an engagement ring is a big deal, but it doesn't have to be terrifying. Thankfully, we have helped a ton of couples from many different backgrounds find the perfect ring for their tastes and budgets. This gives us some insight into what you need to think about when choosing a ring. First, you will want to set a budget. This helps guide your choices and will also save you time. Then, you will want to consider her style and lifestyle. If the person you are buying a ring for is particularly active, you may want to choose something simple and unobtrusive.
Finally, we look closely at an emerald-cut diamond solitaire ring with a half-eternity band. We look into the ins and outs of the cut of this diamond as well as the details of the band. The case for the classics is, we feel, really strong. You don't want to select an engagement ring that will no longer be in style in a short amount of time. The ring we feature here is a great blending of two different classic styles in one. Quality materials and construction come together to create a stunning, timeless, and surprisingly versatile ring that she will love to look at each and every day.