Diamonds by Raymond Lee has wrapped up another highly successful Diamond & Donuts car show in Boca Raton this past weekend. In this post, we've gathered highlights of the fantastic cars, provided recognition to our amazing sponsors, and discussed the charitable contribution to Military Heroes. All of this was made possible thanks to everyone who took part in our Diamonds & Donuts monthly event.
What is the Diamonds & Donuts Car Show in Boca Raton?
For those of you who don't know, Diamonds by Raymond Lee holds a monthly luxury car show in Boca Raton to bring together luxury vehicles, supercars, and muscle cars alike. The purpose of raising money for meaningful causes that touch home to our South Florida community.
Our Boca Car Show features the hottest cars in South Florida, local businesses who inspire, delicious snacks and coffee, swag bags and exceptional giveaways, beautiful Diamond Girls 😉 and of course, luxury jewelry and diamonds from our retail store Diamonds by Raymond Lee.
The Diamonds & Donuts Car Show in Boca Raton began in April 2017 and it's been a huge success ever since. Furthermore, have contributed to many charities over the last year and connected networks of people from all walks of life.
Diamonds and Supercars have definitive similarities and attract a lot of attention, so it is no wonder our car meet in Boca Raton is such a hit…not to mention, there are donuts. Who doesn't love DONUTS?!
Let's take a look at the highlights from this past event on September 2nd…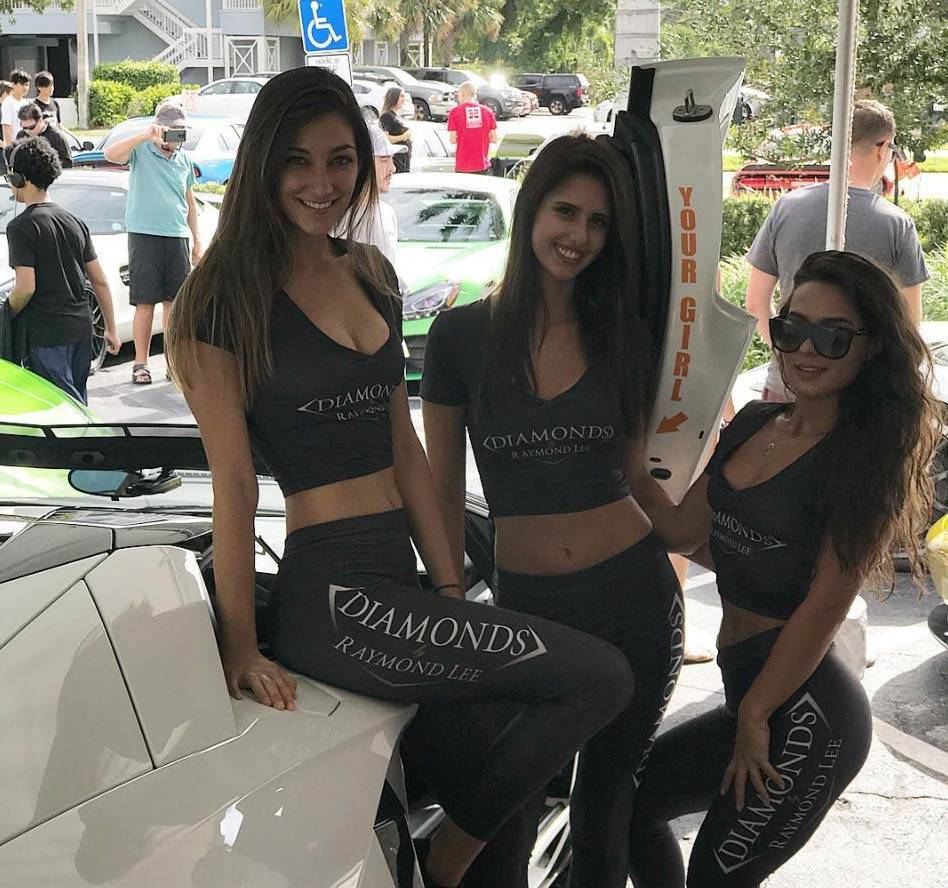 Victory lap through this past South Florida Car Show Event: Featured cars RECAP.
2018 Lamborghini Huracan Performante (Verde Mantis)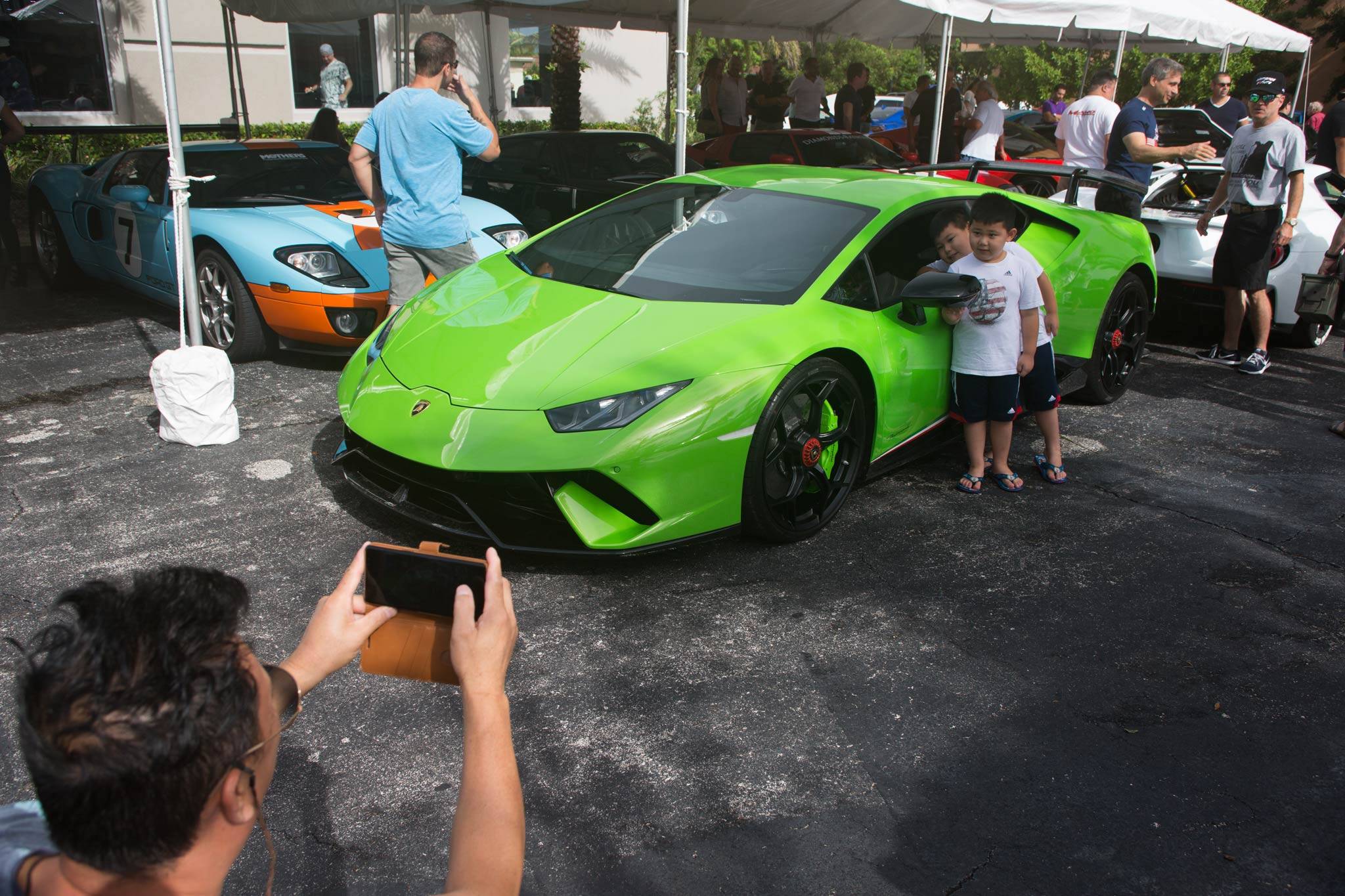 @fabio_icg brought his Verde Mantis (green) 2018 Lamborghini Huracan Performante, which has a V10 engine with 640HP. The new 2018 Huracan Performante is as flashy as always yet faster than ever.
Since 1988 (that's when Audi purchased Lamborghini), Lambos have not only made a big impression on what a perfectly designed car should look like; AND, what a huge, loud engine should sound and drive like; They've also been accelerating in the car industry in terms of sophistication, technology, and refinement.
A bit of history behind theLamborghini Huracan Performante.
The Gallardo came out 5 years after Audi bought Lamborghini and with every subsequent car since then, Lamborghini has become more deliberate about providing the most complete set of automotive features. The most impressive one to date is the NEW Huracan Performante.
The name says it all, it is a HIGH-PERFORMANCE version of the regular Huracan. This is an amazing feat in itself as the standard form performs incredibly. Nonetheless, the Performante has achieved new production records.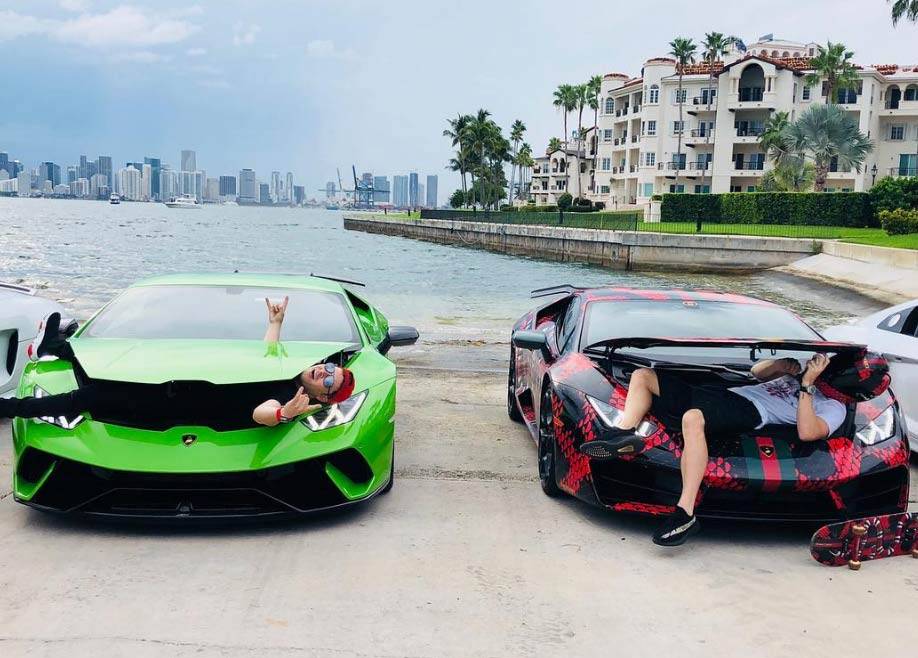 What did they do to improve the standard version? Well, the new Performante is equipped with innovative titanium intake valves. Its lighter weight made it possible for a hotter intake-camshaft profile, so it has greater duration and lift. It also combined a freer-flowing exhaust system with a better, less restrictive air filter.
The secret of staying young is to live honestly, eat slowly, and lie about your age
Therefore, the Performance engine allows 29 more ponies, that's a total of 631 at 8,000 rpm, which is 250 revs lower than the standard Huracan at peak power – Peak torque surges by 30 lb-ft to 443 at a consistent rpm of 6500. The differences make for an effectively fuller power curve over 4000 rpm.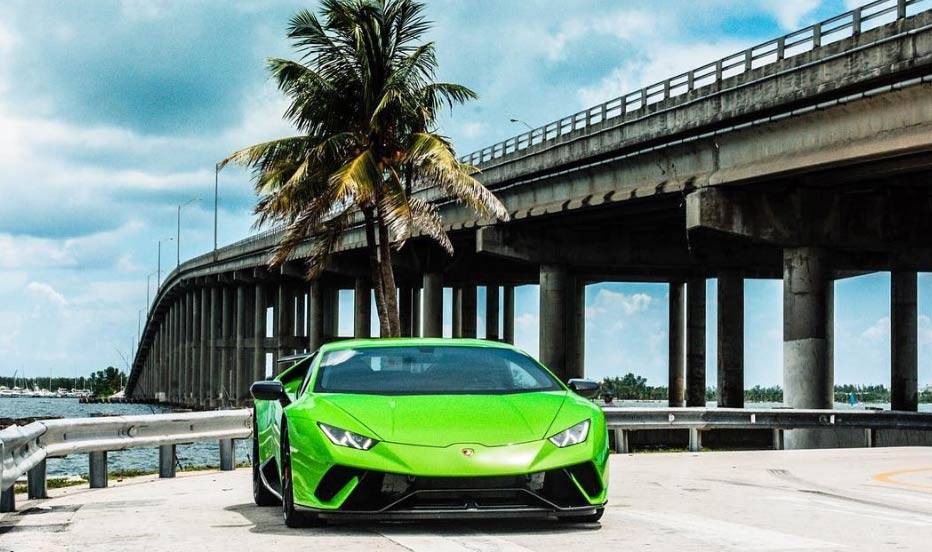 The total weight reduction on the new Performante equals 90 lbs, which makes this strong engine's maximum capabilities even easier. This was made possible by fitting more carbon-fibers parts and redesigning the exhaust system by using stainless-steel.
The double wishbone architecture of the Huracán Performante's suspension systems warrants impeccable balance between usability of the vehicle and sports performance. The suspension is also joined by an optional system of magnetorheological shock absorbers which instantaneously react to driving style and adjust to road conditions and driving dynamics. This enhances the control of the vehicle, especially if it's out on the circuit.
This is definitely one the crowd won't forget.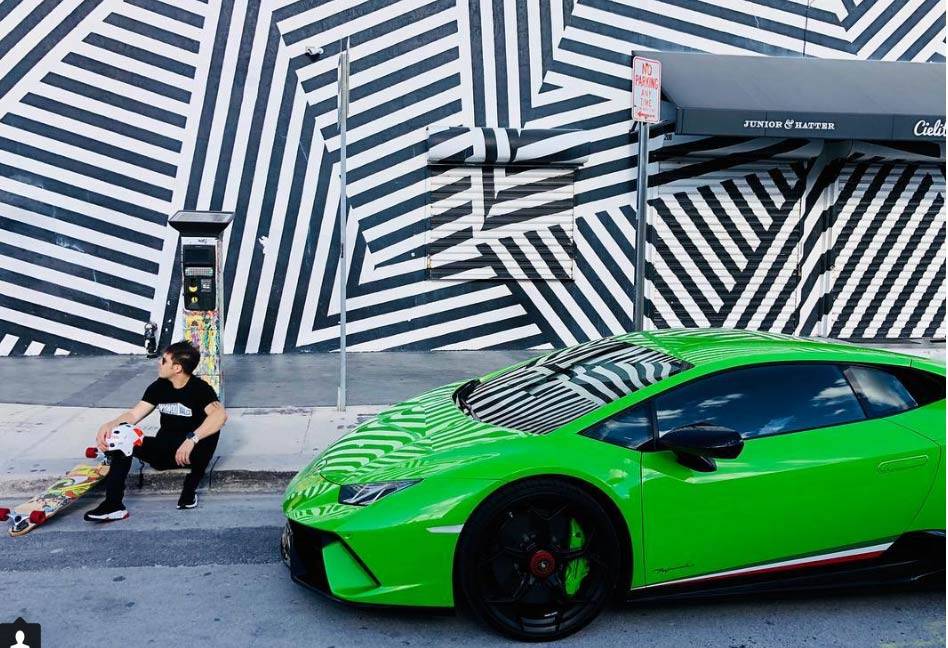 Although the tire-and-wheel size didn't increase, the rubber has been intensified from the standard Pirelli P Zeros to the made-for-track P Zero Corsa tires.
Furthermore, and to top it all off, the V10 engine, LDF 7-speed dual-clutch transmission Perfomante has a new ALA (Aerodinamica Lamborghini Attiva) active aerodynamic system. The ALA system allows the Performance dominate the air and use it to its advantage.
NEW Ford GT Twin Turbo V6 (Stormtrooper)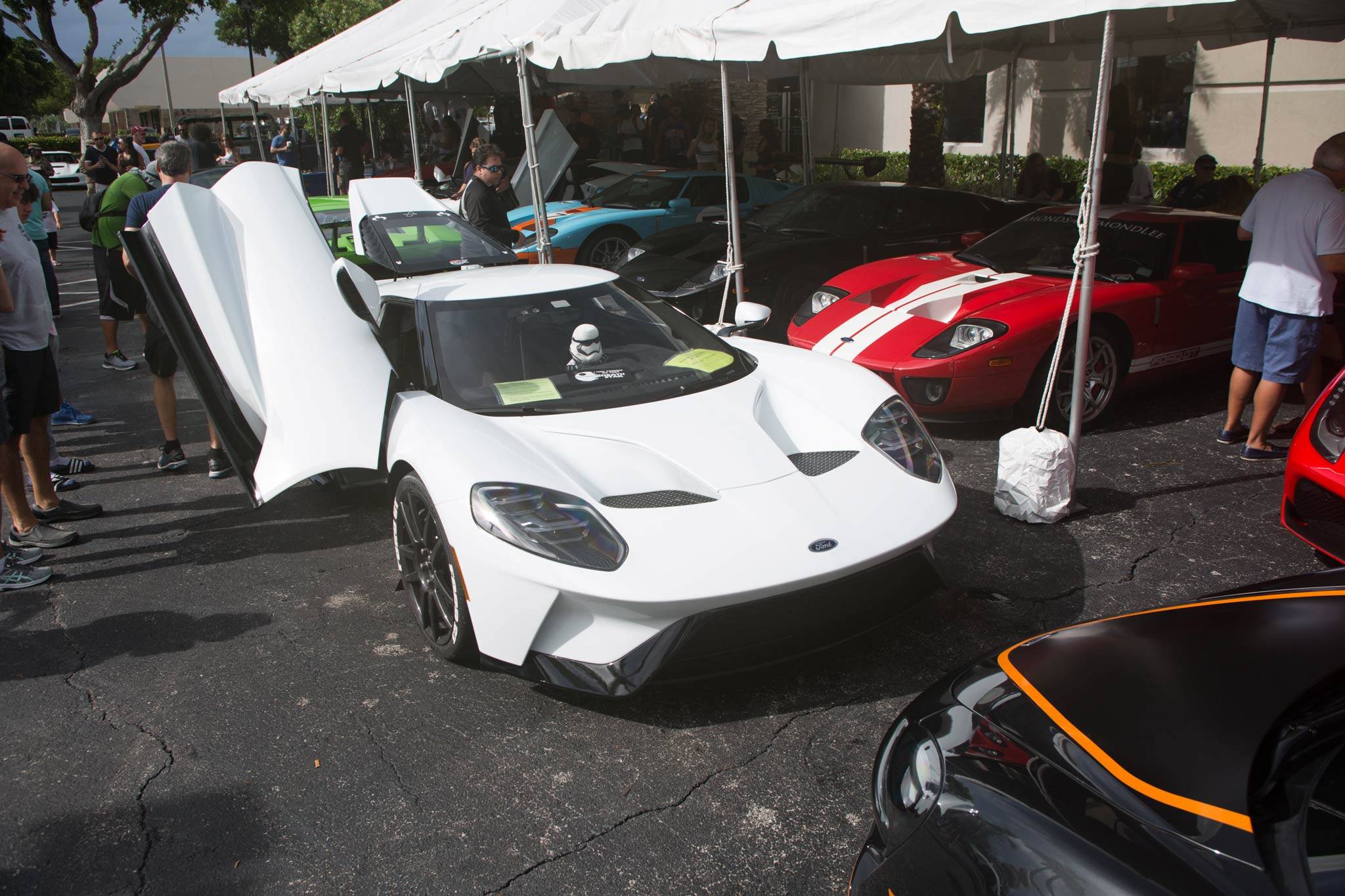 @stormy_56  blessed us with his NEW Ford GT Twin Turbo V6. The new Ford GT Twin Turbo has adjustable suspension, carbon-fiber construction, and active-aero elements. There will only be 1,000 of these made so it was an honor to witness the site of this beauty…Wait, maybe 'beauty' isn't exactly the right word for this beast – it's a stormtrooper and it's F'in badass!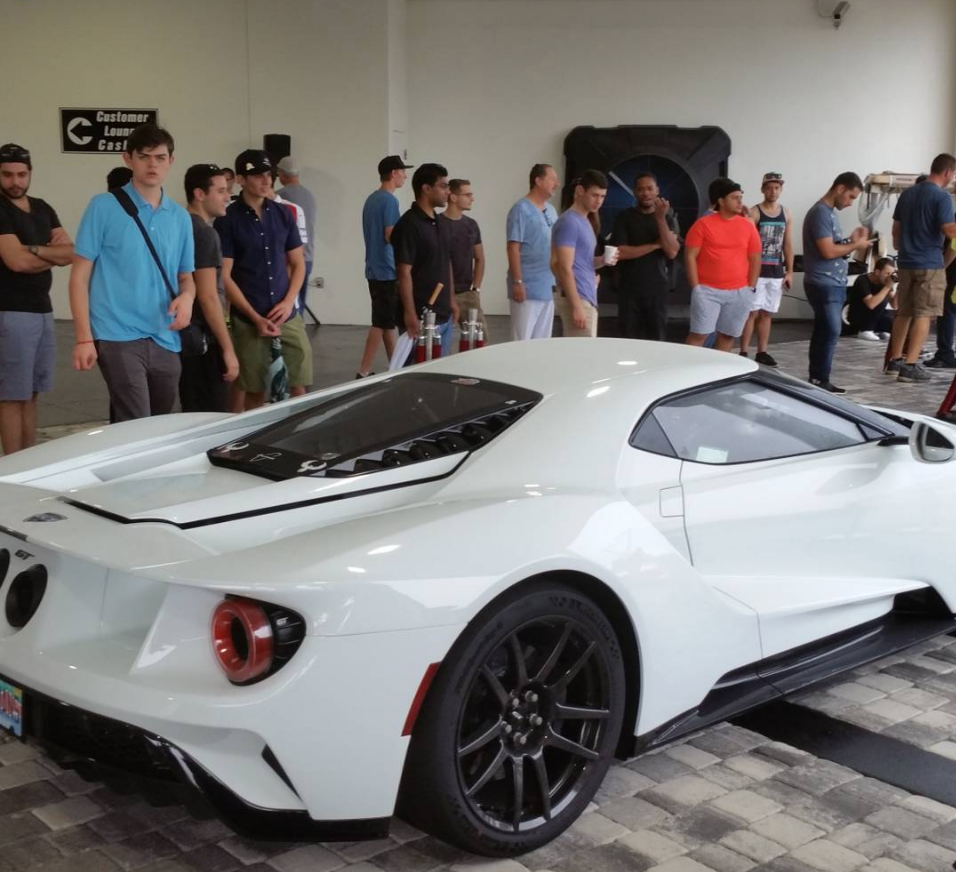 This stormtrooper is the definition of performance meets innovation in design. The Ford GT has a teardrop shape which allows for optimal aerodynamics, maximizing downforce while minimizing drag. It's carbon-fiber body and 647 HP 3.5L EcoBoost® V6 engine are the utmost declaration of technological innovation.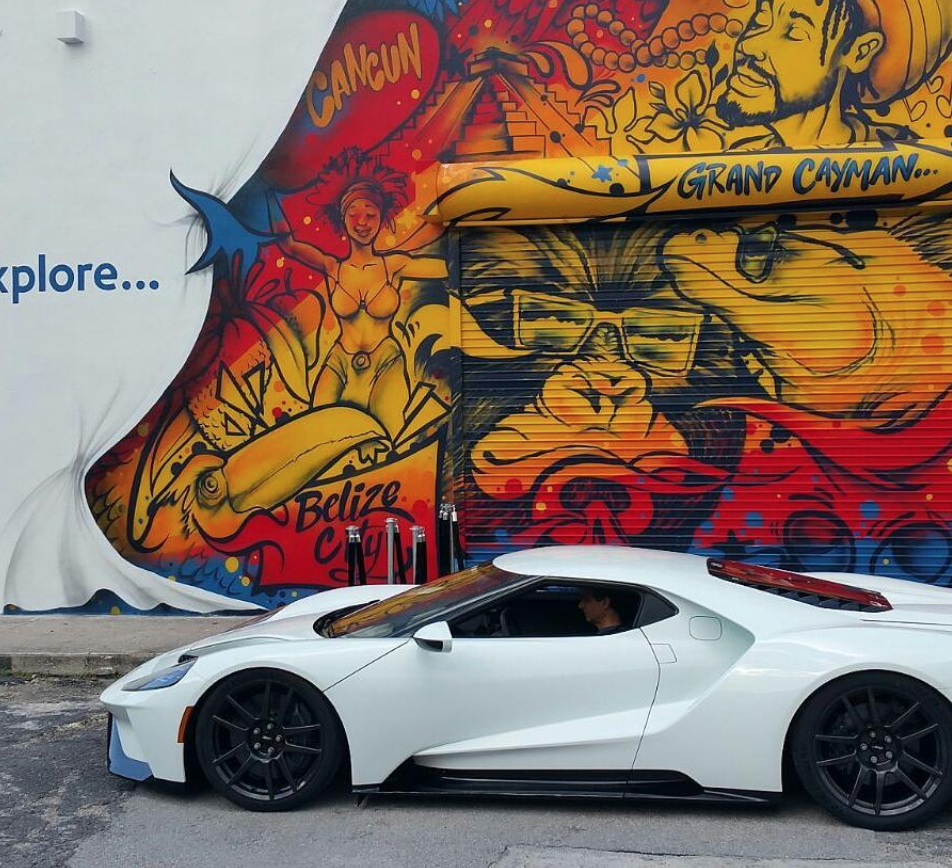 Ford didn't just push the envelope with this one, they busted right through it.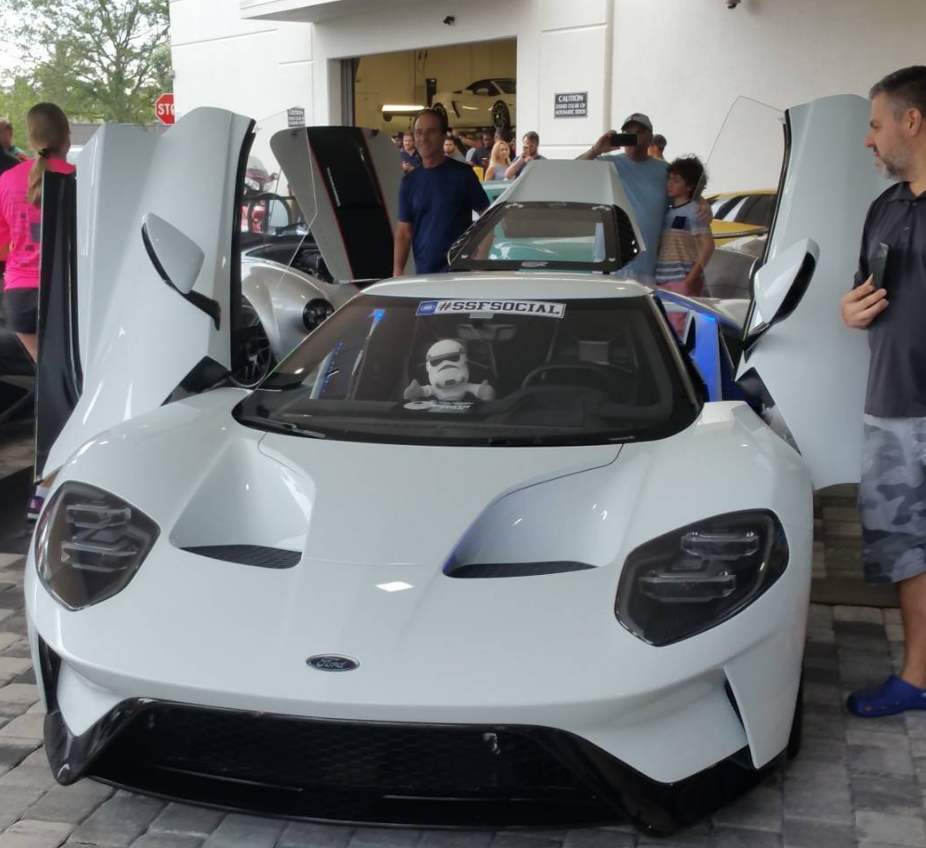 The new FORD GT is the result of the greatest minds and automotive engineers in the world taking their time and resources to create something we've never witnessed before. You could take this on the road or the track to enjoy every aspect of the Ford GT's extraordinary power, speed and handling.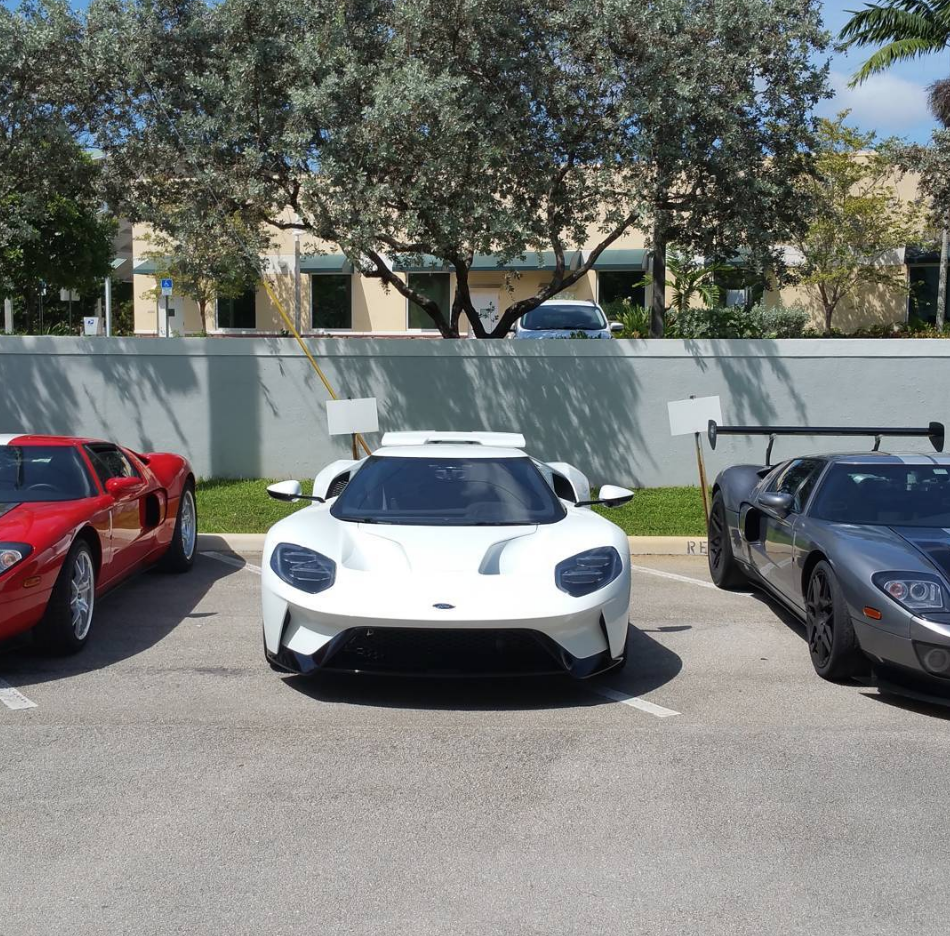 It checks in at a jaw-dropping $450,000. We were just happy to be able to witness this Stormtrooper shining bright like a diamond in person.
Mclaren 720S (Liquid Metallic Solis)

@gt3robbie allowed us to enjoy his McLaren 720S. The McLaren 720s is the new rival to the Ferrari 488 GTB and is the car that can up at the heels of the P1 without the need for any complicated hybrid systems. The headline figures 720 HP and the price for this bad boy is $280,000.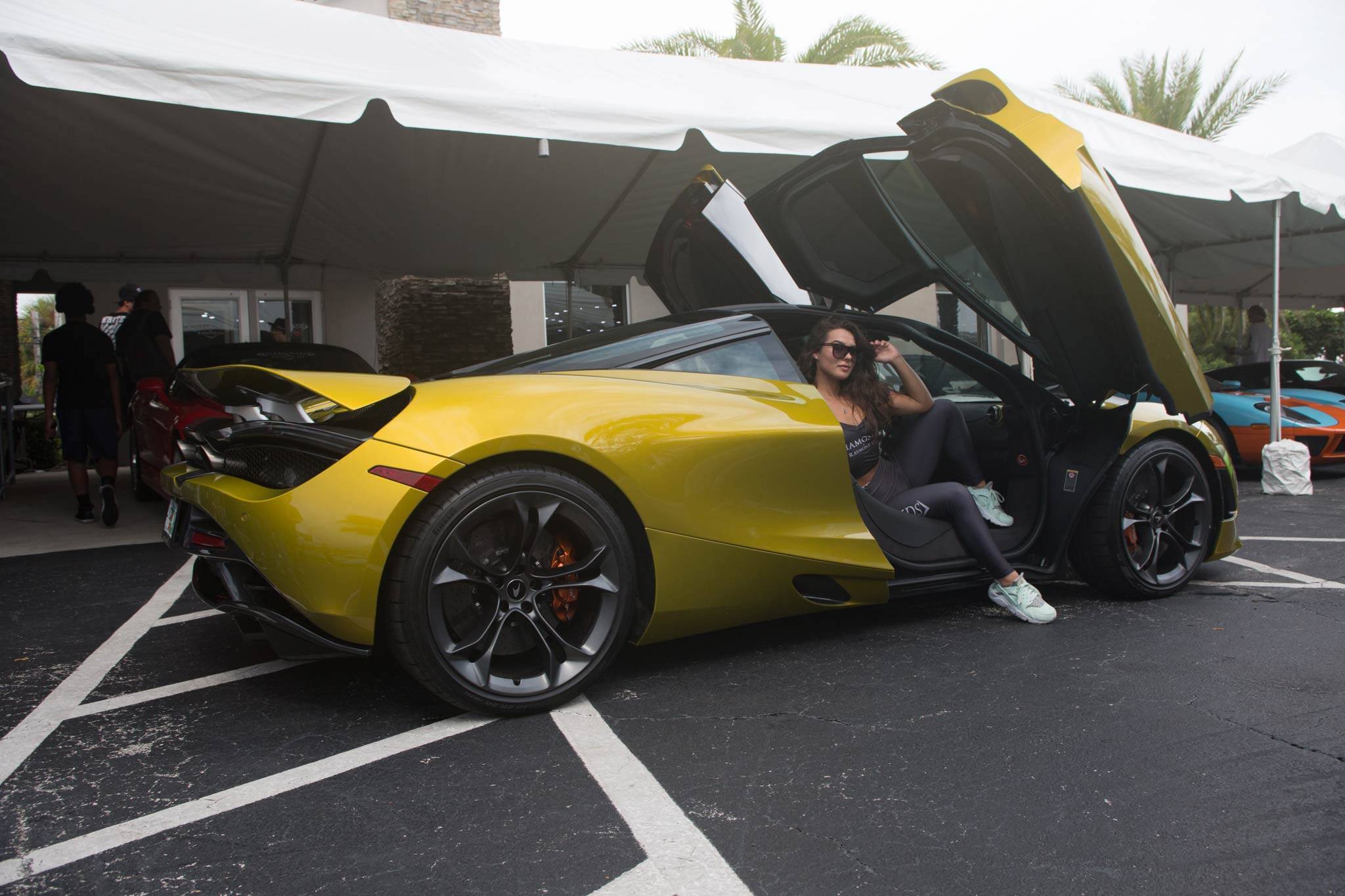 So what's the speed on the 720S? It goes 0-60 in 2.9 seconds, over 200 MPH, with a standing quarter-mile in 10.3 seconds. Nonetheless, these are just numbers on a sheet. Let's talk about the acceleration. If you boot it on a straight road, you will feel a force of acceleration like no other. We were told it feels like an electric car (think Tesla)…but with more power.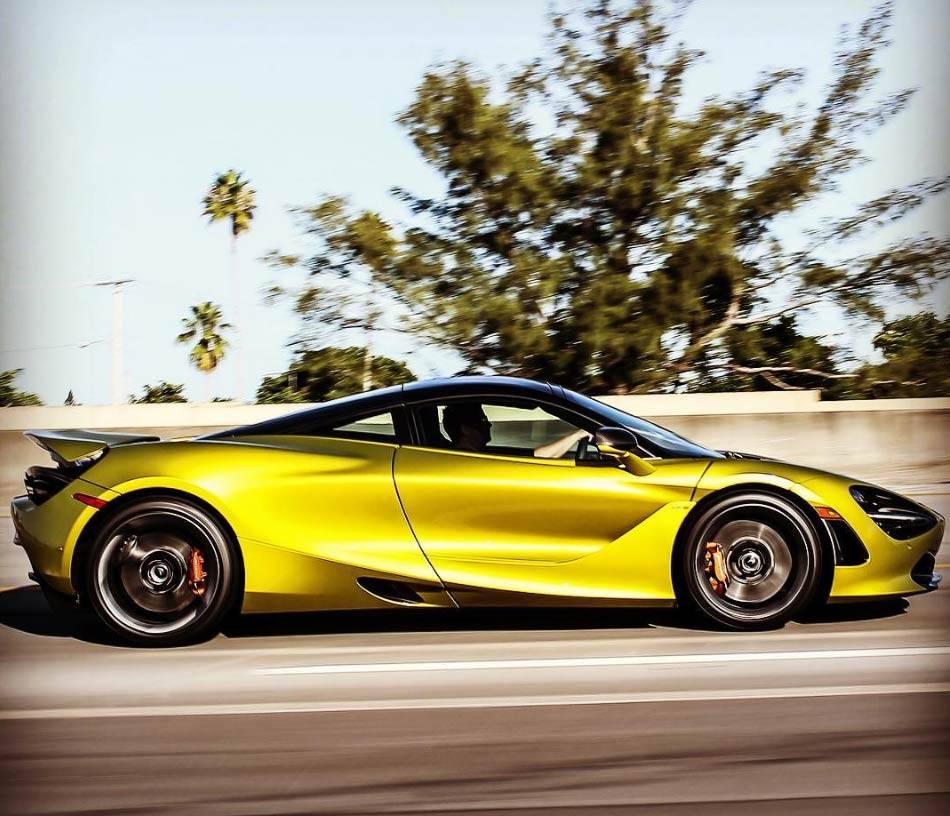 What about traction? The one issue you may have with the McLaren 720S is that you won't be able to explore even close to what it is capable of unless you get that puppy on the track. If you can call that an issue at all. It's like being able to 360 dunks on a 10' hoop but you only have a 7' hoop available.
The electric steering is super quick and the Alcantara wheel is top-notch. @gt3robbie's McLaren has a very rare color (Solis) and it looked absolutely stunning with the doors up.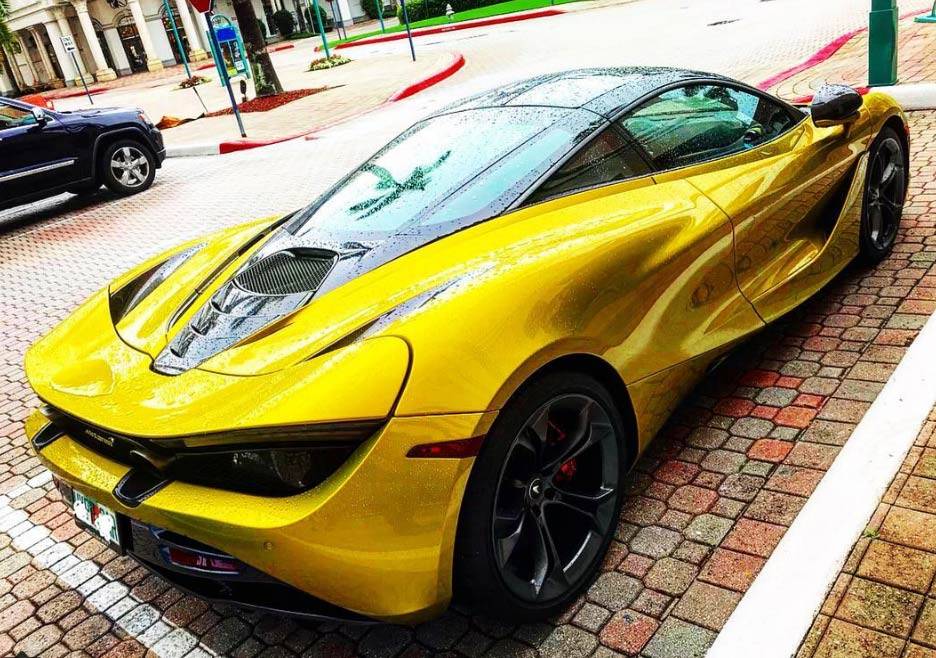 The diamond girls posing with it was the icing on the cake. This is more than a chick magnet, the McLaren 720S is pure fire.
Porsche 718 Cayman GTS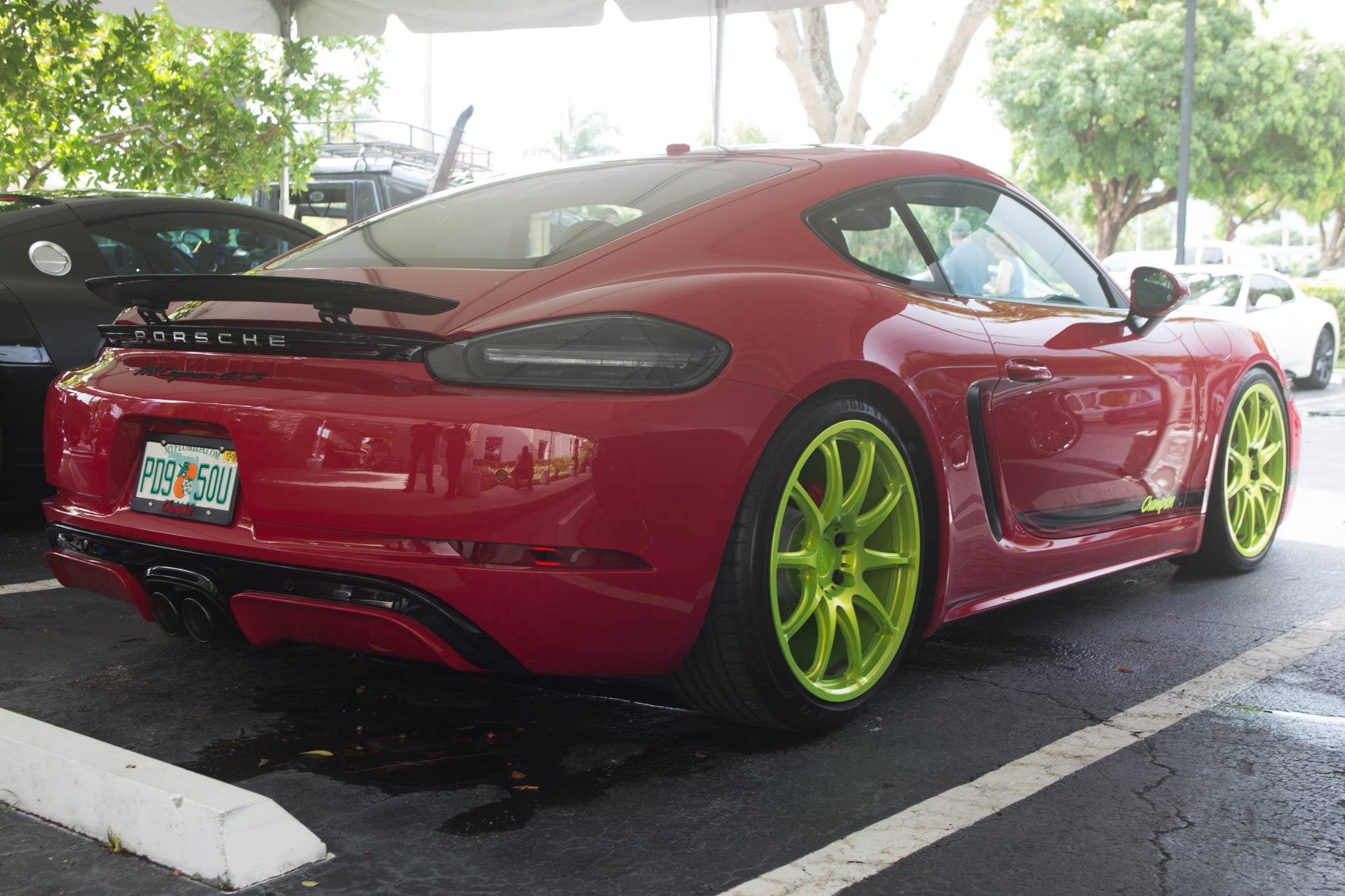 @taied_up turned up with another fan favorite, the Porsche 718 Cayman GTS. His 718 Cayman GTS is lowered on H&R sports springs and dons 20" Champion Motorsport RF67 forged alloy wheels. This supercar sticks out amongst the best of the best in the world of cars.
The GTS packs a turbocharged 2.5L flat-four engine. It obtains 365 hp and 317 lb-ft of torque when rigged with the 7-speed PDK dual-clutch automatic transmission. That boosts the GTS by a profound 15 horsepower and 8 lb-ft from the S model and allows the GTS to scrape a tenth of a second off the S model's 0-60 time.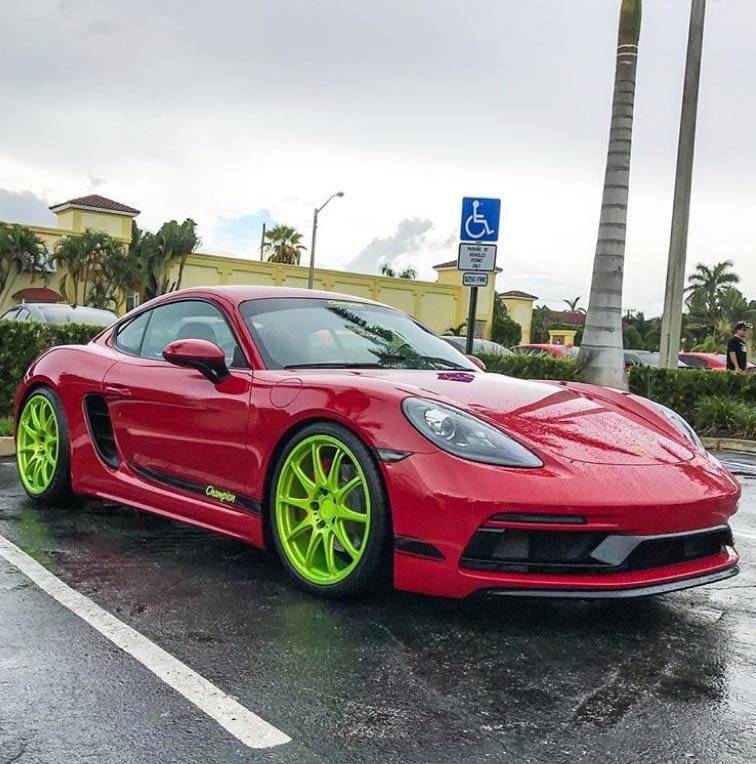 The price is right.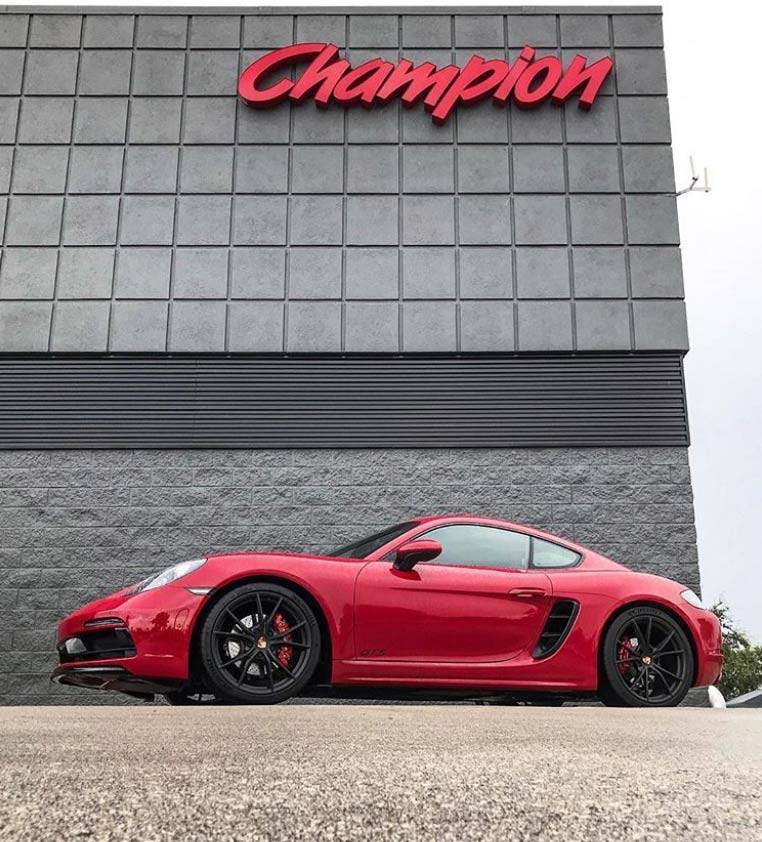 The GTS goes 0-60 MPH in 3.9 seconds, although that is a conservative number and we are told it can do it in 3.6 seconds. The new GTS, if in standard form, will set you back (or should we say forward) approximately $80,000. That's really a great price for a sports car of this caliber.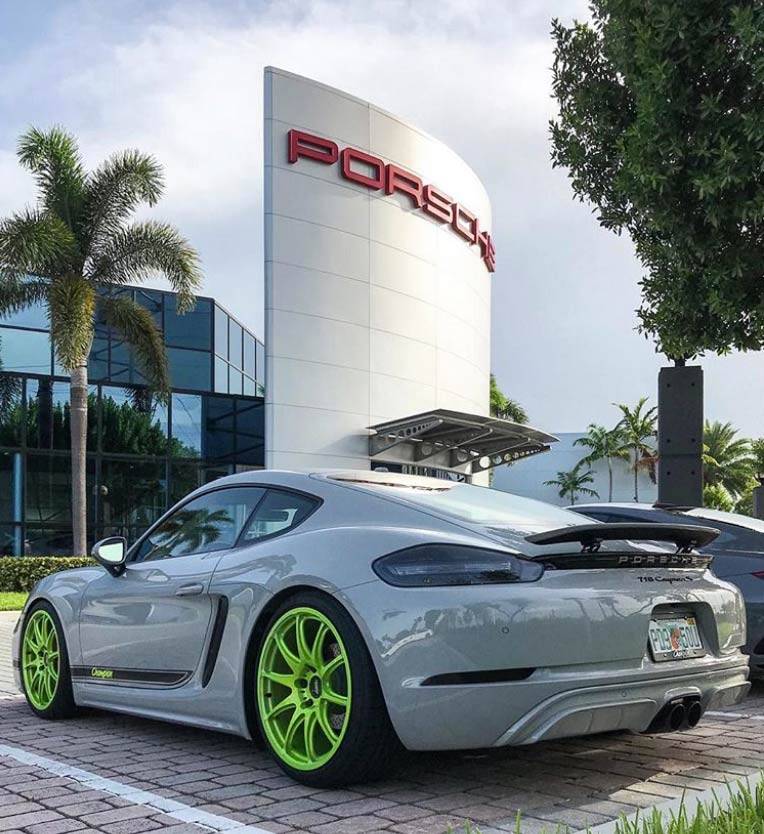 The 718 Cayman GTS with 6-speed manual transmission is one the best sports cars out today. It was an invigorating sight to see. No one could take their eyes off this red on the green wheeled diamond of Porsches.
Things may come to those who wait, but only the things left by those who hustle.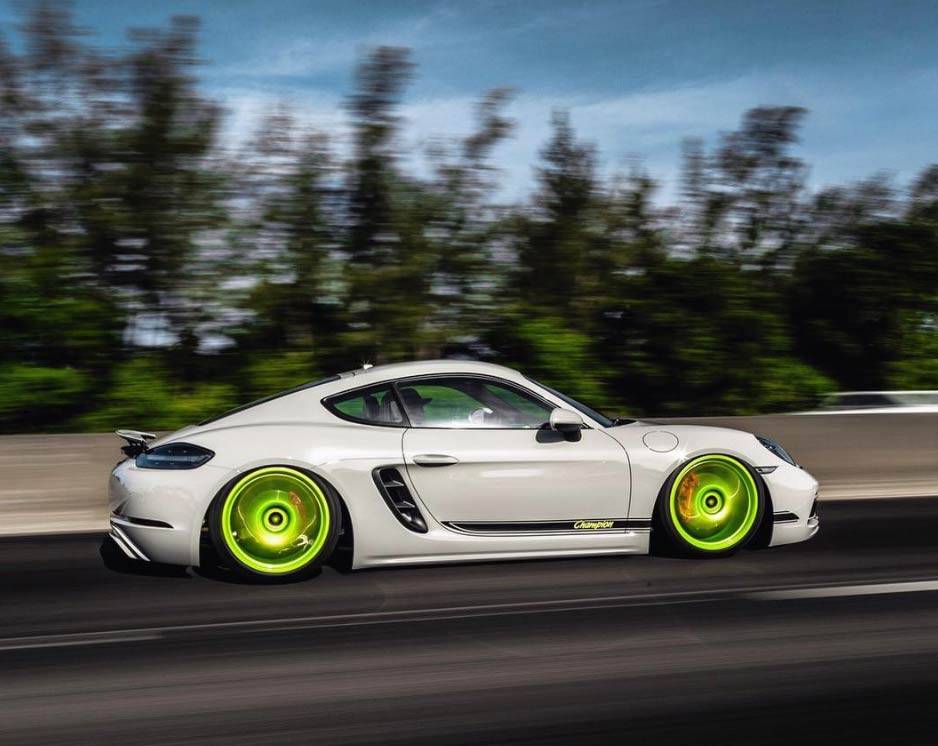 Lamborghini Huracan Performante Spyder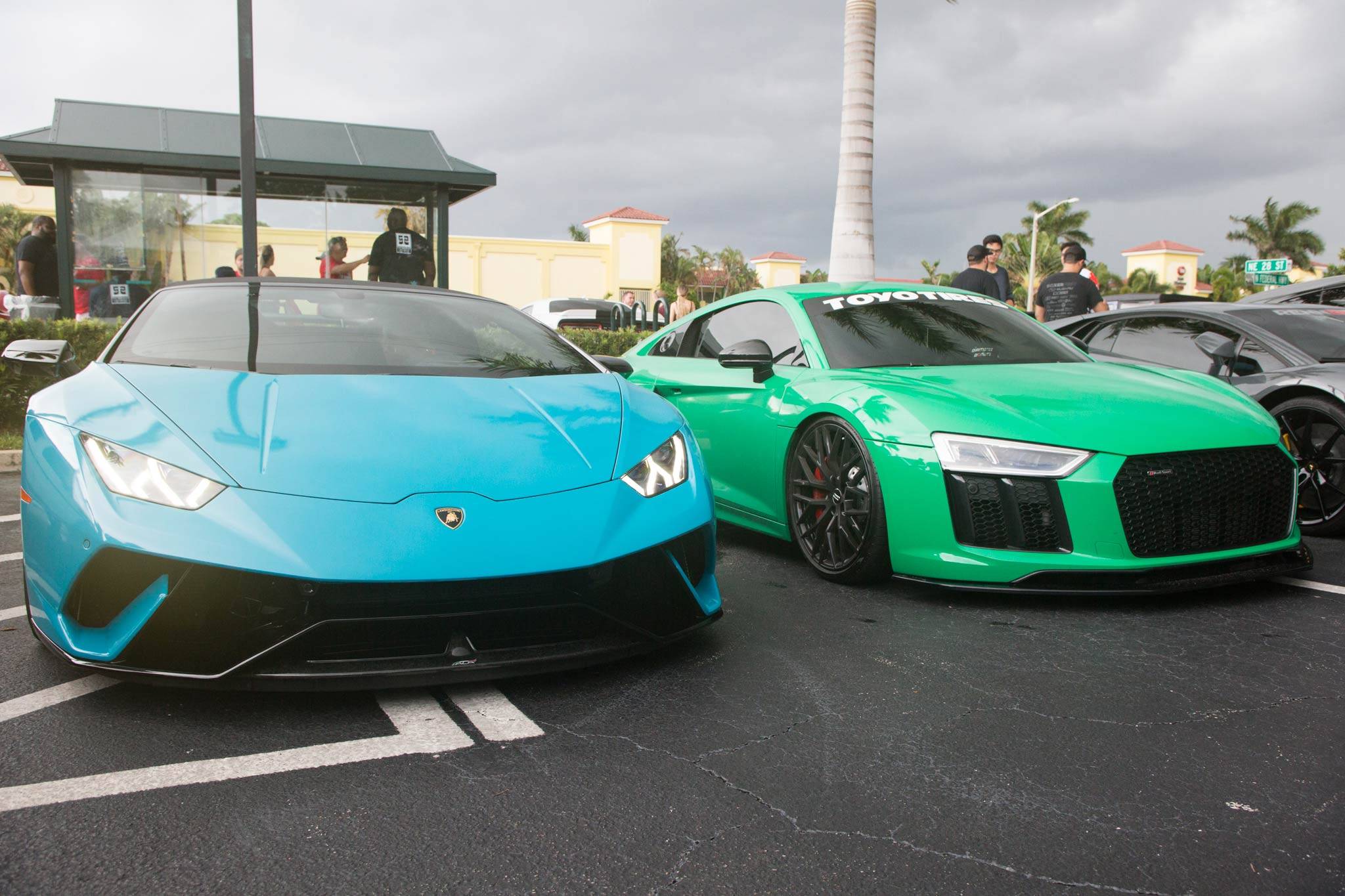 Thanks to @icreatemillionares, we got to level up from the regular Huracan with a Performante Spyder.
His Performante Spyder is lowered on Velocity AP suspension and has ADV1 wheels that are to die for. His car was originally white but it is newly wrapped with a Porsche Miami Blue vinyl that was made by APA and directly imported from Italy.
If you are an avid car lover, you have probably heard that the Huracan is essentially a fancy version of the Audi R8. So, Lamborghini came up with the Performante version of the car and we are telling you this right now, they've taken all of the Huracan's great qualities and made them even better.
While the heart of the car is essentially the same 5.2L V10, the rest of the car has been tweaked and feels fantastic when driving.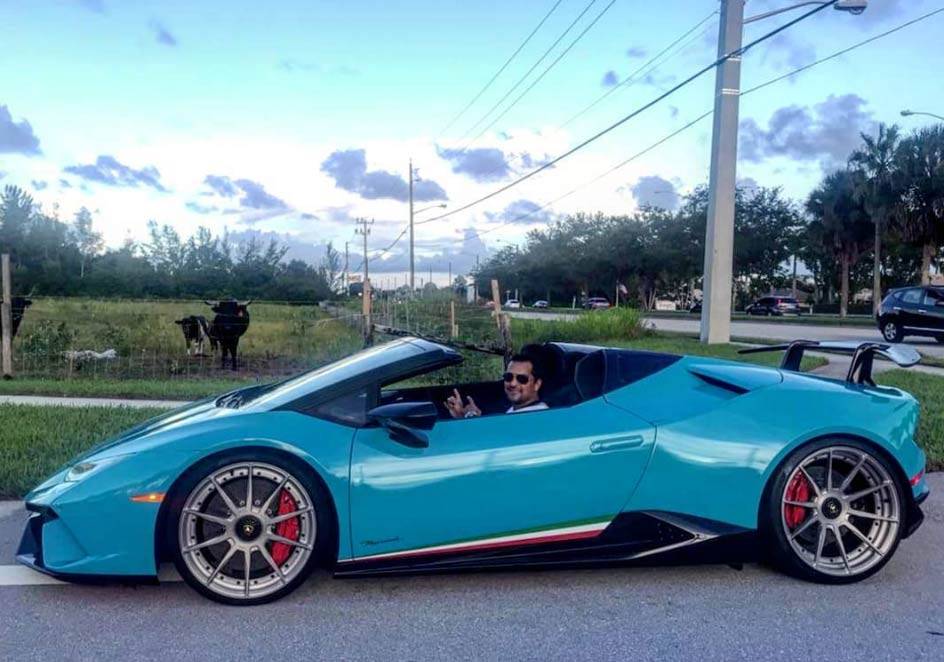 Let's talk about the basics. This car features a 7-speed dual clutch transmission and makes 640 horsepower. The engine sounds incredible when it roars. It can also switch into sports mode or Corsa mode, managing to sound even better.
The real special part about the Huracan Performante Spyder is the added aerodynamics which improves grip significantly.
Basically, with all the extra downforce, you don't need to slow down for anything when whipping this stallion. Well, except for traffic and pedestrians and speed bumps and wildlife that is. Oh, and police? Catch up.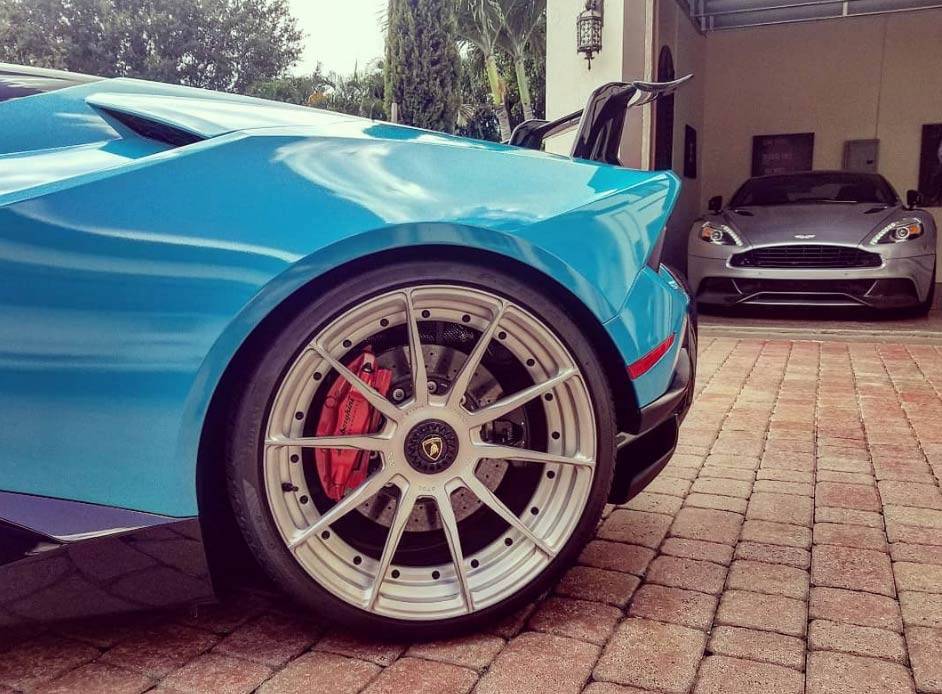 While many exotics and supercars use active aerodynamics, the Performante does it in a clever way. The front spoiler and rear spoiler are fixed but they have little flaps to help direct air and downforce on specific areas of the car. It can direct downforce to the front or rear and even the left and right. This means our boy @icreatemillionares can hunker down corners and never lose grip.
It sprints to 60 miles per hour in 3.1 seconds, and 124mph in a matter of no time. If you could keep pressing the pedal, you will hit 200 easily. Quickly drop the roof to hear the sweet, sweet sound of its engine. The roof operates in 17 seconds and you can trigger it anytime while going 30mph or less.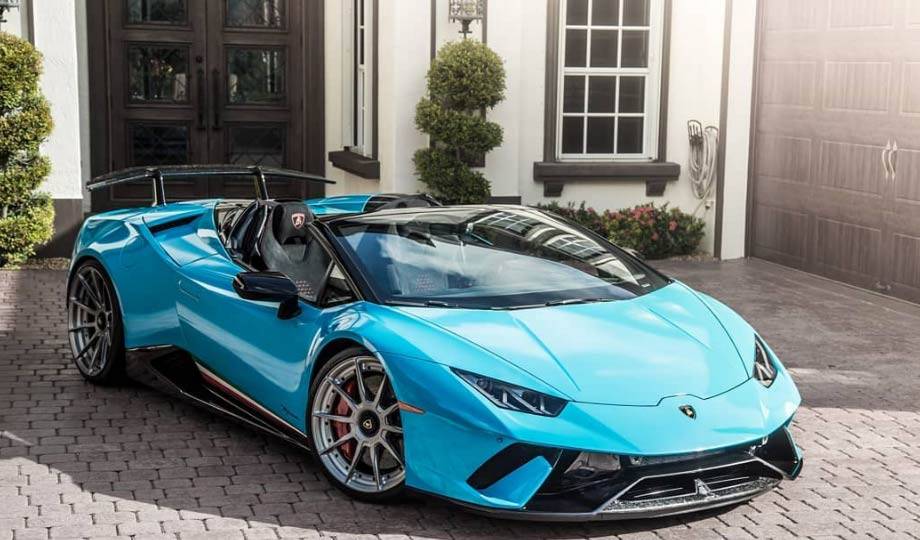 Regarding the interior, there are a lot of interesting tweaks as well. Such as the forged carbon fiber which has a neat marbled look on all the carbon fiber pieces.
This is a special purebred exotic that's for sure.
Audi RWS R8 (limited edition)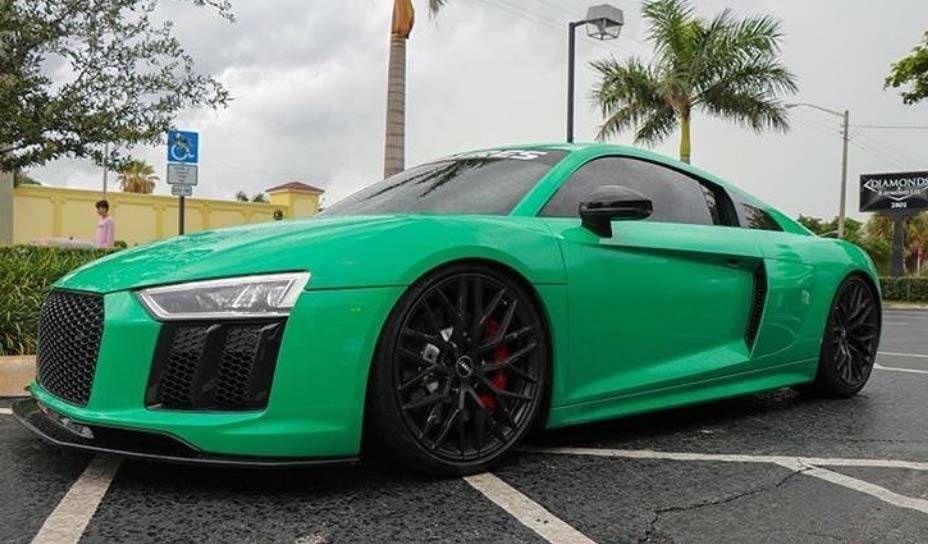 @vinn_winn's 2018 Audi RWS R8 is a limited edition, sporting a freshly wrapped Signal Green color. This R8 is sponsored by Toyo Tires, tuned by Hydra Motor Works, and lowered on H&R VTF coilovers. It has a custom Maxton Design Aerokit from the UK and BMC air filters as well. This thing has more upgrades than we thought were even possible. It's the best of the best R8s to ever hit the streets.
In the history of the marque, we have never seen a rear-wheel drive Audi until the R8 RWS. The RWS offers the cleanest driving experience. Not having all-wheel drive allows for both less weight and less mechanical drag through the powertrain.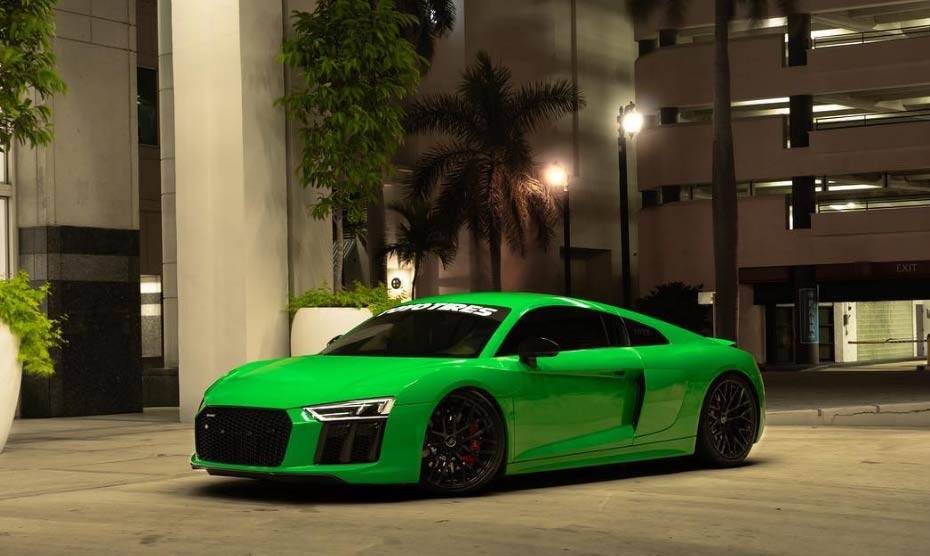 Coupled with a seven-speed dual clutch automatic transmission, the drift-oriented RWS can accelerate from 0-60 in just 3.7 seconds before reaching its electronically limited top speed of 199mph.
Audi has planned for a limited run of just 999 units, so thanks to @vinn_winn spectators were able to witness it live.
Another Vinn Winn vehicle. Living the Dream. See a plethora of exotics on his insta!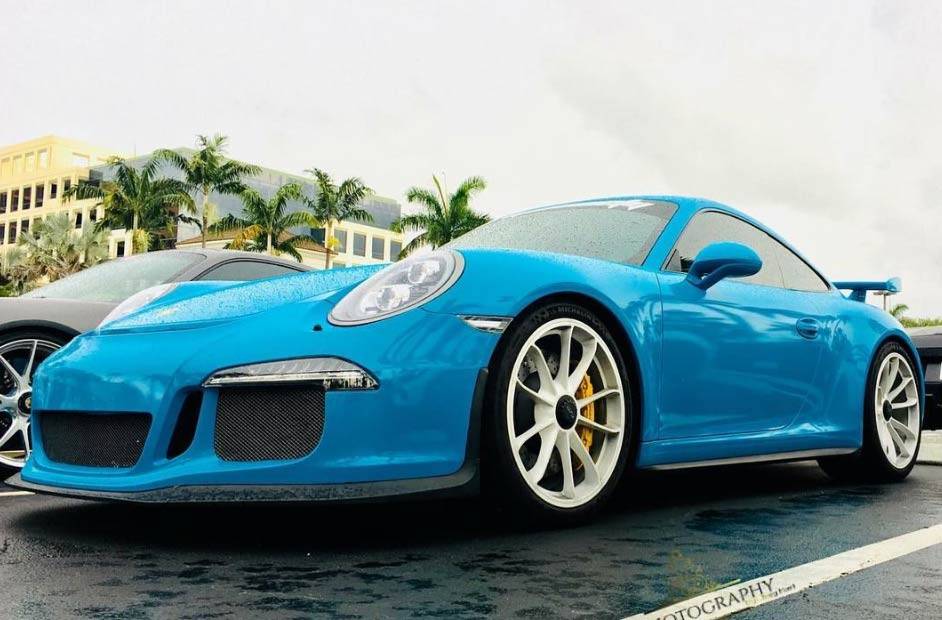 Lamborghini Huracan Avio LP 580-2 Special Edition.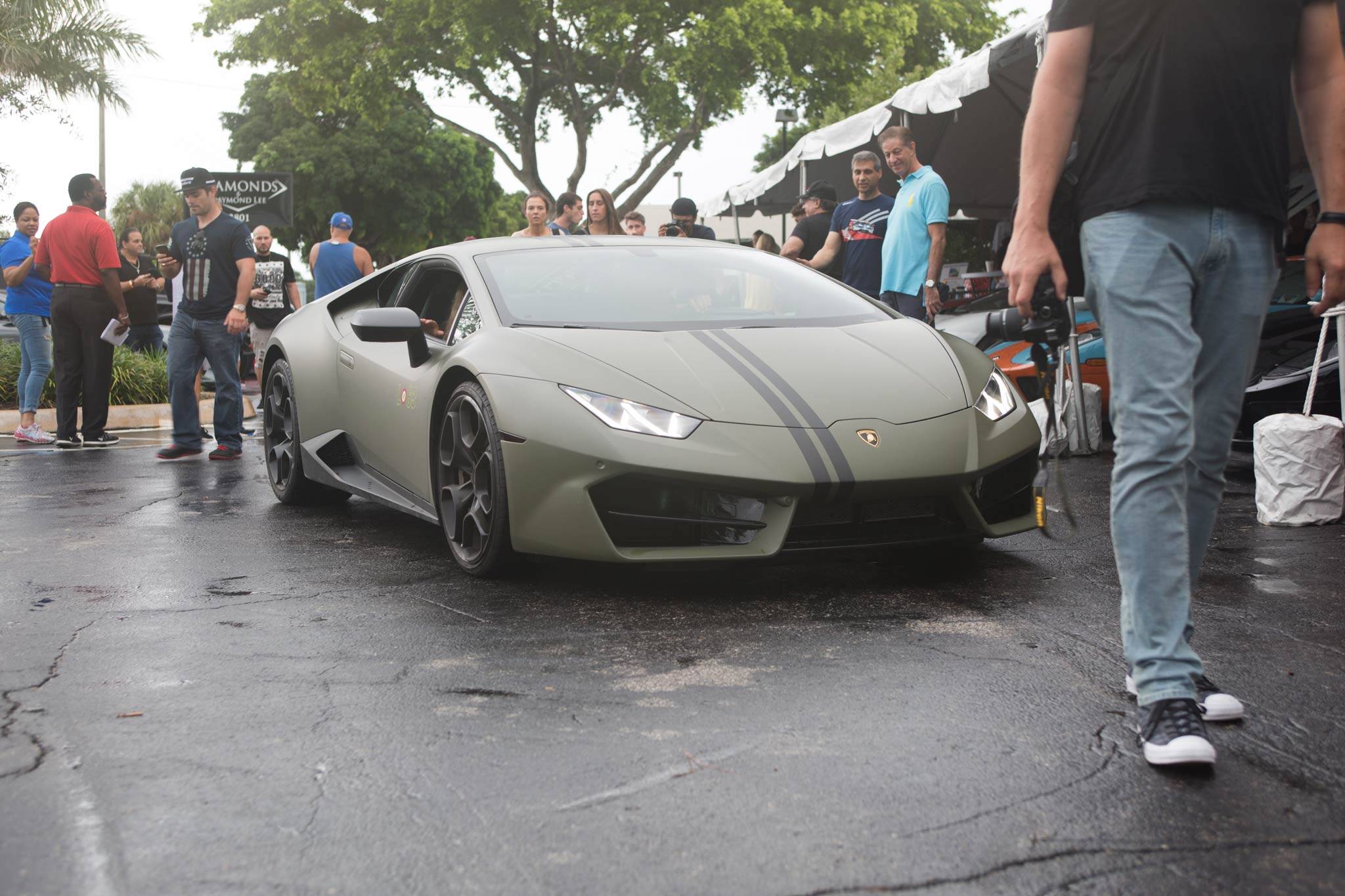 @sofiyarothschild allowed us to gawk at her supercar, which has a V10, 5.2L, 90 degrees, Multi-Point Injection, and Direct Stratified Injection engine.
Amazing shot from the event.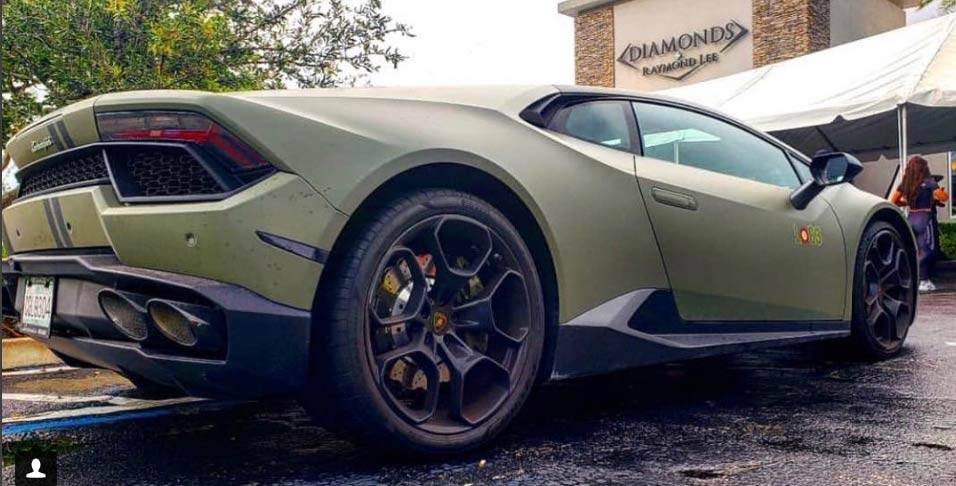 The LP 580-2 has a 7-speed twin-clutch auto transmission and is a rear wheel drive. The torque of 560 NM at 6500 rpm and power of 602 bhp at 8250 rpm is not to be messed with. The LP 580-2 will reach 0 to 60 in 3.3 seconds.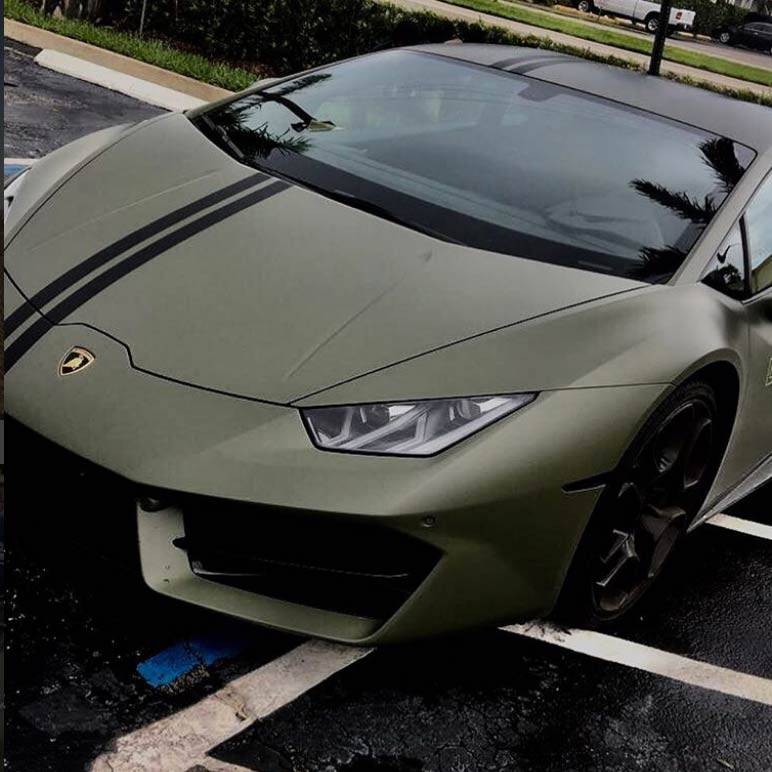 Although her car might look wrapped, it isn't. In fact, it's a factory paint job and a tribute to the bravery and courage of the Air Force. It doesn't get better than that. There have only been 250 made so this sports car/supercar is extremely rare. It was also a perfect fit for the day's charitable contributions to Military Heroes.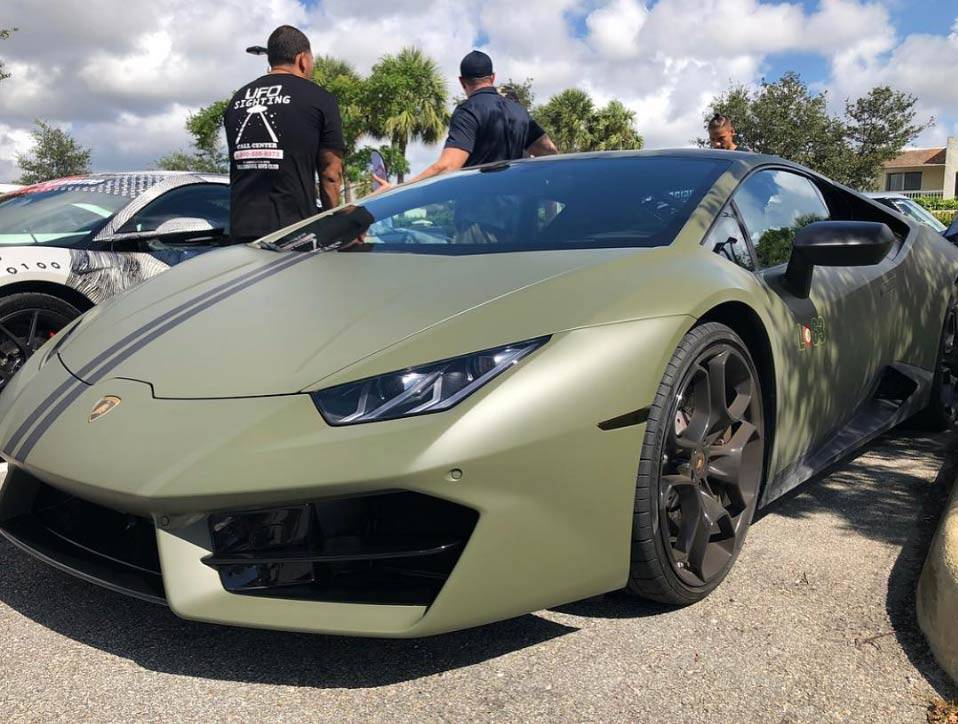 The 580-2 is stunning and many say it looks much nicer than the 610 styling wise. But that's purely subjective. Nonetheless, Diamonds & Donuts was thoroughly honored to have a car of this quality and uniqueness bless the parking lot.
Lamborghini Aventador Roadster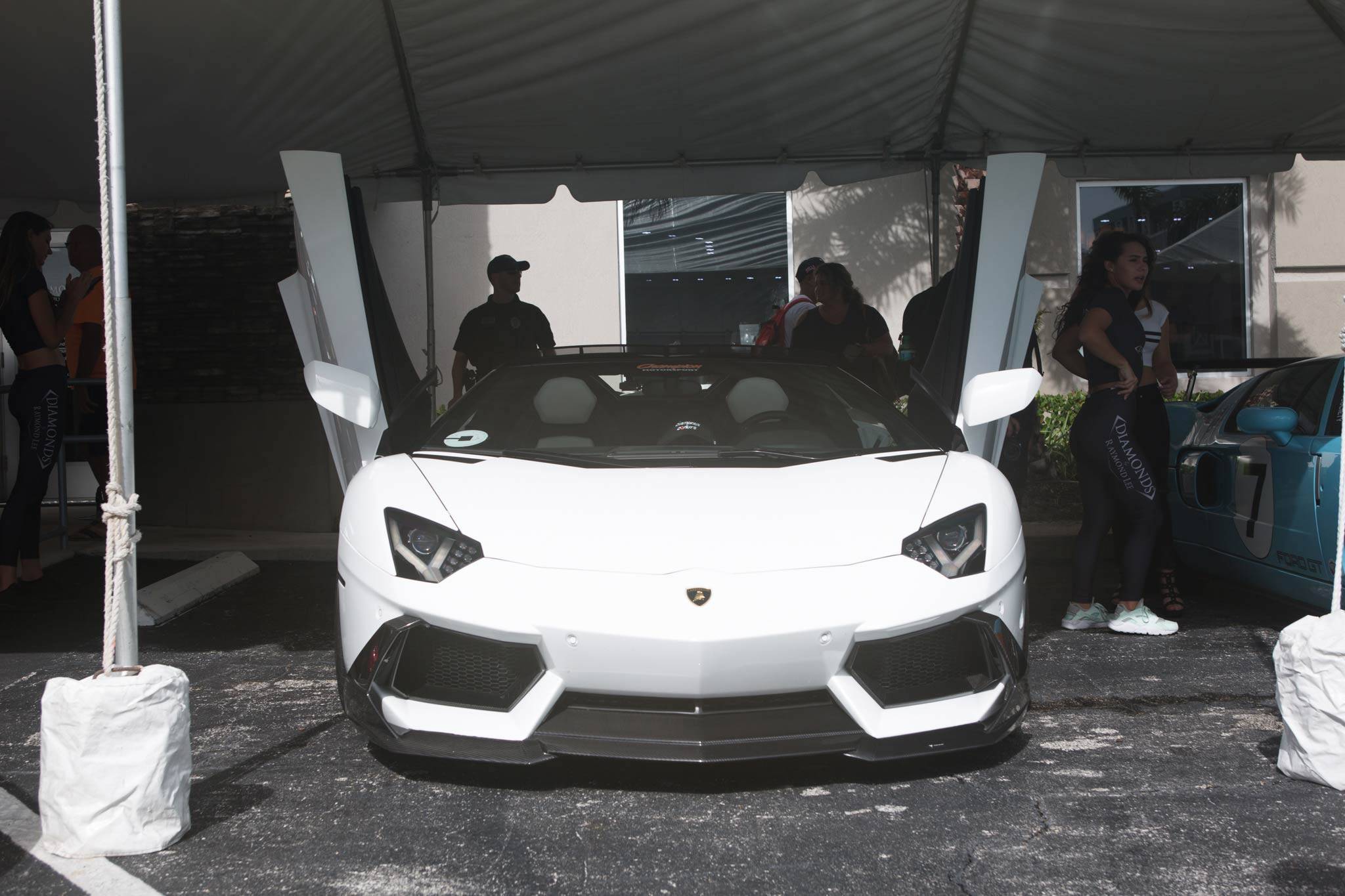 @jasonyaco, a seasoned Diamonds & Donuts baller, showed up in his V12 Lamborghini Aventador Roadster.
His mighty Aventador Roadster rocks Anrky AN28 in brushed black @anrkywheels from @wheelsboutique and @wheels_jon. It also has carbon fiber Vorsteiner front, side skirts, and rear wing.
Suicide doors with a sunset view.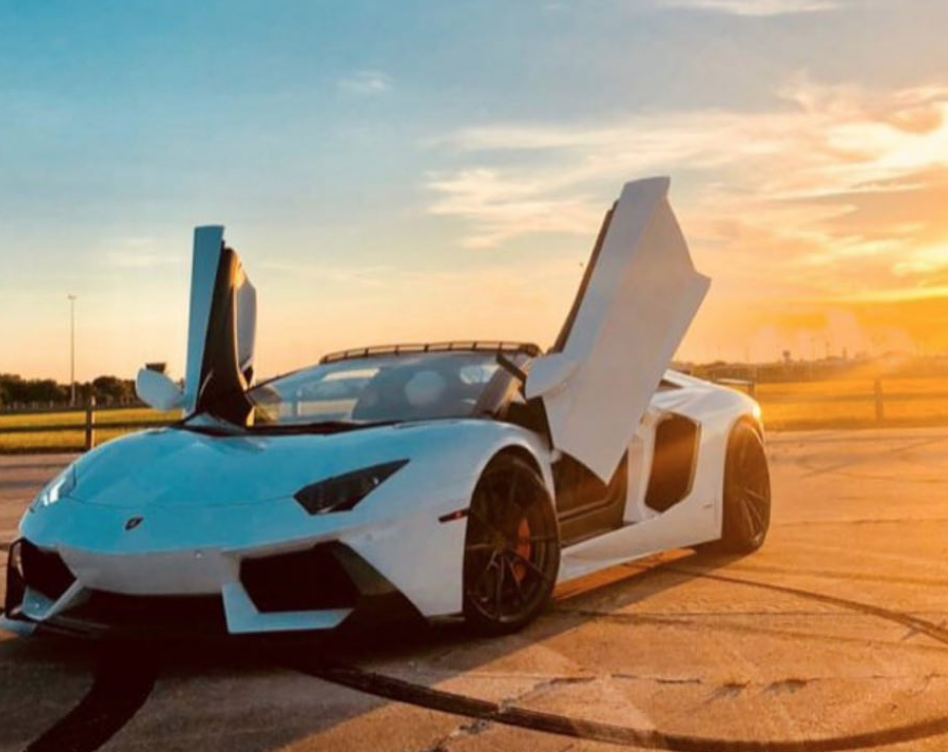 It's got an aggressive design that speaks highly of Lamborghini's most outrageous creations. It reminds you of the kind of car that Batman might drive down Route 1 while on holiday in California.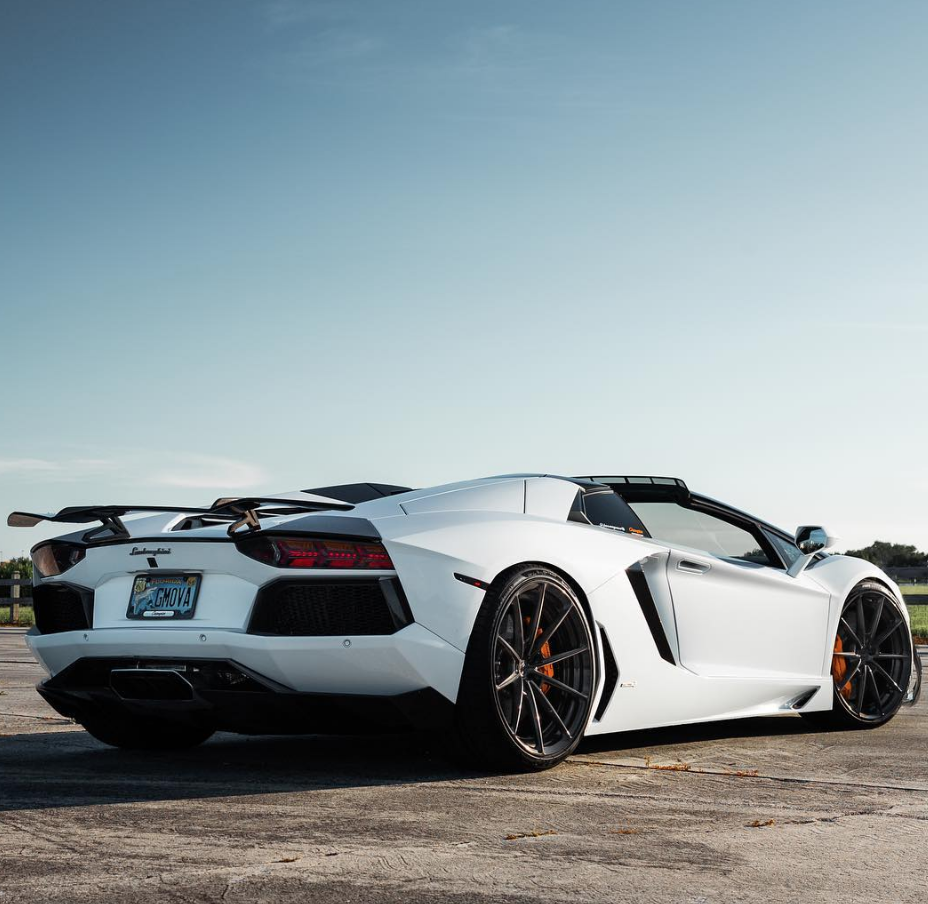 The Aventador Roadster has a carbon fiber tub platform, 6.5-litre V12 engine, and seven-speed single-clutch gearbox. It's the dragon of cars as it spits fire with a 691bhp.
We are told that it drives pure, fast and sharp, with a precision feel that's one-of-a-kind. It reaches an astonishing 217mph top speed with or without the roof down. It's a complete and utter monster with a rev range of 8500rpm.
0-62mph in 3.0seconds? Yes. INSANE.
Check out Jason's Instagram for more cars. Here are few we took from his profile.
Yellow Lamborghini Aventador LP 700-4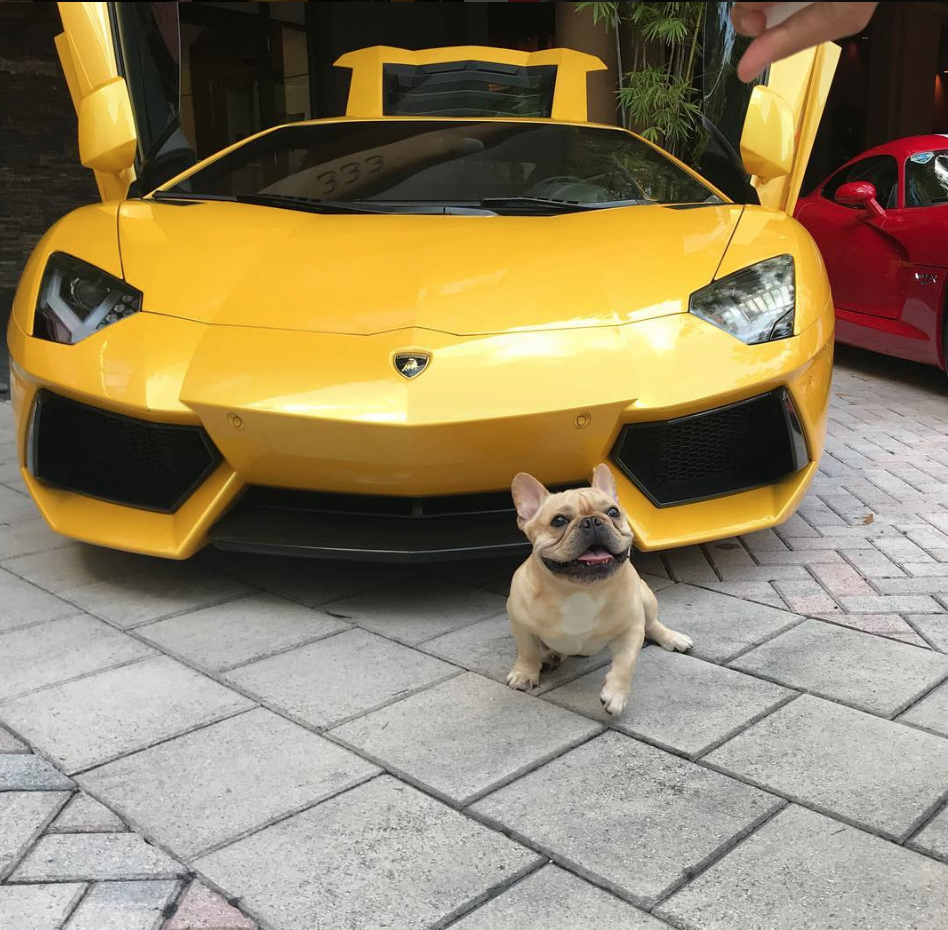 Pearl yellow Lamborghini Aventador LP 700-4. The LP700 has a base price of around $400,000. This Aventador uses Lambo's new 700 PS (690 bhp) 6.5L V12 engine and can hit a top speed of 217 MPH (0-60 in 2.9 seconds).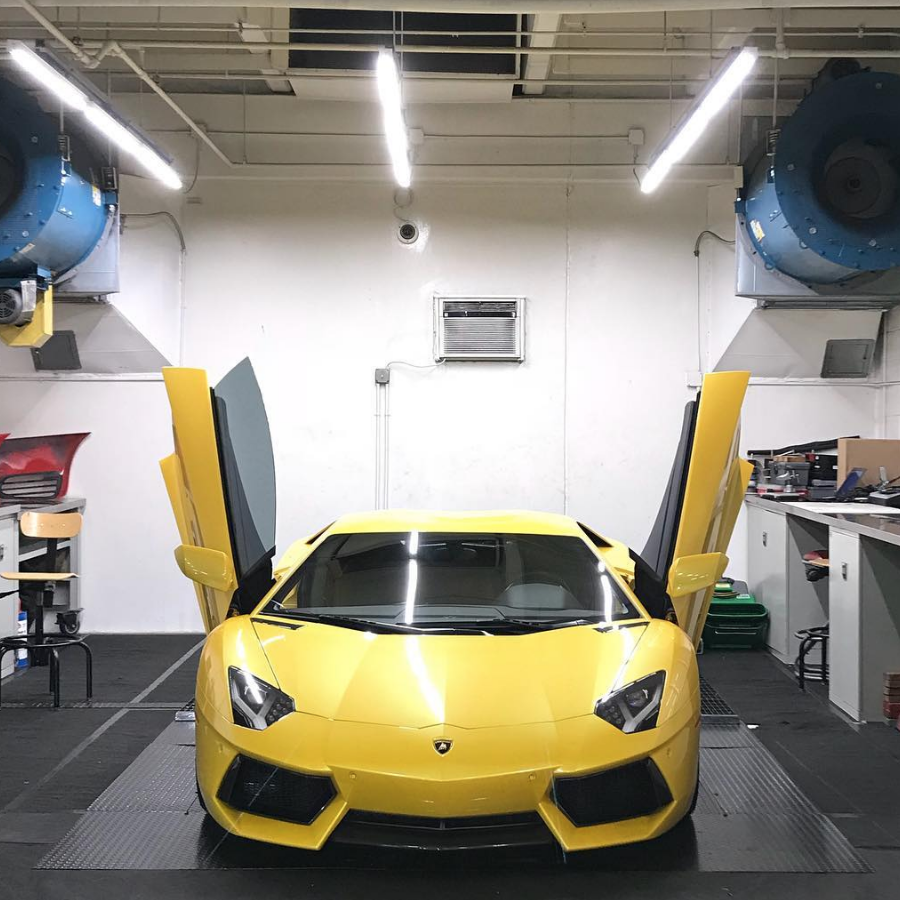 Ferrari 488

Before and After – Ferrari 488

McLaren 570GT (Purple)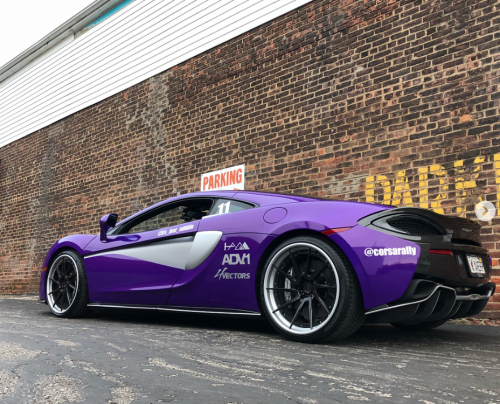 @its_just_edddie rolled in with the 570GT. The 570GT combines special comfort and usefulness to astonishing performance. It is the epitome of McLaren. Thus, it is optimized for the road and it makes for a transcendent sports car experience. Furthermore, the 570GT is perfect for daily use, long journies, and weekend getaways.
It has a glass hatch in the rear, a leather-trimmed touring deck, and a panoramic roof that states "I'm sexy and I know it".

Rolls Royce Wraith (Custom Wrapped)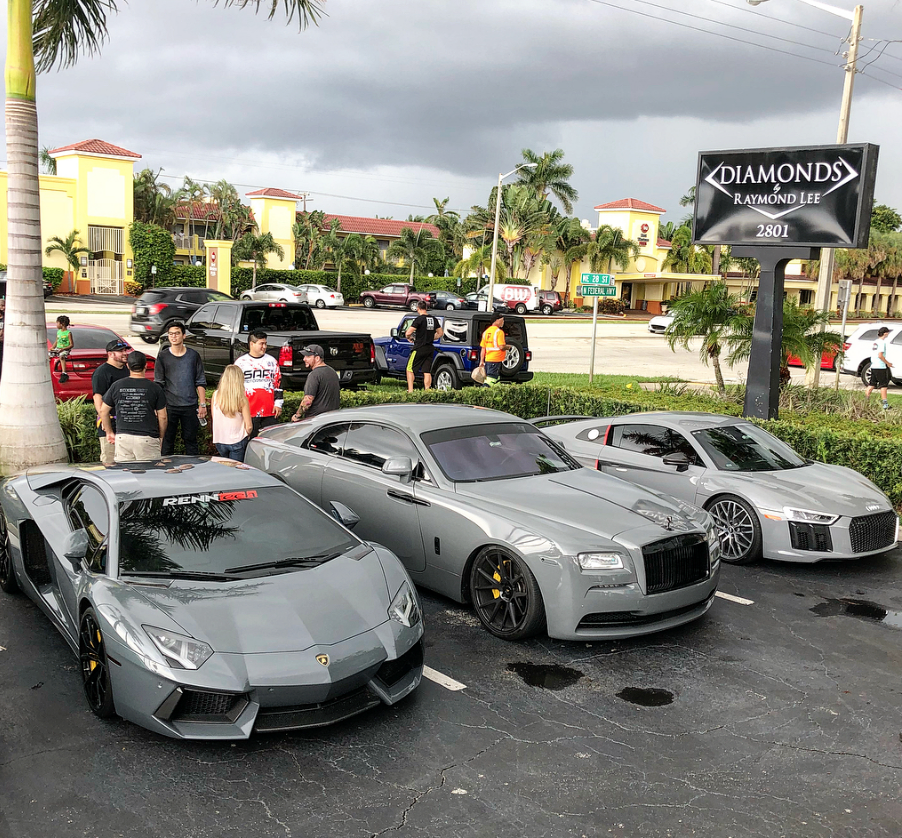 @grigio_bull made an appearance again and joined up with a couple shades of grey to match the gloomy South Florida sky. His Rolls Royce Wraith is perfectly wrapped by @wrapsociety_usa, tune and lowered by @renntech, with wheels and exhaust done by @signature.autohaus.
Check out the before and after on the wrap job – Pure fire.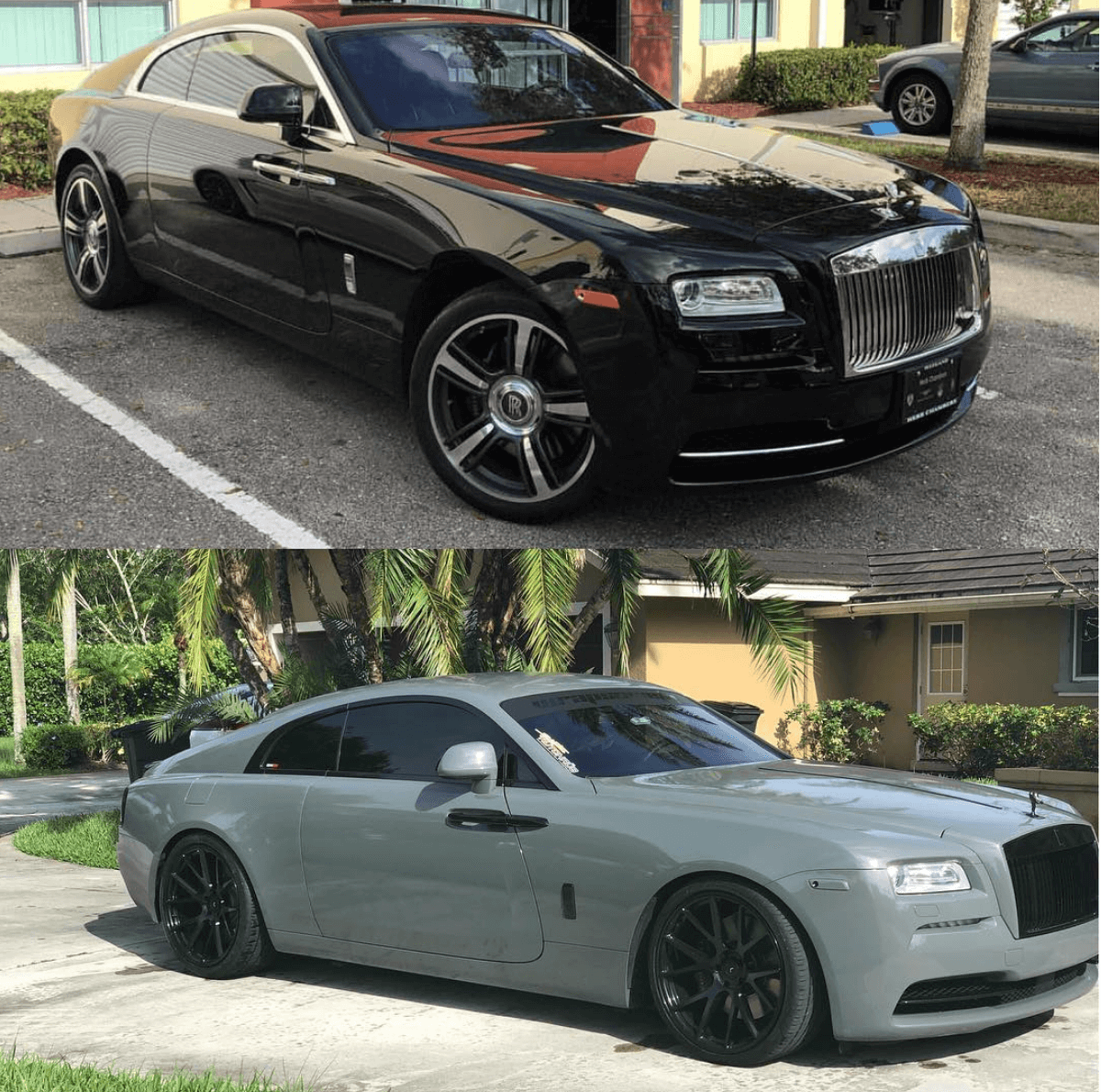 Aventador LP 700-4 before the gray wrap.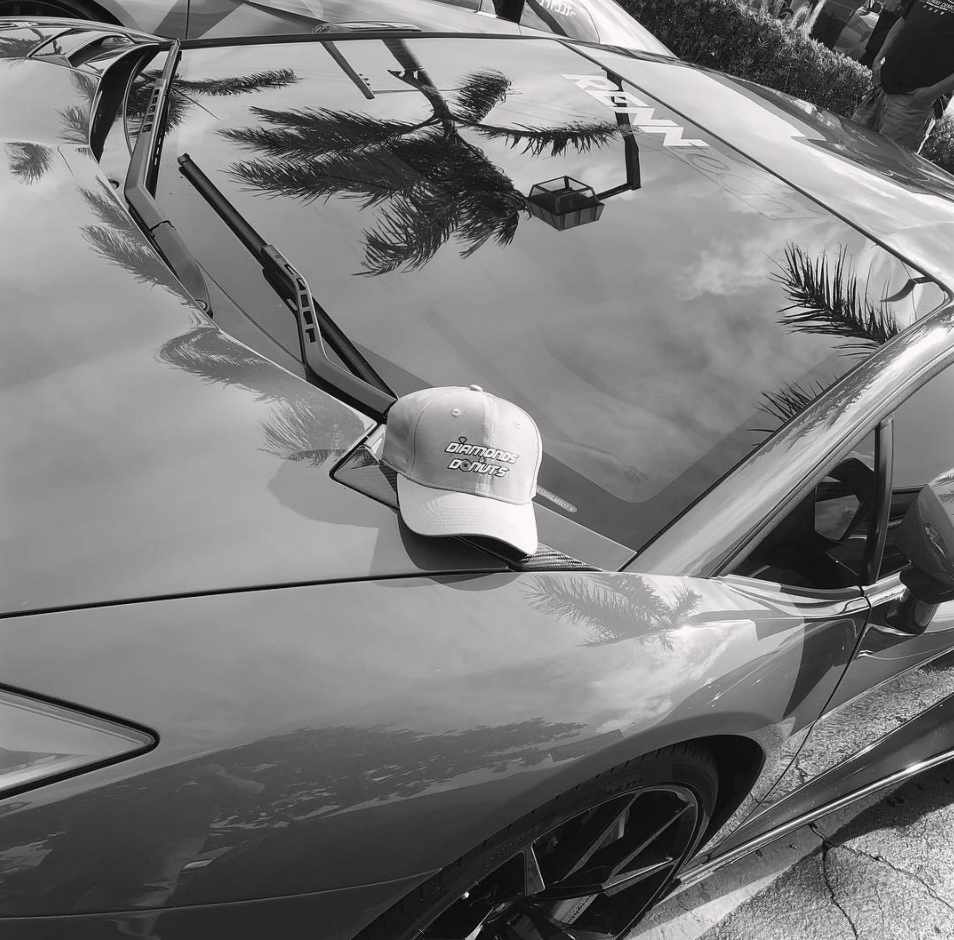 Aventador LP 700-4 before the gray wrap.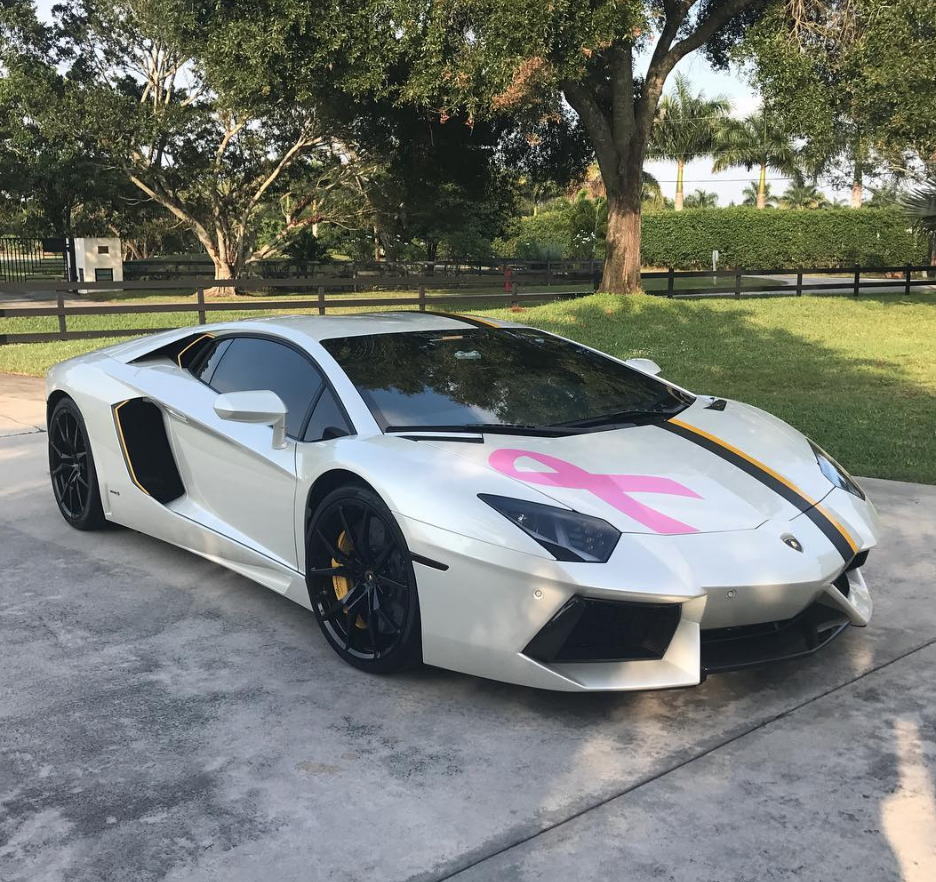 Porsche GT3RS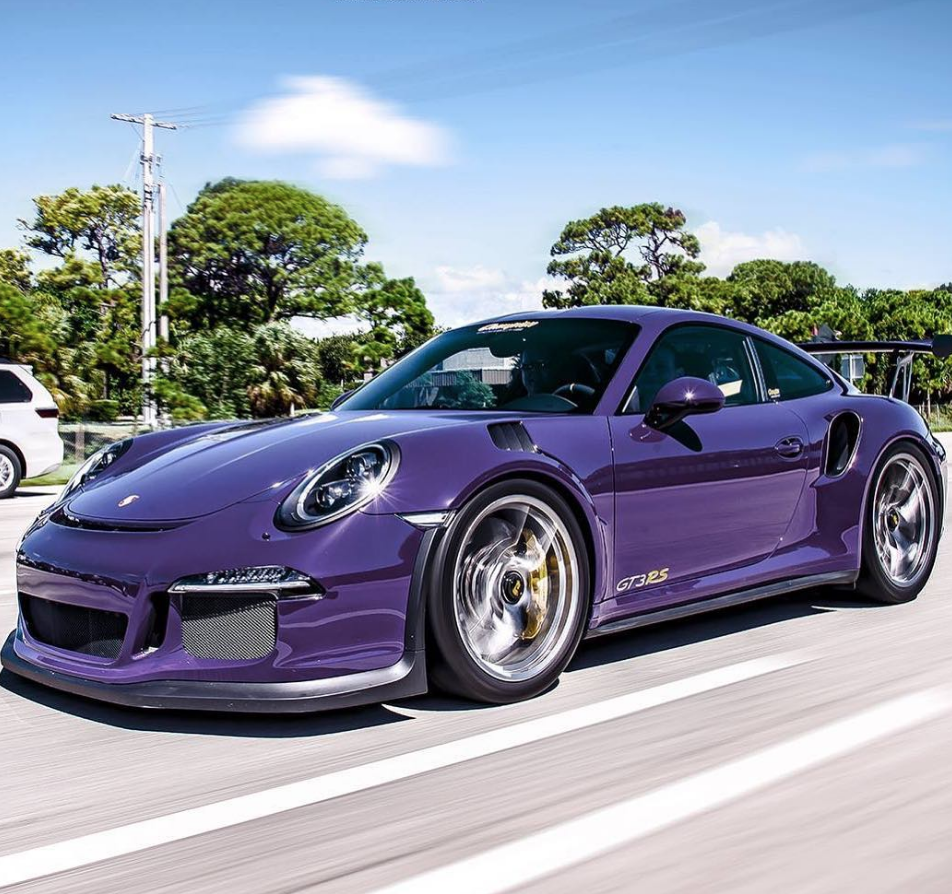 Porsche GT3 Acid Green

He said that "the Chevy truck is still his favorite to drive."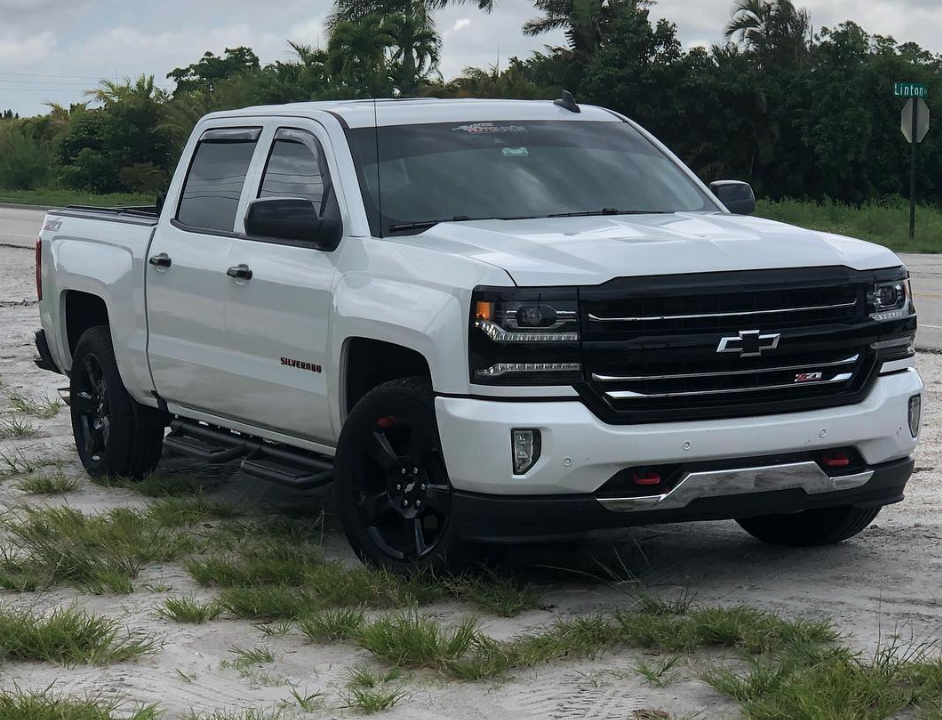 2017 R8 V10 Plus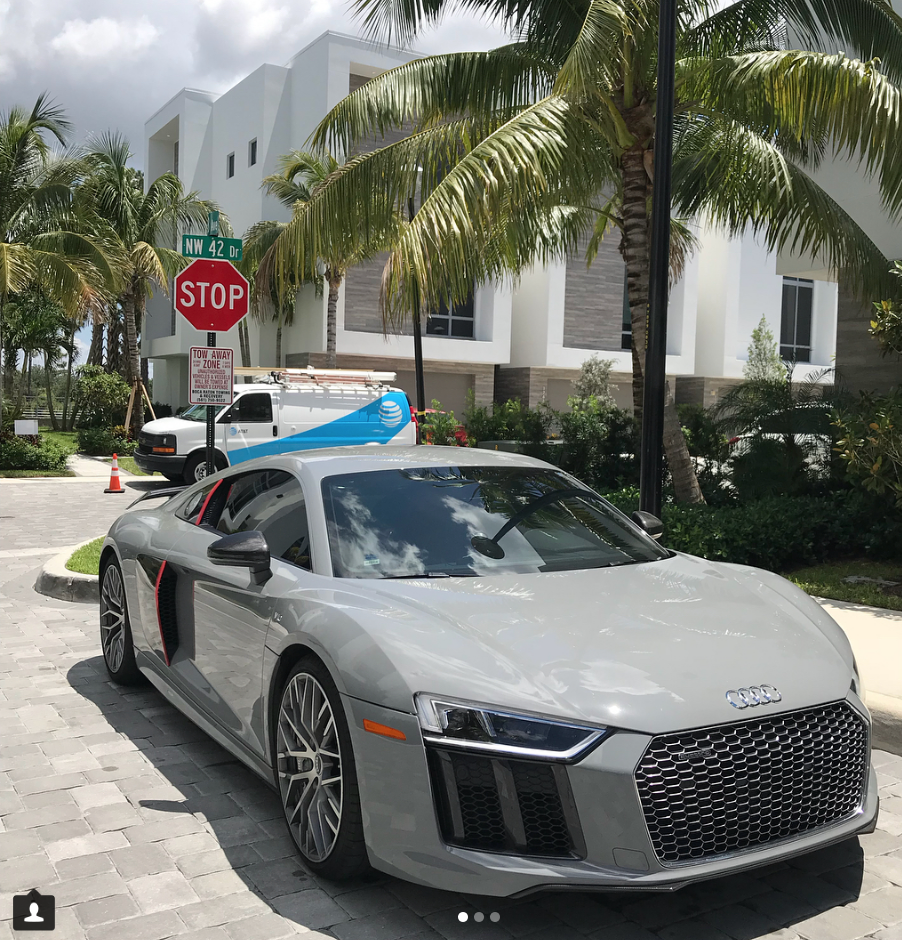 @yu.888888 has a luscious Audi R8 coupe which was a beauty to behold. We can imagine how easy this R8 must be to live with, and how amazing it is to drive. It's everything you need in a luxury sports car. His R8 is equipped with a 540hp, 5.2L V10. AND, V10 Plus makes 610 hp. SKR SKR! The interior is stunning and it features a 12.3-inch display in place of original gauges. Furthermore, there is a 4G LTE connectivity and Wi-Fi hotspot.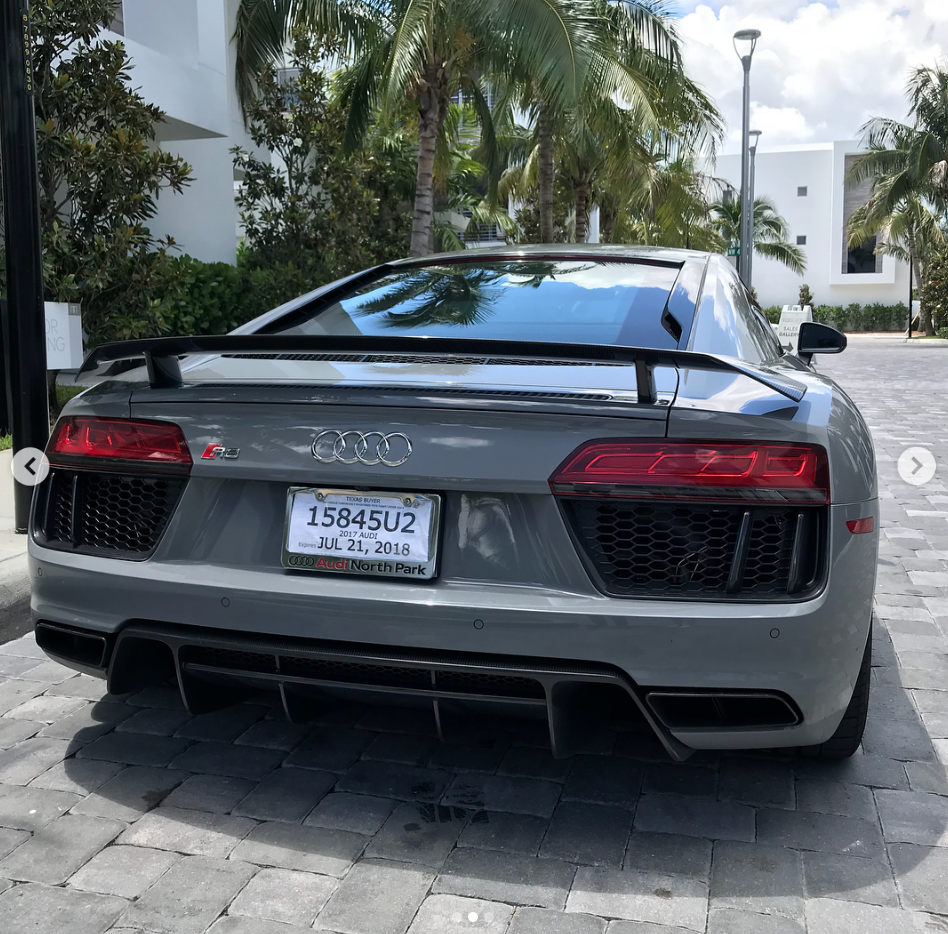 McLaren P1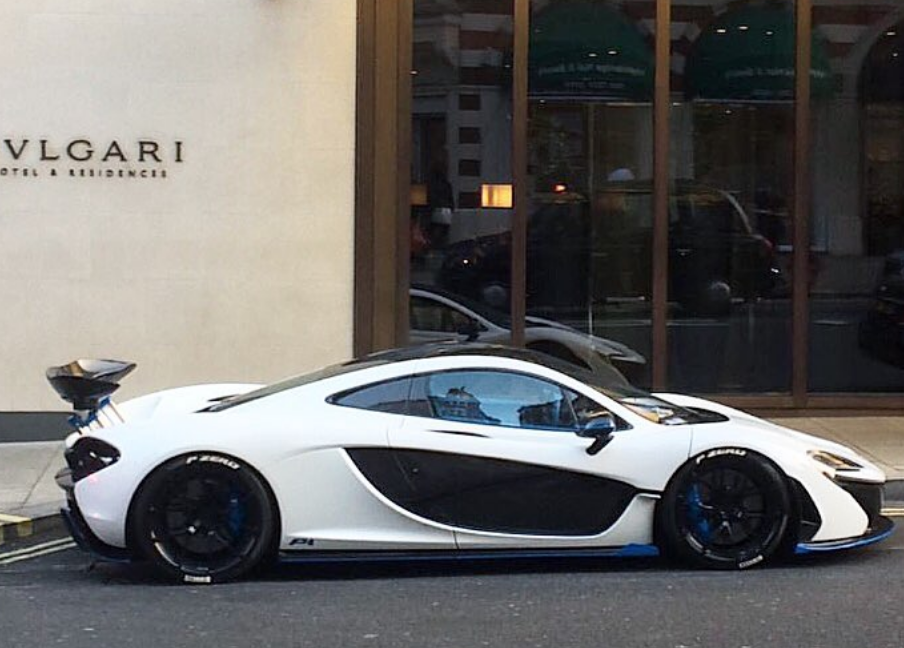 Dubbed the 'Holy Trinity' of supercars. Not many cars look as great as the McLaren P1. Furthermore, not many cars have amazing performance AND "futuristic" looks and technology.  The electric slash gas hybrid makes 903 hp with 627 lb-ft of torque thanks to the combo of a 3.8-liter twin-turbocharged V8 and a permanent-magnet synchronous electric motor. The entirety of its power is aimed at the back wheels through a quick-shifting 7-speed automatic transmission. The P1 was listed at $1,350,000, however, it's not unusual to see them listed at $2,500,000
G500 4×4²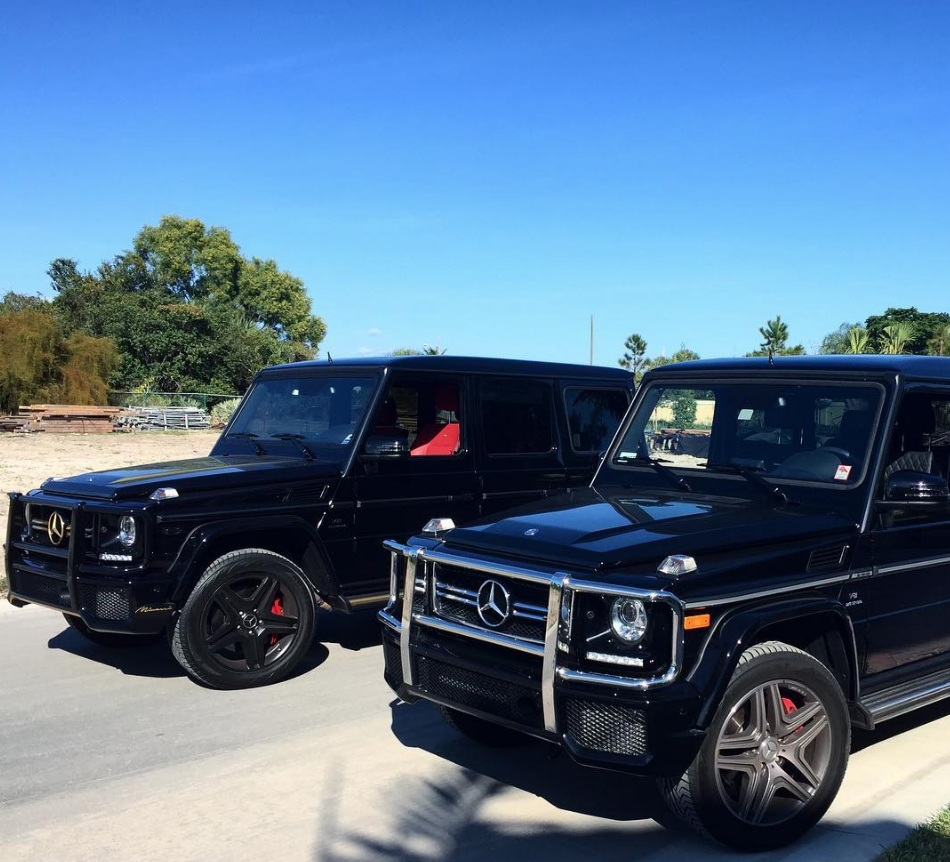 From the intense G-Class model family, the Mercedes Benz G500 4×4. It is equipped with a 4L bi-turbo V8 petrol engine making 416 bhp and 450 lb-ft of torque. The G500 4×4² has 3 differentials and a 7-speed automatic gearbox. It has a ground clearance of 410mm. Truly a beast of a vehicle. Not to mention, as a daily vehicle, this takes comfort to a whole other level.
This Month Charity: Military Heroes
The reason we made this all happen – Military Heroes Support Foundation (MHSF).
Diamonds & Donuts charity of the month goes to Military Heroes Support Foundation. MHSF was founded on the premise that no man or woman who was willing to give the ultimate sacrifice for their country should ever find himself or herself alone.
In early 2008, MHSF founder Karla Smiley found herself at Fort Bragg attending her son's graduation. While staring out at her child in admiration, she noticed that fellow troops set to deploy overseas stood alone without family support to bid them farewell. This broke her heart and she thought, "Who would send them letters?" "Who would send them care packages?" This is when her vision and inspiration for Military Heroes was born.
"NEVER LET A HERO STAND ALONE"
In 2008, MHSF was founded and created on the sole principle of "NEVER LET A HERO STAND ALONE". As post, present and retired service members, friends and families, MHSF volunteers are committed to the men and women of our United States Armed Forces and their families. On a monthly basis, volunteers collect, pack, and ship hundreds of boxes with supplies for our deployed soldiers out at sea, in the Middle East, Africa, and the many other locations where soldiers are deployed or stationed.
While soldiers are deployed, MHSF ensures that the soldiers' families at home have the support they need. MHSF provides school supplies, backpacks, Thanksgiving meals, Christmas wish lists, and many other services geared toward making their lives secure.
MHSF also provides transition assistance for soldiers once their tours are complete. US, on-staff Navy Chief provides the resources needed for civilian life transition like job training, housing assistance mental and emotional support for soldiers and families experiencing transitional hurdles.
MHSF mission is to provide US military active duty members and veterans' direction and support in achieving a safe and healthy deployment, a successful transition, and a healthy return home. MHSF Corporation is a 501(c)(3) nonprofit company that relies solely on volunteers and donations. All members provide their free time and all donations are 100% contributed towards the care of soldiers and program fulfillment.
MHSF passion for helping Americans who put their lives on the line for our country drove us to do more, and every day they work to keep the promise, to NEVER LET A HERO STAND ALONE.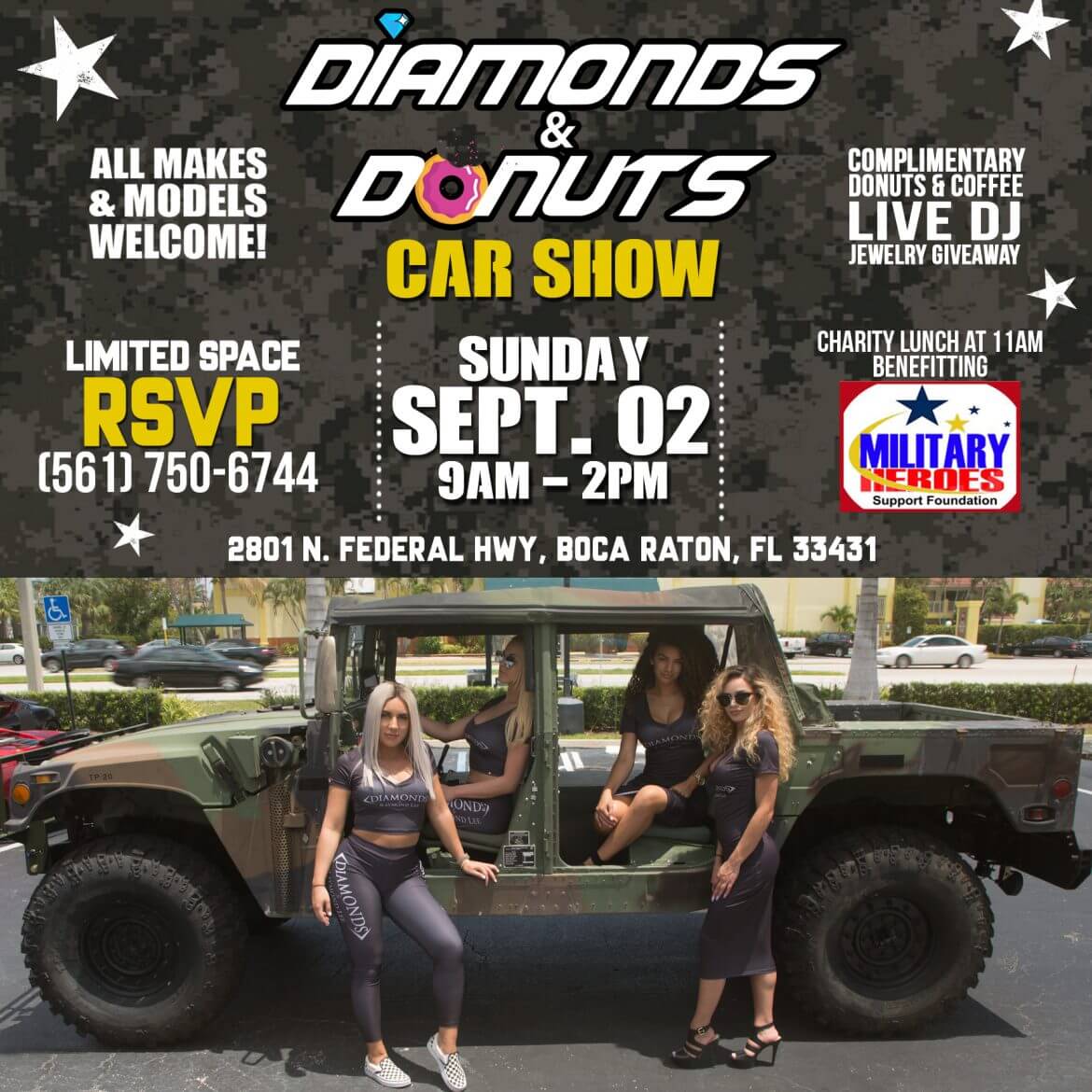 Accolades & Appreciation
We want to thank everyone who turned up to Diamonds by Raymond Lee for Diamonds & Donuts this past week. Our accolades and appreciation for everyone who took part goes beyond anything we could express in words.
We are truly grateful for the people and organizations of South Florida that work with us to put on this amazing exotic car show at our retail store in Boca Raton.
Huge shout outs to the all the car owners (and the cars) who delighted the community with their vehicles, incredible food vendors, The Boca Resort, Exotic Car Society, DJ Lite Bites, and all the other great, local companies who made all of this possible
We want to give a special thanks to the spectators as well. You are a vital part of what makes this event so fantastic.
Without everyone's support and commitment, this event would not nearly as successful as it is. We are honored to spend time with each and every one of you while enjoying the most glorious, luxurious, exotic cars and diamond jewelry that Boca Raton and South Florida has to offer.
What people in the South Florida community are saying about the Diamond & Donuts Car Show






Next Diamonds & Donut Exotic Car Show in South Florida: October 21, 2018
The next Diamonds and Donuts is on Oct 21st, 2018.
Come to Diamonds by Raymond Lee on Sunday, October 21st from 9am to 2pm for the next Diamonds & Donuts Boca Raton exotic car show. Enjoy breakfast snacks, BBQ, a jewelry giveaway, a live DJ and more!
The BBQ runs from 11am to 2pm and all of the proceeds will be going to the charity we are working with for the month (Boys & Girls Club of Broward County).
This is a must-see event in Boca Raton. We are one of the best car meet in South Florida and we hope that you will stop by to see all the incredible cars (McLarens, Ferarris, Lambos, and more exotics and supercars to feast your eyes on) while enjoying some delicious food from local vendors.
Note: The BBQ is all you can eat and it comes with a small donation. Giveaway raffle tickets and wristbands will be sold during the event. If you plan on joining, please sign up here.
Our charity tie for the next Diamonds & Donuts South Florida Car Show in Boca Raton is The Boys and Girls Club.
Come out to support the local community. Our goal with the next Diamonds and Donuts South Florida car show is to help the Boys and Girls Club in any way we can so they continue to do incredible things for both the youth and the community of which they are members.
If you haven't heard about the Boys and Girls Club, they are an organization that works tirelessly to provide children and teens with opportunities they may not have otherwise. The Boys and Girls Club of Broward County offers South Florida's youth a safe place to grow and learn. They give kids a chance to participate in life-changing programs that allow for character development, personal health, and mental growth.
How to join the next Diamonds & Donuts Car Show in South Florida?
Diamonds and Donuts South Florida Car Show is completely free for spectators and any individual who wants to show off their vehicle, whether it's worth $3,000 or 3 million dollars. We DO require reservations for those who want to display their cars, though. Nonetheless, everything is free of charge.
Owners of cars displayed at the Diamonds & Donuts event can share stories and amazing features (and feats) of their cars with any passerby. We publish images of each event on a timely basis, featuring the most noteworthy cars, DONUTS, and our Diamond Girls.
This is a great event for the community. Everyone who attends networks over shared, common interests such as cars, jewelry, and the local community. Guests are mainly residents of South Florida who have heard about the Diamonds & Donuts car show in Boca Raton via social (Diamonds & Donuts Instagram) or word of mouth (we are the talk of the town when it comes to car meets these days).
If you plan on bringing your car for exclusive parking for the next event, please sign up here.
The Diamonds & Donuts Car Show in Boca Raton Past Charitable Ties.
America has a long history of car shows, which first began in the early 1900s. So it's not a surprise that our culture has a deep connection with cars. One the world's first mass-produced cars was the Model T by Ford. Therefore car shows invigorate our country's founding values of equality and freedom.
In April 2017, the Diamonds & Donuts monthly car meet in Boca Raton was born thanks to Diamonds by Raymond Lee. The vision was to bridge the grandeur of collector cars and luxury diamond jewelry in an effort to support causes that have a profound impact on our country.
Diamonds & Donuts has successfully raised money and provided other charitable contributions for the Boy's and Girl's Club for numerous events, a local high school called Majory Stoneman Douglas after an awful tragedy affected its members, and Military Heroes for this past event.
The ability to combine charitable efforts with a fantastic car meet has made this event a major accomplishment. Diamonds by Raymond Lee and all the people involved look forward to this event month after month and there is no stopping in sight.
We have relished in a plethora of exotic cars over the past year. Such as, Lamborghini, Aston Martins, Ford GTs, Ferrari, R8s, and many, many more amazing (like the literal definition) cars.
About Diamonds by Raymond Lee
At its core, Diamonds by Raymond Lee is all about family. We are a family owned and operated business with a long history in the luxury jewelry market. Our retail store sells wedding and engagement rings from top designers, designer watches, and platinum, gold and other precious metal and gem jewelry.
We are South Florida's premiere Estate Jewelry, Luxury Watch and Diamond Boutique. Diamonds by Raymond Lee takes old traditions that never fade and combines it with modern thinking and trends. Therefore we are able to meet the needs of people of all ages. We respect and treat everyone with equality. You are more than welcome you to our retail store if you are ever in Boca Raton. So just pop in and say hello!
If you have any questions, don't hesitate to contact us.
We'd love if you connect with us on social. Check out our Instagram and Facebook and follow us!
Be sure to make it to the next Diamonds and Donuts Boca Raton Car Show. Lamborghinis, Ferraris, McLarens, Fords, Dodges, Aston Martins, Rolls Royce, and tons of other cars are waiting for you. You won't find another car show in Boca Raton like this!