We've had a huge influx in bridal jewelry in the showroom lately, something you may have noticed if you've seen our shop (or Instagram) lately. We've been stocking up on new semi-mounts and adding a few we've had in the vault to our showcases and our online showroom. We have couples come in all the time who already have a diamond, but are just looking for the perfect setting to show off their sparkling rock. But what comes after the engagement ring is always one of our favorite things to help our customers find.
Choosing the perfect wedding band is harder than you might think. Not only does it need to satisfy the requirement of you loving it all day, every day for the rest of your life (no pressure) but it needs to look fabulous with your engagement ring! Luckily, there are hundreds, thousands of options for you to choose from (plenty of which happen to be shining from our showcases in our sunny Boca Raton showroom). With myriad different diamond shapes, configurations, and even the option of eschewing diamonds for gemstones or for precious metal, you can't go wrong.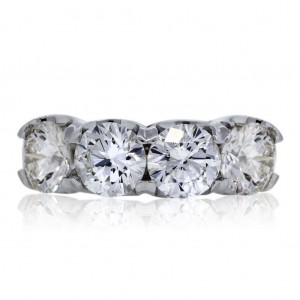 Let's start things off with a (big) bang – this huge diamond ring boasts 4 round brilliant diamonds ranging from H to I in color and SI in clarity, but the trickery in this 4.68 carat diamond ring is that it's a dead ringer for something like a 10 carat big diamond eternity band. Instead, this ring uses the diamonds where it counts (up top, all the better to wave around). The wearer is saved the annoyance of wearing a huge eternity band every day (yes, we know, champagne problems) and the physical irritation of having a huge rock rubbing against your pinkie and middle fingers.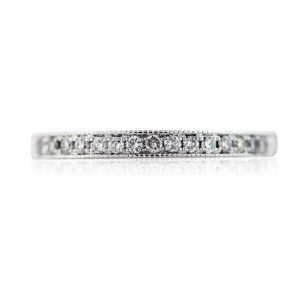 In the opposite direction, we have this lovely, impossibly delicate 14 karat white gold eternity band. With .20 carats of round brilliant diamonds H/I in color and SI in clarity, this ring is so light, thin and sweet that we can't stop staring. It would look perfect stacked with other bands, paired with a large or intricate diamond engagement ring, or even a gorgeous round solitaire.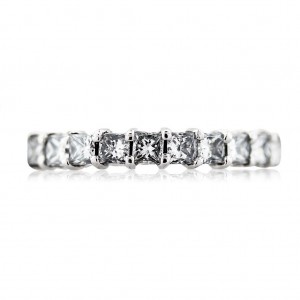 This gorgeous ring is actually on several Raymond Lee employee wish lists if you know what we mean. Approximately 1.20 carats of princess cut diamonds graded G/H in color and a fabulous VS in clarity have us swooning, and this anniversary band is another that distributes the diamonds to give you the most bang for your buck. It saves all the sparkle for the front end, leaving smooth platinum to rest between your fingers and facing the palm of your hand.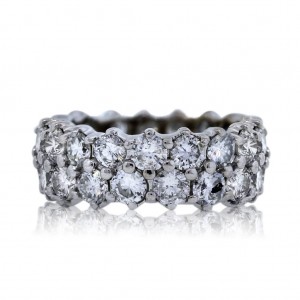 This ring makes a big impact on a budget (one of our favorites things). By stacking two rows of smaller round brilliant diamonds, we still arrive at a hefty 7.8 carats of sparkle but for a much lower price than, say, 7 bigger diamonds a smidge over 1 carat each. We love the super glittering look these bright, clean diamonds have, and with H/I color grades and VS/SI clarity grades and a platinum mounting, the $9995 price tag is a steal for what you get.