Diamond Bands for your Wedding
When it comes to your wedding day perhaps the most important item that you will wear is your wedding band. The symbol of your marriage and a jewelry piece you will continue to wear as a symbol of your love and commitment for now and for ever. From the classic yellow gold polished bands of the past a majority of brides now look for diamond wedding bands. These diamond bands come in a wide variety of styles and designs each featuring diamonds of different sizes. There is a diamond wedding band to fit every bride's personal style. This week we are featuring two iconic wedding jewelry brands  – Henri Daussi and Gabriel & Co. As well as some of the diamond bands from their collections. These range from the thin and closer to classical styles to modern and full of movement. We'll also feature a bit about each one of the brands.
Henri Daussi and Gabriel & Co. diamond bands come in a variety of different styles. The subtle differences really shine when you look to your engagement ring for its design features. In order to choose a pair that go together just like you and your soon to be partner for life are. There are bands set differently into a range of fine metals. So it is easy to get one to match your engagement ring or even stack with other diamond bands. Traditionally considered anniversary bands many of these rings now come in stackable ranges as well. Although if you want just one stunning piece a patterned or designed band like the eternity diamond band below is for you. It has all the romantic swooping lines that you would expect from Henri Daussi. With accompanying diamonds all along the band as well. Let us look at diamond bands for your wedding.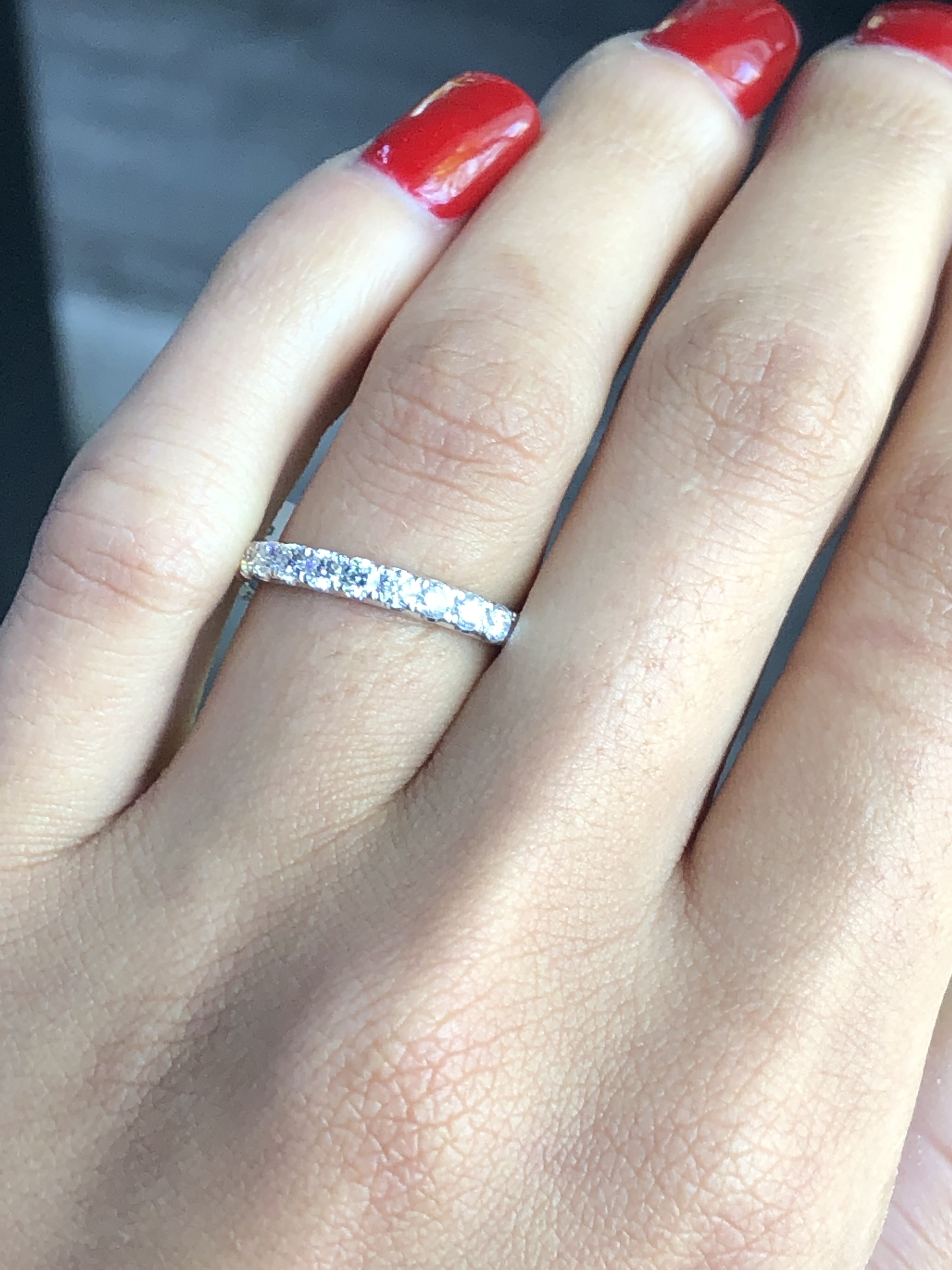 Diamond bands for your wedding
The saying goes that diamonds are forever. So to mark your wedding day and ever lasting love why not get diamond bands! These come in a wide range of styles and designs so you can find the perfect one to go with your engagement ring. Diamond bands started out as more of anniversary bands. A ring you would get to commemorate the years that have passed since the big wedding day. However more and more brides are choosing these gorgeous diamond bands for their wedding day. A modern not so modern trend most wedding jewelry companies that focus on crafting engagement and wedding bands now feature special collections of diamond bands. There are unique designs like the eternity band we have featured below as well as many others. For a full look at all the extraordinary modern diamond wedding bands we have check out our website or visit our store.
You will see some of the brands we are featuring here have unique rings and collections. For example stackable diamond wedding bands! These whisper thin sparkle galore rings are designed to fit perfectly one against the other. On the other hand there are diamond wedding bands made to fit around your engagement ring. The options are infinite. Here though we will go into the more classic designer jeweller wedding bands. Gabriel & Co. and Henri Daussi are after all some of the world's finest wedding jewelry craftsmen. Using the finest materials available they weave stories into each one of their pieces. Exquisite traditional design paired with the latest in technology and technique these jewellers create master pieces. Knowing that their rings are meant for cherishing for a lifetime (or well two!), each of these designer diamond bands are crafted with love. It is dedication to the emotional connections that underlie it.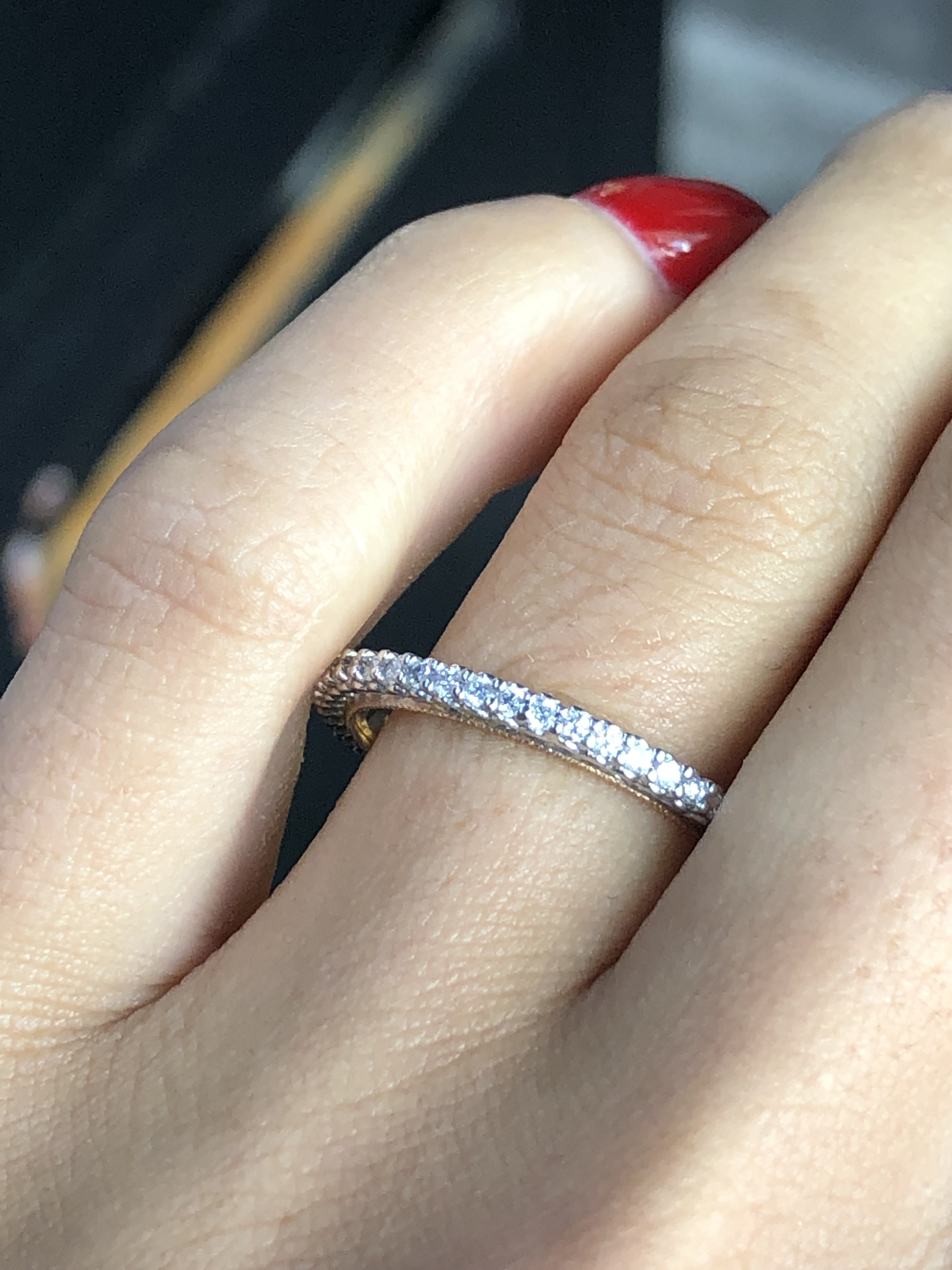 Gabriel & Co. more than just diamond bands
In 1989 by the Gabriel brothers Jack and Dominick established their engagement and wedding ring brand. Gabriel & Co. is not just symbolic they truly imbue each one of their crafted pieces with their family traditions. Their story is one of passion, family, service and love. It is this ideology that is imbued within each and every piece that they design for brides. Their deep awareness of the real meaning behind wedding jewelry, a commemoration. Now all of this is translated into their gorgeous designs. They continue to craft incredible pieces even as their company has taken off and grown. They are one of the finest wedding jewelers in the world now. And all from a family bond. It really is a family passion. Their father Elias Gabriel was a master jeweler. He is the one who taught them the art of the craft. He taught them how to imbue love.
More than a decorative touch or sparkle for your wedding day. They know that their designs are the ones to symbolize the love between two people. Two people bringing their lives together into one. Each ring is crafted with a deep emotional connection to each piece. The focus on the emotional and spiritual elements that they embody into each piece of wedding jewelry is the ideal that craftsmen strive for when it comes to wedding rings. It is why Gabriel & Co. is one of our favorite designers for wedding bands. They have a wide range of  some differing styles. However their touch tends to be more classical and closer to traditional looks. Gabriel & Co. has crafted some of the most delicate, and gorgeous wedding bands throughout the years. See the full range of Gabriel & Co. rings and wedding bands on our site or just pop into one of our stores.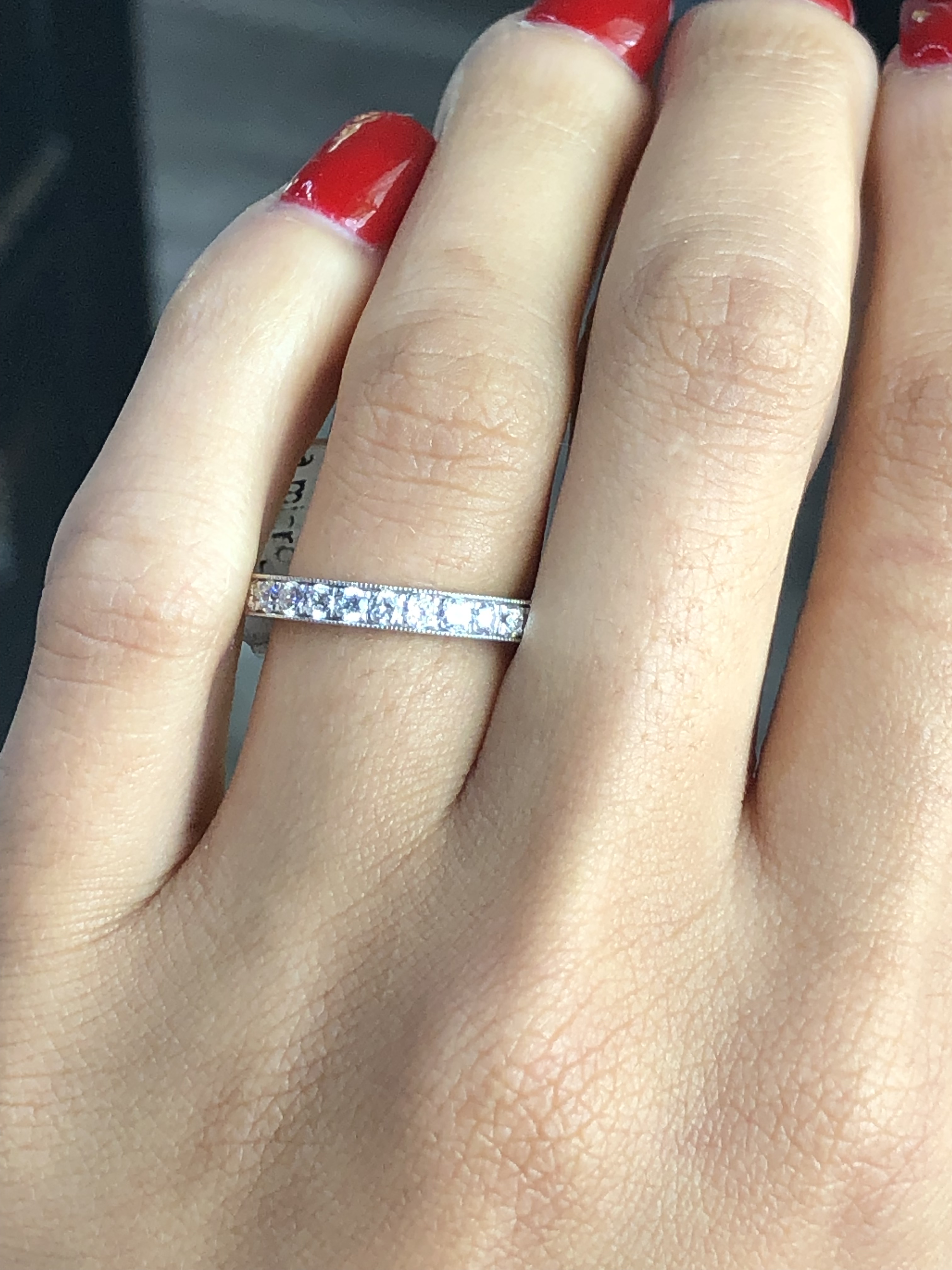 A gorgeous Gabriel & Co. diamond wedding band is this classic straight anniversary band. Although the name says anniversary band as we said before more and more these exquisite diamond rings are being chosen by brides for their wedding days. A touch of diamond sparkle to go along with your engagement ring. This specific Gabriel & Co. band comes in a whole range of fine metals. Of course the white gold as pictured here. However if you are looking for this similar look with a stronger metal it is also available in platinum. Further it comes in rose or yellow gold as well. You can choose between 14 carat or 18 carat for the golds. The accent diamonds all along this band are approximately 0.75 carats of accent diamonds. These are brilliant white round cut stones. They are are G-H in Color and SI2 in Clarity. Also made in the USA.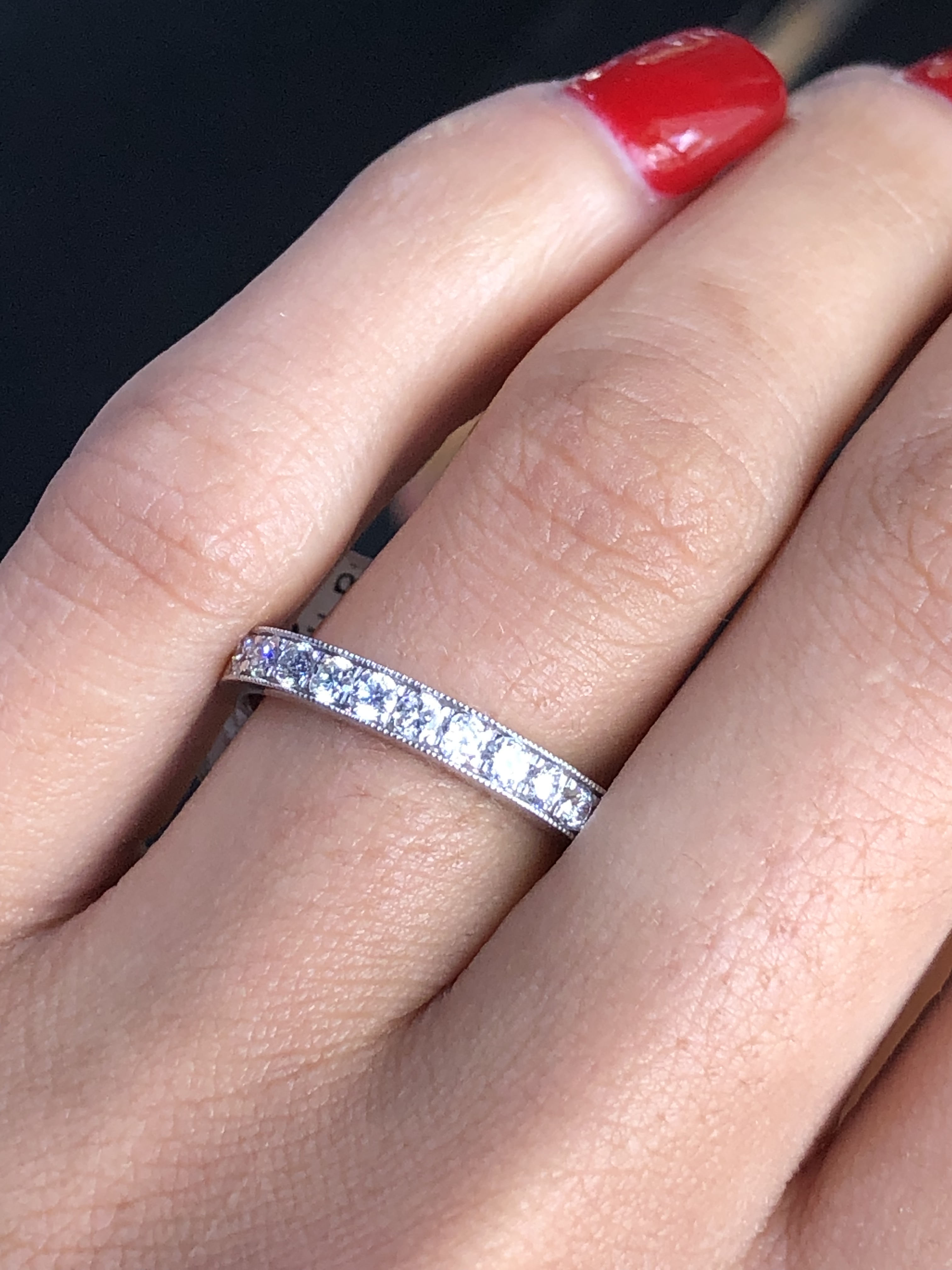 Gabriel & Co. is an American wedding jewelry brand. Since they focus particularly on this segment there is a lot of thought put into each design. It is afterall the symbol of your love for ever more to come. A family business they have an intent focus on creating unique productions. This simple diamond band goes perfectly with any engagement ring. As well as paired with other rings or stacked together. It is versatile and a classic delicate look. This ring has a deeper setting with the band visible above and below the diamonds. While they sit delicately in this channel they shine out. The flanking metal also has a pattern texture all along its length. This is perfect to set your ring beside your engagement ring. Particularly if your engagement ring also features accent diamonds in its own band. The thin metal setting gives the diamonds space from your ring.
Henri Daussi wedding bands
When it comes to diamonds the Henri Daussi brand has their extensive expertise. With a long tradition in diamonds they create incredible wedding jewelry pieces. In Antwerp, Belgium, the world's diamond capital, the most modest beginnings of an iconic wedding jewelry designer began. Henri Daussi learned diamond cutting from his father. He himself had learned the trade from his father before him and so on. Thus the Henri Daussi standard of expertly cut brilliant diamonds set in the finest jewelry pieces became known.
Over time the company grew and over 60 years ago today the Henri Daussi brand was established. It takes the generational knowledge and appreciation of diamonds from the Loots family to create Henri Daussi's namesake brand. The Henri Daussi tradition and commitment to crafting singular ring pieces has been carried on by his grandsons. For the most spectacular moments in life. Their master craftsmen and jewelers place deep meaning behind each ring.
From Belgium to the United States and now Canada the Henri Daussi rings and diamond wedding bands are one of the premiere designers. Each one of their ring designs is imbued with passion and commitment. The moment that their jewelry symbolizes is equally present in their commitment to absolute quality. Overall the designs created by the Henri Daussi brand are both timeless classics and innovative modern styles. Taking into account every detail and crafting pieces destined to be a part of your family for decades is their legacy. As you will see below these rings are not only the traditional style. These are after all the ones that speak to the importance of the worthy occasion. The designers are highly aware that they do not just create jewelry. That they can shape the moments that are at the beginning of the rest of your life.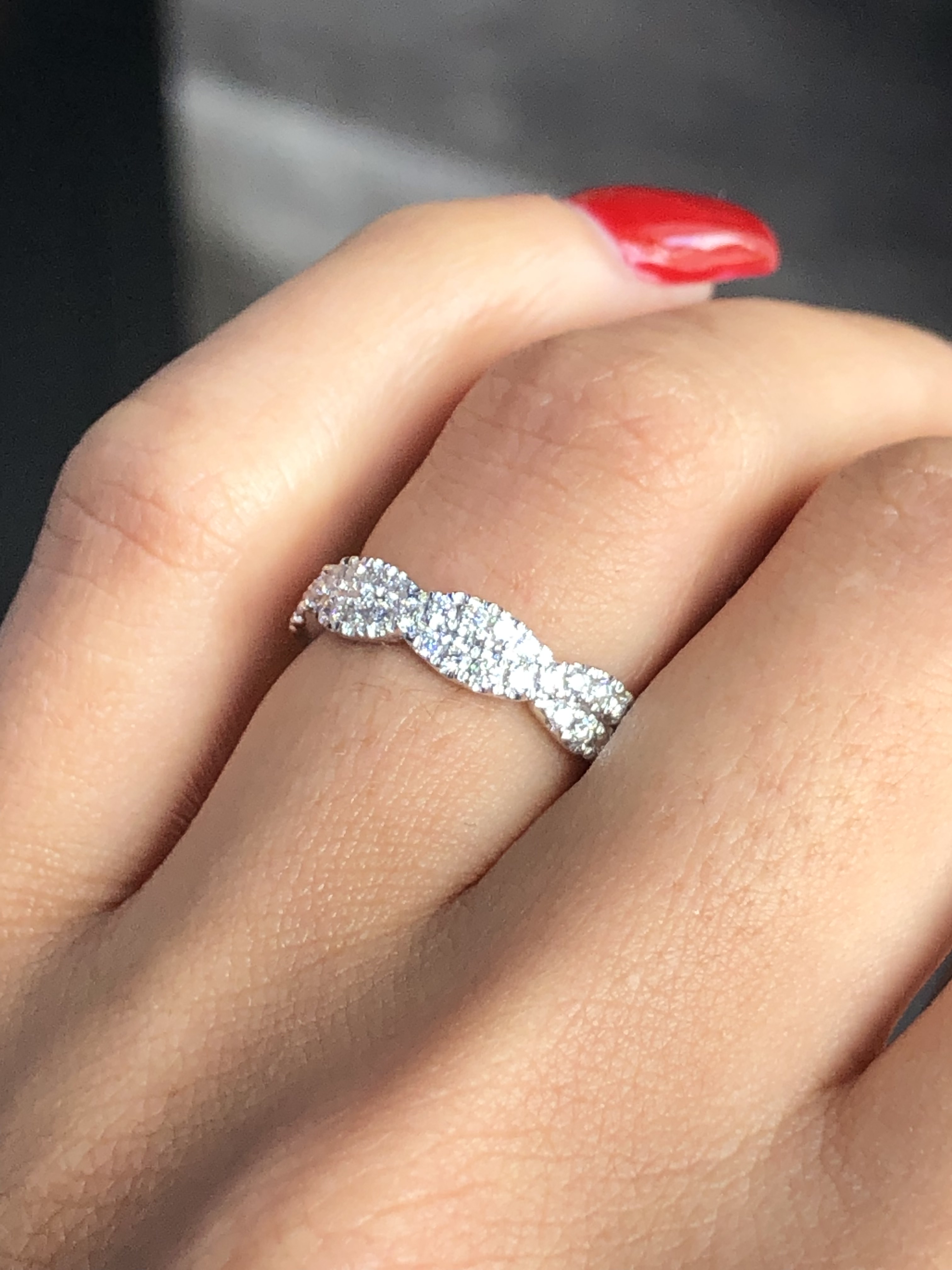 Now this is the more modern of all the diamond wedding bands we have featured here. This eternity symbol style design is a stunning white gold ring. It features approximately 0.35 carats of diamonds set in the shape of a looping eternity symbol. The twisted band is an infinity ring for your infinite love. A traditionally inspired design this band has pave set diamonds. They can be set into platinum bands. Or if you prefer a gold either 14 carat or 18 carat yellow, or white gold. It is a modern style diamond wedding band that brings pattern and design. While it still has the traditional mix of brilliant white round cut diamonds with the silvery shine of white gold or platinum the eternity style changes it up. It is a twisted band the like the two lives being brought together intertwines into one.
It is a perfect symbol for your big day. When both of your own lives are being intertwined and brought together into one.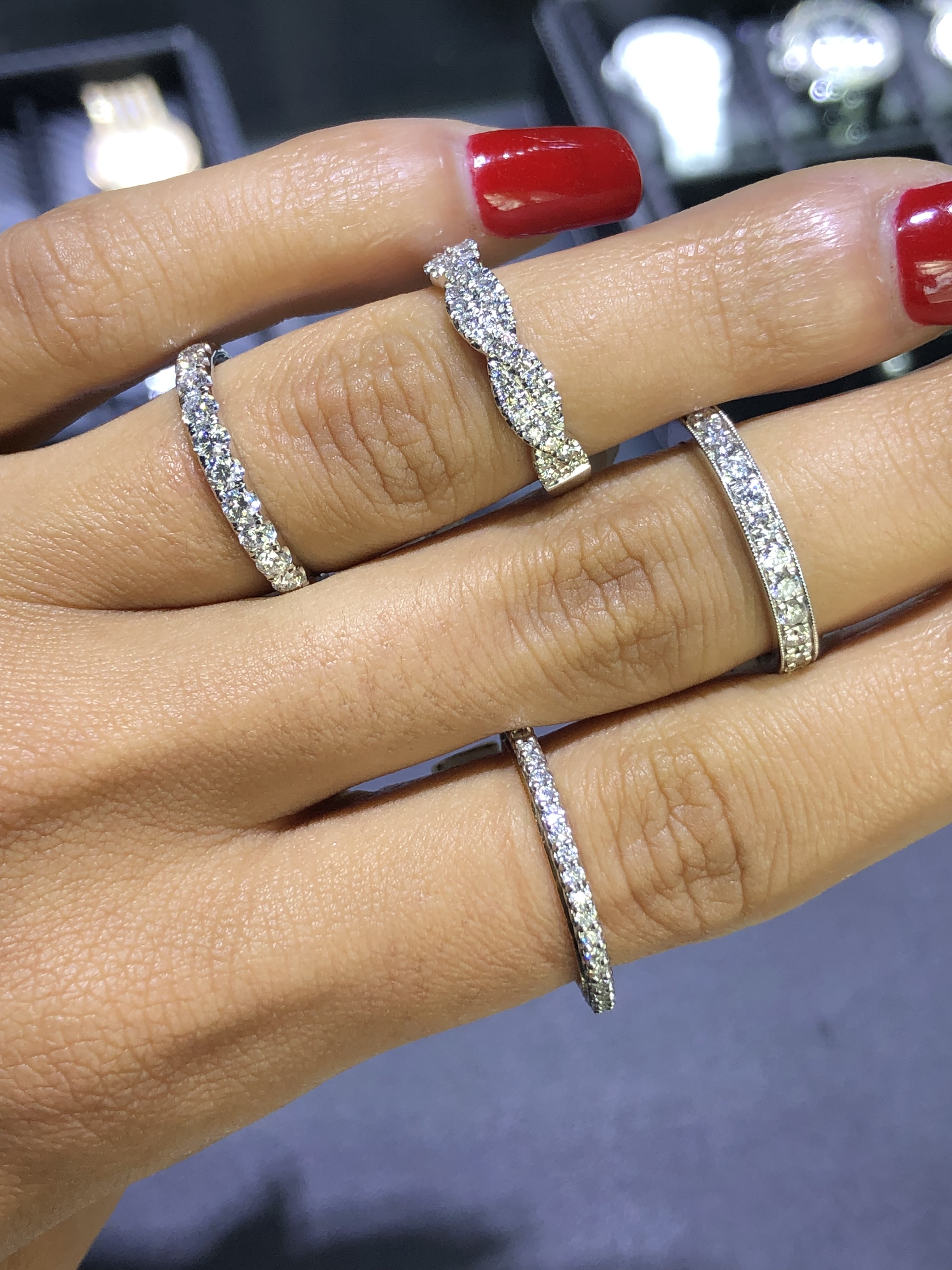 Where to buy diamond wedding bands? Diamonds by Raymond Lee in South Florida
Our family has been proudly serving the South Florida community for the past thirty years. Further we look ahead to the future of our family and hope to continue offering superior service for the next thirty to come as well. At our gorgeous showrooms, we will work with you and your partner so that our diamond and jewelry experts can find a ring perfect for you. As well as care for your bands for decades to come. We offer a robust service of maintenance, repairs and bespoke modifications. If in the future you find that you need to adjust the size of your ring. Or add special stones or details to your favorite jewelry item. Our work is not only to help you get to your happily ever after day. It is to make sure that long after the big day you still have the support and attention you need.
We are proud to have Henri Daussi and Gabriel & Co. jewelry pieces as part of our collection of offerings for weddings. Furthermore we would love for you to see them in person by visiting one of our exquisite and conveniently located showrooms. Here for your pleasure. For each bride's engagement ring and for couples wedding bands. Our team of diamond experts and jewelry aficionados are here to help. Walking with you on this incredible journey bringing both of your lives together into one is what drives our commitment to superior service. Overall there is an infinite number of options for wedding bands. But there is one out there just for you. Each one of the options are ideal for a specific person. You must simply ask yourself what band would you truly want to wear forever. We can answer all of your questions and help you find the answer here.