April Birthstone: Diamond Jewelry Gifts For Her
When it comes to April babies and birthstones, in our opinion, those who were born in April got pretty lucky, especially women. April is the month of the DIAMOND. The most popular and precious gemstone of them all.
Why do we call it lucky? Well, many people give gifts of birthstone jewelry to their loved ones, and what better jewelry is there than diamond jewelry.
The diamond – the hardest mineral on the planet, ranks in at 10 on the Mohs Hardness Scale, and has the distinct ability to be cut, shaped, and polished with über brilliance. Its extraordinary shine and lavishness have captivated cultures around the world for centuries, while also becoming the symbol for one of our most important rites of passage in life – love and marriage.
Diamonds hold a prestige and charm unlike any other stone, thus, this birthstone month is easily one of our favorites. We are Diamonds by Raymond Lee after all. Diamonds are what we do and know best.
In this article, we will cover the diamond's natural origin and colors, the diamond's history, its meaning and history as a birthstone, many interesting facts, and, of course, the best diamond jewelry birthstone gifts for women, in the form of rings, earrings, bracelets, and necklaces.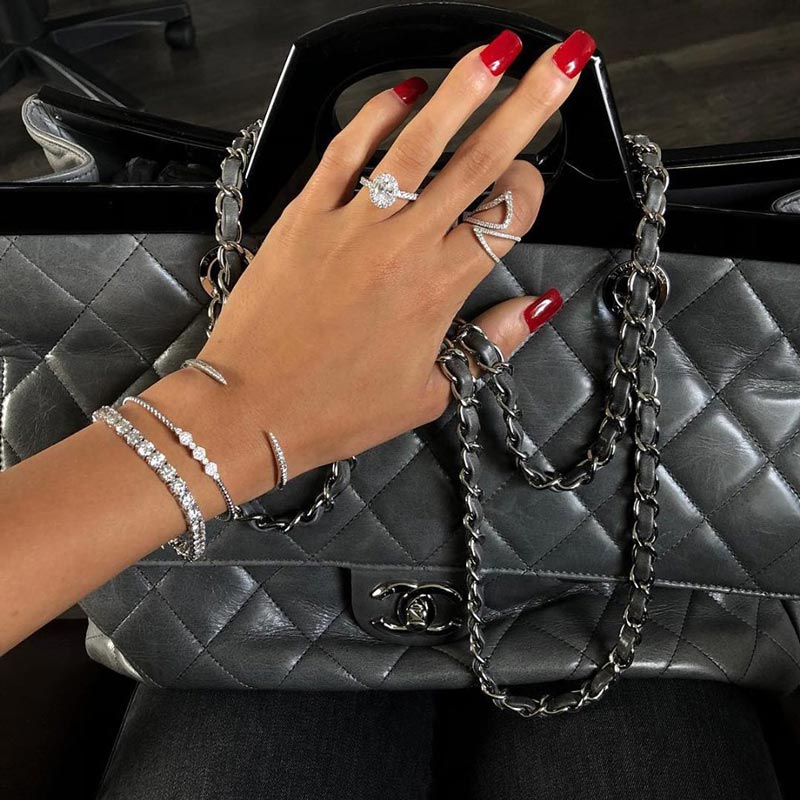 How are diamonds formed? The Natural Origin of Diamonds
Natural diamonds form deep in the ground, in Earth's upper mantel (90 miles below the surface), which consists of molten rock, metals, and other material. They are made almost entirely from the element carbon. We say almost entirely as they are often composed with some impurities like nitrogen, although there are pure diamonds and they are made from pure carbon.
So, how did carbon get trapped in the Earth's interior? It's like that the carbon source in these mantels was trapped at the time of our planet's formation or carried to immense depths by subduction (thanks, gravity!).
The carbon by which natural diamonds are made is subject to extreme pressures and temperatures (at least 2,000 degrees Fahrenheit). These special areas of the Earth that promote diamond formation are known as "diamond stability zones".
But, how do people find diamonds if they are so far beneath the Earth's crust? The answer is simple, diamonds are brought to the surface during deep-source volcanic eruptions.
All of these circumstances for which diamonds are formed makes it understandable why they are so rare, and thus, so expensive. To put it in an even clearer perspective, the entire process takes a mind-boggling 1 billion to 3.3 billion years. That's around 25-75% of our planet's age!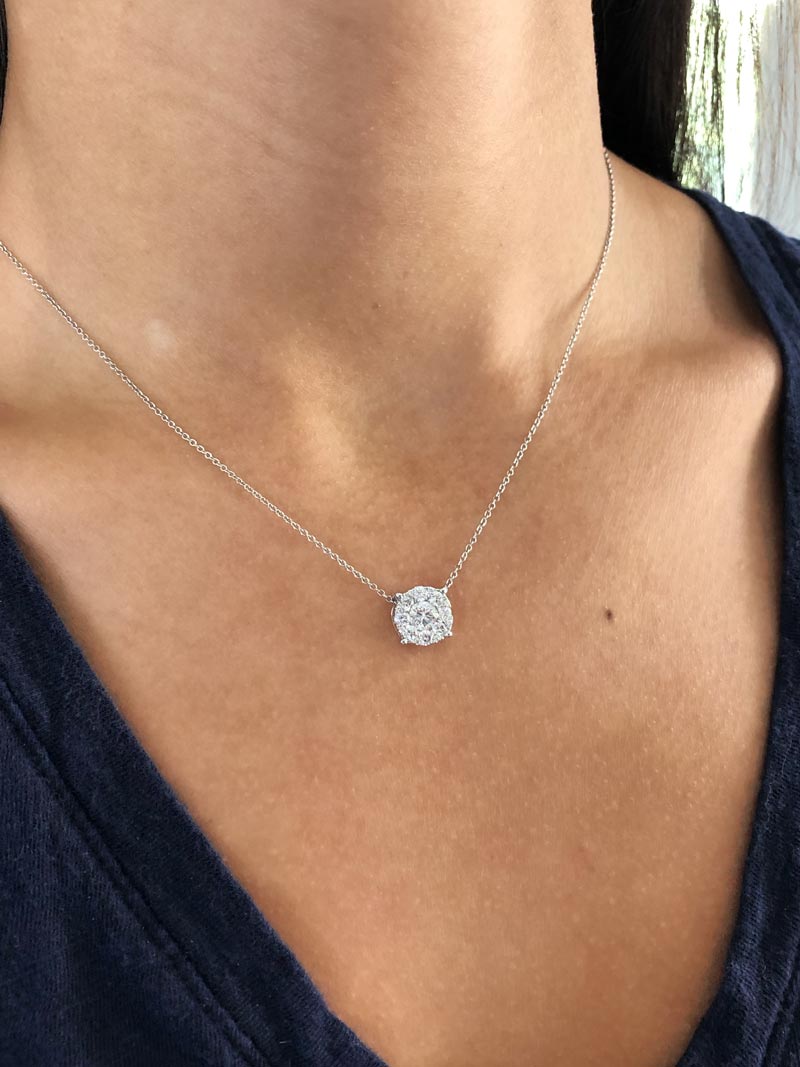 Diamond Properties
So, as we've discussed, a pure diamond is made of pure carbon. It is the hardest gemstone/mineral on Earth. We are talking 58 times harder than any other naturally occurring material. Diamonds come in a variety of colors, such as blue, pink, and yellow. The most expensive gemstone in the world is the Blue Diamond, which carries a price tag of $3.93 million per carat.
A Brief History of the Diamond
The first reports of diamonds that people know of dates back to 4th century BC in India. Many of these stones were transported through the Silk Road, from India to China. Even during this time diamonds had a high value. This was because of their strength, brilliance and ability to refract light and even engrave metal. Diamonds weren't used like they are today, but they were worn as adornments, and they were commonly used as cutting tools. They also took a spiritual role for warding off evil and were thought to protect those in battle.
The superstitions of diamonds continued and were considered a medical aid for curing illnesses and healing wounds when ingested during the Dark Ages.
Diamonds were also considered as the "love" stone. Ancient Romans would say that Cupid's arrows had diamond tops. This is possibly the first association of diamonds and romantic love.
It wasn't until the 18th century that diamonds were found elsewhere besides India. At this time, Indian diamond mines became depleted and the need for an alternate source drove new discovery.
Note: There was a small diamond deposit found in Brazil in 1725, known as the 'Old Mines', but this supply wasn't nearly enough to meet the demands the world's diamond demand.
In 1866, Erasmus Jacobs, who was only 15 years old at the time, came across what he thought was a typical yet special pebble on the banks of the Orange River in South Africa. That pebble turned out to be a 21.25-carat diamond! Years late in 1871, a massive 83.50-carat deposit was dug up on a hill named Colesberg Kopje.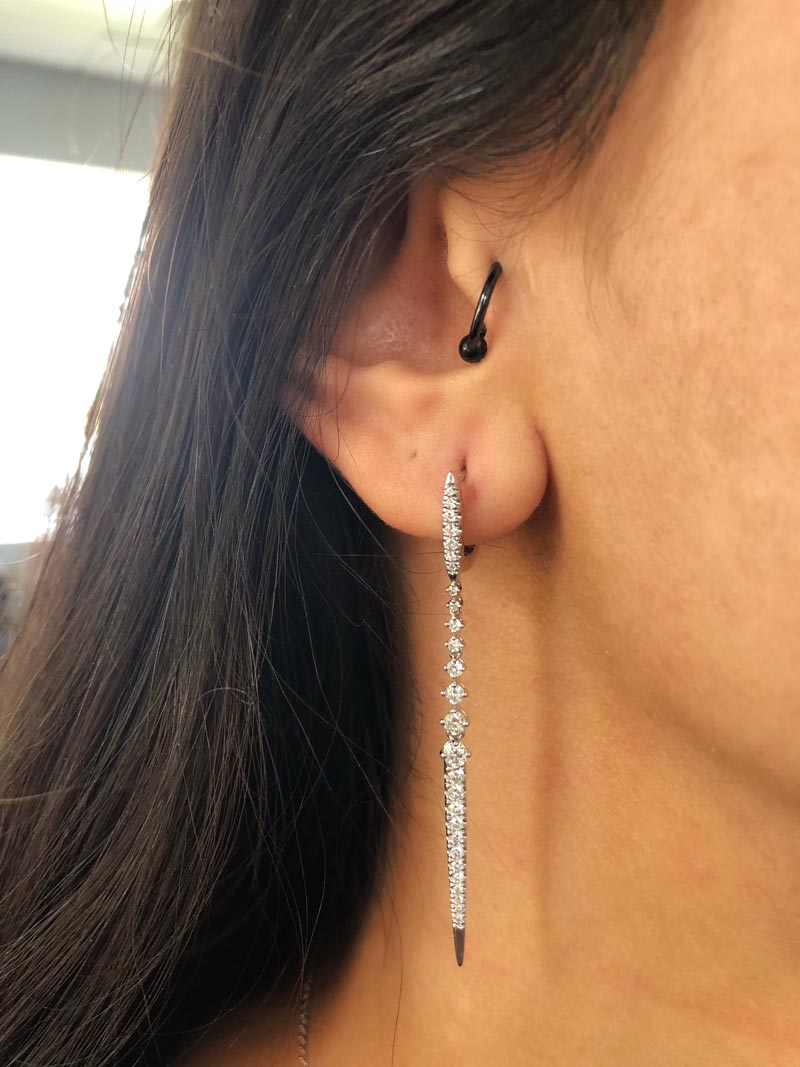 How this discovery changed the diamond industry
From then on, South Africa became the world's most intriguing place for diamonds. There was a rush of diamond prospectors to the area, which led to a huge mining operation known as Kimberly Mine.
This discovery in South Africa changed the world's diamond trade and supply significantly. They rapidly became the gemstone of choice for jewelry, shaping the current jewelry industry into what it is now. Furthermore, this also decreased the value of diamonds, as they weren't as rare as they once were. This is a big reason why emeralds, rubies, and sapphires became a popular choice for engagement rings among royalty. They wanted something more rare and more uncommon. That being said, as time went on, diamond experts developed the 4Cs (a universal language to define the traits and qualities of a specific diamond). Thus, having a pure diamond with no inclusions and of the highest color grade is extremely rare and valuable, so not all diamonds are treated equally.
Nowadays, diamonds mines are in many places across the world, such as Canada, Botswana, Namibia, South Africa, and Russia.
As you can see, diamonds in popular culture have a very long and rich history and have long been the most prized gemstone across the globe. They have even a longer history by Earth's standards, like billions of years longer.
April Birthstone Meaning & Diamond Birthstone Meaning
The diamond is the birthstone of April. There are many meaningful thoughts behind the diamond for people born in April.
Firstly, here are some of the beliefs:
Provides the wearer with powerful relationships.
Increases inner strength.
Brings benefits to the wearer, like balance, courage, abundance, and clarity.
People who have diamond birthstones are as strong as the diamond itself.
Provides luck and gives victory.
Secondly, here are some of the symbols it represents:
Everlasting love.
Love of a husband for a wife.
Commitment and happiness.
Forgiveness, light, purity, success, and spiritual enlightenment.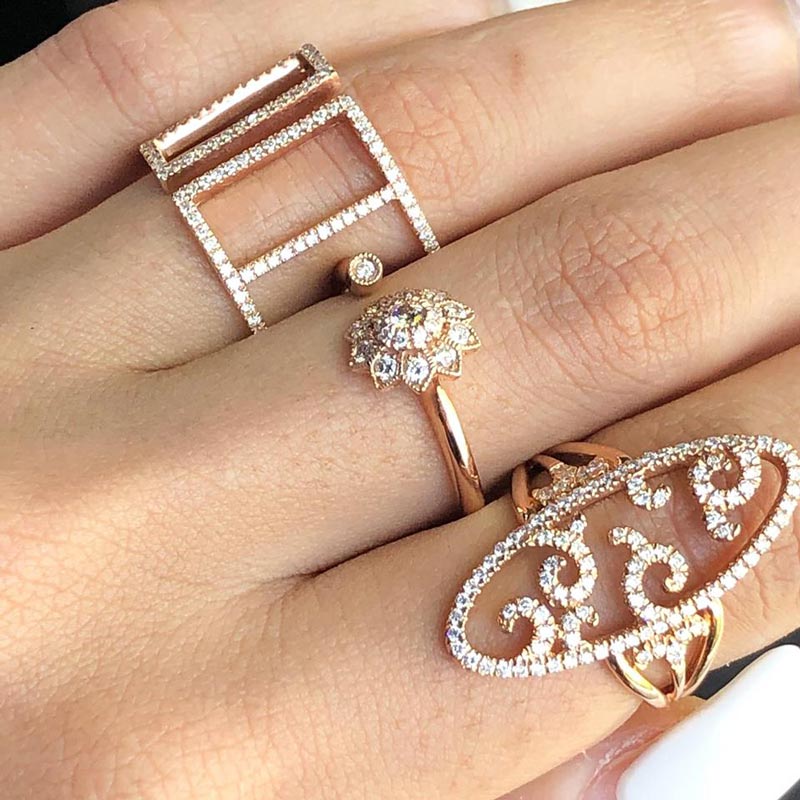 What color is the birthstone for April?
Although white diamonds are the most common, there are also fancy colored diamonds that can be found in their natural state in various colors, such as yellow, blue, and pink. As mentioned, the rarest and most valuable colorful diamond is the brilliant blue diamond.
Diamond Jewelry Birthstone Gifts for April
If you are looking for a gift for an April baby or you ARE an April baby and you want to treat yourself to something nice, nothing beats the timeless gift of diamond jewelry.
April Birthstone Gifts For Her
Whether it's a bracelet, ring, necklace, or earrings, there are countless options to meet every April baby's taste. Here are some of our favorite diamond jewelry gifts from our extensive collection at Diamonds by Raymond Lee in Boca Raton, Florida.
April Birthstone Bracelets
Platinum Round Brilliant Diamond Tennis Bracelet – $49,500.00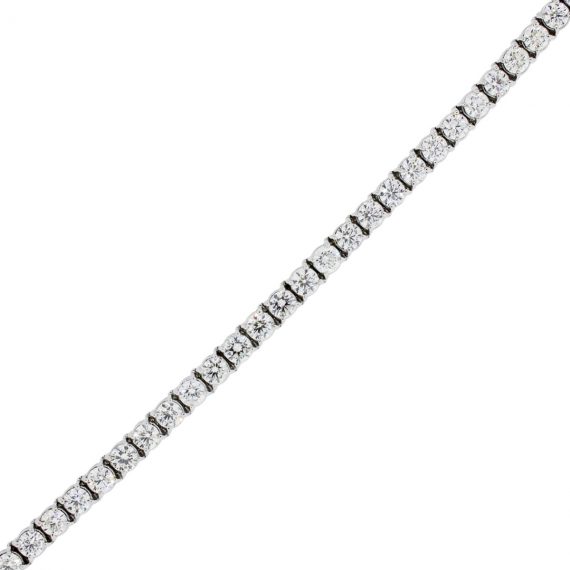 A diamond tennis bracelet is a classic and sophisticated choice. This diamond tennis bracelet features 19.54-carat round brilliant diamonds (J/K color and SI clarity) set in 950 Platinum. If you are looking for the perfect lavish and glamours bracelet for a woman born in April, you can't go wrong with this one.
Fancy Yellow And Fancy Pink Diamond Halo Bracelet – $40,275.00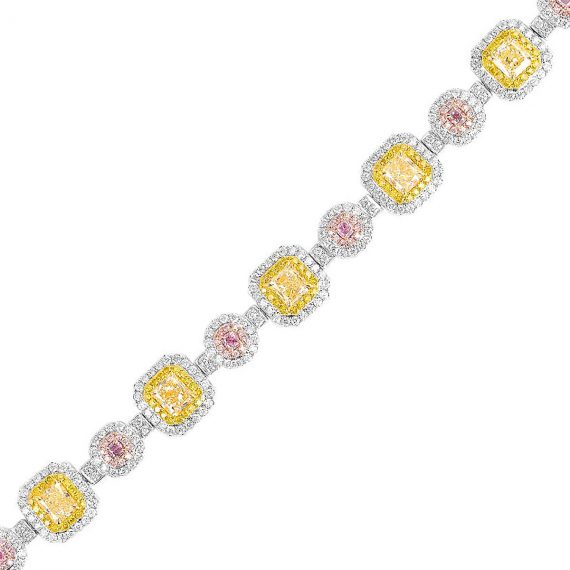 An extravagant woman deserves extravagant jewelry. This fancy yellow and fancy pink diamond halo bracelet are made up of radiant cut diamonds with VS clarity set in 18k White Gold. It's a stunning piece with a ton of personality. So, if you want something unique, this radiant bracelet is a great pick.
April Birthstone Necklace
Gabriel & Co. Round Diamond Necklace – $1,780.00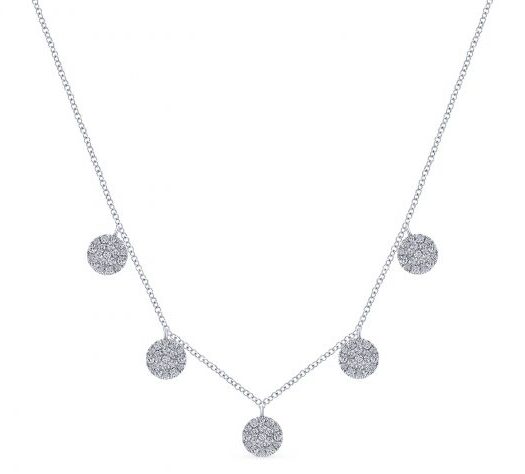 We love Gabriel & Co. for there modern designs and elegant touch. This round diamond necklace is no exception. It features 5 round brilliant diamond pendants set in white gold (rose gold option available) sitting on a white gold chain measuring 17.50 inches in length. This captivating necklace will take any outfit to the next level.
April Birthstone Rings
Gabriel & Co Pink Gold Diamond Ring – $935.00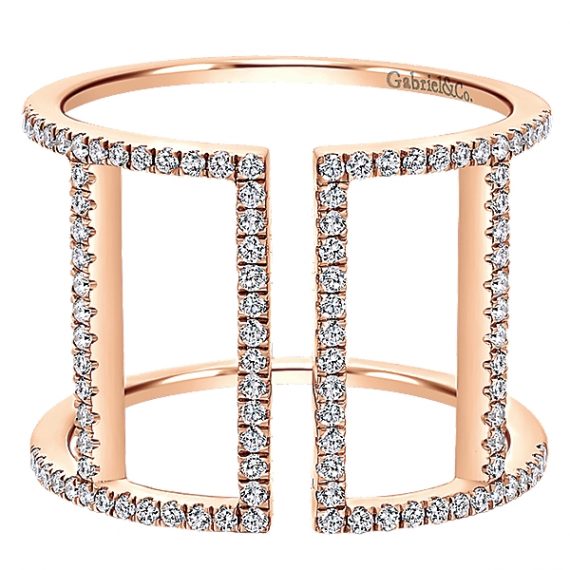 Here we have a stunningly sweet and extra flirty diamond ring from Gabriel & Co. The symmetric lines create a modern and fashionable look that's undeniably unique. It has 0.30ctw round brilliant diamonds set in pink gold. A great addition to a multi-finger ring stack.
Henri Daussi Oval Diamond Engagement Ring – $15,200.00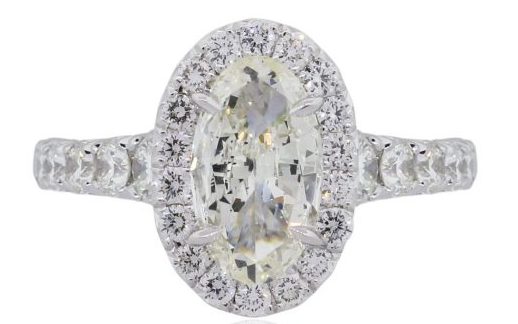 It's hard to miss a ring like this. If gaining the center of attention if the goal, this Henri Daussi oval diamond ring will accomplish that and more. It's massive, it's stunning, and it's covered in diamonds. It offers a vintage look with modern appeal. So let's talk specs. It has a 2.18-carat oval cut diamond with L color and SI1 clarity at its center. The diamonds surrounding it are 1.32cart round brilliant diamonds of G/H color and VS clarity. 'Perfect' doesn't even yet begin to describe this ring.
April Birthstone Earrings
Gabriel & Co. Diamond Linear Drop Earrings – $2,200.00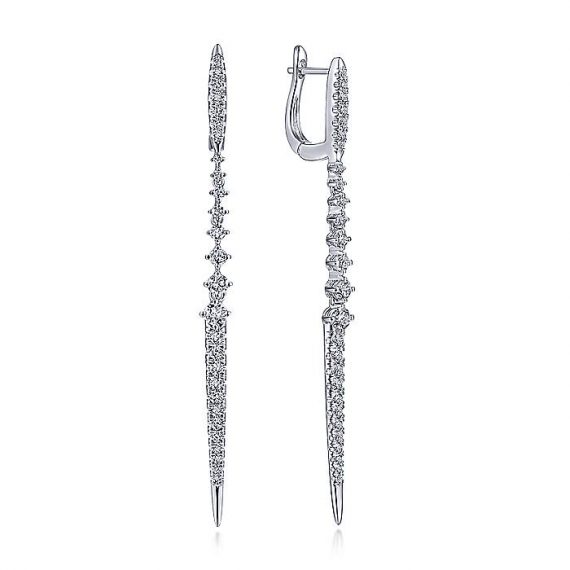 Drop earrings are super hot right now and when you have a pair of fine diamond drop earrings, it's even hotter. This linear look offers a sleek slimming appearance that will go with positively everything in your wardrobe. So, no matter if it's a dressy night out or a casual day with some friends, these will be her ears' favorite companion.
April Birthstone Bangle
Gabriel & Co. Diamond Hexagonal Bangle Bracelet – $845.00

This hexagonal bangle by Gabriel & Co. is effortlessly chic with its beaded 14k white gold bracelet and shiny angular diamond touch in the middle. The diamonds are approximately .12 carats (G/H in Color and SI1-2 in clarity) of a round shape. It's quite economical for something that delivers this much beauty.
Personalized April Birthstone jewelry
At Diamonds by Raymond Lee, we do custom jewelry designs. So, if you want a custom diamond jewelry piece or a personalization done to an existing piece, please contact us. We do rings, earrings, bracelets, necklaces, watches, and more.
Diamonds by Raymond Lee in Boca Raton
Diamonds by Raymond Lee is Boca Raton's finest, high-end jewelry, diamond engagement ring, and estate jewelry boutique. We are specialist in the field of luxury designer rings, necklaces, bracelets, earrings, pendants, and watches, and we have been on top of the game for over 30 years.
We are South Florida's top destination for Diamonds, as we have an extensive and carefully selected collection of diamond jewelry and loose diamonds.
Our vision has always been to forge a unique, professional, and intimate vibe. We offer a shopping experience that works for all generations. We especially know what the modern jewelry buyer wants; and we keep traditions that never fade intact, such as sensibility, artistry, and craftsmanship. Furthermore, our prices are super competitive and the quality we provide is unparalleled for the price you pay.
There's a reason why Diamonds by Raymond Lee is South Florida's best diamond engagement ring retailer since 2016.
We'd love for you to visit either of our stunning Boca Raton jewelry stores to examine why our family owned and operated business is so well distinguished.
So, if you live in Boca Raton or you are just visiting the area, please feel free to drop by our showroom anytime!
Diamond By Raymond Lee's Showroom in Boca Raton, Florida:
2801 N Federal Hwy, Boca Raton, FL 33431
Our hours of operation are:
Monday-Friday – 11 am to 7 pm
Saturday – 10 am to 5 pm
Sunday – 12 pm to 5 pm
Feel free to contact us if you have any questions.
If you like shopping online or you just want to check out what we have to offer, you can see our collection of Diamond Jewelry here.
So, we hope you liked this post, learned something new, and got some good inspiration for your next April Birthstone jewelry purchase. If you are an April baby, please show some love in the comment section below!