Spotlight on: June's Birthstone Alexandrite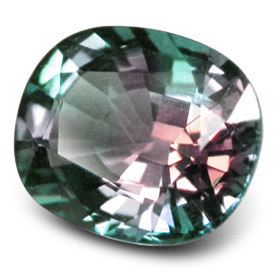 Alexandrite is one of the birthstones associated with June, along with the pearl and the moonstone. It is an uncommon, expensive stone that cannot be replicated synthetically because natural alexandrite has color-changing powers.
They aren't really 'powers', but the stone looks under different types of lighting. In daylight, alexandrite looks green with an occasional blue or brown cast. But when it is under artificial or candle light, it looks red or violet. The manmade, synthetic alexandrite can't do that and so it is considerably less popular.
It was discovered in 1839 on the birthday of Alexander II, czar of Russia..hence the name. Russian miners in the Ural Mountains found some green stones they thought were emeralds, but realized when the examined them that night in the firelight that they were red. In the morning, they were green again…and red & green were the colors of Imperial Russia. How cool is that? It instantly became popular in Russia, and it continues to be a sought-after stone.
Birthstone jewelry is a unique way to customize a gift. Since there are three stones considered June birthstones, a piece that contains all three can really be unique. The color-changing properties of the alexandrite will look good in any light beside pearls and moonstones, and you have an adornment that shows two faces to the world, both beautiful.
Imagine a ring or necklace that looks like an emerald by day and a ruby by night. There'd be a constant source of fascination as you watch the facets reflect the light and every time you remember that this was custom-made for your birthday, you'd feel loved. Isn't that what birthday presents are all about?
Whether your June birthstone jewelry has the pearl, the moonstone, or the alexandrite (or all three) the preciousness of a custom piece stays the same.
Related articles