Spotlight On: Nina Runsdorf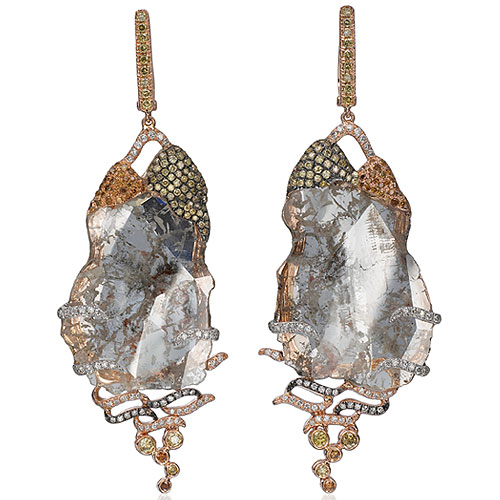 Nina Runsdorf is the one jewelry designer that solved the problem of being over-dressed with haute couture jewelry and jeans. Nina is a lover of fine jewelry but at the same time realizes that fine pieces of jewelry may go unworn and unnoticed because of so much casual dress in modern times. Somehow, all that bling doesn't always fit in.
"Jewelry should never be so precious that it shouldn't be worn,"she says.
Nina attempted and succeeded in creating a casual haute couture style of jewelry. Her trick was a visually revolutionary way of using diamonds in the mode of sliced. The result was a cut that produced diamonds that resemble shards of glass but with a very brilliant sparkle. She pairs the diamond slices with randomly shaped organic stones for an extremely stunning effect. With this special cut, earrings can be especially flashy without the heavy weight of more traditionally cut stones.
After her success with the sliced diamonds, she opened up her innovation to a rainbow of color by using emeralds, rubies, sapphires and other colorful gemstones. She then sets the magnificent stones in a hand-set frame of micro-pave diamonds.
Nina Runsdorf is a seventh generation jewelry whose lineage in the business can be traced back to the founders of the Antwerp Diamond Bourse in Europe. She named her special line the NSR collection After its success and a trip to India for inspirations, her next endeavor was the Silver Skin & Stone line, or SS&S. This collection has the same look as NSR but with semi-precious stones.