Bangle Bracelets: Versatile and Stylish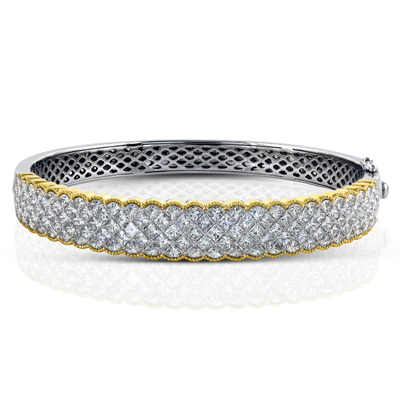 When it comes to eye-catching and glamorous accessories, it is hard to beat a classic bangle bracelet. These are bracelets that don't have a clasp, rather, they go over the hand and onto the wrist. Often, these are wider bracelets and feature bold, stunning designs. You can find these bracelets in pretty much any material and any style. They are versatile and elegant and add a touch of bold glamour to anything you pair them with.
The accessories we choose can make or break our look. They can give us that put-together, effortlessly elegant look that we covet. Or, they can detract from our ensemble. This is why so many people carefully select their accessories so that they enhance their style. No matter what your style, however, you will be able to find a stunning bangle bracelet that will perfectly complement your look and might even become part of your signature look.
Too often, we overlook the bracelet. That is a mistake. The wrist is a great thing to draw the eye to and it can really enhance the look and feel of anything you pair it with. Many of these bracelets will actually have a slimming effect and give your wrists a dainty and feminine look. Whether you are wearing one of these accessories for a night on the town or something more formal, we are sure you'll love the effect.
And, since you can find these bracelets in so many different styles and materials, it is easy to find the perfect piece for your look. Whether you like classic and understated or bold and eye-catching, there are bangle bracelets for every taste and style. Make a bold or elegant statement.
Elegant Accessories
When we think about accessories, we are often thinking about things like rings, earrings, or necklaces. These are excellent pieces, but that often leaves the wrist naked. And this is a shame because there are options! An elegant, high-end timepiece or stunning bracelet can really complete your look. Bracelets are elegant and stylish accessories that draw attention to the wrist and give the appearance of slimness.
And, the accessories we choose tell others a lot about ourselves. This is without our ever saying a word. First impressions, as the name implies, can only happen once. We all want to put our best face forward and give the best possible impression we can. Having carefully selected accessories that accentuate your outfit and general look is a great way to make that perfect impression. It will show others that you take care of your appearance. That you select your accessories with care. And, that you appreciate the finer things in life.
They may also tell others that you have a timeless elegance and style or that you are trendy and bold in your fashions. Whatever your style, you can find bangle bracelets that will really set off your look and can help you become the style maven of your peer group. Who doesn't want to be known for their high fashion and excellent taste?
The Bangle Bracelet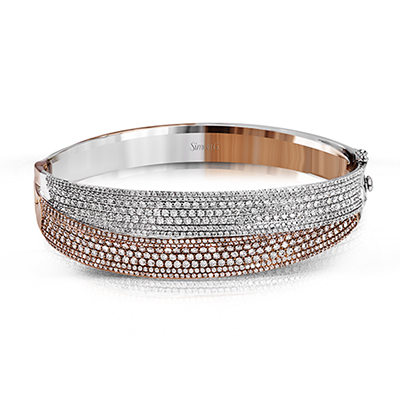 The bangle bracelet is a unique piece of jewelry. Unlike many other types of bracelets, this style doesn't have an enclosure clasp, nor does it have an opening like a cuff bracelet. These are bracelets that you have to pull over your hand. It is a solid circle and is often a bit wider than many other types of bracelets. The wide nature of the bracelet gives it a bolder and more eye-catching appearance than, say, a tennis bracelet. Since it is more eye-catching, it can be a focal piece of jewlery.
You can find these bracelets in a huge range of materials and styles. From classic, traditional design elements to large, trendy pieces, there is something for everyone. These accessories look great in a wide range of materials and your imagination truly is the limit when it comes to these gorgeous accessories. And, if you can't find the perfect piece to meet your needs and style, our jewelers have a ton of experience creating custom pieces for the most discerning customers. Let us turn what's in your head into a reality!
So Many Options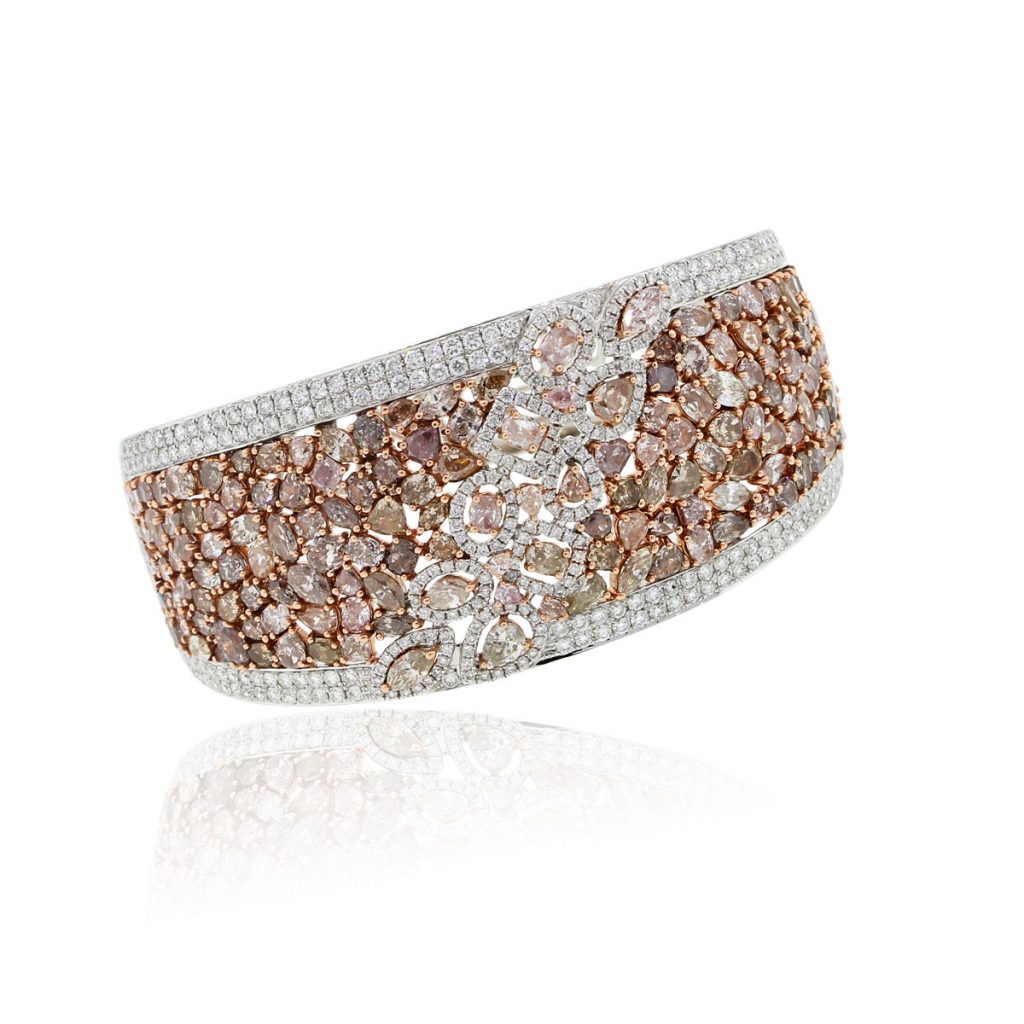 From Art Deco to full-on, blinged-out bracelets, there is really something for everyone. That is why bangle bracelets are so popular. And another great thing about these pieces is that they are pretty well timeless. The bangle bracelet has been around for a long time. Queens and other notables in Ancient Egypt even wore bangle bracelets. Think about that historic tie to royalty every time you put on one of these stunning pieces.
You can channel your inner Cleopatra with an all-gold bangle bracelet that will accent pretty much any outfit you pair them with. Or, say you really like diamonds or other gemstones. You can find bangle bracelets that feature pretty much any gemstone you can imagine. Or, you may want a combination of different gemstones for a bit of color. The point is that no matter what your fashion sense or style, you can find the perfect bracelet. And if you can't, we can create it from scratch. You can't get more one-of-a-kind than a piece of custom jewelry.
Don't settle on anything. Make sure that the bracelet you choose is up to the task. Does it fit your style? Does it work with the clothing you want it to? The answers to these questions will help guide your ultimate choice.
Different Gemstones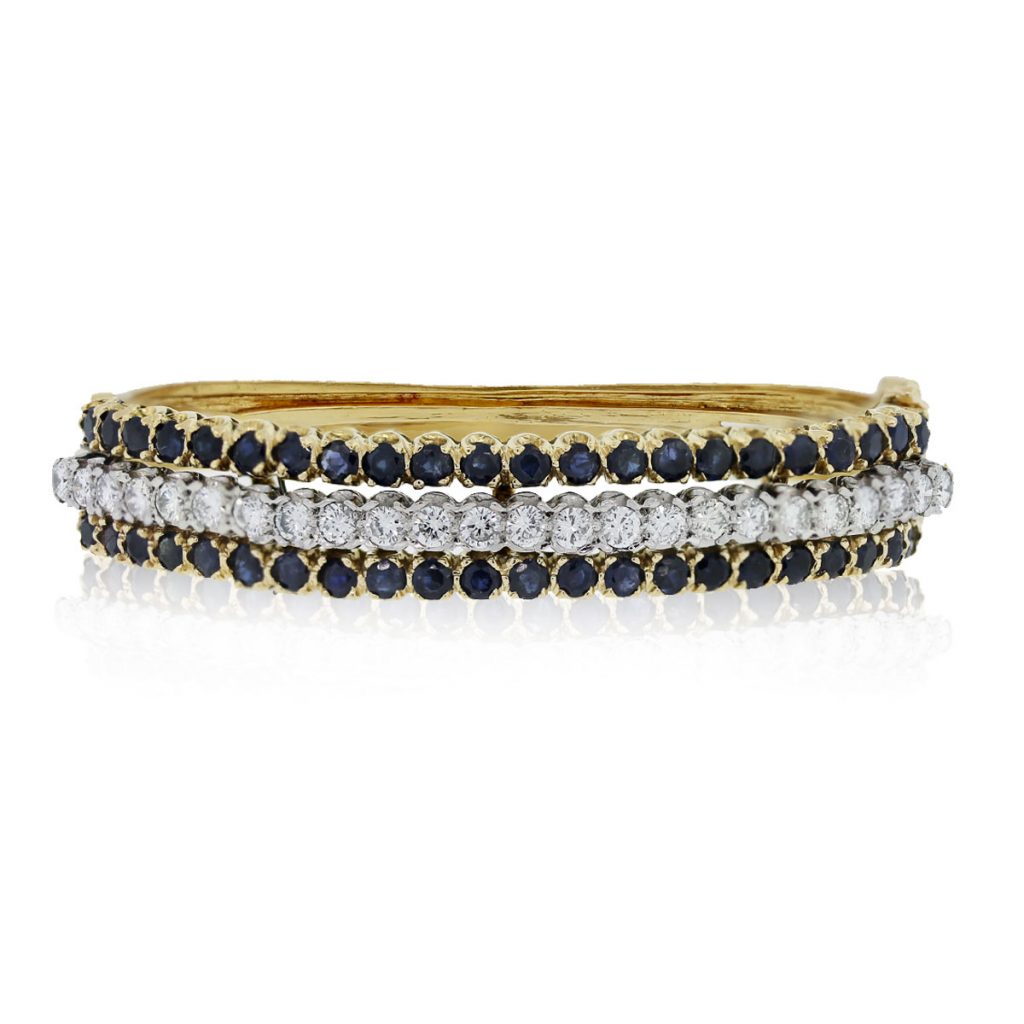 As we mention earlier, there really is no limit to what goes on your bangle bracelet. Some people, for good reason, really like diamonds. The diamond is the epitome of elegance and luxury and it just plain looks great with so many different types of clothing and styles. Diamonds are a natural choice for bangle bracelets and can really give you that sparkle and shine you are looking for. Since diamonds are among the hardest stones on earth, they can take on pretty much any cut or shape. This gives you a lot of options for styles.
Another great thing about diamonds is that they aren't only clear. There is a whole class of fancy colored diamonds. These are diamonds that, because of impurities or natural phenomena, aren't colorless. They come in a huge range of colors. You can find pink diamonds, yellow diamonds, and even black diamonds. Any color diamond will pair well with other gemstones as well.
While diamonds are great, some people have a favorite gemstone or simply want the color of other gemstones. You can find bangle bracelets that feature a wide range of gemstones such as sapphires, onyx, rubies, and more.
Different Metals
Chances are when you think of a high-end bracelet, you are thinking of a piece made from gold. Gold is a natural choice for this type of bracelet and it looks amazing. Pretty much any color gold will really look stunning on a bangle bracelet. From yellow gold, rose gold, white gold, or even two-tone gold, the bracelet will look phenomenal. The two-tone option is a unique one. It allows you to choose two colors of gold to create a truly unique bracelet. A lot of people will choose something like white gold and rose gold in combination, but the choice is really up to you.
However, you also don't have to limit yourself to gold. A lot of people love the cool silver color that platinum provides. This is another great choice of metal for one of these bracelets. You can also find them in other materials like titanium. There are options available that also feature silver or even stainless steel. So whatever metal you prefer, you can find a bracelet that will feature said metal. Pretty much anything you choose will create a unique shine and look stunning on your wrist.
Something for Every Style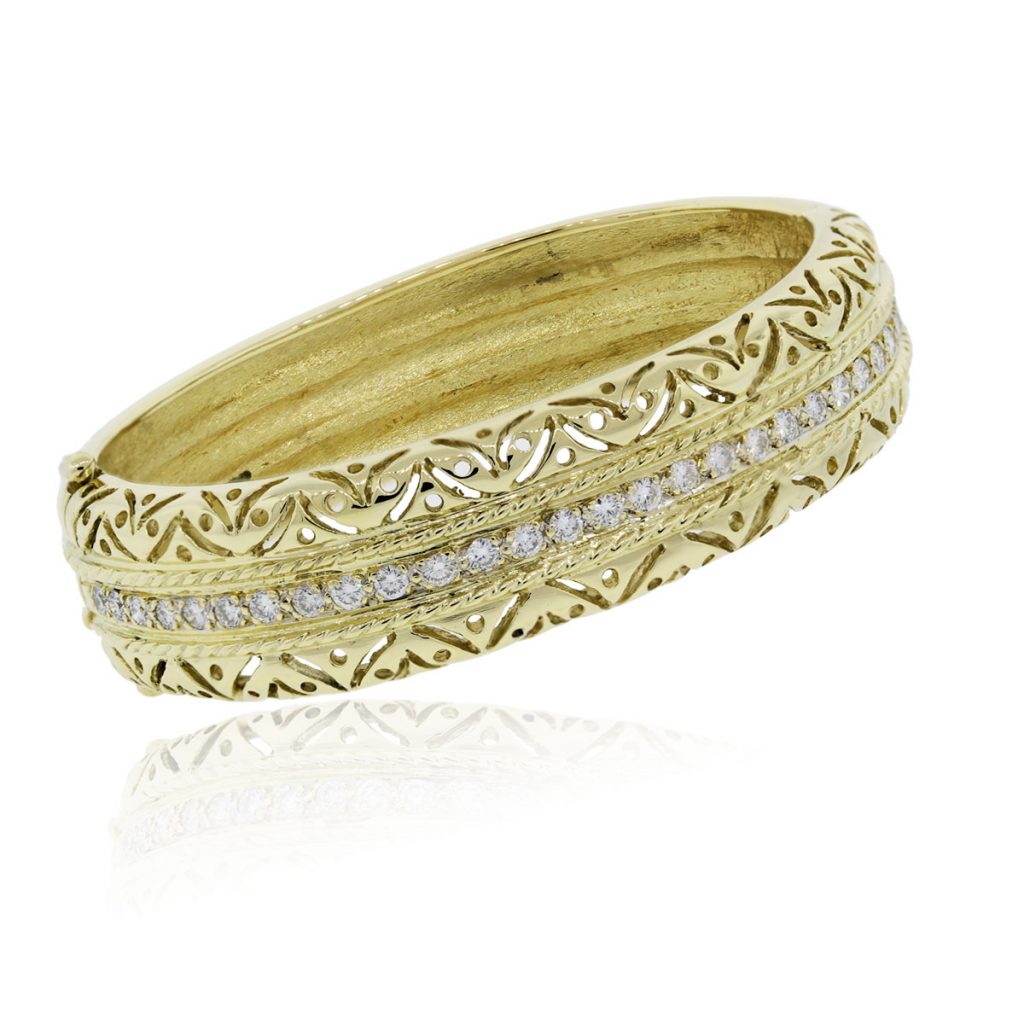 We all have our own unique and personal style and the accessories we choose are meant to accent and accentuate our style. Thankfully, when it comes to bangle bracelets, you can find them in pretty much any style. You can find a classic, all-metal bangle bracelet made from the purest gold. These simple, yet elegant bracelets will give you a look of effortless elegance and they look great with so many types of fashion for different occasions.
Or, you may want something that is trendy, bold and draws the attention of anyone who sees it. In this case, you may want something that is wider than other bangle bracelets and that features a colorful array of precious gemstones. Whether you choose diamonds, other gemstones, or some combination, you will get a bracelet that can stand up to trendy looks and garner the attention we crave.
Whether we like timeless glamour or something that is in keeping with modern trends, the bangle bracelet is a great choice. They give the effect of slimming to the wrist and they can really pull together a look. Especially when you pair a bangle bracelet with other fine accessories, you can create a style that is all your own. You may love your bracelet so much that it becomes part of your signature look.
Versatile and Elegant
While bangle bracelets can be bold and eye-catching, they don't have to be. You can also find more demure options as well. One thing we might not think about is the versatility of a bracelet like this. Depending on the bracelet you choose, you can wear them with a wide range of fashions. Say, for example, you choose something simple and more traditional like a gold bangle that features classic diamonds. This is a piece that is surprisingly versatile. You can pair a bracelet like this with something formal or something casual.
Whether you are wearing a dress for an evening out or a pair of jeans and a t-shirt, an elegant bangle bracelet can really take your look to a whole new level. Just think about how stunning a diamond bracelet looks when you pair it with pretty much anything. You can instantly take something casual to a level of style, elegance, and glamour it couldn't otherwise have.
And, these pieces can easily become part of your signature look. The biggest thing about pairing accessories is to choose pieces that won't clash. The most common way to do this is to choose pieces that are all made from the same metal. So, for example, if you have a bracelet that is white gold, you will want to pair it with other white gold accessories. You can often get away with pairing different types of gemstones, but clashing metals can detract from your look.
Whether you want something for daily wear or something that you bring out for special occasions, bangle bracelets are a great choice. They are stunning, elegant, and surprisingly versatile pieces.
In Closing
Choosing accessories is a big deal. These will help us create a look that is all our own. It can affect the first impressions we make on others. This is why so many people take great care in choosing the perfect accessories for their outfits. We only get one chance to make a first impression. Well-fitting clothing and quality accessories will give us that put-together look that we all crave. So the bangle bracelet makes an excellent option for an accessory.
These are wide bracelets that slide over the hand, rather than clasp shut. They tend to be more eye-catching than other bracelets since they are wider and larger. They can feature pretty much any gemstone you want. Diamonds are a natural choice, and you can pair diamonds with other gemstones as well. But you aren't stuck with just diamonds. Pretty much any gemstone you can think of will look great on a bangle bracelet.
The bangle bracelet is also available in pretty much any metal you could want. From gold, platinum, silver, and even stainless steel, the options abound. And you can find these bracelets in pretty much any style as well. From traditional, classic and timeless designs to bold and trendy pieces, your options abound.