All You Need Is A Cartier Love Bracelet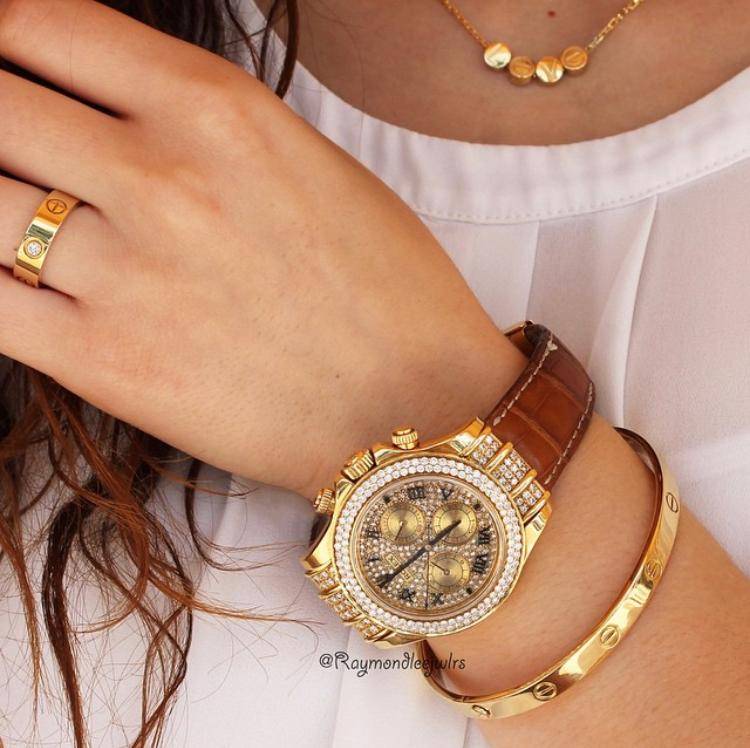 There are as many ways to proclaim your love for someone as there people proclaiming that love. Whether through heartfelt poetry, extravagant meals, or adventurous vacations, people are always finding new ways to express care for each other. Of course, there is also jewelry, and from gorgeous diamond wedding bands to personalized masterpieces, thousands of works of art in metal and gemstones are exchanged as a display of love and affection every day. One of the most enduring and beautiful expressions of love in this form, however, is the Cartier Love Bracelet.
Cartier is one of the most famous luxury brands, and for good reasons. Based in Paris, the company is famous for designing and crafting watches and jewelry of stunning quality. It was founded in 1847 by Louis-François Cartier, who took over his master's Paris shop. However, the company would eventually gain a worldwide prominence that dwarfed the reputation of that single master craftsman when Louis-François's grandsons, Louis, Pierre and Jacques Cartier, truly established the brand as a global titan.
One of the ways in which the company became a global sensation was through its expansion into watches.The company was known mostly for its jewelry until 1904, when Brazilian aviator Alberto Santos-Dumont complained to Louis Cartier, his friend, of the unreliability and impracticality of using pocket watches while flying. In response, Cartier designed a flat wristwatch with a distinctive square bezel, which won the affection of not just Santos-Dumont, but of a whole host of others as well. This watch, named the "Santos" in honor of the friend who inspired it, would go on to become the very first watch of many manufactured by Cartier. By 1907, when Cartier signed an exclusive contract with Edmond Jaeger to supply the movements of Cartier watches, the company already had stores in London, New York and St. Petersburg and was one of the most successful watch companies in the world.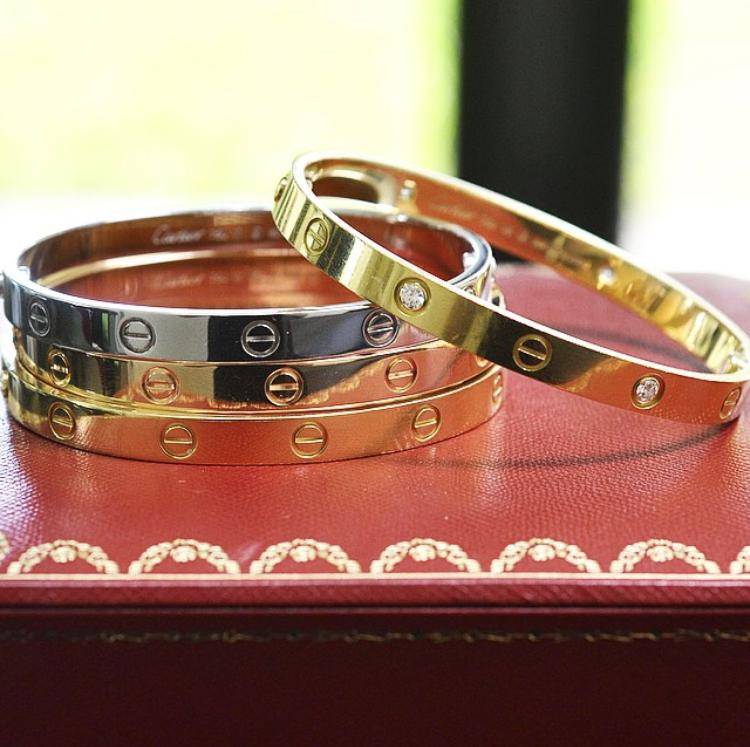 In the early years of the twentieth century, Cartier's jewelry production also became world- renowned. Exotic Art-Deco designs became the calling card of the jeweler in the early years of the 1900s, best exemplified by the famous "Tutti Frutti" jewels, which prioritized color and beautiful design. That line has been in constant production since 1901, making it one of the longest-running collections in the world. From this point forward, the rise of Cartier was meteoric, and the jeweler and watchmaker quickly spread across the entire world, as its pieces became known for their unique and creative style, as well as the incredibly high quality of their materials and craftsmanship.
Throughout its storied history, the company has also produced some incredibly innovative designs, both of timepieces and jewelry. Around the turn of the twentieth century, Louis Cartier created one of the world's very first "mystery watches," a watch so named because its dial was transparent, and thus the hands seemed to move without being connected to any guiding mechanism. A pair of other milestones in the world of watchmaking, the very first bracelet watch designed for women and the very first watch expressly designed to be worn on the wrist, were also Cartier Creations. In terms of design, the company has also always been an innovative force in the world of jewelry, especially by creating a wide variety of forward-looking designs influenced by the Ballets Russes during the 1910s.
Today, the company is a truly global brand, operating over 200 stores in 125 different countries all across the planet. In three locations around the world – Rue de la Prix in Paris, Fifth Avenue
in New York, and New Bond Street in London – the company operates what it refers to as temples, massive Historical Maisons that Cartier has converted into buildings that blend showroom and museum, housing hundreds upon hundreds of Cartier pieces in an absolutely stunning display of the company's prestige and capacity. The company's pieces are so in demand, and counterfeited so frequently, that in 2014 Cartier and its parent company Riechmont successfully ensured that the first blocking oder in UK history was provided against UK internet service providers to block several domains selling trademark infringing products, a testament to how in demand such products were.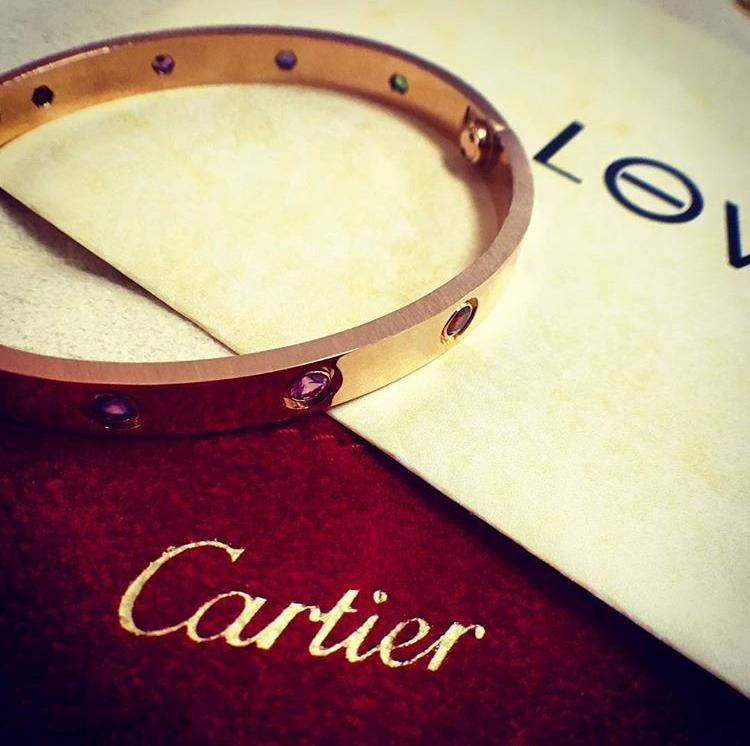 With such an impressive resume, it shouldn't surprise that Cartier has been tapped more than once to design jewelry for royalty. In 1902 the incoming monarch of England, King Edward VII, ordered 27 tiaras from the jewelry shop, and issued the company a royal warrant in 1904. So impressed was King Edward with the quality of the pieces he received that he publicly exclaimed Cartier was "the jeweler of kings and the king of jewelers." Edward VII was far from the only royal to appreciate the company's work, however; royal warrants were also issued to Cartier by the royal families of Spain, Greece, Egypt, Monaco, the French royal house of Orleans, and a great deal more. More recently, Kat Middleton, the Duchess of Cambridge, has been seen often in public wearing a Cartier Ballon Bleu watch.
Another notable aspect of the Cartier brand is how long many of their lines have been produced for. Their famously colorful "Tutti Frutti" jewels were introduced 1901, and continue to be produced by the company in yearly collections. Their watches are just as long-lived, with the Santos collection, the Tortue and Baignore lines, originally produced in 1912, the Tank collection, originally produced in 1917 and inspired by World War I tanks, all still in production today. Together, all of these lines' remarkable longevity point to a company that has been committed to quality craftsmanship since its foundation, and that has always been confident in the quality of what it produces. The Cartier Love Bracelet, though something of an odd line out amongst its much older companions in Cartier's portfolio due to its relative youth, is no less iconic.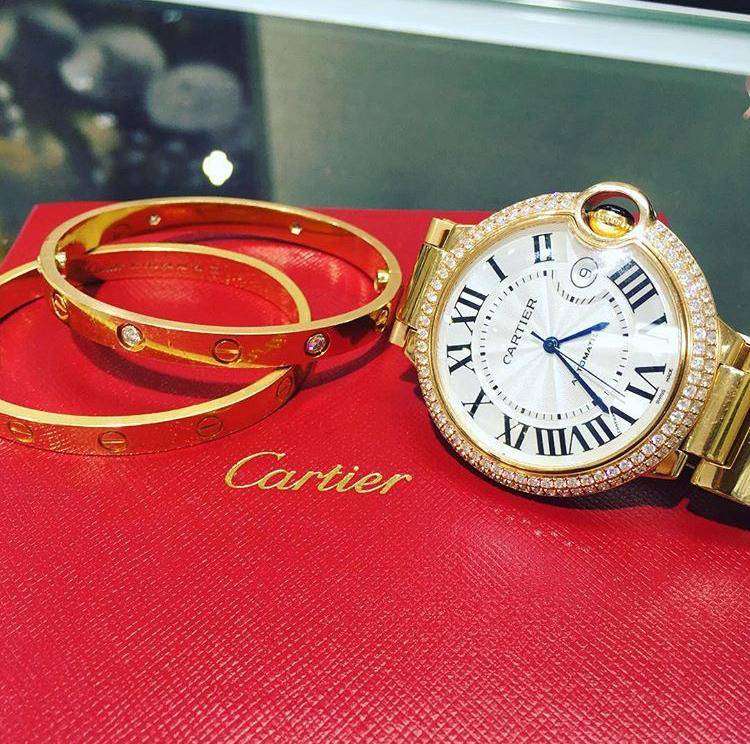 Finally, Cartier has a history of creating pieces that stand out, even in the world of luxury jewelry, for their uniquely creative appeal. Even some of the company's more traditional creations, such as the Tutti Frutti line, push the envelope with their bold and vibrant colors, intended to accompany clothing just as playful. The "Juste Un Clou" line, as the name suggest to those fluent in French, consists entirely of bracelets and rings that take the form of a nail bent around the wearer's finger or wrist. This is accompanied in the land of atypical jewelry by Cartier's Panthére collection, in which every single piece features the head – and sometimes the body as well – of a panther prominently in its design. It was this bold, adventurous spirit that undeniably found home in the Cartier Love Bracelet.
The Cartier Love Bracelet was first debuted in the 1970s in New York, and has quickly become an iconic piece of jewelry, both because of its unique premise and its exquisite beauty. The first piece that designer Aldo Cipullo, who would later go on to create the studio's iconic Juste un Clou "nail" bracelets, produced for Cartier, the bracelets take the shape of a slender oval of gold, sized to fit as closely as possible to the wrist of the person wearing it. At first glance, the bracelets seem somewhat typical: while the close fit to the wrist is interesting, the initial appearance is that of a rather simplistic gold band, with small circles or diamonds set in the surface of the band at regular intervals.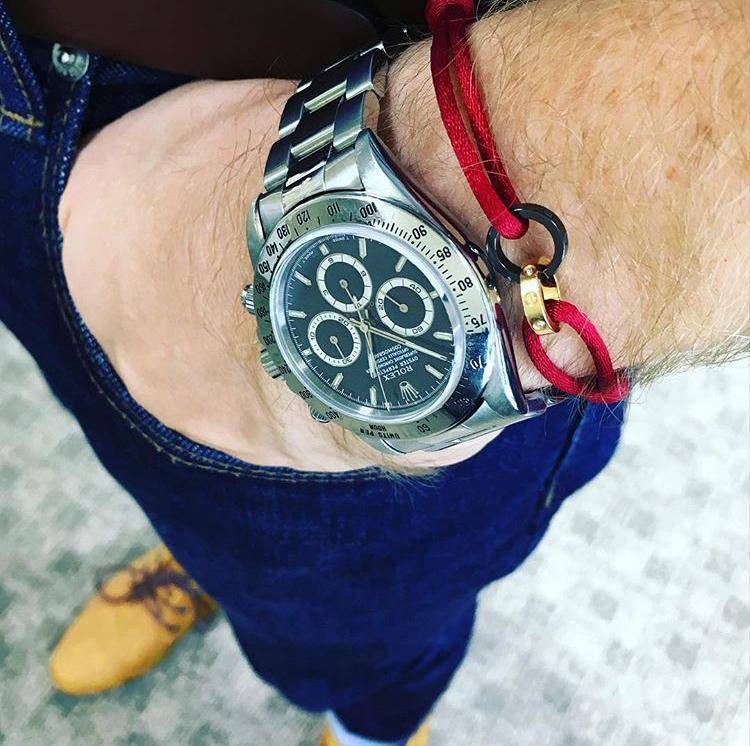 The most characteristic and unique aspect of the bracelet, however, becomes evident upon closer inspection, when the circles resolve themselves into flat-head screws. This design element was meant to symbolize unbreakable, everlasting love on the part of those wearing it, and was actually inspired by the screws used on Cartier's Santos watch mentioned earlier. It's also what holds the bracelet closed, and they fit close enough to the wrist of wearers that they cannot be removed simply by sliding them off ones' hand. To take off a Cartier Love Bracelet, one must use a specialized screwdriver, which Cartier sells alongside the bracelets. It's for this reason that the bracelets earned their original, tongue-in-cheek, nickname: "love handcuffs."
The Cartier Love Bracelet draws inspiration from a wide variety of sources. In terms of its form and the unique locking mechanism that it uses, Aldo Cipullo drew on an unlikely device from centuries past: the chastity belt. However, Cipullo did not intend to send as drastic message as those belts of old did, only intending to declare with the bracelets that love was not a thing to be taken lightly. The designer himself remarked that love "has become too commercial," and that "what modern people want are love symbols that look semi-permanent — or, at least, require a trick to remove" because "love symbols should suggest an everlasting quality". Fittingly enough, the Love Bracelet has endured long enough and become iconic enough to serve as inspiration itself, and both rings and necklaces that clearly refer back to the Love Bracelet in their shapes, circles set with a flathead screw motif.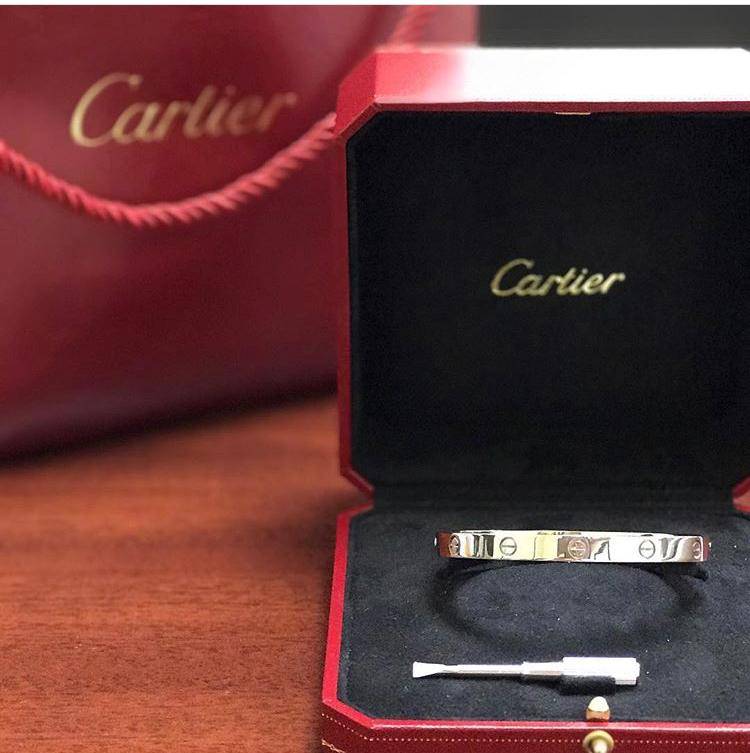 The Love Bracelet was an immediate success, in part due to some of the fashion icons that could be seen wearing it. When they were first introduced, Cartier gifted some to the most famous couples of the 20th century, including the Duke and Duchess of Windsor, Elizabeth Taylor and Richard Burton, Ali MacGraw and Steve McQueen, and Sophia Loren and Carlo Ponti. The Cartier Love Bracelet was also something of a revolution when it comes to jewelry that certainly aided its popularity: before its creation, most pieces were meant to be worn with a specific outfit of piece of clothing, but the Cartier love bracelet was unique in its intended purpose to be worn with any outfit and at any event, from suits to swimwear. They were also somewhat unique in that they were designed to be truly unisex, worn equally by both men and women.
Of course, the bracelets have also changed drastically over the decades since they were originally debuted. The very first Love Bracelet designs were made of silver and plated in gold, but later designs included bracelets made entirely of gold. Original designs also were made only of precious metals, but versions that were studded with diamonds quickly became available. They were also originally crafted without serial numbers, in order to avoid marking the pristine band with anything that could detract from its beauty. However, the Love Bracelet quickly became one of the most counterfeited pieces of jewelry in the world, prompting Cartier to start marking their bracelets with unique serial numbers that the company keeps on file. To this day, every single Love Bracelet cartier produces can be found through that serial number.
With such a distinguished reputation and worldwide renown, the Cartier Love Bracelet has become the centerpiece of a great many stories and legends. One of the most popular is that many hospitals actually make sure to keep Cartier screwdrivers on hand, in the event that a Love Bracelet should need to be removed from a patient who did not have their own screwdriver handy. Another popular tale regarding the bracelet is that Cartier once had a policy of never selling it to a single buyer, only allowing them to be purchased by couples, who would then surrender the screwdrivers to each other.
Even better, you don't have to venture to the Cartier Maisons across the world in order to find your loved one a genuine Cartier masterpiece. A wide variety of Cartier Love Bracelets, both diamond-studded and made completely of gold, are available at Diamonds by Raymond Lee in Boca Raton, Florida. As an added bonus, the bracelets also come with a special Raymond Lee jewelers presentation box, as well as their famous screwdriver. So if you want to get your loved one a timeless gift that's just as unique as it is stunning, come down to Diamonds by Raymond Lee. You'll find that ll you need is love – and a cartier bracelet to express it with.