Patek Philippe is just one of those brands considered to achieve a cult object status. Traditional, innovative and refined these timepieces make strong first impressions. Made in Geneva, Switzerland by masters of the craft of horlogerie Patek Philippes are unique. From 1839 to this day it is the very last family-owned Genevan watch manufacturer. Geneva has its tradition and heritage of watchmaking but Patek Philippe is the true embodiment of this legacy tradition. The world's first watchmaking corporation was set up in Geneva in 1601. From there the watchmaking capital took off.
Around 4,000 craftsmen, experts in the art of horlogerie, settled by the Rhone river to practice their craft. The area had abundant hydraulic energy coming from the local waterworks. This immensely pressurized water allowed the watchmakers to mechanize a lot of the tasks involved in creating timepieces. From milling to manufacturing the movements the Rhone's water enabled these artisans to excel. Flanking the Rhone river is the same company building that was established in 1853. Patek Philippe even has its very own museum, opened in Geneva in 2001, featuring its rich history and craftsmanship. It is the largest watchmaking museum in Geneva.
Among the unique details that make this singular brand stand out from all others is their proprietary seal of quality. The Patek Philippe Seal was launched in 2009 and features gold double P's for Patek Philippe in a hexagonal encasing. The brand is also responsible for the world's most complicated wristwatch in production with 20 complications. Widely considered to be the finest watch brand in the world a Patek Philippe is not for every man but for those whose personal style is subtle and ultra-luxurious. A Patek Philippe is the ultimate power watch.
Vintage
Vintage items are rare treasures kept along decades and generations. As a reflection of character nothing is more coveted than a vintage Patek Philippe. Owning a piece of history is possible with a keen eye for curation. At Raymond Lee Jewelers we provide precisely that. Our collection of vintage classics include Patek Philippe and below you can see a vintage Gondolo we have available. Here are some of the classic collection iconic timeless timepieces we have in stock:
Vintage items are rare treasures kept along decades and generations. As a reflection of character nothing is more coveted than a vintage Patek Philippe. Owning a piece of history is possible with a keen eye for curation. At Raymond Lee Jewelers we provide precisely that. Our collection of vintage classics include Patek Philippe and below you can see a vintage Gondolo we have available. Here are some of the classic collection iconic timeless timepieces we have in stock:
A pocket watch, the classic and original timepiece for men. Patek Philippe has crafted pocket watches for the likes of American automotive engineer Packard. Exquisite and finely created these pocket watches are a symbol of tradition and unparalleled style. Fashion trends and hypes may come and go but a pocket watch is the timeless statement piece. Connoisseurs of rare timepieces know a pocket watch is the finesse of high-end watchmaking. A source of fascination for many these unique manually wound movements are certified under the Patek Philippe Seal for artisanship and accuracy.
This 18k yellow gold piece features an off-white dial with gold roman numeral markers and a subdial at 6 o'clock. The 44mm pocket watch has scratch resistant sapphire crystal and 20 jewels.
This vintage classic features a wide off-white dial with 18k gold casing and matching bracelet. This 1950s vintage has a silver dial, the exceptional automatic movement is complete with original Patek Philippe papers, box and Raymond Lee Jewelers warranty card.
A Calatrava classic this vintage piece is a prime example of craftsmanship and artistry. Finished by hand Patek Philippe timepieces are handled by trained specialists. Each dial, case and gold numeral is hand finished maintaining rare handicrafts. Fine decorations and subtle enhancements are all perfected for flawless functionality. That is not including all of the minuscule movement pieces that are smoothed entirely by hand.
Calatrava
The Calatrava Cross became Patek Philippe's oficial logo in 1887. Named after this cross and symbol of the company's excellence and innovation, the Calatrava collection is purely Patek Philippe. Launched in 1932 shortly after Charles and Jean Stern became shareholders the Calatrava model is a sleek round wristwatch. As one of the finest Patek Philippe style its elegance lies in an understated timelessness. Pure lines and clean open faces make these watches subtly versatile masculine symbols.
Manually wound mechanism showcasing the Patek Philippe craftsmanship is encased in 18k yellow gold. This white face 33mm dial is under scratch-resistant sapphire crystal. The bracelet is a shiny black leather strap with prong buckle. A hobnail pattern bezel makes this unique understated classic a fine symbol of style.
Another Calatrava now available is on a leather strap featuring a white 33mm dial with roman numerals and a date window at 3 o'clock. The factory black crocodile strap with a gold tang buckle clasp holds the 18k yellow gold casing in place. Sapphire crystal protects the automatic movement timepiece.
Chronographs
Featured in Patek Philippe Complications collection these watches go beyond telling time and date. The chronograph functionality comes from the highest quality movements is a pinnacle of the art of watchmaking.
An 18k rose gold complicated Patek Philippe chronograph. Featuring one of the most complex manual winding mechanisms in the world this 42mm silver dial has a smooth bezel. The black leather bracelet watch comes with original papers, box and a Raymond Lee Jewelers warranty card.
This unique manual wind 18k yellow gold bezel Patek Philippe has never been worn. Previously owned by former NBA player Juwan Howard this skeleton back watch features a brown leather strap and white dial. The singular 39mm timepiece comes with the original box, papers and a Raymond Lee Jewelers warranty card.
Another classic, this 18k yellow gold wristwatch comes with a black leather strap and archives. Featuring a smooth yellow gold bezel the black dial is a singular piece. With manual wind movements visible through the skeleton back each precise handcrafted movement can be seen through the sapphire crystal.
A white 18k white gold chronograph watch showing month, day and date this 42mm piece has manual winding and scratch-resistant sapphire crystal. Featuring an adjustable wrist size and water resistant display it comes with Patek Philippe archive papers.
Annual Calendar Watches
The Annual Calendar collection was launched in 1996. This was the same year of the famous "Generations" advertising campaign. The emotional advertisements harped on tradition and the 'passing down' of timeless watches through generations. These Patek Philippe pieces feature the Swiss patented Annual Calendar along the casing. Each one only needs to be adjusted once per year, at the end of February to ensure that the correct date is always displayed.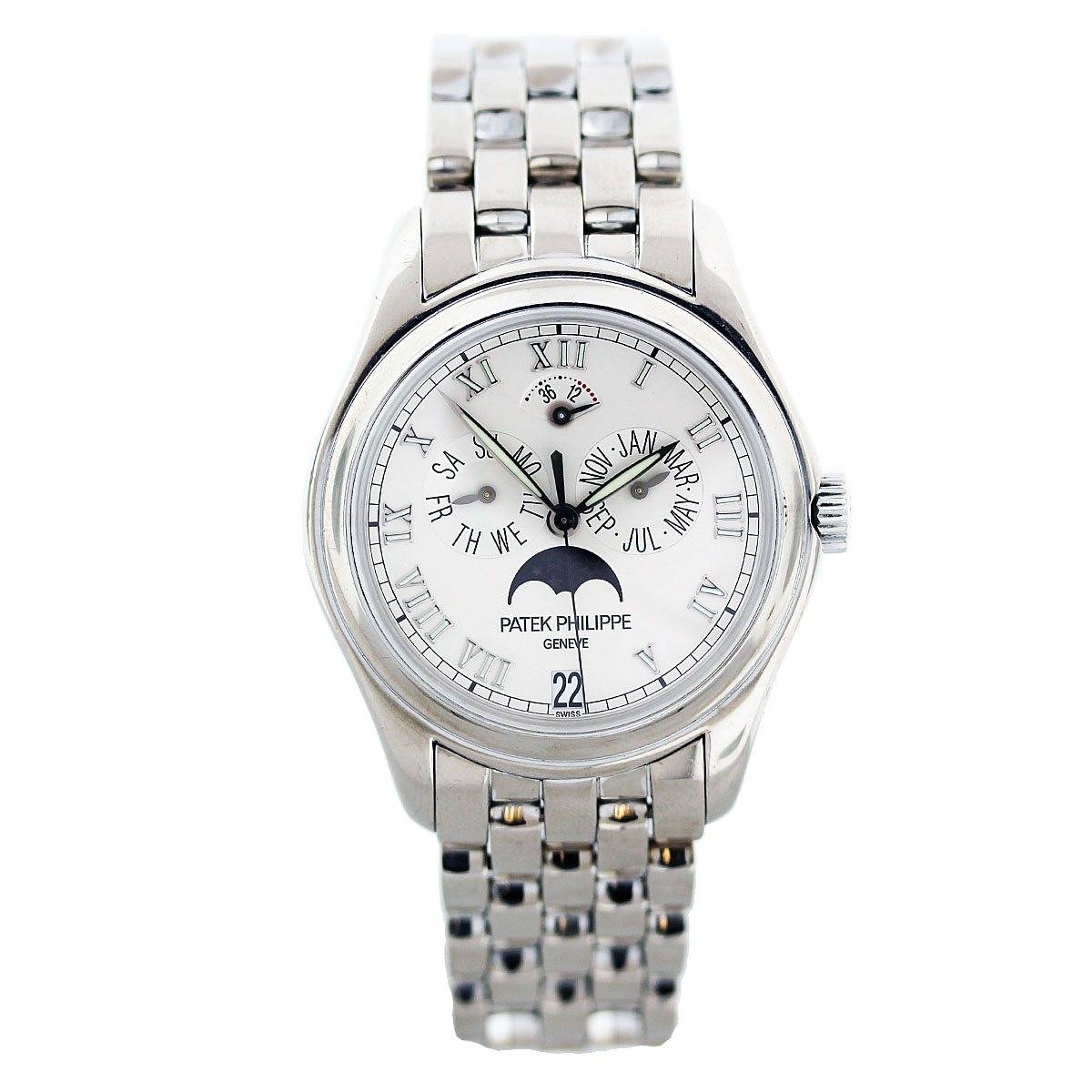 An 18k 37mm white gold dial with matching 6.5" bracelet. This timepiece has a white dial with moon phase, date and month indicator and roman numerical markers. The sapphire crystal enclosed watch has a skeleton back showing automatic movements. This piece also comes with the Raymond Lee Jewelers box and warranty card.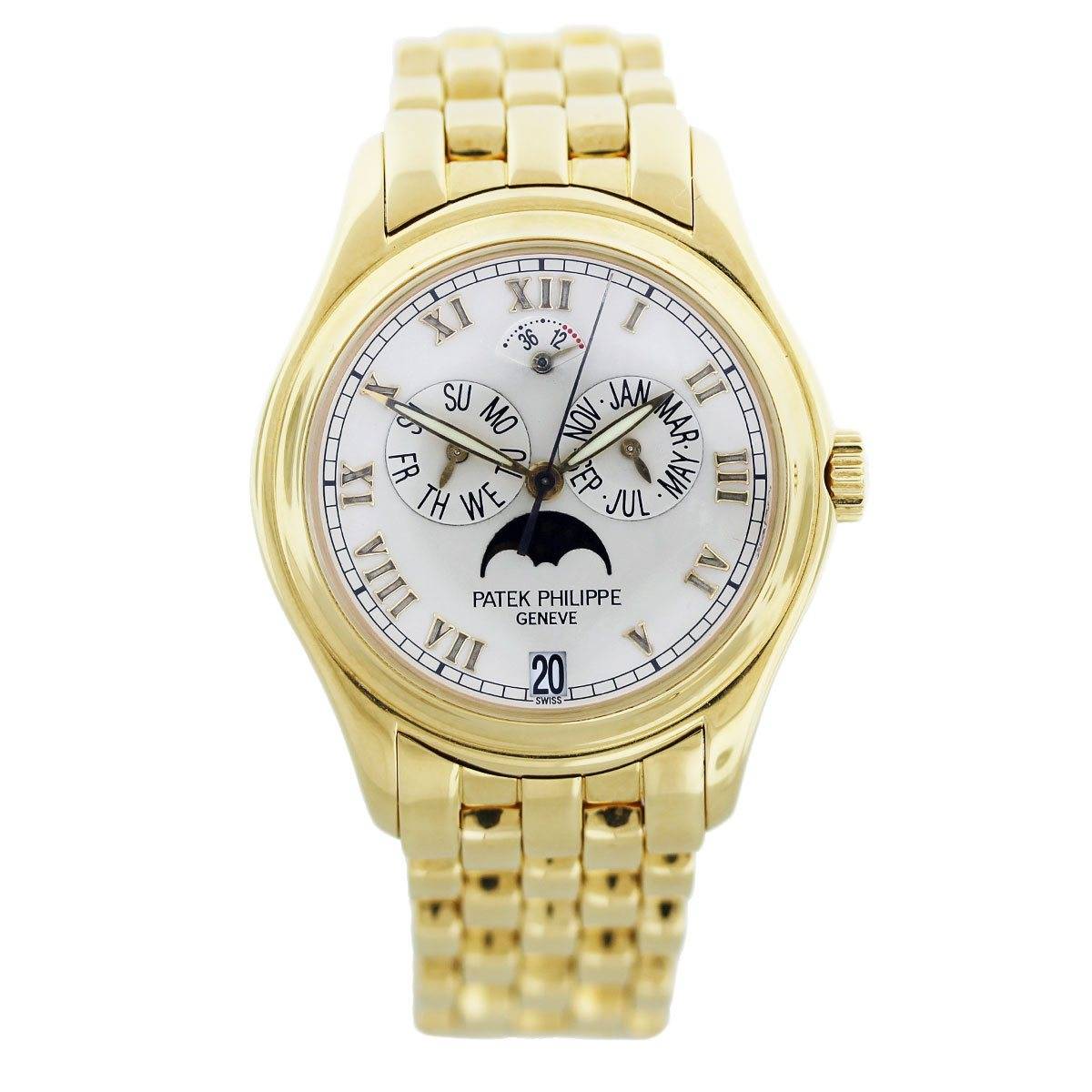 18k yellow gold case, bracelet and bezel Patek Philippe watch featuring automatic movement motions and beautiful sapphire crystal. The white dial shows moon phase, date and month indicator and gold Roman numeral markers. A hidden butterfly clasp closes the 7" bracelet of this unique skeleton back timepiece.
Perpetual Calendar Watches
These watches are considered some of the most important Patek Philippe complications of the 20th-century. Requiring even less adjustment than the annual calendar counterparts these timepieces not only register the days in each month it also automatically adjusts for leap years. This means that the next time one of these watches will need to be adjusted is in the year 2100.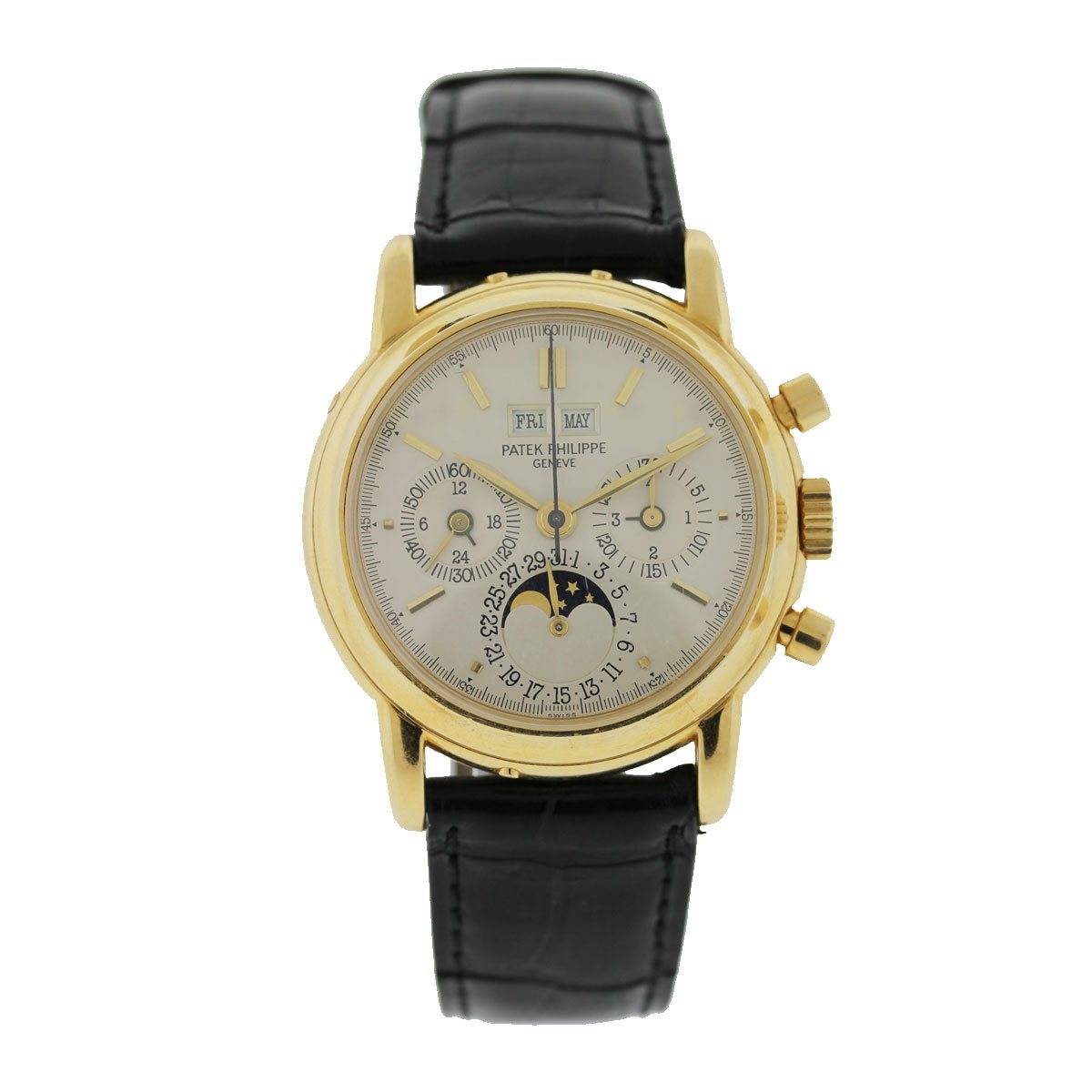 This is arguably a standout collector's piece featuring the complex perpetual calendar, moon phase, month, date, day display and even a leap year indication. With manual winding, the white chronograph dial has an adjustable wrist size leather bracelet. Encased in 36mm 18k yellow gold this water resistant watch has a smooth gold bezel.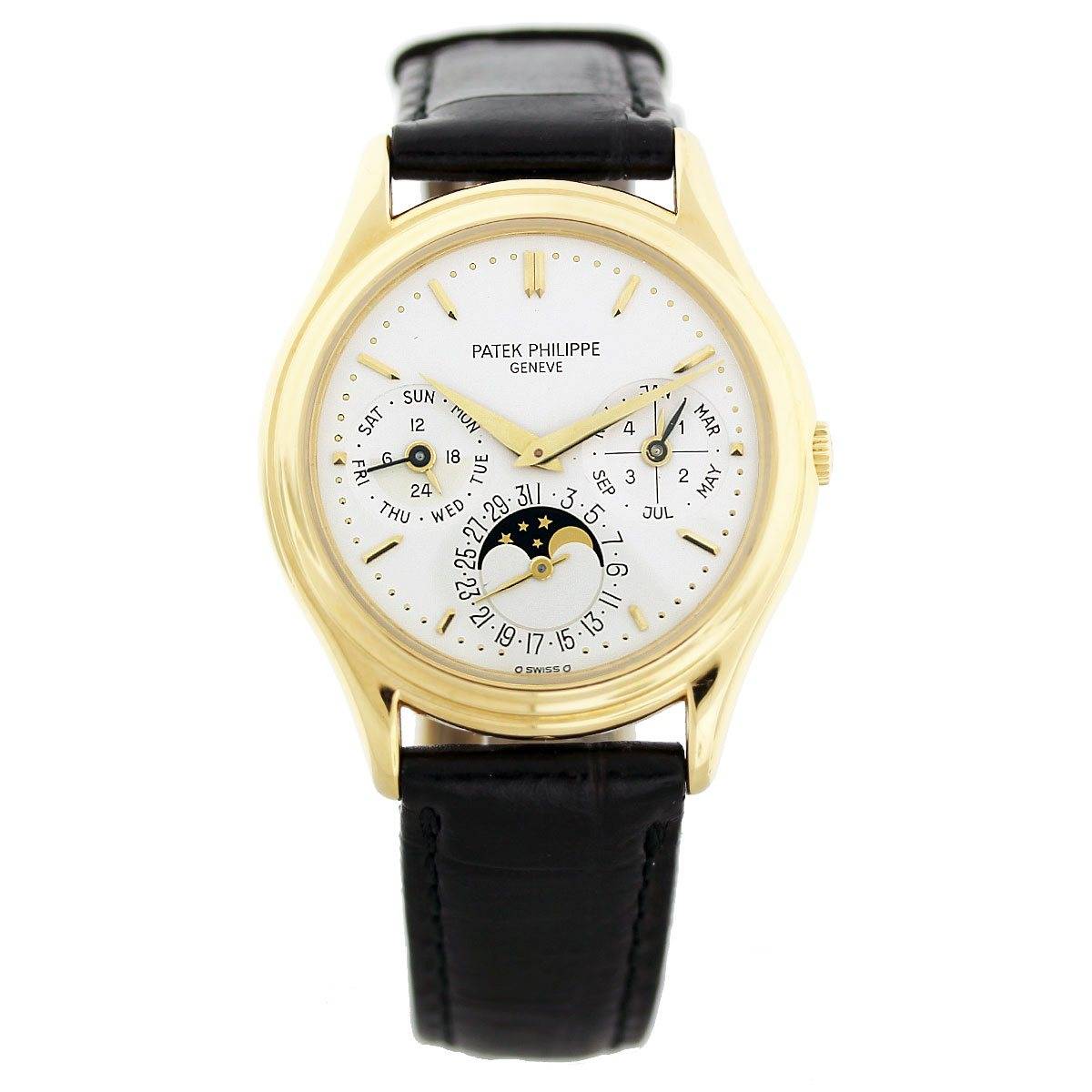 For the sophisticated gentleman's collection, this 18k yellow gold watch with matching smooth bezel features a manually winding mechanism. The silvery opaline-white dial has yellow gold indexes and a perpetual calendar with moon phases. It also has day, date, month, Leap Year and A.M./ P.M. indication.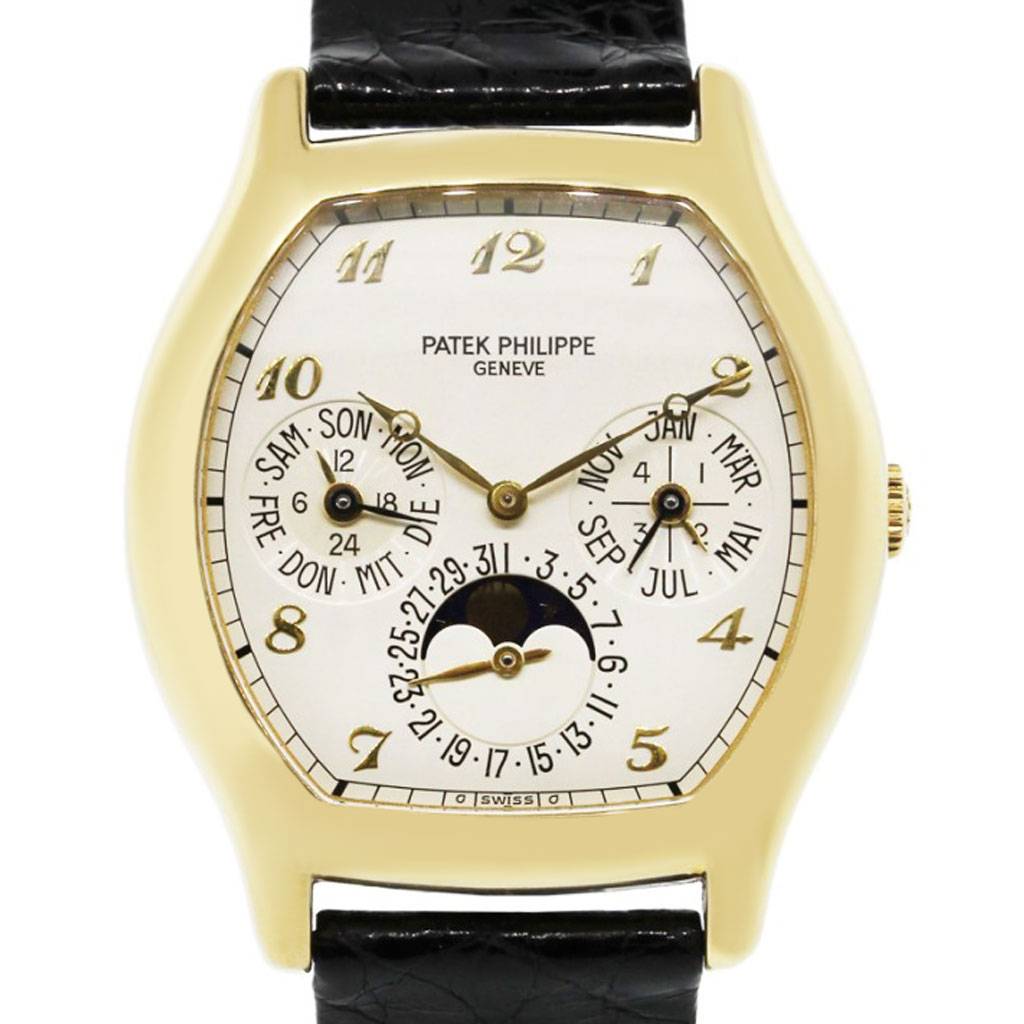 This calendar watch has a skeleton back showcasing automatic movements. The off-white dial is encased in 18k yellow gold and has a Patek brown leather strap. It comes complete with original papers and box.
Unique Offerings

The Gondolo collection was launched in 1993. This 18k yellow gold watch features a premium mechanical movement. The vintage watch has an off-white dial and Patek brown leather wristband. The unique square casing is bold and stately.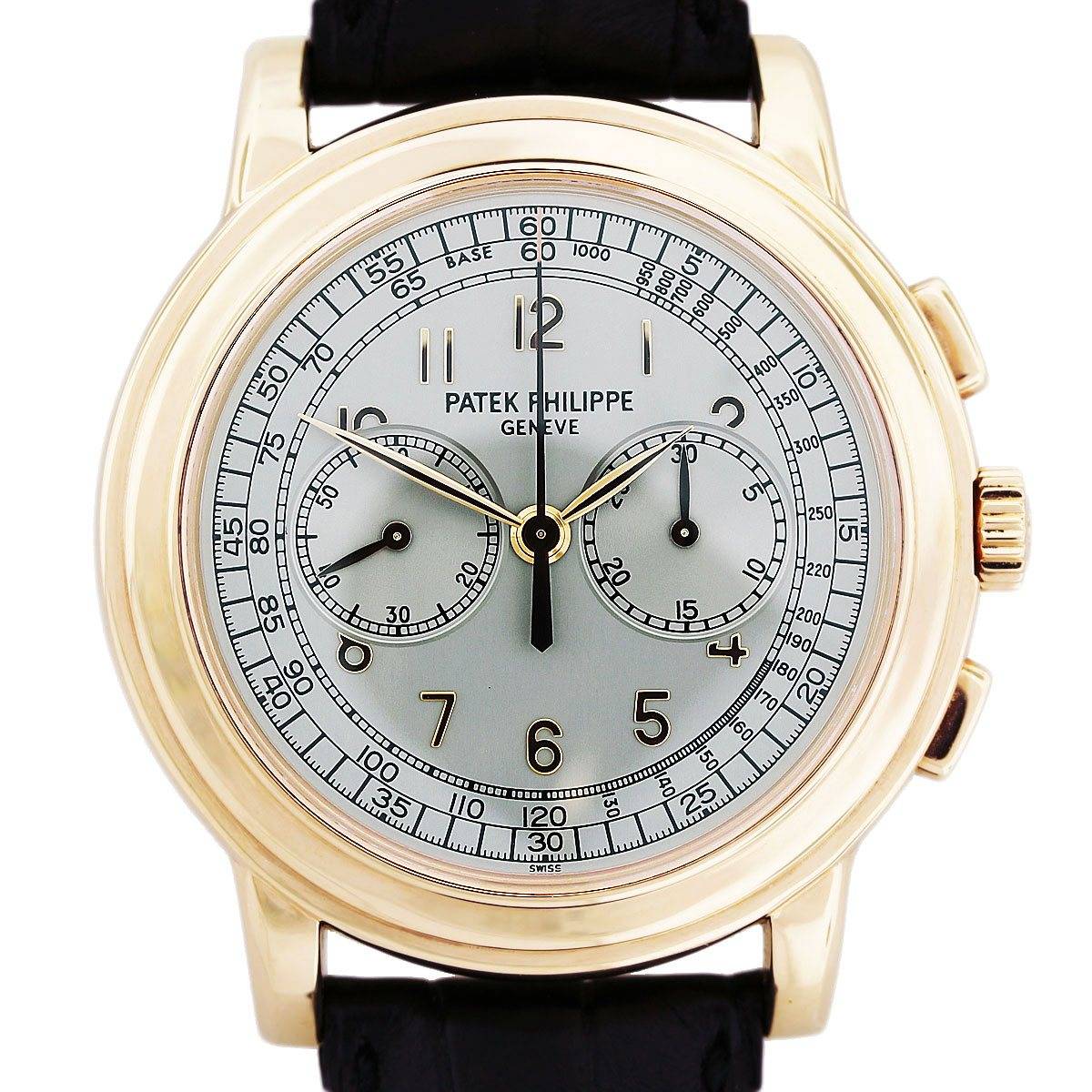 Among the most complicated watches of the world this 42mm smooth bezel Patek Philippe is aptly named for the complications found within the watch's mechanism. An 18k rose gold chronograph with a silver dial and black leather band this watch has one of the most complicated manual winding mechanisms in the industry. Handcrafted with the highest level of technical expertise the wristwatch features a skeleton back and scratch-resistant sapphire crystal. It is complete with original papers, box and a Raymond Lee Jewelers warranty card.
Timepieces such as this one are unique in the world and coveted by collectors. The prices of these unique complication watches range dramatically depending on its rarity, metals and number of complications. In 2014 one of the Patek Philippe Super Complication timepieces achieved an auction sale price well into the millions. As some of the finest watches in the world the men who own and don these pieces are just as unique.
News
While Patek Philippe is an iconic classic, setting the standard really when it comes to complicated refined collectors watches it is also an innovative brand. The latest news from the brand shows how they maintain tradition with innovation. In the last few months they have announced the Craftsmanship and Precision Competition, a rare handcrafted exhibition in Geneva, and of course the occurences of Baselworld 2018.
Baselworld 2018
At Baselworld this year Patek Philippe unveiled new models including a special anniversary piece, a new perpetual calendar, and revisited some of their classics. Their star new model is the first World Time Minute Repeater, which always strikes local time. This complicated timepiece is an interesting combination of complications with cloisonné enameled dials. The merging of these two complications, World Time and Minute Repeater, is both as unprecedented as it is impressive. The time will strike as indicated by the hour and minute hands for the time zone of the city that is aligned with the 12 o'clock position. Always striking local time and striking Patek Philippe history this timepiece is sure to be coveted at auctions by collectors.
Special Anniversary Piece
Commemorating the 50th anniversary of the cult Golden Ellipse model Patek Philippe crafted 100-anniversary sets. Each set features a limited edition platinum model with matching cufflinks. This collection, the second oldest of Patek Philippe, is timelessly elegant. The commemoratory piece features engraving and enameling, a fusion of fine handicraft. The central design is evocative of the Patek Philippe logo, the Calatrava cross. As hour and minute markers this dial has cheveu hands in satin-finished white gold. With a pure platinum solid back case and onyx cabochon crown setting the details of this timepiece to culminate in the diamond set at 6 o'clock in the caseband.