Why are Baguette Diamond Bands So Popular?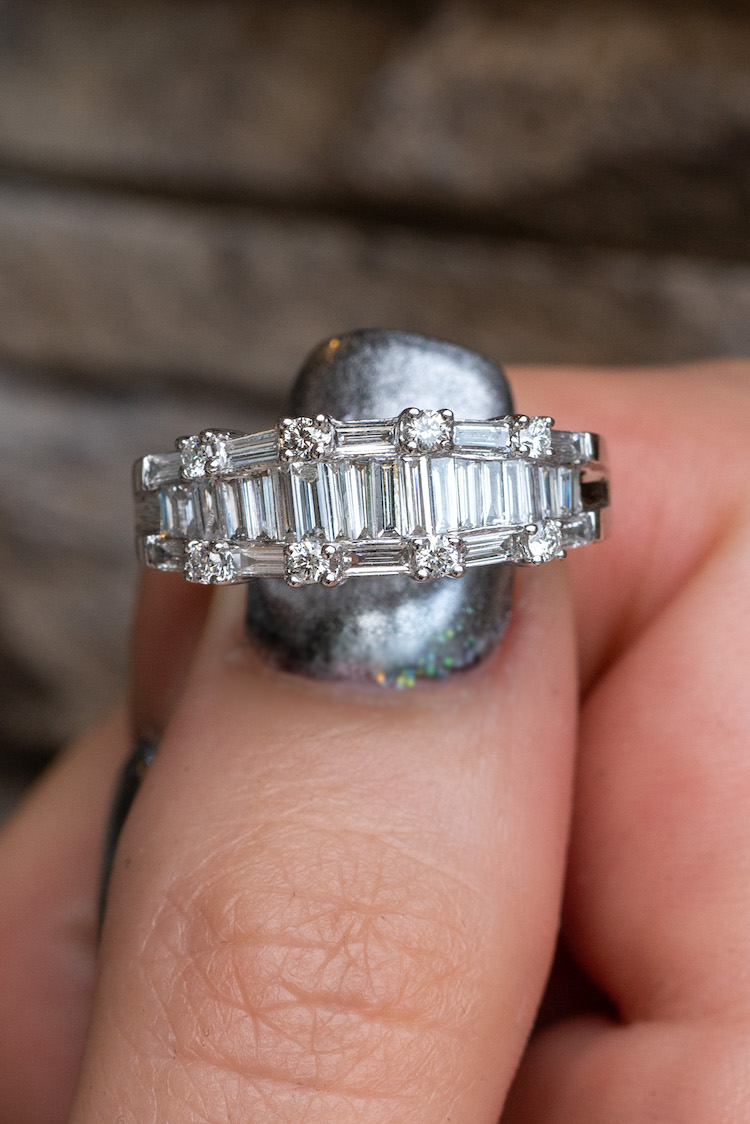 The baguette diamond has a very special place in the jewelry industry. One look through the sleek and sophisticated baguette diamond and you will flash back to the days of the Art Deco era where designs where characterized by clean lines and geometric forms. The unique cut reflects both that of the past and the present. Today's re-imaged baguette diamond jewelry and bands are both ultra-contemporary and inimitably vintage. It is a diamond cut with the power of popularity – past, present and future. 
In this article, we are going to cover all of the important facts you need to know about baguette diamonds and then we are going to show you some of our majestic baguette diamond bands at Diamonds By Raymond Lee and Raymond Lee Jewelers in Boca Raton.
What is a baguette diamond?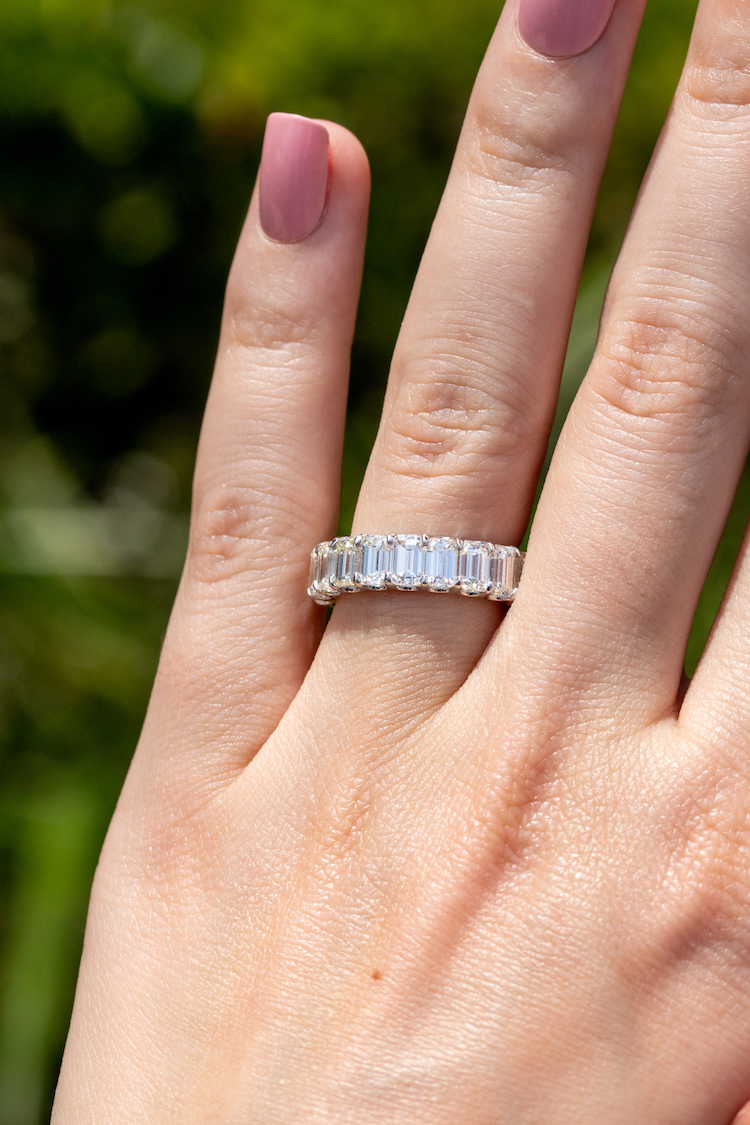 A baguette diamond is a svelte, elongated, rectangular-shaped diamond. They often have a 5-to-1 ratio of length to width. Baguettes are step cut diamonds, so they have large straight facets arranged in parallel lines on all four sides. The arrangement of facets resembles that of steps, hence the name. 
Baguette diamonds only have 14 facets. This is much less than modern brilliant diamonds, which have over 50. Because of this, baguette diamonds are meant to show beautiful clarity and luster, whereas modern brilliant diamonds are cut with the purpose of brilliance, scintillation and fire. 
Straight Baguette vs Tapered Baguette
There are two main types of baguette diamonds, straight and tapered baguettes. Straight baguettes are perfectly rectangular, while tapered baguettes are narrower on one of the two ends, giving them a trapezoidal shape. 
Both straight baguettes and tapered baguettes are often used as accent diamonds, but it's more common to see straight baguettes as a main focal point, such as a (straight) baguette diamond eternity band. 
What is the difference between emerald and baguette diamonds?
To the untrained eye, it is possible to confuse baguette diamonds with emerald cut diamonds as they do have a similar appearance, being both are step cuts. However, baguette diamonds have 14 facets, while emerald cut diamonds have 57 or 58 facets. Because of this, emerald cut diamonds have a lot more radiance than baguettes, and baguettes have a lot more clarity. 
There is also a difference in structure. Emerald cut diamonds can be square, however, they can also be elongated like baguette diamonds (although baguettes are typically more narrow and longer). But, a constant differentiation is baguettes have square corners, whereas emerald cuts have diagonal corners. 
Finally, it's a lot more common to see larger emerald cut diamonds because they are more commonly used as centerpieces for rings. Generally speaking, baguettes are used as accent diamonds, such as side stones or diamond-settings in watches. That said, due to the resurgence in popularity of baguettes, it is not so uncommon to see larger baguettes being used as centerpieces these days.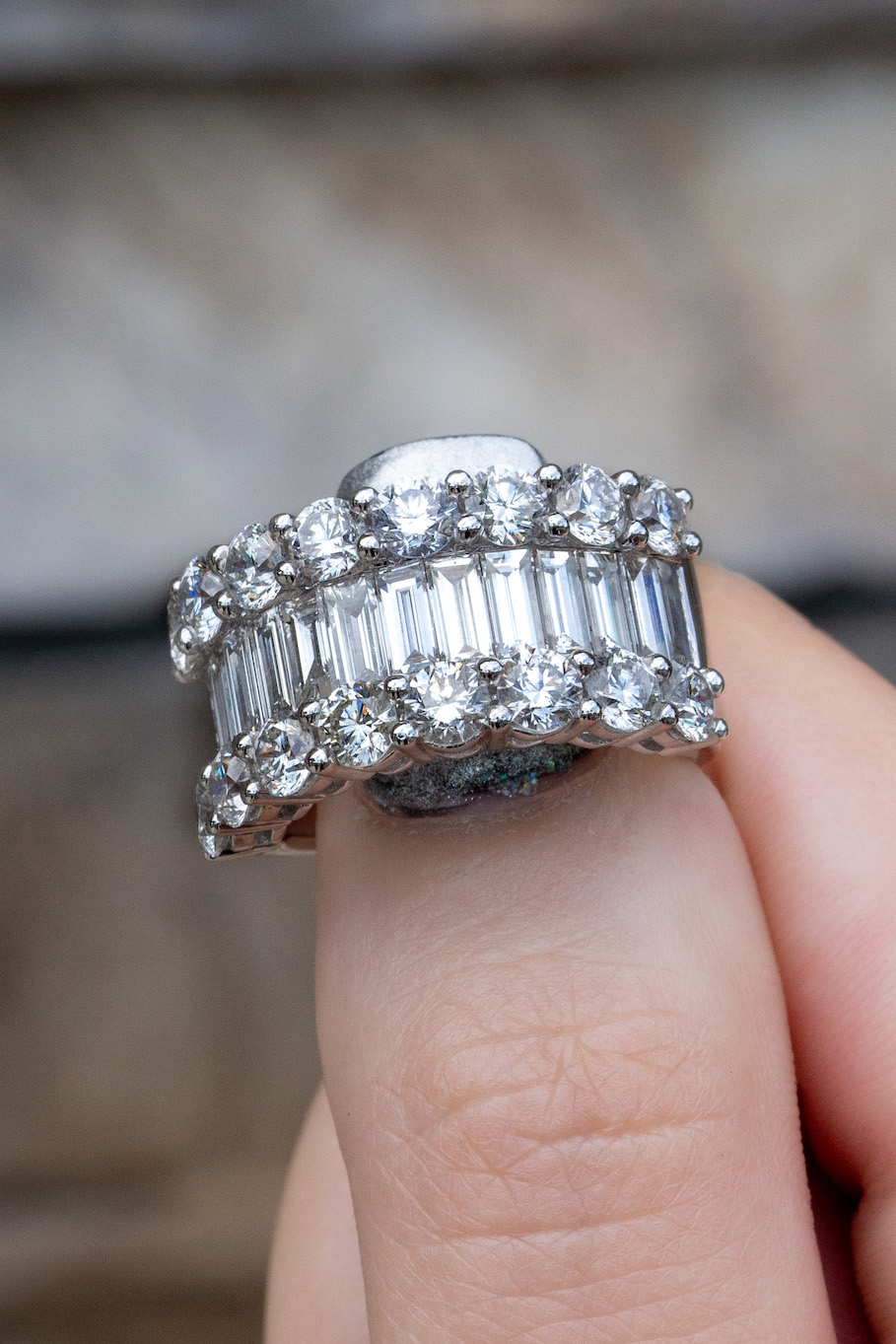 When were baguette diamonds created?
The baguette diamond originates from the Art Deco era, which started in France in the 1920s. It was named a "baguette" diamond because the elongated shape resembles a French baguette. 
So, even though the baguette diamond has a super contemporary appearance and it is extremely popular in the modern day, it actually has vintage nostalgia that is reminiscent of the roaring 20s. 
Are baguette diamonds in style?
The baguette is a classic diamond cut that will never go out of style. In recent years, it has taken both the bridal and aftermarket diamond watch world by storm. It is easily one of the most popular looks in jewelry. You will see baguettes everywhere.
The great thing about buying baguette jewelry or baguette-set diamond watches is that you can be confident of its stay powering. Since the birth of the baguette, it has remained in fashion. After all, it comes from arguably the most revered classic jewelry era of them all, the Art Deco era. 
Now, the real question is, "why are they so popular?"
Baguettes complement other diamond shapes and jewelry in an almost majestic way. Side by side brilliant diamonds, the contrast of luster and clarity with brilliance and fire is stunning. If you have a baguette diamond band, you can confidently wear it with anything in your jewelry box, especially your engagement ring. 
Another great thing about baguettes is they are so unique. It is not your typical diamond. It has that flat crystal clear ice look, not frosty flare of modern brilliants. You can see through the baguette, it appears like a diamond in a more raw form. Moreover, it's subtly beautiful. It has a certain elegance and sophistication that only baguettes can produce. Something that will forever remind us of the Art Deco days, which was the epitome of graceful taste. 
All in all, you can't go wrong with baguette diamond jewelry, baguette diamond bands, or baguette diamond watches. It will never fade from popularity. A quality piece is an heirloom in the waiting.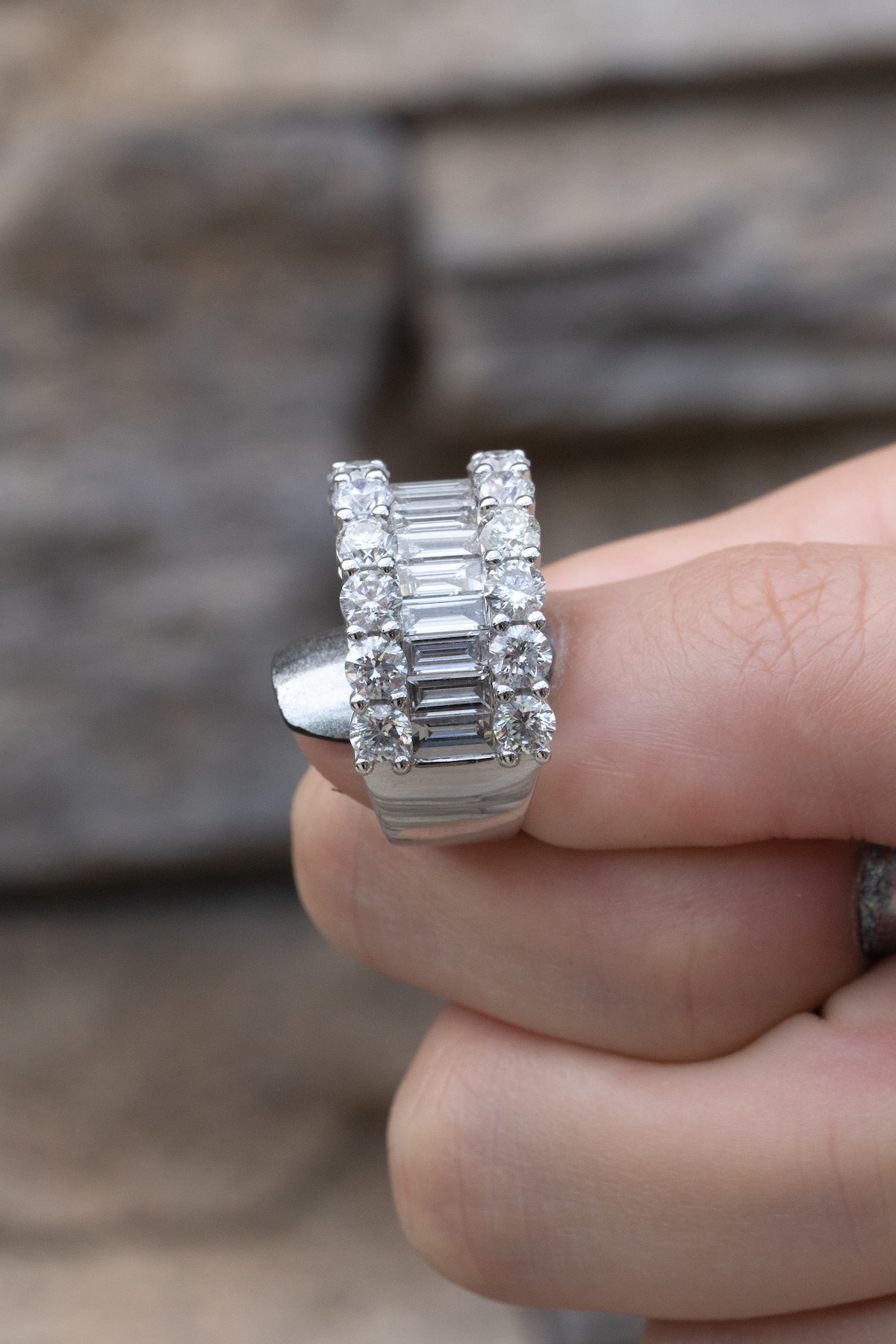 Do baguette cut diamonds sparkle?
Baguette diamonds do not sparkle much. They are not cut for sparkle, which is known as "fire". Modern brilliants are cut for fire. Baguettes are cut for clarity and luster. That said, they have a special kind of "shine" that is equally appealing in their own right. They produce what is known as a hall-of-mirrors effect, which is larger, prismatic reflection and flashes of light. These flashes of light complement the dark planes of each step.
Overall, baguette diamonds are so often used as accent stones because they compliment and contrast modern brilliant diamond centerpieces beautifully. However, contemporary fashion has taken a more subtle, understated approach. This is why baguettes are commonly seen as the featured diamond element in jewelry, rings and watches. 
What to look for in a baguette diamond?
As baguette diamonds are not cut for brilliance, the main thing to pay attention to is color and clarity. Brilliant cuts will appear a lot whiter than a baguette with the same color grade, so you need to go for a higher color grade with baguettes. The same thing applies to inclusions. Since baguettes have larger facets than modern brilliants, they will show inclusions easier. This is why you want to focus on a higher clarity grade too. 
That said, you don't need the highest color or clarity grade. The highest grades are perfect under a 10x magnification. If you want to get the best bang for your buck, you simply need a grade that is perfect to the naked eye.
When shopping for your baguette diamond jewelry or diamond band, if the lighting is not bright, ask the jeweler to turn up the lights or shine some light on the piece. Have a look with your naked eye, see how it looks. If it looks great under a bright light with your naked eye, you are good to go.
Additionally, you need to see paperwork. Ask for a GIA certification if the baguette diamonds are sizable. You want to see what GIA grades them as, if possible.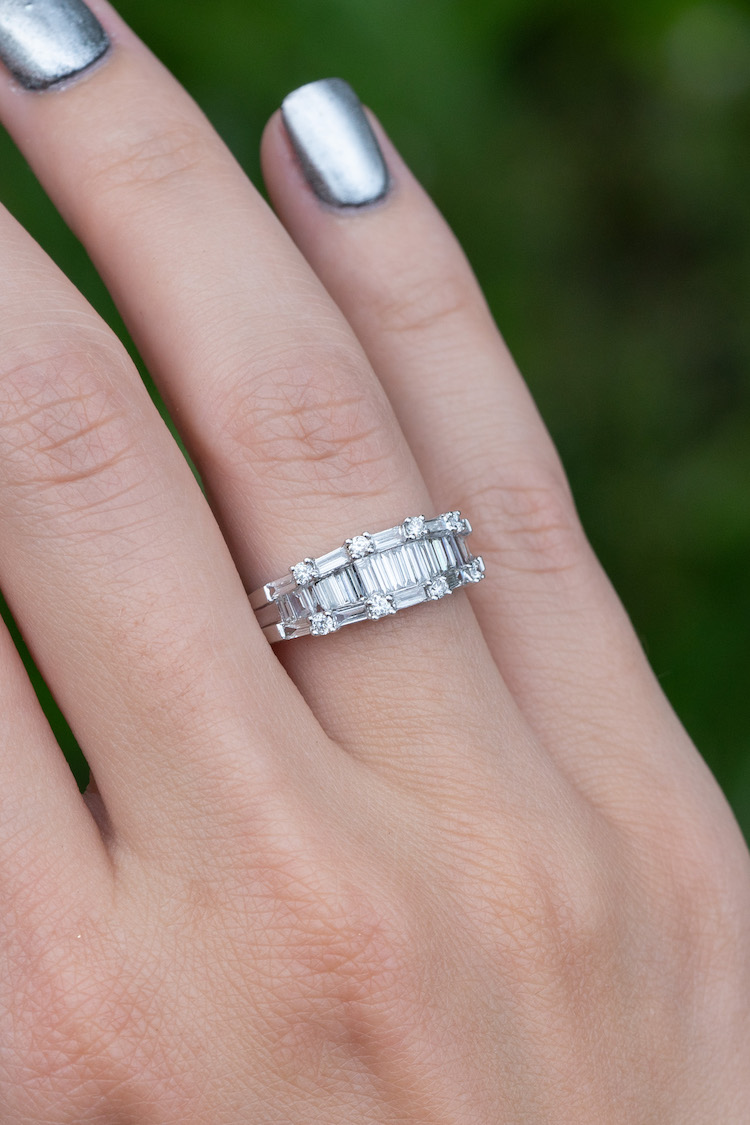 Precious Metals for Baguette Diamond
Baguette diamonds will almost always look best in white metal. So, platinum or white gold. This is because you want to express what the diamond cut was made for, clarity and flawlessness. With yellow or rose gold, the color of the metal will show up in the baguette diamonds particularly strongly, which is not ideal. It can work, of course, but if you are going for a classic, glassy look, white gold or platinum is the way to go. 
In any case, this comes down to personal preference, so choose what catches your eye. Nevertheless, you won't find too many diamond baguette bands with colorful metal. You will, however, see diamond flooded luxury watches of rose gold or yellow gold with baguettes. It seems to work a lot better with timepieces. 
Are baguette diamonds expensive?
It depends on the grade of the baguette diamond. Prices vary greatly, just like any other diamond cut. However, generally speaking, small loose baguettes are not as expensive as other diamond cuts because they are often lower quality, being that they are purposed for accent placement. That said, for high-grade baguette diamonds, the price is on par with other common cuts, if not more. They can be priced higher because high-grade sizable baguettes are rare. 
Baguette Diamond Band Designs

 
To see the beauty of baguette diamonds, have a look at some of our favorite baguette diamond bands at Diamonds By Raymond Lee and Raymond Lee Jewelers in Boca Raton.
Note: All of the featured images in this article are of baguette diamond bands in our jewelry collection at Diamonds By Raymond Lee. So anything you see in this post is for sale. If you want one of the bands or you have question, follow the associated links or contact us.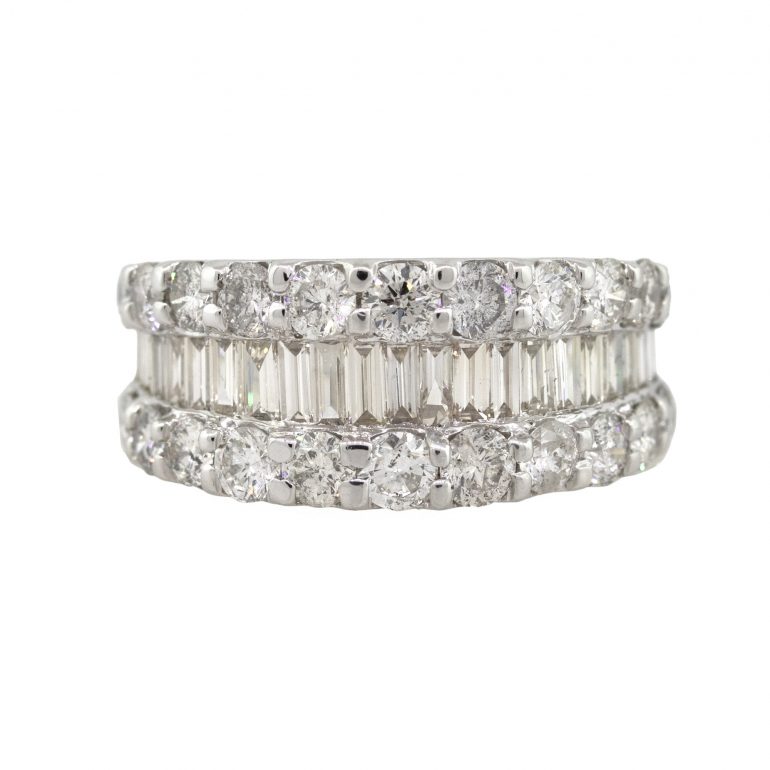 This stunning diamond band features both baguette diamonds and round brilliant diamonds. The baguettes juxtaposed between the round brilliants creates a stunning contrast of distinct diamond beauty. The round brilliants create fire and brilliance, while the baguettes display clarity and prismatic reflection of light, ultimately giving you the best of both worlds.
As for the structure of the baguette diamond band. The top side is large, so it will have a powerful presence on your hand. However, as it moves down the sides of your finger, the band tapers, giving it a very comfortable fit. 
All in all, this is a creation of a baguette diamond band that will draw attention left, right and center.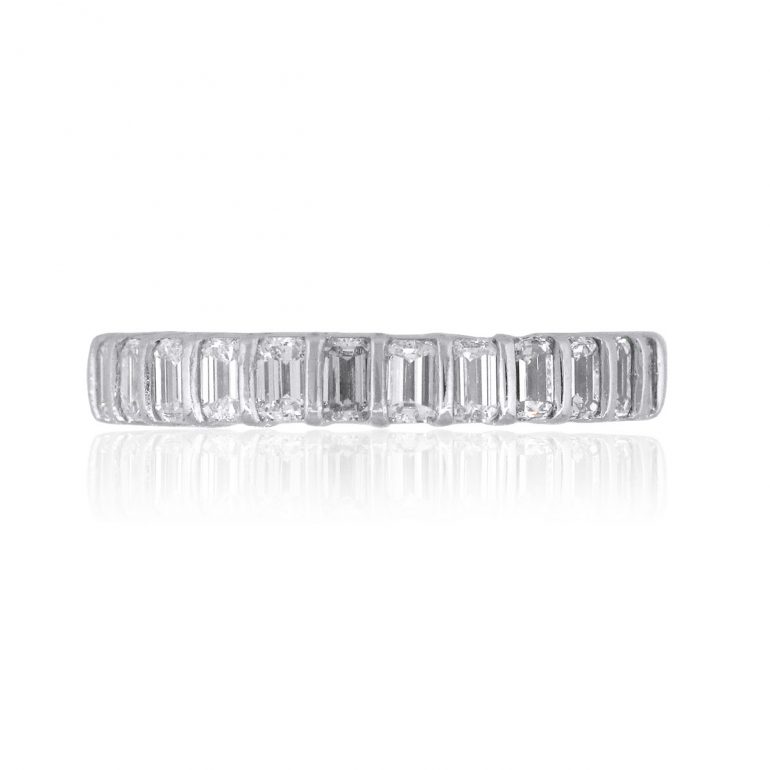 Simple yet stunning would best describe this baguette diamond eternity band. Sizable would be another word for those who are wondering about finger real estate. 
The baguette diamonds cover the entire length of the band, which is what an eternity band is all about. They total to 2.9 carats and they are all E in color and VVS in clarity, which is very high grade.
This kind of eternity band would complement any diamond engagement ring, especially a solitaire setting. It's a baguette diamond band that plays well with other rings yet stand out on its own with magnificent beauty.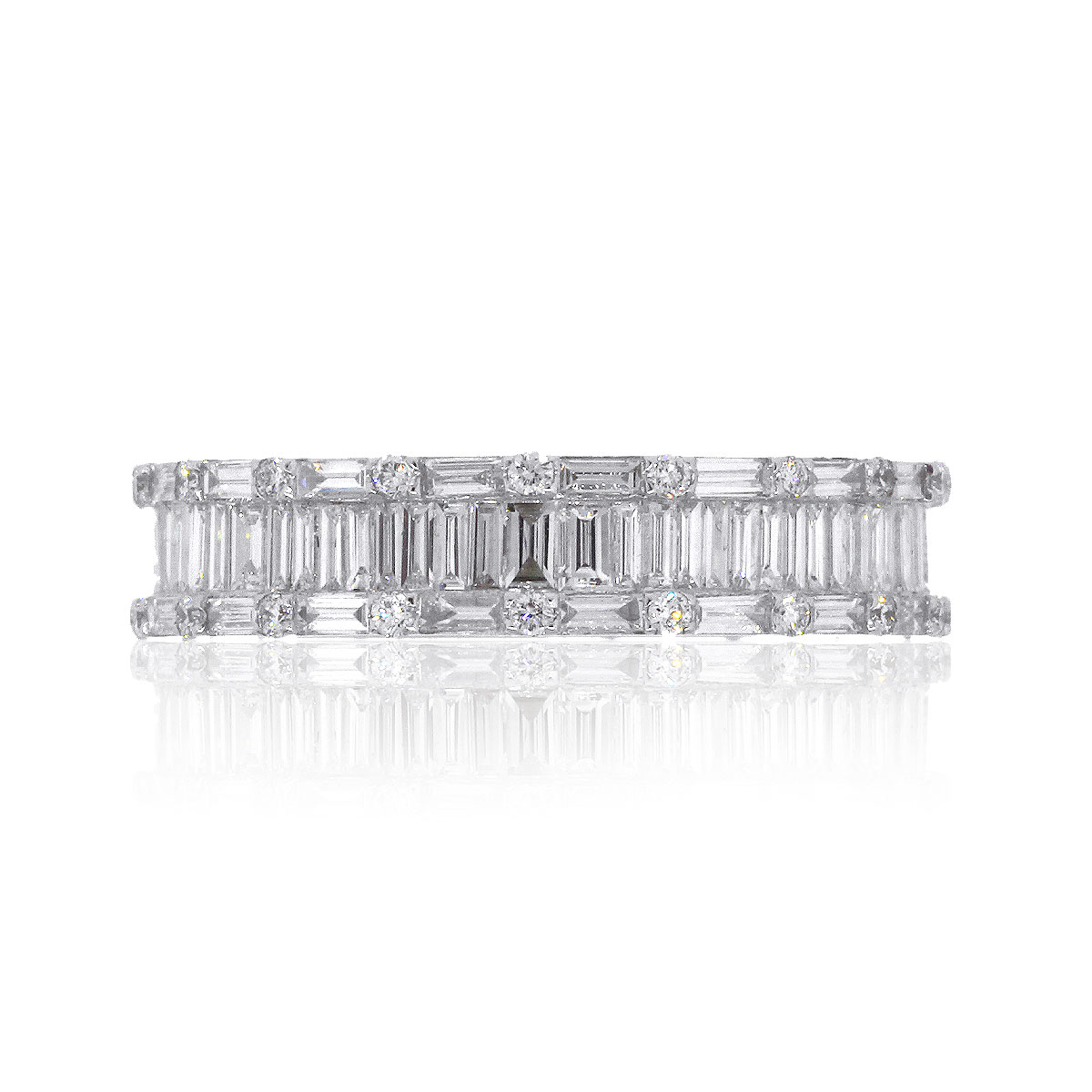 This baguette diamond eternity band is a modern creation in the purest form. It screams clarity, sleekness, luster and elegance. The baguettes are very high grade so the ring almost looks like glass.
More on the design as this is something very special. It features both vertically-set and horizontally-set baguettes. The centerline has baguettes that stand straight up, while the edges have baguettes with an east-west setting, connecting small round brilliants at points that create the illusions of squares around the band. 
If you want a ring that no one has, this is the one. It is unquestionably one-of-a-kind.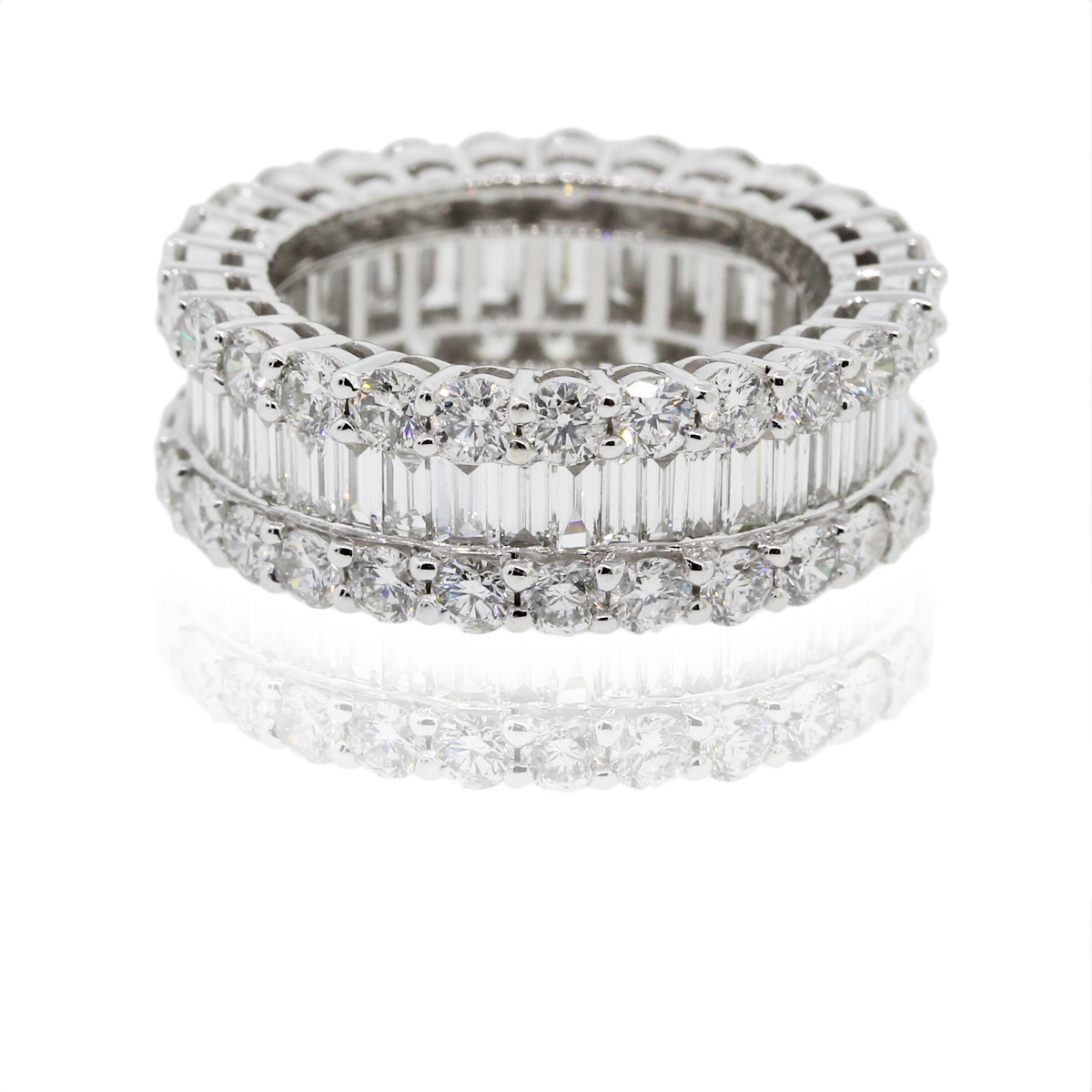 Here we have a baguette diamond band that can only be defined as a monolithic masterpiece. The band features a total of 5.7 carats of baguette and round brilliant diamonds. The diamonds are F/G in color and VS in clarity, which means they are flawless to the naked eye.
As it is an eternity ring, the band is completely covered in diamonds. The baguettes are flanked by round brilliants, wrapping all the way around. This is the type of baguette diamond band that you can't miss. It is a show-stopper, breath-taker, jaw-dropper made for a classy, confident women. 
Have any questions for us? Please contact us. We are happy to hear from you!
As the French say, "Bon Shopping!"