Art Deco Antique Jewelry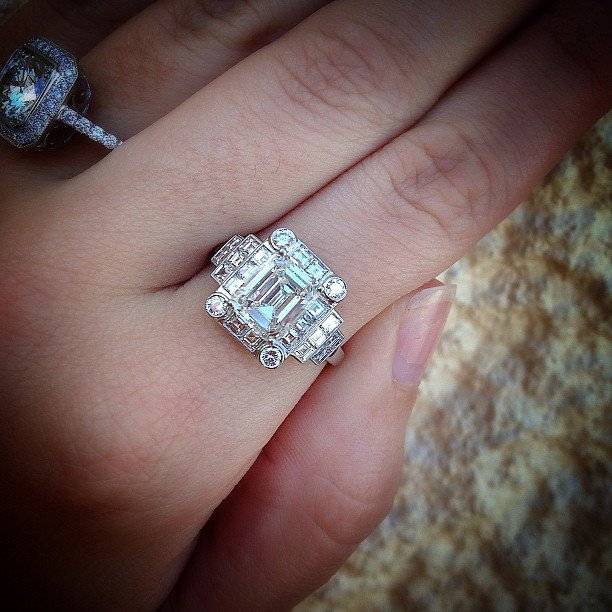 Some describe Art Deco as the transition from traditional to avant garde. From romantic to geometric and industrialization inspired. Lastly, from an accessory to self-conscious art.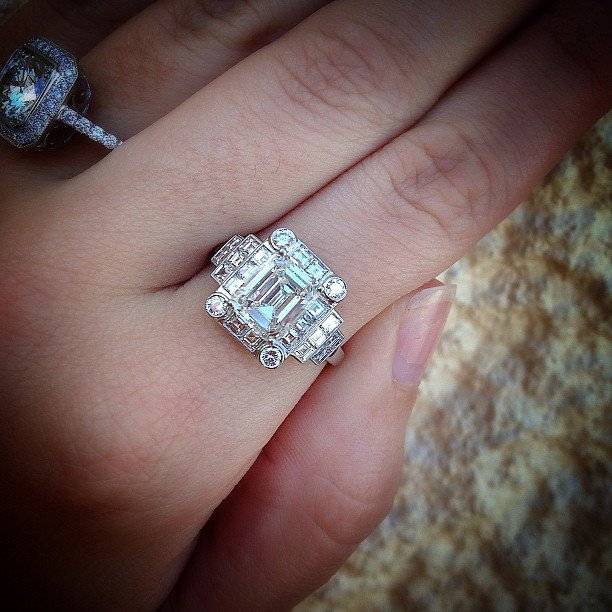 The bold colors and whimsical representations of objects on rings, pendants and even tiaras, were perhaps inspired by the movement overtaking the art world in the early 20th century. Picasso and Braque were transforming lines and perception with new dimensions, and the layers of gems, enamel and precious metals also formed a new grid for showcasing jewelry designs.
During the Art Deco jewelry age, platinum became the dominant metal when formerly gold and silver held reign.
Bold textures and colors intermingled introducing an intellectual dichotomy to jewelry that had formerly been elegant and even elaborate enough to inspire admiration or a conversation, but not rarely controversial enough to inspire a debate.
Jade, malachite, rock crystal, lapis lazuli, amber, turquoise, and coral were set together in geometric cut stones often referred to as "fruit salad" for the resulting exuberance that escaped gaudiness through the measured contrast of feminine and masculine styles, much like the era when women were going to work and wearing less restrictive clothing for the first time.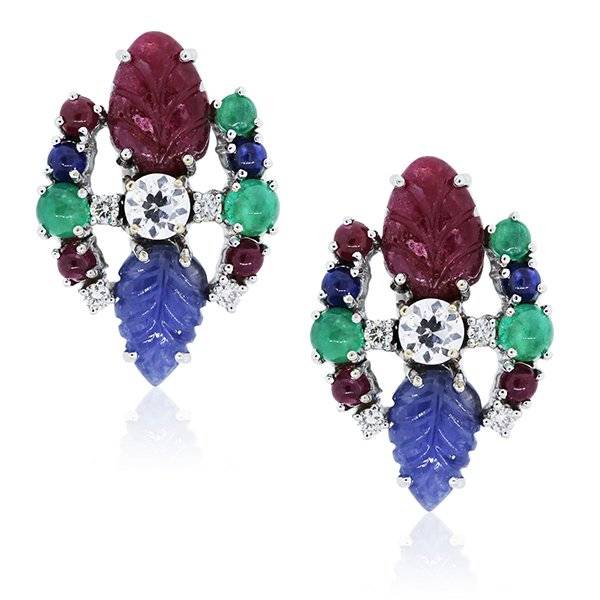 The jeweler was the artist during the Art Deco period more than any other, according to the head of Christie's jewelry department, Simon Teakle, They even included signatures in the design as a painter would sign a canvas painting.
When selling Art Deco antique jewelry, a signed piece will always demand a higher price, due to its authenticity and novelty representing the unique aspects of the era.
The Art Deco pieces are popular as resale items, but difficult to find, according to the president and chief executive of Van Cleef & Arpels. Each piece is like a miniature work of art.
When examining Art Deco antique jewelry, one will notice faceted gems in mosaic arrangements. Designs focused on color, gems and stone. The common use of platinum, which is stronger than gold or silver, allowed the amount of metal to be reduced, which further diverted the focus onto the bright, colorful, and brilliant patterns.
Enamel designs were inspired by lacquer from the Far East.
Earrings dangled on long drop extended designs that accentuated shorter hairstyles and simple straight shapes of the short, drop-waisted dresses popular in the time.
The Art Deco necklace was usually a bold pendant on a long strand. Knotted pearl necklaces made whimsy from tradition with geometrically shaped pendants.
The first World War highlighted international influences, and Chinese, Indian and Egyptian cultures inspired the designs that incorporated naturally into the bright, geometric shapes. with fringe and tassels and other irreverent features.
Rings in the Art Deco period included a large geometric stone centered in a grid-like fashion with surrounded by smaller gemstones held in a matrix of platinum. The period introduced the large emerald cut stone in the center of a ring that continued to be popular today. Frosted and carved gems and stones also added a new dimension to the traditional ring, adulterating the surface insolently.
The brooch was an extension of the large, bulky ring, and gave Art Deco jeweled women additional opportunities to create art on a new surface. The brooch design was often more complex because the size was variable and more surface area was available to create an image. Shapes, colors and extensions of metal created elaborate images that adorned lapels and hats in a bold materials, such as rock crystal, onyx, coral and jade. Objects were represented, such as flowers, buildings, animals and geometric shapes that became the showpiece on a woman's ensemble.
Women in the Art Deco period began to wear functional jewel designs for the hair that included combs, hair and hat pins. Tiaras and bandeaus could be converted and worn as a bracelet, brooch or a necklace. Designers were experimenting with the role of jewelry and women were willing participants, accenting more comfortable and versatile clothing with strong accessories that demonstrated a sophisticated and cosmopolitan awareness.
Receiving an Art Deco piece in an inheritance or discovering 1920s era jewelry in an antique or consignment store could seem disconcerting to someone more familiar with traditional jewelry common today and the latter half of the 20th century. Many designs would still be considered beautiful today, while others may appear more geometric, colorful or bold compared to today's standards. Many dealers handle Art Deco jewelry as they would a fine art piece, due to the characteristic elaborate appearance.
Like the Impressionist paintings, many people appreciate Art Deco jewelry because of its superior design, visually appealing aesthetic, historical significance in the transformation of jewelry design and relatively few number of pieces available for purchase in the marketplace.
Many jewelry houses collect Art Deco pieces that they once sold nearly 100 years ago and included them in a house collection that is borrowed and admired, but not sold
Inheriting an Art Deco piece of jewelry can be exciting, but sometimes the piece may seem unwearable due to its bold and irreverent. If you would prefer to sell it, finding a buyer in Boca Raton would require finding a jewelry store or antique dealer than understands the value and details of jewelry from the Art Deco era.
Because of its popularity and a high demand, there are many venues available for selling Art Deco jewelry. Jewelry stores that specialize in antique and estate jewelry can appraise a piece.
As with all jewelry, the value of Art Deco designs can vary according to the materials, age of the piece and prominence of the designer.
An expert in Art Deco jewelry can provide context for the particular piece you have, and may be able to find a buyer interested in the particular category that the piece falls within.
As Ralph Destino, the chairman of Cartier, once said, if you had to select the "great golden age of design," it would be the first four decades of the 20th century." The time period is when jewelry evolved into the Art Deco movement that still inspires and appeals to wide audiences today.