White Jumpsuit & Jewelry for the Modern Bride
Sometimes you just have to say "no" to the dress! We get it its your big day and you want absolutely everything to be perfect. Including of course what you plan to wear. Now more than ever brides are taking it upon themselves to really show some personality in their weddings. Whether that is through their wedding color theme, tropical location, fantastic venue or what they wear. When it comes to what to wear on your wedding day there are actually thousands of options. Gone are the days of identical bridal gowns with long sleeves and big poofy skirts, unless you are into that sort of style! While the vintage inspired brides and their weddings are still quite popular we are seeing more and more ladies gravitate towards more modern looks. Including getting married in not a wedding dress. Here come the rompers, skirt and pant separates, and yes jumpsuits.
White jumpsuit wedding gown is not your common outfit we will give you that. However it is one of the up and coming alternatives for brides. The modern look and striking design of jumpsuits offer brides a chance to do things their own way. Whether it is for their civil ceremony or the grand bash. We have even seen these wedding worthy jumpsuits on celebrity brides like Amal Clooney and Solange Knowles. Even if it is not for you wearing a white jumpsuit down the aisle this modern trend can also apply for your bridal shower or rehearsal dinner. A modern one and done jumpsuit has none of the fuss of a big wedding ball gown. However it still has all the opportunity for delicate lace appliques, sculptural silhouettes and attached cape like trains. The options are unlimited and all with an ultra comfortable, fuss free, simple and absolutely elegant.
White jumpsuit for your modern bride's wedding
Now just because it is not a dress and is more of a modern look it does not by any stretch of the imagination mean that a white jumpsuit is a single option. There are many and we do mean many ways to style and design a gorgeous wedding jumpsuit. We are looking at designers like you Carolina Herrera. From ornate and dramatic jumpsuit pieces featuring detailing and bodices to minimalistic wedding looks. There are bare backed, illusion neckline, sheer overlay and even all over lace. If you like a traditional look and want a modern element a white jumpsuit can suit you just fine. All of this and we have not even begun to get into all of the fabrics. Just because it is a jumpsuit and not a gown does not mean you are limited in your fabric choices. From sleek silky textures or sumptuous satin to organza.
You can have a jumpsuit made to your very own style. Whether that is a more Bohemian laid back look, or a free spirit swinging fringe kind of gal to the more traditional or glamorous ladies there are options for everyone. And we do mean a whole lot of options. Just think off the shoulder, padded shoulders, halter top, strappy or strapless. A wedding jumpsuit can be anything you want it to be. And do not forget of course you can always add a sash, belt and jewelry to get that wedding outfit where you want it to be. It is your big day and we know you have some ideas in mind as to how you want it to be. Specially with such strong personalities and preferences, it is important to reflect who you are on your wedding day! We've got jewelry for a white jumpsuit just for you.
Bridal jewelry and accessories for a modern white jumpsuit kind of bride
From something blue for your wedding to modern engagement rings and bands if you are still searching we have got a wide curated collection of diamonds. Our diamond experts and jewelry aficionados are in store every day to help you find the perfect pieces. We carry some of the bridal world's finest brands including Tacori, Henri Daussi and Gabriel & Co. Engagement rings and bands to jewelry pieces and of course that something blue for your wedding day are right here at Diamonds by Raymond Lee. From our little slice of paradise in South Florida we serve brides across the country and sometimes even across the sea. We love to see the unique looks and personal touches each one adds to their big day. Particularly with jewelry. It is after all one of the easiest ways to add a splash of color to your bridal whites and play with glittering gemstones.
There are a ton of ways to wear your bridal jewelry with a white jumpsuit. Almost as many as there are options for white jumpsuits. If you have got a jumpsuit with a low cut neckline for example a long string of pearls, diamonds or gems goes beautifully. Or if you have a high neckline then perhaps a brooch or chandelier statement earrings might be more fitting. Overall there are endless options so we took to a more pressing matter. The engagement ring! That is right if you are still looking at which engagement ring to get or if you maybe do not love the engagement ring you received (it happens!) we got together some unique modern looks for you. These are the rings we think a bride searching some white jumpsuit inspo might also really be into. And some Tacori something blues if you already have your rings sorted.
Modern engagement rings to go with a white jumpsuit
One of our favorite parts of the white jumpsuit style is of course the jewelry. So we have put together here some incredible modern engagement rings and bands. From the ones with interesting new diamond cuts and shapes to the ones featuring impeccable milgrain designs and intimate touches like French beading. Always of course taking into consideration the more classic and traditional styles. Like for example the cushion cut solitaire diamond engagement ring featuring a diamond halo and accent diamond band. We have got the engagement rings of your dreams no matter what that dream entails. We work with the world's best master craftsmen and choose a selection that will appeal to all different styles of brides. Our clientele is refined and diverse, we know that. Its why we are in turn flexible and diverse ourselves. Our ultimate goal is always to offer superior service and the finest quality items.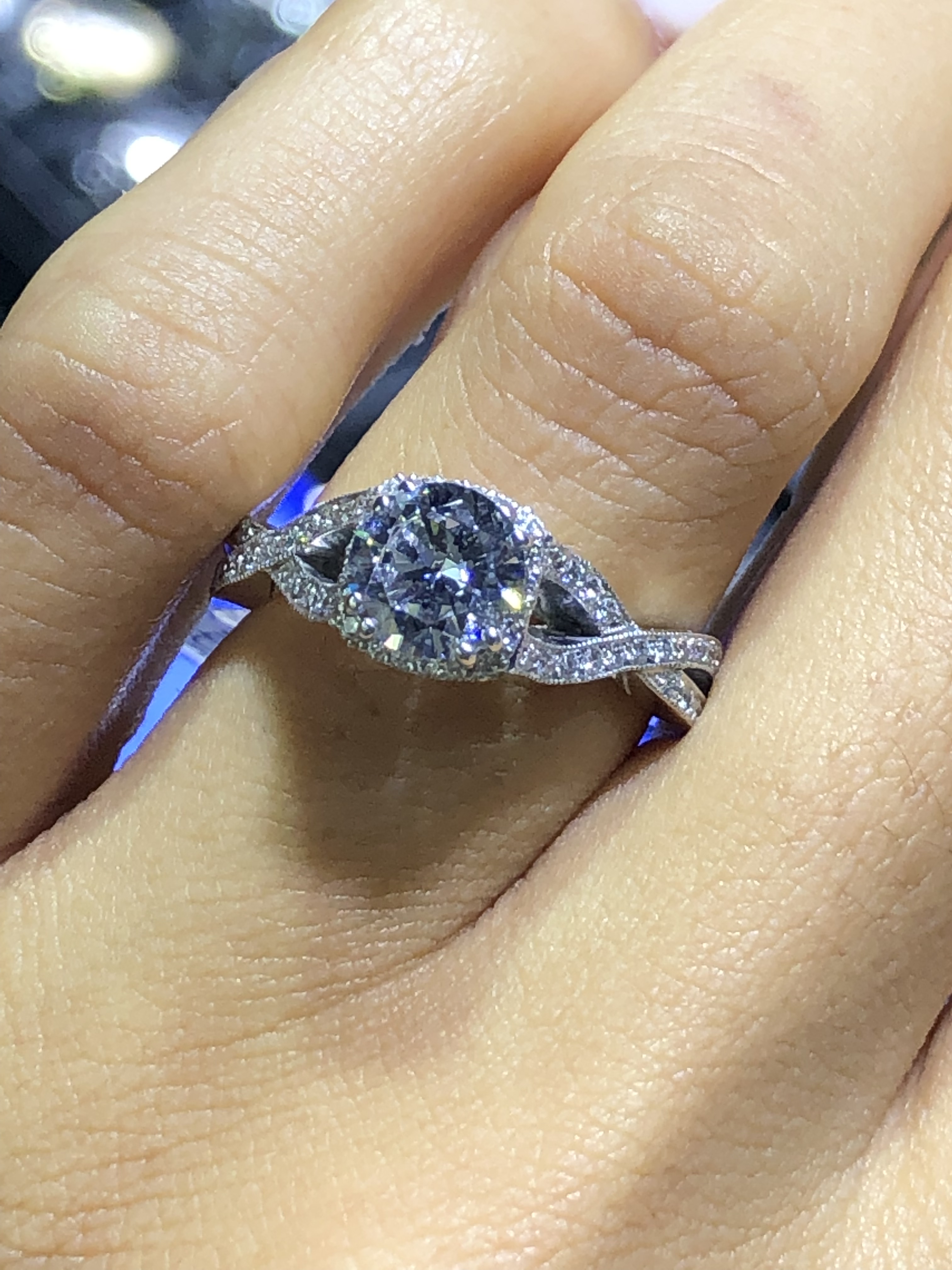 That is including on the flanks on either side of the diamond band. It is a traditional style ring with a lot of modern twists. From the prevalent double pronged four prong setting to the elevated central stone. This engagement ring really is a true work of art. It has all of the details and arches as well as all of the textured features included. It is not a ring for just anyone but rather a truly unique engagement ring for that unique bride looking to wear a white jumpsuit for her unique wedding. Our world is one that is full of options and opportunities and that should also apply to our celebrations. Particularly the one we hold so dear and close to our bonds of love, the wedding. Every bride and every couple deserves the wedding that is truly theirs. Down to every last little detail.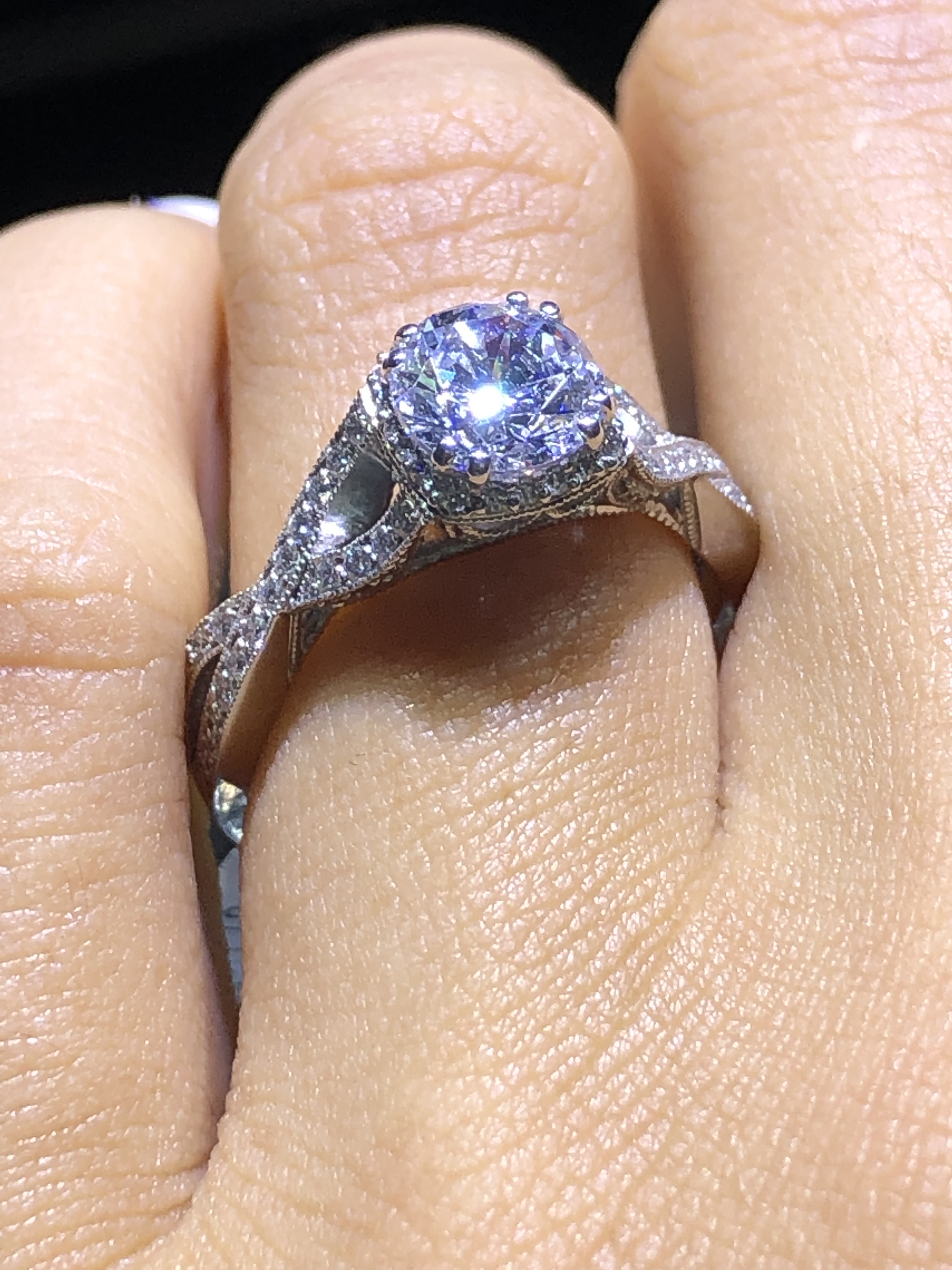 Traditional round cut solitaire diamond engagement ring with diamond halo, French beading and milgrain work
First is a modern yet refined classic diamond engagement ring. This one has some highly intricate detailing on the base of the solitaire diamond stone. As well as gorgeous features and accent diamonds along the length of the band. This large brilliant white round cut solitaire diamond stone is set high on this engagement ring. Surrounded with lovely accent diamonds and on top of it all also has an incredible infinity shape band. All with more accent diamonds. It has French beading on the inner and outer edges of the ring. As well as some fabulous masterfully crafted milgrain work. The swooping style of the pattern on the raised diamond center stone setting further emphasize the intricacies and detailings on this ring. It is an incredible piece with dozens of features and even more yes you know it even more accent diamonds. These range in size and pop up everywhere.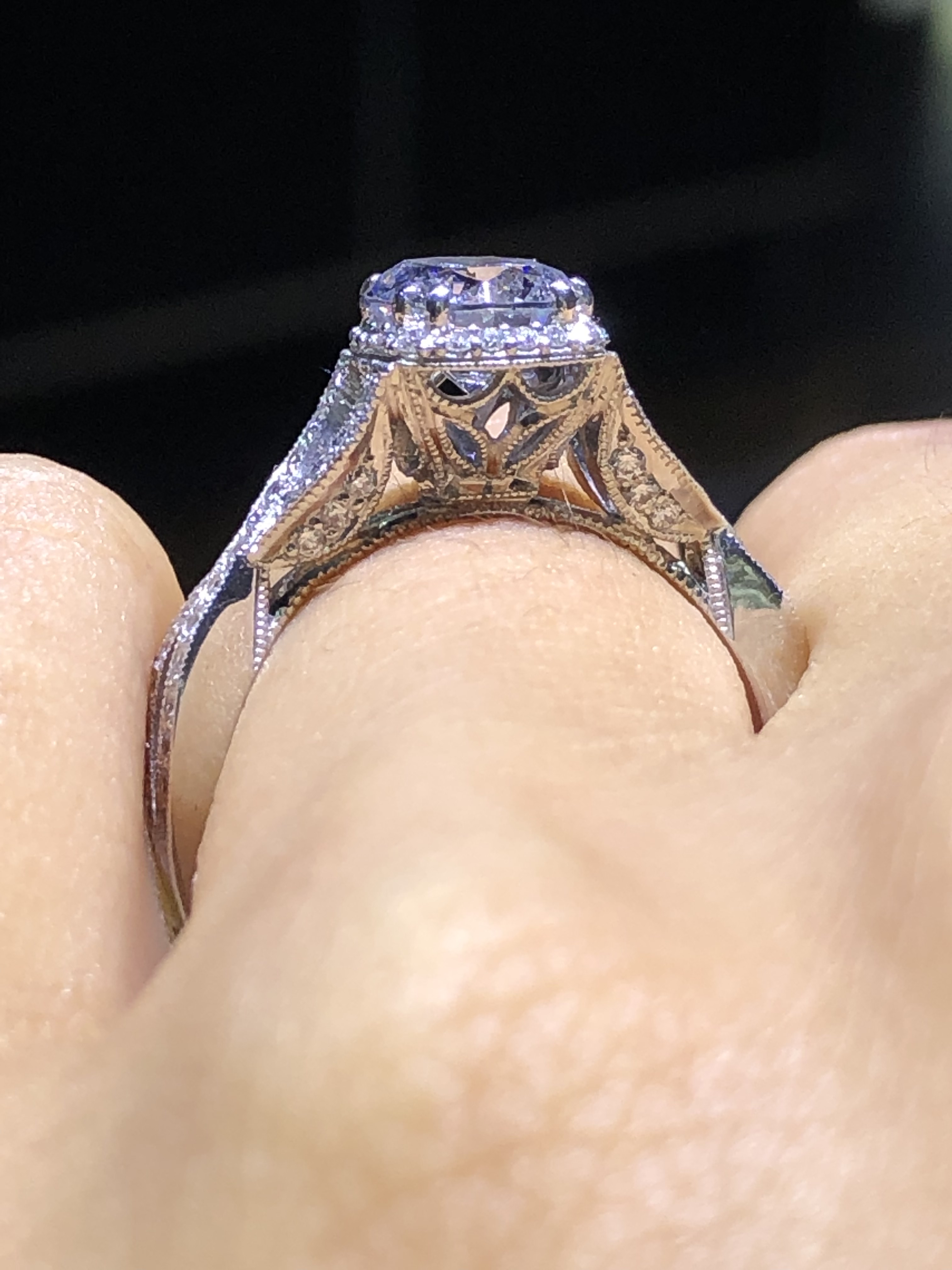 Pear cut diamond solitaire engagement ring with diamond halo
A highly modern engagement ring option is of course the pear cut diamond solitaire. This unique diamond cut is one of the more modern and precious styles of diamond cut. Not your grandmother's engagement ring this one features a large pear cut diamond with a truly gorgeous surrounding round cut diamond halo. The pear cut diamond has a high rounded surface and is set in a four prong setting with a heart shaped fifth prong at the point. The diamond halo is no where near the only accent diamond series on this ring as it also features medium sized round brilliant white cut accent diamonds all along the band leading away from the ring. Further this gorgeous modern pear cut diamond engagement ring is paired with a strikingly modern wedding band. The pointed arrow brilliant white round cut diamond wedding band can be worn in either direction complementing or contrasting.

Cushion cut diamond solitaire engagement ring with diamond halo feature
Now if the more modern looks and styles are not for you and you prefer a more classical look for your engagement ring and wedding band we also have you covered. Our collection of rings also includes more traditional styles like cushion cut diamonds. These rings although understandably more classic in style do have great details that bring modern features. For example the round brilliant white cut diamond halo. The ring below you can see is a large cushion cut solitaire diamond. However it also has a whole lot of accent diamonds. Now these are the ones that truly set that center stone to shine. Both the halo that surrounds the stone to the ones arranged along the band itself. It is paired beautifully with a simple more traditional diamond wedding band. The band fits perfectly alongside this engagement ring and accentuates the white diamond shine. It's a modern classic.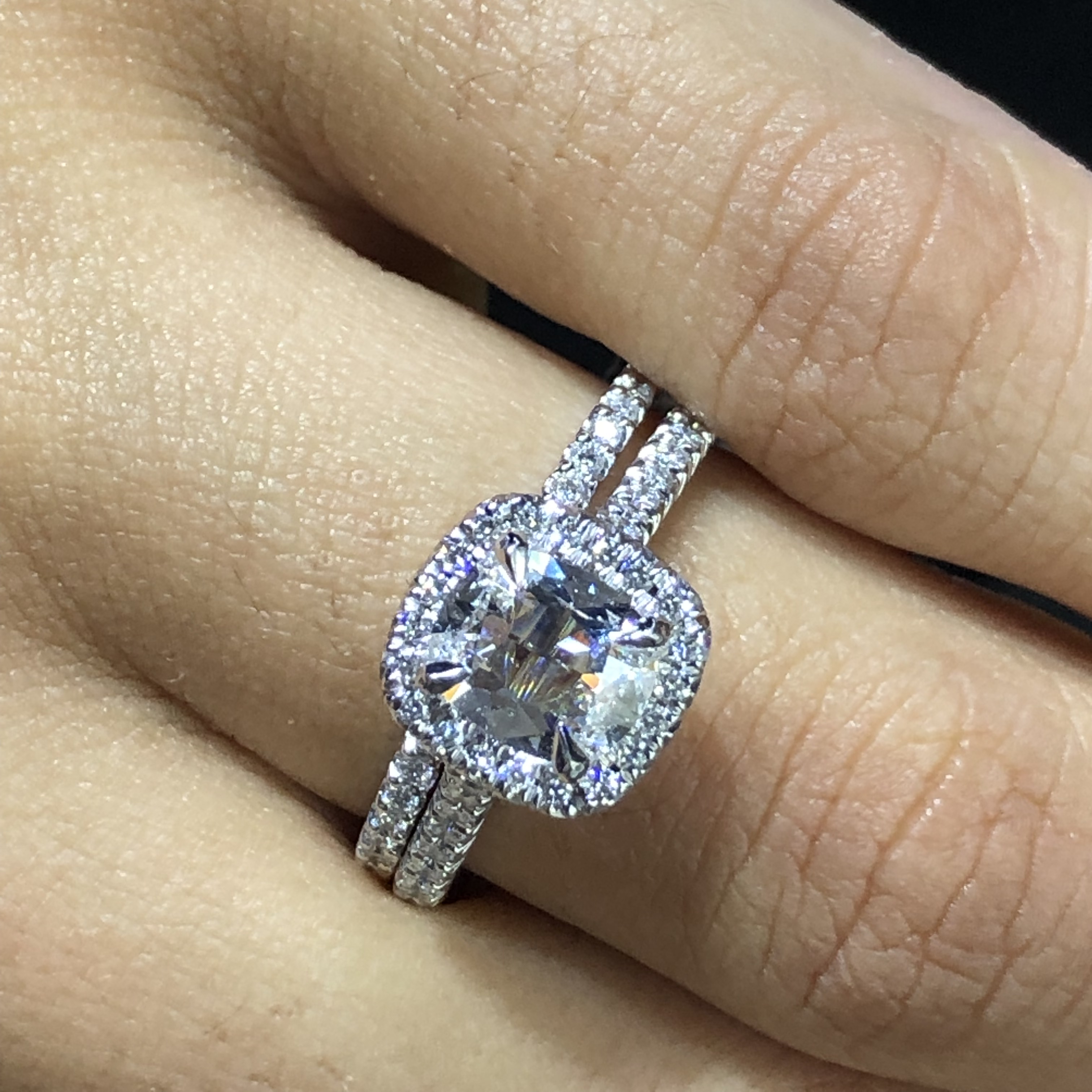 What to wear as your something blue? We recommend jewelry for something blue on your wedding day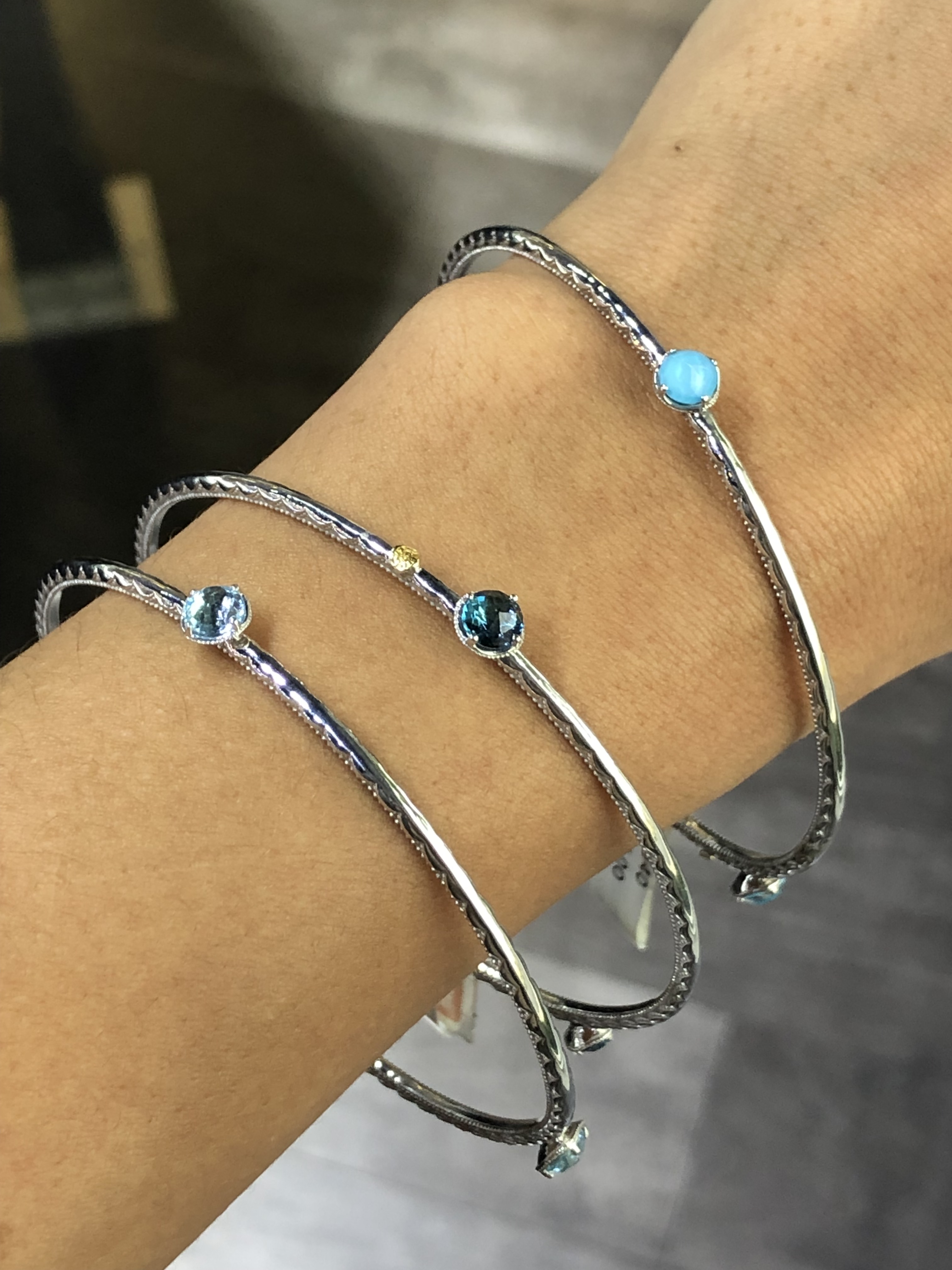 First is an easily stackable all the time loveable blue topaz and turquoise color pop multi bangle. This Tacori Island Rains collection bangle is the perfect touch of blue for nay bride that wants to rock a jumpsuit. These are naturally blue colored stones set in lovely sterling silver with an 18 carat gold gem seal. The beautiful turquoise and sky blue topaz stones radiate around this bracelet with single drops at each interval of the bracelet. A strongly modern look with delicate feminine touches this little blue can be stacked up. If you are into layering your jewelry then a couple of these bangles will have your arm ready for your big day. It is the ultimate soft and feminine look that goes with absolutely any style of white jumpsuit for your wedding. There are 6.10 carats of clear quartz over neolite turquoise and sky blue topaz stones.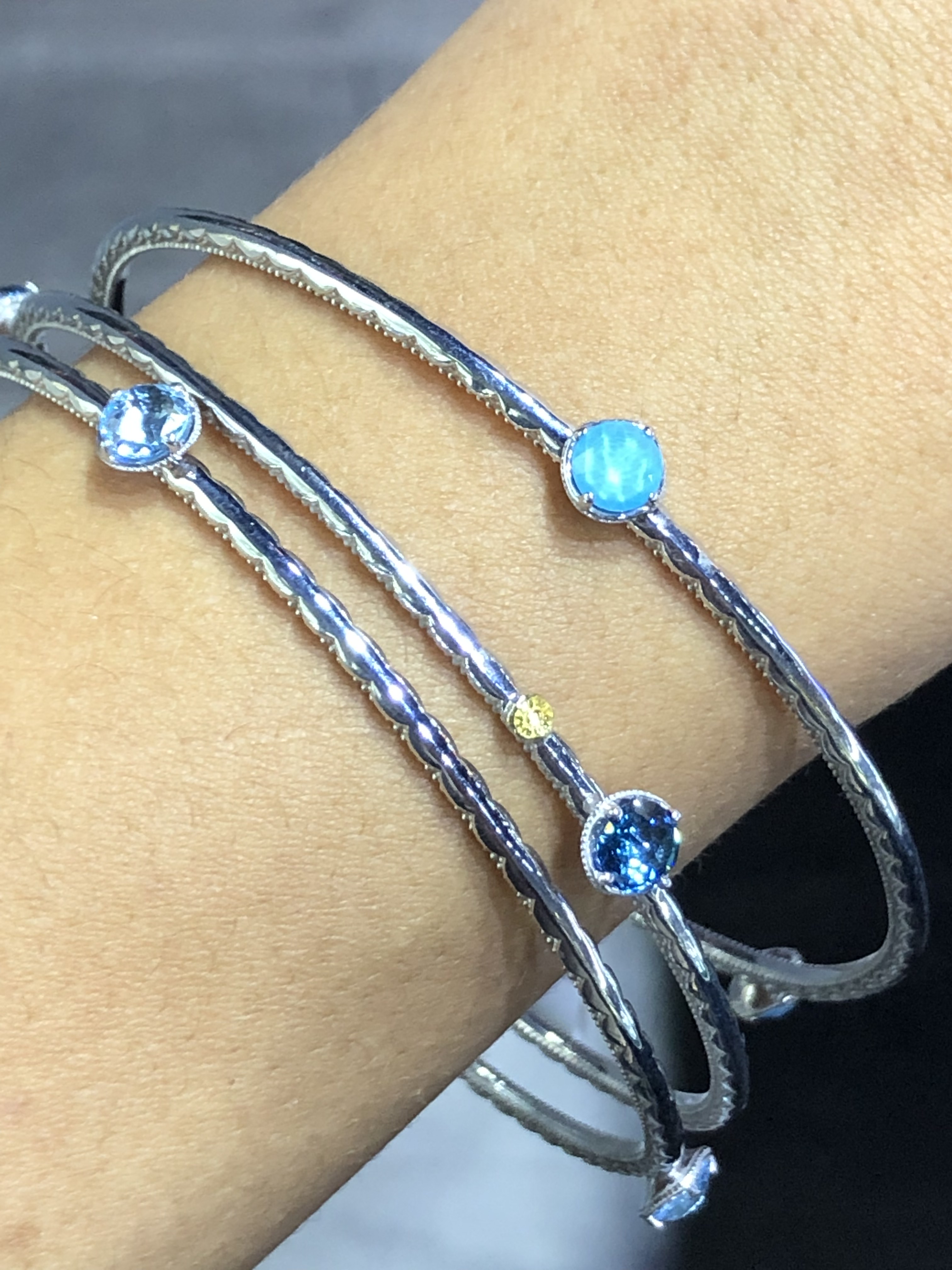 This beautifully adorned 2.56 inch diameter bangle. If you are having a destination wedding or staying close to home for one of our gorgeous Boca Raton and Palm Beach venues you can keep a reminder with you forever. Beyond of course your engagement ring and wedding band! Further, this Tacori classic is so reminiscent of the sea and sunny blue skies we have here in South Florida! In each one of their pieces you get a feel of nature, and natural forms. Tacori is a well trusted brand with an impeccable American commitment to excellence. They make some of the world's most renowned bridal jewelry, engagement rings and wedding bands. Also, the California company is one of the most inspired designers. There is always a delicate touch, a fine detail and some intricate crafted artwork. Here you see it in the length of the bangles and yellow gold detailing.