Richard Mille RM 005 Review – 18k Rose Gold Tonneau Case
Today we are looking at the Richard Mille RM 005 18k rose gold tonneau case with a black diver strap.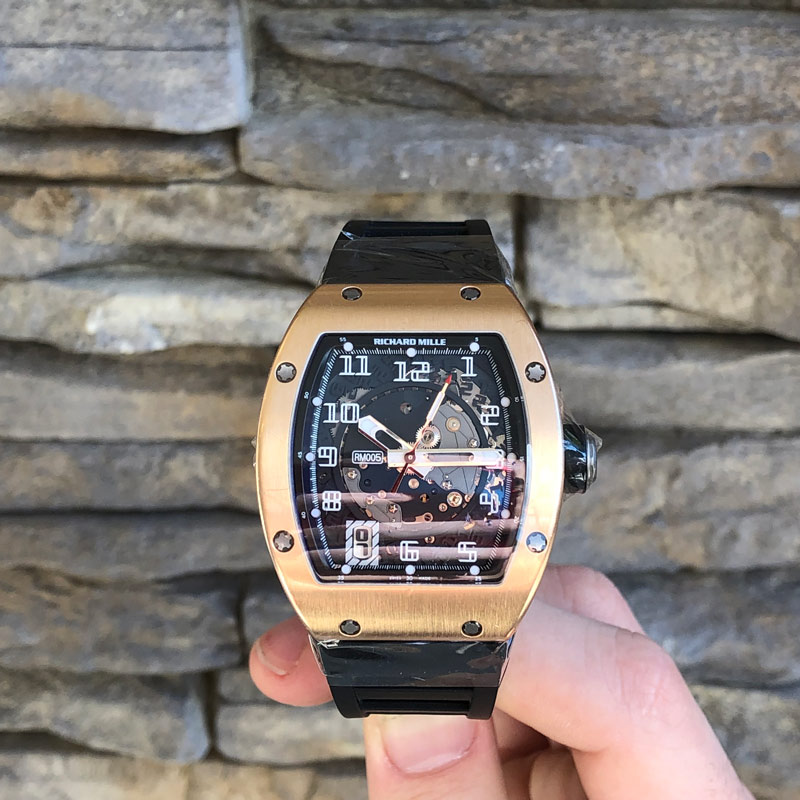 Richard Mille is the McLaren of the watch game. Any watch enthusiast knows Richard Mille's level of iconicism. Rolex has the name recognition, but Richard Mille presents themselves in another class, to the ultra-elite.
If you see someone wearing a Richard Mille, you know they mean business. A Richard Mille watch is a rare sight to see, and definitely worthy of a picture. It is just as special as seeing a P1 pull up near you in a parking lot.
This unique and rare 18k rose gold Richard Mille RM005 is the epitome of that statement.
What makes the Richard Mille RM005 so special? Many things.
When it was released in 2004, the RM 005 was the first automatic Richard Mille. Richard Mille decided to combine the highly technical and coveted tonneau case with automatic winding. And the watch enthusiasts crowd went wild. Tom-Brady-Sixth-Super-Bowl kind of wild. A history reference for the books.
Beyond this historical achievement and the incredible RM brand itself, the RM005 is an exquisite watch that breaks the mold in many ways. From its ergonomic perfection, out-of-this-world fully exposed titanium movement aesthetics, and sapphire utilization, the RM005 declares that Richard Mille is on top of the luxury sports watch charts, and they won't be dropping off for as long as we are alive.
In this article, we are going to cover the fine details of the watch, some special facts that only one who has worn it would be able to tell you, AND where you can get the Richard Mille RM005 Rose Gold 2004 variant brand new with the paperwork and original box at a competitive price that makes it more than a smart purchase, but also a good investment.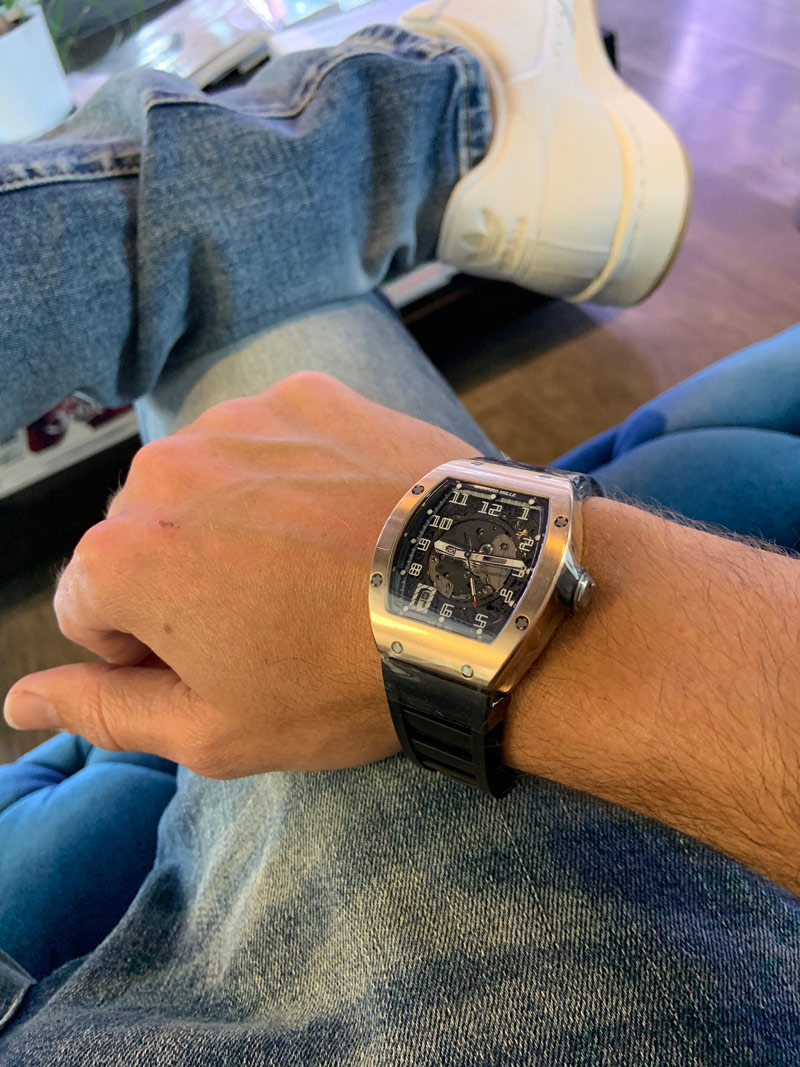 Richard Mille RM 005 ON THE WRIST
If you have a small wrist but you want a watch with a generous presence, and one that still fits comfortably and securely, the RM 005 is a great choice…at least for those with equally generous pockets.
The RM005 sits on the wrist at 6 1/3 inches (16cm) in circumference. It's the quintessential fit, ergonomically hugging the wrist for maximum comfort. It's snug thanks to the curve of the case, the absence of interfering lugs, and the 11L rubber strap. Furthermore, the flexible rubber strap with its seamless connection at the lugs conforms beautifully to any wrist, big or small, by simply pulling the strap down and securing it.
Small wrist to big wrist…the perfect design
Although the Richard Mille 005 wears perfectly on a smaller wrist, because of the tonneau's height (11.5mm at its thickest point), it produces major presence even on a big wrist.
In fact, it wears with so much demeanor that it easily takes on the Royal Oak Offshore 42 and 44 mm watches.
To put it simply, it's compact yet it offers boundless style and attitude.
The RM 005 was created for all-out high-impact use. So with that, you get a substantial property on your wrist that demands respect.
To The Extreme
The design of this watch screams extreme. It has an extreme look with extreme ergonomics. It has extreme performance and extreme shock resistance. And to top it all off, it's extremely comfortable and light. So light in fact that it's shocking, considering the caliber of this watch and that the case is made from Rose gold. The ability to create marvelously substantial cases at this weight is just plain impressive, yet there is nothing plain about it.
What about slipping it under a dress cuff?
Even though the watch isn't super thick, due to its structured layering, which rises at the sides, it's difficult to get it to smoothly slide under a dress cuff. However, it will slide under most shirt sleeves and coats with ease.
With that being said, in terms of Richard Mille watches, it does have a lower profile than most.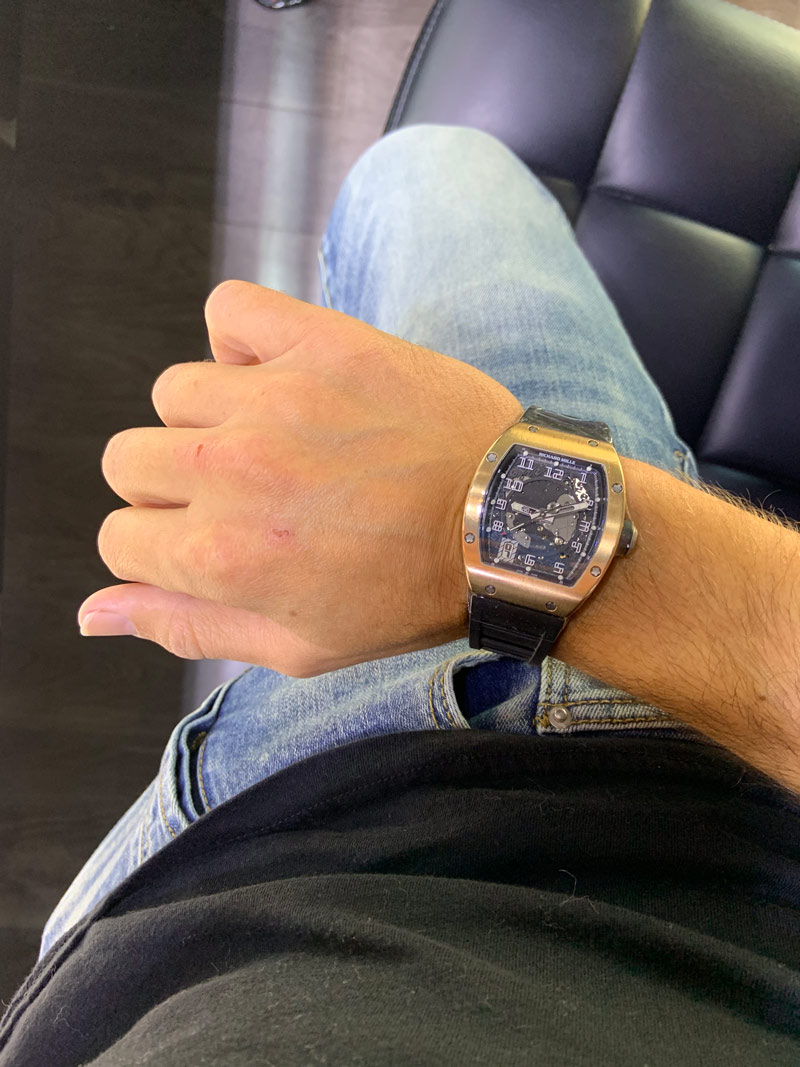 Richard Mille 005 Rose Gold Tonneau Case
This is a rose gold case at 45mm lug to lug, and 38mm wide at its extremities.
The 18k rose gold variant is unusual and rare due to the relatively small production count. It looks ultra luxurious and prestigious by virtue of its rich brushed and polished finishing.
The feeling of the watch's precious metal case is just as impressive and pleasurable as the look.
Comparing to the RM 005 in titanium, the rose gold variant has more impact on the wrist that many people prefer. You can really feel the rose gold, making it feel ideally substantial.
Unparalleled Workmanship
The Richard Mille 005 doesn't use a casing ring. Furthermore, the movement is fixed to a chassis mounting rubber which is set by 4 titanium screws. These features may seem simple and insignificant but for watchmakers and enthusiasts, it makes it very obvious of the incredible, unwavering craftsmanship that goes into Richard Mille watches, and in this case, the RM 005 especially.
Water Resistance? Of course!
Would you expect anything less? The three Nitril O-ring seals ensure the RM005 is waterproof down to 100 meters. This is far more than the average diver will need. So, unless you are a deepsea diver, you are good to go explore the ocean.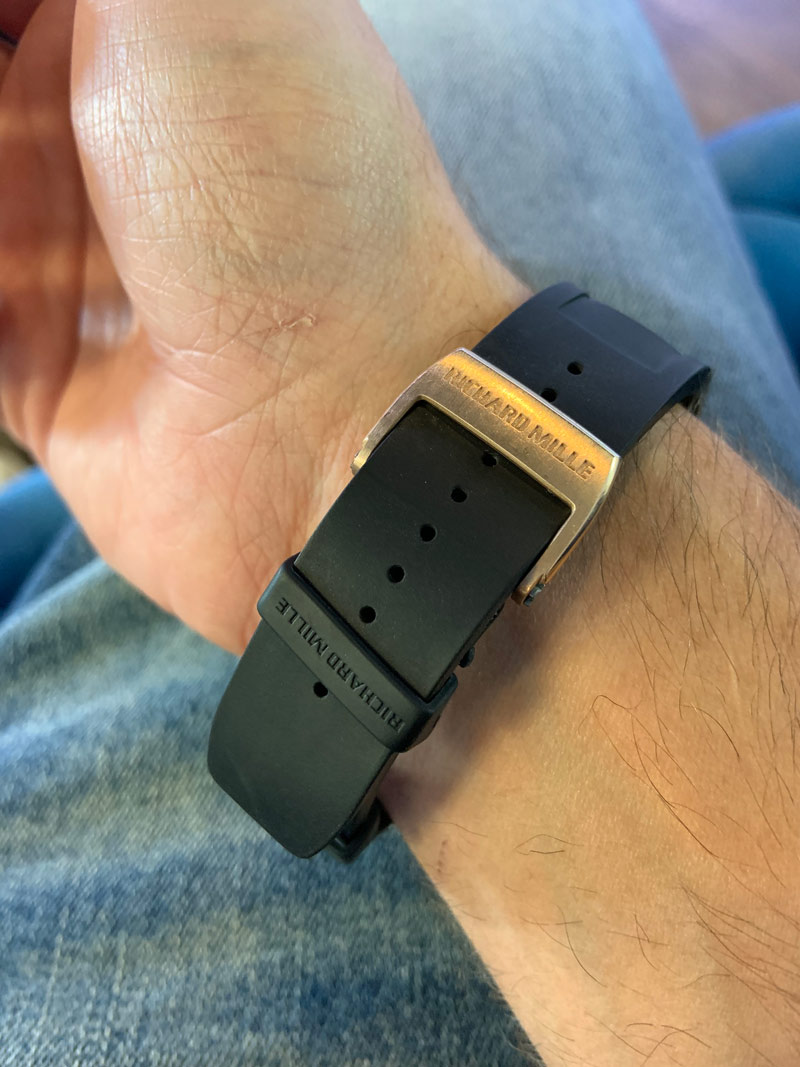 Richard Mille 11L Black Rubber Strap and Pin Buckle
This Richard Mille utilizes a quick and effective pin buckle that makes adjustments a breeze. It's connected to an 11L black rubber strap that's in brand new condition like the rest of the watch.
The pin buckle has a brushed finished and looks and feels just as luxurious as the case. The strap feels equally nice, but in a more sumptuous way. The rubber doesn't pull hairs and it forms to the skin is a smooth manner that makes it feel almost like silk in terms of comfort. You won't find a more superb quality rubber strap than those of Richard Mille. That's saying a lot as we are big fans of Audemars Piguet over here.
It's a simpler look than other straps. Yet it still shows the utmost integrity and excellence. Plus it makes for a much more sporty and casual appearance. The horizontal lines open up to let the wrist breathe on those hot summer days, the rubber is completely dust resistant, the flanks of the strap align precisely with the edges of the case making it clear that Richard Mille took consideration for every single detail of every single element of the watch, and lastly, the strap fits seamlessly into the case between the lugs with the extreme precision. The devil is clearly in the detail with the Richard Mille 005.
One of the best parts about it all is, the strap and pin buckle was designed for long wearing durability. So you can enjoy this wrist hugger for the foreseeable future.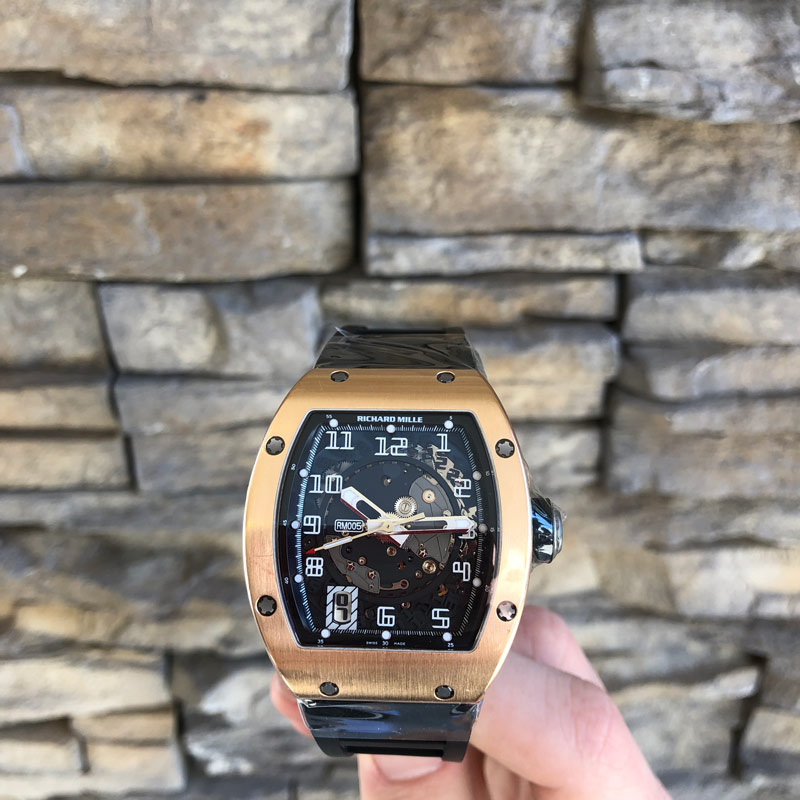 Richard Mille RM005 Skeletonized Dial
With this iconic Richard Mille dial, there are three individual sapphires at work.
As a matter of fact, let's retrace what we just said, as there really isn't a "dial". One could consider it a skeletonized dial. However, in reality, it doesn't really have a dial, it has 3 sapphires forming the details and covering the movement.
Let us explain how the sapphires create this look…
There is a sapphire featuring all of the Arabic numerals, the 'RM 005' near the 9 o'clock, and the frame of the date at the 7 o'clock. This design produces a light and airy, floating appearance to the face of the RM005 that truly blows up the blueprint on all other watches.
There is an outer sapphire which covers the whole composition. That's the arched sapphire that forms to the curve of the case.
On the circumference, just underneath the outer sapphire, there is a high tech carbon fiber rim which is covered by sapphire that's fixed to the date wheel. This carbon fiber rims contains the applied luminescent plots marking each of the hour indexes.
Speaking of the lume, the watch glows in low light conditions with unparalleled fierceness. A very impressive feat considering how the "dial" is made.

Richard Mille RM 005 Calibre Movement
The Richard Mille 005 has a second-generation RM 005 Calibre which rolled out in 2006. Richard Mille made a lot of improvements from their first generation automatic movement.
It's easy to spot a second generation by looking at the sprung jewel between the 4 and 5 o'clock. The second generation is far more brawny in structure and keeps its promise of a completely shock-protected variable inertia rotor titanium dual barrel RM automatic calibre.
The movement is just as durable and reliable as it is satisfying to the eyes. It implements shock absorbers at all corners to confine the base plate, bridges, escapement, and gear train from any shock that the watch will experience while on your wrist.
Note: All the main components of the movement are built in PVD coated titanium.
Here are some of the main features of the movement which can be seen from the front skeletonized dial and back display:
Variable-geometry rotor: This allows the winding to be personalized to the wearer's lifestyle, meaning it will adapt to your activities within sports and leisure time in the most effective manner.
Titanium Baseplate, Bridges and Balance Cork: All of these components are crafted in grade 2 titanium with black PVD coating. This makes everything rigorous and exact in surface prostration, all of which is extremely essential for an impeccable functioning gear train.
Double Barrel System: The double barrel system allows the torque to remain stable for extended periods of time. All in all, the DBS results in an incredible long-term performance.
Power reserve: It has a 55+ hour power reserve, which far exceeds the industry standard, so you can take it off for the weekend and put it back on Monday morning without any further thought.
The movement utilizes 32 jewels and has a frequency of 28,800 vph.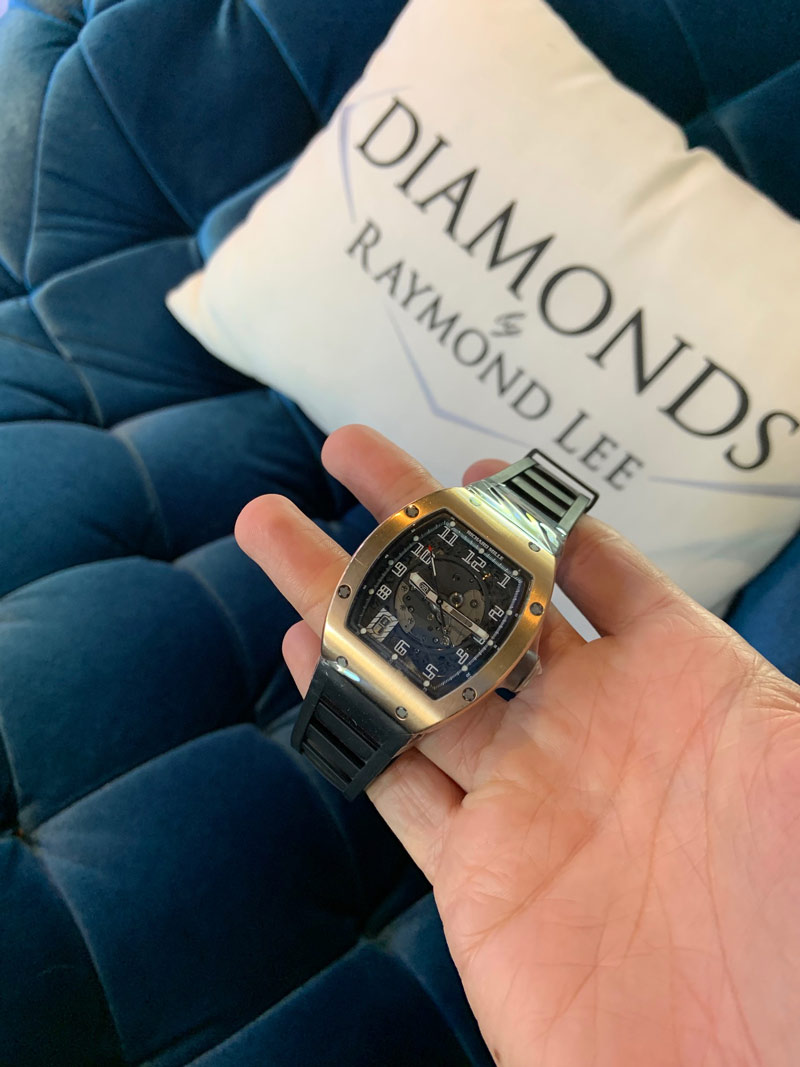 Diamonds by Raymond Lee
We hope this Richard Mille RM 005 review was informative and enjoyable. Here is a little more about us and what we do.
Diamonds by Raymond Lee and Raymond Lee Jewelers are top sales and service centers for luxury watches and fine jewelry. We are located in East and West Boca Raton, respectively.
Raymond Lee Jewelers has been in business for over 30 years, building a solid reputation in the area for fine jewelry and luxury watch dealings. Diamonds by Raymond Lee is our newer retail location, focusing on wedding and engagement rings, but also has a wide collection of estate jewelry, designer jewelry, and luxury watches. Diamonds by Raymond Lee was named South Florida's best retailer for diamond engagement rings in 2016. Both locations have an A+ rating with our local Better Business Bureau.
Our aim is to meet the needs of all of our customers, while exceeding expectations in every aspect of our services. We pride ourselves on pricing the best possible experience for every client, combining value and quality with the ability to understand the minds of people from all generations.
Our watch services include: buying, selling, repairing, customizing, and restoring watches, including but not limited to, Richard Mille, Rolex, Patek Philippe, Audemars Piguet, Van Cleef & Arpelsbr, Hublot, Harry Winston, Bvlgari, Cartier, Breitling, Tudor.
This review features our personal Richard Mille 005 in Rose Gold. It is in excellent condition – no scratches or any kind of wear, still wrapped as it was when first purchased.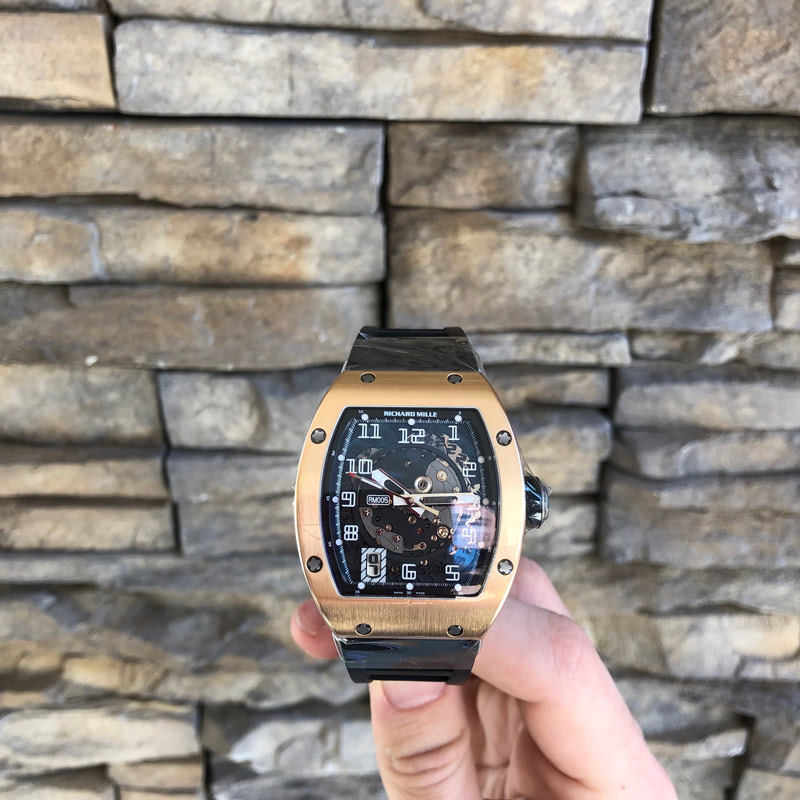 Want to purchase this watch? Richard Mille RM 005 PRICE:
This Richard Mille 005 is in perfect condition. It's new and it comes with all the paperwork and original packaging. We are currently selling this at a very competitive price. We are sure it's going to sell quickly, so if you are interested in adding this Richard Mille RM 005 to your watch collection, contact us below to get pricing today.
[contact-form-7 404 "Not Found"]
If you'd like to stop by our showroom to this watch in person, we are located at:
Raymond Lee Jewelers: 22191 Powerline Road #12b, Boca Raton, FL 33433.
Diamonds by Raymond Lee: 2801 N Federal Hwy, Boca Raton, FL 33431.
You can also call us at 561-750-7808 to make an appointment or just come in any time we are open.
Want to see more?
If you want to see more luxury watch reviews like this one, please fill out the form above and let us know. This way we can keep you updated on all the latest watch releases at Diamonds by Raymond Lee and Raymond Lee Jewelers. Furthermore, if you have any questions, please feel free to ask.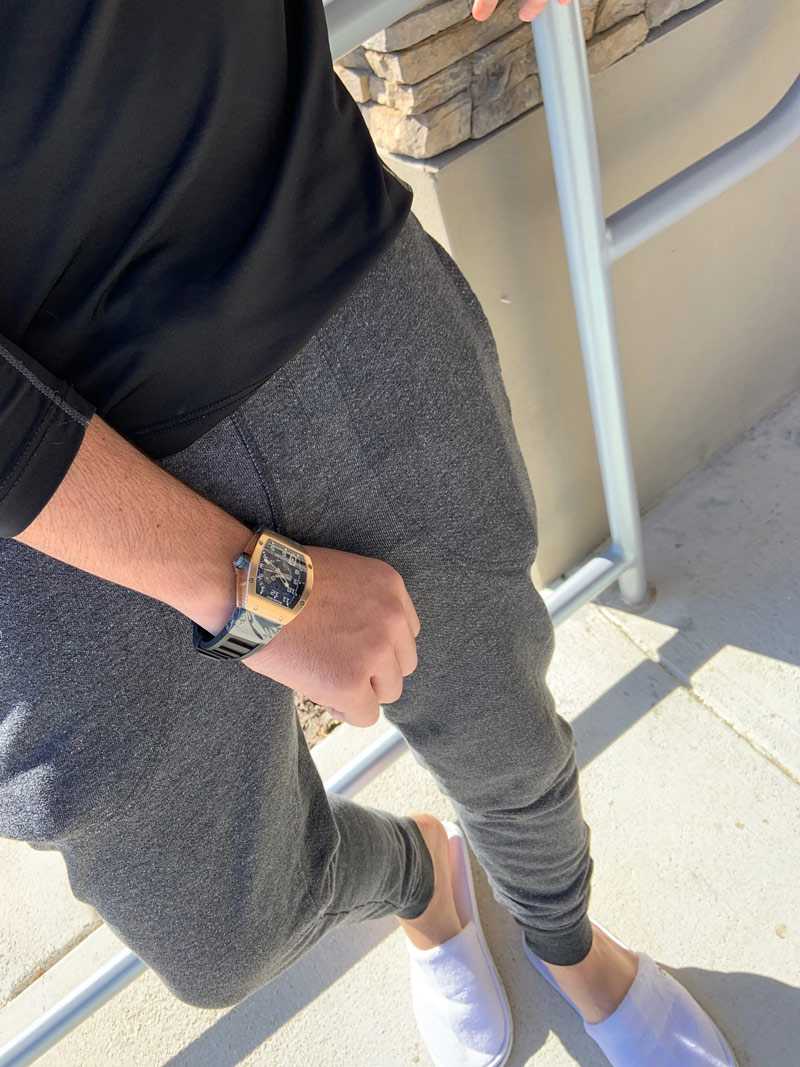 For comments regarding this Richard Mille RM 005 review, please leave them below. We look forward to hearing from you.