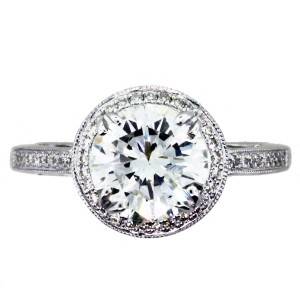 For years wedding bands have traditionally been made of gold. However, the trends of the bridal world are always changing and a new fashion has grabbed the attention of many: platinum or white gold. They appear to look the same – silver metallic and much shinier than yellow gold. But what is the difference, really? Here are the main differences.
WHITE GOLD
White gold rings are actually blends with different degrees of purity. They are made by mixing gold with silver or palladium, and rated in karats, depending on the amount of gold to other metal ratio. When made, white gold rings are typically coated with rhodium, another metal, to give off that beautiful silvery shine. If rhodium isn't used, the ring would have an off-white appearance that is almost yellow, but lacks the shine of yellow gold. White gold rings need to be serviced with new coatings of rhodium periodically because the original coating can wear off.
PLATINUM
Platinum is the ideal substitution to white gold, although it is a bit more expensive. Platinum rings are usually 95 percent pure whereas white gold rings are made of only 75 percent or less precious metal. Platinum naturally gives off a stunning silvery shine and is stronger than gold so it will keep its brilliance forever.
There are many other metals other that platinum and white gold that are used for engagement rings and wedding bands. What do you prefer: White gold, platinum, titanium, yellow gold? Discover timeless romance with an antique engagement ring from Raymond Lee Jeweler's vast selection.