Why You Should Skip the Big Box When Shopping for a Ring Box
Starting your hunt for the perfect engagement ring? Do yourself (and your intended) a favor and skip the big box store. They might be great for buying electronics, but the same principles do not apply when shopping for an engagement ring.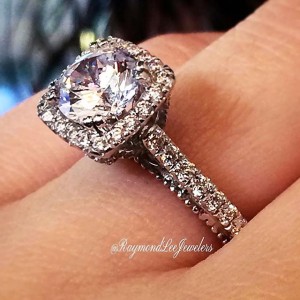 What is a big box store? Think about the jewelry commercials you've seen during football games. Is it somewhere "he" went? Does it give you an alphabet refresher course about what letter certain words/tokens of affection begin with? Have you wandered past it in the mall, 100% positive you must have walked in a circle or that there's two in this shopping center? Those are the big boxes. Largely indistinguishable from one another, carrying their own proprietary "designer" brands, and sometimes highly questionable sales techniques, the big box stores rely upon being the first – and last – stop for the average engagement ring buyer. It may have worked 20 years ago, but today's customer is different.
But why then, do they continue to pop up seemingly everywhere? Isn't that where everyone goes to get an engagement ring? Not by a long shot – otherwise you wouldn't see small independents still thriving. You also wouldn't see the influx of online-only jewelers. This should let you know that the big box stores might just not be your best bet. In fact we're here to argue they aren't. Here's why:
Price vs. Quality
So one of the biggest appeals of shopping big box (and frankly, the only one that makes sense) is the promise of low, low prices. But what are you really getting for those forever-slashed price tags? Low quality diamonds in mass-produced, cheaply constructed settings for the most part. There's a reason all their rings look the same, and it's because they're often produced on an assembly line, and definitely not made in the US. So this is a classic example of getting what you pay for (not much.) And shopping big box won't necessarily save you more money. Going to a local jeweler will get you more negotiating leeway for sure, but shopping local doesn't mean you'll miss out on discounts. Small stores often run promotions like extended interest-free financing, trunk show discounts, and diamond specials. That's when we're not just flat out giving away diamonds on our Facebook page for fun. You also get a huge increase in quality. For example, all of RLJ's designer brands are handmade in the USA. We have a one year warranty on all of our rings, and our custom work is created on-site by the skilled hands of our wonderful bench jewelers.
You also get quality where it really counts – the center stone. The next point we'll chat about deals chiefly with this.
Honesty
So, without naming names, we've been known to pop into certain big box stores. It's always a good idea to keep an eye on the competition, and it's always a good time to play know-it-all with non-industry friends who "just want to look." So we're happy to indulge their whims if a friend wants to stop into one while we're out and about together. And almost as a rule we leave shaking our heads at the salespeople. Their sales tactics range from fireable offenses to downright indictable by the FTC. And it's almost entirely due to the creative spins they put on center stones. Whether they're lying about what an inclusion really is, inventing credentials for whatever made up certificate the stone has (or doesn't), or completely fudging color grades, the center stone game at big box stores is weak. We've had brides come to us in tears, upon receiving an actual appraisal with a fair retail value several thousand dollars below what their fiances paid at the mall. This is usually due to the big box stores' self-determined diamond grading games. It's a rare sight to see even an EGL certified diamond, let alone a GIA certified one, at a big box store. And with branded cuts and store-specific grades (i.e. "extra super special cut" "perfect cut" "Beef Stroganoff Cut") there's no comparing apples to apples. Those grades and cuts don't exist in the real world of diamond certification, or in the diamond trade. And GIA remains the industry standard – there's a reason why it's so hard to find a GIA diamond at a big box store. It makes it harder to do the grading acrobatics needed to arrive at the prices they set for diamonds we wouldn't even buy.
Selection
For a nation-wide brand who advertises to every dude watching the Super Bowl, you'd think the big boxes would level up on their selection to appeal to the widest variety of customers. Not really. Instead, you'll find a stale selection of trends of yesteryear, interspersed with 5-10 current styles (all with minimal options for customization.) Compare this to an independent, who might carry 3-12 of the reigning "It" brands in bridal, each brand with hundreds of setting options. Plus estate pieces from Tiffany, Cartier, Harry Winston, and Graff. Plus their own in-house designs. Plus loose diamonds (all GIA certified) ready for you to mix and match as you please. There's just no comparison between the two when it comes to this factor. Independents will trump Big Box any day of the week when it comes to selection.
So, with a narrowed range of options to choose from, shady sales techniques and prices that don't add up to value – is there any reason you would shop at a big box store?