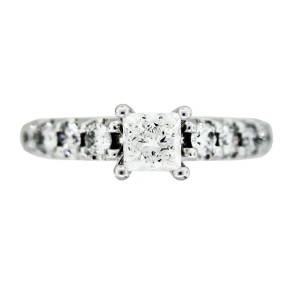 A woman's engagement ring says a lot about their personal style, but it also reveals much about her personality as well. The ring a woman chooses to wear, or helps her future hubby pick out, can show if she is low-key, high maintenance, or likes her style subtle. So, what does your engagement ring say about you? Here are some ways you can tell.
Round cut – This cut is beautiful, traditional and probably the most commonly chosen cut. The woman who wears this cut is rational and desires longevity. A smaller stone shows that the woman is not too fussy, whereas a larger stone illustrates self-confidence.
Princess cut – Women who choose this cut tend to be trendy, stylish, end enjoy the finer things in life. Now, this may not be true for all of those who choose this cut, but a princess cut's clean lines and sharp angles indicate a strong personality. One way or the other, the woman who wears this shape won't settle for less than the best. 
Emerald cut – This cut is old school and not too flashy – literally. This step-cut diamond's facets are minimal, so it reflects light as more purely black and white flashes, rather than the colorful "fire" found in brilliants. This, combined with the large tables' necessity for a great clarity grade, make the emerald cut the perfect cut for largediamonds that aren't ostentatious. The woman who wears this cut has class and she knows it.
Pear shaped – A cut like this usually comes with a fun-loving woman. She is spontaneous, adventurous, and always willing to try new things.There's never a dull moment when you're around a girl who chooses this cut!
It's important for a woman to receive an engagement ring that represents her personality. Whether she is outgoing, traditional, or super trendy. Raymond Lee Jewelers has a variety of engagement rings to fit any personality. To see the selection we offer, visit our diamond ring page.