I Do: Out of the Box Wedding Registry Ideas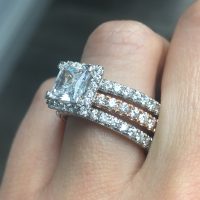 We share why a non-traditional wedding registry is an I DO in our new series: I Do/ I Don't, where we split the pros and cons between the hottest wedding trends.
Number 659 on your wedding-to-do check list: Register at various places at least 3 months before the big day.
It seems like there are limited places to register for your wedding: Bed Bath and Beyond, Target, and Crate & Barrel. This provides your guests with ideas and suggestions on what to get you for your big day. A lot of household items, dishes, appliances–the usual.
Perhaps you and your partner have no need for these items, or you'd like to get "out-of-the-box" a little bit on your registries. With practically the entire world using the internet these days, it's increasingly more common for couples to register for solely-online registries or "Out-of-the-box" registries.
Honeyfund.com is an awesome idea for couples who aren't interested in receiving 75 toasters in congratulations to their nuptials. The way that Honeyfund works is that you, the bride and groom, list the various aspects of a "dream honeymoon" that you'd like to experience. The place or places you'd like to go, the memories you'll create and the meals or drinks you'll enjoy. Honeyfund.com provides you your own website address, announcements, and the like so that you can tell all your friends and family about it. Most of the testimonials say that the Honey Fund helped them experience their honeymoon in a way that they never thought would be possible.
Weddingrepublic.com is simply a way to ask your guests for cash…without asking them for cash. Instead, you set up your free profile with various milestones in your married life:
$200 toward a Down Payment on a new home
$50 for Dinner for two
$80 for a round of Golf for two
$115 toward a new iPad
You can choose whatever you'd like. Then, your guests select the things they'd like to contribute to via 'puzzle pieces'. (The guests can choose to buy as many 'pieces to the puzzle' as they'd like) Perhaps your grandparents will be happier that they helped you buy your new home versus just giving you some champagne flutes that you'll never use. And your mom…she'll certainly be glad that you're taking cooking lessons instead of giving you china that will sit in a cabinet your whole life.
Of all of the out-of-the-box registries that I know of, Registrylove.com is my favorite! This service allows you to register for anything from anywhere…so even if you're the type of couple that wants material items over cash, you can register for them–regardless of where they're fund. Throw all of the things you like from Macy's, Target, William Sonoma and Bed Bath & Beyond on the same registry–it's all good! You can even upload photos of gifts that aren't online, and the items that are over $50, people can "contribute" to if they can't afford or choose not to purchase the whole thing. You can even set up a honeymoon, cash, or travel fund right on Registry Love.
These new, out-of-the-box wedding registries are such a better idea than the traditional registries at home stores. The average bride & groom getting married today don't need engraved silver cake-cutters and table settings for two. They want money, travel, gadgets–and things from all over the commercial spectrum, the internet, and the world!