How to Stick to a Wedding Budget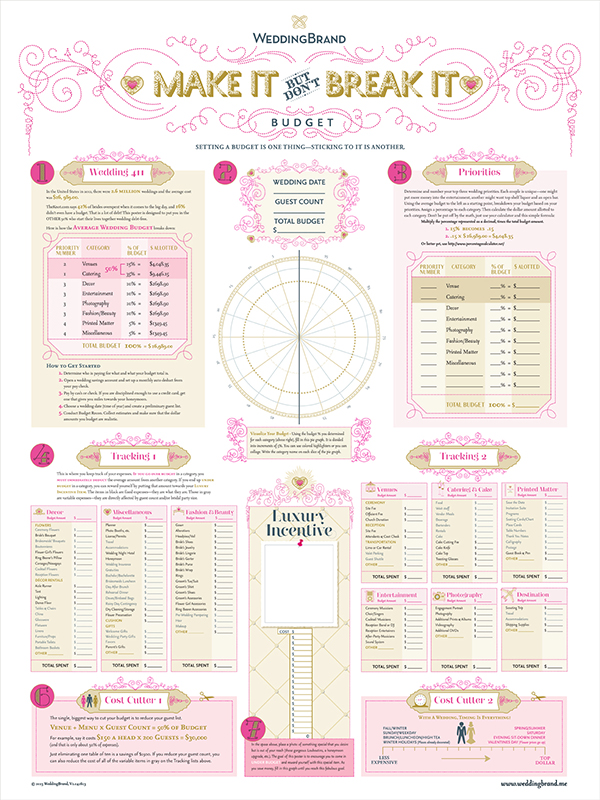 Calling all savvy brides to be! We know your groom's smart-he got your ring from us after all. But once that sparkler is on your finger, odds are you're taking the reigns. And occasionally, you'll need to rein yourself in budget-wise. Enter Wedding Brand, the new wedding budgeting tool we're slightly obsessed with. Spending with no abandon might be tempting, but unless you're throwing one of the world's most expensive weddings, it's just not worth it. There are ways to ensure you have savings for the future while making your wedding dreams come true – and one of those ways is by creating and sticking to a wedding budget. Check out wedding brand's tips.
We LOVE this easy budget setter and tracker. While Wedding Wire is hands down our favorite tool for keeping your budget up to date, this chart is full of great tips and ideas for actually setting your budget. For instance, mapping out your priorities numerically helps you realistically set expectations – if the venue is your most important aspect, then you may have to compromise on say, flowers or a live band. By prioritizing every aspect, it helps you set realistic budget portions for each.
We also love the tough love this chart gives you – "If you go over budget in a category, you must immediately deduct the overage amount from another category. If you end up under budget in a category, you can reward yourself by putting that amount toward your luxury incentive item."
What's a luxury incentive item? Sheer genius. Every couple has something they wish they could have at their wedding. Something they would hands down have if there were no budget constraints to worry about. This lets you set aside one or two of your dream wedding components as incentive to stick to your budget – and come in under budget. That leftover money goes guilt free towards your dream item(s)!
By setting your budget early and checking in with it every single planning step of the way, you'll avoid surprises closer to the big day. And we do mean every step – see adorable bridesmaid proposal gifts? Add those to the budget! Need a mani/pedi before your shower? Add it to the budget! There are so many little things that add up SO quickly when you forget to add them to the line item. A few you may not have thought of:
Beauty for the entire engagement – this may not come out of your wedding budget, but you'll need to add it to your regular budget. Things like hair coloring and cut, if not styling, for things like engagement portraits and your bridal shower. Not to mention all the extra manicures you'll want for showing off that rock.
Postage for wedding invites, save the dates, thank you notes for both shower and wedding.
Uplighting – some packages include it, others do not.
Arts & crafts supplies for DIY's (photobooth props, signage, special touches you're making for decor). Not just the glitter and clue, but things like specialized crafting tools or actual tools if you're building something.
Dress cleaning and preservation
Gifts for the bridal party and your parents
Backup shoes for dancing at the reception
Food for the bridal party while getting ready
These are just a few of the last minute or unthought of expenses that may pop up towards the end of your wedding planning process. By making sure you a lot a set specific number for the handy miscellaneous category in your budget, you'll stick to your guns – and your bottom line.