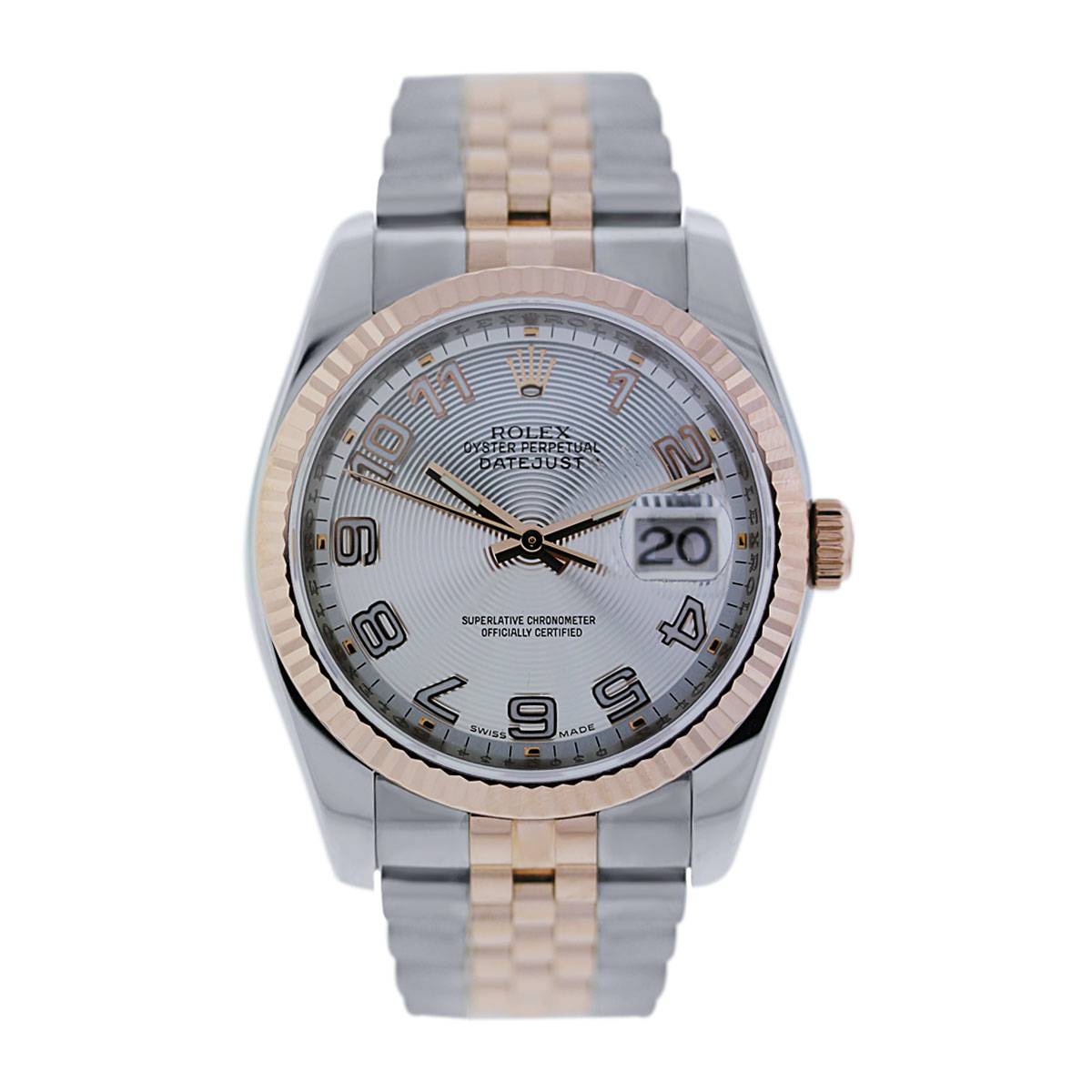 If you are looking to sell watches Boca Raton, there are several ways you can do it and just one way you should do it. Watches range greatly in price, from those that can be picked up for around a hundred dollars to those that are tens of thousands of dollars. Usually, people are looking to sell the higher end watches that can really make them some money on the open market, like a piece of jewelry, as that's basically what a watch is—a piece of jewelry that also keeps the time for you, among other things. So whether you are trying to sell rolex boca raton, sell breitling boca raton or sell any other type of luxury watch brand in boca raton, there are a number of things you should keep in mind first, so you can get the best possible deal from all the prospective watch buyers in Boca Raton. Check out some tips to sell watches boca raton listed below.
Rolex Datejust 116231 Concentric Dial Two Tone Rose Gold Watch
Find a good watch dealer. There are a number of luxury watch dealers in and around Boca Raton that are always looking for great deals on watches from individual sellers. They know as well as anyone the value of a watch and also that there are a lot of luxury watch owners out there who have nice watches that are basically brand new, as they have only been worn on special occasions since they were purchased. These buyers of luxury watches are reliable and safe, though it's important to be informed about exactly what your luxury watch is worth before you make a deal with them. While most will give you a very fair price, they are also going to try and mark it up to sell the watch for more than they purchased it for. So that could effect the amount they sell it to you for in general.
Luxury watch stores. Outside of individual luxury watch dealers in boca raton, there are also established luxury watch and jewelry stores which will buy a good wrist watch you have for sale. These stores will often give better prices than the watch dealer, as they will simply be cutting out the middle man between the seller, the dealer and then the store. However, they will also try to get the best price possible so they can sell the watch in the store and make the most profit. So the same knowledge and research about your luxury watch should be done before you try to sell it to one of these luxury watch stores.
Various Auction Sites Online. Post your luxury watch on an auction site online that people in the boca raton area can access. These range from eBay to individual auction sites that specialize in selling luxury watches and more expensive piece of jewelry. You will be able to post photos and a description of the luxury watch on the site as your ad and then let prospective buyers send you messages about the watch and place bids online over a set amount of time. Never post any personal information on the site about yourself or your location either. When you have a buyer who has offered you a good price, have them send you the money first electronically so that you are sure it is a real buyer. Most of these auction sites will help to facilitate these transactions so that no one gets ripped off. Make sure the auction site has a good reputation, as does the buyer though, before you send them the luxury watch they have purchased. Also make sure the money has cleared to your account.
Craigslist. A simple and direct way to meet individual buyers of luxury watches is Craigslist, which allows you to post ads just as you would on an auction site, but without the whole bidding process. You can put pictures and description on the site but don't include any personal information about yourself or your location. Once you have corresponded with a few people—which is done anonymously on your end through the site until you choose to not make it anonymous anymore—and you find a real buyer, meet them in a public place so they can see the watch in person and check it all out and you can make a deal. Bring a friend with you as well just to be extra careful. If they do want to buy the luxury watch you have for sale, make sure you get a money order or a direct deposit electronic transfer, as checks can bounce and a large amount of cash is not something you want to be strolling around with these days. You can also invest in something called the cube, which is a small piece of equipment you can plug into the top of your smart phone and swipe credit cards through, making transactions even easier between private parties doing buying and selling deals just like this. There will be a small surcharge to the buyer, but maybe you can negotiate that amount down for the sake of convenience of the transaction.
Watch Shows. You could also visit a luxury watch show in Boca Raton with the watch or watches you are looking to sell and find someone who is looking for your specific watch and will pay top dollar for it. Wealthy collectors of fine time pieces often visit these watch and jewelry locations, people who would otherwise be difficult to track down and make a deal with. If you do decide to sell your luxury watch in this fashion, visit the watch show once to get a sense of it and if you will need to set up your own booth or if you can just operate independently within the show itself and make contacts with prospective buyers. It may not be worth your time or money to set up a booth at a luxury watch show if you only have a watch or two to sell. However, if you have a number of luxury watches and really want to get into the business of buying and selling these fine time pieces then a watch show is the perfect place to start.