Watches Every Man Should Own: A Quartz Watch
 The quartz watch is an often underloved member of the luxury watch family. Some horology devotees eschew the "soulless" quartz movement, but we say it's not quartz's fault that the Japanese technology started giving fine Swiss a run for its money.
The Quartz Watch Movement Wants to Impress
Rather, we like to think of a quartz movement as a plucky, modern movement out to prove itself to the heavy hitters of the Joux Valley who've been manufacturing Time since nearly the dawn of time. After all, a quartz movement is more accurate than a mechanical or automatic movement. It's much lower maintenance, and it won't ask for much – maybe an inexpensive battery replacement every few years – in return for a position on your wrist. It's even happy to keep quiet at the back of your watch drawer for a few months, it'll still keep perfect time.
Now, don't let the quartz watch fool you into thinking it will sacrifice style. If your first thought was of Seiko when we mentioned quartz, you're not far off, but it's time to expand your horizons. Major luxury brands are in on the quartz game, including TAG Heuer, Rolex, and even Cartier.
Luxury Quartz Movement
This Cartier Pasha is a great example of a modern classic quartz.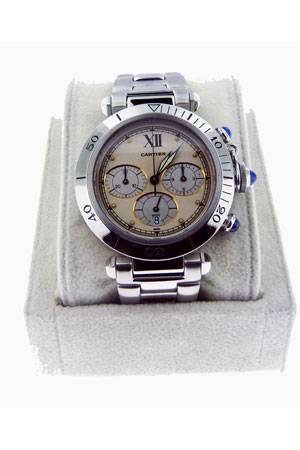 The 38mm case size ensures it keeps pace with today's monster chronographs, without being a clunker. The gold and beige dial is a nice, warm contrast with the stainless steel case and bracelet, and the Pasha's trademark sapphire cabochons add a welcome dose of color to the neutral watch.