A timepiece such as a vintage Day-Date by Rolex is a really great way to show off your personal style. Rolex watches from any time period are going to look great. This watch brand is synonymous with luxury and any timepiece from the brand, whether old or new, is a real prize to have. In fact, there are many people who will pay even higher rates for vintage versions of their favorite watch brands than a new one. That is because it is hard to beat the original. The Day-Date line of watches has been around since the late 50s and has been a fan favorite since then.
The look of these watches is so timeless and classic that you look just as great wearing a vintage version of the watch today as a new one. These are unique and stylish and this watch still works as well as the day it was hand-built in Switzerland. Newer versions of watches may have slightly more cutting-edge internal components, but they have that real classic flair that is hard to beat. And, if you happen to be a collector, having one of the older versions of the watch is a real boon!
Elegant and Stylish Accessories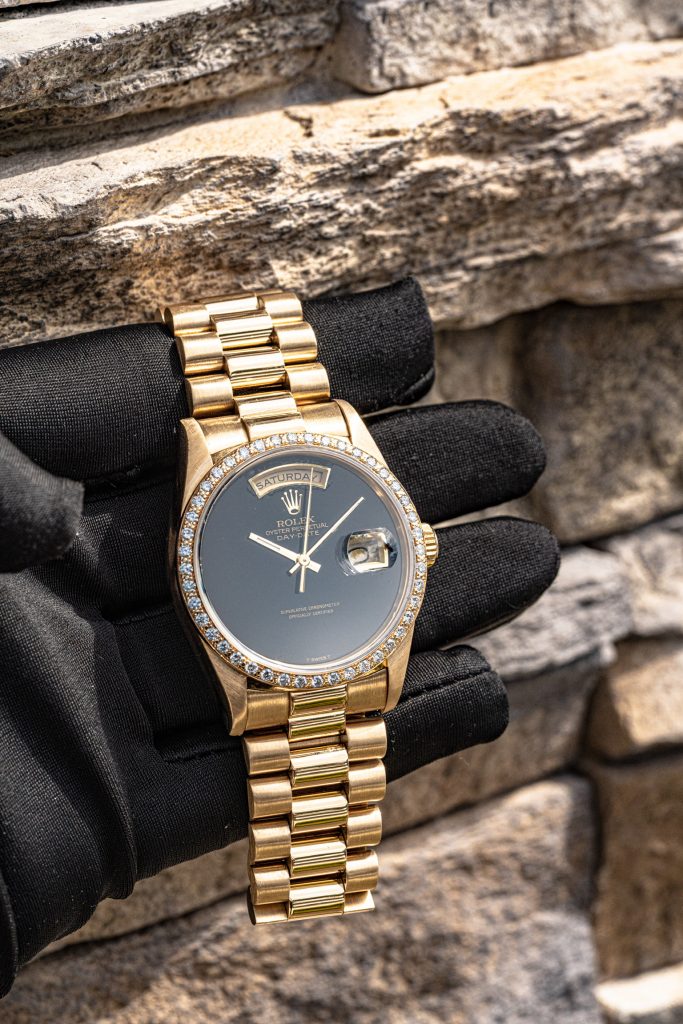 Whether you choose a vintage Day-Date or some other classic watch, we know that something elegant and stylish is what our clients are looking for. A timepiece really is a classic accessory. It is timeless. That means it can defy trends and will look great, no matter what is in fashion. It is for this reason that a vintage Rolex watch looks just as good today as it did the day it was built. A classic watch has a lot going for it. The clean lines and classic profile mean that you will be able to wear this watch with pretty much anything and for many years to come. Since the classics are, well, classic, they don't go out of style.
A watch is a great way to get that put-together look that so many of us are looking for. For example, if we are in the modern world of business, we want every little edge we can have that might help our success. Looking professional is actually part and parcel to being taken seriously as a professional, and a timepiece such as a vintage Day-Date is a great accessory.
Quality and Style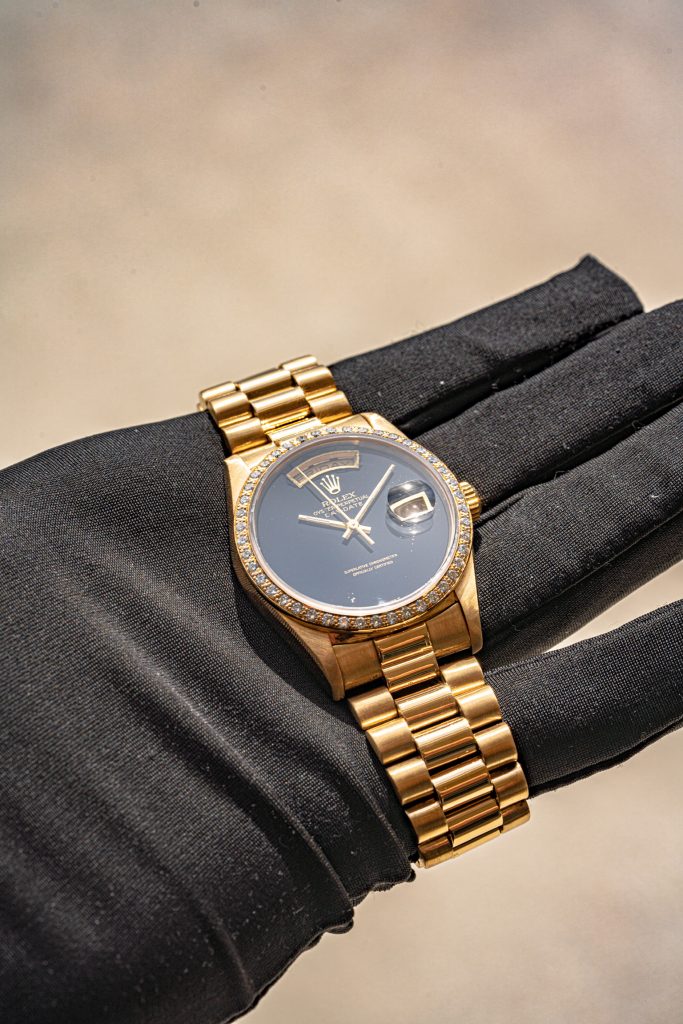 There are so many different watches that there really is something for everyone out there. But some people have really high standards and only want the best. For those with more discerning tastes, a luxury watch such as a vintage Day-Date by Rolex might be the best way to go. The timeless look and feel of this watch will go great with a lot of different fashions and styles. It is the epitome of this line of watches. It features all those classic elements that make the Day-Date line so loved. And, it has those unique materials and elements that mark the original version of this stunning watch.
Rolex is known for a lot of things, but the quality and style of their pieces is probably what they are best known for. Each and every piece is handmade to the highest standards of design and quality. A vintage version of a favorite watch allows you to appreciate the qualities and elements that made the watch such a popular style, to begin with. Remember, classics start somewhere and it is really cool to be able to have an item that sparked a trend.
Vintage Glamor
We say a lot that it is hard to beat the classics and there are a lot of reasons for this. Classic designs are such for a reason, but when you have an actual vintage model of a classic watch, you have something really special. A good illustration of what we are talking about is a sports car. A modern sports car is great, but a well-maintained vintage model of a classic sports car is really something special. This is the difference between a brand new Rolex watch and a vintage one. Especially when the vintage one is in as good of shape as many brand-new versions of the watch.
You can see the style and elegance in the pairing of yellow gold with a chocolate brown dial. The soft buttery yellow of the yellow gold offsets the rich chocolate brown of the dial. Giving the dial a bit of color sets this version of the Day-Date apart from others, but doesn't take away from its style or versatility. And, of course, it shows off those features that made this line of watches so popular in the first place and still make them recognizable to this day.
Rolex Watches
We feel like Rolex is one of those brands that has a reputation that precedes it. This is one of the most widely-known and iconic watchmakers in the world. They have a reputation for style, quality, and above all else, innovation. Rolex is a Swiss-based luxury watchmaker that has been on the forefront of the world of watchmaking for a century. Each and every watch is handmade to the highest standards of quality. A vintage Day-Date will work just as well as a modern Day-Date and the same level of attention is still paid to detail.
Innovation is a huge part of the Rolex brand. Since the company's foundation, they have worked closely with people whose jobs take them to unique and extreme environments. This includes race car drivers, divers, and pilots. Engineers and designers then create a timepiece that can withstand these elements. These features make their way into all Rolex watches. In fact, the company holds a number of patents on components that feature in their watches, from metal blends to internal movements and mechanisms. This means that what you get when you choose a Rolex watch truly is one-of-a-kind. You can't beat the original.
The Day-Date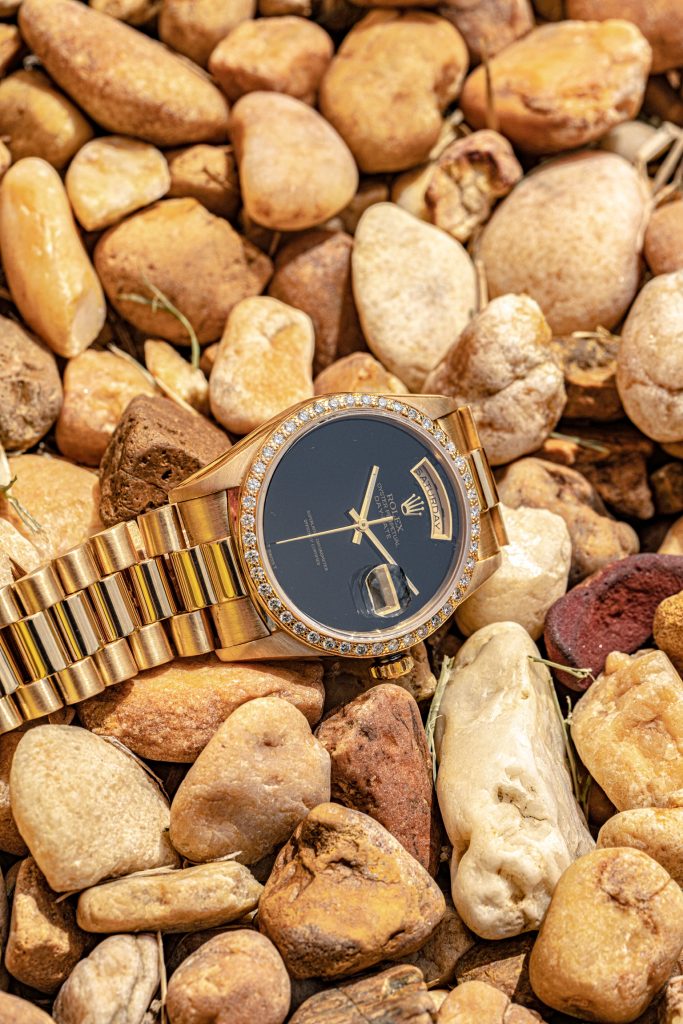 The Day-Date line of watches by Rolex saw its first introduction back in the late 1950s. Since this introduction, it has been a popular favorite among discerning consumers worldwide. It has extra functionality, as well as a clean and classic look that makes it timeless and able to defy trends. Whether we are talking about a vintage version of the watch or something that was hand-built just last week, it is going to be made to high and stringent standards of quality. This gives you the peace of mind that you are getting a good value and a watch that you can rely on.
Whether you choose a vintage or modern version of the watch, there are a couple of elements that are consistent across time that make this an iconic and recognizable watch. First is the day of the week. You will always see this at the top of the watch face, above the 12 o'clock marker. The second is the date of the month, which is shown under a cyclops lens at the 3 o'clock marker. It is this cyclops lens that magnifies the date that, perhaps, makes this watch style so iconic.
Yellow Gold
An element you will see on modern versions of the Day-Date that seek to emulate the style of vintage versions of the Day-Date is the use of yellow gold and the Oysterflex bracelet. The original version of the Day-Date was released in yellow gold with this bracelet style the company holds a patent for. The Oysterflex bracelet is a three-link bracelet that has comfort as the focus. So many bracelets on watches that feature all-metal construction have a tendency to pinch the skin and pull the hair on our arms. The Oysterflex bracelet is designed to reduce these tendencies and make the watch more comfortable for all-day wear.
Yellow gold was the material that the very first Day-Date watches were made of and what we see on the vintage model we feature here. This is a classic material that is instantly recognizable. It pairs really well with other yellow gold jewelry, but you can just as easily pair it with other colors of gold or other metals. This material is classic in its color and shine and is easy to maintain. The occasional cleaning is really all you need to do to ensure that the metal stays clean and bright over the years.
Chocolate Brown Dial and Diamond Bezel
While this is a vintage version of the watch, it does have some special design features that set it apart from the original. Like the very first Day-Date watches, this version is made of yellow gold. Yellow gold is a classic and timeless material that is often what first edition versions of Rolex watches are released in. That is because this is an easily recognizable material that pairs well with pretty much any metal or gemstone. But, the vintage version of the watch we are looking at here also has some special extras. First is the chocolate brown dial. The deep, rich brown looks incredibly against the buttery and bright yellow gold. It gives the watch a bit of color, but not in a way that will clash with clothing or even other accessories.
Additionally, this version of the watch also boasts a little bit of bling. The bezel of the watch features round brilliant-cut diamonds. These diamonds fully encircle the face of the watch, giving it a sparkle it would not otherwise have. The diamonds add a bit of elegance to the watch, but they don't make it so over-the-top that it isn't suitable for more casual attire.
Perfect for Daily Wear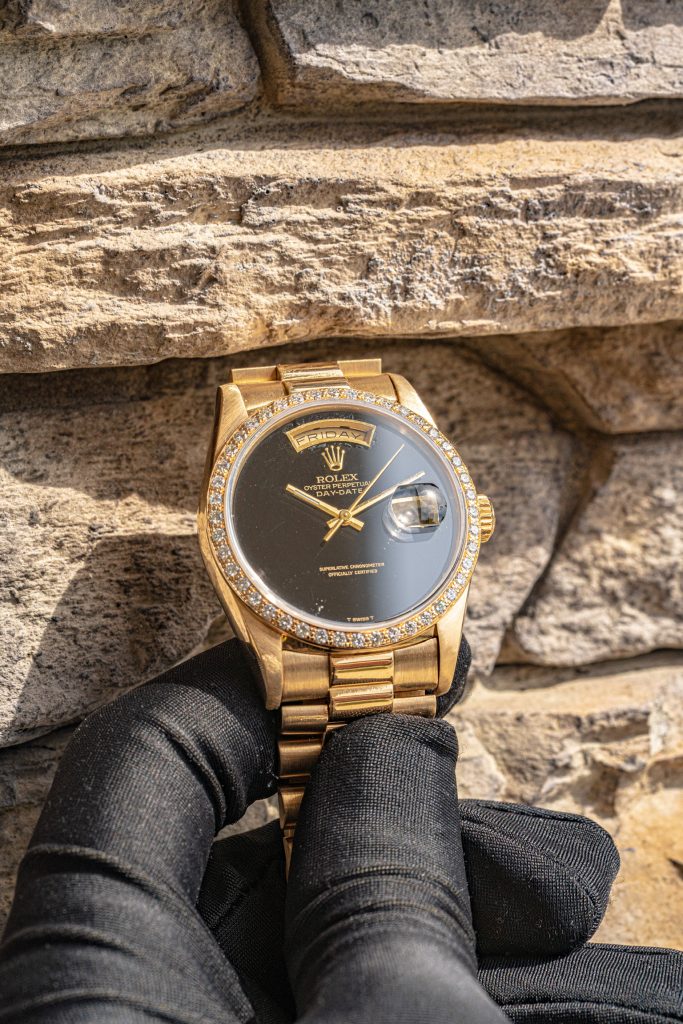 Versatile accessories aren't often what we think about when we consider high-end jewelry. Most luxury pieces aren't particularly versatile, they are meant for special occasions and would look pretty out of place anywhere else. And this is fine, we think having statement pieces that you hold back for those special occasions is great. However, it is also great to have a high-end accessory that does have some versatility. Luxury timepieces are a great example of something that is top-of-the-line, but can also be suitable for daily wear. The vintage Day-Date by Rolex we feature here is a really good illustration of something that is high-end and elegant, but that is also suitable for daily wear.
This is a watch that looks great with pretty much anything you might pair it with. It will look amazing with a well-fitting suit, but it will also look great with a pair of jeans and a sweater. Because it looks great with so many different styles, a watch like this can easily become part of your signature style. These are items that you wear regularly that people come to associate with your dress and personal style. You can also pair this watch with a wide range of other accessories as well, from rings to necklaces.
In Closing
Modern looks are great and certainly have their place and time, but there really is something about a really well-maintained vintage piece that just gets us really excited. To find a piece that is one of the originals, but that still in good enough working condition to be usable in modern times is pretty special. And if there is any brand that can make something that will work just as great decades on as it did the day it was made, it is Rolex. That is why, when talking about vintage watches, there really isn't a much better example than the Day-Date. This is a classic and timeless watch, with a look that hasn't changed much in the decades since its first introduction.
What we have here is a classic watch that has all those elements that would turn the line into the icon it is today. It features yellow gold as its metal and the classic three-link Oysterflex bracelet. Additionally, the watch also has a chocolate brown dial. This adds a bit of color to the watch and gives it a unique look that is different from your classic all-metal versions. Finally, it has a diamond bezel that gives the watch some sparkle as well as extra glamor that simpler versions of the watch just don't have.