10 Key Features to Look for in a Used Rolex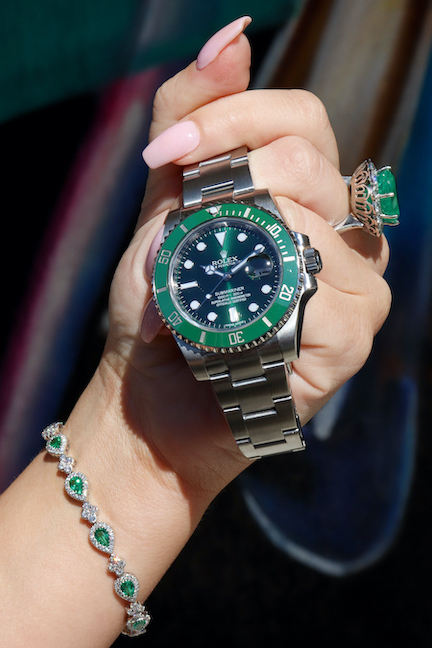 Purchasing a Rolex can be hard on the wallet and more expensive than one might think. Consider buying a used Rolex for less money. There are many positive aspects in purchasing a used Rolex watch if the buyer knows what to look for in a used watch. There are 10 key features that every buyer of a used Rolex needs to know before purchasing the actual watch. With these 10 features, buyers can purchase a used Rolex knowing that they are in good hands and can wear a high quality watch with confidence.
Pre-owned Rolex's Are Cheaper
One great thing about buying a used Rolex watch is that they are significantly cheaper than the new watches. Most pre-owned Rolex's still retain their value but aren't priced nearly as high as the new watches are. This is a major benefit to buying used Rolex's compared to new ones. The price can't be beat.
Avoid Fakes
Understanding that there are fake watches out there. Fake watches are in most marketplaces and can really trip up first time buyers if they haven't been trained on how to spot a fake. Spotting fakes can be simple, but there are a lot of high-quality fakes out there so it's really important to know what to look for. Some of the best ways to check if a used Rolex is fake are:
Weight-Real Rolex watches are made from high-quality, heavy materials. These materials differ significantly from the fake watches that are much lighter.
The Face-The face of a used Rolex shouldn't have any smudges or different font sizes. These are clear indicators that the watch is a fake and that it's a waste of money. The company makes such high-quality watches that these imperfections aren't produced on any of their watches.
Waterproof-All Rolex's are waterproof to some degree. If the watch isn't able to handle the water then it's probably not real.
Set A Price Range
An important feature in looking for a used Rolex is to establish a price range of what the buyer is ready to spend. Not knowing how much money a buyer can spend on a watch can seriously limit the options that are available to them. Setting a comfortable range that is predetermined before searching is pertinent for any buyer of a used Rolex. If someone spends more money than they thought they would on a watch then they could find themselves regretting the decision and the watch. On the flip side of that argument, if someone sets a limit that's too low, their options are limited because the better watches could be higher priced. It's all about setting a price range and sticking to it.
Ask For Real Pictures
Asking for real pictures of the watch might seem like a simple and obvious key feature to look for in buying a used Rolex, but many people don't do it. They trust the online pictures automatically without questioning them. A great way to verify pictures from an online seller is to tell them to send a picture of the watch with a specific sticky note or name tag next to it. This way, the buyer can verify that the seller is real and actually has the product they are advertising. From there, the buyer can deduce that the pictures and product are in the possession of the seller.
Ask For A Deal
Since these Rolex's are used, some sellers might be willing to part ways at a cheaper price than advertised so that they can get rid of the watch. If the option is available, making an offer that's closer to the buyer's price range could benefit both the buyer and the seller. It's important to understand that offers should never low ball the seller by being significantly lower than the asking price. Finding the right asking price should be judged based on the product and the buyer.
Find A Trustworthy Seller with Raymond Lee Jewelers
One really important feature of buying a used Rolex that's used is to find a trusted seller. Whether the seller is online or in-person, it's crucial to find a seller that can be trusted and verified for selling quality and authentic products. These watches aren't cheap so it's important not to waste any money on a watch that isn't real or is stolen. Raymond Lee Jewelers are experts in used Rolex watches and have the fairest prices, as well as craftsmanship insurances.
Find A Good Model
There are a wide variety of different models that Rolex's come in. Secondhand Rolex watches have a huge variety and it's important to know which models are valuable and which appeal to the buyer. Some used models could be sold at a discounted price, but the buyer needs to inform themselves so that the best decision can be made.
Rolex's Are Made To Last
It's important not to worry about how long a used Rolex watch will last, even if it's used. They are built to last a long time so buyers won't need to worry about if they are durable enough to last years or decades. Most Rolex's that are used will last a lifetime and even increase in value over the years to come. They last so long because they are made with the best materials available to ensure that they're working year after year with no headaches. Some used watches could require servicing from time to time but it doesn't meant that they won't last forever.
Used Models Hold Value Longer
Used watches that are made by Rolex will maintain their value for a longer period of time compared to new watches. It's because new watches depreciate instantly when they're worn for the very first time. However, since used watches have already been worn, their value decreases slower because it's already been worn.
Consider It An Investment
Rolex's maintain their value and are built to last. Purchasing a used one is an investment that will be sure to last for decades to come. Knowing that it's a future investment will help used Rolex buyers make the right decision when the time comes.