Jewelry is one of the best ways to show a loved one that you care. Personalized jewelry is an unsurpassed gift that the recipient will truly relish for years to come.
December babies have a leg up on the rest of society this winter: Turquoise, one of the recognized December birth stones, is unbelievably fashionable this winter! Not only can you purchase a thoughtful gift for a loved one this winter or holiday season, but it'll also be one of the most fashionable accessories they've received all year!
Turquoise, which traditionally refers to the blueish green colored stone, can come in an array of greens and blues. The most popular, minty hue of turquoise is the one that's in style right now!
Raymond Lee Jewelers of Boca Raton, FL has a wide array of turquoise jewelry available, delivered in time for the holidays. Check out some of the awesome jewelry available in Raymond Lee's online showroom for ideas and inspiration for your turquoise holiday gifts.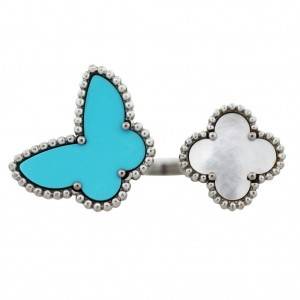 This incredible Van Cleef and Arpels Lucky Alhamnra Turquoise 18k white gold ring is a must-have this season. While the item is still current within Van Cleef and Arpels' collection, it's hard to say whether they'll be able to create more due to the difference in turquoise on the market.
These practical, but beautiful turquoise earrings are both a great idea for a holiday gift and incredibly stylish this holiday season. Accented with 18k white gold and diamonds, these turquoise earrings are perfect!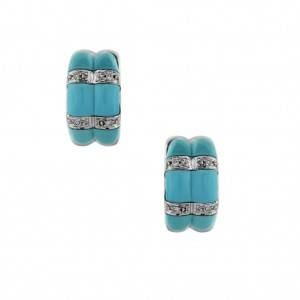 Raymond Lee Jeweler also has this Turquoise and Sterling Silver Tiffany & Co. Pendant for sale that truly encompasses the recognizable luxury jewelry industry and chic, beautiful turquoise!