When it comes to spotting fake watches, we love a good watch bust as much as the next jeweler. Especially when it saves us a few thousand dollars – oh yes, even we've been burned by really good fakes. But the painful sting of realizing we just bought a Fauxlex taught us to be vigilant, and now we spot the tiniest of details that give away a fake. But you have to really look! So we love sharing with our customers and other watch lovers the easier ways to spot a fake watch. We often have people come in who've inherited a watch or received one as a gift and they want to see if they've got the real deal. Often, they don't, and they're pretty good sports when we break the news to them and explain what gave it away.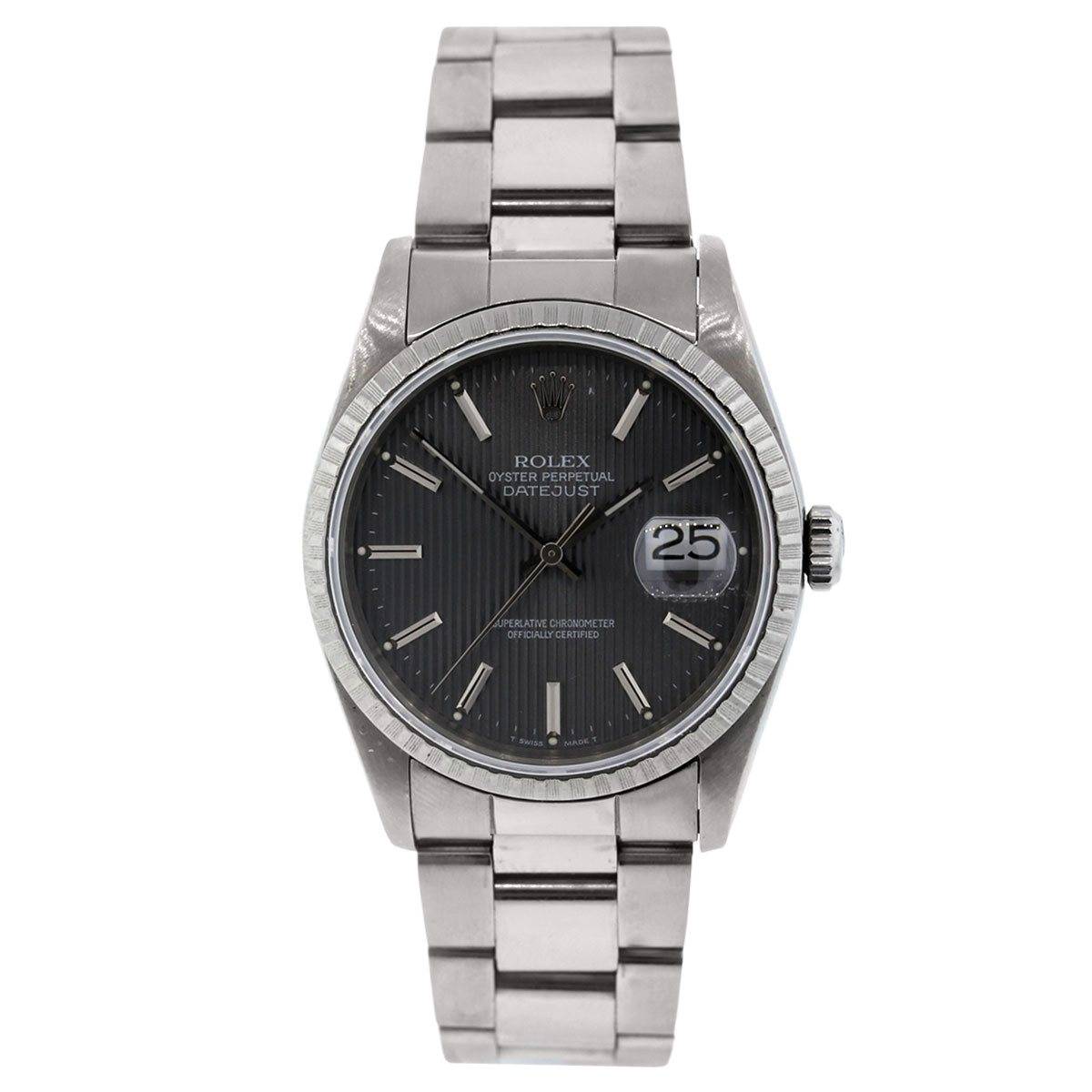 1. Cyclops
This feature is particularly useful for spotting fake Rolexes. A Rolex's cyclops – the date window – will magnify the date to 2.5x the size of the font. Fakes can usually only achieve 1.5x magnification. When you look at a Rolex's date window from any angle other than straight down, the date will appear skewed. On fakes it's usually legible from many different angles. If you can compare the suspected fake side by side to the real deal, you'll also notice a difference in the shape of the convex dome.
2. Movement
Really, this should be the number one way to spot a fake, but it's not always easy to open a case back if you're purchasing from a private seller. And if you're truly a novice you might not be able to spot the difference between a good (note the fact that we said good) fake movement and the impeccable engineering of the real deal. Put it this way – if you open the case back and it's an obvious fake, you'll know. If you can't tell, ideally you're already buying from or selling to a reputable seller with a watchmaker on standby. Said watchmaker can open the case back and nod sternly with approval or laugh derisively to indicate a counterfeit. Those are the only two reactions a good watchmaker will have.
3. Weight
Counterfeits, while they're getting better and better, still typically skimp on production materials to lower the cost. Fakes will often feel much lighter than the actual model.
4. Second Hand
Most fine watches' second hand sweeps instead of ticking. If its movement is jagged and it jumps from number to number, it might be fake. And if it makes a loud ticking noise, the odds are even higher.
5. Fast Five
Use the "Fast Five" criteria to look for red flags:
Face and Logo – The face details and logo on a fake watch are usually either absent, poorly reproduced or incorrect.
Features – Many counterfeit watches will have the features of the authentic watches, but they won't work. The stopwatch and subdials may not work. One big telltale sign for Rolexes is the back. Many fake luxury watches have a clear back.Rolex only made two models with clear (skeleton) backs, both were production models from the 30's and were never mass produced.
Details – Many times the counterfeit watches will include parts from totally different watches. They may confuse the names or the hand style may be wrong.
Color and Texture – Examine the color and texture of the watch carefully. How does it compare to the authentic watch you held in your hands and examined? Funky colored metals, weird bezels and…interesting dials are red flags.
Clasp – Look closely at the clasp and bracelet of the watch. On a fake, they will be very simple, even cheap looking.
6. Price
If it's too good to be true, it is.
7. Seller Reputation
This is one of the best ways to make sure you're getting the real deal. If you're buying online, don't just read reviews – look at how many there are. How far back in time do they go? Do they seems consistent, spread over days, weeks and months? Or are there 10 from a 3 day period? How long has the seller been in business? This also goes for brick & mortar sellers. How large is their selection? Do they have a nice variety of brands? Do they sell other, more easily verifiable designer pieces (like diamonds? Way easier to spot a CZ.) What does your gut tell you? Is the salesperson trying to get you in and out with a questionable watch on your wrist, not answering questions adequately, or not forthcoming with background info on the watch?
8. Return Policy
They should have one. Iron clad. Something like 30 days guaranteed money back.
9. Buyer Education
This is the best way to avoid buying a fake. It won't help you as much when you're trying to sell a watch you're uncertain about, but it will help when buying a watch. Let's say you're ready to make your first big watch purchase. Because you are a brilliant, devilishly good looking and kind person, you know it's just plain sense to buy a well-maintainted pre owned luxury watch that's already had its initial dip in value. You pass that depreciation off to its original owner and you'll take a lower retail price and (considerable) remaining intrinsic value, thank you very much. So now it's time to do your research. Spend as much time as you need narrowing down your options, then researching the finer points of each model. After all, if you're going to start a watch collection, do it right and know what you're talking about. Familiarize yourself with the finer details of the watches you have your eye on, and study them in person at an authorized dealer if it'll give you more confidence. An educated buyer is the first line of defense.
10. Box & Papers
They aren't a necessity, and they'll up the price of the watch slightly, but many buyers aren't comfortable purchasing without the originals. Again, this is another opportunity for shady dealers to make a few extra thousand by counterfeiting the papers, so be vigilant.