A Dozen Diamond Halo Engagement Rings To Die For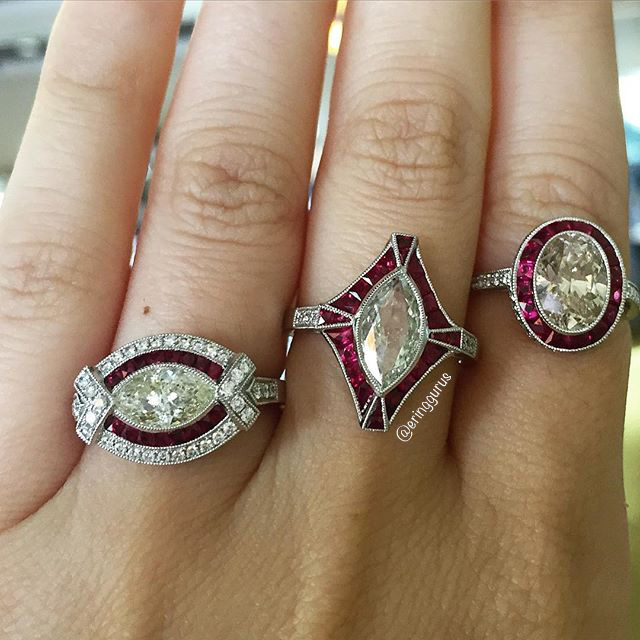 Sometimes, when you see a ring, the only logical thing you can do is screenshot it, send it to your best friend, and caption it "Dead." While our rocks have been known to cause heart palpitations, we're hoping to avoid any literal death-by-diamond incidents. And we don't mean that in the Instagram sense of literal. We really want our customers to live long enough to enjoy their stunning engagement rings. But, this dirty dozen of diamonds really is TDF. We've rounded up some of our favorite, most fabulous halos to incite some swooning. And we hope, at the very least, they warrant the x-eyed emoji!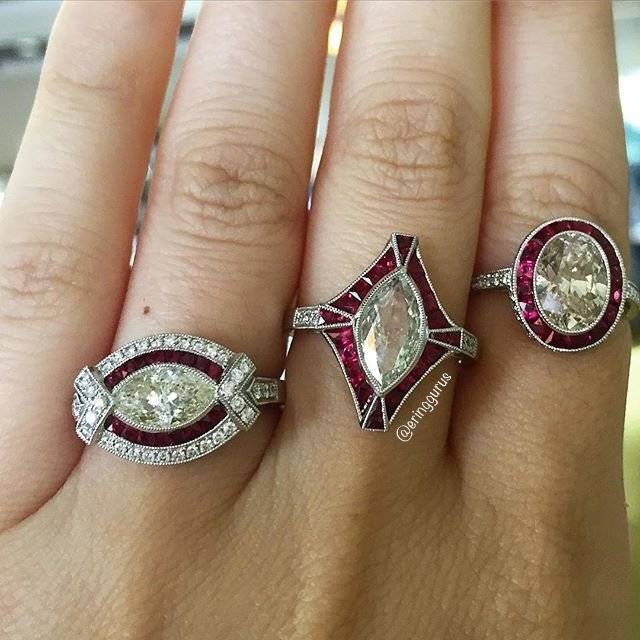 First up, we're showing off a dash of color, with July's birthstone ruby. these fabulous antique style ruby halos were too good for Engagement Ring Gurus to pass up, so we wanted to show them off here too.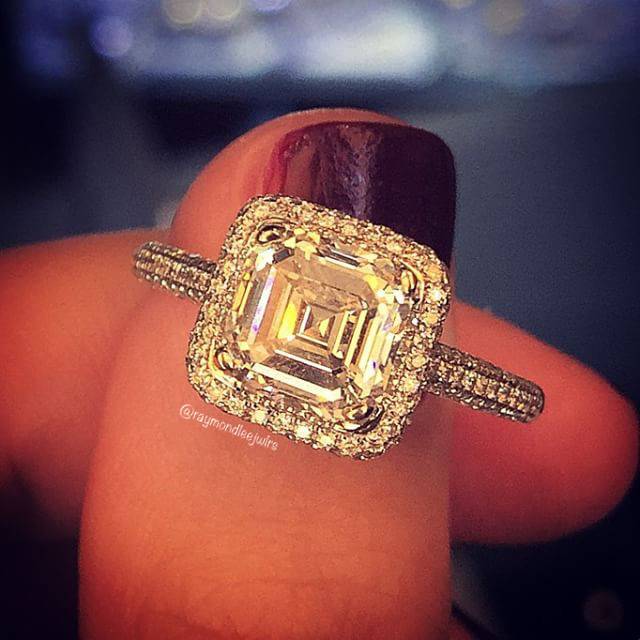 This beauty should be at the top of every Asscher-lover's wishlist! We rarely see aster cut diamonds in the wild, so when we do we snap them up and put them in one of our most fabulous mountings. This one is no exception. A 14k white gold micropave halo surrounds an EGL certified 2.03ct Asscher Cut Diamond. Diamond is G in color and SI1 in clarity.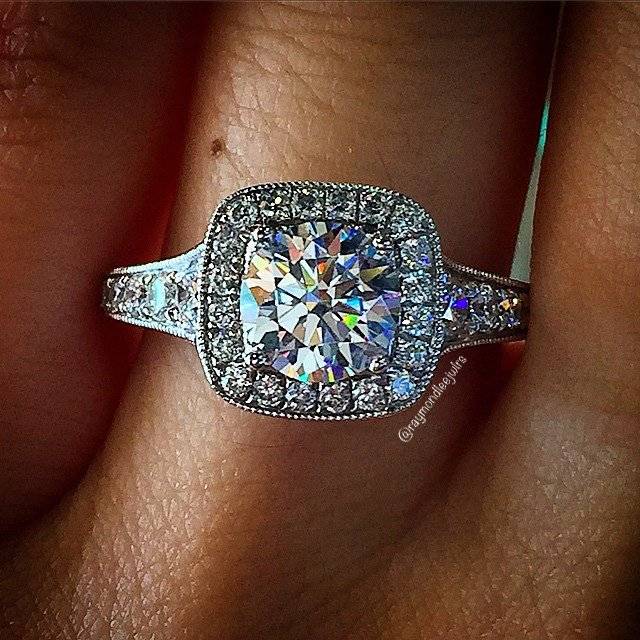 This was actually today's Instagram diamond of the day! It's a Gabriel & Co. soft square halo mounting that has a unique, bold shank with larger graduated diamonds. While this shot depicts a placeholder CZ, this mounting can be sized to fit your dream diamond, and the accent diamonds give it a carat weight of approximately .60ctw.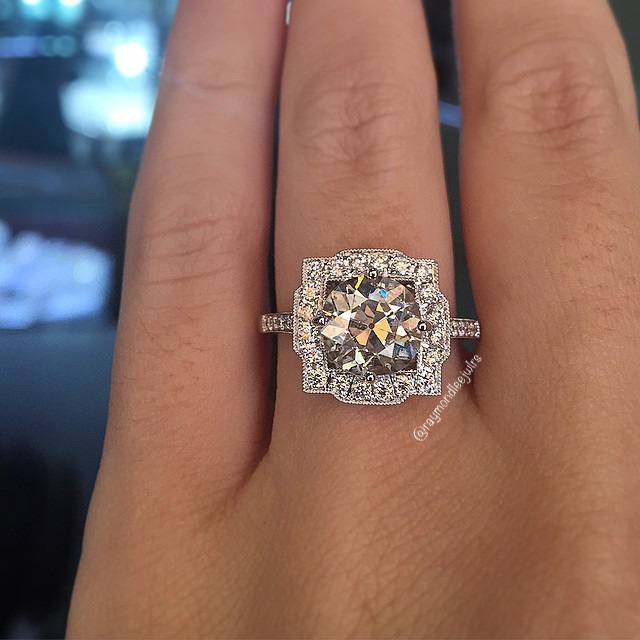 This beauty is a totally unique twist on the halo, starting with the "portrait style" semi-mounting. This is a beautiful, Victorian style setting inspired by Harry Winston. We set it with a 2.10ct Old European Diamond, Diamond is J in color and VS2 in clarity.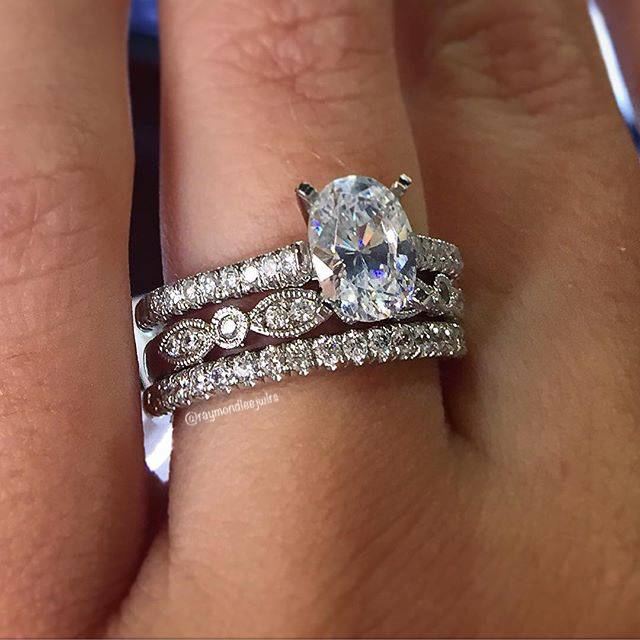 This AH-mazing stack is courtesy of our Gabriel & Co. collection. They're some of our best sellers because, well, look at them. But also because the prices are fantastic. The stack above features a gorgeous diamond semi-mount solitaire with approx .54ctw of Accent Diamonds, G-H in Color; SI2 in Clarity at $1700. And yes, the bands are what makes the magic happen – the top is $900 and the bottom is $700 – both are .24ctw in white gold.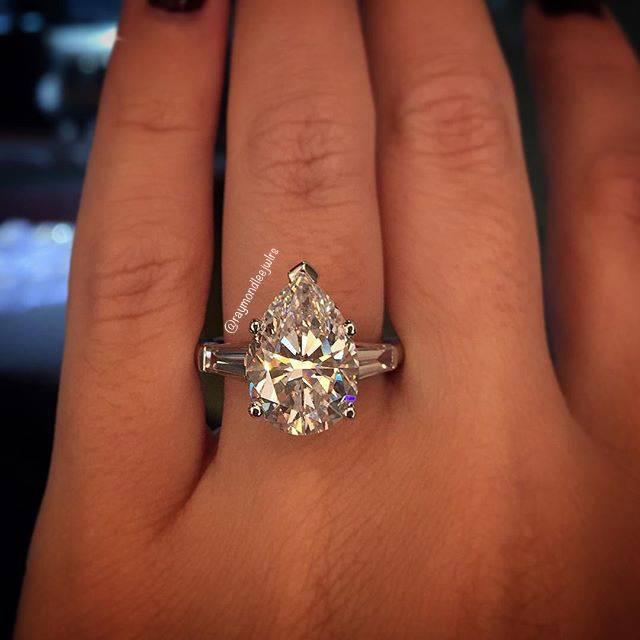 Well. This is the perfect Pear shape. It's not a halo and we just can't resist adding it to the list anyway. Seriously, look at it! The center is a GIA certified 5.28ct Pear Shape Diamond. Diamond is F in color and VS2 in clarity. The side stones are .60ctw baguettes, all set in platinum.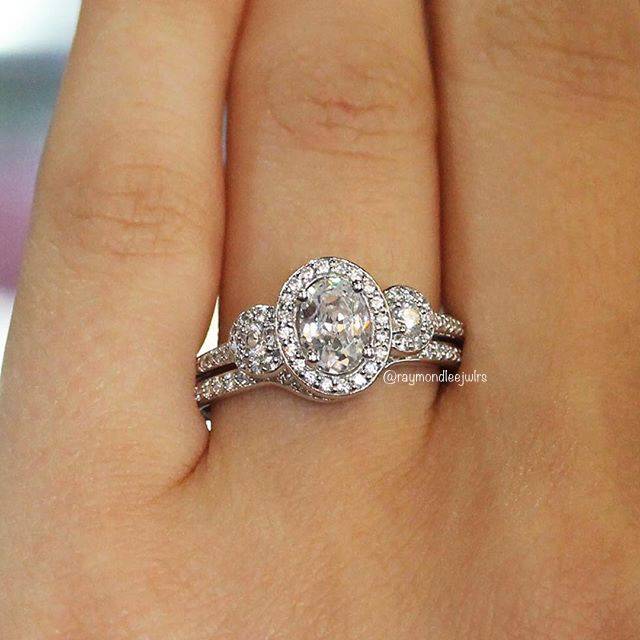 This beauty is from one of our newest designers, Ever & Ever! This is a gorgeous oval halo setting with about .33 ct. of accent diamonds, including two round brilliant side stones set in their own mini halos.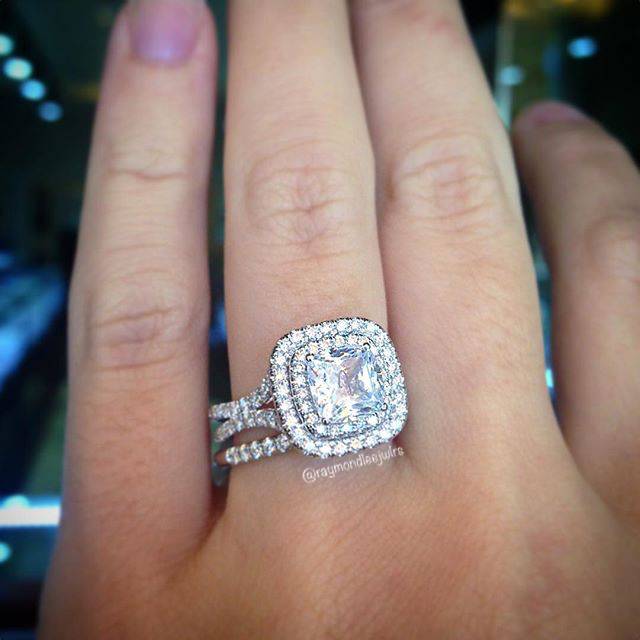 This double halo by Uneek shows off approx. 0.72ctw of Accent Diamonds, and in this picture it's paired with a .22ctw thin, stackable band.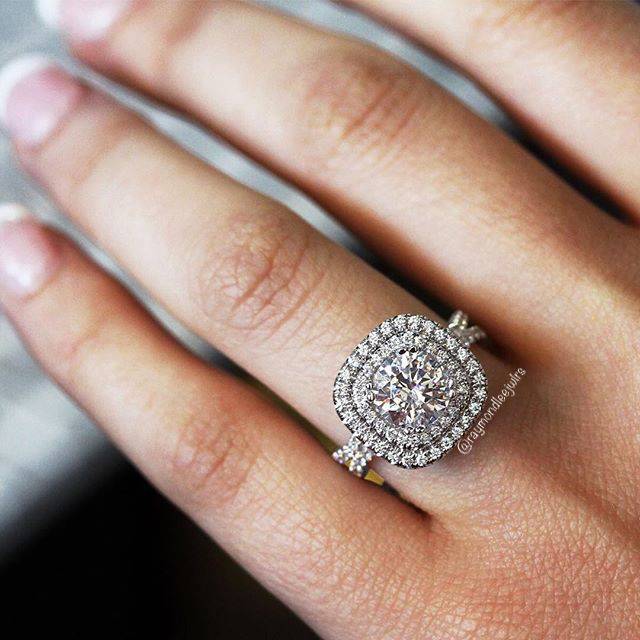 And another angle to this beauty.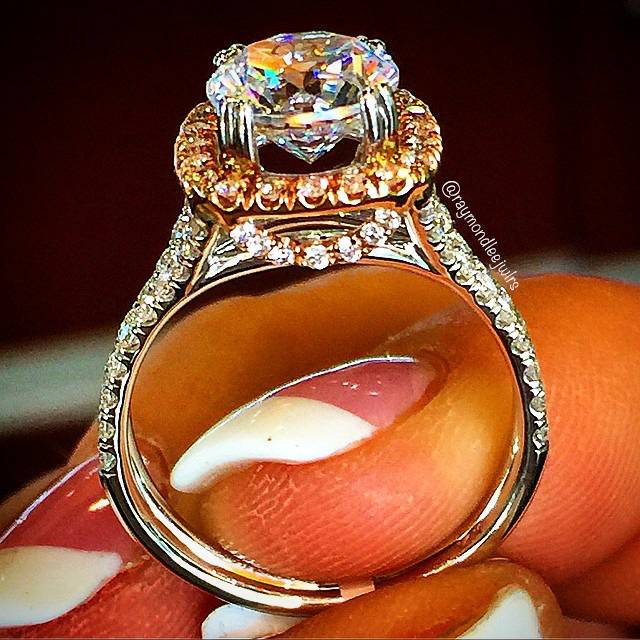 This Uneek stunner is a single halo, but has a two tone with rose gold for an added pop of color. A .62ctw Pave Set Diamond Cushion Rose Gold Halo with a Pave Set Diamond Split Shank.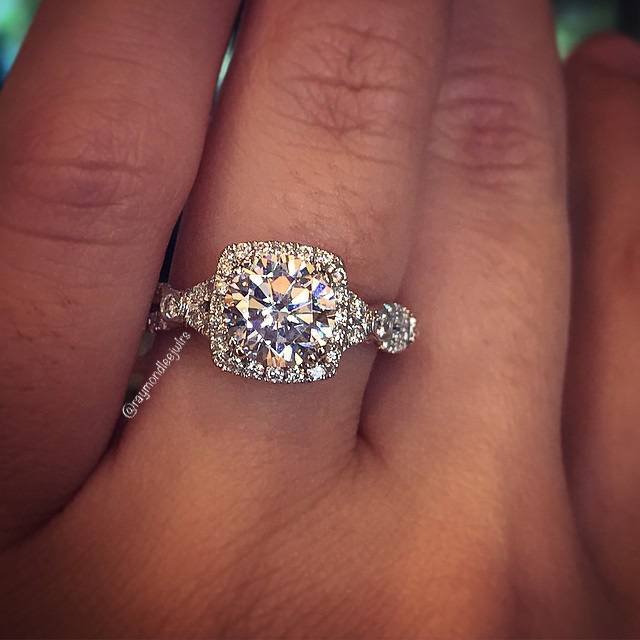 This amazing soft square halo from Verragio's Parisian collection. It's a Twisted Split Shank with Pave Set Diamonds, with rose gold bars placed at every twist, as well as a hidden rose gold gallery.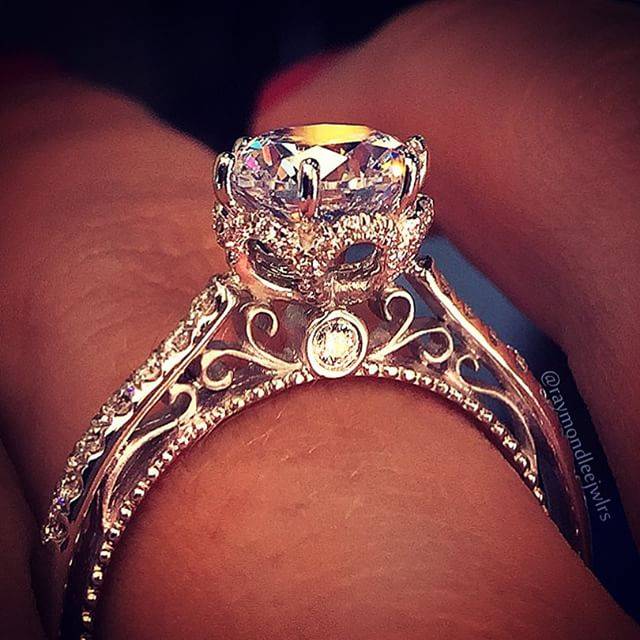 Finally, this amazing Verragio solitaire has one of the prettiest galleries on any of their amazing engagement rings. This all white gold (thought it does come in other colors) features scrollwork and hidden diamonds among its .30ctw of accent diamonds.
Which is your favorite?
Related articles