Three Stone Yellow Diamond Ring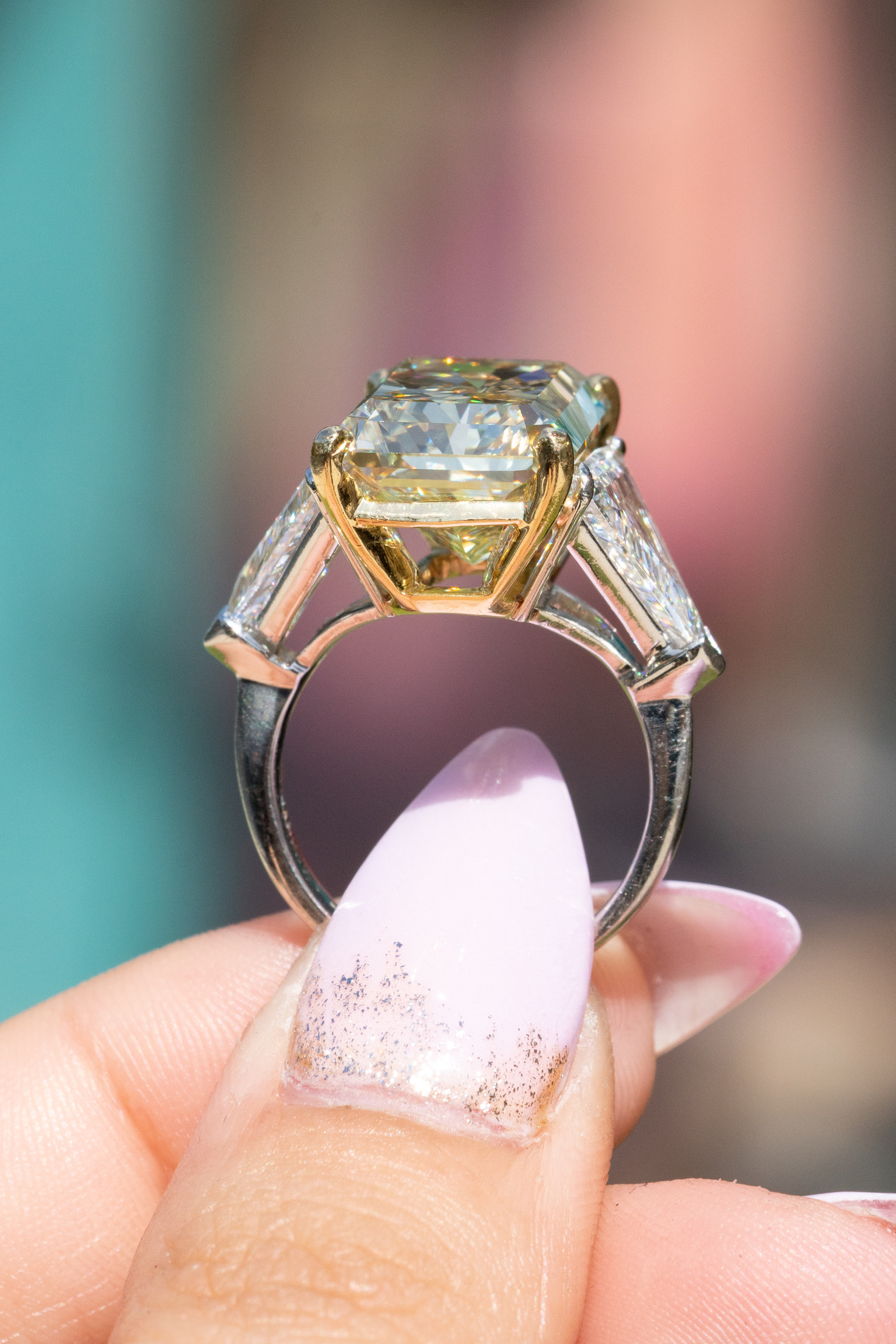 If you want something elegant, but unlike what anyone else has, a three stone yellow diamond ring is a great option. The ring we feature here is a bold and eye-catching piece that features huge gemstones. The main gemstone is a yellow diamond, which is a rare, but lovely, stone. It adds a bit of color to the ring but doesn't make it so colorful that it clashes with other pieces. And the huge main stone is definitely a sight to behold. This isn't a ring for the faint of heart. It is a ring that screams 'look at me' and it goes perfectly with those who have a large personality to go with it.
While this ring is different, that doesn't mean that it doesn't have classically elegant features. The three stone ring is a popular and timeless option. It allows you to show off the main center stone but also has accent stones to add a bit more flair. It can easily make a great engagement ring for a woman of high style, but it also makes a great statement piece as well.
Bold Elegance
When thinking about bold and eye-catching pieces, it is hard to imagine something more perfect than a ring with huge diamonds. A three stone yellow diamond ring gives you exactly that. It is a great option for those who really like bold and fashion-forward styles. It is not a demure piece and should be worn as boldly as the style. There are many out there that have more eye-catching fashion and want accessories that will accent that style. For those people, something demure just won't cut it. They want something as big and in-your-face as they are.
A ring like the three stone yellow diamond ring we feature here could, in many ways, be a cocktail ring with how large it is. But it has a far more simple style, which actually makes it a more versatile option for those who want something large and ostentatious, but that isn't so unique that it won't pair with a wide range of other pieces of jewlery and fashions. This is a classic style of ring, but the size of the stones, the shape of the accent stones, and the use of yellow diamonds really make it one-of-a-kind.
A Unique Combination
Not only is this ring large and eye-catching, but it utilizes materials you don't see very often in jewlery. Additionally, the size of the stones and the shape of the accent stones also give it a very unique look and feel. The great thing about a ring like this is that it will actually pair with more fashions than you might originally think. Firstly, it will obviously pair with bolder styles. Since it is huge and definitely draws in the eye, it can easily be a bold statement piece of jewelry that you wear with something really formal or highly unique.
However, this ring also makes a great choice to pair with something simple. That will ensure that all eyes are on the jewelry and that it acts as the defining piece of the look. Just imagine pairing a ring like this with a little black dress. It will look great and be a show-stopper. This ring is great for those who have their own sense of style and unique personality. It features yellow diamonds, which you don't see very often in jewlery, and the size and shape of the cuts are also highly unique.
The Yellow Diamond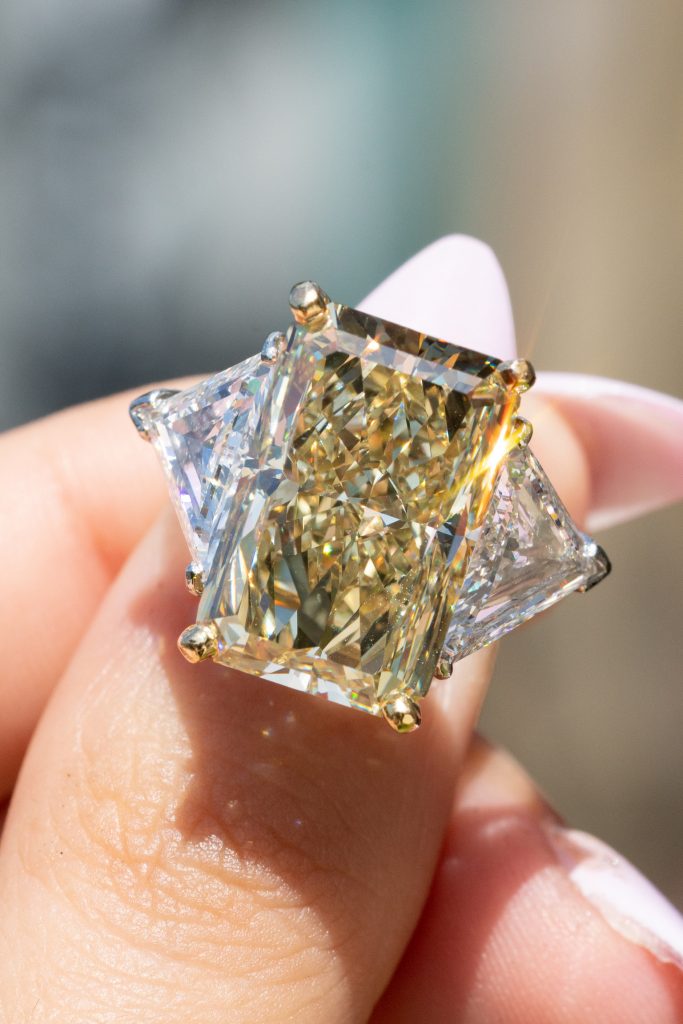 When we think of diamonds, chances are we are thinking about colorless and flawless diamonds. These are stunning stones that are hard to beat, but many don't know that diamonds actually come in a huge range of different colors. They are often referred to as fancy colored diamonds, and you can find them in pretty much any color of the rainbow. The great thing about these stones is that you get some color, but you still get the hardness and toughness of the diamond. Colored diamonds can range in hues from pink, black, yellow, brown, blue, and more.
What makes a diamond take on color is actually impurities or the inclusion of other materials within the structural makeup of the stone. With yellow diamonds, what we are seeing is higher than normal levels of nitrogen. These can range in hue from a really pale yellow to a highly saturated and deep hue. As a rule of thumb, the deeper and richer the color of the stone, the rarer it is. The stone we feature here has a rich, wheat-colored hue, which adds a bit of color, but not something so bright as to clash with other colors.
Triangular Accent Stones
Another thing that makes the three stone yellow diamond ring unique is the accent stones that feature in this ring. Accent stones are a common element of high-end jewelry. Most often, accent stones will flank a large center stone. Most often, they are in a rectangular or square cut to flank the main stone, but this ring is a bit different. Since the central stone of the ring is already unique, it needs something bolder than usual to pair with it.
For this ring, we see accent stones that are larger than what you might normally see in a ring. But what really makes these unique is their triangular shape. This gives the ring a really unique profile and adds to the bold glamour of the piece. These are colorless diamonds meant to accent the large yellow diamond. The stones are large and flawless and give off a bit of that sparkle and shine that makes the diamond such a popular stone for high-end jewlery. The great thing about a piece like this is that you get a unique colored diamond, but you still get the elegance and style of the classic colorless diamond. It is a really unique and beautiful blending of stones.
A Great Engagement Ring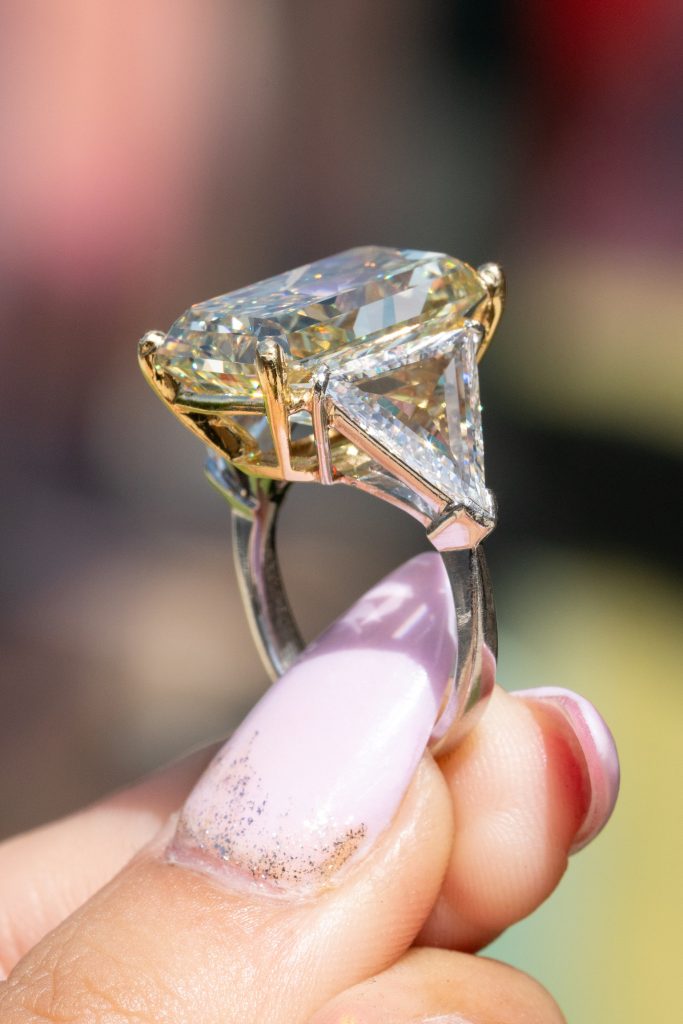 Choosing an engagement ring can be daunting. You are looking for a piece of jewlery that will represent your love and relationship, but that is also something you will be happy to wear every day for the rest of your life. Since it needs to stand the test of time, many people go for classic and timeless styles. There are many good reasons for this, but most important is that these styles defy trends and will continue to look great for many years to come – something really important in an engagement ring. But even if you want something that is in a classic style, that doesn't mean it can't be unique and all you.
This is where a ring such as our three stone yellow diamond ring make a great option. It is in the classic three stone style, but it is unlike any other three stone ring you'll find. The main stone is a huge, rectangular-cut yellow diamond. This stone is flanked by triangular-cut colorless diamonds. This creates a dramatic and unique-looking piece that is still classic enough in style that it can easily stand the test of time. It is a classic, but with a bold twist. 
The Perfect Statement Piece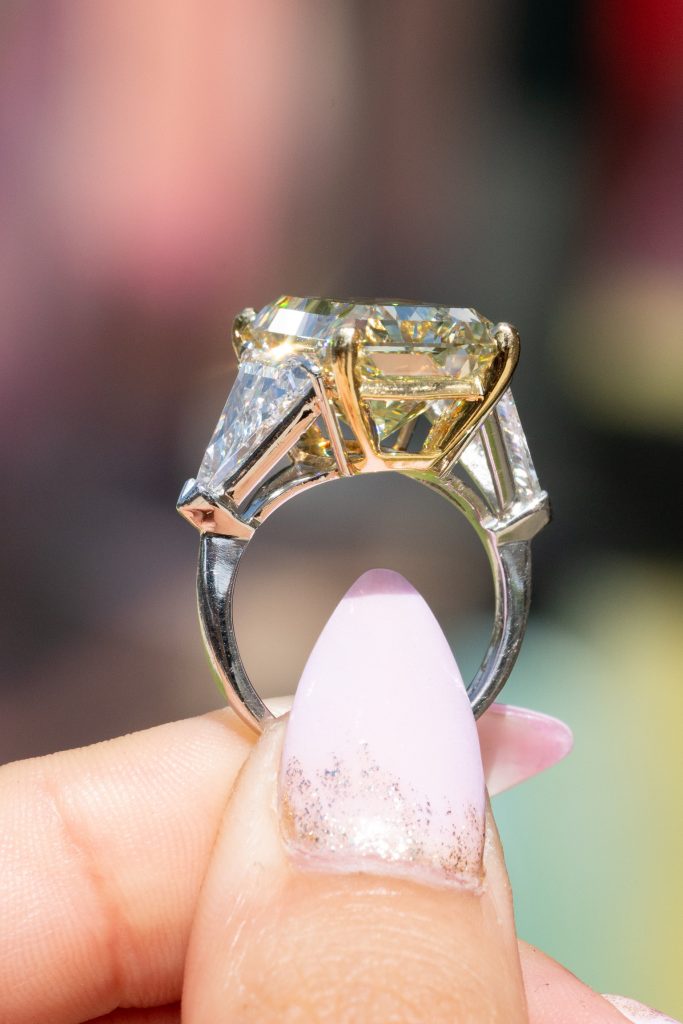 For some people, this is a bit too much for an engagement ring, but that doesn't mean it can't have a place in your ensemble of accessories. Since this ring shares a lot in common with cocktail rings, it can also be worn like one. What makes cocktail rings different from other styles is that they are often incredibly large, and may even be over-the-top in their style. This ring has these features as well. It is really elegant, but the large nature of the stones makes it a great option for a statement piece of jewlery. Statement pieces are those that you bring out or wear on special occasions.
Most often, statement pieces are those that are bold and eye-catching. They are pieces that you wouldn't typically wear to just any event. It is a piece that you reserve for special occasions. We think it is hard to think of a better statement piece than something like this three stone yellow diamond ring. This ring features unique materials and shapes to create a large, bold, and eye-catching piece of jewelry that will draw the eyes of everyone who sees it. And, it looks great at cocktail parties and other social events that allow you to dress up to the nines. 
Something a Little Different
Whether you are looking for the perfect engagement ring or a piece of statement jewlery that lets you show off your unique style, it is normal to want something that is unlike every other piece of jewlery out there. You want something unique, just like you. If this describes your personality, something like a three stone yellow diamond ring is a great option. It is a bold ring but that also has a lot of classic and timeless elements. The three stone ring is a classic style that is really popular for those who have classic senses of fashion. But this isn't your typical three stone diamond ring. Not only is it large than your normal version, but it features unique gemstones and cuts.
The yellow diamond is huge and really catches the eye. And the triangular shape of the accent stones not only draws the eye, but it gives the ring that sparkle that we all know and love. The use of a unique kind of diamond and usual cuts of stone definitely gives this classic style a twist. What you get is something incredibly bold and eye-catching, but that still has that classic style that is so popular.
Show Off Your Style
One thing is certain for all pieces of jewelry we select for ourselves: we want the pieces we select to help us create a personal style that is all our own. We are all unique individuals, so it makes perfect sense that we would want to create a style that reflects our unique selves. We do this through the clothing we wear, how we do our hair and makeup, as well as with the accessories we choose to pair with our fashions. Together, this will create a look that is all us. Unique and elegant pieces of jewlery are a great way to really round out your own signature and personal style. 
The pieces you choose will come to represent your personal style and show off what makes you uniquely you. A three stone yellow diamond ring is a great option for those who want a bold take on a classic favorite. The use of the yellow diamond sets this ring apart, and since the stone is so large, there is no way people will miss it. The accent stones of this ring are as large as some main stones in other rings, so they will also catch the eye.
In Closing
Some people have larger-than-life personalities and their style matches this fact. For those people, something simple and demure just doesn't cut it, whether we are talking about clothing or accessories. The three stone yellow diamond ring we feature here is most definitely not boring or demure. It is a bold and eye-catching piece of jewlery that will naturally draw in the eye of anyone who sees it. First and foremost, the yellow diamond is a rare and unique form of diamond. It gives the piece a bit of color, but not so much that it will clash with other colors or materials.
Additionally, the ring features colorless and flawless triangle-cut accent stones. This gives the ring an even more unique profile and allows you to enjoy the sparkle and shine of classic diamonds. This piece makes a great option for a bold engagement ring or a nice statement piece. Whether you want to wear this ring every day to express your love or you want to bring it out for special occasions, we know that you will love the bold and unique style of this ring. It looks great with a range of fashions and is definitely something that will catch the eye of any who sees it.