One thing this last decade revealed to us is how mixing metals works. This practice remains one of the most enduring fashion trends. Therefore, if you plan to pop the question sometime soon, know that these days, you're not limited to combinations as simple as yellow gold bands and bright white diamonds. Also, there is the option of a two-tone pear ring with metals that fit a unique two-tone appearance.
Meanwhile, there's no denying that pear-shaped engagement rings now seem on course for a significant comeback. More so, it's easy to see why. Here you have such stunning, teardrop-shaped pieces with timeless and eye-catching qualities. Again, they also extend your finger for a flattering appearance. Moreover, no matter the size, a pear-shaped diamond always seems to sparkle just a little bit extra compared to its counterparts.
In addition, pear rings are pure, grand, stunning, and utterly distinct jewelry pieces. Also, thanks to the shape of the two-tone pear ring, it is perfect for those who prefer something gorgeous yet a bit unusual. However, the question is, how do you know which two-tone pear rings will suit you best?
This text exposes you to everything you need to know before buying a two-tone pear ring. Here, we provide tips to help you pick the best rings out there that you'll cherish.
In addition, we'll talk about what exactly is a two-tone pear ring. What does the anatomy of a two-tone pear ring look like? Also, the intricate parts and 4Cs of any pear-cut diamond ring. We will also discuss the unique aspects to consider when shopping for a two-tone pear ring. Finally, we recommend how best to style your two-tone pear rings.
The Trendy Pear-cut Diamond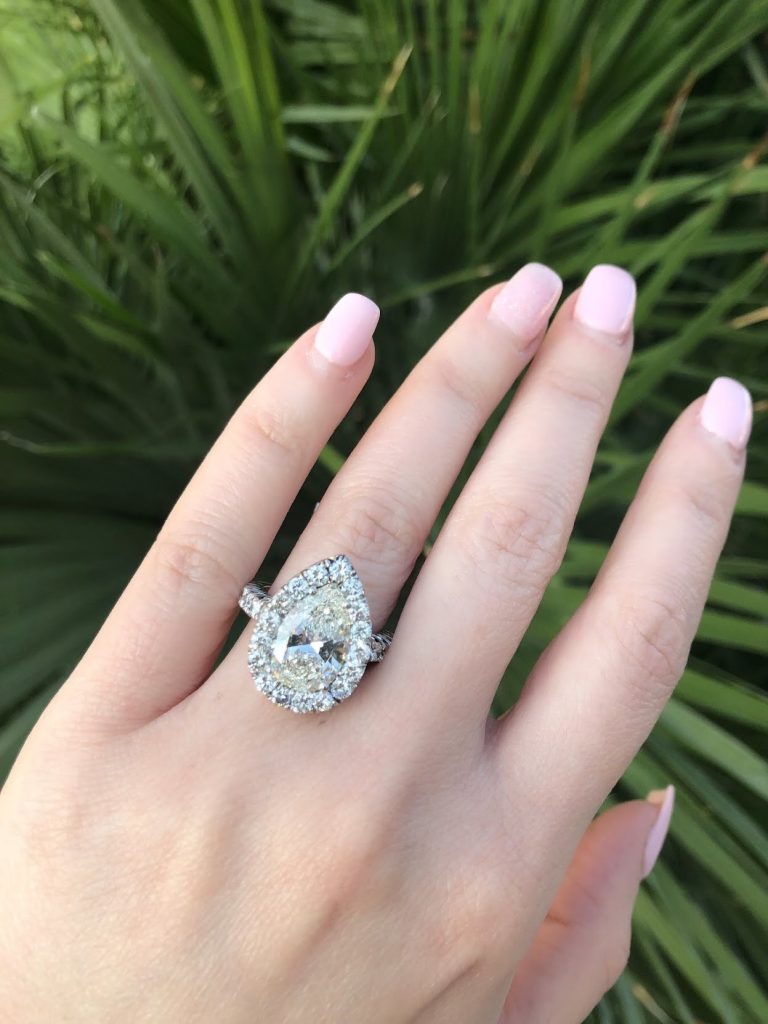 Pear-cut diamond rings are in vogue. These rings enjoy a recent rise in popularity. Here is a ring-type famous for several reasons. One of which is how they hide flaws perfectly. However, when badly cut, they can take on a dark void that gives the appearance of a bow tie.
Expert Cues
Pear-cut diamond rings can be worn with the tip facing up or down, depending on what works best for you. Nonetheless, how you choose to wear it can significantly influence the ring's appearance. Hence, we recommend that you try the ring on before purchase.
Being a pear cut, this ring enhances the color of the diamond. Due to this, you might need a more excellent color grade if you prefer a diamond that has an appearance closer to that actual white color.
Meanwhile, while diamonds may be the most lasting jewels, they're not exempted from the moving wheels of trends. Presently, pear-cut diamond rings are the style that's prepared for a huge comeback. This ring type falls under the class of rings known as the "fancy" shapes. The fancy shape is the big, extended family of rings that comprises any diamond that isn't round in shape.
Also, their name is a clear indicator of exactly how they appear, and pretty accurately as well. Moreover, the stones have a wide, rounded base on one end and an edged tip at the other. Consider this ring type as a mixture that blends the appearance of a round diamond and a marquise seamlessly. Another name for this asymmetrical shape is a teardrop. As far as we're concerned, this teardrop is the happy kind.
The Pear Shape in Two-Tone Pear Rings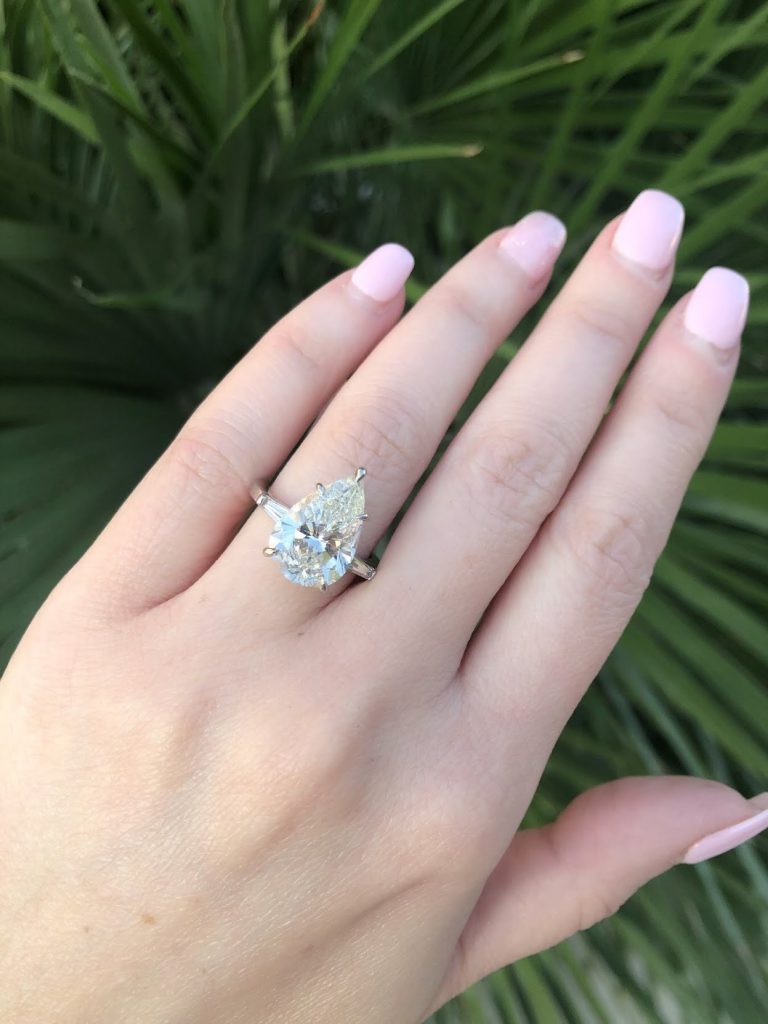 Whenever you step out to buy any diamond, you should have all the knowledge about what you intend to buy. Having said that, let's take a closer look at what makes a two-tone pear ring.
These two-tone pear-cut diamonds get the name due to their shape and mixture. When viewed from above, they have the appearance of a pear. Due to this exact purpose, pear-cut diamond rings are sometimes referred to as teardrop diamond rings.
With two-tone pear rings, you get an adapted version of the brilliant cut, which is a cut with a layout that effortlessly emits stunning brilliance. When you check out the broader, rounded end of two-tone pear-cut diamond rings, the cut appears like a round, brilliant diamond. As for its narrowed, pointy edge, two-tone pear-cut diamond rings' cut looks like marquise diamond rings.
What Is a Two-Tone Pear Ring?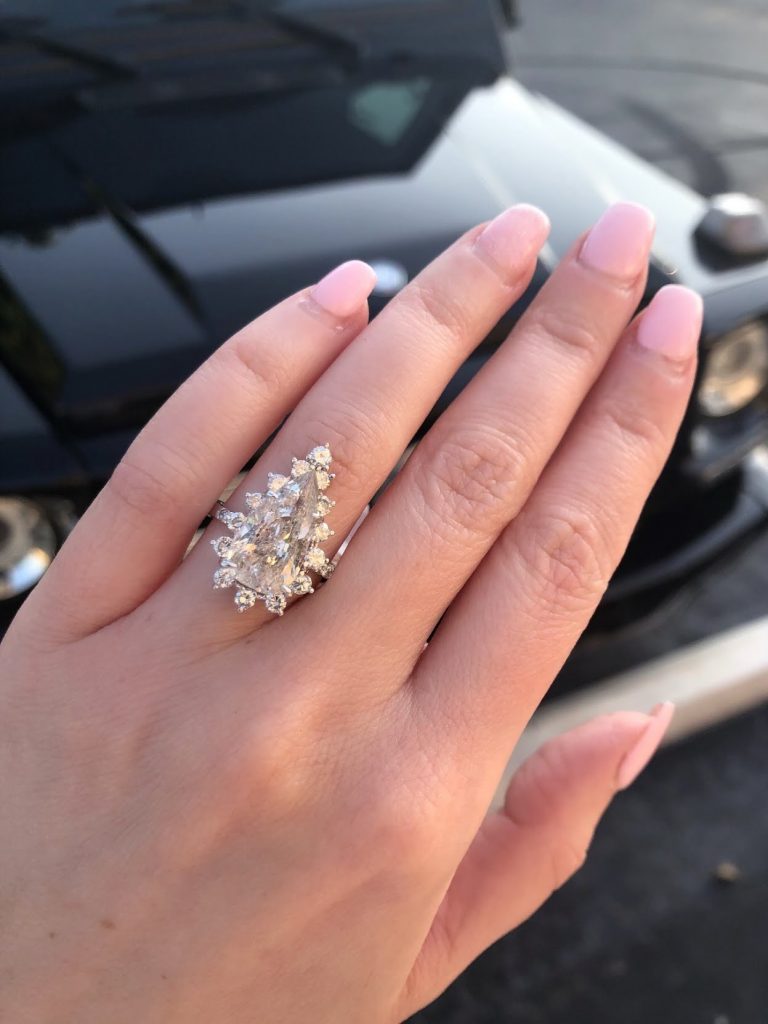 The two-tone pear ring is a pear ring composed of two distinct metals. One combination in this range that is most common is platinum and yellow gold. Nevertheless, a two-tone ring can come with any combination of yellow, rose, or white gold.
Slisha Kankariya, the co-founder of With Clarity, explains, "Two-tone rings can symbolize the coming together of two different lives. However, most often, two-tone rings just speak to style preferences. Sometimes, white gold prongs are chosen with a yellow gold shank or band. The white gold prongs blend more easily with the diamond, allowing the shine to come through more."
More so, it is this more fierce "shine" that Jillian Sassone, principal designer of Marrow Fine, merits as the supreme allure of the two-tone pear ring. She explains, "We love how the two-tone look works for lighter color stones, and we typically incorporate the technique when working with white diamonds."
In addition, Jillian Sassone says, "It helps the prongs around the engagement ring blend in with the diamond, accentuate its whiteness, and make the look altogether seamless so as not to overpower the beauty of the gemstone(s) being used in the ring design."
The History of Pear-Cut Diamond Rings
Pear-cut diamond rings are hardly a new presence in the industry. Flemish diamond polisher Lodewyk van Berquem introduced this diamond cut and color in 1458. Still, engagement rings with a two-tone pear-cut diamond are happy victims of a recent uptick in popularity and pop-cultural significance.
For example, Game of Thrones actress Sophie Turner flaunted her engagement to Joe Jonas with an Instagram post of her pear-cut diamond. Also, hip-hop superstar Cardi B dons a similar ring type. The same goes for Ariana Grande when she got engaged to comedian Pete Davidson even though it was for a short time.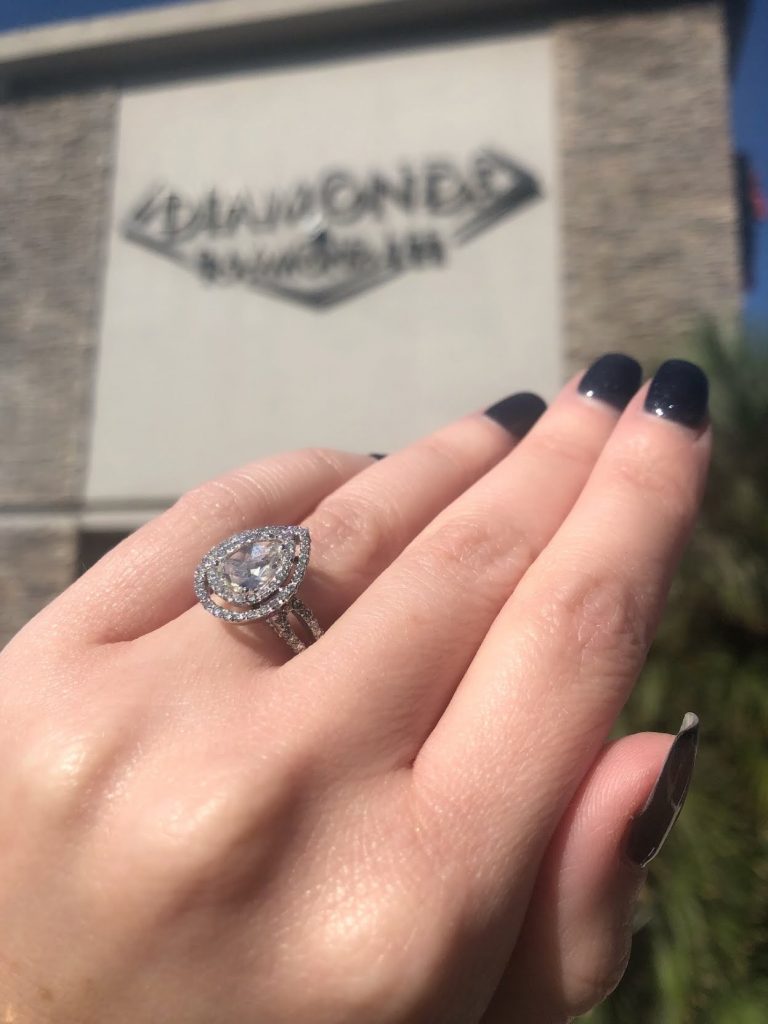 These two-tone pear-cut diamond rings feature diamonds linked to high mid-century beauty. Perhaps, the most famous pear-cut engagement rings were the platinum-set, nine-carat jewel Frank Sinatra gave Mia Farrow in 1966. Meanwhile, in 1969, Richard Burton got a 69.42-carat stone for jewelry-loving legend Elizabeth Taylor. Given the name, the Taylor-Burton diamond, the actress styled the diamonds on a necklace and as a ring.
If you want a two-tone pear ring as your engagement ring, visit Diamonds by Raymond Lee. There, you can check out what kinds of ring designs work best with that shape for you and your intending bride. There is a vast selection that ranges from vintage to modern — and can easily cater to every budget range.
Pros and Cons of Two-Tone Pear-Cut Diamond Rings
Grace Lee says in her own words, "Because of their elongated shape, pear-cut diamonds show larger than some of the other diamond shapes, like a traditional round brilliant. Because of this, they can be a better value with a larger surface area."
With the stones in two-tone pear-cut diamond rings, you get an appearance bigger per carat. Yet, because of their uniqueness and color, they can also be delicate jewelry pieces. Grace Lee, a Los Angeles–based fine jewelry designer who launched her eponymous line in 2008, explains, "[a pear-cut engagement ring] has a very small, pointy tip that can make it vulnerable to damage."
Then, there's a warning from Ashley Zhang, a fine jewelry designer by training and trade. She opened her eponymous brand after studying fashion design and fine art painting at Parsons School of Design. In her own words, "Placing a prong or a v-prong on the point or choosing a bezel setting around the entire stone can help protect the tip of the stone from breaking or chipping with wear." Once more, Lee says, "Since pear-shaped diamonds are not symmetrical—when comparing the pointed side and the rounded side—they can sometimes appear lopsided and heavy on one side."
Ultimately, these two-tone pear-cut diamond rings can feel easily customizable. More so, as we mentioned above, you can wear this ring with the diamond facing up or down (north-south). Not only that, it can be horizontal (east-west) or slightly off-kilter. It is your choice to make eventually.
Details to Know When Shopping for Two-tone Pear Rings
What makes these two-tone pear rings high quality?
Here is what Zhang feels: "Pear-cut diamonds, like ovals, can have a 'bow tie' or a darker loss of light in the center of the stone. The bow tie on a well-cut pear-shaped diamond should be minimal, and the symmetry of the stone should be even and have nice proportions—not too long and skinny or too wide and stubby."
What are the best settings for two-tone pear-cut diamond rings?
Lee, who prefers to set pear diamonds at an off-angle in both prongs and bezel settings, says, "Traditionally, pear diamonds have been set in a north-south or east-west orientation."
What metals are perfect fits for pear teardrop engagement rings?
According to Zhang, "All metals work with pear-cut diamonds." Zhang also notes that these diamonds are likely to show more color than other cuts. Hence, for anyone who wants their diamond to appear very bright—particularly when set in yellow or rose gold—go for a diamond with an H color (i.e., nearly colorless) or higher grade.
It is vital to properly understand the 4Cs (color, cut, clarity, and carat) when shopping for any diamond, including two-tone pear-cut diamond rings.
Color: This aspect focuses on the grading of how white a diamond is.
Cut: Here is a grading of how well a diamond was cut.
Clarity: This area grades how flawless a diamond is.
Carat: The weight measurement can give you a clue of a diamond's size most accurately.
Considering these details in a two-tone pear ring, you'll want to evaluate them the same way you would with any other cut. Keep in mind that these details are all exceedingly important, and it is a matter of personal preference. However, your budget also influences that decision.
Proper Maintenance for Your Two-tone Pear Rings
Giving proper care to your two-tone pear-cut diamond ring requires attention and knowledge of what you're doing. Lee advises using a soft baby toothbrush and an all-natural mixture of apple cider vinegar and baking soda to mildly and safely clean your two-tone pear-cut diamond rings.
Knowing that two-tone pear-cut diamond rings can be vulnerable to chipping and damage, it's crucial to always handle your ring with care.
Katie Zimmerman, the chief of merchandising at the Blue Nile, warns, "For ongoing care specific to pear-shaped engagement rings, it's important to remember to remove the ring while being active or exercising. The elongated nature of the pear stone with the point at the end, which makes it so pretty, can also cause it to be the first thing that is impacted if a significant force hits it."
These safety measures include frequently checking the security of these two-tone pear-cut diamond rings as well. Zimmerman also adds, "It is not uncommon for prongs to become loose over time with wear, and checking them will make sure they are always secure."
Finally, it would be best to place your two-tone pear rings in a safe place. You can use a jewelry box or fabric-lined ring box before partaking in any hand-heavy activities during the day. "As a general rule of thumb, it's best to remove your ring when exercising, washing dishes, showering, baking, gardening, or putting makeup on. This will keep the ring shinier for longer, so you're spending less time cleaning the diamond and band," clarifies Zimmerman.
Conclusion
So, are you looking to start a wedding ring stack with something that sets the tone? But are you finding it hard to land on one specific engagement ring setting? Or are you just really into mixing metals? If you fall into any of these categories, indeed, you can't go wrong with a two-tone pear ring.