TAG Heuer Monaco Watch Review – Steve McQueen's Iconic Style
TAG Heuer, a brand name well known around the world for their incredible time pieces. Ones that are associated easily with elite sports athletes, actors and celebrities around the world. A TAG Heuer is a watch for a lifetime. Long lasting and resistant these time pieces are not your average fine watch. While the classic stainless steel look is instantly recognizable and most definitely one of the most beautiful looking pieces around these are not your usual items. The TAG Heuer watches have been beloved by many a famous character from Steve McQueen to Maria Sharapova. The watches they want perform at the highest standards and thus have become synonymous with the TAG Heuer promise. The commitment to excellence and ultimate performance always incredibly precise no matter the conditions under which it finds. It is how we have famous fine watches like the powerful TAG Heuer Monaco men's wrist watch.
There are incredible watchmakers in the world. From the renowned to some of the oldest craftsmanship skills in the world. These are the haute horlogerie skills and styles that permeate the world of fine watch making now a days. Ever since Switzerland became known for bringing the world some of the finest and most precise watches one could think of. Far before we were ever even flying in the skies. These craftsmen and the companies that backed them were pushing the limits of innovation and of what is possible. One of these incredible companies is TAG Heuer. Since 1860 they have been bringing the world time keeping pieces that are efficient, durable and beautiful. Simply put watches that do not crack under pressure TAG Heuers are the types of watches that can be put to the test no matter what you require of them. These pieces will continue ticking away.
TAG Heuer
Built up by the 20 year old entrepreneur who began this world renowned and historied company, Edouard Heuer, TAG Heuer is a well known fine watch maker. From their beginnings at the latter end of the 19th century to modern day technological advances the TAG Heuer watch is one for tough conditions. Particularly adept at precise time keeping under pressure these watches are sportive, elegant and powerful. Throughout the major technological revolutions of the last almost two centuries TAG Heuer has not only just kept up with the times but actually been at the front edge of innovation. Always pushing and enhancing their creations to be at the forefront of haute horlogerie TAG Heuer is a brand that is synonymous with exquisite quality and refined taste. Although we must say the brand isn't made up of master craftsmen only concerned with functionality. These watch makers are also obsessed with form.
It is how they have crafted designs at the very bud of aesthetic simplicity and beauty. These aesthetic ideals are imbued into their classic and iconic models such as the Carrera and Monaco watches. These along with some commercial revolutions are how the TAG Heuer brand became so closely associated with big names like Steve McQueen and Juan Manuel Fangio. The exceptional quality of these watches as well as their associations have brought the brand great pride. As well as great fame. Among luxury watch aficionados and prevalent collectors alike. These irresistible pieces that TAG Heuer has created over the years are an embodiment of power, functionality, youthful design. Robust and reliable these watches are majorly appreciated among younger gentlemen. In their own words, found on the official website, luxury that lasts forever is what truly sets them apart. Gentlemen around the world appreciate the chronographs made with absolute excellence.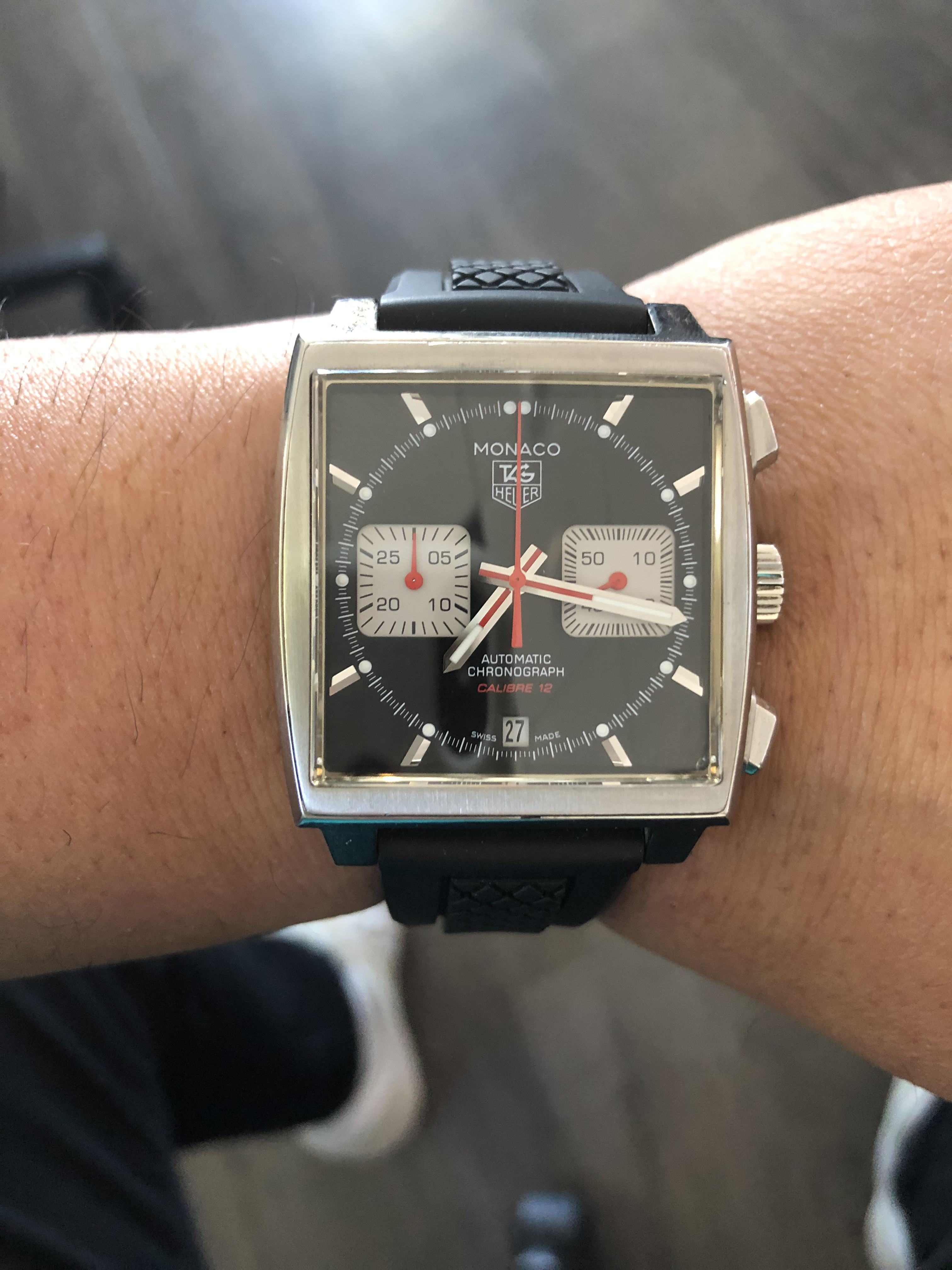 The Monaco TAG Heuer – Steve McQueen's fine watch
he TAG Heuer Monaco watch. A timeless classic that became famous not only in its own right but also by function of becoming one certain American actor's absolute favorite watch to wear. We are referring to of course the renowned Steve McQueen. The so called "King of Cool" who did not follow or even set trends but was pretty much his own movement as he went. Anything that was a Steve McQueen preferred taste you can bet half the country liked as well and to this day the legacy continues. And so here is how we ended up with his anti hero persona's preferred men's watch accessory becoming the centre of what was the height of counter culture of the 1960s and 1970s. His passion for his TAG Heuer was further emphasized by the Le Mans racing suit sporting the brand's logo large and clear on his right breast.
There is now even a special edition TAG Heuer made specifically in honor of the incredible actor. This timeless classic was after all his favorite and worn throughout much of his life as well. Further the Monaco collection is iconic in its own right. Named after a city well known for its racing. The watches like the city are the epitome of luxury, elegance and prestige. Along with an unmistakable vintage flair that permeates every part of it. After Steve McQueen wore the TAG Heuer Monaco in the beloved American classic film Le Mans the legendary 1970s sport racing film the watch became synonymous with living life in the fast lane. The square and groundbreaking design of the Monaco watch case is a bold design. Also it is a powerfully water proof and protected with the folding clasped bracelet. There are many iterations but we've got two to compare below.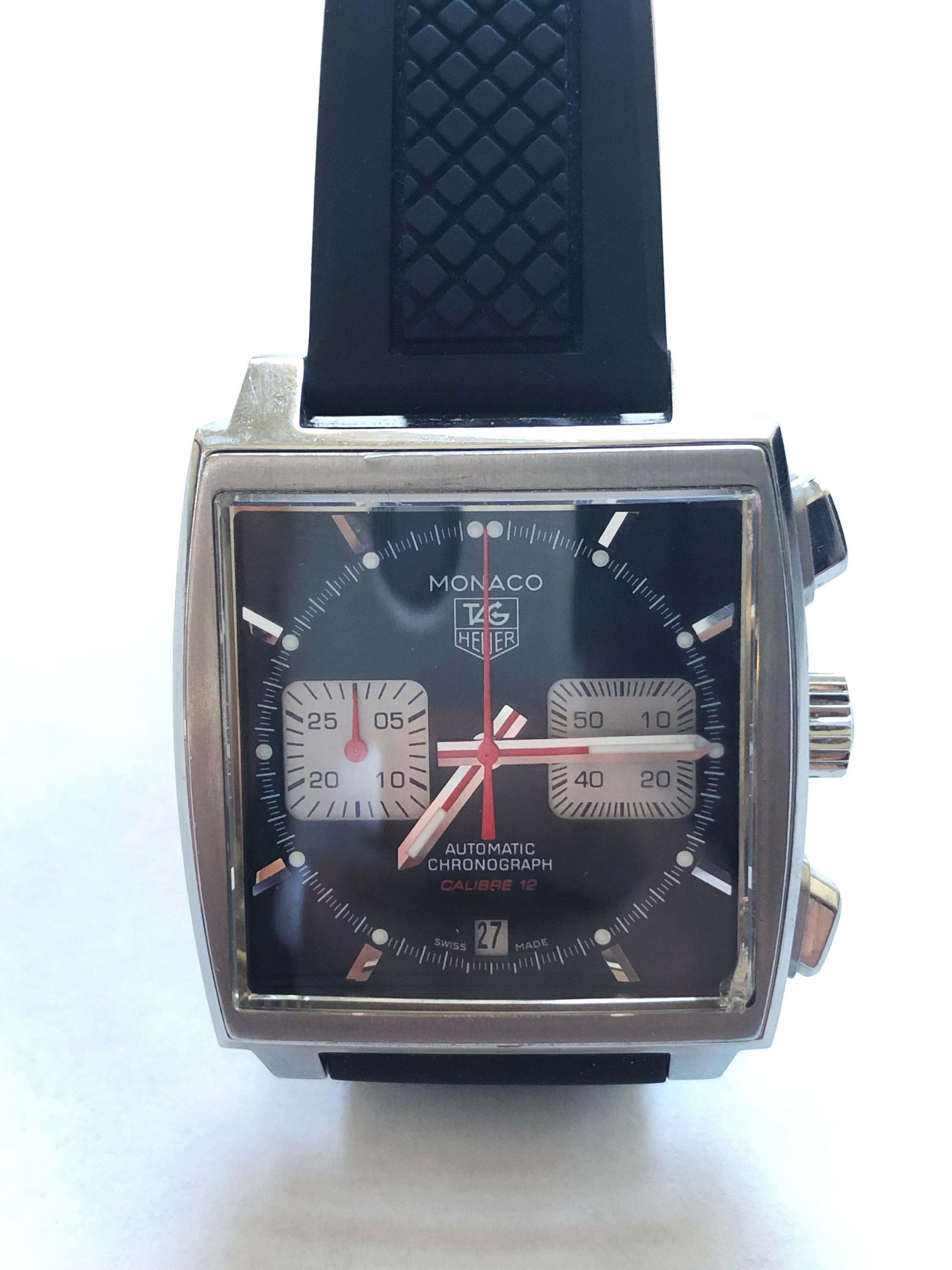 TAG HEUER MONACO AUTOMATIC CHRONOGRAPH CALIBRE 12 BLACK RUBBER STRAP WATCH
First, the Calibre 12 a sportier version. Now this black rubber strapped Monaco watch has go the two classic sub dials and automatic movements you expect. However it has also got some tricks up its sleeve. The skeleton backed watch is a powerful machine. For those living life in the fast lane keeping track of time is more important than ever and no one can hold them back. When it comes to an intensely reliable and powerful machine for time tracking a TAG Heuer Monaco men's watch is the way to go. A gentleman's accessory it is reminiscent of a bygone era. Meanwhile it is still not just capable but leading innovation in every way. There is no doubt when it comes to the Monaco watch. It is a powerful tool for racing or living a race. The automatic chronograph is a signature statement modern classic that is for sure.
Strong, fierce and in a league of its own. This watch has incredible detail. It has a black finishing. As well as rhodium plated indexes. Further the body case has fine brushed and polished steel look. Of course the Calibre 12, as it is known, has Calibre 12 movements. These Swiss made movements come with an automatic winding system, a battery reserve of 40 and a date window. The bright red seconds hand marker as well as on the sub dials enhances visibility. Because when you are racing every second counts. And you need to count each and every second to make it count. This watch is a high performance tool but also has room for improvement or correction. It contains a fast date correction. As you can see below every part of the TAG Heuer Monaco watch is a conscious decision. All functional and absolutely setting this watch apart.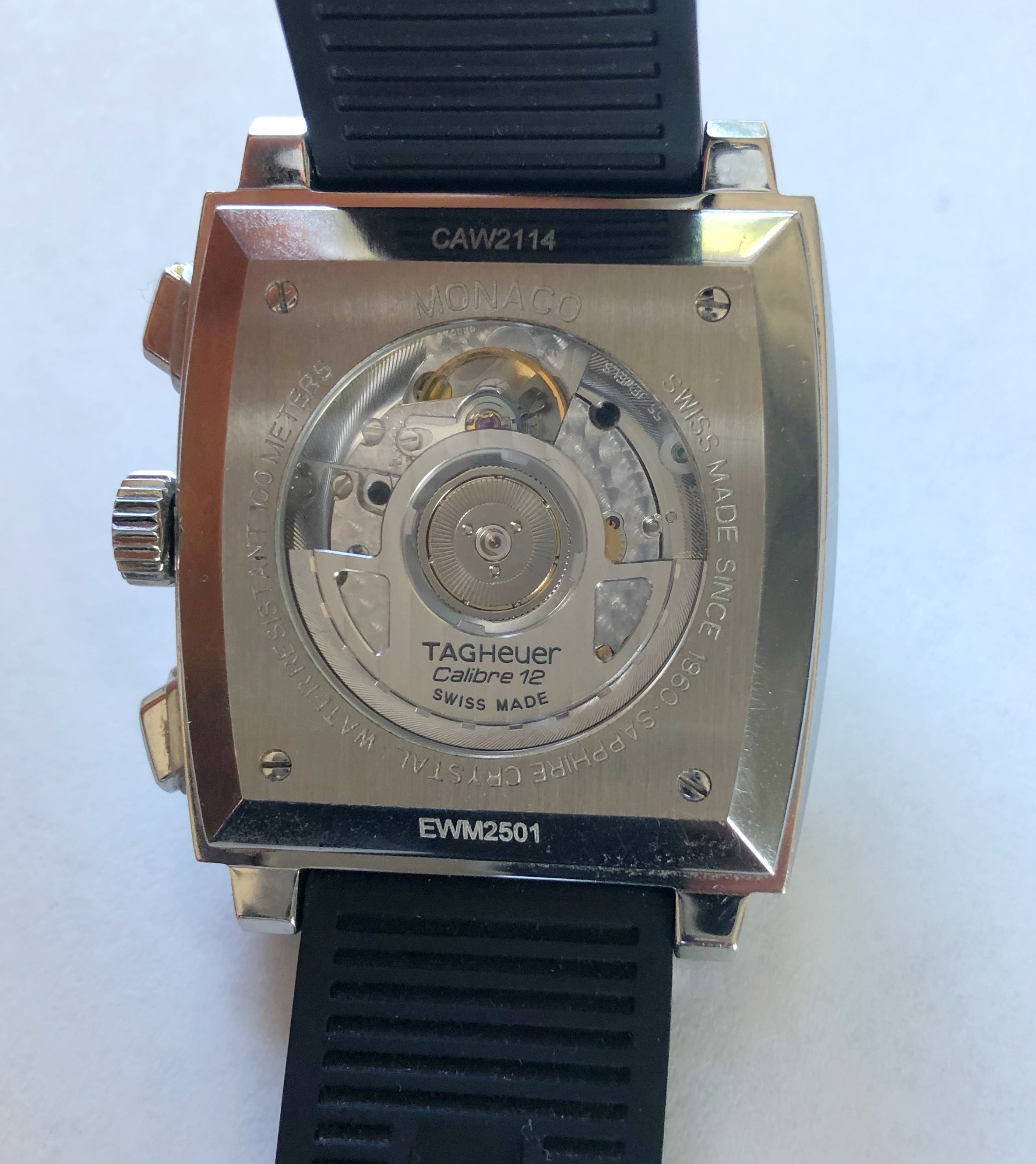 TAG Heuer Monaco Calibre 12 watch fine details
Now a truly unique feature of this watch is the skeleton back. Through the crystal window you can see each and every one of the rotating pieces of this watch's movements. It is a gorgeous Calibre 12 view. Unique and surrounded by four visible accent screws this feature is a TAG Heuer touch for those who truly love their watches. It is luxurious and aesthetically challenging. While it remains a closely held secret if you will, while it is worn, the skeleton back is an impressive feature. Showcasing the master craftsmanship of the Swiss maker. Ready to mark infinitely small increments of time this watch is also ready to be watched working. An innovation fruits of the effort of designers and craftsmen alike. It opens up the horizons of imagination. For a fine watch such as the TAG Heuer Monaco is not just for wearing.  It is simply an accessory.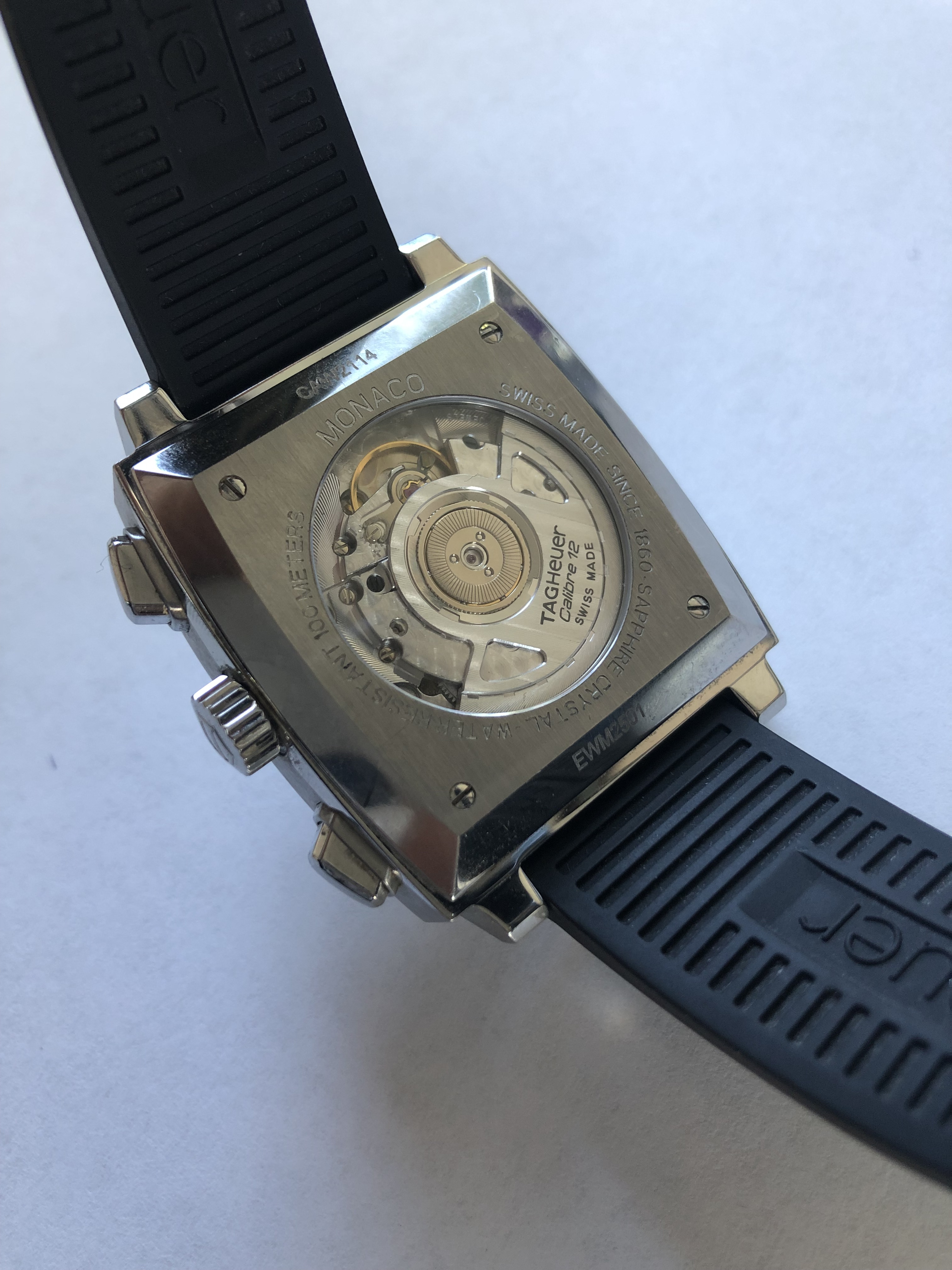 The sportive rubber strap features a racing aesthetic design. Similar to the treads on race car tires this rubber strap is textured and ready to grip. Both on the inside and the outisde. It is a comfortable wearing bracelet that stays put on your wrist without becoming stuffy or uncomfortable on your skin. Meanwhile the clearly automotive racing associated pattern gives the sportive watch its edgy look. The crown of this watch is rather close to the body of the case making it sleek and comfortable as well. It does not affect your wrist when bent back.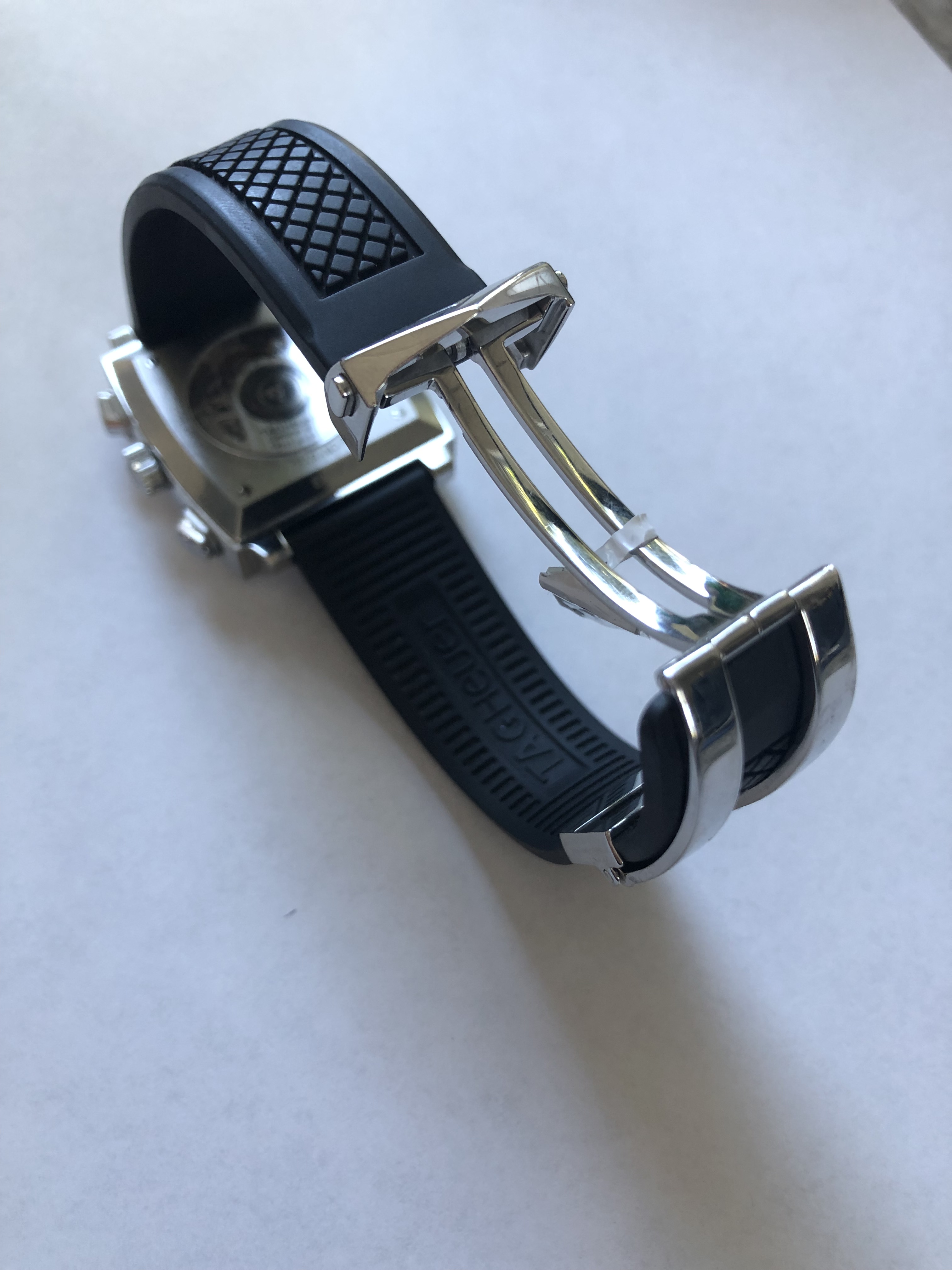 The clasp is a strong and reliable stainless steel fold over. As you can see below it sleekly closes off with the TAG Heuer logo. This is an easy open yet secure clasp. For all of your sportive needs. Whether it is just for aesthetics. A radical sport. Or even racing around the track.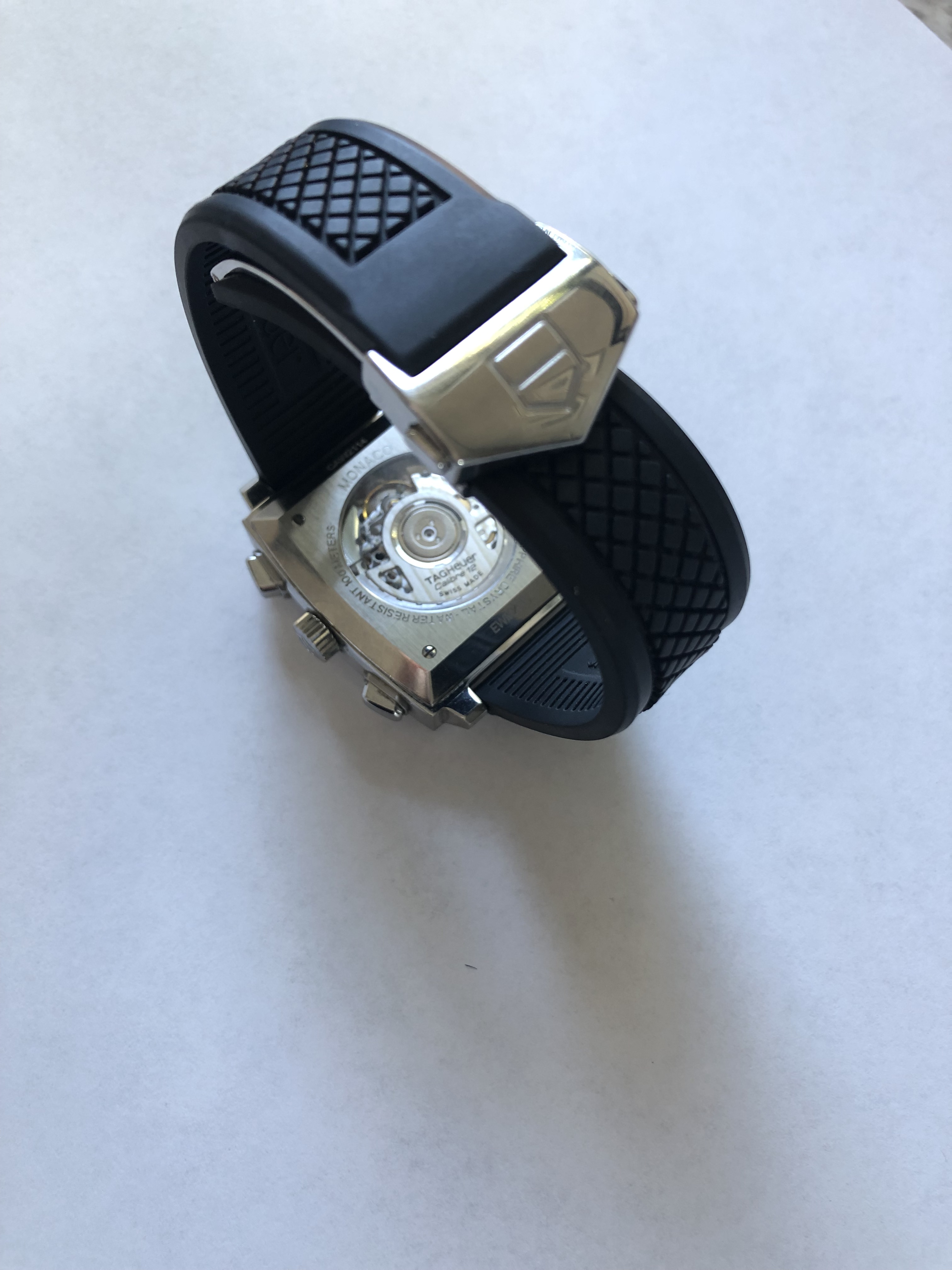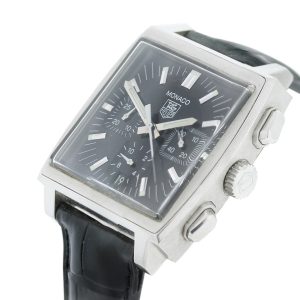 Next up is truly a fine timepiece an ode to the wondrous American actor whose name became synonymous with the TAG Heuer Monaco watch, Steve McQueen. This one is less sportive than the version above. With a soft calfskin black leather band it has a more formal look. For a formal night out it is equipped with luminescent silver hour and minute hands. As well as luminescent dial markers. The size is adjustable up to eight inches and the movements are also automatic. This rendition does have scratch resistant sapphire crystal. It is what you can imagine Steve McQueen wearing on the red carpet rather than on the race track. Even when he was not performing on the big screen it is true Steve McQueen was still sporting his beloved TAG Heuer. The leather bracelet has a double push function and is adjustable. Overall it is a more city version.
It also has a lovely fold over stainless steel clasp with the TAG Heuer logo.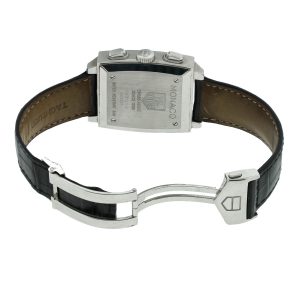 Where to buy TAG Heuer Monaco men's watches in South Florida? Diamonds by Raymond Lee
Diamonds by Raymond Lee is your premier destination in South Florida when it comes to buying fine and luxury time pieces. We have an extensive curated collection of pieces from world renowned brands like Rolex, Patek Phillippe and of course TAG Heuer. We keep a large collection of time pieces from limited edition and special selection editions like the Steve McQueen edition from TAG Heuer. For the gentleman who is an avid collector, just starting to get his first few unique pieces to those that are hunting down singular items that are hard to come by and even harder to come by in impeccable shape, we are the watch experts. The experts you have been looking for to rely on when it comes to your fine watches and time pieces. Our master craftsmen are knowledgeable in all of the fine watches and their intricacies. Prepared and experienced they are reliable.
They are also deeply committed to offering a superior service always pushing themselves to be at the cusp of industry innovations. In order to support them in these endeavors we at Diamonds by Raymond Lee also supply only the very best of equipment and machinery that is available. So you can rest assured that every single time piece that comes to us has been inspected and rigorously tested by our experts. Using the world's tools and taking its due time to make sure all are performing at the desired TAG Heuer standards. For these are watches known for their powerfully precise precision and we know when you come to us for a new piece you seek the absolute best. Our clientele is discerning and knowledgeable therefore we seek to support you in every step of the journey. Get in touch with us for more information on the TAG Heuer Monaco.