Stacked
Today, the odds are stacked in your favor. There's a 100% chance you're about to be stunned by some gorgeous stacks! You know we love a good bracelet stack – especially when Cartier Love Bangles are involved. But lately, we've been all about the ring stack.
It all started when we became Gabriel & Co. NY authorized dealers. We'd seen stackable rings before, those lovely, thin and delicate diamond bands just begging for a partner (or 3.) But Gabriel changed the game – this is when we started to see intricate shapes, patterns, and styles of thin, stackable bands. They were (and are) so easy to mix and match. You literally can't go wrong with any of their straight bands (the curved ones are designed to fit snugly against engagement rings.) In fact, they're so flexible, we have no problem stacking them with our other designer brands, like Uneek and Verragio. You can't go wrong!
Inspired by Gabriel, we started stocking (stacking?) up on other designer bands that played well with others. Now we have an enormous selection of stackable wedding bands from several of our luxury designer engagement rings – and they all make us swoon!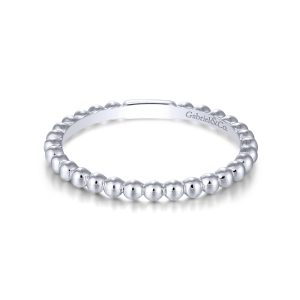 This Gabriel NY lovely features an oval shaped solitaire on a diamond band, stacked with Gabriel's contemporary 14t white gold band (WB3848W44JJ) and one of Gabriel's classic shared prong diamond anniversary bands – we have them in a huge variety of price points and carat weight!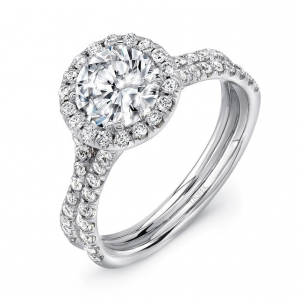 This stack is a beautiful Uneek sandwich! The center ring is Uneek's Silhouette LVS965  (which also comes in platinum) set between two rose gold Uneek anniversary bands.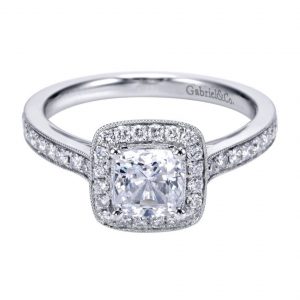 This beautiful Gabriel stack starts with a square halo – it can fit a cushion, radiant, or princess cut center stone. The ring is a lovely compilation of channel set round brilliant diamonds in mil grained what gold. We added the matching wedding band (which comes in lower carat weight and lower price points too!) but first we added this .12 carat round bezel set band.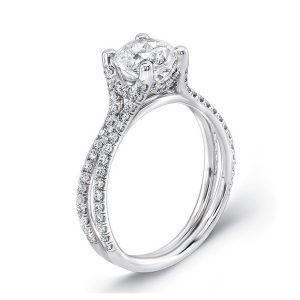 There's just something about Uneek rings – they deserve two bands! This time we reversed the white and rose gold, putting a two-tone rose gold and white diamond halo in the center. On either side, we stacked the WB229 white gold anniversary rings with .22ctw of diamonds.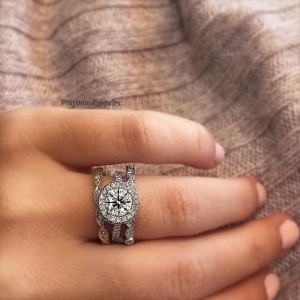 This stunning stack features our 1.07ct Round Brilliant Halo Set Engagement Ring. We added two different, but similar styles of Gabriel bands, the top one is the AN8386W44JJ and the bottom is the similar LR4381W45JJ.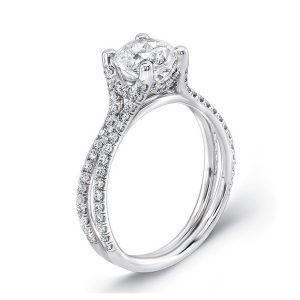 And finally, lest you think you need to be a married woman to get your stack on – check out all the gorgeous styles of rings that stack just fine with each other! Whether you want some right hand bling, or you'd like to start a collection of your own, these beautiful bands come in a  style for everyone.