Simon G Earrings for Varied Tastes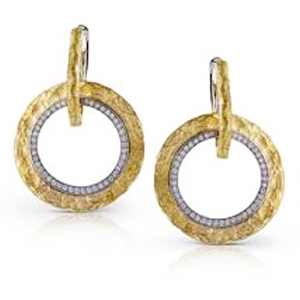 Stylish, high-end earrings like those made by Simon G are stunning works of craftsmanship and art. Earrings make great accessories and come in a huge variety of shapes and styles. You can find incredibly simple, classic earrings, such as diamond studs, that have a timeless look of glamour and elegance. There are also bolder, trendier options for those who have an edgier or fashion-forward style sense.
The accessories we pair with our ensemble can make or break the outfit. You want to be sure that the accessories you choose are suitable for your lifestyle. You also want to make sure that they fit your fashion sense and personality. If you like classic, timeless, and elegant designs, bold, flashy earrings may not work well with your style. 
Earrings can add a bit of shine and flash if you use quality gemstones like diamonds. Or, they can draw attention to your neck and provide a slimming effect. Dangle earrings, for example, look great with formal wear and low-cut dresses. They elongate the neck and draw attention to this asset. The various types of earrings make it easy to find the perfect pair to fit your personality, taste, and lifestyle.
Whether you want simple earrings made from fine materials, or you want something bold and eye-catching, Simon G has options for you. The company makes a range of high-end jewlery and is popular amongst some of the biggest style icons of our time. It is easy to see why these earrings are so popular amongst the upper echelons of society and those with discerning tastes. 
Earrings as a Style Statement
Earrings can easily become a style statement. A pair of earrings that fits your lifestyle, personality, and fashion sense can quickly become part of your signature look. Or, you may choose to wear earrings for special occasions or formal events. Whatever occasion you want to wear earrings at, a pair of Simon G earrings is a great choice. Whether you choose an elegant pair that is studded with diamonds, or a pair that uses a unique gemstone such as tourmaline, there are options for you.
There are tons of different types of earrings, so you can easily find a pair that will work well with your lifestyle as well as fashion sense. Depending on your fashion style, the type of earrings you choose will vary. Say, for example, you are fashion-forward and have a bold sense of style. Choosing a pair of earrings that uses unique materials or that are eye-catching just makes sense. For those who have a more classic and timeless look, choosing earrings that have classic profiles and use simple, elegant designs works really well.
A quality pair of earrings can take any look to a whole new level of style, class, and glamour. For example, say you are out on the town wearing a daring dress with a plunging neckline. Pairing this dress with a pair of sparkly dangle earrings that feature high-grade diamonds will give your look elegance and high sophistication. Or, conversely, say you are spending the day lounging around the house in casual attire. A simple pair of stud earrings that feature high-quality diamonds and metals will enhance that look and give what is generally a simple look an element of glamour it wouldn't otherwise have. 
The Many Varieties of Earrings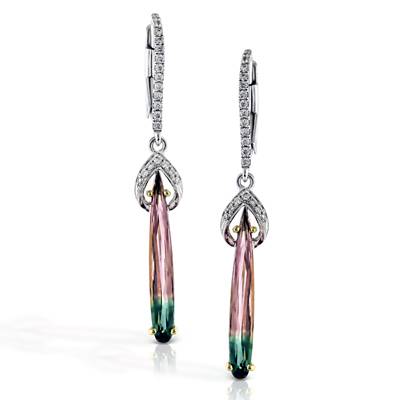 As we elude in multiple places, earrings come in a wide range of styles. They can be incredibly simple or they can be dramatic and eye-catching. What works best for you will depend on your lifestyle and fashion sense. So, for example, those who live more active lifestyles may want something simple. Stud earrings, or those that don't extend below the earlobe, are a great choice for those with active lifestyles.
If you lead an active lifestyle, dangling earrings may not be suitable for you. Or, you may want to save them for special occasions. With stud earrings and those that don't go below the earlobe, you can still be active and look great, without having to worry about the jewelry cramping your style. 
For those who don't lead active lifestyles and have a tendency towards high fashion, the options are endless. Dangle earrings are dramatic and come in a huge variety. For example, some dangle earrings will extend just below the earlobe, whereas others are much longer and more dramatic looking. These earrings look great with formal wear and business attire.
Hoop earrings are another popular style and have some of the benefits of both styles we discuss above. They can be small or large, depending on your style and sense of fashion. Small hoops can draw attention to the neck, but still have the effortless elegance we desire. Large hoops are bold, eye-catching pieces that are perfect for those with a bold sense of fashion.
These are just a few of the common styles of earrings available. The great thing about this piece of jewlery is how versatile it is and how many different configurations you can find. This makes it really easy to find the perfect pair for your lifestyle and fashion sense. 
The History of Simon G Jewelry
Simon G is a popular maker of high-end jewlery. The company saw its founding when Simon Ghanimian decides that the jewlery business was his calling. As an immigrant, Simon arrives in America with a dream of pursuing an engineering degree and living the American Dream.
The story is, he shows up in New York with $200 and finds this is not enough to sign up for college courses. Thankfully for Simon, there were relatives living in the area that worked in the diamond district of the city. They would invite him to work there, selling diamonds, to save money for school.
But rather than use this to go to school, Simon would realize that he had a talent and passion for the jewelry business. Over time, he would create his own designs, and rather than save for school, he would save for materials for his future creations. 
He would sell his products door to door until one day he took a trip to California where he would meet his wife and never return. After moving to Los Angeles, he set up his business under the name of Simon G. This is where the famous brand got its start. 
Since he had his start selling diamonds, this is where a lot of his emphasis on jewelry making is. They seek to use the finest quality materials. The company's buyers hand-select each and every stone and even inspect them under microscopes. This ensures that they only use diamonds of the highest quality and with the fewest flaws. 
Professional Standards and Patents
The company also sets standards for secure diamond settings. Unlike others in the industry who pair fewer prongs and glue to secure diamonds, Simon G uses additional prongs to ensure security without compromising the look of the piece. The company doesn't want to scrimp on quality in design and feels that using glue, rather than extra prongs for security, is an unnecessary shortcut. 
The company has a range of patents that set them apart from other jewelry makers. One of these patents allows the piece to have the appearance of an invisible setting. All the while, care is taken to ensure that the stone is incredibly secure in its setting. 
Simon G makes a wide range of jewelry, with a special focus on diamond jewelry. The company is popular for its stunning ring settings and designs. They also have fine lines of bracelets, necklaces, and of course, high-end earrings. 
Simon G Earrings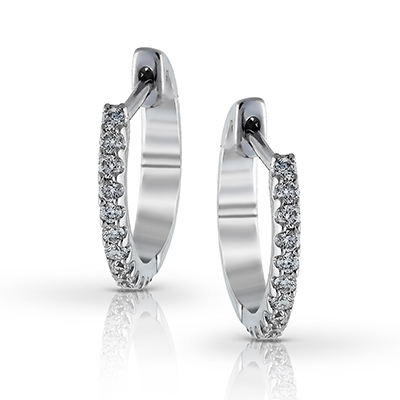 Given the history of the company, it should come as no surprise that Simon G earrings are some of the finest and most varied available. Like all jewelry the company makes, only the finest quality metals and gemstones will feature in the pieces. Since the company has a focus on diamonds, you can find earrings set with high-grade diamonds in a wide range of different styles.
One of the things that set Simon G earrings apart from other brands is their use of unique materials and twists on classic designs. For example, instead of a simple pair of drop earrings, Simon G will use unique materials such as tourmaline to give the earrings a colorful and unique look and feel. 
They have simple and modern styles and have unique takes on classic designs like hoop earrings. Whether you want something classic and elegant or bold and eye-catching, there are options that will fit these styles perfectly. 
Something for Every Occasion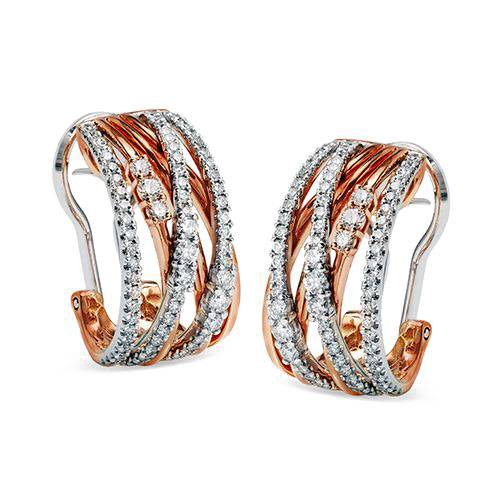 Earrings are incredibly versatile and since there are so many different styles, it is easy to find the perfect pair for any occasion or style. If you are active and still want to add a bit of glamour and shine to your look, a simple pair of stud or small hoop earrings is an excellent choice. Conversely, if you have a modern, bold, eye-catching sense of style, dramatic dangle or large hoop earrings that use unique materials are a great option.

It makes sense to have multiple pairs of earrings that are suitable for different occasions. Many have a pair that is suitable for daily wear and that can be part of their signature look. Others have numerous pairs of bold, trendy, and modern earrings that can be brought out for special events and occasions. 

The great thing about earrings is their versatility and the range of different styles within this type of jewlery. Whether you are sporty and active or elegant and formal, you can find styles that meet these needs. And with the huge range of materials that jewelers use in making earrings, you can also find something that perfectly fits your sense of style and fashion. 
Options for Varied Tastes and Styles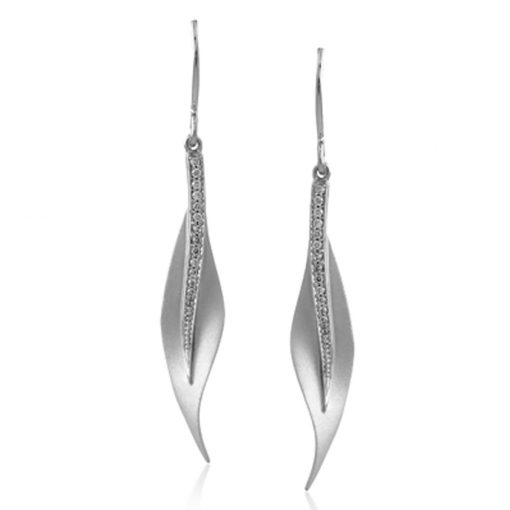 Just like there are options of Simon G earrings for all occasions, there are also options for those with different tastes and style senses. Our lifestyle is not the only thing we want to take into account when choosing the perfect accessories. We also want to think about our personal taste and sense of style. Do you prefer neutral colors and classic sparkle? Or, do you like bright, bold colors and unique metal combinations?

However you answer these questions will guide you in choosing the perfect pair of earrings for your needs and taste. If you like simple sparkle, a pair of diamond earrings in a classic design like studs or small hoops is a great choice. If you like bold designs, choosing something like two-tone gold earrings or those that use unusual gemstones is a great option. Don't settle for anything less than the perfect pair of earrings. There are so many to choose from that with a bit of effort, you can find something that is exactly what you are looking for. 
In Closing
Earrings make great accessories and look amazing wiht pretty much any type of fashion or style. They look great for any occasion as well. There are so many different types and styles of earrings that it is easy to find the pair that perfectly fits your needs and style. When choosing a pair of earrings like Simon G earrings, you want to make sure that they fit with your lifestyle and fashion sense. 
If, for example, you live a more active lifestyle, you will want to take this into consideration when choosing earrings. Or, if you have a bold sense of eye-catching fashion, something simple and classic may not be the best look for you. Companies like Simon G have a history of offering a wide variety of styles, materials, and designs.
With an emphasis on quality of design and of material usage, Simon G has made a name for himself in the world of jewlery making. The company, which has its headquarters in LA, is popular amongst discerning shoppers everywhere. This is because all their designs feature the finest materials and quality craftsmanship. All materials must meet the highest standards of quality, or the company will reject them. This helps to ensure that each piece you buy from them is of the finest possible quality.