Shark Week Jewelry to Sink Your Teeth Into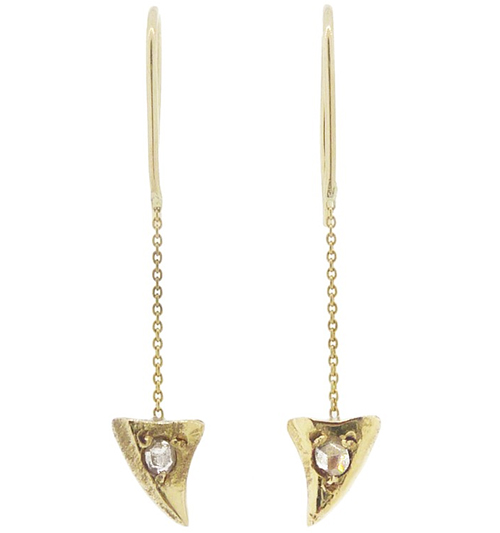 The Los Angeles Times reports that the Discovery Channel's 2013 Shark Week is off to a rip-roaring start. On Sunday night, the first episode, "Megalodon: The Monster Shark Lives" drew 4.8 million viewers, earning it a double distinction – earning the show its highest rating of all its decade and a half of episodes, and the episode the most widely watched to date How many of you remember watching The Mickey Mouse Club in your Mouseketeer hats? Do you think the popularity of this shark programming featuring their signature teeth might inspire just such a craze? Well, several designers are sinking their creativity into designing jewelry inspired by sharks' pearly whites. So quick, before the next show, let's take a look at a few of them.
Elisa Solomon – Mini Shark Tooth Earrings with Rose Cut Diamonds
Picture a tiny gold shark's tooth with a cut diamond in its center, suspended from a delicate karat gold chain, and you'll see what jewelry designer Elisa Solomon had in mind when she created these 1 1/4 inch dangling earrings. It has to be a baby tooth since it's only 3/8 inch long so you have to wonder if Elisa knows the shark tooth fairy
Givenchy – Crystal Small Shark Tooth Necklace
Givenchy must know that shark tooth fairy too because he's crafted his mini-tooth incisor into a 30 mm pendant set with metallic gold pave strass crystal. And he's continuing the marine theme with the shiny pale gold toned brass double chain – its fastens with a lobster claw clasp.
Vince Camuto – Silver-tone White Textured Shark Tooth Necklace
And with Vince Camuto, we must bade farewell to the shark nursery. Camuto has gone for the big bite with his textured white leather on a shark tooth inspired silver pendant. White leather – great white, do you think there's a connection? At any rate, this nearly 3 inch silver-tone mixed metal tooth, fang-like in appearance and hanging from a 28 inch chain makes for a sharp look, doesn't it?
Disney Couture – Shark Bracelet
Disney Couture is a offering a fun piece because that's what Disney specializes in. This gold bangle bracelet meant is meant to suggest a wide-open tooth-filled jawbone and is adorned with Swarovski crystals and a dangling starfish charm. Do you think the bangle bracelet comes with directions for slipping it over your hand without all those shark teeth drawing blood? Just be careful.
Emporio Armani – Black Onyx Shark Tooth Pendant
Men, just in case you think you've been left out, Emporio Armani had you in mind when he designed his elegant shark tooth pendant. This tooth is made out of black onyx and set in stainless steel. The 40 mm black tooth bears the company's logo and hangs from a 20 inch stainless steel chain with a 2 inch extender thrown in for good measure.